January, 22, 2014
Jan 22
8:11
PM ET
You don't usually see trades at the end of January, but the Tampa Bay Rays and San Diego Padres
pulled off a minor
-- but interesting -- deal on Wednesday. The Rays sent lefty reliever Alex Torres and minor league right-hander Jesse Hahn to the Padres for infielder Logan Forsythe and right-handed reliever Brad Boxberger.
The trade may seem a little surprising considering Torres' breakout season in 2013 as he moved from the rotation to the pen and dominated at the major league level, posting a 1.71 ERA while striking out 62 in 58 innings. Torres' history as a starter allowed Joe Maddon to use him for multiple innings if needed and Torres pitched his 58 innings over 39 appearances.
But as Tommy Rancel of The Process Report pointed out:
Though I expect Torres to be a fine pitcher going forward, left-handed relievers are a point of strength within the Rays' organization. Aside from Alpha Lefty, Jake McGee, the club also has Cesar Ramos, C.J. Riefenhauser, Pedro Figueroa, and Jeff Beliveau on the 40-man roster. The club also added former A's lefty Jordan Norberto to the mix this winter. Norberto must serve a 50-game suspension because of his link to Biogenesis, but has a live arm, a good slider, and past success at the big league level. There is also a wildcard in Enny Romero, the lefty starter who some feel is destined for an impact role in the bullpen.
Jason Collette
breaks down Boxberger here
. A former supplemental first-round pick of the Reds in 2009 who came over to San Diego in the Mat Latos trade, Boxberger has struggled with his command in his major league stints, but has the kind of arm the Rays like. Forysthe has primarily played second base for the Padres, but brings multi-positional flexibility, as he can play short, third or the outfield as well. Think Maddon can figure out how to use a guy like that? He's pretty useless against right-handed pitching but can be matched up against lefties.
The Padres, looking for a lefty reliever, plan on
keeping Torres in the bullpen
and he joins Joaquin Benoit as the primary setup guys in front of closer Huston Street. The Padres ranked 10th in the majors in bullpen ERA in 2013 but they've re-shuffled the deck chairs, trading Luke Gregerson and signing Benoit and now adding Torres.
Hahn is the wild card in the deal. Drafted in 2010 out of Virginia Tech, he didn't make his professional debut until 2012 following Tommy John surgery. He made 19 starts in the Florida State with good numbers but was handled very carefully, throwing just 67 innings. He has a plus fastball and has a chance at four quality pitches. He's a deep sleeper but watch him in 2014 as he extends his workload.
Overall, it looks like a deal that should help both teams, especially if the Rays can help Boxberger maximize his potential.
September, 1, 2013
9/01/13
10:30
PM ET
Tampa Bay Rays
manager Joe Maddon is known for his unconventional approach to managing. Before embarking on the team's current 10-game West Coast road trip, for example, he had his players don the jerseys of their favorite college football team. In August, he had a 20-foot python brought into the clubhouse because the team needed "a little motivation." He's had a magician, a merengue band and a DJ perform in the clubhouse as well.
Those are all methods to loosen up the atmosphere a bit, a reminder that too much baseball can, well, be too much baseball.
It's more difficult to be unconventional in on-the-field strategies these days, but even there Maddon has found ways to question the norm. The Rays were one of the early proponents of using more defensive shifts, a trend that has spread across the majors. Baseball Info Solutions reports teams will end up shifting about three times as often as they did in 2011. You can thank the Rays' defensive success for pushing that trend.
Maddon used another unique trick in
Sunday's game against the A's
, utilizing an old strategy that most managers wouldn't have the guts to use in 2013.
Roberto Hernandez
would have started for Tampa Bay, but Maddon didn't want to start him for two reasons: (1) Hernandez has a large platoon split, allowing .903 OPS against left-handed batters and .681 against right-handers; (2) With all their platoons, the A's can run out a lot of left-handed bats (the A's are tied with the Indians by having the platoon advantage 70 percent of the time, compared to the league average of 59 percent).
The Rays had already lost the first two games of the series, the offense has been slumping, and the Red Sox were pulling away in the AL East. So rather than throw Hernandez and create a bad matchup on paper, Maddon started right-handed reliever
Jamey Wright
, who would be making his first start since 2007. Maddon would then shift to lefty reliever
Alex Torres
, forcing Bob Melvin to either leave in his left-handed batters or pinch-hit early in the game.
It's an old Strat-o-Matic strategy, although Jim Leyland and Dick Howser famously applied it in playoff games. Managing the Pirates against the Reds in the 1990 National League Championship Series, in Game 6 Leyland started reliever Ted Power -- he hadn't started all season -- and then brought in lefty starter Zane Smith, mainly to try to gain the platoon edge against
Paul O'Neill
, who had been killing the Pirates. The strategy essentially worked, though the Reds won 2-1.
Howser had done something similar in Game 7 of the 1985 American League Championship Series. Al Oliver, a left-handed batter, had been killing Royals relief ace Dan Quisenberry with big hits all series for the Blue Jays.
Bret Saberhagen
started for the Royals, putting Oliver (and other Toronto platoon players) in the starting lineup. After three innings, Howser switched to left-hander Charlie Leibrandt. When Oliver's turn came around in the fifth, Toronto manager Bobby Cox pinch-hit for him. Howser didn't have to worry about an Oliver-Quisenberry showdown and the Royals would win 6-2.
[+] Enlarge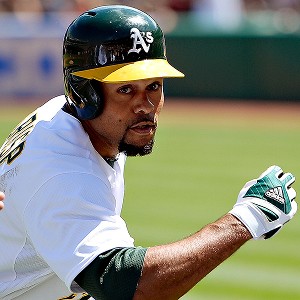 Thearon W. Henderson/Getty ImagesCoco Crisp has provided a lot of muscle for the A's offense lately.
It's a strategy that isn't really necessary or usable in the regular season for a few reasons, including:
1. Most teams don't platoon as much as the A's.
2. Most teams don't carry a long reliever, or at least one that managers want to use for more than two innings at a time. But Torres started in the minors earlier in the season, so Maddon was comfortable letting him go three-plus innings.
3. Most managers would be afraid of burning out their bullpen.
It would have been interesting to see if Maddon would have used this strategy on Saturday -- the day before rosters expanded. Knowing he had a couple extra relievers in the bullpen with the expanded rosters undoubtedly made the decision a little easier.
So it was a creative approach, but in the end the Rays still lost 5-1, their seventh loss in eight games, although Maddon's strategy wasn't to blame.
Coco Crisp
did lead off the bottom of the first with a home run off Wright, who lasted 1 2/3 innings. Torres pitched 3 1/3 innings, allowing an unearned run as
Evan Longoria
threw away a
Jed Lowrie
bunt in the third, allowing Lowrie to reach third and eventually score. The A's added two more runs in the eighth off the back of the Tampa pen.
The biggest problem for the Rays right now is the offense has hit .217 with just two home runs over this eight-game stretch, which dropped the Rays from a first-place tie in the AL East to 5.5 games behind the Red Sox. While we can't ignore what happened two years ago, when the Rays miraculously caught the Red Sox, in just more than a week the Rays went from being part of the best-team-in-baseball discussion to suddenly trying to fight off the Orioles, Yankees and Indians for the second wild card.
Rookie
Wil Myers
is in a 2-for-27 slump. Evan Longoria is 2-for-26.
Desmond Jennings
has one RBI his past 22 games. The Rays are 31-35 on the road and have four games against the Angels and three against the Mariners on this trip. After that, four of their final six series against the Red Sox, Rangers, Orioles and Yankees.
Pythons and magicians aren't the answer right now. It's up to the bats to start delivering the magic, or the Rays might find themselves sitting at home in October.
June, 21, 2013
6/21/13
2:25
PM ET
By
Tommy Rancel
| Special to ESPN.com
At this time last year
Alex Torres
was an afterthought. A mere footnote in
Tampa Bay Rays
' history as one of the players acquired from the Angels in exchange for
Scott Kazmir
. A former prospect who appeared to flame out before his time in the sun. This is the way a lot of stories end in baseball, but not for Torres. Instead, the 25-year-old went back to basics -- quite literally -- in order to get his career back on track.
Despite his compact frame, Torres' has always had stuff. He is equipped with a low-90s fastball and changeup that have rated as average or better, especially in the case of the offspeed pitch. He also keeps around a breaking ball that flashed plus in the past. Meanwhile, his mechanics were not always clean, which lead to bouts of lost control and a lack of command.
[+] Enlarge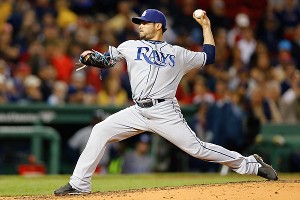 Jared Wickerham/Getty ImagesIf he keeps pitching like this, Alex Torres will move into a more prominent role in the Tampa pen.
Last season was abysmal for the left-hander. Following a mostly successful 2011, which included his first call-up to the majors, he nearly walked a batter per inning (67 in 80.1 innings) while pitching for Triple-A
Durham Bulls
. His ERA sat above 6.00. Following an injury late in the summer, the Rays sent him to Port Charlotte to work in the Gulf Coast League, essentially the bottom rung on the minor-league ladder.
Perhaps a curious move to the outside, but Tampa Bay rarely makes a move -- let alone an unorthodox one -- without a logical explanation. The reasoning in this case was a who: Marty DeMerritt, the GCL Rays' pitching coach.
A former minor-league pitcher, DeMerritt, has spent 13 years as a coach in the Rays' organization. He is currently in his second season as the GCL pitching coach. He has coached at the major league level before (Giants and Cubs) and taught internationally with stops in Korea and Venezuela (Torres' homeland and where DeMerritt resides in the offseason). In addition to his coaching knowledge, DeMerritt also had first-hand intelligence on Torres, whom he
met when the lefty was just a teenager
.
Be it the teaching of DeMerritt, maturity, or happenstance, things began to click for Torres. He returned to Durham in September to make one impressive start (10 strikeouts and one walk in 5.2 innings) before dominating the winter league in his native Venezuela. Though far from returning to any prospect lists, he was more of a wild card than a lost cause entering 2013. He returned to Durham to start the season and the seeds of his recent work began to bear fruit. Torres opened the season tossing 21 innings in April and allowing just three earned runs. He struck out 29 batters, and more importantly, walked just six.
Injuries at the major league level led to an interesting month of May. Following three starts, Torres was promoted to the big leagues where he made two relief appearances. He returned to Durham to make two unimpressive starts before receiving the call to St. Petersburg once again. This time possibily for good.
Initially called up to provide a fresh arm to an overworked bullpen, Torres has tossed 18.1 scoreless innings with a 24:5 strikeout-to-walk ratio. His strikeout percentage of 37.8 is the fourth-highest among left-handed relievers (minimum 60 batters faced). Opponents are hitting just .068 against him with a .242 OPS. Torres is not just a lefty specialist either. Of his 64 batters faced, 36 have been right-handed batters.
Mechanical changes including a simpler delivery and shift in rubber placement (
more on those adjustments here
) have apparently cured Torres' diseased control. That said, there are some lingering command wrinkles to be ironed out (elevated fastballs). In terms of arsenal, his fastball and changeup are working with unison while his breaking ball of choice (now a slider, formerly a curveball) has taken a back seat. The ability to make his changeup look like a fatigued fastball that burns out arm-side and down has been instrumental to his success against batters on both sides of the plate. Hitters have missed on nearly half of their swings against his offspeed offering.
Torres' sudden and dominant success -- coupled with injuries to
David Price
and
Alex Cobb
-- have some calling for his return to the rotation. Those supporters may get their wish of seeing him more frequently, but not in the role they prefer. Since making 52 pitches on June 1, he has thrown 128 total pitches over six appearances. In five of the six games, he pitched two innings or less, the other coming in the second half of Tuesday's doubleheader in which he threw 2.2 innings but needed just 32 pitches to get the eight outs. As he gets acclimated with his new duties -- including eventually pitching on back-to-back days -- his leverage responsibilty could increase as well.
His success could not be more well-timed. Already on his fourth option year, he will be out of options next season, meaning a spot on the major-league roster or waivers. Another lost season in the minors might have spelled the end of his time with Tampa Bay. However, his new-found success could lead to a long-lasting relationship.
Tommy Rancel writes for The Process Report, a blog on the Rays.
May, 19, 2013
5/19/13
9:01
PM ET
When the
Tampa Bay Rays
changed their name in 2008 and transformed overnight from the hapless laughingstock of the American League to 97-win division champions, their rotation featured five pitchers 26 or younger: At 26,
James Shields
was the old man of the group, which included
Scott Kazmir
,
Matt Garza
,
Edwin Jackson
and
Andy Sonnanstine
.
The genius of the Rays since then has been their ability to consistently replenish the staff with young starters and yet remain one of the best in the league. With the departure of Shields this offseason, that original five has been completely made over; a transition began when
David Price
joined the rotation during the 2009 season. The unofficial title of staff ace has shifted from Kazmir to Shields to Price, and it appears another shift is taking place in 2013.

Matt Moore
, your presence as a Cy Young contender is duly noted. With reigning Cy Young champ Price struggling -- earning just one win in nine starts while posting a 5.24 ERA, and then landing on the DL a few days ago with triceps strain -- it is Moore who has helped keep the Rays afloat more than any one pitcher. He improved to 8-0 on Sunday, limiting the Baltimore Orioles to five hits and one run over seven innings in
a 3-1 victory
, as the Rays completed an impressive sweep in Baltimore.
Moore lowered his ERA to 2.29, the Rays improved to 23-20 with their ninth win in 11 games, and this is looking like a team starting to click on all cylinders -- even as Price sits on the sidelines the next two weeks.
At 23, Moore became the youngest American League pitcher to start 8-0 since another hard-throwing lefty named Babe Ruth did it in 1917. The scary thing about his start is that the ability to perform even better is there, as he has been inconsistent with his command and pitched seven innings just twice. Manager Joe Maddon suggested as much,
telling MLB.com
:
I think from where he's coming from, he knows he can be better. He doesn't like those five-inning outings. He doesn't like that at all. So I'm sure he's deflecting based on that. As you see him get deeper into the games and more consistent with the wins, I think you might see him step out a little bit.

But I like the idea that there's humility involved. I like the idea that he knows that he can get better. I love that. The accountability is tremendous. That doesn't surprise me. ... Historically speaking, it has been wonderful, but there is 'more' in Moore. And he knows that.
Moore has held batters to a .175 average but he has also walked 26 in 55 innings, so there's room for improvement. In some ways, that's what made Sunday's outing impressive: He struck out only three but walked one, avoiding a big inning in the process. Another area for improvement is that while Moore's fastball/curveball/changeup arsenal has destroyed right-handers -- they're hitting .064 off the curveball with 20 strikeouts in 47 plate appearances -- he hasn't yet learned to dominate lefties, who have hit a respectable .236/.335/.361 off him the past two seasons he sticks mostly to the fastball against them.
Of course, a major reason he's 8-0 is excellent run support, but this isn't a typical Tampa Bay offense that struggles to put up runs. After outscoring only the Royals, Indians and Mariners last season, the Rays have scored just 12 runs fewer than the best-in-the-AL Tigers. The Rays' OPS has increased from .711 to .760 and not just because Dodgers castoff
James Loney
is off to a .356 start.
Matt Joyce
has eight home runs and
Luke Scott
has driven in 12 runs in 17 games since coming off the DL; both homered in Sunday's win.
Kelly Johnson
is hitting .274 with seven home runs. With Loney's hot start, that gives the Rays four threats from the left side. Logic says to throw left-handed pitching at the Rays, but the division isn't exactly ripe with left-handed starters once you get past
CC Sabathia
and
Jon Lester
, especially with
Mark Buehrle
struggling and
Andy Pettitte
and
Wei-Yin Chen
currently on the DL.
Throw a lefty, however, and there's that guy named
Evan Longoria
waiting for you in the middle.
But here's why I'll stick with my preseason choice of the Rays to win the AL East: pitching, pitching, pitching. At least starting pitching. (The bullpen is the team's major issue right now.) At Triple-A Durham, the rotation included
Alex Torres
(2.39 ERA, 49 SO, 14 BB in 37.2 IP),
Jake Odorizzi
(3.83 ERA, 47 SO, 15 BB in 44.2 IP),
Chris Archer
(4.38 ERA, 40 SO, 19 BB in 39 IP) and Alex Colome (2.86 ERA, 59 SO, 20 BB in 50 IP). The Angels would kill to have those four in their rotation right now.
Torres was called up to replace Price, but Odorizzi will get the start on Monday afternoon against Toronto. All Torres did on Saturday was pitch four hitless innings in relief of
Roberto Hernandez
to earn his second major league win.
It's all those arms that explain why Price will likely make his billions with another team eventually.
Not that Maddon doesn't want his ace back as quickly as possible … or co-ace, that is.
May, 16, 2013
5/16/13
11:52
AM ET
David Price
's rough season got worse last night when he left his start with a triceps injury and might miss a start or two. Let's hope it's nothing more severe than that.

Eric Karabell speculates on who the
Rays will start in his place
. As Eric points out,
Jake Odorizzi
started Wednesday for Tampa's Triple-A club, so he's on Price's schedule, although he pitched poorly on Wednesday. I love
Chris Archer
and the way he pitched down the stretch in the majors last year, but he hasn't pitched as well in Triple-A, although his strikeout rate is fine. Maybe he's one of those guys who does better on the big stage.
Personally, I like Archer's upside a lot more, but Odorizzi's Durham numbers are pretty solid (3.83 ERA, 47 SO, 15 BB in 44 innings).
Alex Torres
(2.39 ERA, 49/14 SO/BB ratio) has also been outstanding, and Alex Colome (2.84 ERA, 51 K's in 44.1 inings) might finally be reaching his potential. Basically, Tampa Bay's Triple-A rotation is probably better than several major league rotations.
No matter who gets the call, that's some nice depth. Now the Rays just need to get the big league staff rolling as they're 11th in the AL in runs allowed, an unusual position for a Tampa Bay club.
July, 19, 2011
7/19/11
3:00
PM ET
Tuesday's
Baseball Today podcast
hosted by me and Keith Law was packed with information about the great game and included these topics:
1. Very interesting results from Monday night, from the way Yankees-Rays ended to the Triple-A Twins getting swept and baseball's top pitcher succumbing to the heat.
2. Nice job by the Orioles preventing runs on Monday, but then the topic shifted to their young man behind the plate ...
3.
Ryan Vogelsong
wasn't supposed to be leading the NL in ERA, but he is. Klaw pushes the proverbial pin in the balloon, but I attempt to debate the success story.
4. Speaking of negativity -- or is it realism? -- the conversation turns to America's Team, also known as the first-place Buccos! Can it last? Is it good for baseball if it does last? It's a war of words!
5.
Colby Rasmus
of the Cardinals is either a huge disappointment or doing just fine … discuss. We did!
Plus: Excellent emails, poor Alex Torres, interesting Paul Goldschmidt, struggling youngsters and Klaw eagerly names the worst manager in baseball, all on a packed Tuesday Baseball Today podcast!