March, 6, 2012
3/06/12
4:18
PM ET
After getting a chance to watch some spring training in baseball in Arizona, and sighing at being back in the Northeast, it was time to tape Tuesday's Baseball Today podcast with Arizona resident Keith Law (he gets to stay!). We had many interesting topics:
1. Special guest pitcher/author
Dirk Hayhurst
joined us to discuss his new book
"Out Of My League,"
but also to reacquaint us with the Garfoose and share thoughts on his future adventures in a new country.
2. If you know KLaw you know he can't be pleased with MLB adding two wild card teams. Hear his reasons and my gripe as well.
3. We check in on hotshot young players
Bryce Harper
and
Mike Trout
to see if their chances of making the Opening Day roster have changed, and also discuss other spring news, including an unfortunate
Alex White
situation.
4. A pair of young National League outfielders recently signed long-term contract extensions, but were their teams really the biggest winners, rather than the players?
5. It's email time! Among the topics were our opinions on whether teams have or need faces of the franchise, and the ongoing myth about lineup protection.
So download and listen to Tuesday's Baseball Today podcast, teeming with entertainment and information, and check us out next week. The show goes daily the week of March 19, and we can't wait!
May, 1, 2011
5/01/11
12:30
AM ET
By
Troy Patterson
| ESPN.com
Last night
Alex White
made his major league debut for the Indians. He faced the Tigers'
Rick Porcello
-- a pitcher only four months younger, but one signed out of high school in the 2008 draft. White already has three seasons at the University of North Carolina after passing on the Dodgers in the 2006 draft, while Porcello has amassed 356 major league innings since 2008 and plenty more money. Both made their debuts in just their second professional seasons, but Porcello never saw any level above High-A. White pitched most of 2010 in Double-A and got 23 2/3 innings at Triple-A this year.
The two also share some similarities in how they pitch. Porcello throws a bit slower -- around 90 miles per hour, while White can work around 93. They both work a sinker and a slider with an occasional changeup. The sinker gives both a solid ground-ball rate and lowered home run numbers.
Not only was Saturday an interesting matchup, but also the final line was quite similar as well for the two pitchers. Porcello pitched an extra inning going through the seventh, but both pitchers gave up two runs on two solo home runs. Each pitcher also gave up one hit per inning pitched. While neither pitcher is known for great control, they both had pretty good nights. Porcello struck out seven against one walk, while White delivered four strikeouts with four walks, although two of those free passes were intentional walks to
Miguel Cabrera
.
Overall the night should be taken as a positive for White. His control was solid and he showed his ability to get ground-ball outs. He was able to get 10 ground-ball outs and two fly-outs on balls put in play. With his solid sinker and an ability to work low in the zone this will be the norm for White -- he will keep his infield busy. He threw strikes only 55 percent of the time in the appearance, but after accounting for the intentional walks he threw strikes roughly 60 percent of the time.
Neither pitcher got the win, as the Indians wound up winning 3-2 in 13 innings. Regardless of the outcome, this was a chance to watch two players of roughly the same age who took very different paths to the majors, yet match up in a single ballgame. As far as baseball goes, there is no sure thing about what way is the best path to the majors; as amateurs, players have to make a choice about what is best for them about when to sign or not, and teams are also making choices about how best to send those prospects through the minor leagues.
Even with a quality start under his belt in his debut, White will probably go back to Triple-A at the end of next week after another start. Facing the Angels, a team not known for their patience at the plate, should help White succeed in his second spin. As is, White was called up to fill in for the injured
Carlos Carrasco
; Carrasco is currently on the DL, but he'll come off the DL on May 10.
Once he is demoted, White will need to work on his control in Triple-A. Even so, he will surely be back later in the summer -- he's the best alternative the Tribe has for their rotation, and that's for good cause. Once he's back up to stay, expect these two young hurlers to meet again. Given that both teams have live ambitions for the future, near-term or far, White versus Porcello is sure to become a regular item on both team's dance cards.

PHOTO OF THE DAY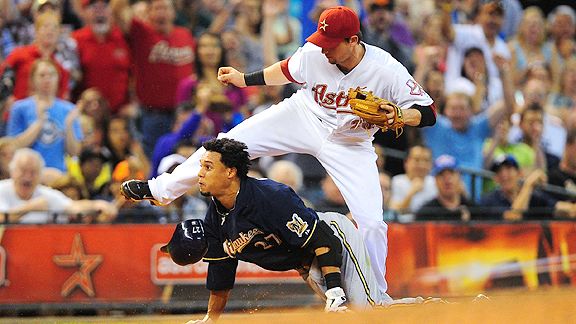 Mark J. Rebilas/US PresswirePeek-a-boo, I see you... but am I safe?
Troy Patterson writes about the Boston Red Sox for the SweetSpot network at Fire Brand of the AL. You can follow him on Twitter.