April, 22, 2014
Apr 22
10:38
PM ET
"I think it'd be fair to say that that was his best start in terms of stuff and command," - @mredmond55 on @josefernandez77

— Miami Marlins (@Marlins) April 23, 2014
Well, I certainly hope so, because
Jose Fernandez
was absolutely dealing on this particular Tuesday night. It's hard to imagine Fernandez or any pitcher looking much more dominant than he did, although
Alex Wood
certainly tried.
Fernandez tied his career high with 14 strikeouts in the Marlins'
1-0 win
over the Braves, walked nobody, took a one-hitter into the eighth inning before giving up two more hits (one of them a chopper off the plate) and twice fanned
Freddie Freeman
-- who had struck out just 10 times in 19 games entering this contest -- on swinging strikes. He fanned Freeman on a curveball and four-seam fastball. He got
Jason Heyward
to end the sixth on that disappearing slider of his. He got
Justin Upton
to end the seventh on a 96 mph "hit it if you can" fastball. He blew away
Dan Uggla
and
Evan Gattis
six times in six at-bats.
[+] Enlarge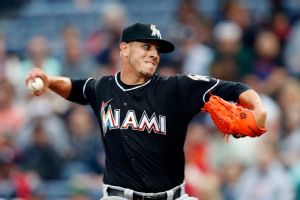 AP Photo/John BazemoreJose Fernandez was in complete control, whiffing 14 Braves.
The one chance the Braves had against the 21-year-old phenom came in the eighth.
Chris Johnson
led off with a line single to right and Fernandez fanned Uggla and Gattis. But
Andrelton Simmons
reached on that infield single to bring up pinch hitter
Ryan Doumit
. Fernandez had worked quickly all game long: Throw strike, get ball, throw another strike. With only one baserunner until the eighth, he had worked almost entirely from the windup. Now he took a little more time between pitches, took a deep breath and walked around the mound. He was over 100 pitches by now. With one strike, he threw a meaty 95 mph fastball down the middle. That was Atlanta's one opportunity, the one pitch Fernandez missed on this night; but Doumit fouled it off. Two pitches later, he tapped weakly back to Fernandez.
After 109 pitches, Fernandez was gone, and it was probably the right move. He let it all out in those final pitches to Doumit.
Steve Cishek
closed it out with a one-two-three ninth -- the last a third strikeout for Freeman -- to notch his 33rd save in a row.
Fernandez improved to 3-1 with a 1.99 ERA, with a
Game Score
of 90, the highest of his young career. For the second straight start, Wood was a tough-luck "loser" in a 1-0 game. He allowed four hits and one run in eight innings with 11 strikeouts and no walks. His awkward, herky-jerky delivery from the left side isn't pretty and he doesn't throw as hard as Fernandez, but nothing he throws is straight and he moves up and down the zone. He's tough and I'm guessing batters have a hard time with his unique delivery. His fastball has a natural tail away from right-handed batters and they're hitting just .202 off him this season. He mixes in a curve and changeup and so far he's thrown strikes, with just seven walks in five starts. He's 2-3, but his 1.54 ERA is even lower than Fernandez's and he's one of the reasons Braves starters have allowed two earned runs or fewer in 19 of 20 games.
How good of a duel was it? Maybe the best one we'll end up seeing all season. Wood's Game Score was 81. Last season, we had just three games where both starters posted a Game Score of 80 or more:
Kris Medlen
-
Cliff Lee
(who beat Wood the other day), Francisco Liriano-
Stephen Strasburg
and
Jose Quintana
-
Justin Masterson
. But none of those three games matched the combined Game Score of 171 of this one. The last game to score that high with both starters at 80 or higher was in August of 2012, when
Luke Hochevar
(87) and
David Price
(84) both tossed eight scoreless innings and allowed a combined four hits.
Matt Cain
(85) and Lee (86) also had a combined 171 in April of that year. The last game with a higher Game Score featured
Josh Beckett
(86) and
Jeff Niemann
(86) in July of 2011. Both went eight scoreless innings as Beckett allowed one hit, Niemann two. (The game ended up 1-0 in 16 innings as the teams went a combined 8-for-102.)
So maybe this game
will
prove to be the best duel of the season. It's going to be hard to top 25 strikeouts, no walks and seven hits allowed from the starters.
Then again, the Marlins and Braves are in the same division. They even meet again next week in Miami. Can we get a rematch?
August, 3, 2013
8/03/13
9:52
AM ET
By
Chad Dotson
| ESPN.com
Someone named Brandon Beachy made his season debut for the Braves earlier this week. This guy started the game, but lasted only 3 2/3 innings, permitting a career-high seven earned runs on eight hits. This can't be the same Brandon Beachy who pitched so well for Atlanta last year, could it?
Given recent injuries to the pitching staff, the Braves had better hope not.
Atlanta has led the NL East for the entire season, and no first-place club has a bigger margin over the rest of the division, as its eight-game winning streak has given it an 11.5-game lead over the Nationals. The rotation, however, has taken a hit with injuries to starters Tim Hudson and Paul Maholm. Into that void stepped young Mr. Beachy.
Beachy last pitched for the Braves a little more than 13 months ago, before undergoing surgery to repair a torn ulnar collateral ligament in his right elbow or, in more familiar terms: Tommy John surgery.
Before the elbow injury, Beachy had been one of the most dominant starters in the National League, with a 2.00 ERA (200 ERA+, 1.3 fWAR) that led the National League over 13 starts. According to most advanced metrics, Beachy had actually been even better in 2011, when he struck out nearly 11 batters a game in 25 starts.
Beachy is now 26 years old, and his return could not come at a better time for Atlanta. He took Maholm's spot on the roster (after Maholm was placed on the 15-day DL with a bruised left wrist), but the Braves hope Beachy can fill the hole in the rotation opened up when a freak injury to Hudson prematurely ended his season.
Hudson had not been having his best year (8-7, 3.97 ERA) but, in many ways, was still the anchor of the Atlanta staff. He was second on the club in innings pitched and third in strikeouts, even at age 37 (and had been pitching better of late). In theory, Beachy should easily be able to match those numbers or, more likely, exceed them.
Right? Not so fast.
That will depend on how quickly Beachy is able to bounce back from the surgery; of course, that's the $100,000 question for every pitcher who undergoes the Tommy John procedure. Early returns, frankly, are not encouraging. Even if we discount his poor performance in his first start against the Rockies on Monday, Beachy's performance during his minor league rehab stint provided some cause for concern.
In seven games for Triple-A Gwinnett, Beachy walked 5.4 batters per nine innings. That's a rate nearly twice what we saw from him in 2011, and far above anything Beachy had posted in his professional career. It is certainly not uncommon for a pitcher to struggle with command initially after returning from Tommy John -- and it is a small sample size -- but Atlanta will need Beachy to right the ship.
On the other hand, there are reasons to be optimistic. Beachy's velocity against Colorado was good; he averaged 91.9 mph on his fastball, which is almost identical to his pre-injury velocity. Further, Beachy induced 11 swinging strikes, which was on par with what we saw last year, and he walked only one hitter in his debut (although that was mostly because everyone was hitting line drives). His breaking balls weren't very sharp, but Beachy felt good physically.
Some of these questions about the young right-hander will be answered Saturday when Beachy makes his second start, against a struggling Philadelphia offense. Of course, in the immediate aftermath of Beachy's disappointing debut, the biggest question was whether the Braves would continue to dip their toes into the trade deadline waters in search of a starter. According to reports, Atlanta had kicked the tires on Bud Norris, Jake Peavy and Ervin Santana but, ultimately, Braves GM Frank Wren was hesitant to break the bank (or deplete the farm system) for a rotation upgrade.
That was probably a wise course of action. Beachy might not be the same pitcher we've seen the past two years, but there's no reason to believe he can't match the production Hudson had been providing. Maholm will return in a couple of weeks, but, even if he and Kris Medlen continue their recent struggles (although Maholm hasn't pitched as poorly as his numbers indicate), 22-year-old Alex Wood (a 2012
second-rounder) is an adequate replacement for either. In fact, don't be surprised if Beachy and Wood remain in the rotation for the rest of the season; those two could be an upgrade over Hudson and Maholm/Medlen.
With an abundance of depth -- and that double-digit lead over Washington -- Atlanta could afford to be cautious at the trade deadline. Despite the injuries, with the return of last year's ace and the emergence of a hotshot rookie (Julio Teheran), the Braves might actually have improved their rotation. That should scare the rest of the National League East.
Chad Dotson usually writes about the Reds at Redleg Nation.
July, 25, 2013
7/25/13
12:05
PM ET
The
Atlanta Braves
have used just six starting pitchers all season, and the sixth guy,
Alex Wood
, started one game because the Braves needed a spot starter for a doubleheader.
None of the five would be likely to be labeled an ace --
Mike Minor
has been the best, with a 2.98 ERA in 130.1 innings, worth 2.3 WAR, 20th among National League pitchers. If you want to call him an ace, I won't argue, as he's been very good.
Overall, the Braves have a 3.67 rotation ERA, fifth best in the NL behind the Pirates, Cardinals, Reds and Dodgers. They're eighth in the NL in OPS allowed and fifth in innings pitched. The key hasn't so much been their excellence but their health; the Braves haven't had to dig up a bunch of extra arms, and the result has been a solid, if spectacular, rotation.
But the injury bug has finally arrived. Wood will start Thursday in place of
Paul Maholm
, who is on the disabled list with a left wrist contusion. The big injury came late in Wednesday's win over the Mets, when
Tim Hudson
collided with
Eric Young Jr.
on a play at first base and
broke his ankle
. He'll miss the rest of the season and the Braves will miss their spiritual leader, so to speak. "That's a big blow,"
Dan Uggla
told the Atlanta Journal-Constitution
after the game. Huddy is such a leader on the field and in the clubhouse, and in the dugout when he's not pitching, so this is a tough one."
"He's huge,"
Brian McCann
told the Journal-Constitution. "I mean, he's the veteran presence around here that people go to. It's Tim Hudson. The guy's got 200 wins, and he's the best teammate you're ever going to have. Everybody in here feels bad for him."
Eric Karabell is a
big fan of Wood
, who has pitched well in relief after dominating in the minors to start the season (1.31 ERA, one home run and 62 strikeouts in 62 innings in 11 starts). I like him as well, and the second-round pick in 2012 out of Georgia will now get a few starts to prove himself. The Braves will soon have another starter ready, however:
Brandon Beachy
pitched six innings in a rehab start in Triple-A on Wednesday, allowing one run, and could take Hudson's spot. Remember, when he went down last season to Tommy John surgery, he was leading the NL in ERA. That's not a guarantee he'll pitch well, especially since his control has been shaky during his 40 rehab innings, with 20 walks, including four last night, but he is a guy who was good when we last saw him.
Hudson was 8-7 with a 3.97 ERA, and while the ERA is his highest since a 4.86 mark with the Braves in 2006, his peripherals were just as solid as always (his strikeout rate was actually up 4 percent over 2012). Still, while they'll miss his leadership, they should be able to replace his production. If he was projected to allow about 3.7 runs per nine innings over an estimated 70 innings the rest of the year, that's about 29 runs. A replacement who allows 4.4 runs per nine would allow 34 runs -- or about one win of value. And it's possible that Wood and/or Beachy will pitch better than that.
Of course, that doesn't account for Hudson's leadership, if you wish to account for that. I guess he can still sit in the dugout and offer his support if it's so valuable.
The Braves lead the Phillies by eight games and the Nationals by nine. In the unlikely event that Atlanta blows its lead, Hudson's injury won't be the reason. For one thing, the Phillies (minus-57 run differential) and Nationals (minus-31 run differential) show no signs of playing their way back into the race. It will take a Braves collapse
and
a surge by one of those teams to make this race. I don't see both of those happening.
The bigger concern may actually be the postseason rotation: Outside of
Kris Medlen
's start in last season's wild-card game, Hudson is the only starter with postseason experience. It's likely he would have lined up as the No. 2 starter behind Minor. Of course, as with leadership, postseason experience is an overrated trait. But that's another article. I'll miss watching Hudson pitch, but I still expect to see the Braves in the playoffs.