May, 7, 2012
5/07/12
7:00
PM ET
Arizona Diamondbacks
infielder
Willie Bloomquist
had the longest-reigning Web Gem of the season so far, a from-his-stomach flip to second base to get a force play on a ground ball up the middle on April 28 against the Marlins.
That lasted six days as the "Best of the Best" Web Gem and was named the Sports Science Play of the Week. It also inspired us to look up something that we've asked to have video-tracked this season. There are many different ways to get an out in baseball. We've arranged with Baseball Info Solutions to track players who make three different types of plays. They are:
1. The barehand -- in which a fielder does not use his glove, but manages to get an out.
2. The glove flip -- in which a fielder flips the ball to a teammate using his glove, rather than his ungloved hand.
3. The throw-from-knees -- which we actually made sure covered any throw in which the fielder was not upright, a la Bloomquist.
Let's take a snapshot look at the leaders for each, all entering Sunday's games.
January, 26, 2012
1/26/12
8:30
AM ET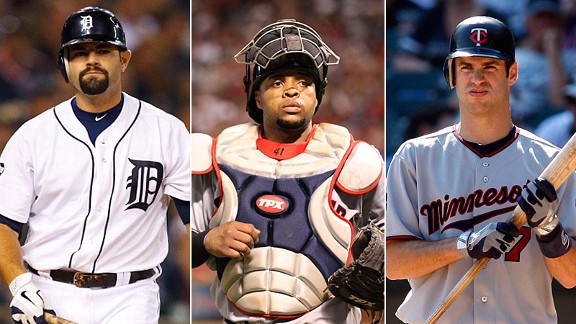 US PresswireWith Alex Avila, Carlos Santana and Joe Mauer, the AL Central is loaded at catcher.
We're back with more divisional position rankings for 2012. You can scream, you can holler, you can protest and call me names. But just because I rated your player lower than you think he deserves doesn't mean I hate your team.
(Here are the
NL East
and
NL West
rankings.)
Catcher
1.
Alex Avila
, Tigers
2.
Joe Mauer
, Twins
3.
Carlos Santana
, Indians
4.
Salvador Perez
, Royals
5.
A.J. Pierzynski
, White Sox
The AL Central might not be baseball's glamor division, but it may have three of the top five catchers in the game if Mauer bounces back from his injury-plagued campaign. Since we're not certain of his health, I'm going to give top billing to Avila, who had the best hitting numbers of any catcher outside of
Mike Napoli
and plays solid defense. I wouldn't be surprised if Santana explodes; with his power-and-walks combo, all he has to do is raise his average 30 points and he'll be one of the most valuable players in the game. Considering that his average on balls in play was .263, there is a good chance of that happening. Perez hit .331 in 39 games; OK, he won't do that again, but he doesn't turn 22 until May and puts the ball in play. There's no shame in being fifth in this group but that's where I have to place Pierzynski, who keeps rolling along and is now 36th on the all-time list for games caught.
First base
1.
Prince Fielder
, Tigers
2.
Paul Konerko
, White Sox
3.
Eric Hosmer
, Royals
4.
Justin Morneau
, Twins
5.
Matt LaPorta
, Indians
In 2009, when Morneau played 135 games, he hit .274 AVG/.363 OBP/.516 SLG. Even if he replicates that line, he may rank only fourth. Konerko has hit a combined .306 with 70 home runs the past two seasons. He's 104 home runs from 500 but turns 36 in March, so he's probably four seasons away; not sure he'll hang on that long, but who knew he'd be this good at this age. If Hosmer improves his walk rate and defense and Konerko declines, Hosmer could climb past him. If it doesn't happen this year, it will happen next. The most similar batter to him at age 21: Eddie Murray.
Second base
1.
Jason Kipnis
, Indians
2.
Gordon Beckham
, White Sox
3.
Johnny Giavotella
, Royals
4.
Alexi Casilla
, Twins
5.
Ramon Santiago
, Tigers
Well, this isn't exactly a
Robinson Cano
/
Dustin Pedroia
/
Ben Zobrist
debate, is it? Kipnis' bat is a sure thing, as evidenced by his excellent play after his call-up (.272 average and .507 slugging in 36 games). His glove was once a question mark but now appears solid enough that he looks like a future All-Star to me. Can anybody explain what has happened to Beckham? He's second mostly by default; he's gone downhill since his superb rookie season in 2009 but is only 25, so there's hope that he'll find those skills again. Giavotella has some potential with the bat (.338/.390/.481 at Triple-A), which is more than you can say for Casilla and Santiago.
Third base
1.
Miguel Cabrera
, Tigers
2.
Mike Moustakas
, Royals
3.
Lonnie Chisenhall
, Indians
4.
Danny Valencia
, Twins
5.
Brent Morel
, White Sox
We'll go with the idea that Cabrera is Detroit's starting third baseman, although I predict he'll end up starting more games at designated hitter. Manager Jim Leyland will end up doing a lot of mixing of his lineups, but for this little exercise we have to choose a starter. Moustakas didn't tear up the league as a rookie and I worry about his ability to hit lefties (.191, homerless in 89 at-bats), but he showed more than fellow rookies Chisenhall and Morel. Valencia doesn't get on base enough and he rated poorly on defense in 2011. I hope he's at least good in the clubhouse. Morel was terrible all season and then exploded for eight of his 10 home runs in September and drew 15 walks after drawing just seven the previous five months. Maybe something clicked.
Shortstop
1.
Asdrubal Cabrera
, Indians
2.
Alexei Ramirez
, White Sox
3.
Jhonny Peralta
, Tigers
4.
Alcides Escobar
, Royals
5.
Jamey Carroll
, Twins
Peralta had the best 2011 season, but he's a difficult guy to project. He had an .804 OPS in 2008 but dropped to .691 in 2009. He had a .703 OPS in 2010 and then .823 in 2011. I just don't see a repeat season, at the plate or in the field. Cabrera didn't rate well on the defensive metrics, and after a strong start he wore down in the second half. Ramirez has turned into a nice player, with a good glove and some power, and he even draws a few walks now. Escobar is a true magician with the glove. Carroll is actually a useful player who gets on base (.356 career OBP), but he's pushed as an everyday shortstop and he'll be 38. He'll be issued the honorary
Nick Punto
locker in the Twins' clubhouse.
Left field
1.
Alex Gordon
, Royals
2.
Alejandro De Aza
, White Sox
3.
Ben Revere
, Twins
4.
Michael Brantley
/
Shelley Duncan
, Indians
5.
Ryan Raburn
/
Don Kelly
, Tigers
I'm not sure what to do here. After Gordon, I just get a headache. We'll pretend to believe in De Aza after his impressive stint in the majors (171 plate appearances, .329/.400/.920). He's hit in Triple-A for three seasons now, and while he's not going to post a .400 OBP again, he should be adequate. Revere is one of the fastest players in the majors, but he's all speed and defense; he hopes to grow up to be
Brett Gardner
, which isn't a bad thing, but he'll have to learn to get on base at a better clip. Brantley doesn't have one outstanding skill so he'll have to hit better than .266 to be anything more than a fourth outfielder; Duncan provides some right-handed pop as a platoon guy. The Tigers have
Delmon Young
, but I'll slot him at DH. That leaves supposed lefty masher Raburn and utility man Kelly to soak up at-bats; both had an OBP below .300 in 2011, although Raburn has hit better in the past.
Center field
1.
Austin Jackson
, Tigers
2.
Denard Span
, Twins
3.
Grady Sizemore
, Indians
4.
Lorenzo Cain
, Royals
5.
Alex Rios
, White Sox
I can't rate Sizemore any higher since he's played just 104 games over the past two seasons, and he hasn't had a big year since 2008. Rios was terrible in '09, OK in '10 and worse than terrible in '11. I'm not betting on him.
Right field
1.
Shin-Soo Choo
, Indians
2.
Brennan Boesch
, Tigers
3.
Jeff Francoeur
, Royals
4.
Josh Willingham
, Twins
5.
Dayan Viciedo
, White Sox
Choo would like to forget 2011, but there's no reason he shouldn't bounce back and play like he did in 2009 and 2010, when he was one of the 10 best position players in the AL. I don't expect Francoeur to deliver 71 extra-base hits again, but maybe he'll surprise us. Viciedo is apparently nicknamed "The Tank," which makes me wonder how much ground he can cover. He did improve his walk rate last season in the minors and turns 23 in March, so there's still room for more growth.
Designated hitter
1.
Billy Butler
, Royals
2.
Travis Hafner
, Indians
3.
Ryan Doumit
, Twins
4. Delmon Young, Tigers
5.
Adam Dunn
, White Sox
Has there been a bigger prospect disappointment than Young in the past decade? I mean, yes, there were complete busts like
Brandon Wood
and
Andy Marte
, but those guys had obvious holes in their games, while Young was viewed as a
sure thing
, a consensus No. 1 overall prospect. But his bat has never lived up to its billing. Other than one decent year in Minnesota, he has low OBPs and he clearly lacked range in the outfield. His career WAR on Baseball-Reference is minus-0.2 (1.6 on FanGraphs), meaning he's been worse than replacement level. He's just not that good, Tigers fans.
No. 1 starter
1.
Justin Verlander
, Tigers
2.
John Danks
, White Sox
3.
Justin Masterson
, Indians
4.
Luke Hochevar
, Royals
5.
Carl Pavano
, Twins
Masterson was better than Danks in 2011, and I do believe his improvement was real. He absolutely crushes right-handers -- they slugged an anemic .259 off him. Danks had two bad months but has the longer track record of success. Even in his "off year" he had a higher strikeout rate and lower walk rate than Masterson. If you want to argue about Hochevar versus Pavano, be my guest.
No. 2 starter
1.
Doug Fister
, Tigers
2.
Ubaldo Jimenez
, Indians
3.
Gavin Floyd
, White Sox
4.
Francisco Liriano
, Twins
5.
Jonathan Sanchez
, Royals
Yes, sign me up for the Doug Fister bandwagon club. Jimenez's fastball velocity was down a couple miles per hour last season but the positives are that his strikeout and walk rates were identical to 2010; he'll be better. Floyd isn't flashy but he's now made 30-plus starts four years in a row, and he'll become a very rich man when he becomes a free agent after this season. Sanchez won't have the luxury of pitching in San Francisco (and to eight-man NL lineups).
No. 3 starter
1.
Max Scherzer
, Tigers
2.
Scott Baker
, Twins
3.
Philip Humber
, White Sox
4.
Bruce Chen
, Royals
5.
Josh Tomlin
, Indians
I could be underrating Baker, who was excellent last season, but only once in his career has he made 30 starts in a season. Tomlin's fans will disagree with this ranking, but he's a finesse guy who relies on the best control in baseball (21 walks in 26 starts). He's the kind of guy you root for, but the league seemed to figure him out as the season progressed.
No. 4 starter
1.
Felipe Paulino
, Royals
2.
Rick Porcello
, Tigers
3.
Jake Peavy
, White Sox
4.
Derek Lowe
, Indians
5.
Nick Blackburn
, Twins
Scouts still love Porcello's arm and I know he's just 23, but he's made 89 big league starts and shown no signs of getting better. His WHIP has increased each season and his strikeout rate remains one of the lowest in baseball. Paulino has an electric arm -- he averaged 95 mph on his fastball -- and
is
getting better. How could the Rockies give up on him after just 14 innings? How could the Astros trade him for
Clint Barmes
? Anyway, kudos to the Royals for buying low on the guy who may turn into their best starter. Peavy can't stay healthy. Lowe has led his league in starts three out of the past four seasons, but I'm not sure that's a good thing anymore. Blackburn is a poor man's Lowe, and I don't mean that in a good way.
No. 5 starter
1.
Chris Sale
, White Sox
2.
Jacob Turner
, Tigers
3.
Aaron Crow
/
Danny Duffy
, Royals
4.
Fausto Carmona
/
David Huff
/
Jeanmar Gomez
, Indians
5.
Brian Duensing
/
Jason Marquis
, Twins
Welcome to the AL Central crapshoot. Turner and Sale have the most upside, but one is a rookie and the other is converting from relief. Crow will also be given a shot at the rotation, but his difficulties against left-handed batters (.311 average allowed) don't bode well for that transition. Even if the artist formerly known as Carmona gets a visa, what do you have? A guy with a 5.01 ERA over the past four seasons. Duensing is another typical Twins pitcher, which means he at least throws strikes. His first full season in the rotation didn't go well, so of course the Twins brought in Marquis, yet another guy who doesn't strike anybody out.
Closer
1.
Jose Valverde
, Tigers
2.
Joakim Soria
, Royals
3.
Matt Thornton
, White Sox
4.
Chris Perez
, Indians
5.
Matt Capps
, Twins
Four good relievers plus Matt Capps. I do admit I'm a little perplexed by Perez, however. In 2009, he struck out 10.7 batters per nine innings. In 2010, that figure fell to 8.7 but he posted a pretty 1.71 ERA. In 2011, it was all the way down to 5.9, but without much improvement in his control. Perez blew only four saves but he did lose seven games. He survived thanks to a low .240 average on balls in play. He's an extreme fly-ball pitcher but didn't serve up many home runs. Bottom line: I'd be nervous.
Bullpen
1. Indians --
Vinnie Pestano
,
Rafael Perez
,
Tony Sipp
,
Joe Smith
,
Nick Hagadone
2. Royals --
Jonathan Broxton
,
Greg Holland
,
Louis Coleman
,
Tim Collins
,
Jose Mijares
3. Tigers --
Joaquin Benoit
,
Octavio Dotel
,
Phil Coke
,
Daniel Schlereth
,
Al Alburquerque
4. White Sox --
Jesse Crain
,
Jason Frasor
,
Will Ohman
,
Addison Reed
,
Dylan Axelrod
5. Twins --
Glen Perkins
,
Alex Burnett
,
Anthony Swarzak
,
Kyle Waldrop
,
Lester Oliveros
If you're starting to think I'm not high on the Twins for this season, you would be correct.
Intangibles
1. Royals
2. Indians
3. Tigers
4. White Sox
5. Twins
I like the youthful exuberance of the Royals, plus the likelihood of improvement from the young players and the possibility of some midseason reinforcements from the minors. The depth of the bullpen will help bolster a shaky rotation, and this just feels like an organization that is finally starting to believe in itself. The Indians are riding last year's positive results and enter the season knowing they might get better production from Choo and Sizemore and full seasons from Kipnis and Chisenhall. I'm not knocking the Tigers here, but they do lack depth in the pitching staff and the pressure is on them.
The final tally
1. Tigers, 65 points
2. Royals, 55 points
3. Indians, 54 points
4. White Sox, 46 points
5. Twins, 35 points
No surprise here: The Tigers will be heavy favorites to win the division with a lineup that should score a ton of runs. I don't think it's a lock that they'll win -- Verlander, Avila, Peralta and Valverde will all be hard-pressed to repeat their 2011 campaigns, for example. But the Royals and Indians appear to have too many questions in the rotations, the White Sox have serious lineup issues, and the Twins have a beautiful ballpark to play their games in.
November, 11, 2011
11/11/11
10:00
PM ET
By
Christina Kahrl
| ESPN.com
The Minnesota Twins'
rumored agreement
with
Jamey Carroll
for two years and $7 million is another one of those nice developments (if you're Jamey Carroll), while simultaneously proving to be yet another cause for frustration for Twins fans still wondering how they got here.
[+] Enlarge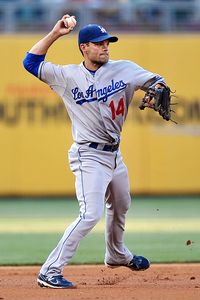 Drew Hallowell/Getty ImagesJamey Carroll might not be as effective a defensive shortstop as the Twins pitching staff needs.
Keep in mind, the Twins haven't let the position become a scar over the years. After
Cristian Guzman
left as a free agent, they replaced him with
Jason Bartlett
, who they'd stolen from the Padres in a minor deal for
Brian Buchanan
years before. Even before Bartlett got expensive, they bundled him with
Matt Garza
to get
Delmon Young
from the Rays. The Twins didn't effectively replace Bartlett for two years (mucking around with
Nick Punto
,
Orlando Cabrera
,
Brendan Harris
,
Adam Everett
and more), but finally dealt
Carlos Gomez
-- one of the keys to the
Johan Santana
trade -- to get
J.J. Hardy
. Yet a year later, with Hardy still a year removed from free agency, he was deemed too expensive, and Minnesota dealt him to the Orioles.
In all of these trades -- dealing away Garza plus Bartlett, Gomez, Hardy and Young -- the Twins have ended up on the short end, at least on every scoreboard that doesn't have a dollar sign on it. Worse yet, they lost talent that other teams have either dealt to better effect or happily retained. And all of those trades belonged to then-general manager Bill Smith. So did signing
Tsuyoshi Nishioka
and finding he was
another Japanese import who couldn't handle shortstop
in the major leagues. And the decision to move
Alexi Casilla
to short last year, despite a spotty track record there in the minors, without ever spending an entire season at the position? Another Smith move, for which you can blame penury, optimism or madness, whatever your inclination might be.
The question is whether this inaugural move for Terry Ryan's second (non-consecutive) term running the show in Minny is really that much better, or if it isn't just the latest patch slapped on a self-inflicted wound. There's no reason to believe that Carroll can play short adequately on an everyday basis. His Total Zone Fielding Runs or Defensive Runs Saved marks this year were dreadful; they were dreadful in 2005. And this is the man joining a Twins team that needs good fielding behind its pitchers, who routinely rank low in the majors in strikeout rate, touching bottom with last season's 30th-place finish.
Even if Carroll's track record as a shortstop wasn't poor, that's without getting into the number of shortstops playing the position effectively into their late 30s. Carroll will be 38 by next season, and only 25 teams have ever played a shortstop that old or older; of them, only one, the 1984 Cubs with Larry Bowa, ever made the postseason. The Yankees will be giving it a shot next year with
Derek Jeter
. Suffice to say Jamey Carroll ain't the Captain, whatever your position on Jeter's defensive performance.
It's possible that Carroll winds up at second instead of short, and that the Twins continue to employ Nishioka and Casilla and
Trevor Plouffe
at shortstop. However, a four-headed middle-infield monster where nobody can play shortstop effectively simply sounds more monstrous. Add in
Danny Valencia
's brand of relative immobility at third, and it sounds like a tough season to come for the Twins' especially defense-dependent pitching -- unless Carroll replaces Valencia, and the Twins find a shortstop.
Which leaves Minnesota with ... what? Beyond the unfortunate legacy and throwing money at the middle-infield problem, the Twins do get something for their troubles. The good news is that Carroll's perhaps Punto-plus at the plate -- his lowest OBP mark in the past four seasons was .355. And given that he's a negligible extra-base threat, Target Field's slugging-suppressing powers won't matter to him. Placed in one of the two top slots in Minnesota's order, he ought to be an offensive asset, creating plenty of run-scoring opportunities for
Joe Mauer
and … well, other people, because on the long list of problems that Ryan is going to have to fix this winter, staffing next year's lineup has to rank right at the top. Carroll's a useful part, and one who can be moved around, but if he's locked in at short, the Twins have locked in on a non-solution to their problems there.
Christina Kahrl covers baseball for ESPN.com. You can follow her on Twitter.
June, 23, 2011
6/23/11
11:43
AM ET
By
Christina Kahrl
| ESPN.com
Wednesday night, the
San Francisco Giants
finally brought the
Minnesota Twins
' winning ways to an end, stopping their streak at eight with a 5-1 setback. However, all that did was keep the Twins' record at a still-blistering 15-3 in their previous 18. One loss doesn't mean Minnesota's momentum over the season's long march has evaporated, and folks were, if anything, way too quick to count them out before this run.
[+] Enlarge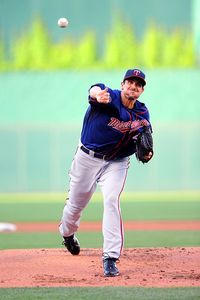 G. Newman Lowrance/Getty ImagesCarl Pavano has pitched two complete games and has four wins in his past four starts.
Naturally, a good part of that is what some statheads would refer to as "luck," or a matter of convenient timing. Sweeping the Royals and the Padres during their run isn't proof of this team's enduring dominance, but a reminder of Lou Boudreau's old observation that if you want to contend, you better beat up the bad teams. But the scheduling gods didn't answer any particular prayer, having long since charted the Twins' travel plans. More notably, the Twins are 6-1 in one-run games during their June run, with the lone loss a 1-0 shutout setback suffered at the hands of the Tribe's
Carlos Carrasco
. And in the middle of their just-ended win streak, they managed four one-run wins, two by 1-0 margins.
You can call that luck, but it also reflects the virtue of some simply tremendous pitching. During their 15-3 run, the Twins have allowed just less than 2.4 runs per nine (with a gaudier 1.88 ERA), the stuff that dreams of 1968 are made of. The pen is allowing just 1.8 runs per nine in June. The Twins have gotten 13 quality starts in 19 games this month, with
Carl Pavano
a perfect four-for-four in four Twins wins. Pitching this robust is part of the reason why the Twins have actually
outperformed
their expected record by a couple of wins.
The offense has been remarkably different as well, scoring 4.5 runs per game after eking out just 3.5 per in the first two months. To put the 3.5 runs per game in context, that would currently rank last in the league, underwhelming even the Mariners' tepid last-place attack. Switch to
equivalent average
on the full season, park- and league-adjusted, and the Twins are putting up a 12th-place .245 EqA in the AL, besting only the Athletics and Mariners.
What's impressive is that the Twins have lifted their offensive game
without
their MVP stalwarts, the M&M boys. They're also doing it without
Jim Thome
beating Father Time or
Denard Span
leading off or
Jason Kubel
finally proving whether he has another big 2009 season in him. It doesn't owe much to
Joe Mauer
now being back from the DL -- Twins catchers had a collective .497 OPS before Wednesday night's game, but Mauer managed to bring it
down
with an unproductive first week back.
It takes a lot of faith in protection or synergy to believe that Mauer's return is all that responsible for the lineup's overall improvement.
Justin Morneau
is still on the shelf and recovering from a wrist injury, but he still hasn't really demonstrated that he can come all the way back from the concussion he suffered a year ago -- that's something we can all just hope for, not count on.
Delmon Young
and
Tsuyoshi Nishioka
are both back from the DL, but neither is delivering what was expected, either in terms of last season's power from Young, or
Nishioka's OBP potential
.
Instead, the Twins' attack has had to depend almost entirely on
Michael Cuddyer
and
Alexi Casilla
. Cuddyer's 13 extra-base hits (five home runs) in June are hard to miss, to the point that his name can get bandied about as the token Twins All-Star if Mauer doesn't get voted in. Happily, Cuddyer's not alone -- Casilla's .329/.386/.474 while hitting in the second hole has given Cuddyer someone to drive in now and again. It makes for an odd pair of bats to carry a team, but beggars can't be choosers, and before June, beggary was Minnesota's lot.
Because of all these injuries and the expectation that the Twins will still get everyone back in something like full working order at some point during the summer, they're still in this thing. Per
Clay Davenport's projection-based Postseason Odds
, the Twins got their chances up to just over 12 percent before their Wednesday night loss to the Giants. That may not sound like much of a shot, but their streak put them back on the map. Admittedly, they're not alone as far as playing hare to the tortoises that the Tribe or Tigers might represent -- the White Sox are 26-17 after a start that put them 11 games below .500 a month into the season.
Minnesota's recent hot run brings to the forefront all sorts of hot-button issues. Take realignment: If the Twins were in any other setup than the uneven three-division, one wild-card setup, and in any other division other than the AL Central, they wouldn't be a phenomenon, they'd be zombies, just like the Orioles, dead in the daylight and looking for brains. But because they're in the Central, where the average projected win total to take the division title is an MLB-low 87 wins (again, per Davenport), all things remain possible.
As a result, if you want a division race for all the marbles, will anything beat the Central's four-team, winner-take-all brawl? A month out from deadline dealing, there's no telling which of the four might swing the swap that lets them loft a divisional flaglet. But just because the Indians invited themselves into what was expected to be a three-team race early on, the Twins have not yet excused themselves, which makes for one of the best races to watch with half a season yet to play.
Christina Kahrl covers baseball for ESPN.com. You can follow her on Twitter.
November, 8, 2010
11/08/10
4:54
PM ET
Looks like one of the Twins' championship ingredients has priced himself
out of the organization
:
Hudson, who turns 33 in December, told me he would love to return to the Twins, but he's a pending free agent, and the writing is on the wall with their payroll situation. It looks like he'll be playing for his fourth team in four years in 2011.
Gleeman thinks
the Twins' new/old second baseman is
Alex Casilla
.
You might recall the Twins giving Casilla a job in the spring of 2007, and then again later that summer. Both times, he basically washed out. But he was only 22, and he bounced back some the next season. But 2009 looked a lot like 2007, which resulted in the signing of
Orlando Hudson
. When Casilla did play in 2010, though, he played reasonably well.
The problem is that you can't be sure which Alex Casilla you're getting; his OPS+'s in his four seasons with the Twins: 40, 91, 44, 97. And that last figure is actually better than Hudson's. There's a decent chance that Casilla will actually give the Twins just as much in 2011 as they got in 2010 from Hudson.
No, that's not the way to bet. Casilla's lousy seasons count, too. And it's not like he tore things up in the minors, either. But considering his age and Hudson's, and the vast difference in the amount of money each will earn in 2011, the decision to let Hudson walk away is highly defensible.
May, 6, 2009
5/06/09
7:25
PM ET
Alexi Casilla is gone
, and Dave Cameron notes
the Twins had little choice
...
I'm not a big believer in trend analysis, but you rarely see that kind of direct line with no variation. His OPS by month has declined every single month since last May (he began the season in the minors, so there's no April data for '08), where he went from great to good to okay to bad to really bad to miserable to holy crap we've seen enough.

At this point, I think we probably have to assume that Casilla is not going to make it in Minnesota. He showed some promise last year, but for a guy with no power and an aggressive approach at the plate, his margin for error is very small. When he gets into funks like this offensively, he's going to be really bad, and he's not exactly making up for it with gold glove defense at second base either.

The Twins are going to look at Matt Tolbert and Brendan Harris to fill the void, but they're going to need to make a move to bring in a new second baseman if they want to try to get back in the AL Central race. At this point, Casilla's probably out of the picture for good, and they don't have a quality option for the long term available.
Forget about the trend line for a moment. Casilla turns 25 this summer, and his career line is .249/.300/.319 in 739 plate appearances. Just a run of bad luck? Casilla's Triple-A stats are little better.
This is who he really is.
You could almost sort of live with numbers like that, if Casilla was a shortstop or a great second baseman. He is neither. At second base, he's passable at best. Really, there simply isn't a place for him in the major leagues. It speaks well of the Twins, that they've figured this out. It speaks poorly of them that it took so long.
I'm a bit more sanguine than Cameron about Brendan Harris. He's not a good fielder but he's no worse than Casilla, and he's actually a pretty good hitter, just a bit worse than league average for his career. Tolbert, who started tonight's game at second, is also decent. Sure, it'd be nice to have an established second baseman in the lineup every day. But in terms of fill-ins, the Twins could do a lot worse than Harris and/or Tolbert for the rest of the season. Now, if they can just find a real shortstop ...