SweetSpot:

Alfredo Aceves
April, 26, 2012
4/26/12
3:26
AM ET
By
Christina Kahrl
| ESPN.com
One of Casey Stengel's best remembered quotes is, "I couldn't have done it without my players," and that's nice as far as it goes. But a manager doesn't just sit back and leave things to the players; a big part of a manager's job is to put his players in the best position to succeed, to help them "do it."
If you followed the Red Sox-Twins game blow by blow, you might have wondered if that's what Bobby Valentine achieved in a close game made closer by some odd in-game machinations. Insofar as wins and losses are the only things that count, Valentine's high-wire act worked on Wednesday, and the Red Sox wheezed their way through a late win as much in spite of as because of their increasingly desperate blur of revolving relievers.
The Twins, plinky and impatient at the plate with the kind of reliability associated with death, taxes and sunsets, tried to kill Sox starter
Clay Buchholz
off with a death by a thousand cuts. But despite two hits in each of the first four innings, the Twins had managed just a lone run against him. The absence of a knockout blow may have owed something to
Josh Willingham
's paternity leave to greet his son Rogan's birth. That many opportunities should lead to runs, especially if the Twins are supposed to fulfill that meme about how Ron Gardenhire gets them to do the little things like advancing runners, and making do with less as the little engine that could, or at least tries. But they got to work with lots, and until the sixth they'd done very little with it.
After 88 pitches through the first five innings, though, Buchholz had to work fairly hard. It doesn't help when so many of those throws were from the stretch with men on base, but he was clearly gassed, and the sixth inning got ugly fast.
It was only then that Valentine pulled the trigger, perhaps as late as he dared go to his bullpen. Red Sox relievers have a 7.14 Fair Run Average, or FRA. That's the worst in baseball by a good run and a half, and it's early enough yet that you can plead "small sample" to your heart's content. A Baseball Prospectus metric, FRA differs from Fielding Independent Pitching in that it credits pitchers who work out of jams more often than usual and considers defense, base-out situations and batted ball types. All of which is a fancy way of saying that if there's a fire, the Red Sox have had the wrong kind of gas to try to put it out. If it stuck the whole season, it would be the worst bullpen FRA in more than 30 years, and second only to the 1990 Expos for all-time awful.
But with the bases loaded and another run in and up by five, Valentine went to his pen ... to bring in
Scott Atchison
, a right-hander. To face the very left-handed
Joe Mauer
. With the equally very left-handed
Justin Morneau
on deck.
That's two lefties who aren't coming out against any situational machination, and the situation is a perfect illustration of why most contemporary managers obsess about alternating batters by handedness. Riding the hot hand, Gardenhire has been thoroughly conventional of late, with Willingham between the M&M boys. With no Willingham on this night, Gardy went back to putting his two best power sources three-four in the order.
On his career, Mauer has a 126-point advantage in slugging hitting against righties; Morneau's is "just" 91 points. You don't manage on what a man's done in April, you look at the big picture. On his career, Atchison isn't much for cranking out ground-ball outs, so this wasn't even really about trying to get a literal twin killing.
Stranger still, Atchison had thrown two innings on Tuesday. Perhaps ideally, he doesn't even pitch on Wednesday. Ideally, he doesn't get brought in just to face Joe Mauer. It isn't even like Atchison's a bass-ackwards righty with a track record of beating down lefties -- his career OPS split is almost 100 points worse versus lefties.
This might be the antithesis of situational management, and it might have been brave or inspired if it wasn't simply nutty. Fed a situation with two lefties due and the bases juiced and a five-run lead, Valentine did the opposite of convention, and it burned him. Mauer plated two runners, and only
then
did Valentine go to the lefty ... and
Justin Thomas
didn't make matters any better, giving up a double to Morneau, beaning
Chris Parmelee
and getting hooked. And just like that, the Sox are on their fourth reliever in five batters. Bill James had a saying about relievers, that if you use enough of them in a game, eventually you run into the one who doesn't have it that night, but the way the Red Sox's 'pen is working out, they're finding more than one.
Now, big picture, if you won't use Thomas with a five-run lead against a lefty, I'm not sure what Justin Thomas is for, but that's a matter of elective decision making. But if you use Atchison in a less than ideal situation and he fails, is that really his fault? A manager's supposed to put his players in their best position to succeed, and this clearly wasn't in anybody's ideal-situation operating manual.
Maybe Valentine will find his own comfort zone with his bullpen moves. Maybe he's still figuring out what everyone's for. To be fair, this isn't the bullpen he envisioned a month ago, and there's talent here. As exciting as he was against the Twins, loading the bases,
Alfredo Aceves
can close as well or better than most. But until Valentine figures out how to put his relievers in the best positions to succeed, this is a problem that won't get better as quickly as Red Sox fans might like.
PHOTO OF THE DAY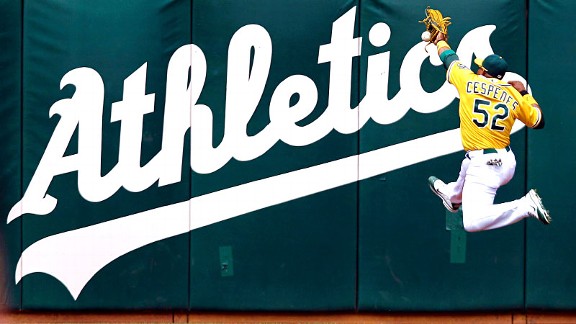 AP Photo/Marcio Jose SanchezYoenis Cespedes didn't snag this line drive, but made up for it later with his tying 2-run HR.
April, 14, 2012
4/14/12
1:48
PM ET
By
Doug Kern, ESPN Stats & Information
| ESPN.com
Austin Jackson scored a run in each of the Tigers' first six games this season. That was the longest streak by a Detroit batter to start a season since Darrell Evans crossed the plate in each of the first eight contests in 1986. And it's the longest streak by a Tigers leadoff hitter since 1939, when one of Jackson's center field predecessors, Barney McCosky, also scored in the first eight games of the season. In game seven on Friday, however, Jackson was on base only once (he walked in the eighth) and was stranded at third.

[+] Enlarge

Duane Burleson/AP PhotoAustin Jackson is having a solid season for the Tigers early on.

The Red Sox managed to blow a three-run lead in the ninth and a two-run lead in the 11th in losing a wild one to Detroit on Sunday, 13-12. It was the first time Boston had scored a dozen runs and lost since May 31, 1970, when they were on the wrong end of a 22-13 slugfest with the White Sox at Fenway.

Alfredo Aceves gave up all three ninth-inning runs in Sunday's game without retiring a batter, making him just the second Red Sox pitcher in the live-ball era to work zero innings pitched in each of his first two appearances of the year. Guido Grilli faced one batter each in the first two games of the 1966 season, and didn't get either of them out.

The Tigers used eight pitchers in that 13-12, come-from-behind win over the Red Sox. It marked just the second time in 70 years that Detroit had come back to win a game in which their starter surrendered seven-plus runs without getting through the third inning. Omar Olivares was the starter in 1997 when the Tigers rallied to beat Baltimore 11-8.

On Sunday, the Yankees managed just three hits -- all doubles. That same day, the Twins had just two hits as Jason Hammel posted the longest no-hit bid of the year so far. Both Minnesota knocks were doubles. It's the first time in almost three years that two teams have done that on the same day. But then … the Royals did it against Oakland (three hits, three doubles) on Monday … and the Athletics did it against Kansas City (one hit) on Tuesday.It's the first time since at least 1917 that there have been three straight days where a team had every hit be a double.

On Sunday, Jeff Samardzija (making just his sixth career start) was afforded the chance at a complete game. He had to be pulled after giving up a two-out homer that pulled the Nationals to within a run. Four days later, Matt Garza was en route to a shutout against Milwaukee, but was pulled after committing a two-out error that allowed the inning to continue. So the Cubs had two pitchers this week leave the game after 8.2 innings pitched.The Cubs hadn't had two pitchers work exactly 8.2 innings in the same season since 1995 (Jaime Navarro and Frank Castillo).

In Sunday's Cardinals-Brewers game, you could say the teams spread it around. In the 9-3 Milwaukee victory, the 12 runs were charged to eight different pitchers. In fact, every hurler who appeared in the game ended up with at least one earned run on his record.It's the first game in eight seasons where the teams combined to use eight or more pitchers, and every single one of them got charged with at least one earned run. The last time that happened was on Sept. 9, 2004, when the Royals erupted for a 26-5 victory over the Tigers in the first game of a doubleheader.

James Shields got called for a balk Wednesday on an illegal pickoff throw to third. That was in the bottom of the fifth -- after Justin Verlander had been called for his own balk in the top of the fifth.It was the first MLB game to feature balks by both teams in the same inning since Aug. 16, 2004, when the Rangers' Mickey Callaway and then-Indian CC Sabathia committed them in the fourth inning of a 5-2 Texas win.

In that same game, Verlander threw eight shutout innings before getting tagged for four runs and the loss in the top of the ninth. He became the first pitcher to throw eight scoreless innings, then surrender four (or more) runs in the ninth to take a loss since Tim Hudson did it for the Braves on Sept. 22, 2005. Hudson allowed a three-run homer to Shane Victorino of the Phillies for most of that damage before Macay McBride had to come in and get the final out.

In Monday's Yankees-Orioles game, Derek Jeter went a perfect 4-for-4 for the visitors, while Matt Wieters went a perfect 4-for-4 in the home dugout. It was the first game this year to feature two players with four-hit games.Since the start of 2010, there's been only one other MLB game where a player for each team went a perfect 4-for-4 or better -- and it was between the Orioles and Yankees. On July 30, 2011, Vladimir Guerrero's 4-for-4 was the bright spot for Baltimore as the Yankees -- led by Robinson Cano's 5-for-5 -- demolished them 17-3.

In Yu Darvish's much-anticipated major league debut on Monday, he allowed five earned runs, four walks, hit a batter, threw one wild pitch -- and won the game because the Rangers spotted him eight runs.He's the first pitcher in the live-ball era to win his major league debut while giving up all of those stats (or worse). Even take away the wild pitch, and only one other hurler has hit five earned runs, four walks, one HBP and a win in his debut. That was the Blue Jays' Matt Williams on Aug. 2, 1983.

Jeff Gray of the Twins earned the first one-pitch victory of the season on Wednesday. Gray threw his one and only pitch to Peter Bourjos to end the top of the seventh, after which the Twins took the lead in the bottom of the inning. The Twins, conveniently, recorded the last one-pitch win last season, by Matt Capps on Sept. 23.

Speaking of pitching oddities, the Royals-Athletics game was finally called in the top of the eighth inning on Tuesday after its second rain delay. Aaron Crow, who had pitched the seventh for the Royals, was credited with his first career save. Technically, he does meet the save criteria set forth in the rule book, notably that of being the "finishing pitcher" in a game his team won.The last player to be credited with a save prior to the ninth inning was Tony Sipp of the Indians, who received one in a rain-shortened affair with Tampa Bay on July 23, 2010. That also remains Sipp's only career save.

On Tuesday, Freddy Garcia of the Yankees famously threw five wild pitches to tie the single-game American League record for such a thing. He was also the first pitcher to throw five-plus wild pitches in an outing of less than five innings. But two of those wild pitches scored runs for Baltimore. Another run scored on an error. That made the Orioles the first team in two years to score four-plus runs with one or fewer RBI. (The one RBI they did get came on a home run.)For the Orioles, it was just the second time since moving to Baltimore that they scored four runs on one or zero RBI. The other was in their inaugural year: On June 27, 1954, they scored three times on errors by the Athletics before finally walking off on an RBI single in the bottom of the 11th.

Oakland "walked off" in unusual fashion on Wednesday when Jonathan Broxton plunked Yoenis Cespedes and Jonny Gomes to force in the winning run in the bottom of the 12th. It was the first game to end with back-to-back hit batters since Sept. 2, 1966, when Stu Miller of the Orioles hit Al Weis and Tommie Agee of the White Sox in the bottom of the 11th. (I admit that Elias found this a lot quicker than I would have.) However, Gomes became the first Athletics batter to get hit by a pitch with the bases loaded in extra innings since at least 1947. (It had never happened in the Baseball Reference "play index" era.) It's also noteworthy that Oakland scored its two runs in the 12th without a base hit. The three runners ahead of Cespedes reached on two walks and an error.

Before Friday, there had been 36 double-digit strikeout games by teams this week (including seven games where both teams did it) but not one by a single pitcher. Max Scherzer's 11-strikeout outing on Friday afternoon broke that string.

In Wednesday's 17-8 eruption between the Giants and Rockies, there were four pitchers (Tim Lincecum, Jeremy Guthrie, Guillermo Mota, Jeremy Affeldt)who all gave up at least six hits and at least five runs. It's the first time that that has happened since July 17, 1998, when Seattle dropped an 18-5 score on the Royals at the Kingdome.(It is also very intriguing that, in that game, both teams posted a seven-run inning. Except I don't know of a good way to search line scores.)

By the way, on their next two games on Thursday and Friday, the Giants promptly had two pitchers (Madison Bumgarner and Matt Cain)carry no-hit bids into the sixth inning. The only team to have bids in consecutive games last season was also the Giants. That happened on May 8 and 10 by Ryan Vogelsong and Lincecum.

The Orioles and Blue Jays combined to hit seven home runs in Baltimore's 7-5 victory on Friday. All were solo shots. It's the first game with seven-plus home runs that were all solo since a July 20, 2010 game at Camden Yards between the Rays and Orioles.

There's always one guy left out.In the 10-9 "pitchers' duel" between the Twins and Angels on Thursday, 17 of the 18 starters recorded at least one base hit. Howard Kendrick was the lone collar, going 0-for-4 plus a walk.

It's the first nine-inning game this season to have 17 different starters record a base hit. There were three games last season where all 18 did.

Minnesota got a four-hit game from Denard Span and three-hit games from Joe Mauer, Josh Willingham and Danny Valencia. It's the first time the Twins have had four players with three hits, including at least one with four, since they dropped a 20-1 score on the White Sox on May 21, 2009.
April, 8, 2012
4/08/12
8:50
PM ET
It would be easy to pile on the
Boston Red Sox
right now. Rip apart the bullpen. Mock all those who said
Jonathan Papelbon
wasn't worth $50 million. Make fun of Bobby Valentine or Red Sox Nation already being thrown into a fit of worry. Or just suggest that they bring back fried chicken and beer to the clubhouse.
But the more reasoned response: It's just three games. Three painful losses, but still just three losses. The Phillies won 102 games in 2011 and had four streaks of at least three losses, including an eight-game streak. The Yankees won the AL with 97 wins and had six streaks of at least three losses in a row. So let's not overreact just yet.
Instead, let's give credit to the
Detroit Tigers
. They capped a series sweep of Boston with a stunning 13-12 victory on Sunday, a game featuring 35 hits, 391 pitches, 13 pitchers and two gigantic blown saves by
Alfredo Aceves
and
Mark Melancon
. After hitting his dramatic walk-off home run in the 11th inning, Tigers catcher
Alex Avila
summed up the wild contest: "You don't see those kinds of games at this level very often. There's really no rhyme or reason or explanation for it."
The Tigers aren't a three-man team. They weren't a two-man team a year ago. And while
Miguel Cabrera
and
Prince Fielder
could prove to be one of the most
lethal offensive duos we've seen in several years
, Avila could prove to be a deadly third weapon in the order. Avila mostly flew under the national radar last season, although he was voted in as the All-Star starter. His .295/.389/.506 line wasn't superb just for a catcher -- he ranked fifth in the AL in on-base percentage and eighth in OPS. Despite that, Jim Leyland kept Avila in the bottom of the order most of the season, with most of his starts (61) coming in the eighth spot. On Opening Day, Avila hit eighth. He's been sixth the past two games. I don't think he'll be headed back to the bottom of the lineup any time soon.
Against Melancon, Avila fouled off a 2-2 fastball and then smoked a curveball just over the fence in right field. "Hanging curveball," Melancon
told reporters after the game
. "It was a hanger and he hit it out.''
Avila is a key to the Detroit lineup. As good as the Cabrera-Fielder combo is, they need production from other spots. Leadoff hitter
Austin Jackson
is off to a blazing start with a .571 average, but his OBP a year ago was just .317, a reason the Tigers ranked just 24th in leadoff OBP. No. 5 hitter
Delmon Young
is another hitter with historically low OBP issues, just .302 a year ago and .321 career. He may drive in 100 runs by mistake hitting after Cabrera and Fielder, but he projects as one of the weaker No. 5 hitters in the league.
That puts pressure on Avila in the No. 6 spot. Assuming he stays there, he'll also get a lot of RBI opportunities. He's patient and grinds at-bats -- he had two walks as well on Sunday. He'll likely face a lot of situational lefties late in games; he held his own against left-handers a year ago (.273) but isn't as dangerous against same-side hurlers. But that's a small nitpick. He's solid behind the plate (threw out 32 percent of base stealers in 2011) and if he produces like 2011, you'll start seeing Avila mentioned more on a national scale: As maybe the best catcher in the game, in the same breath as guys like
Joe Mauer
,
Brian McCann
,
Buster Posey
and
Yadier Molina
.
April, 5, 2012
4/05/12
2:15
PM ET
Welcome to another Opening Day! SweetSpot blogger Dave Schoenfield and I joined forces for Thursday's
Baseball Today podcast
, talking not only about the Cardinals beating the Marlins, but looking ahead!
1. Wow, is that a big ballpark in Miami or what? Dave and I talk about
Josh Johnson
,
Kyle Lohse
and how the Marlins seem ill-fitted for their new stadium.
2. Another day, another bit of news concerning the
Boston Red Sox
closer situation. By the way, producer Jay Soderberg doesn't like the team's chances this year.
3. The
Washington Nationals
demoted
John Lannan
to the minors. While we applaud the move, do veteran players deserve a team's loyalty?
4. Other email questions dealt with where
Albert Pujols
should bat in the order, Starlin Castro's future contract, and an entirely new way to build pitching staffs.
5. We look ahead to Thursday's action, with
Clayton Kershaw
facing off against a potentially rejuvenated right-hander in San Diego, and whether we should be worried about
Matt Kemp
's poor spring training.
So download and listen to Thursday's excellent Baseball Today podcast, because baseball is awesome and you can't get enough!
April, 5, 2012
4/05/12
1:22
PM ET
Some quick bullet points on our third Opening Day/night of the season:
1. A day of aces.
Justin Verlander
,
Roy Halladay
,
Clayton Kershaw
,
Stephen Strasburg
,
Ricky Romero
,
Justin Masterson
... I think we may see some low-scoring games today. Strasburg's start in Chicago will be especially interesting. After his impressive return last September, his spring training numbers were mediocre (not that you can read too much into that).
2. Red Sox closer situation. Bobby Valentine named
Alfredo Aceves
his closer. The most interesting thing here is to see how Valentine employs him. Much of Aceves' value a year ago was that he wasn't just a one-inning guy. The Red Sox are carrying 13 pitchers, but you wonder if Valentine will try and use
Mark Melancon
and Aceves to get more than six outs if Boston has a lead and the starter has to come out.
3.
Johan Santana
making his first start since Sept. 2, 2010. If he gives the Mets 30 ace-level starts, can they become surprise contenders in a tough division? (My Mets friends say: No.)
4. The revamped Citi Field dimensions. We saw all the space in Marlins Park last night. The Mets went the opposite direction, moving the fences in. How much will that affect home runs?
5.
Miguel Cabrera
and
Prince Fielder
. How will Cabrera handle third base? Is there any truth to the belief that Fielder will "protect" Cabrera? He did receive 22 intentional walks last year, so in theory that number may decrease.
December, 14, 2011
12/14/11
4:18
PM ET
ESPN Insider Keith Law breaks down the
Jed Lowrie-Mark Melancon trade here
, and I generally agree with his assessment: Lowrie still has upside, although his ability to remain healthy is obviously a question mark.
Melancon, originally acquired by the Astros from the Yankees in the Lance Berkman trade, had a strong season in his first full year in the majors, posting a 2.84 ERA with 20 saves. He was stronger against right-handed batters, allowing a .228 average with a 38/8 strikeout/unintentional walk ratio, versus .243 with a 28/11 strikeout/unintentional walk ratio against lefties. But it's not such a large split that the Red Sox wouldn't be comfortable with him closing games if they move Daniel Bard to the rotation.
Right now, the Boston bullpen lines up something like this, assuming Bard is a starter:
CL Mark Melancon
RHP Alfredo Aceves
RHP Matt Albers
LHP Franklin Morales
RHP Scott Atchison
RHP Bobby Jenks
Other possibilities: Andrew Miller, Felix Doubront, Michael Bowden.
The Red Sox's bullpen was actually fairly strong in 2011 -- well, at least until Bard's late-season collapse and Jonathan Papelbon's blown save in the season finale. Its 3.67 ERA ranked fourth in the AL (behind the Yankees, Angels and Mariners), its strikeout rate ranked third and it allowed the lowest opponents' batting average. The problem, of course, is that Papelbon is gone, Bard may move to the rotation and Aceves may not repeat his strong 2011.
Aceves pitched 93 innings in relief, the most of any reliever in 2011, and just one of two to log 90 innings (Baltimore's Jim Johnson being the other). Will there be a carryover effect? Here's the short list of relievers to throw 90 innings since 2006 and their performance the following season:
Tyler Clippard, 2010 Nationals: 91 IP, 3.07 ERA, 1.21 WHIP. 2011: 88.1 IP, 1.83 ERA, 0.84 WHIP.
Matt Belisle, 2010 Rockies: 92 IP, 2.84 ERA, 1.09 WHIP. 2011: 72 IP, 3.25 ERA, 1.25 WHIP.
Heath Bell, 2007 Padres: 93.2 IP, 2.02 ERA, 0.96 WHIP. 2008: 78 IP, 3.58 ERA, 1.21 WHIP.
Saul Rivera, 2007 Nationals: 93 IP, 3.68 ERA, 1.40 WHIP. 2008: 84 IP, 3.96 ERA, 1.49 WHIP.
Peter Moylan, 2007 Braves: 90 IP, 1.80 ERA, 1.07 WHIP. 2008: Injured (5.2 IP).
Scott Proctor, 2006 Yankees: 102.1 IP, 3.52 ERA, 1.19 WHIP. 2007: 86.1 IP, 3.65 ERA, 1.46 WHIP.
Salomon Torrees, 2006 Pirates: 93.1 IP, 3.28 ERA, 1.46 WHIP. 2007: 52.2 IP, 5.47 ERA, 1.41 WHIP.
Jon Rauch, 2006 Nationals: 91.1 IP, 3.35 ERA, 1.25 WHIP. 2007: 87.1 IP, 3.88 ERA, 1.10 WHIP.
Geoff Geary, 2006 Phillies: 91.1 IP, 2.96 ERA, 1.35 WHIP. 2007: 67.1 IP, 4.41 ERA, 1.44 WHIP.
Certainly, Clippard and Belisle are best-case scenarios here. I don't think Aceves' season was fluke -- he's now pitched 240 innings in the major leagues with a career ERA of 2.93 and opponents' batting line of .213/.287/.341. But when he pitched 84 innings with the Yankees in 2009 (with all but one appearance coming in relief), he spent most of 2010 on the disabled list. With Bobby Jenks' health an issue after back surgery this month, I suspect the Red Sox will still look for at least one more arm to bolster it bullpen depth.