SweetSpot:

Alfredo Griffin
July, 8, 2011
7/08/11
5:30
PM ET
By
Christina Kahrl
| ESPN.com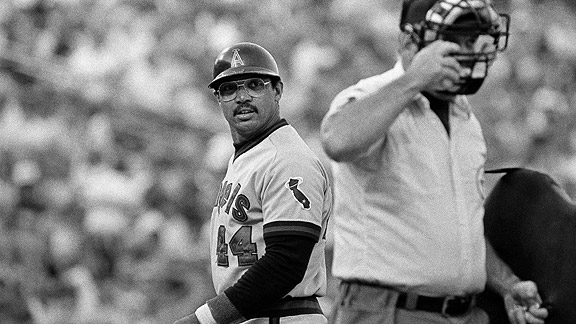 AP Photo/David BreslauerReggie Jackson's best days were behind him when he was named an AL All-Star in 1983.
Last Sunday the hue and cry went up, as it always does around this time of year. The subject? As ever, the topic was the All-Star Game's rosters, and as ever, they were cause for noisy complaint from people angry about the latest fading all-time great tacked onto the roster --
Chipper Jones
this time around -- but also those exasperated with the fans voting
Derek Jeter
onto the team. And the oversight of
Andrew McCutchen
? Ludicrous, obviously.
The thing is, every July there are people who are going to declaim that the All-Star roster is a travesty or a crime, a horror visited upon earnest fans, undeserving players, and the (usually spotty) history of the Midsummer Classic. But this year's selections also serve as a useful reminder that we've seen worse -- much, much worse -- among the ranks of All-Stars selected all time.
Figuring out the
worst
All-Stars of all time can involve a good amount of special pleading or special disdain, and it really depends on which elements of the selection process you want to call out, as well as who you want to slather your particular brand of grief upon. Maybe you want to make the point that fans are stupid, because they voted in Sandy Alomar Jr. in 1991 when he'd been injured a good chunk of the time, and he was hitting just .241/.287/.305 when he was healthy, but in fairness, Alomar was the Rookie of the Year in 1990, and catching was fairly thinly spread (Pudge Rodriguez had only just arrived on the scene).
At least Alomar had something going for him in terms of recent notoriety and position scarcity to help explain why he was voted in. But when you get to the selections made by the industry's working professionals, it isn't like their track record's all that admirable either. Sticking with catchers, what can you say about the inclusion of first-ever Padre All-Star Chris Cannizzaro, a 31-year-old journeyman, on the 1969 team? Cannizzaro hit .220/.290/.297 that year, and that wasn't out of character. But of course he wasn't the first and wouldn't be the last example of unhappy selections made because of the rule that you have to have somebody from every team.
Or say you want to complain about the frequently repeated gesture of including a great player on the way out. This usually doesn't seem
that
egregious to me, at least back in the time when the game was purely an exhibition. Luis Aparicio in 1971 or 1972, for example, or
Cal Ripken
Jr. in 2001 -- no, they didn't really belong on merit alone, getting in on career achievement.
Even so, it's fun to mull who the all-time worsts might have been. Usually, these take the shape of top 10 lists, but let's give a full lineup a shot, while leveling the field to include choices of every stripe, those made by fans or by baseball professionals:
C: While Alomar in '91 and
Jason Varitek
in 2008 represent low points in fan selection history, let's face it, catcher has a ton of alternatives to offer. For example, if you're A's fan you might remember that Jeff Newman was your team's token All-Star in 1979, although he did hit 22 home runs -- and .231/.267/.399 overall. But because I'm of a "pox on all your houses" frame of mind when it comes to pointing the finger at odious choices made by every method for selection, I think we have to go with
Chris Cannizzaro
of the '69 Padres here, as a great example for why the expectation that every team "must" have an All-Star can be something of a bad joke, and one made worse in expansion seasons, as 1969 was.
1B: While dishonorable mention can go to
Ron Coomer
of the '99 Twins or Pat Tabler of the '87 Indians, I think the worst possible choice from among first basemen might be
Ken Harvey
from the 2004 Royals. While he was the K.C. token (as Tabler was the token Indian and Coomer the token Twin in their seasons), what's disgraceful about Harvey's selection is that he was a terrible hitter for a first baseman, offering negligible power and patience, and immobile defense -- he was bulky singles hitter. His .305/.353/.452 line at the break might have seemed promising, but his lack of value at a hitter's position helped make sure his big-league career had just 225 plate appearances left in it. What made his choice especially egregious is that
Mike Sweeney
(.279/.335/.490) would have at least been defensible, since he'd been a Royals All-Star in each of the previous four seasons, and would be again in 2005.
2B: I'm going with
Carlos Garcia
of the 1994 Pirates, because hitting .267/.307/.332 at the break is hardly a line worthy of a purported All-Star. Garcia never did make a repeat appearance, even with the advantage of a token Pirate being a necessity -- something that would help
Tony Womack
a few short years later. But even from this edition of the Bucs, shortstop
Jay Bell
would have been a better middle-infield choice, having hit .260/.343/.448 at the break. There might still be folks outraged over fans voting in
Mark Loretta
over
Robinson Cano
in 2006 -- point taken, but at least Loretta was someone you could argue belonged in the game.
SS: Frankie Zak of the '44 Pirates usually gets mentioned on these sorts of lists, because of the, "Who?" factor, but I sort of look at that oddity as a product of war-time baseball -- the game was at Pittsburgh's Forbes Field that year, and although there were already other Pirates on the roster, using Zak as a reserve saved money at a time when everything was in short supply, including baseball talent. That leaves us with a choice. On the one hand, we have accidental All-Star
Alfredo Griffin
of the 1984 Blue Jays. The former Rookie of the Year of 1979 was apparently in San Francisco anyway, so when Alan Trammell came up with a bum arm, plugging Griffin in despite a .250 OBP was an easy solution. It was Griffin's only All-Star appearance. But then there's also
Cesar Izturis
' selection in 2005 -- his only appearance as well. Going with B-Ref's sOPS+ (or OPS adjusted for league's split), Griffin's 60 is lower than Izturis' 78, making this gun-to-your head choice easier: Griffin it is.
3B: Lots of choices, especially since this is usually a chance for people to wail about Scott Cooper from the '93 and '94 Red Sox, while Vance Law of the '88 Cubs -- on a team that featured Andre Dawson and Ryne Sandberg -- is also cause for disdain. But let's give anti-props to
Ken Reitz
of the 1980 Cardinals. Reitz was hitting .282/.311/.381 with four homers at the time, outstanding by his lights, and he came with a great rep as a fielder. But an All-Star? Even as a token for his team? C'mon, that's silly. Reitz was close to done, as well, since he was off the Cardinals in '81 (in a trade to the Cubs), and got little more than a whiff of java in '82 before disappearing.
Utility: I know, it isn't an official position, but people like to rail on
Omar Infante
or even
Ty Wigginton
from last year, which always reminds me of the ridiculous selection of Mike Sharperson as the token Dodger in 1992, when leadoff star Brett Butler was available. Maybe Butler wanted the days off, but at least he would have put the "star" in his selection as an All-Star.
OF: I'll make a point of picking a center fielder to give us one --
Jerry Mumphrey
of the 1984 Astros, because he wasn't much of a center fielder, and didn't have a lot of justification being on the team as the token Astro ahead of the Astrodome's most famous victim, the sweet-swinging Jose Cruz. For one outfield corner, I'll go with
Robert Fick
of the 2002 Tigers, an embarrassing enough selection, but one made worse by the fact that he wound up getting a couple of at-bats in the infamous tie game. Picking a token Tiger was no easy task, but would it have killed Joe Torre to have selected long-serving Tiger vet
Bobby Higginson
instead? Higginson was at least a good player on several bad Tiger teams, where Fick was a catcher who couldn't catch well enough to play there, or hit well enough to last in the outfield.
And for the last corner? Part of me would like to nominate
Reggie Jackson
from the '83 Angels, because Reggie had a bad first half that turned into an even worse second half, and the fans were voting for celebrity, not production, and shame on them being impressed by that. On the other hand, there's the semi-embarrassing spectacle of Willie Mays' inclusion on the 1973 All-Star team, when he was clearly done and on his way out of the game. That said, it
was
Willie Mays, and he'd literally been in every All-Star Game for a generation (1954-1972). Let's bang on Reggie a bit by picking him, noting that the fans should care a little bit about a player's actual performance in making their selection.
Which gets us down to the pitching, which I'll limit to two. For a starting pitcher, there are lots of options, from Roger Pavlik ('96 Rangers) with his 11-2 record despite a 4.82 ERA (5.16 when he was actually selected), thanks to a ton of run support, or the inexplicable choice of Steve Rogers in '74 (10-11, 4.63 ERA at the break). If ultimate anonymity is your preference, Jayson Dickson of the '97 Angels or Tyler Green of the '95 Phillies might do. But I think I'll go with
Mark Redman
of the 2006 Royals, because 6-4 with a 5.16 ERA at the break representing the
good
half of his season, and after a 5-15 season with a 4.90 ERA for the Pirates in 2005, it wasn't like Redman had recent achievement going for him. While you had to have a Royal, did picking a pitcher who wound up tied for sixth on the staff in WAR -- this from a team with a 5.65 team ERA -- make any kind of sense? This is the sort of choice that makes you wonder if the Royals couldn't have activated George Brett for a day, Minnie Minoso-style, to at least preserve some form of franchise dignity.
For relievers, again, with an easy "who and why" name in
Lance Carter
of the 2003 then-Devil Rays, but the real anti-hero of All-Stars all-time has to be
Mike Williams
of the 2003 Pirates. Williams was selected solely because of his saves tally (25), despite five blown saves, a 6.44 ERA, or 67 runners allowed in 36 1/3 IP. All-Star or not, the Pirates had had their fill of him, dumping him on the Phillies a few weeks later instead of keeping him around for a bobblehead day or whatever other fan-inspiring goodies are supposed to be part of having an All-Star player. The performance was no joke -- Williams was for all intents done, and never pitched in the majors again after this season, so at least he could state as a positive fact that he left the game as an All-Star. But rarely do you get to see so transparent an example of saves being mistaken for value as this.
Christina Kahrl covers baseball for ESPN.com. You can follow her on Twitter.
May, 21, 2011
5/21/11
12:00
PM ET
By
Christina Kahrl
| ESPN.com
Yes, this is another article about the sorry state of offense in 2011. Scoring is down a fifth of a run per team from 2010, a "year of the pitcher." It's down four-tenths of a run from 2009, six-tenths of a run if you want to reach back to 2006. We've also heard about how power is a big part of this "problem," as MLB-wide isolated power is down 20-25 points from 2006. But we're not talking about something else that seems to have gone missing: leadoff hitters who are quality table-setters.
[+] Enlarge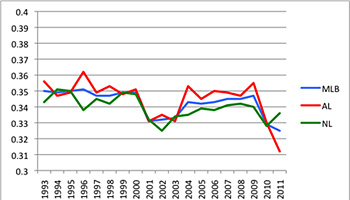 Courtesy of Baseball-Reference.comOn-base percentages for leadoff men.
We'll get into the data up front and then start seeing if we can parse what it might mean. First, there's the simple fact that OBPs for leadoff hitters are down. Last year's MLB-wide leadoff man OBP of .329 was the lowest we've seen in a full season since 1982, when it was also .329. It hadn't been lower than .329 since 1978, when the leadoff OBP was .323. From 1993-2010, the American League's leadoff OBP of .330 was its worst, the NL's .328 its second-worst. Keep in mind, leadoff OBP didn't disappear in a puff of PED ban enforcement. As the first chart reflects, leadoff OBPs weren't just stable after 2006,
they went up
. The AL's 2009 leadoff OBP of .355 was its highest since 1996. On-base percentage for leadoff men was back up where it had been in the offensive onslaught of the late '90s… until last year.
So, a low-water mark was set in 2010, the worst leadoff OBP in 32 seasons … until this spring's action. In 2011, leadoff hitters have managed to get on base at a .325 clip. It's especially bad in the American League, where leadoff men were eking out a .312 OBP through Thursday's action. More than a quarter of the way in, we're still waiting for both leagues to flip the ignition, but without any ignitors, let alone the original Paul Molitor, how is that supposed to happen?
[+] Enlarge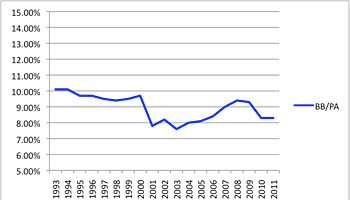 Courtesy of Baseball-Reference.comBase on balls percentages for leadoff men.
Naturally, the first question to ask is
why?
Looking at walk rates for leadoff hitters in the second table, we've obviously lost some of what we took for granted -- hitters aren't managing that walk once every 10 times up, a pace you might once have accepted as the basic standard. We're not at the bottom of a trough, but the rate is back down where things were earlier in the Aughties, and that's sub-good.
Some of that is a matter of the selection of leadoff likelies available to their teams:
Jacoby Ellsbury
is not a big-time walking man, for example, and wishing he was won't make it so, but it doesn't make him ineffective. However, in a league and time where Rickey Henderson is still retired, finding people who can draw ball four hasn't exactly been easy, which is probably why
Juan Pierre
or even
Scott Podsednik
keep getting opportunities. Some of it can also be institutional -- last year, the Rays came up with a perfectly functional creative adaptation, moving
John Jaso
and
B.J. Upton
into and out of the role as Joe Maddon played matchups. But this year they got carried away with the
Sam Fuld
phenomenon, only to learn what they already knew from his projections, which is that for a leadoff hitter he makes a heck of a defensive replacement.
Admittedly, when we think about leadoff hitters, it's easy to stick with happier memories, of the guys who are or were truly great at it: Rickey and Tim Raines in the '80s for example, or Ichiro for the past decade. You can take things down a notch and think fondly of
Ray Durham
or Tony Phillips, or from the current generation of players get sentimental about guys like
Brian Roberts
and
Chone Figgins
. And from any of these guys, you generally knew what to expect: OBPs that were .350 or higher, plenty of walks, and stolen-base totals in the 20-50 range.
But even then, there were always the other guys, the way the other half lived with their leadoff options, which pulled leadoff OBPs down around .333 year after year. If you were around in 1981, you had a rare opportunity to see one of the worst leadoff hitters of all time in action, achieving what would be, even by his standards, a career lowlight. Alfredo Griffin posted a .236 OBP leading off for the Blue Jays for the bulk of a season that was blighted by a strike. It's a mark for single-season leadoff putrescence that hasn't been underwhelmed in the 30 years since.
We can get into origin myths if you like, and ask where the great leadoff men came from and now, where they went, and whether or not we're bereft of truly elite leadoff men in this particular generation of players -- beyond admirable dinosaurs like Ichiro, of course. I wonder if we aren't just stuck in the
Michael Bourn
generation. That might not seem entirely fair to Bourn, because he's one of the better leadoff hitters by today's standards. He has posted OBPs better than league average in 2009 and 2010, after all. He's off to a slow start this season, but at least he's reliably within spitting distance of walking once every ten times and he runs well. That might represent a new, lower standard of what will do, but perhaps this isn't a burden to be Bourn, but a reflection of a changed game. Bourn makes an appropriate symbol for a time when teams are getting used to living with less offense.
Christina Kahrl covers baseball for ESPN.com. You can follow her on Twitter.