January, 3, 2013
1/03/13
1:38
PM ET
Jerry Crasnick has a nice story on Dale Murphy and the
push his family made
for him on his final year on the Hall of Fame ballot.
Murphy has no shot at getting elected after receiving just 14.5 percent of the vote a year ago; his family needed to start the campaign five years ago. Murphy doesn't have a strong Hall of Fame case despite his two MVP Awards, but you do wonder why his support never built after getting 19.3 percent and 23.2 percent of the vote his first two times on the ballot. Jim Rice, a contemporary and player of similar career value -- Baseball-Reference has Rice at 44.3 WAR and Murphy at 42.6 -- started a little higher than Murphy, but not that much higher at 29.8 percent, and slowly built Hall of Fame momentum until he got elected in 2009, his final year on the ballot.
[+] Enlarge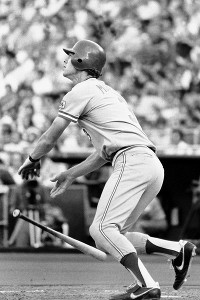 AP Photo/Rusty KennedyDale Murphy was voted the NL MVP after the 1982 and 1983 seasons.
The Rice/Murphy comparison is even more difficult to understand when factoring that Rice could be a bit surly at times and wasn't really well-liked by the media while Murphy is universally regarded as one of the class individuals in the game's history. It certainly isn't a "fame" thing; yes, Rice played in Boston, but Murphy was one of the biggest stars of the '80s, with Braves' games broadcast all over the country on TBS.
Rice has some statistical advantages in his favor -- he hit .298 lifetime versus Murphy's .265 mark, had eight 100-RBI seasons to Murphy's five -- but Murphy played center field, got on base at nearly the same rate since he walked more, ran better and Rice received a big advantage from Fenway Park. Neither player reached 400 home runs (Rice had 382, Murphy 398) or 1,500 RBIs (1,451 for Rice, 1,266 for Murphy), but Rice got the support.
Of course, you can't really create a Hall of case around a Jim Rice comparison, since Rice is one of the weakest Hall of Famers the baseball writers have elected. Let's compare Murphy to two other 1980s outfielders: Hall of Famer Andre Dawson and Tim Raines. Many think Raines has a better Hall of Fame case than Rice, Murphy or Dawson.
If we look at each player's "Hall of Fame" seasons -- what I'll call a season with 4.0 WAR or greater -- we get this:
Rice: Five seasons, 29.2 total WAR
Murphy: Six seasons, 36.2 total WAR
Dawson: Six seasons, 37.3 total WAR
Raines: Six seasons, 37.5 total WAR
So, yes, at his peak Murphy was awesome. He even compares favorably to first-ballot outfielders like Dave Winfield (six seasons of 4-plus WAR, total of 32.6) and Tony Gwynn (seven seasons, total of 39.6 WAR). What Murphy lacks are some of those 2-win and 3-win seasons, seasons that add to a player's career totals and help cement a legacy. Those aren't really Hall of Fame seasons, but they are seasons that Hall of Fame voters factor in. Jay Jaffe has a more
in-depth statistical look
at Murphy's career.
There is one interesting side note to Murphy's case. As many voters decline to vote for PED-tainted candidates, or rebel against all these fancy new stats, you might think they would be more inclined to vote for "clean" players like Murphy (if we can assume anybody was clean, even in the '80s, it would be Murphy), but that hasn't been the case at all. Sometimes you just can't please the Baseball Writers Association of America. And sometimes it elects Jim Rice.
September, 28, 2012
9/28/12
4:20
PM ET
In my earlier post, I wrote about players since 1969
who had terrific all-around seasons but didn't win the MVP Award
. As a companion to that piece, let's take a quick look at worst MVP winners. There are many ways to look at this, but the easiest is to simply create a cutoff using Wins Above Replacement.
Let's start by looking at MVP winners who had less than 5.0 WAR (via Baseball-Reference.com).
Division Era: 1969 to 2011
[+] Enlarge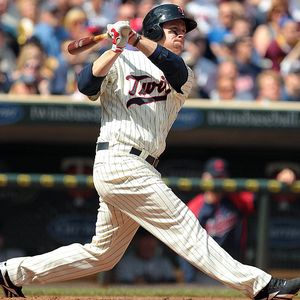 Jesse Johnson/US PresswireFinishing second in the AL in RBIs helped Justin Morneau earn league MVP honors in 2006.
2006 AL: Justin Morneau, Twins (4.0 WAR)
This actually wasn't as bad a selection as it may seem.
Grady Sizemore
led AL position players at 6.5 WAR and
Vernon Wells
was the only other 6-win player, but their teams didn't make the playoffs. Morneau wasn't a great choice -- he won because he finished second in the league in RBIs -- and edged out
Derek Jeter
(5.4 WAR) by 14 points in a year without an obvious top guy.
1998 AL: Juan Gonzalez, Rangers (4.6 WAR)
Gonzalez fit the classic mode of an MVP winner: An RBI leader who played for a playoff team. Nomar Garciaparra (6.8 WAR) and Jeter (7.3 WAR) finished second and third in the voting and also went to the postseason. They would have been better choices, along with WAR leader
Alex Rodriguez
(8.3).
1996 AL: Juan Gonzalez, Rangers (3.5 WAR)
Touched on this one in the other post. He was only ninth in the AL in OPS and his game was all offense. According to WAR, he ranked as the 30th-best position player in the AL. Probably my vote for the worst MVP selection ever.
1995 AL: Mo Vaughn, Red Sox (4.1 WAR)
Shortened 144-game season, but was unlikely to reach 5 WAR. Edged out Albert Belle (6.6 WAR) by eight points. Red Sox teammate John Valentin actually led the AL in WAR for position players at 8.1, with Edgar Martinez (6.7) second and Belle third. Voters during this period didn't really give much weight to position. Sure, up-the-middle guys like Robin Yount or Ryne Sandberg or Cal Ripken would win MVP Awards, but in years when they
were
the best offensive players in the league. Valentin had great numbers, especially for a shortstop, and was an underrated defender. Vaughn got extra credit for leadership and Valentin finished ninth in the voting.
1992 AL: Dennis Eckersley, A's (2.8 WAR)
Before
Justin Verlander
last year, the last pitcher to win MVP. An idiosyncratic selection that's impossible to defend (this even wasn't his 0.61 ERA season). Kirby Puckett had the highest WAR among hitters (6.8) and finished second in the vote.
1987 AL: George Bell, Blue Jays (4.6 WAR)
One of the more famous MVP disputes. Bell led the AL in RBIs and hit 47 home runs and edged out Alan Trammell (8.0 WAR) even though Trammell's Tigers won the AL East on the final day of the season.
1987 NL: Andre Dawson, Cubs (3.7 WAR)
Inexplicable back then and even more so now. Wait, it was explicable: Dawson led the league in home runs and RBIs and won despite a .328 OBP and the Cubs' last-place finish. Ozzie Smith (6.2 WAR) was second in the voting, while Tony Gwynn had the highest WAR at 8.3.
1984 AL: Willie Hernandez, Tigers (4.6 WAR)
The Tigers closer did have an amazing season (9-3, 1.92 ERA, 32 saves, 140 innings) but arguably the most anonymous MVP winner ever. Ripken had the highest WAR in the league and finished 28th in the vote. Ouch.
1979 AL: Don Baylor, Angels (3.5 WAR)
Baylor led the AL in runs scored and RBIs, was viewed as a team leader and the Angels made the playoffs for the first time in franchise history, so it's easy to see
why
he won, despite his limited defensive value (he split the season at DH and left field). George Brett (8.4) and Fred Lynn (8.6) had monster seasons, but finished third and fourth in the voting.
1979 NL: Willie Stargell, Pirates (2.3 WAR)
Shared the award with Keith Hernandez. The only time a guy won an MVP Award for putting gold stars on his teammates' caps.
1974 AL: Jeff Burroughs, Rangers (3.2 WAR)
Another RBI leader and the Rangers won 84 games after losing 105 games the year before. Six different players received first-place votes. The WAR leaders were Rod Carew (7.2) and Bobby Grich (7.0), who finished seventh and ninth in the voting. Grich's all-around game never was fully appreciated. Actually, Gaylord Perry had the best WAR; pitchers dominated the AL back then. Eight of the top-10 players in 1974 by WAR were pitchers.
1974 NL: Steve Garvey, Dodgers (4.3 WAR)
A very good player for a few years but not really a great one. Mediocre on-base percentages and only moderate power for a first baseman.
1970 AL: Boog Powell, Orioles (4.8 WAR)
Talked about this in the other post. Carl Yastrzemski had a huge season for the Red Sox.
Pre-1969 winners
I'm not saying the best players won every year -- heck, it would have been boring just to give it to Willie Mays every year -- but here the most egregious MVP winners in the pre-division period.
1962 NL: Maury Wills (5.8) over Mays (10.2)
Wills did have a good season but won primarily because he stole a then-record 104 bases, at a time when the stolen base was just regaining popularity after nearly going extinct in the 1950s. So there was a certain "wow" factor that impressed the writers back then. Still ... Mays was incredible (.304, 49 home runs, 141 RBIs, 130 runs, Willie Mays defense). Plus, the Giants beat the Dodgers in the three-game tiebreaker to win the pennant. Wills won the vote by seven points.
1961 AL: Roger Maris (6.7) over Mickey Mantle (10.2)
Like Mays, they couldn't give it to Mantle every year. Maris set the home run record but Mantle hit 54 of his own and had a 1.135 OPS versus .993 for Maris. The vote was close: 202 to 198.
1958 AL: Jackie Jensen (4.6 WAR)
Jensen led the league in RBIs and Mantle (8.4) didn't.
1955 AL: Yogi Berra (4.2 WAR)
Voters used to place a lot more emphasis on leadership attributes back in the '50s, a big reason Berra and fellow catcher Roy Campanella both won three MVP awards. Yogi had a good year, but Mantle or Al Kaline probably should have won.
1952 NL: Hank Sauer (5.2 WAR)
Often cited as a terrible MVP selection -- Sauer was a 35-year-old left fielder on a .500 club -- he did lead the NL in home runs and RBIs and ranks fifth in WAR among position. Still, an odd choice over more well-rounded players like Jackie Robinson (8.1) or Stan Musial (7.8), or 28-game winner Robin Roberts (who finished second in the vote).
1950 NL: Jim Konstanty (4.2 WAR)
An obscure 33-year-old relief pitcher for the pennant-winning Whiz Kids who went 16-7 with a 2.66 ERA in 152 innings. Had only one other season above 1.0 WAR. The Phillies didn't really have a star position player, so the Konstanty story line took hold and he got 18 of the 24 first-place votes.
1947 AL: Joe DiMaggio (4.5 WAR) over Ted Williams (9.6 WAR)
Maybe the most controversial results in MVP history. This was the year Williams won the Triple Crown but was left off a ballot and lost the vote by one point. Whether it was Boston writer Mel Webb who did so remains unclear.
This story
says Webb may not even have had a vote.
This may have been the most bizarre MVP vote ever and not just because Williams didn't win. Eddie Joost, a shortstop who hit .206 for the 78-76 Philadelpia A's received
two
first-place votes -- just one fewer than Williams. Some of the down-the-ballot votes were hilarious, including a shortstop named for the Senators named Mark Christman who hit .222/.287/.281 and earned four points.
1944 NL: Marty Marion (4.6) over Stan Musial (8.8)
Musial actually finished fourth in the voting as his Cardinals teammate won. Marion was a good defensive shortstop and probably led the league in intangibles. Eight different players received first-place votes but Musial was the best player in the league.
1934 AL: Mickey Cochrane (3.7)
Cochrane was the player-manager for the pennant-winning Tigers, so this one wasn't just about numbers. Lou Gehrig hit .363/.465/.706 and compiled 10.1 WAR -- good enough to finish fifth in the voting. Yankee fans are still ticked off.
January, 9, 2012
1/09/12
9:30
PM ET
By
Christina Kahrl
| ESPN.com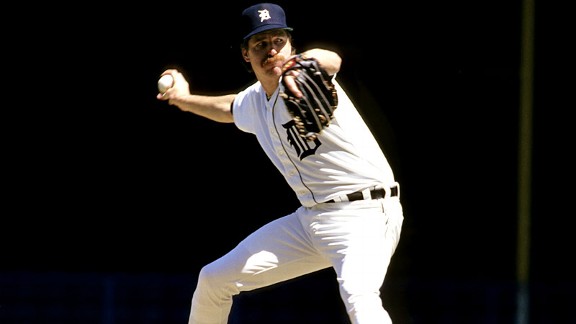 Ronald C. Modra/Getty ImagesJack Morris made significant gains in his 13th year of voting, but will he ultimately get enough?
The subject of Jack Morris and the Hall of Fame seems to be the bright burning flame before the fireworks for
Barry Larkin
have finished going off. Morris' clock may have been running out, but after he reached 66.7 percent of the vote in the 13th year on the ballot, he might just slip into the Hall on his next-to-last or last chance.
There are too many layers to this onion to sort it out entirely and explain the sudden jump in votes. But in broad strokes, some of my fellow statheads seem to be looking for a new Cooperstown cause to champion now that Bert Blyleven has been given his belated due, while some of my fellow BBWAA members are looking to honor a "pitcher of the '80s." Sticking with the broad strokes, those are both worthy goals. There have been too many mistakes already as far as the Hall has been concerned -- with Blyleven, Ron Santo and Lou Whitaker representing the worst cases -- while the '80s are a big chunk of recent history that deserves to be remembered.
But in this case these two parties wind up diametrically opposed about Morris. You've got mainstream commentators inventing, and then deriding, statheads' supposed "joyless" worldview about Morris, while the blogosphere burns down any cobbled-together case made for him. I've always counted myself among the latter where Morris is concerned. Nevertheless, is there something to his case?
Now if we went with a definition of the "Big '80s" as 1980-1990, Morris handily leads the field with 177 wins, innings pitched (2,693 1/3) and starts (368). These numbers represent the pitcher that he was: a durable workhorse, usually pitching with support of good-to-great lineups
and
good-to-great defenses. At least this was the case up the middle when he had Whitaker and Alan Trammell plus Lance Parrish behind the plate and Chet Lemon in center. There's no shame in that -- Morris was a critical component for the Tigers because of his durability. That shouldn't be the standard for best pitcher of a decade, though.
So the question is whether Morris was anywhere close to being the best pitcher of the decade? He clearly was not. Among the 68 guys who made 200 or more starts from 1980-90, Morris is tied for 22nd in ERA+, behind guys like Charlie Leibrandt or Bryn Smith. So let's raise the bar to 300 starts -- Morris winds up tied for seventh out of 12 men, behind Dave Stieb, Bob Welch, Frank Viola, Nolan Ryan, Charlie Hough and Blyleven. Morris' "pitcher of the '80s" tag owes everything to his durability, not the quality of his work. If you
want a pitcher of the '80s
, it was Stieb, because he was almost every bit as durable as Morris (364 starts, 2537 1/3 IP), and significantly better (128 ERA+). And nobody's firing up a Stieb-for-Cooperstown campaign.
None of this is to meant to diminish the value of Morris' durability, though, and perhaps we take that for granted. In rushing to discredit arguments for and against Morris, perhaps neither side is doing a very good job of wrestling with a more fundamental issue: There is simply a shortage of "pitchers of the '80s" for which cases can be made.
That 11-year span of 1980-90 generated just a dozen men capable of pitching 300 or more turns. In contrast, 1970-80 produced 21 guys making 300 or more starts. The strike season of 1981 is responsible for a small fraction of the drop off, but even allowing for that fact only brings the '80s close to the standards set since. During the "steroids era": 1990-2000 gives another 16 300-game starters, and 2000-2010 just 15. So the number of guys we might broadly define as "workhorses" was lower in the '80s than in the period immediately before, and is also lower than what came after. That might speak well of Morris overall as a survivor in a generation that didn't have many.
This hints at a broader historical problem. The '70s put all sorts of things out of whack for subsequent interpretation and analysis, where two key factors come into play. First, there's the introduction of the DH in the AL in 1973. Second, immediately before 1973 you have a generation of young starting pitchers coming up at the end of the high-mound era -- perhaps the best time ever to be a young pitcher making his way to the majors because of low scores and short games.
Nolan Ryan might be the most famous member of that generation, but he was far from the only one who lasted forever. Steve Carlton, Don Sutton, Jerry Reuss, Phil Niekro and Tom Seaver comprise a short list of all-time greats who made it to the majors long before Morris debuted in 1977, and who then wound up being his contemporaries. (You can also add Vida Blue, Tommy John, Jerry Koosman, Joe Niekro, Charlie Hough … the list goes on.) Morris barely outlasted this older cadre by the time his career ended in 1994, but he didn't start off with the same advantages they did.
So on the one hand, with the addition of the DH you have something that makes pitching in the American League harder, and on the other, you have a new standard set for the kind of workloads that starters are supposed to be able to maintain. Morris faced this new combined challenge and survived, which makes him relatively rare among the first generation of starting pitchers who pitched during what we might call "the early DH era."
To give Morris the benefit of the doubt, let's stretch the scope to include 1973 to 1992 -- or the end of Morris' career as an effective big-league starter. Put him in that context, and a stat like WAR still has little love for Morris. According to Baseball-Reference, he ranks just 17th overall among big league starters during the first two decades of the DH era. However, half of those 16 men ahead of Morris were his predecessors, older men who benefited from the high-mound and/or no DH.
Fair enough. Let's look at him in the context of guys who, like Morris, arrived in big league rotations to stay in 1973 or later. Among the leaders in starts over those 20 years there are five guys we might call near-peers, starting pitchers who established themselves and endured at time when the DH was in play: Frank Tanana, Rick Reuschel, Doyle Alexander, Dennis Martinez and Morris. In that group, Morris and Martinez are the youngest, born just two days apart in May of 1955. Let's switch to a table to spotlight the full careers of those five guys:
None of them ever finished higher than third on a Cy Young ballot during his career -- Morris and Reuschel both managed that twice. That's symptomatic of the challenges they faced, following in the wake of that tremendous group of aces, and then combating the faster-fizzling or more fragile aces of the '80s: briefly great starters such as Ron Guidry, Mario Soto or Steve Rogers.
Morris got the best run support within this small peer group, with 4.9 R/G. That goes a long way toward explaining why he gets the most wins, and why this conversation even exists. Contentions that Morris "pitched to the score" were
refuted almost 15 years ago
by the late Greg Spira, before it was easy to do the research. Meanwhile, Reuschel got the worst support with just 4.1 R/G, which is essentially why he ends up being the great forgotten workhorse while Morris gets kudos. Of course, Big Daddy Reuschel was also the one of these five who was in the NL for almost the entirety of his career -- and a Cub for most of it, the poor soul -- where everyone else on this list spent most of his career in the AL, with the benefit as well as the hazard of the DH.
Which leaves us where? Even with this much special pleading, Morris wasn't even that remarkable among these few that make up this first cadre of the most durable starters who had to come up after the high-mound generation and having to face designated hitters. Being better than Doyle Alexander is really, really good, but is that really Hall of Fame-level good?
Putting someone in the Hall of Fame because this generation of pitchers risks being overlooked in Cooperstown represents a reasonable enough goal. But why Morris instead of Martinez, or Reuschel? Because he was fortunate in the teammates his teams put around him, where Reuschel obviously was not? Because he barely won more games than Martinez? Because he's the one left on the ballot and still eligible? If that's what we're left with, that's pretty weak. If the instinct is to be fair to an era as well as a good pitcher, does it make sense to reward this one but not the other, better pitchers who were his peers?
Of course Morris was one of the most durable pitchers of his generation -- he was, and you can love him for it, as we did watching him muscle through one outing after another back then. If you're a believer in the virtues of a big Hall you might even almost talk yourself into voting for him. Going through this exercise brought me a lot closer to "maybe" than I initially thought possible. But even then, with as many allowances as you might make for Morris, he wasn't exactly the most durable any more than he was anywhere close to the most effective. Which leaves us with a likely Hall of Famer who is going to wind up as an idiosyncratic generational selection as Jim Rice, Andre Dawson or Bruce Sutter were in recent years. And he is someone we're just as likely to argue about after he gets elected as we have beforehand.
Christina Kahrl covers baseball for ESPN.com. You can follow her on Twitter.
January, 5, 2012
1/05/12
8:00
AM ET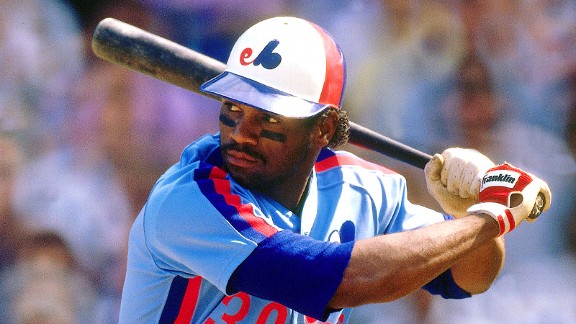 Ronald C. Modra/Sports Imagery/Getty ImagesTim Raines is often cited as the second-greatest leadoff hitter in MLB history.
There are a lot of columns and analysis out there advocating the case for Tim Raines for the Hall of Fame. I probably won't add anything new to the discussion, but let me start here:
Player A is Raines. Player B is Tony Gwynn. That final column is times reached base. Yes, Raines reached base more often in his career than Gwynn, in just slightly more plate appearances. I'm not the first writer to come up with that comparison. Joe Posnanski, among others, is especially fond of this factoid. The point of the statistic isn't to bring down Gwynn, rather to show how potent and devastating an offensive player Raines was. The arc of his game was a little different than Gwynn's but the results are similar: Gwynn got more singles, Raines walked more and had a little more power. He was one of the great base stealers of all time and scored more runs in his career than Gwynn.
That's what Raines did: He scored runs. He's 51st on the all-time list and of the 50 players ahead of him, all eligible candidates are in the Hall of Fame except for Jimmy Ryan and George Van Haltren, two 1890s outfielders; turn-of-the-century shortstop Bill Dahlen; and Rafael Palmeiro.
A common refrain about Raines from his advocates is that he was one of the best players in baseball over a span in the 1980s. This isn't some after-the-fact hocus-pocus going on. It was widely believed at the time. In a 1984 Sports Illustrated piece on Raines, Pete Rose said: "Right now he's the best player in the National League. Mike Schmidt is a tremendous player and so are Dale Murphy and Andre Dawson, but Rock can beat you in more ways than any other player in the league. He can beat you with his glove, his speed and his hitting from either side of the plate." In his annual Baseball Abstracts, Bill James often argued the case of Raines' all-around brilliance. Raines finished fifth, sixth and seventh in MVP votes, despite playing for mediocre Expos teams.
Raines' five-year peak was 1983 to 1987. According to Baseball-Reference's WAR ranking, the top five players during those years were Wade Boggs (39.7), Rickey Henderson (34.1), Cal Ripken (33.3), Schmidt (31.4) and Raines (30.7). Pretty nice company. (The next five were Alan Trammell, Gwynn, Eddie Murray, Murphy and Keith Hernandez.)
To be fair, this alone doesn't make him a Hall of Famer. I checked every five-year period since 1969 (1969 to 1973, 1970 to 1974, etc.) and not all of the names that appear in the top five are Hall of Famers or future Hall of Famers. Heck, Sal Bando rated as the best player in baseball from 1969 to 1973.
Some characterize Raines as having too short of a peak level of dominance. From 1988 to 1995, he averaged .283/.375/.409, with 81 runs and 33 steals per season. Maybe not an MVP candidate anymore, but still a good player, top leadoff hitter and valuable contributor. He's hardly alone in this aspect. He had six seasons with an OPS+ of 130 or higher, the same as Jim Rice, Dawson and Ernie Banks, and more than Kirby Puckett, Roberto Alomar, Johnny Bench, Carlton Fisk, Yogi Berra, Tony Perez or Robin Yount.
Maybe Raines doesn't have a slum-dunk case. But he has a case. Maybe voters have forgotten his great years in Montreal (and they have forgotten; he received only 37 percent of the vote last year). Maybe they remember his final seasons with the Yankees, when he became a part-time player on two World Series champions. Maybe they can't believe he compares favorably with Tony Gwynn.
Believe.
January, 2, 2012
1/02/12
8:30
AM ET
There are a lot of misunderstandings about the Hall of Fame and its voting procedures and results, beginning with the little fact that baseball was not, of course, actually invented in Cooperstown, N.Y., in 1839 by a future Civil War general named Abner Doubleday.
For example, many voters and fans divide themselves into "big Hall" and "small Hall" camps. This seems like a reasonable split of opinion. There, is however, a problem with those who advocate for the small Hall premise: the Hall of Fame is not -- and has never been -- a small Hall of Fame, a shrine memorializing only the elite of the elites.
The first Hall of Fame vote was conducted in 1936, when Ty Cobb, Babe Ruth, Honus Wagner, Christy Mathewson and Walter Johnson became the initial five inductees. The next year, a special Centennial Committee elected some 19th-century pioneers and executives. An Old Timers Committee in 1939 elected Cap Anson, Old Hoss Radbourn and others. Throughout the 1940s, the Old Timers Committee elected many more players from the 19th century and early 20th century, some obviously strong candidates and others of far less quality. Meanwhile, the Baseball Writers Association essentially stopped electing anybody; between 1940 and 1946, it voted in only Rogers Hornsby.
[+] Enlarge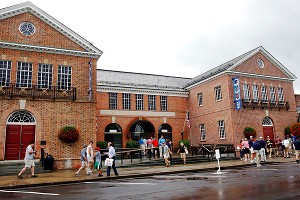 AP Photo/Mike GrollWith baseball writers stingy with their ballots, the Hall of Fame has sought ways to get more members in.
This eventually led to the two means of current entry into the Hall of Fame: the annual Baseball Writers vote, in which a player must obtain 75 percent of the ballots cast; and the Veterans Committee, which considers players bypassed after 15 years on the regular ballot, plus managers, umpires, Negro Leaguers, executives and owners. At the actual Hall of Fame in Cooperstown, there is no distinction made between means of enshrinement, no mention of vote percentage or years spent on the ballot. All Hall of Famers are equal, with a small plaque in the main gallery of the museum, ordered by year of election.
And thus the reality is that we have a large Hall of Fame, one encouraged by the board of trustees with its various incarnations of the Veterans Committee through the years. In so many words, it's saying to the writers, "You're not electing enough Hall of Famers; you're too tough and we believe in a big Hall, so we want another means to elect players you missed." When the Veterans Committee failed to elect any candidates from 2002 to 2007, the Hall revised the committee in attempts to get more inductees.
Despite this, the small Hall versus large Hall debate persists. The writers -- and there were 581 who voted last year -- collectively hold a small Hall mindset, not surprising considering the 75 percent threshold. The writers have essentially averaged between one and two players elected per year for six-plus decades:
2010-2011: 3
2000-2009: 17
1990-1999: 15
1980-1989: 18
1970-1979: 13 (plus Roberto Clemente in a special election)
1960-1969: 6
1950-1959: 15
While this may
appear
to establish a level of consistency, in reality it suggests a toughening of standards -- the number of teams (and players) has increased through the years since baseball's first expansion in 1961, so the writers are electing a lower percentage of eligible players than 30 or 40 years ago. (A near doubling of teams would indicate a doubling of Hall of Famers.)
So the writers have been tougher in recent years; ironically, this span coincides with some of the
weakest
Hall of Fame selections by the writers -- Andre Dawson (2010), Jim Rice (2009), Bruce Sutter (2006) and Kirby Puckett (2001) would all rank near the bottom of the 108 BBWAA Hall of Famers.
That doesn't even get into the inexplicable psychology in Hall of Fame voting. Why does Rice receive 29.8 percent of the vote in his first year, remain stuck at 29.4 percent by year five, languish in the 50 percentile for six years and then ramp up to 76.4 percent and election over his final four years on the ballot? Why does Don Mattingly begin at the same place as Rice -- 28.2 percent -- and slowly slide backwards from there? Why does Sutter start at 23.9 percent and later gain momentum and enshrinement after 13 years on the ballot, but Lee Smith start at 42.3 percent and after nine years remain at 45.3 percent?
It doesn't make sense. And that's why Hall of Fame debates are contentious, spirited, sometimes mean, sometimes logical, sometimes emotional ... but always fun to read and argue about.
Over the next week, leading up to next Monday's 2012 Hall of Fame announcement, I'll be examining some of the players on this year's ballot.
We'll start with Barry Larkin
.
November, 30, 2011
11/30/11
5:13
PM ET
The
new members on this year's Hall of Fame
ballot aren't too exciting, although it's shocking to see guys like
Brad Radke
,
Javy Lopez
and
Bill Mueller
have been retired five seasons already.
The only player worth discussing as a Hall of Fame candidate is
Bernie Williams
.
Williams
At his peak, Williams was a terrific offensive force, even though he reached 30 home runs just once in his career. From 1995 through 2002, he averaged .321/.406/.531 with 105 runs and 102 RBIs per season. He won four Gold Gloves, despite his weak throwing arm; the defensive metrics never matched his reputation and Baseball-Reference.com grades out Williams as a below-average center fielder over his career. He sure seemed smooth and effective out there, however. It's an extremely strong peak, punctuated by starring on four World Series champions, arguably the most valuable player on those teams. (From 1996 through 2002,
Derek Jeter
had 35.1 WAR according to B-R, Williams 34.6,
Andy Pettitte
27.3 and
Mariano Rivera
24.3.)
Williams had seven seasons with an OPS+ of 130 or higher -- OK, that's a lot fewer than the all-time great center fielders like Willie Mays and Mickey Mantle -- but it's the same total as Hall of Fame center fielders Duke Snider and Earl Averill, the same number as Andre Dawson (who had seven such seasons, but three as a right fielder), and more than Larry Doby and Kirby Puckett. Williams had nine seasons with 3+ WAR as a center fielder -- the same number as Snider and Richie Ashburn, more than Hall of Famers Max Carey, Edd Roush, Dawson (eight in his career, seven as a center fielder) or Puckett.
All that certainly puts Williams in the discussion with the bottom rung of Hall of Fame center fielders. What he lacks, of course, is the career longevity. His first quality season didn't come until he was 25, and that came in 1994, the strike season. After hitting .333 in 2002 at age 33, he suddenly declined, and hit just .263 with 61 home runs over his final four seasons. So while a guy like Dawson managed to rack up counting stats (1591 RBIs, 2774 hits, 1373 runs) with some mediocre seasons, Williams' career essentially consists of his peak and not much else (1257 RBIs, 2336 hits, 1366 runs).
I always thought Williams was the unappreciated star on those Yankee teams. He's on the cusp, but he falls a little short of Hall of Fame status in my book, and the reality is he'll receive very little support from the voters, who historically favor longevity over peak value.
* * * *
Part of the problem for any marginal candidate like Williams -- there are too many qualified candidates to choose from. The backlash against steroid-era players has created a crowded ballot, and voters are limited to a maximum of 10 players. On this ballot alone, the following players all of have some sort of Hall of Fame case (not saying they all deserve it, just that they deserve serious consideration):
Jeff Bagwell
,
Barry Larkin
,
Edgar Martinez
, Don Mattingly,
Fred McGriff
,
Mark McGwire
, Jack Morris, Dale Murphy,
Rafael Palmeiro
, Tim Raines, Lee Smith (cough), Alan Trammell,
Larry Walker
and Williams. That's 14 names.
And just wait until next year when
Barry Bonds
,
Roger Clemens
,
Craig Biggio
,
Mike Piazza
,
Sammy Sosa
and
Curt Schilling
join the ballot.
September, 20, 2011
9/20/11
4:18
PM ET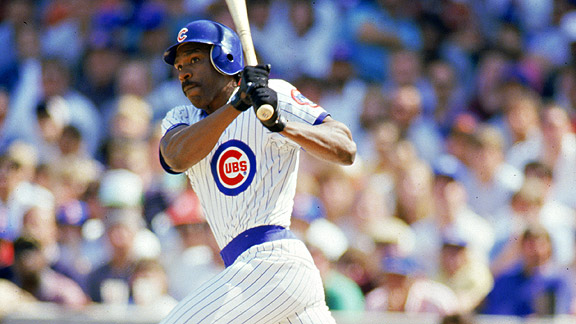 Ron Vesely/Getty ImagesAndre Dawson led the NL with 49 home runs and 137 RBIs in 1987.
In the first of a series, we're going to take a look back at some questionable MVP winners. We appear safe from disaster in 2011 -- none of the leading candidates getting mentioned is a bad choice. For example, the Tigers'
Jose Valverde
hasn't blown a save, but nobody is talking about him as an MVP candidate. At one point in history, that wouldn't have been the case. But perhaps voters are getting smarter as they learn to consider sabermetric data and rely less just on RBIs and batting average.
So let's take a look back to 1987 and perhaps the oddest MVP winner of all time.
The winner:
Andre Dawson, RF, Cubs (.287/.328/.568, 49 HR, 137 RBI, 90 R, 11 SB)
The runner-up:
Ozzie Smith, SS, Cardinals (.303/.392/.383, 0 HR, 75 RBI, 104 R, 43 SB)
Other candidates:
Jack Clark 1B, Cardinals (.286/.459/.597, 35 HR, 106 RBI); Tim Wallach, 3B, Expos (.298/.343/.514, 123 RBIs);
Eric Davis
, CF, Reds (.293/.399/.593, 37 HR, 100 RBIs, 120 R, 50 SB); Tim Raines, LF, Expos (.330/.429/.526, 123 R, 50 SB);
Tony Gwynn
, RF, Padres (.370/.447/.511, 119 R, 56 SB); Darryl Strawberry, RF, Mets (.284/.398/.583, 39 HR, 36 SB)
If you know your baseball history, 1987 was the rabbit-ball year; for whatever reason, home runs were flying out of the park that season. In 1986, NL teams averaged 4.18 runs per game; in 1987, 4.52; in 1988, it was back down to 3.88. As you can see from the numbers above, many players posted big offensive numbers. And that's what makes Dawson such a poor choice: Sure, he led the league in home runs (by five over Dale Murphy) and RBIs (by 14 over Wallach), but he ranked just 10th in OPS, sixth in slugging percentage and 42nd in on-base percentage. Yes, that's 42nd, just below Gerald Perry. His OBP is the third-lowest for an MVP position player and one of just seven MVP winners with an OBP under .350. If you're a WAR person, Dawson's 2.7 bWAR (Baseball-Reference), is the second-lowest for any MVP winner, hitter or pitcher, behind only Willie Stargell in 1979.
And here's the kicker: the Cubs finished in last place. Dawson is one of only five MVP winners to play for a losing team (
Cal Ripken
, Alex Rodriguez with the Rangers and Ernie Banks twice are the others).
So how did he win? Three reasons:
1. Even though Bill James' "Baseball Abstract" had been a best-seller for years by 1987, many writers still lived and died by the RBI.
They believed Dawson was the best hitter in the league. While many hitters had superior years to Dawson in '87, only Wallach was reasonably close in RBIs. As Orange County Register columnist Randy Youngman wrote, "Never mind that the Cubs will finish last. Right fielder Andre Dawson ... still was the most valuable (and most underpaid) player in the league. The Cubs didn't win with him, but they would have finished in the Florida State League without him." For some reason, that last-place finish or losing record didn't bother voters, unlike pretty much every other MVP vote. "But in the absence of a player-of-the-year award, the MVP has often saluted the season's outstanding performance, regardless of the standings," wrote Ross Newhan of the Los Angeles Times. "There is no rule, in other words, that says the MVP has to belong to a winning team, though the baseball writers, who do the voting, justifiably lean that way when possible. ... Dawson's statistics were overwhelmingly the league's best. He was a marked man on a bad team but remained at his own high level rather than sinking to his teammates', not an easy thing to do."
2. Dawson was a great story.
Youngman alluded to the strange winter of 1986-87, when owners were refusing to sign free agents (we now know they colluded). Dawson had been one of the best players in the National League with the Expos in the early '80s and twice finished second in the MVP vote. But bad knees had led to a move from center field and right field and he'd had three mediocre years from 1984 to 1986. Determined to leave the concrete turf of Montreal, he gave the Cubs a blank contract. The Cubs signed him for $500,000, making him the lowest-paid regular on the team. It was a redemption and it happened to one of the nicest guys in the game. The writers loved it.
3. Jack Clark got hurt.
The Cardinals won the NL East and entering September, Clark was the overwhelming MVP favorite. But he injured an ankle on Sept. 9 and only played three games the rest of the season. He also wasn't a favorite of the media. Tom Cushman of the San Diego Union-Tribune explained why Clark wasn't the league's MVP: "Except for one futile swing last weekend, he since has been unavailable during the Cardinals' September struggle with the Mets and Expos. Clark's tendency to remove himself from the lineup through peculiar incidents and at critical times has not escaped the good fans of St. Louis." He then went on to rip Clark for striking out too much, not hitting with runners on base (he actually hit .330/.550/.661 with runners on that year) and saying he was only the fourth-most valuable player on the Cardinals.
In the end, Dawson got 11 first-place votes, Ozzie got nine (but was left off two ballots entirely) and Clark finished third, getting three first-place votes. Eric Davis scored 30 more runs than Dawson, had a better on-base and slugging percentage, played a wonderful center field and stole 50 bases to 11, but only finished ninth in the voting.
Ouch.
Follow David Schoenfield on Twitter @dschoenfield.
July, 7, 2011
7/07/11
6:15
PM ET
By
Christina Kahrl
| ESPN.com
The
news has broken
that Hall of Fame manager Dick Williams passed away today. He was 82 years old, and was one member of a generation of dugout greats, and with the loss of Sparky Anderson last November and Chuck Tanner in February, it's a generation whose ranks have taken a few too many hits in recent months.
[+] Enlarge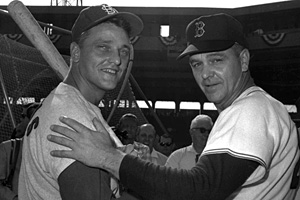 AP File PhotoFormer Red Sox manager Dick Williams, right, chats with St. Louis outfielder Roger Maris before Game 2 of the 1967 World Series. Williams made a career of rebuilding downtrodden teams.
Williams is perhaps best remembered as the manager of the "Impossible Dream" team in Boston in 1967, that Red Sox squad that took the Cardinals all the way to seven games in the World Series before coming up short. Williams set a precedent there for the kind of manager he would be, placing his faith in young talent; in Boston, he gave Reggie Smith and Sparky Lyle their first big breaks.
But the Red Sox would not be his last or best team, let alone mark his last visit to the World Series. Fired by Boston at the tail end of the '69 season -- in part for his authoritarian tendencies as a skipper -- Williams went to Oakland and took over as the firm hand perhaps perfectly suited to run the rowdies and rebels of the Big Green Machine dynasty of the early '70s. The A's won consecutive World Series on his watch in '72 and '73 before winning a third in a row under his replacement, Alvin Dark. After dealing with larger-than-life personalities like Reggie Jackson and Vida Blue on the field and team owner Charlie Finley off it, he finally resigned over team owner Finley's meddlesome, disgraceful attempt to humiliate and deactivate Mike Andrews for poor fielding during the course of the '73 Series.
Williams did not always have the magic touch -- there was nothing he could do in his next job to get the California Angels into contention in 1975 or '76 before he was fired in July, but he did break in long-term big-leaguers like Jerry Remy, Dave Collins, and Ed Figueroa. However, his setback in Anaheim freed him for the next signature gig in his career, his multi-year run managing the Montreal Expos from 1977 to 1981, helping drive them to second-place finishes in '79 and '80. He once again got fired in the middle of the '81 stretch run with his team in the race and 27 games left to play, an event as shocking then as Ned Yost's firing by the Brewers in the middle of the 2008 stretch run was in the recent past; Williams' hard hand running the club had worn thin again. But in Montreal, he was the manager with the good sense to get Gary Carter out of the outfield and back behind the plate as an everyday catcher, setting the Kid on his own Hall of Fame track. Moving Carter helped make space for future Hall of Famer Andre Dawson in the outfield, and in Williams' last season in Montreal he installed the eventually Hall-worthy Tim Raines alongside Dawson. Williams also oversaw the breakthroughs of an incredible batch of pitching talent: Scott Sanderson, Bill Gullickson, Charlie Lea and David Palmer, for starters.
A free agent again, Williams next landed in San Diego for the '82 season. In three years, he'd won another pennant, again by installing a crew of young pitchers (notably Eric Show, Dave Dravecky and Andy Hawkins), a speedy leadoff threat in Alan Wiggins, Kevin McReynolds in center and yet another Hall of Famer,
Tony Gwynn
, in right. Williams also got to supplement that squad with famous discards from more famous teams: Steve Garvey of the Dodgers, and Goose Gossage and Graig Nettles from the Yankees, but it only took one more season before Williams was forced out, reportedly by Jack McKeon and others in the front office.
Williams would finish his MLB career in the dugout unsuccessfully trying to turn around the Mariners -- but installing a future All-Star in Harold Reynolds at second base -- and then put in time in the Senior Professional Baseball Association, a league that operated in 1989-90 that was populated by former big-leaguers aged 35 and older. He "retired" to years spent as a special consultant to George Steinbrenner, one of many great baseball minds who the Boss has employed in that sort of gig over the years.
Williams' legacy for delivering winners, turning teams around, and breaking in young players is exceptional, and clearly places him among the front rank of baseball's best skippers. It came with the price of a man whose heavy-handed brand of leadership tended to make him unpopular within a few seasons, but it was a price teams were understandably willing to pay given Williams' ability to deliver.
At a time when some sabermetricians still favor the notion that managers don't matter, Williams serves as a great example of the reasons why and how they do, not simply via in-game tactics but more importantly in their ability to determine who plays and why. If you're interested in investing something more than just memory to Williams and his legacy as a manager, you could pick up a copy of Williams' biography,
No More Mister Nice Guy
(written with Bill Plaschke), which is well worth having on your shelf to understand where he was coming from, in Boston in '67 or in Seattle 20 years later, and at all points in between. For a fine take of his virtues as a skipper, you can also check out Chris Jaffe's
Evaluating Baseball Managers
.
Christina Kahrl covers baseball for ESPN.com. You can follow her on Twitter.
March, 1, 2011
3/01/11
10:42
AM ET
Every year, the Baseball Writers Association of America (BBWAA) is given the incredibly difficult task of voting for the season-ending awards. While it has showed an occasional lapse in judgment over the years, for the most part, it has done a pretty good job.
The other day, while playing around on Baseball Reference, I stumbled upon the 1987 award voting page and was struck by the number of questionable choices made by the voting pool that year. Just for fun, I thought it'd be interesting to review the award winners from that season and determine if their election was warranted. Here are my results:
[+] Enlarge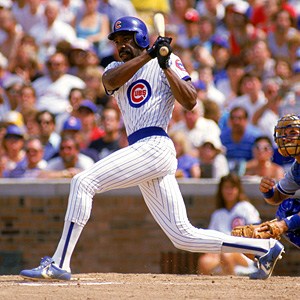 Jonathan Daniel/Getty ImagesAndre Dawson belted 49 homers en route to winning the 1987 NL MVP Award.
1987 NL MVP Award -- Andre Dawson: .378 wOBA, 49 HR, 137 RBI, 2.7 WAR
There were two primary factors in Dawson winning the 1987 NL MVP Award: (1) his impressive, but deceiving raw statistics; and (2) the story of him overcoming collusion to sign a blank contract with the Cubs in March of that year. What other reasons could there be? He played for a last-place team, created outs in 70 percent of his plate appearances, and despite winning a Gold Glove, advanced metrics showed that his defense was largely overrated. What's unfortunate about Dawson winning the award is not that he won, but that so many others didn't. By my count, there were no fewer than seven -- yes, seven -- players who were easily more deserving of the honor: Ozzie Smith (7.1 WAR), Jack Clark (6.5), Darryl Strawberry (6.7), Tim Raines (6.8), Tony Gwynn (8.1), Eric Davis (8.0) and Dale Murphy (7.5). While any of those seven players would've been tremendous choices, if I had a vote, I would've selected Tim Raines. Unlike Dawson, collusion forced Raines to miss the first month of the 1987 season. Had he been able to play prior to May 1, it's entirely possible, he could've matched or exceeded Eric Davis' season-high water mark of 8.1 WAR. For the record, Dawson wouldn't have made my top 10.
1987 AL MVP Award -- George Bell: .399 wOBA, 47 HR, 134 RBI, 5.0 WAR
Like with Dawson, AL MVP voters were blinded by the hypnotic allure of Bell's impressive home run and RBI totals. Unlike Dawson, Bell not only lacked a compelling back story that followed him all season, but actually played for a 96-win Blue Jays team that narrowly missed the playoffs. In essence, his award was won more on his body of work, rather than nonperformance-related fodder. Not to take anything away from Bell's accomplishments, but there were two other players who were far more deserving of this honor: Alan Trammell (8.4 WAR) and Wade Boggs (9.1). Boggs produced an offensive season for the ages leading the league in BA, OBP and wOBA, while hitting for power and playing Fielding Bible Award quality defense. Trammell, on the other hand, merely produced one of the best pre-steroid era offensive seasons by a shortstop in the history of the game, provided steady defense at a keystone position and led his team into the playoffs with a late-season surge. Oh, and the team his Tigers knocked out the playoffs? Bell's
Toronto Blue Jays
. Despite Boggs' tremendous season, my vote would have gone to Trammell without question.
1987 NL Cy Young Award -- Steve Bedrosian: 5-3, 40 saves, 2.83 ERA, 3.79 FIP, 2.6 WAR
From 1974 to 1992, it was kind of trendy in the BBWAA to elect a relief ace/closer as the Cy Young Award recipient. During that time, Mike Marshall, Sparky Lyle, Bruce Sutter, Rollie Fingers, Willie Hernandez, Mark Davis, Dennis Eckersley and Bedrosian all won the award. Typically, this occurred during seasons in which no starting pitcher asserted himself as the dominant force. This was the case in 1987 -- at least in terms of traditional pitching standards. As a result, Bedrosian won by default, despite there being other viable, more deserving candidates like Orel Hershiser (6.7 WAR), Bob Welch (6.6), Mike Scott (5.7), Rick Sutcliffe (5.6) and Nolan Ryan (5.5). The problem with these candidates was that each of them had perceived "warts." Hershiser, despite his pleasing ERA and high innings workload, posted a mediocre 16-16 record. Welch's 15 wins, while strong, weren't considered strong enough by most in the electorate for him to be considered a serious candidate. Scott, despite strong ERA and strikeout totals, had 13 losses. Sutcliffe had 18 wins, but posted a rather pedestrian 3.68 ERA. Ryan, despite leading the league in both ERA and strikeouts, posted an "ugly" 8-16 record. While you and I can see beyond these perceived flaws, voters in 1987 could not; hence, their selection. If I could retroactively vote today, I would select Ryan on the strength of his ERA, strikeout and FIP crowns.
1987 AL Cy Young Award -- Roger Clemens: 20-9, 2.97 ERA, 2.91 FIP, 8.18 K/9, 8.4 WAR
My beef with the AL Cy Young Award voting is not the selection of Roger Clemens, but the fact he was not selected unanimously. Clemens was far and away superior to his peers in nearly every statistical category, having led the league in wins, complete games, shutouts, K/BB and pitcher WAR. He placed second in innings pitched and strikeouts, and finished third in K/9 and ERA+. With all due respect to Jimmy Key, Dave Stewart and Doyle Alexander, I can't think of any rational or logical reasons why any of them received first-place votes. Clemens set the bar for American League pitchers that year, and no one came close to meeting it.
While it might seem unfair to be critical of 1987 BBWAA members for relying on W-L record and RBI as their standards for performance excellence, it's hard to give them a free pass when they seem to have made clear choices to select inferior rather than superior performances. Still, I'm not under any illusion that my selections, while objectively based, aren't at least somewhat subjective and open to interpretation. The BBWAA has done a pretty good job over the years in selecting the right award recipients, but 1987 just happens to be a year in which voters weren't quite as successful.
Chip Buck contributes to Fire Brand of the American League, a blog about the Boston Red Sox. You can follow him on Twitter.
July, 28, 2010
7/28/10
1:30
PM ET
Joe Posnanski outlines the biggest problem with
electing marginal (at best) Hall of Famers
. We've all trod that ground before, but Joe's really good and if we can't re-trod, where are we? But it's this last little bit that I wanted to show you, because our own Keith Law makes a cameo appearance ...
One last thing … my friend Keith Law seems to be taking a beating because he has said that Omar Vizquel is not a Hall of Famer in his book. I certainly don't want any of Keith's angry e-mail, but it's just worth pointing out that one argument I often hear for Vizquel is that he compares well with Ozzie Smith. I really don't think that's true. I think Ozzie Smith was a much better player than Vizquel. There's no question that Omar was a defensive wiz, but he was certainly no Wizard. He did not have Ozzie's range, his remarkable ability to make the great play, his double play talents, etc.

This is no knock — Ozzie is the best defensive shortstop in the history of baseball, I believe. And while Vizquel was a terrific defensive player, I don't think he's anything close to second-best — I think he's in a massive pile with a lot of terrific defensive players ranging from Belanger to Burleson to Bowa to Barry ... and those are just the Bs. And though Smith was widely viewed as a weak hitter ... he was actually a better offensive player in context than Vizquel. I'm using WAR a lot here, which might simply not be persuasive to you. But Ozzie Smith ranks 74th all-time among every day players in WAR. Vizquel ranks 209th. I simply don't think if Ozzie Smith is a Hall of Fame standard, that Vizquel has a great Hall of Fame case.*

If Jim Rice is the standard, however ...

* Update: Since several people have misunderstood the paragraph, let me clarify here: I am NOT saying that I will not vote for Vizquel. I am not ready to make that judgment yet … Vizquel has been a fabulous player and I'll take the five years after retirement to let his career settle. I am only saying that the Ozzie Smith comparison, to me, does not hold up. Ozzie Smith is not my line of demarcation when it comes to Hall of Fame shortstops.

I'm NOT saying I won't vote for Vizquel, either.
Joe's right, though: Based on the information that's available to us NOW, Vizquel isn't anywhere close to Ozzie Smith, or for that matter the great majority of the other Hall of Fame shortstops.
Sure, Rice won an MVP Award and Dwight Evans didn't ... but Dale Murphy won
two
MVP awards and hasn't drawn nearly the support Rice did. Sure, Andre Dawson, for all his faults, was for a time an impressive blend of power and speed. So were Jimmy Wynn and Bobby Bonds and Reggie Smith.
There was something
different
about Rice. Something
different
about Dawson. And perhaps -- we'll known in seven or eight years, I guess -- something
different
about Omar Vizquel. But it's hard to find the differences in the raw numbers. I'm convinced that if you want to figure out how Jim Rice was deemed a Hall of Famer by 30 percent of the voters in 1995 and 76 percent in 2009, you'll have to engage in a sort of archaeological and anthropological expedition. Because in strange cases like these, your usually considerable powers of logic just won't be enough.
January, 7, 2010
1/07/10
4:08
PM ET
As if his election wasn't controversial enough,
now this
:

The Hall of Fame has not decided which team's logo will go on Andre Dawson's bronze plaque.

Hall president Jeff Idelson says that while the museum has final say, the Hall makes its decision with the player. Dawson arrived in New York too late after his election on Wednesday to begin discussions.

Dawson played 10-plus seasons for the Expos, where he was NL Rookie of the Year in 1977. He also was selected 1987 NL MVP in the first of six years with the Chicago Cubs.

As an Expo, Dawson played in 1,443 games, hit 225 home runs, stole 253 bases, and posted a 122 OPS+.
As a Cub, Dawson played in 867 games, hit 174 home runs, stole 57 bases, and posted a 125 OPS+.
Qualitatively, Dawson played just as well with the Cubs as with the Expos, if you ignore speed and defense.
Quantitatively, Dawson played significantly more with the Expos than with the Cubs.
The only argument for going with a Cubs logo is that Dawson's most famous season came with that franchise.
To me, that's not enough. Not nearly enough, and an insult to all those Expos fans who have already suffered the loss of their beloved team. Now, it's easy for you and I to wonder why anyone should care about which logo's on his cap. Who even thinks about that?"
But we didn't lose our team. And let us imagine for a moment the uproar if, say, Andy Pettitte were to someday wear an Astros cap on his Hall of Fame plaque.
The Hall of Fame does not exist for the benefit of Dawson or Wade Boggs or Roger Clemens. The Hall of Fame exists for the benefit of itself, and just secondarily for the benefit of baseball fans, let alone fans of defunct teams. But there is a principle involved here. There was a rumor that Boggs "sold" his Hall of Fame cap to the Tampa Bay Devil Rays. If true, the Hall of Fame put the kibosh on that. A few years, Clemens said if the Hall of Fame put him in a Red Sox cap, he wouldn't show up for his induction. If Clemens is someday elected -- right now, it's not a sure thing -- the Hall of Fame simply must call his bluff.
The Hall of Fame has reasonable options in these cases.
Letting the player choose his logo is not one of them.
The first, best option is to talk to the player and use his preference as a tie-breaker, in the rare event of a tie.
The second option is to talk to the player, then give him a choice between the
logical
choice -- Expos for Dawson, Red Sox for Boggs and Clemens, etc. -- and no choice at all.
If Clemens won't show up if you give him a Red Sox logo, then you could just give him no logo at all.
That's not what I would do, though. I would call his bluff. Clemens needs the Hall of Fame more than the Hall of Fame needs him.
January, 6, 2010
1/06/10
2:27
PM ET
After all these years, I shouldn't be surprised anymore by Hall of Fame voters.
Today I was.
I didn't know how many players would be elected. I figured at least one, but probably two and possibly three.
Well, it was one. And not the one I would have guessed.
[+] Enlarge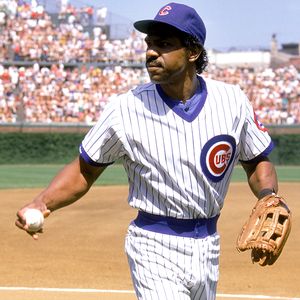 Jonathan Daniel/Getty ImagesAndre Dawson won eight Gold Gloves and four Silver Slugger awards during his 21-year career.
Andre Dawson. In his first four appearances on the ballot, he was considered a Hall of Famer by roughly half the electorate. That number rose to two-thirds of the electorate in the past two elections. And this time around, he jumped from 67 percent to 78 percent. Because, you know, he hit all those home runs in 2009.
Kidding. But Dawson did finish his career with a .323 on-base percentage, which means he's wrested the title
Hall of Fame Outfielder With the Worst OBP
away from Lou Brock ... and it wasn't much of a battle, as Brock's OBP is 20 points higher than Dawson's.
This bothers pointy-headed nerds like me. It did not bother most Hall of Fame voters, who chose instead to focus on his eight Gold Gloves, his MVP award in 1987 and the dynamic power/speed blend that typified Dawson's five best seasons. I wouldn't have voted for Dawson, but his career does (roughly speaking)
fall in line
with the Hall's historical standards. I mean, he wasn't anything like as good as Tim Raines, but that's
an argument
for another day. Raines got only 30 percent and deserved better (but at least he's moving up). Alan Trammell got just 22 percent, and deserved
much
better (he moved up, too, but just slightly).
Roberto Alomar
should have been the easiest choice on the ballot. He finished his career with more than 2,700 hits, he stole 474 bases, and he won 10 Gold Gloves at second base. The only knocks against Alomar are that he once spit on an umpire and that his last good season came when he was still just 33. But only 74 percent of the voters saw well past those things, and it takes 75 percent. Although the BBWAA's collective decision is indefensible, it will be forgotten a year from now when Alomar clears the bar with ease.
Also falling just short -- just
five votes short
-- was Bert Blyleven, in his 13th try. Consider the progress that he's made, though. In his first three tries, he couldn't clear 20 percent. Five years ago, he cleared 50 percent for the first time. And now he's at 74.2 percent, and will almost certainly join Alomar on the podium next year. And when he's up there, I suspect that Blyleven will have a word of thanks for
Rich Lederer
.
There were three first-time candidates other than Alomar who deserved particularly serious consideration.
Barry Larkin
played more than 150 games in only four seasons, which is about the only bad thing you can say about him, but it
is
a bad thing. Larkin played in just 2,180 games; Dave Concepcion, another lifetime Red who played shortstop and has supporters of his own, played nearly 2,500 games. But Larkin won a dozen Silver Sluggers and was an All-Star a dozen times, plus he stole nearly 400 bases and picked up a few Gold Gloves. He'll make it, eventually.
One never got the sense that
Edgar Martinez
really had a chance. Not this time, anyway. For the non-obvious candidates, the only path to election includes starting out well short of the goal, then building support over the years as voters take a closer look and perhaps are dragged aboard the bandwagon.
2009 inductee Jim Rice got just 30 percent his first time on the ballot; Andre Dawson, just 45 percent. There aren't any guarantees, but at least Edgar's still in the game. The problem, for him and any other candidate who's not elected in the next two years, is that the ballot will be flooded with highly qualified first-time candidates in both 2013 and '14. Some of those candidates will be pushed to 2015 and beyond, when they'll be joined by the likes of
Randy Johnson
,
John Smoltz
,
Trevor Hoffman
,
Mariano Rivera
,
Ivan Rodriguez
and ... well, those ballots are going to be mighty crowded.
Fred McGriff
got just 22 percent, which shouldn't be much of a surprise. Maybe he would have fared better if he'd hit 500 home runs (rather than 493). But 500 isn't a magic number these days. More than anything, McGriff simply suffers by comparison to his contemporaries at first base:
Frank Thomas
,
Jeff Bagwell
,
Mo Vaughn
and
Jason Giambi
all won MVPs during McGriff's career;
Mark McGwire
and
Rafael Palmeiro
did some impressive things, too. With the exception of the last two months of the 1993 season, McGriff was overshadowed by all of them.
If I may indulge in a bit of speculation ... Alomar is obviously one of history's greatest second basemen. A huge majority of ballots already made public included Alomar's name. I can only guess that a significant number of voters were simply too apathetic about baseball during Alomar's career to pay any real attention. I don't say that to explain why he didn't get elected this year. I say that to explain why he'll get elected
next
year, as a few dozen voters say to themselves, "Hey, this Alomar fellow was almost elected last year. I guess I should probably vote for him!"
At least they do usually get it right, eventually. The process works, sort of.