February, 25, 2013
2/25/13
11:35
AM ET
Back in January, I did lists of the best one-hit wonders for each team. Except, as I was recently reminded on Twitter, I forgot to do the NL West. So here we go: These are guys who basically had one big season -- as opposed to one big moment or playoff series or the like.
Here's the
American League East
,
AL Central
,
AL West
and
National League East
,
NL Central
.

Arizona Diamondbacks
Junior Spivey was never much of a prospect coming up through the Arizona system as a 36th-round draft pick out of a Kansas community college. He hit for some decent averages, but not much power, and he hit just .232 for Triple-A Tucson in 54 games in 2001 at the age of 26.
So, sure enough, in his first full season in the majors in 2002 he hit .301/.389/.476 with 16 home runs, played in the All-Star Game and even finished 14th in the MVP voting. Omar Vizquel never finished that high in the MVP voting and he may make the Hall of Fame one day.
Spivey just wasn't that good. He played OK in 2003, but battled some injuries and played just 106 games, was traded to Milwaukee in the Richie Sexson deal but got injured that year and his major league career basically ended after he broke his wrist with the Nationals in 2005 while hitting off a practice tee. Hey, but he stuck around long enough to make over $5 million in his career.

Colorado Rockies
In four seasons with the Tigers from 1989 to 1992, Kevin Ritz had a 5.85 ERA. OK, it was only 177 innings, but remember, that was before the offensive explosion. For some reason, the Rockies selected Ritz in the expansion draft, which probably said more about the state of the Tigers at the time than the Rockies believing they had plucked some rotation stalwart. After missing all of 1993 with an injury, he pitched poorly in 1994. Then it all came together for him in 1995. He went just 11-11 but with a 4.21 ERA, which in Colorado is absolutely fabulous. He finished seventh among NL pitchers with 4.4 WAR and the Rockies won the wild card. Ritz even started the first game of the playoffs against some guy named Maddux and left with the game tied 3-3.
Maybe Ritz wasn't quite a one-hit wonder: He won 17 games in 1996, although with a 5.28 ERA (and 2.0 WAR). But he walked 105 and struck out 105 and made just 20 more major league starts.

Los Angeles Dodgers
Billy Grabarkewitz had not only one of the all-time great names in Dodger history, but one of the all-time great one-hit wonder seasons for
any
team. As a 24-year-old rookie in 1970, he played third base, shortstop and second base and hit .289/.399/.454, with 17 home runs, 19 steals and 92 runs. His 6.2 WAR was tied for third among NL position players, behind Johnny Bench and Tony Perez. The Dodgers orchestrated a write-in campaign to get Grabarkewitz elected to start the All-Star Game (he didn't win, but made it as a reserve).
Was Grabarkewitz's season a complete fluke? He only initially earned playing time in 1970 because second baseman Ted Sizemore got injured in the second game of the season. Grabarkewitz clearly had some skills: He walked a lot (95 walks, although he also struck out 149 times) and had some speed and some power, especially for an infielder of that era. He hit .341 in the first half but just .232 in the second half. It could be that he just had a hot three months. But we don't really know what he could have done; he hurt his shoulder early in 1971, eventually had surgery, and was never effective again (5.2 career WAR).

San Diego Padres
1970 was a great year for fluke seasons. The same year Billy G. had his big season, 26-year-old second-year center fielder Cito Gaston of the Padres joined Grabarkewitz on the NL All-Star team. Gaston would hit .318/.364/.543 with 29 home runs, 93 RBIs and a 146 OPS+ that ranked ninth in the NL. Gaston's WAR that year: 4.8. His WAR in his rookie season: -0.8. His WAR in following seasons: -0.2, -0.6, -1.6, -1.3, -0.4, 0.4 (yay!), -0.2, -1.2.
Gaston was not a good major league ballplayer. He didn't walk, didn't have much speed, doesn't appear to have much range as an outfielder (minus-63 Defensive Runs in his career according to Baseball-Reference.com) and didn't hit enough home runs to make up for everything else. He played 10 seasons in the majors and was below replacement level in eight of them.
He did, however, fare much better as a manager.

San Francisco Giants
When the Giants picked up
Andres Torres
in 2009, he'd been let go by the Tigers, White Sox, Rangers, Twins, Tigers again and Cubs. He hadn't played in the majors since 2005 and had never hit more than 11 home runs in a minor league season (and just one in the majors). After a good season as a backup in 2009, Torres won the regular center field job in May of 2010 and hit .268/.343/.479 with 16 home runs, 43 doubles and 26 steals. Not bad for a 32-year-old guy who had played nearly a decade in Triple-A. His range in center gave him outstanding defensive metrics that year and Baseball-Reference credits him with 5.1 WAR. The Giants won the World Series.
Torres hit .221 with four home runs in 2011, but the Giants used him to help get
Angel Pagan
from the Mets. Talk about lightning striking twice. The Giants won the World Series again with Pagan contributing much like Torres had in 2010. Meanwhile, Torres hit .230 with three home runs for the Mets. (The Giants have brought Torres back for 2013.)
December, 1, 2012
12/01/12
12:30
PM ET
By
Chris Quick
| ESPN.com
This time of year baseball news is very sluggish. Scratch that -- extremely sluggish. Outside of a few early signings, there isn't much happening in the game. However, with the non-tender deadline passing on Friday night, baseball gets a brief jolt of activity before we head to the winter meetings.
Non-tender means just that -- a team chooses not to tender a player a contract and, in turn, the player becomes a free agent, able to sign with any team. Teams will non-tender players for a multitude of reasons -- injury, cost, and roster crunches are among the most popular -- but savvy teams will be able to cruise this new pool of free agents to find value. And make no mistake, there is value to be had among the recent crop of non-tendered players.
Let's take a look:
[+] Enlarge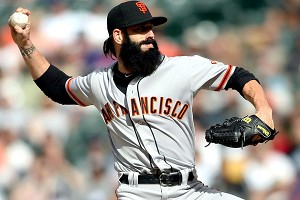 Chris Humphreys/US PresswireIf Brian Wilson wants to close again, it likely won't be in San Francisco.
Brian Wilson, P --
Probably the biggest and most widely recognized non-tender, Wilson's days as a Giant appear to be all but over. The team can still negotiate a contract with the bearded Wilson, but most reports indicate that Wilson is unlikely to remain. Wilson -- rehabbing from his second Tommy John surgery -- looks to find a new team to call home. As a two-time TJ survivor, Wilson carries significant risk, but if there was anyone who could overcome those odds, it would be Wilson. From 2009-2011, Wilson ranked as the fourth-best reliever in the majors by FanGraphs' WAR (5.6), throwing 202 innings with a 2.50 ERA. He'll most likely have to settle for a lower base salary with performance incentives. The talent is there. The big question is: Is the health?
Mark Reynolds, 1B/DH --
Rather than paying him about $9 million through arbitration, the Orioles decided to let the home run masher and strikeout accumulator walk. Over the past three years, Reynolds ranks 14th in the majors in home runs at 92. (That's more than
Matt Kemp
,
Robinson Cano
or
David Ortiz
.) But while Reynolds' power is prodigious, it comes at a great cost: strikeouts. Piles and piles of strikeouts. Only
Adam Dunn
has whiffed more over the past three seasons, and while Reynolds is still an asset with the bat, he's a complete liability at third base (although he was acceptable at first when the Orioles moved him there). He'll find work -- guys that can launch 30 home runs annually almost always do -- but he should stick in the American League where his defensive issues can be minimized.
Nate Schierholtz, RF --
This might seem to be Giants-centric, but Schierholtz, another ex-Giant, profiles as a fringe starter on lower-tiered teams and a fine fourth outfielder on higher-tiered teams. You can boil Schierholtz down to the following: slightly below average bat, great glove, good baserunner. Schierholtz owns a career batting line of .270/.319/.409 while playing half his games in a park (AT&T Park) that's mighty tough on left-handed batters. The advanced fielding metrics, such as Ultimate Zone Rating, peg him as about a half-win net on defense each year, and it's hard to imagine anyone playing a better right field. And he's shown himself to be an adept baserunner. When you add everything up, it's a nice package that will attract a few teams needing outfield depth.
Tom Gorzelanny, P --
Pitching his first year as purely a reliever, Gorzelanny found success in Washington in 2012. Gorzelanny tossed 72 innings with adequate peripherals (20.1 percent strikeout rate; 9.8 walk rate) to pair with a 2.88 ERA. Being a left-handed pitcher, he's naturally been tough on left-handed batters, holding them to a career line of .227/.295/.367. He profiles as a middle reliever, or lefty specialist. It's possible that a team hurting for starting depth might take a look at him as a starter.
Jeff Karstens, P --
Jeff Karstens was limited to just 15 starts in 2012 because of shoulder inflammation. He doesn't throw exceptionally hard, strike out scads of batters, or look like an ace pitcher. What he does, however, is throw strikes (career 6.1 walk percentage). He'd be great filler for a rotation that might need a little extra time for prospects to develop, or for a rotation (or bullpen) that needs more depth. Over the past two seasons, Karstens has posted the following numbers: 3.59 ERA, 253 IP, 252 H, 101 ER, 48 BB, 162 SO. That's pretty much the definition of a fungible starter.
Andres Torres, OF --
Torres is clearly no longer the batter that he was with the Giants from 2009-2010 when he hit .269/.343/.492 over 740 plate appearances; since then, Torres has batted a meager .226/.320/.334 in 832 PAs. The decline in Torres' bat moves him from a starting role to a bench role. The good news for Torres is that despite some health issues, he still profiles as an above-average defender in center field and an above-average baserunner. Every team needs a guy like Torres on its bench.
None of the players listed above -- outside of Brian Wilson, maybe -- will draw the sort of attention that the marquee free agents will receive. And rightfully so. However, teams looking to fill certain needs would be smart to check in on some of the recently non-tendered players. If used properly, there's value to be had in this year's crop of non-tendered players.
August, 21, 2012
8/21/12
1:49
AM ET
By
Christina Kahrl
| ESPN.com
Yes, you can never have enough pitching. You win with it, you lose to it, you can't live without it and, if the margins are narrow enough, you live and die with every pitch. Welcome to Bruce Bochy's world in a Melky-free world. And welcome to the reason why he can thank his lucky stars that he's the man managing a rotation with
Matt Cain
,
Ryan Vogelsong
and Monday night's starter against the Dodgers,
Madison Bumgarner
.
Bumgarner was in perfect command against the evil SoCal boys in blue, mowing them down through eight scoreless frames while whiffing 10
in San Francisco's 2-1 victory
. Just another day at the office for one of the Giants' rotation horses, his 18th quality start on the season, and a reminder that this club is far from done where the National League West race is concerned.
But there's more to it than that. This summer, with all the talk of extending or overextending young superstar prospects on the mound during a pennant race, Bumgarner is a great example of the wisdom of not letting expectations set your timetable where young pitching is concerned. Coming into 2010, Bumgarner was supposed to be all that, flame-throwing southpaw'd greatness in cleats at the tender age of 20. And then he wasn't -- he wasn't throwing hard, having lost five miles per hour off his heat from his minor league days. He wasn't mowing people down. He wasn't greatness in cleats, or street shoes or flip-flops.
He also wasn't hurt, although preseason conditioning turned out to be an issue. But from that seeming disappointment, Bumgarner has significantly changed his repertoire from what he was when he was a top prospect. His velocity has remained in low-90s territory, but he has come to rely more and more on a devastating slider that has helped him boost his swings-and-misses to a 16 percent clip despite whatever it was he lost on his fastball. He's arguably a better pitcher as a result. He's also only just turned 23, and more than a year younger than
Stephen Strasburg
.
That deafening silence you hear over Bumgarner's birth certificate is the concern over his workload. Because without starting pitching, the Giants could be done. But if
Tim Lincecum
really does get his kinks ironed out, they may have four horses to ride all the way to the end.
If we can credit Bochy for helping keep Bumgarner saddled up and delivering, we might also credit Bochy for always being willing to wangle some extra way to score to make good on the slender margins his pitchers provide. Whatever the talent Bochy is working with, and even whatever the defensive sacrifices he might have to make behind that starting staff.
Picking between
Justin Christian
and
Gregor Blanco
to start in
Melky Cabrera
's place in the outfield is sure to make you ask where
Nate Schierholtz
got to (Philadelphia), and what's behind Door No. 3, but we'll see what Bochy's willing to risk in the weeks to come. If general manager Brian Sabean swings a waiver deal for a veteran bat, don't be surprised -- it's the sort of move he has been able to pull off in the past, and again, with this kind of pitching, a little bit of offense goes a long way.
Bochy is so hungry for runs, he's even platooning at shortstop lately, spotting
Joaquin Arias
' single-riffic plinky-ness for
Brandon Crawford
against the league's lefties. Platooning at a key up-the-middle position like short? That might work considering Arias' .818 OPS against lefties in about 200 big-league plate appearances, but it's also slightly more risky this season than in years past, because the Giants are no longer leading the league in strikeout rate, instead whiffing opponents a very league-average 20 percent of the time. That means more balls in play, and more chances the defense could cost you. The Giants are a little above-average in defensive efficiency (.696, vs. the NL-standard .690), but it's still a risk.
Then again, this is the manager who helped the Giants win it all in 2010 by coming up with one of the craziest platoons of recent memory: Splitting at-bats between first baseman
Travis Ishikawa
and center fielder
Aaron Rowand
in the lineup across first base and the outfield in July through Aug. 14, while moving
Andres Torres
and
Aubrey Huff
around to accommodate them. Rotating in Ishikawa helped launch a 27-13 Giants run that preceded their deals for
Jose Guillen
and
Cody Ross
. It had less to do with Ishikawa's greatness than it did with working with what Bochy had at his disposal and getting enough runs to win with an incredible pitching staff.
In short, Bochy has got a well-earned rep as a lineup MacGyver: Give the man some used gum, a pencil and a Topps card to be named later, and he might just give you an edge, part of the reason why Chris Jaffe's excellent book "Evaluating Baseball's Managers" described him as one of the most underrated skippers in baseball history.
One of the things Jaffe suggested in his book was the Achilles' heel that Bochy's teams had back in San Diego when he managed the Padres was that they tended to be short on pitching. Happily for him and for the Giants, thanks to Madison Bumgarner & Co. that's one problem this year's Giants don't have.
PHOTO OF THE DAY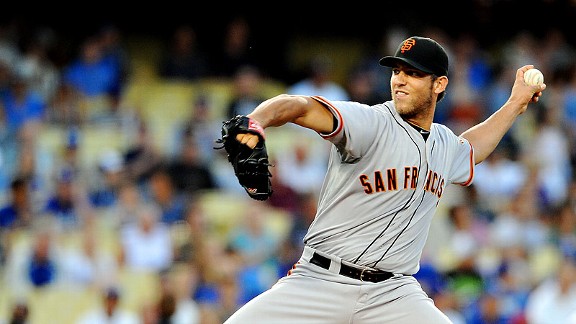 Jayne Kamin-Oncea/US PresswireOn nights like Madison Bumgarner had on Monday against the Dodgers, two runs will do.
Christina Kahrl covers baseball for ESPN.com. You can follow her on Twitter.
June, 9, 2012
6/09/12
8:01
PM ET
By
Christina Kahrl
| ESPN.com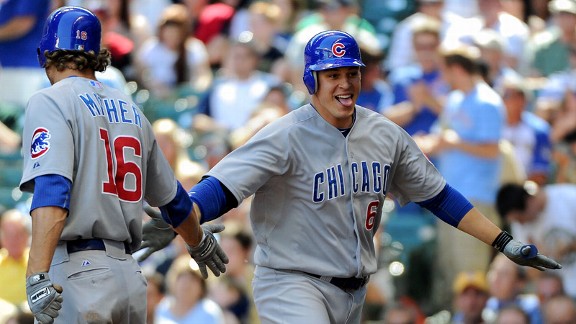 Benny Sieu/US PresswireBryan LaHair, 29, is in the top five in the National League in slugging, OBP and OPS.
At 28 years old and after spending much of the previous five seasons in Triple-A,
Bryan LaHair
was a purportedly "known" quantity -- Quadruple-A bat, perhaps a fill-in first baseman. In his one brief shot at The Show in Seattle in 2008, he split time at first base with utilityman
Miguel Cairo
and
Jose Lopez
. He didn't shine, and it was back to Tacoma the next year. In short, he seemed a man doomed to a dim star on an obscure walk of fame to be named later, perhaps in Tacoma, maybe in Iowa.
He changed that in his sixth campaign in the Pacific Coast League, changing the minds of scouts and analysts alike with 28 homers and a 1.070 OPS. And this year, taken seriously for the first time, he's a 29-year-old getting his first real shot at everyday play in the major leagues ... and blowing the league away. He's third in the National League in slugging, fourth in OBP, and fourth in OPS. And all it took to bring him to Wrigleyville was a minor-league contract, after the Mariners let him slip away as a minor league free agent.
By simultaneously shredding expectations and opposing pitchers, LaHair is providing a fine example that players' career paths aren't simply a matter of forecasting off past performance. That works on the macro level, for most players. But whether as a matter of changing their game or finally getting opportunities they'd long deserved, a few past-prime players are making the most of their opportunities this season.
You can't quite come up with a full lineup's worth of these guys, but beyond LaHair, here's my off-the-cuff list of this season's other "surprise stars," some of whom will belong in Kansas City as full-fledged All-Stars in a month's time.
C A.J. Ellis, Dodgers:
Say what you will about catching always being in short supply -- and it isn't -- Ellis had to wait until this year to get a clean shot at a catching job. Now 31, he's pretty much the perfect example of an organizational soldier: He spent his first two full seasons after getting picked in the 18th round out of Austin Peay as a backup at High-A, caddying for
Russell Martin
and then
Edwin Bellorin
(once upon a time a well-regarded Venezuelan prospect).
Ellis finally became a regular in Double-A in 2006. From the start, he showed tremendous ability to get on base, but the Dodgers kept him at the same slow pace, as he spent two years in the Southern League and two years in the PCL before graduating to two years as a big-league backup. That sort of long-form apprenticeship that seemed certain to lock him into little more than membership in the International Brotherhood of Backup Backstops.
Perhaps only taken seriously as a starter as a matter of grudging last resort this past winter, when the market offered slim pickings as far as catching help, Ellis is second only to
Yadier Molina
among NL catchers in his production at the plate while throwing out 41 percent of opponents' steal attempts. Ellis might be this group's best bet beyond LaHair to be headed to Kansas City for the All-Star Game.
SS Mike Aviles, Red Sox:
It has been a bumpy road for Aviles since his old-rookie debut as a 27-year-old with the Royals in 2008. In K.C., he had to contend with injuries and the idea that he wasn't really a shortstop. This year, shortstops are putting up the collectively lowest OPS (.678) or OPS+ (88), so Aviles' .711 OPS/90 OPS+ clip is just a wee bit above average, not shabby considering he's also doing fine at short, according to advanced fielding metrics. Beyond buying time for
Jose Iglesias
, this has proven a relatively high-yield, low-expense gamble for the Sox: League-average shortstops usually cost millions on the market, but Boston got him for an organizational arm (Kendal Volz) and
Yamaico Navarro
, a utility player so interesting that K.C. flipped him to the Pirates, who have already ditched him in Indianapolis.
[+] Enlarge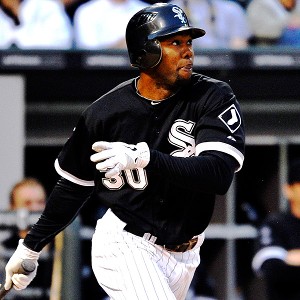 AP Photo/Brian KerseyCenter fielder Alejandro De Aza is making the most of his chance to play every day at age 28.
CF Alejandro De Aza, White Sox:
If LaHair is the slugging surprise of the season, De Aza is the out-of-nowhere leadoff solution most teams need. Back in 2007, he got an opportunity with the Marlins, leading off on Opening Day, but injuries to first one ankle and then the other derailed that season and the next. In 2009, he gave the first indication that he wasn't just going to be a speed guy, slugging .506 for New Orleans; the Marlins were so impressed they let him slip away on a waiver claim by the White Sox. Finally getting a shot at everyday play as a 28-year-old in the one-hole, he's hitting .299/.381/.425 and he's holding his own in center.
Juan Pierre
never looked this good, but a crowd of quality center fielders in the American League will keep De Aza from All-Star status.
OF Gregor Blanco, Giants:
Melky Cabrera
isn't the only Giants outfielder having a season well beyond anything he's done before. A Braves prospect they lost interest in, he was dealt to the Royals, who dealt him to D.C. before the Nationals ditched him. All he's ever done is get on base; he just needed an opportunity. He got one when general manager Brian Sabean fished him off the discard pile this past winter. Pushing his way past
Nate Schierholtz
, Blanco has hit his way into everyday play in right field and the leadoff job with a .387 OBP as a 28-year-old journeyman. Blanco may rival Sabean's "discovery" of
Andres Torres
in 2009 before all's said and done.
RF Justin Maxwell, Astros:
Nobody has doubted Maxwell's power or talent, but his ability to stay healthy has been an annual concern. The Nats decided they had better uses for his spot on the 40-man and traded him to the Yankees, but he spent more time on the disabled list in 2011 with a bum shoulder than he did in pinstripes. The talent-hungry Astros snagged the 28-year-old off waivers this spring, and he's been a free-talent find as a fourth outfielder, providing power against lefties and strong-armed defense.
SP Jerome Williams, Angels:
Back in the day, Williams was a top prospect in the Giants' organization, ranking in Baseball America's top 20 for all baseball. That all seemed merited after a fine 2003 rookie season in which he drew an NL Division Series start for them against the Marlins. It was almost unrelentingly downhill from there; he needed elbow surgery in 2004, got dealt to the Cubs in 2005, and then bouncing through the Nationals, Twins, A's (twice) and Dodgers organizations, as well as a stint in the independent leagues. After making a nice impression on the Angels down the stretch last season, the 30-year-old Williams is getting regular rotation work in the majors for the first time in seven years as their fifth starter. More of a finesse righty these days, he's been an exceptional salvage-project success, putting up eight quality starts in 10 turns, far better work than most teams reasonably expect from a No. 5.
Quite simply, what these guys reflect is that not all replacements are "replacement level." Just when you think you know what a player is capable of, a happy few beyond their expected peak age of 27 have demonstrated the delightful capacity to surprise and exceed the modest expectations even their fans harbored for them. I don't know about you, but I like these kinds of surprises -- here's hoping we see more of the same from all of them.
Christina Kahrl covers baseball for ESPN.com. You can follow her on Twitter.
December, 7, 2011
12/07/11
1:21
PM ET
It's another day in chilly Dallas for Keith Law, but he braved the elements for the
Baseball Today podcast
as he and I discussed the latest rumors and happenings from the winter meetings, including:
1. OK, Mr. Pujols, you've apparently got your crazy offers, so make a decision. We explain how recent developments could signal a quick ending to this situation.
2. Meanwhile, on the other side of the
Miami Marlins
infield from
Albert Pujols
is former shortstop
Hanley Ramirez
. Is he happy? Is he sad? Does it matter? We try to think like Hanley.
3. Meet the new Mets, making all kinds of deals and rejuvenating their bullpen. Well, perhaps not rejuvenating, but at least they added pieces. We analyze the Mets-Giants trade.
4. And there's more involving closers on the move, as the Padres get a guy they didn't need, the White Sox move a guy they didn't seem to need to move, and where will
Ryan Madson
and other free agent save fellows go?
5. Finally, Keith talks about what the GMs are actually doing in Dallas, where he likes and doesn't like the meetings to be held, and congratulates a friend on making it into the Hall of Fame!
So tune in to Wednesday's Baseball Today podcast and be entertained and informed! We'll be back on Thursday to wrap the winter meetings!
December, 6, 2011
12/06/11
11:23
PM ET
DALLAS -- Unable to secure
Jose Reyes
, lacking the money to pursue a big name free agent, perhaps unwilling to trade
David Wright
and commit fully to a rebuilding project, the
New York Mets
instead turned to Plan D, or maybe Plan E or F, at the winter meetings:
Collect a bunch of right-handed relievers for the bullpen
.
In a flurry of moves over an hour or so, the Mets signed relievers
Frank Francisco
(2 years, $12 million) and
Jon Rauch
(1 year, $3.5 million), and reportedly traded center fielder
Angel Pagan
to the
San Francisco Giants
for reliever
Ramon Ramirez
and outfielder
Andres Torres
.
[+] Enlarge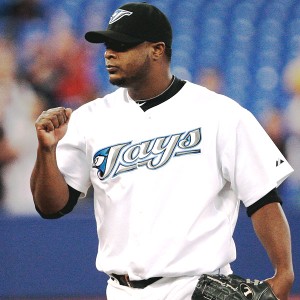 Abelimages/Getty ImagesFrank Francisco got a two-year, $12-million deal to be the Mets' new closer, one of several New York moves.
Certainly, bolstering the bullpen without blowing K-Rod money makes sense: In 2011, Mets' relievers posted a 4.33 ERA, 28th in the majors. Their .267 batting average allowed ranked 28th, their 24 blown saves ranked tied for 23rd (18 more than NL East rival Philadelphia) and their .344 on-base percentage allowed ranked 28th. They fared a little better in categories like strikeout rate and strikeout-to-walk ratio, but no matter how you slice it the pen wasn't good.
A quick capsule of the players they acquired:
Francisco: He'll assume the closer duties, relying on his 93- to 96-mph fastball and split-finger. He's solid if unspectacular and earned the coveted "closer" label primarily by lucking into the job with the 2009 Rangers. He was a flyball pitcher early in his career, but has increased his ground-ball percentage the past two seasons. The biggest concern is that he usually lands on the disabled list once or twice a season and hasn't pitched more than 52 innings in any of the past three years. So even if you make him the closer, you'll likely need a backup closer for 15-20 innings or so.

Rauch: Once named Baseball America's top prospect in the minor leagues (ahead of Albert Pujols), Rauch will be joining his fifth team in five seasons. He's a serviceable middle guy who has closed at times (58 career saves), but has been pretty hittable in recent seasons: 256 hits in 251 innings since 2008, with just 197 strikeouts. He's also been prone to the long ball at various times in his career, including allowing 11 with the Blue Jays in just 52 innings last season. Frankly, I don't see Rauch as any improvement over currents Mets relievers Bobby Parnell, Pedro Beato, Tim Byrdak or Manny Acosta. He's mediocre depth, which I guess isn't the worst thing but doesn't exactly have Mets forgetting Jose Reyes.

Ramirez and Torres: Pagan and Torres is an exchange of center fielders who played well in 2010, but poorly in 2011. Both were in danger of being non-tendered, although on Monday Mets manager Terry Collins had been talking about using Pagan as his leadoff hitter. The biggest issue with Pagan was that his defense notably slipped from 2010. Torres' bat is a question mark, but he'll draw walks and is a more consistent defender. Still, in the end he's nearly 34 with a career .244/.318/.403 line. He's not going to get better. Ramirez is a fastball/slider/changeup type with a career ERA of 3.16 over five-plus seasons. He was terrific in his year-plus with the Giants and there's no reason to necessarily assume it was home-park effect -- he dominated on the road in 2011, with a .157 average allowed.
So, yes, the Mets now have eight or nine relievers to choose from. The Mets were 67-6 when leading after eight innings and 60-10 when leading after seven innings. Those don't seem like high totals, but actually are worse than the league average, so even though there's nothing flashy in these three relievers, the bullpen should be a few wins better in 2012. Sorry, Mets fans: We mean 4-5 wins or so, not 10 or 12. That's an important improvement, sure, but only a small step if the Mets wish to contend in an NL East that could end up being much tougher in 2012.
While blowing fewer late-innings leads will certainly be less frustrating, the big question remains: How many late-inning leads will they have?
June, 4, 2011
6/04/11
12:00
PM ET
By
Christina Kahrl
| ESPN.com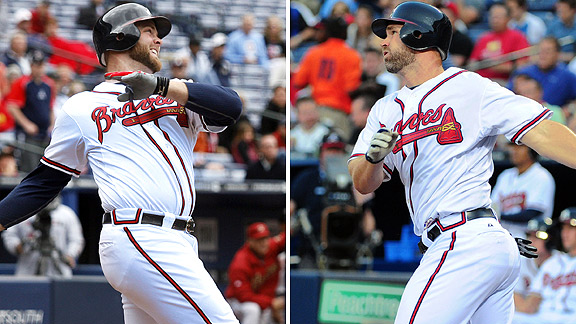 US Presswire/Getty ImagesThe lefty/righty catching platoon of Brian McCann and David Ross has been the NL's best this season.
If the American League has very few stable platoons but a few identifiable platoon players getting work, is the National League any better off? Even with today's bigger bullpens, the absence of a DH gives NL skippers and GMs a little more freedom to carry a player whose primary value is to platoon, since they have five reserves, so even if one is a catcher and another is someone who can play short, that still leaves space for the odd guy. Say, that journeyman who can knock a situational lefty right out of the box, or who can help put up a crooked number against that tiring right-handed starter in the fifth or sixth inning. And it doesn't hurt that these kinds of guys are handy for double-switches.
As in the American League, you find a few catching platoons of convenience, in which the backup backstop bats from the other side and conveniently gets his starts on the days the starter needs a rest. The Braves' setup with
Brian McCann
and
David Ross
is the best of the lot, but when Atlanta afforded itself Ross, it did so knowing it was getting more than a platoon player. The Mets' young/old and lefty/righty combo of
Josh Thole
and
Ronny Paulino
has its virtues. Charlie Manuel has the benefit of a slight inversion of the paradigm when
Brian Schneider
is healthy -- a lefty-batting backup is a lot easier to spot when
Carlos Ruiz
really does need a rest, since most pitching is right-handed -- but he's on the DL.
Stable platoons beyond those behind home plate are surprisingly limited in the Senior Circuit. I'd divide the current group of platoons in the league into three groups: committed, accidental and diffident, reflecting the level of planning and commitment that went into constructing them, and whether or not they're going to last more than a couple weeks.
Among the few we'd call committed, Clint Hurdle's stolidly running out his right-field combo of
Garrett Jones
and
Matt Diaz
. It isn't hitting all that well, but that was the plan, and so far, they're sticking with it. The Phillies anticipated a right-field platoon before the season, but
Domonic Brown
's injury kept that from becoming a reliable feature of Manuel's lineup cards until recently, pressing
Ben Francisco
back into an everyday role he handed back.
[+] Enlarge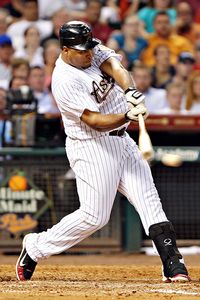 Troy Taormina/US PresswireThe Astros are 10-8 against lefties this season, which could be partly because that matchup allows them to move Carlos Lee out of left field.
In the infield, San Diego manager Bud Black has been reliably sticking with
Brad Hawpe
and
Jorge Cantu
as his first-base arrangement, but there's only so much Can'tu at the plate that even the Padres can endure. The rare multi-position platoon that's a matter of design, but also a certain diffidence is found in Houston, where Brad Mills is moving
Carlos Lee
between left and first base, but not every time out.
Brett Wallace
sits against a few lefties,
Jason Michaels
plays left and Lee moves to first and keeps getting to play every day. The 'Stros might have a 10-8 record vs. lefties, but getting Michaels into the lineup isn't the reason why. But re-potting the increasingly immobile Lee someplace other than left field might be a contributing factor.
Alone among their NL brethren, the Marlins have stuck with an infield platoon someplace other than first base, and they platoon at third without actually finding a set right-handed half of the platoon. Edwin Rodriguez has damned the defensive torpedoes to run
Greg Dobbs
out there every day against right-handers, while leaving his partner du jour as a matter of mystery -- sometimes it's
Wes Helms
, sometimes it was
Donnie Murphy
, and now sometimes it's the roving
Emilio Bonifacio
. Those happy few who root for the Teal Deal are no doubt on their seat's edge when their Fish face a lefty.
Among the accidental platoons, three NL West teams have setups they didn't necessarily expect. To the credit of both Bruce Bochy and Black, they've proven reliably willing to platoon, and they're assembling new ones on the fly after their initial designs broke down. Black got plenty of mileage out of his outfield platooning last year, but
Will Venable
flopped this spring, handing back his half of the right-field job. In his desperation, Black is pairing
Eric Patterson
with
Chris Denorfia
, which isn't helping matters.
While Bochy isn't trying anything quite as inspired as last year's mid-season lineup platoon between
Travis Ishikawa
and
Aaron Rowand
-- with
Aubrey Huff
moving to the outfield against righties and returning to first base against lefties -- he has been aggressive in getting
Nate Schierholtz
into the lineup against right-handers while playing
Cody Ross
daily. Rowand is getting platoon time with
Andres Torres
in center, but
Pat Burrell
hasn't been entirely reduced to Schierholtz's platoon partner.
Then their is the Dodgers' Don Mattingly. Some combination involving
Jay Gibbons
in left field was probably going to be part of the program at the outset, but Gibbons' spotty health, a passing interest in
Tony Gwynn
's speed, and
Marcus Thames
' breakdown opened up an opportunity for first baseman
Jerry Sands
to win the job. But like so many other thundersticks from Albuquerque in Dodgers history, his stick fell still in Chavez Ravine, and now Sands is in an accidental platoon with Gibbons until they decide there's a better alternative.
Injury created the Braves' temporary replacement platoon setup for
Jason Heyward
, as the
Eric Hinske
/
Joe Mather
platoon is working out nicely -- but it's also clear that pair will head back to pine time as soon as Heyward's healthy. In contrast, some managers look like they'd like to platoon more, but injuries have gotten in the way. The Brewers' Ron Roenicke appears committed to a
Nyjer Morgan
/
Carlos Gomez
platoon in center because of the speed 'n defense combo it provides, but Morgan's injury got in the way at the outset. If it sticks, that's the circuit's lone platoon arrangement up the middle someplace other than catcher.
The Pirates' loose platoon at the infield corners reflect what I mean by "diffident platooning." In contrast with his greater faith in his right field platoon, at the infield corners Clint Hurdle's sort of futzing around with
Steven Pearce
at both first and third vs. lefties to give him something to do, and sometimes
Brandon Wood
gets time at third. But it isn't an everyday sort of devotion, and has as much to do with
Pedro Alvarez
's career-stunting slow start and
Lyle Overbay
's offensive indifference than any abiding faith in Pearce or Wood.
I'd also chuck Kirk Gibson's first-base set-up into this category as well --
Xavier Nady
and
Juan Miranda
are platooning, sort of, but Gibson isn't exactly being a stickler about it. Since neither are hitting the people they're supposed to, and since neither plays first base all that well, it's more first base by coin toss at gunpoint than a straight platoon.
Platooning isn't automatically a good idea, after all, and if as Casey Stengel put it, "I could'na dunnit widdout the players," that's just as true today -- skippers can only use what they've got, no matter how clever they might be in how they employ it.
Christina Kahrl covers baseball for ESPN.com. You can follow her on Twitter.
March, 24, 2011
3/24/11
7:00
AM ET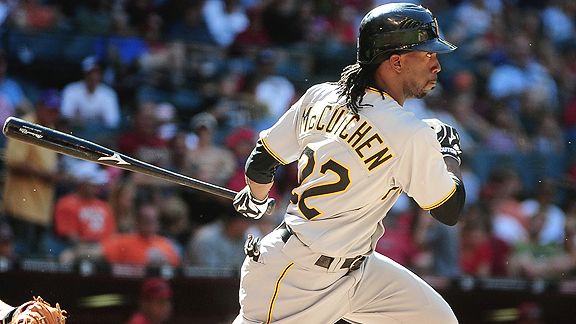 Mark J. Rebilas/US PresswirePirates fans can at least be optimistic about the performance of Andrew McCutchen.
Quick: Who is the best center fielder in baseball right now?
And, no, the answer isn't
Josh Hamilton
. He actually played more games in left field last season and is scheduled to play there on a full-time basis in 2011.
So that leaves … well … oh, where have you gone, Joe DiMaggio? (Or more recent vintages of
Carlos Beltran
or
Grady Sizemore
or
Jim Edmonds
…)
According to the analysts at Baseball-Reference, Fangraphs and Baseball Prospectus, the top three center fielders in 2010 were
Andres Torres
,
Angel Pagan
and
Drew Stubbs
, in some order. Not exactly Willie, Mickey and the Duke. Torres and Pagan, two journeymen who got regular playing time for the first time in their careers, rated particularly well due to being valued as Gold Glove-caliber fielders.
Now, it's possible (and likely) that Pagan and Torres aren't really
Mike Cameron
-in-his-prime defenders. Even those who create the advanced defensive metrics suggest you need a few years of data to make reliable conclusions. This is where
Andrew McCutchen
comes in. After all, he's the subject of this post.
If we temporarily look just at hitting ability, McCutchen is as good as anybody. Pick your metric: No. 1 in Prospectus' VORP (runs produced above replacement), No. 4 in B-R's OPS+ (but
Vernon Wells
and
Torii Hunter
won't be playing center this season), No. 2 in Fangraphs' wOBA. In both cases, he's just behind
Colby Rasmus
, but Rasmus was platooned some and needs to prove he can consistently hit lefties.
So, yes, Pirates fans, there is some good news: You may have the best center fielder in baseball! (Exclamation point needed to excite Pittsburghers from their baseball slumber.) You can finally take those Andy Van Slyke posters off your wall. McCutchen's value comes from doing a lot of things well. He has some power, takes his walks (his .365 OBP led center fielders), has speed on the bases, plays hard and is just 24. There is one hitch: those fielding metrics don't like his defense. Fangraphs rated him as the third-worst center fielder last year, behind only
Matt Kemp
and
Melky Cabrera
. B-R didn't like his fielding. Baseball Prospectus didn't like his fielding. On the other hand, scouts
do
like his fielding.
That said, I think McCutchen and Rasmus will be battling for title of "best center fielder." Pagan and Torres will have to prove they're for real.
Michael Bourn
is a Gold Glover with electrifying speed but lacks power. Who knows what numbers
B.J. Upton
will put up.
Chris Young
has been inconsistent and Stubbs must cut down on his strikeouts.
Austin Jackson
hit .293 as a rookie but the 170 strikeouts are a major hazard sign. Kemp must rebound from a disappointing year.
Jacoby Ellsbury
is kind of like Bourn, but with more publicity.
Overall, the ranks of center fielders probably have less star power than anytime in history. That isn't to say there aren't good athletes out there. In fact, the quality of the athletes is outstanding: eight center fielders hit at least 20 home runs in 2010, 16 stole at least 20 bases. Many of these guys are power/speed threats and superb fly ball chasers.
What we lack is a dominant hitter in the mode of Sizemore or Beltran, or Ken Griffey Jr. or
Bernie Williams
in the late '90s. All these guys have some weakness at the plate. No regular center fielder hit .300 last year and 14 of them struck out at least 100 times, with six topping 140 K's.
That's what I like about McCutchen. In this day of guys accepting 150 strikeouts as being "part of the game," McCutchen puts the ball in play and puts his speed to use. He's trapped on a bad team but if the Pirates ever turn it around, he'll be the centerpiece.
Follow David Schoenfield on Twitter at @dschoenfield. Follow the SweetSpot blog at @espn_sweet_spot.
February, 8, 2011
2/08/11
12:00
PM ET
Even the best teams usually need a lot of things to go their way to win the World Series, a run of good luck that can come to an abrupt end the following season, especially if you stand pat.
[+] Enlarge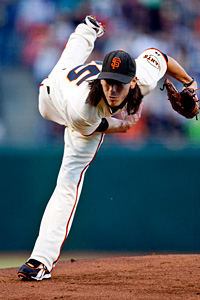 Jason O. Watson/US PresswireThe Giants are hoping for a return to Cy Young form from pitcher Tim Lincecum.
The
San Francisco Giants
mostly bring back the same team that won the title last fall. Although they no doubt peaked at the right time, there's actually room for improvement from some key personnel. Whether they can take advantage is another matter.
For starters, look no further than
Tim Lincecum
, whose 2010 ERA of 3.43 was nearly a full run higher than his 2009 mark of 2.48. Still only 26, Lincecum allowed a career-high .310 batting average on balls in play last year, creating the possibility of a bounce-back 2011 that would return him to the Cy Young Award short list.
At the plate,
Pablo Sandoval
went from the heart of the order to the butt of the bench last year.
Fangraphs
has Sandoval's wOBA (Weighted On-Base Average) falling 20 percent year-to-year, from .396 to .314. Conventional wisdom points to Sandoval's poor conditioning as the culprit, though perhaps there was also the matter of adjustments he needed to make as pitchers figured out ways to retire him. Either way, at age 24, Sandoval is anything but at the point of no return.
Then there are the young-'uns who didn't even have a chance to spend a whole season with San Francisco. Rookie catcher
Buster Posey
made his 2010 debut May 29 and sat out exactly a third of the Giants' 162 regular-season games, squeezing in an .862 OPS (.993 on the road, mind you) when he did play. While Sandoval provides a reminder of what can go wrong following a blistering start to a career, Posey has the breathing room to make himself a sophomore sensation in 2011.
Madison Bumgarner
played even less in the majors than Posey. With his first start coming June 26 (about two months shy of his 21st birthday) the 6-foot-4 lefty made 18 starts in the regular season with a 3.00 ERA, followed by a 2.18 ERA in 20 2/3 postseason innings, including his eight innings of shutout ball against the Rangers in the Fall Classic. More so than Posey, the opportunity is there for Bumgarner to increase his value just by being around in April.
San Francisco can tout a rotation that is young and talented: four reliable starting pitchers 28-or-under (their oldest,
Barry Zito
, is but 32). The Giants also have another card to play in minor-league first baseman Brandon Belt, who had a .455 on-base percentage and .620 slugging percentage as he soared from Single-A to Triple-A last summer.
Elsewhere in its lineup, San Francisco shows its vulnerability to age with returnees
Aubrey Huff
(34),
Aaron Rowand
(34),
Freddy Sanchez
(33) and
Andres Torres
(33), midseason acquisitions
Pat Burrell
(34) and
Cody Ross
(30), the offseason free-agent pickup of
Miguel Tejada
(36), and a player trying to come back from health issues,
Mark DeRosa
(36 this month). But some of those players are going to be competing for playing time.
Four that San Francisco might like to rely upon in 2011 are Huff, Sanchez, Burrell and Ross, and those four performed noticeably better for the Giants in 2010 than they had with their various teams the year before -- hinting at the lightning in a bottle that San Francisco might fear escaping this year. But when you can counter the probability that those four players will decline with the strong possibility that Lincecum, Sandoval, Posey and Bumgarner will be among those who shine even more brightly, fans of the Giants have good reason to feel that their luck hasn't yet run out.
Jon Weisman writes about the Dodgers at Dodger Thoughts for ESPNLosAngeles.com.
October, 18, 2010
10/18/10
11:30
AM ET
As if Bruce Bochy didn't have enough to worry about, now he's gotta
think about who's playing center field
? Jeff Fletcher:
Andres Torres came out of nowhere to be a revelation at the top of the order, but lately he's gone right back from where he came.

Torres was not the only goat in the Giants' 6-1 loss to the Phillies in Game 2 of the NLCS. There was also a wobbly outing by Jonathan Sanchez, team-wide defensive lapses and a bad pitch by reliever Santiago Casilla that turned into a three-run double by Jimmy Rollins, but those things were more isolated incidents that can be shrugged off. Torres' performance has been a nagging problem for weeks, and he hit rock bottom on Sunday.

Torres struck out all four times he came to the plate. He whiffed at fastballs and whiffed at breaking balls. For the postseason, Torres is now 3-for-25 with 12 strikeouts. Even worse, two of the three times he got on base, he subsequently got caught stealing.

--snip--

A little six-game blip might be excusable, especially because it has come against playoff-caliber pitching, but this slump started long before the playoffs. Torres hit .197 in the final 33 games of the regular season, with a two-week break in between to have his appendix removed.

--snip--

That was no doubt one of the questions he would ponder on the six-hour flight back to San Francisco, and on the off day on Monday. When the Giants return for Game 3 on Tuesday, against left-hander Cole Hamels, don't be surprised if Aaron Rowand is in center field. The switch-hitting Torres is even worse from the right side (.226 this season), so it's a logical move.
Today's Burning Question: What are you gonna believe?
Are you gonna believe Torres' 2010 splits or his career splits? His career platoon splits are negligible, and it's unlikely that his ADD medication has changed that.
Are you gonna believe Torres' last 39 games -- those 33 regular-season games, but six since -- or Rowand's entire season?
Rowand's entire season isn't enough? How's about two entire seasons? In 2009 and '10, Rowand batted .212/.278/.378 against left-handed pitchers.
No, I don't think Rowand is really that bad. No 33-year-old right-handed hitter
should
be that bad. But if Bochy's going to base a decision on Torres' last 39 games, he might also consider Rowand's last 237 plate appearances against southpaws.
All these numbers are just numbers, set against all the things Bochy knows about his players that we (or at least I) don't.
But for every player who gets benched in October because he hasn't been hitting, there's another guy who doesn't get benched and breaks out of his slump in a big way. In fact, it happened Sunday night with the other team's shortstop. If anything good came of the Giants' Game 2 loss, maybe it was that Bochy saw what can happen when you let your best players play.
October, 5, 2010
10/05/10
2:46
PM ET
Today's a travel day, so I'll be (mostly) turning this page over to some of the SweetSpot Network bloggers. First up, Bay City Ball with a look at why the Giants have been
better than expected
. And the No. 1 reason? Big production from three incredibly cheap hitters:
The Giants, a team with a $97M payroll, found the most production among their lineup from a group of players that earned, collectively, less than $4M in salary.

To think about it another way, $4M is the cost of about 47 games of Aaron Rowand or about 7 games started by Barry Zito. That is a huge, huge value. Teams have to deal with bad contracts all the time, but the Giants have a significant portion of their payroll tied in both Aaron Rowand and Barry Zito. When you've got money sunk into players like Rowand and Zito you've got to find other ways to create wins by spending on the cheap. Enter Aubrey Huff, Pat Burrell, and Andres Torres. Our low-priced trio added 13.7 wins above replacement to the Giants. Aubrey Huff (5.9 WAR) had the best season in his career at 33-years-old. The story is well known, but the Giants were interested in both Nick Johnson and Adam LaRoche, only to find both players turn down the team for other offers. Johnson (0.1 WAR) was hurt once again and LaRoche had a fine year (2.1 WAR), but nothing close to Huff's resurgence in San Francisco. Aubrey Huff might be the best Plan C in the history of baseball.

Meanwhile, Andres Torres was amazing from the start. Torres, a minor league journeyman, built upon his successful 2009 this year in more ways than one. First, his defense was outstanding. It's hard to find a CF that covers more ground and gets to more balls than Torres. Torres was only the 2nd fielder in baseball to break the +2o runs saved mark by Ultimate Zone Rating. Second, he can hit. After languishing for years in the minors, Torres has now hit .269/.343/.492 across 214 games for the Giants. For a topflight defensive CF, that's an MVP type slash-line. At 6 wins above replacement, Torres was the most valuable Giant this season.

After hitting a combined .218/.311/.361 over 2 years in Tampa Bay, Pat Burrell was released on May 15th, 2010, from the Rays. Considered a failure in the AL and another case of a player hitting the wall too early in his career, Burrell was out of work until May 29th when the Giants came calling and inked the former slugger to a minor league contract. Burrell resurfaced in the National League on June 5th and found the NL much more to his liking. Since returning to the NL, Burrell has hit .266/.364/.509 in nearly 300 at-bats. With the Giants, Burrell has looked every bit of the player he was in Philadelphia from 2000-2008 when he hit an averaged a slash-line of .257/.367/.485 over 9 seasons.
Indeed, this is pretty stunning: the heart of the Giants' hitting attack is three guys who nobody else really wanted. It's tempting to attribute this success to the front office's brilliance ... but if they can do it this year, then why not every year? I'm perfectly happy to credit Brian Sabean for picking up Huff and Torres and Burrell ... but I think we also have to acknowledge -- as I suspect Sabean would, privately -- that the Giants got more than their fair share of luck this season, too.
Which isn't to suggest that Huff and Torres and Burrell were particularly lucky. A little bit, maybe. But I don't expect them to turn into pumpkins just because it's October.
October, 2, 2010
10/02/10
1:00
AM ET
SAN FRANCISCO -- I'm absolutely sure that I'm missing some key piece of information, but from where I was sitting, Bud Black did not have a particularly good bottom of the sixth inning.
His starting pitcher,
Clayton Richard
, had given up just one run but escaped a few jams, gave up a number of well-struck blows, and never seemed to have any real grip on the proceedings. From the beginning, he seemed to just be hanging on until the cavalry arrived; anything more than five innings would be a real bonus for his manager.
Leading off the sixth against Richard,
Buster Posey
hit an easy grounder to shortstop. But
Pat Burrell
ripped a double into the left-field corner.
Aaron Rowand
, a strong (if little else) right-handed hitter was dispatched as a pinch-hitter. Bud Black's bullpen is absolutely loaded with right-handed relievers who eat hitters like Aaron Rowand like they're M&Ms.
Black stuck with Richard. Rowand hit a two-run homer.
Black took out Richard, and summoned one of those right-handed relievers. Not his
best
right-handed reliever. Not his second-best right-handed reliever. Or his third-best. Black called on
Ryan Webb
, a fine pitcher who is the Padres' fourth- or fifth-best right-handed reliever.
Hey, it's still just the sixth inning and Black obviously didn't want burn his best relievers so early in the game.
No, it's what happened next that I couldn't quite figure.
Well, not exactly next. What happened next is that Webb walked
Juan Uribe
(no easy chore, by the way), struck out
Edgar Renteria
, and gave up a double to
Cody Ross
.
All the while, super-situational lefty
Joe Thatcher
was heating up in the bullpen.
Why?
I wondered.
Aubrey Huff
was still a few batters away, and Huff is essentially the Giants' only dangerous left-handed hitter.
After Ross's double (his second in two innings), Black took out Webb and brought in Thatcher to face switch-hitting
Andres Torres
, who has a huge platoon split this season -- .223/.303/.346 against lefties, .288/.360/.537 ... but essentially
no
real split in his career. Maybe Torres is simply a different hitter now, or maybe Black was seduced by a small sample size. You decide.
Either way, Thatcher -- one of the great lefty relievers in the game, at least this season -- was used for exactly one batter. Torres reached base (and drove in a run) with a swinging bunt, and Black yanked Thatcher in favor of
Luke Gregerson
, who finally nailed down the third out.
But the Giants scored three runs in the inning, and Black won't have his best lefty if a scary situation should arise.
I just wonder if he would do exactly the same things, if he have the bottom of the sixth to do over again.
June, 8, 2010
6/08/10
6:20
PM ET
It's good to know that somebody's actually paying attention to the stuff I dash off with little but a quick thought ...
Rob, in your chat today someone commented on Andres Torres that he wasn't a "late bloomer" and it was just two hot months (more or less). Your resoponse was mostly agreeable, noting that even Luis Gonzalez had some good years in his late 20s (and he did; good, but not great).

Anyway, it isn't a big deal, but Torres is basically having the same year he did last year (smallish sample sizes both, with last year's value more OBP-driven and this year's more SLG), and he raked the ball in '08 in AAA (and was very good, at age 29 in 2007 in AA-AAA). so yeah, he was a bit of a mess (and injury prone) in his mid 20s, but he started coming on at age 29, really. So maybe a bit later than Gonzo's age 25-30 "good" phase (due to injury, lack of opportunity, or having just not "figured it out" yet...).

Will Torres keep it going at age 32? Impossible to say, of course, but given his track record over several years (not just a couple of months), he may have this type of production in him for a couple more years at least.

- James
Good point. Torres was pretty good at 29 in Triple-A, and even better at 30. And since joining the Giants at 31, he's been effective in his 353 plate appearances. So that's (roughly) three pretty good seasons, and what's most interesting about Torres' career is that he spent most of his 20s doing absolutely nothing to suggest that he belonged in the major leagues. When he finally did start hitting, it would have been easy to figure him as a
Four-A player
, old enough to have figured out Triple-A pitchers but too old to figure out the big boys.
But occasionally,
very
occasionally they'll fool you, and the Giants deserve some credit for grabbing Torres after a good Triple-A season for the Cubs in 2008
and
for giving him a chance against the big boys in 2009.