SweetSpot:

Andrew Cashner
September, 17, 2013
9/17/13
10:57
AM ET
When the Cubs signed
Anthony Rizzo
to a seven-year, $41 million contract extension on May 13, he was hitting .280/.352/.538, and the deal looked like a huge bargain for the Cubs. Rizzo was a rising star, coming off a strong 87-game stint with the Cubs in 2012 and a great start in 2013. The January 2012 trade that sent hard-throwing
Andrew Cashner
to the Padres was looking one-sided in favor of the Cubs, with Cashner pitching just 46 innings with the Padres in 2012 and beginning 2013 in the bullpen after an offseason hunting accident.
Not so fast.
Since signing that contract, Rizzo has hit .212/.315/.377; meanwhile, Cashner showed Monday night that he still has electric stuff and top-of-the-rotation potential,
firing a one-hitter against the Pirates
while facing the minimum 27 batters and striking out seven. The Padres have never thrown a no-hitter and the Pirates' only hit was
Jose Tabata
's single just under the glove of a diving
Tommy Medica
at first base. Cashner was inches away from a perfect game. Most impressive, Cashner threw an efficient 97 pitches, keeping the ball down in the zone and not once going to a three-ball count.
It was one of the best performances ever by a Padres pitcher. Using the Game Score method, Cashner's score of 92 is tied for fourth in Padres history in a nine-inning game:
•
Andy Benes
, July 3, 1994 versus Mets: 97 (9 IP, 1 H, 0 R, 1 BB, 13 SO)
•
Kevin Brown
, Aug. 16, 1998 versus Brewers: 94 (9 IP, 1 H, 0 R, 2 BB, 11 SO)
• Clay Kirby, July 23, 1973 versus Braves: 93 (9 IP, 3 H, 0 R, 1 BB, 13 SO)
• Benes, Aug. 29, 1991 versus Cardinals: 92 (9 IP, 2 H, 0 R, 1 BB, 10 SO)
(The highest for any game belongs to Kirby, a 109 for his Herculean
15-inning, 15-strikeout
effort against the Astros late in 1971. He was 23 years old at the time, one of the hardest throwers in the majors -- he ranked fourth in strikeouts and second in strikeouts per nine that year in the NL -- and went 15-13, 2.87 for an awful Padres team. He was done at 28, that 15-inning game likely contributing to his early demise.)
As for Rizzo, he has shown some power (22 home runs) and is tied for eighth in the majors with 74 walks (22nd in walk rate). Those are two positives, so it's really all about the .229 average dragging down his value. It's not an issue of strikeouts; his K rate is the same as
Mike Trout
and lower than guys such as
Joey Votto
and
Paul Goldschmidt
. It could be some bad luck: Among 141 qualified batters, he ranks 135th with a .251 average on balls in play. Extreme fly-ball hitters can also suffer from a low average on balls in play, but that's not an issue either, as Rizzo's fly-ball rate ranks 60th among qualifiers, basically the same rate as
Miguel Cabrera
or
David Ortiz
. His line-drive rate is fine. The more you examine, the more it appears Rizzo has hit into a lot of bad luck.
He also just turned 24, so I'm willing to believe he's going to be much better than a .229 hitter. But Cashner could be developing into a very good starter. His strikeout rate is still a little low for a No. 1 or No. 2 starter, but he does have that kind of stuff with his fastball/slider combo. I'd probably give the long-term edge to Rizzo -- the Cubs are still going to end up liking that contract -- but don't assume the Padres got fleeced on the deal.
February, 13, 2013
2/13/13
7:59
PM ET
2012 in review
Record: 76-86 (75-87 Pythagorean)
651 runs scored (tied for 10th in National League)
710 runs allowed (11th in NL)
Big Offseason Moves
Acquired
Tyson Ross
from the
A's
for
Andrew Werner
and
Andy Parrino
. Re-signed free agent
Jason Marquis
. Signed free agent
Freddy Garcia
.
OK, it's the Padres. They're not sitting on a pile of money like their rivals to the north. Still, when retread veterans Jason Marquis and Freddy Garcia qualify as your big moves, that's an uninspiring offseason even if your projected payroll will be higher only than the
Astros
',
Marlins
' and
Pirates
'.
The Padres gave starts last season to
Kip Wells
,
Jeff Suppan
and
Ross Ohlendorf
after a slew of injuries wiped out much of their rotation, so adding starting pitching options was the offseason priority -- the only requirements being the pitchers be cheap and have a pulse.
Ross has long been an interesting arm, but he was never able to put it together with the A's (they won 94 games even though Ross went 2-11 with a 6.50 ERA). It's a gamble but didn't cost the Padres much.
Position Players
Here's an interesting fact: The Brewers led the NL in runs scored, but the Padres scored more runs on the road than the Brewers. With the Padres, you have to factor in the difficult hitting environment at Petco Park, especially in the power department. The Padres hit 74 home run on the road, but just 47 at home.
The offense starts with NL RBI leader
Chase Headley
, who drove in 115 runs -- even more impressive considering the Padres only had mediocre OBP numbers from their 1 and 2 hitters. Headley had that monster second half, of course, hitting .308/.386/.592 with 23 of his 31 home runs. He had a higher road OPS than
Miguel Cabrera
.
The rest of the lineup shapes up as a middle-of-the-pack offense.
Carlos Quentin
can hit when he actually plays (86 games last year) and
Will Venable
and
Chris Denorfia
make for an excellent platoon in right.
Cameron Maybin
turns 26 in April but it's probably time give up hope for a breakout season; at this point, it's safe to assume he's .250 with an OBP in the low .300s, but makes up for his mediocre offense with above-average defense in center field.
For the Padres to improve, they'll need more power from first baseman
Yonder Alonso
, who homered just nine times as a rookie. Petco or not, he'll have to slug higher than .393 or the Padres will be looking for a replacement. Catcher
Yasmani Grandal
impressed in a 60-game rookie season, but he's been suspended for 50 games for a positive test for performance-enhancing drugs.
The Padres ranked 23rd in Defensive Runs Saved (minus-24), with the biggest liabilities being the statuesque Quentin in left field and
Logan Forsythe
at second. Rookie Jedd Gyorko has a career .319 average in the minors and hit 30 homers in 2012 (24 in Triple-A). A third baseman, the Padres tried him at second and he may have a chance to win the job there at some point.
Overall, the offense is probably a little better than the raw numbers indicate, although I'm dropping the grade a bit since Maybin is really the only plus defender.
Pitching Staff
Where to start? Staff ace
Clayton Richard
led the NL in hits and home runs allowed and struck out just 107 batters in 218.2 innings. No. 2
Edinson Volquez
walked 105 batters. No. 3
Anthony Bass
had a 6.35 ERA on the road. Marquis had been let go by the
Twins
after allowing 33 runs in 34 innings. Anyway ...
OK, so it's a bad rotation, its inadequacies masked somewhat by the Padres' forgiving home park. This isn't the rotation the Padres were hoping for a year ago.
Cory Luebke
and
Joe Wieland
both underwent Tommy John surgery. Top prospect
Casey Kelly
missed three months with a strained elbow ligament, although did return to make six late-season starts for the team.
Andrew Cashner
, acquired from the
Cubs
in the
Anthony Rizzo
trade, started in the bullpen before moving to the rotation to help conserve his innings, and made a couple starts before straining a lat. He then cut his thumb in an offseason hunting accident and will begin the season on the disabled list.
No, the future of the Padres doesn't rest on Bass and Marquis, but on those four guys and younger prospects like Max Fried, Matt Wisler and Joe Ross. It's not a good rotation now, but it should be better in 2014.
Heat Map to Watch
What explains Headley's second half in 2012? For one thing, he started destroying fastballs. As you can see from the heat map, there is a lot of red. After hitting .303 with four homers against fastballs in the first half, he hit .392 with 11 homers against fastballs in the second half. From the numbers, it's hard to see exactly what happened. His swing percentage and chase percentage (on pitches outside the zone) were basically the same, so he didn't become more or less aggressive. He did improve his contact rate -- swinging and missing about 4 percent less often -- but that doesn't explain everything. Maybe he just hit the ball harder. Maybe he just got a little lucky. We'll find out in 2013.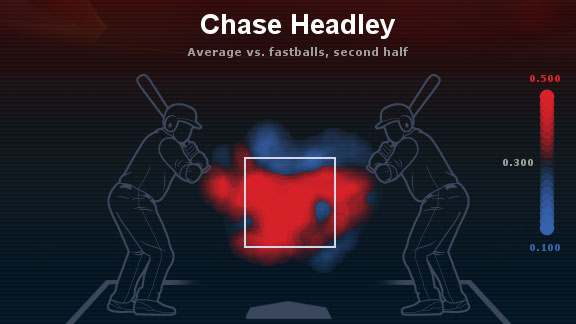 ESPNThe switch-hitting Headley feasted on fastballs in the second half of 2012.
Overall Grade

Some people view the Padres as a sleeper playoff candidate, but I have a hard time seeing it with the current makeup of the rotation. Even if some of the young guys return or suddenly mature, they need a lot of things to go right. The offense could be interesting if Alonso adds some power, Headley does his thing again, Maybin improves and Grandal returns and hits, but, again, that's a lot of ifs.
Factor in that the
Diamondbacks
have improved, the
Dodgers
have added
Zack Greinke
and get full seasons from last year's trade acquisitions, and I'm not sure I see the Padres cracking .500.
Thoughts?
July, 3, 2012
7/03/12
3:06
PM ET
The esteemed Keith Law returned to the
Baseball Today podcast
on Tuesday and we were able to have numerous in-depth discussions:
1. We talked more about the process of choosing All-Stars and what it means in the big picture. Plus, Dusty versus Tony.
2. Teams thinking of trading for Cole Hamels need to think about the new rules with draft pick compensation. KLaw explains.
3. What happened to the now-retired Dontrelle Willis?
4. What's happening with lefties Matt Moore and Ricky Romero?
5. Trevor Bauer versus Andrew Cashner highlights Tuesday's schedule, but there's much more!
So download and listen to Tuesday's show! We will return Thursday!
June, 28, 2012
6/28/12
4:05
PM ET
So Trevor Bauer starts tonight for the Diamondbacks. Andrew Cashner, who pitched out of the bullpen for the Padres at the start of the season, is back after getting stretched out as a starter in the minor leagues and he'll start as well. Dave Cameron of FanGraphs has an interesting comparison between the two pitchers. For all of the Bauer hype, Cashner's minor league pedigree is similarly impressive.
Cameron Scott of Walkoff Woodward looks back at the Rangers-Tigers and declares that the Rangers are good and the Tigers are not.
ESPN Insider Dan Szymborski on the worst rotations since 1950 , in honor of the Minnesota Twins. The Twins' rotation (as of two days ago, when the piece was published) have the worst ERA+, just ahead (behind?) of the 2003 Reds. And, yes, Rockies fans, your rotation isn't far behind. As for those 2003 Reds ... well ... it was ugly. Seventeen different starters combined to go 33-72 with a 5.77 ERA. Paul Wilson was the staff ace at 8-10 with a 4.64 ERA and 166.2 innings. Danny Graves (4-15, 5.33), Ryan Dempster (3-7, 6.54) and Jimmy Haynes (2-12, 6.30) were the others who started at least 10 games.
Starlin Castro, Hall of Famer? Sam Miller of Baseball Prospectus makes a great point about age and playing time.
Ben Duronio of Capitol Avenue Club says all three Braves outfielders should be All-Stars.
Franklin Morales has looked good for the Red Sox. Has he earned a few more trips through the rotation?
The Reds do have some problems with their lineup, but you can't blame Dusty Baker, writes Brien Jackson at Redleg Nation.
Just returned to baseball after watching the NBA and NHL playoffs? Luckily, DJ Gallo has a guide to what's been going on.
Bill Petti of FanGraphs with a fun look at the disappearing breed of hitters who walk more than they strike out.
Another Insider piece: Jim Bowden rates his best managers of the first half and makes a gutsy call in picking Bobby Valentine as the No. 1 guy in the American League. Over the weekend, while watching the FOX broadcast of the Mets-Yankees series, Tim McCarver said Terry Collins and Joe Girardi both have a strong case for manager of the year. Collins, I completely agree with. The Mets have had to start five different players at shortstop because of injuries, Collins has mixed and matched platoons and worked through a bad bullpen. But Girardi? Come on. He's got the easiest gig in baseball, basically writing out the same lineup card every day. And even with the Mariano Rivera injury, he had David Robertson and Rafael Soriano waiting in the bullpen. I'm indifferent towards Girardi as a manager (although that intentional walk to Sean Rodriguez in the first inning on Opening Day was one of the dumbest moves I've seen this year), and he'll get a little more test with Andy Pettitte and CC Sabathia injured, but I don't see how you argue him as a manager of the year candidate.
Some thoughts on Ian Desmond, Adam LaRoche and Trent Moore from Nationals Baseball.
Who is Cuban outfielder Yasiel Puig, the guy the Dodgers just reportedly gave $42 million to? Jon Weisman checks in with some reports from around the Web.
May, 7, 2012
5/07/12
8:00
AM ET
First base: Here come the Marlins.
The Marlins won their sixth straight game to improve to .500. All six wins came on the road, in San Francisco and San Diego, with four of the wins coming by one run and two in extra innings. The key battle in Sunday's 6-3 win over the Padres came in eighth inning with the game tied, the bases loaded, two outs and
Giancarlo Stanton
facing reliever
Andrew Cashner
. Stanton saw eight high-octane fastballs from Cashner -- seven at 101 mph, one at 102 mph. Stanton missed the first pitch, later fouled off two pitches and then drew a walk on a 3-2 pitch to give the Marlins the lead. With Cashner perhaps rattled by the bases-loaded walks, the Marlins proceeded to add three more runs on a
John Buck
passed ball, a
Gaby Sanchez
single and another passed ball.
"I saw 102 (mph) but you can throw 120 and without command you are going to get hurt," Marlins manager Ozzie Guillen said. "It's all about command and making good pitches. It was a hell of an at-bat." Stanton is also getting locked in. After going homerless for 19 games, he's hit five in his past eight games.
Ricky Nolasco
also pitched well again, improving to 4-0 with a 2.72 ERA. He's allowed 12 runs in his start, relying on control (nine walks) and keeping the ball in the park (one home run). The Marlins finish their road trip with three games in Houston. Could this be a 9-0 trip?
Second base: Let's settle this on the playground.
You have to love
Jamie Moyer
and
Chipper Jones
getting into a little squabble over stealing signs. Kids will be kids, I guess.
Moyer accused Jones of relaying signs
while on second base. But what's odd is Chipper's response: "Any time a grown man gets his integrity questioned, they're going to take it seriously and I'm no different. If he wants to discuss it, we'll discuss it, but he's wrong, plain and simple," he said. But haven't we been led to believe that stealing signs is, you know,
part of the game
? A sort of legal way to cheat, as opposed to, oh, let's say performance enhancing drugs. Yet Chipper acts like his his very manhood was thrown in the gutter. Could it be that stealing signs is considered an immoral way to victory?
Third base: Mixed messages.
Two pitchers in need of positive returns also delivered on Sunday, as Cleveland's
Ubaldo Jimenez
threw seven shutout innings against the Rangers while
Mat Latos
struck out 11 in six scoreless frames. However, let's not get too excited just yet. While Jimenez allowed just two hits, he also walked five against six strikeouts, a sign that his control issues remain an issue (25 walks, just 20 strikeouts on the season). Latos' game came against the Pirates; still, that's two scoreless outings in his past three starts. While I'd still be concerned about Jimenez, maybe Latos is finally showing the talent that made him so effective with the Padres.
Home plate. Tweet of the day.
Bryce Harper
stole
home
. On a pickoff throw to first base by
Cole Hamels
. After reaching when Hamels hit him with a pitch. Which Hamels admitted after the game he did on purpose. As Joe Sheehan tweeted ...
Bryce Harper is going to end up as one of those barometers, where you divide humanity into the people who like him and the ones who don't.

— Joe Sheehan (@joe_sheehan) May 7, 2012
January, 6, 2012
1/06/12
5:00
PM ET
By
Christina Kahrl
| ESPN.com
Say good-bye to all those
Prince Fielder
rumors. The Cubs kept denying they were playing at that table, and by trading for
Anthony Rizzo
, they made it clear they were serious.
When you talk about "challenge trades" you're usually referring to a straight-up swap of players at the same position, or maybe one established veteran for another. But much of what makes Friday's trade between the Padres and Cubs so interesting is that it's a challenge trade of top prospects who haven't arrived yet. But with first baseman Rizzo eventually headed to Wrigleyville while hard-throwing
Andrew Cashner
treks to the pitching heaven that is Petco Park, this could be one double-dare that leaves both teams winners -- up to a point.
[+] Enlarge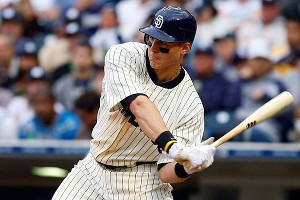 Jody Gomez/US PresswireThe Cubs expect young first baseman Anthony Rizzo to develop into a power hitter in the near future.
Obviously, Theo Epstein, Jed Hoyer and scouting and player development honcho Jason McLeod love Rizzo. They drafted him for Boston in 2007, and Hoyer and McLeod traded for him in San Diego. This reunion represents about as strong a reflection of management's conviction that Rizzo will be something special as any one player could get from any front-office cadre. Rizzo is a 22-year-old thumper with a demonstrated track record for power after hammering 51 homers in the minors the past two years; you can see how that fuels expectations of more to come.
But for the Padres, Cashner is headed into the relief role people projected as his destiny since his days starring at TCU before getting tabbed with the 19th pick in the 2008 draft. Jim Hendry's outfit invested a lot of time in seeing if Cashner could stick as a starter, but both the new Cubs' crew and Padres GM Josh Byrnes are convinced his best role is in relief. There, he can chuck the changeup and get back to dealing high-90s heat to set up a sharp power slider.
It wouldn't be at all surprising to see both Cashner and Rizzo on a National League All-Star squad in 2015. The real question isn't why everyone could come out looking good, but why you make this deal at all if you're the Padres. Isn't a top offensive prospect worth more than a pitcher whose ultimate upside might be quality closer? Maybe Byrnes is much more sold on
Yonder Alonso
than Rizzo, a defensible choice, but is Cashner really all you want to get if you're willing to part with one of the best power prospects in the minors?
It's worth noting that both prospects come with wrinkles. Cashner is coming back from a season effectively lost to shoulder trouble, never a happy thing for a pitcher, but that perhaps contributes to the expectation that he's going straight to the Pad 'pen.
The loudest warning bell on Rizzo is that he's been accused of having a slow bat. Talking up his performance at Tucson last year (.331/.404/.652) might risk losing sight of the fact that Tucson's Kino Stadium is one of the best places to hit in a hitter's league. It's impressive that he ripped the PCL as a 21-year-old, but Petco was not going to help him break through. Get too worked up over his Triple-A numbers, and you can expect to be disappointed, which his 2011 big-league cameo delivered (.523 OPS). If you're chary over Red Sox prospects, you have cause: It wasn't so very long ago people were gushing over
Lars Anderson
because he was young and people expected his power to blossom every bit as much as they do now for Rizzo.
However, perhaps what's equally important about Rizzo is that he's been seen as a good worker, a player with excellent value on defense as well as one who has worked hard to iron out kinks, like an early career problem against lefties. Rizzo's due to start 2012 in Iowa, perhaps as much a matter of service-time manipulation as putting him through finishing school, with minor-league vet
Bryan LaHair
the likely placeholder at first base in the meantime.
As for the add-ons in this four-player trade, both teams again have cause to feel good about what they received. Zach Cates comes to the Cubs as a hard-throwing arm who struggled as a starter in the Midwest League last year. When the Pads made him a third-round pick in 2010, his fastball sat in the low 90s, but touched 96, and he's credited with a good changeup. With 111 strikeouts in 118 innings last year for Fort Wayne, you can entertain some modest ambitions for his usefulness. In return, the Pads got one of the products of the Cubs' aggressive scouting of the Far East, landing 20-year-old Korean speedster Kyung-Min Na. He stole 20 bases in 30 attempts last year while hitting .268/.358/.312 across four levels; if he sticks in center he'll be worth following as he starts logging real time at more advanced levels. Neither are sure things to survive the jump to Double-A, but both are interesting in their own right.
It won't be surprising if we see both Rizzo and Cashner starring for their new teams in the years to come, which might make this seem like a win-win deal. But at a time when it's easier to find useful relievers than it is to land top-shelf power-hitting prospects, credit the Cubs with making the better bet on upside value.
Christina Kahrl covers baseball for ESPN.com. You can follow her on Twitter.
August, 6, 2011
8/06/11
3:00
PM ET
By
Dustin Godsey
| ESPN.com
As the curtain begins to fallon his second year of ownership of the
Chicago Cubs
, team chairman Tom Ricketts has surely seen enough at Wrigley Field to know what he
does not
want this franchise to look like moving forward. So, while the Cubs took to the road and earned their first series sweep of the season against the suddenly struggling Pirates, Ricketts took the opportunity to take a road trip of his own.
Speaking at a news conference on Wednesday in Peoria, Ill., home of the Cubs' Low-A affiliate, Ricketts outlined a future for the franchise that would rely heavily on developing players from within their system. He stated quite simply, "We want to be known as a team that drafts and develops players better than the other teams."
On the surface, this announcement would appear to be good news for current general manager Jim Hendry. Hendry made a name for himself as the Cubs' director of player personnel in the late '90s when he built the team's system into one of the best in baseball. However, in the decade since taking over as GM in July of 2002, the Cubs' player development system has taken a dive. Few players brought into the organization in the past 10 years have made an impact at the big-league level.
[+] Enlarge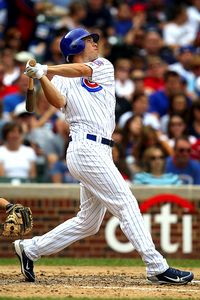 Jonathan Daniel/Getty Images2006 first-rounder Tyler Colvin showed potential last season, but he's hit just .129 in 2011.
When Hendry took the reins of the Cubs, the minor league organization that he had spent the previous seven years developing was heralded by Baseball America as the top system in all of baseball. The publication has been much less bullish in the time since. The Baseball America preseason rankings for the past 10 years show that a once-strong foundation has tumbled to middle of the pack, at best, during Hendry's time as GM:
" 2002: #1
" 2003: #3
" 2004: #7
" 2005: #10
" 2006: #15
" 2007: #18
" 2008: #20
" 2009: #27
" 2010: #15
" 2011: #16
The decline reflected in the Cubs' organizational rankings during Hendry's run as GM has been mirrored by an inability to identify superstar talent at the top of the draft. From 2002 onward, the Cubs have drafted 13 players in the first round (including supplemental first-rounders). Each of the four players selected by the team in the first round of the 2002 draft are out of professional baseball.
Of Hendry's more recent first-round selections, only
Tyler Colvin
(first round, '06) and
Andrew Cashner
(first round, '08) have made it to Chicago. Both made great impressions while seeing their first extended action in the bigs in 2010: Colvin hit .254/.316/.500 with 20 home runs in 358 at-bats, but has been awful in '11 (.129/.190/.276). Cashner looked impressive at times a season ago, but pitched just 5 1/3 innings this season before being shut down with shoulder pain. Of the remaining top picks, the highlights are Josh Vitters (first round, '07), who is still touted as the heir-apparent to
Aramis Ramirez
at third base but has yet to ascend past Double-A, and center fielder Brett Jackson (1st round, '09) who has looked strong in his first 20 games in Triple-A.
Including Colvin, just nine home-grown players who entered the system since Hendry's first season as GM are currently on the Cubs' active 25-man roster. Of these players, only
Starlin Castro
,
Geovany Soto
and possibly
Darwin Barney
appear to have a starting position locked up for the foreseeable future.
In short, during Hendry's tenure he has overseen a near complete erosion of the system that he was so instrumental in building up as the organization's director of player personnel. If the Cubs are truly going to be a team that becomes successful through developing talent from within as Ricketts has declared, perhaps the owner's best move would be to recall his GM back to the minors in a role where he's best suited for success.
Dustin Godsey writes for the View From the Bleachers blog of the SweetSpot network.
April, 6, 2011
4/06/11
4:49
PM ET
I could go on a rant about Terry Francona being an idiot and messing with
Carl Crawford
's pysche by moving him to seventh in the lineup after just two games and then moving him back into the two-hole Tuesday night. I could do that but I think it would be overreacting. Consider:
(A) As Jonah Keri wrote,
Crawford does have a legitimate platoon split against lefties

. From a strategic standpoint, it makes sense to hit Crawford lower in the order against left-handers.
(B) Francona is known as a good communicator and for his loyalty, as witnessed by sticking with
David Ortiz
through that terrible start in 2009. He undoubtedly talked to Crawford before the game he hit him seventh.
No, that doesn't mean Crawford is happy about the move. I don't think he signed with the Red Sox to bat seventh. But teams move their lineups around all the time, due to injuries, slumps, platoons and so on. No team has anything resembling a "set lineup." And any manager worth his paycheck should be trying to field the best possible order, even if it may upset the player. If Crawford hits lefties, he'll be back up in the top three on a regular basis.
Rockies place Ubaldo Jimenez on 15-day DL. Jimenez has a cracked cuticle and the Rockies are being cautious, but he'll miss at least a couple starts. Stephania Bell writes about Jimenez's situation -- plus Adam Dunn and Mike Stanton -- in her latest injury report. Former No. 1 pick Greg Reynolds was recalled from Triple-A. Reynolds has been a major disappointment after Colorado drafted him second overall in 2006, just ahead of ... Evan Longoria. He received 13 starts in 2008 and got lit up to the tune of an 8.13 ERA. He wasn't any better in Double-A last season (45 K's in 89 innings, 5.22 ERA) and really has no place on a major league roster, a good spring notwithstanding.
Cubs place Andrew Cashner and Randy Wells on DL. Casey Coleman and James Russell likely to enter the rotation. These guys are organization fodder types, which isn't good news for the Cubs, especially if Cashner is out for an extended time. Bad break for the Cubs, as Wells in particular had a tremendous spring. Anyone want Carlos Silva back? This is why I picked the Reds in the NL Central, who had Mike Leake and Sam LeCure ready to step in for Johnny Cueto and Homer Bailey.
Other Links
Follow David Schoenfield on Twitter at
@dschoenfield. Follow the SweetSpot blog at @espn_sweet_spot.
April, 5, 2011
4/05/11
4:10
PM ET
Eric Karabell and Keith Law joined forces for Tuesday's
Baseball Today podcast

to talk about:
March, 27, 2011
3/27/11
9:14
PM ET
There are two reasons I enjoyed the little
Carlos Silva
/Mike Quade/Jim Hendry exchange of words after the Cubs released the veteran right-hander (I was going to say "portly," but "veteran" sounded more respectful):
1. Silva is a beefy (oops) right-hander without good stuff.
As Hendry said, Silva has had two good months over the past several seasons. He was awful with the Mariners in 2009, in a season cut short by a sore shoulder. In 2008, he had one of the worst years of the decade, going 4-15 with a 6.45 ERA and allowing a .331 opponents batting average. I think
Adrian Beltre
sprained his neck watching line drives scream past him. He was OK with the Twins in 2007 (prompting Seattle to give him that ridiculous contract in the first place), but awful in 2006. This guy is not a good major league pitcher and unlikely to be one in 2011.
2. More importantly, it hopefully shows that new manager Mike Quade -- who apparently made the decision to cut Silva loose -- is willing to give young players a chance. In this case, it's
Andrew Cashner
.
In recent years, the Cubs have been dragged down by a motley crew of "proven" veterans. Too late, the Cubs have realized some of those guys can't play. In 2010, they gave 400 plate appearances to the punchless
Ryan Theriot
.
Xavier Nady
had more than 300 plate appearances and produced a woeful .256/.306/.356 line. In 2009, it was
Kevin Gregg
blowing saves and
Mike Fontenot
posting a .301 OBP.
True, the Cubs' farm system hasn't been one of the most fruitful in recent seasons, but it has provided
Starlin Castro
,
Geovany Soto
,
Randy Wells
and
Tyler Colvin
over the past three years. That's more talent than many other teams have produced.
Quade still has to sort out second base. I'd like him to give
Blake DeWitt
a chance to play, but proven veteran
Jeff Baker
(career OPS+: 95) may instead eat up the at-bats. But maybe baby steps are all we can expect from the Cubs for now.
Follow David Schoenfield on Twitter at
@dschoenfield
. Follow the SweetSpot blog at
@espn_sweet_spot
.
March, 27, 2011
3/27/11
2:02
PM ET
Some quick takes at news items from around the majors:
1. Yankees start with Freddy Garcia and Ivan Nova in the rotation, put Bartolo Colon in the bullpen.
Take:
Thumbs up. Garcia has had a poor spring, but deserves the initial chance over Colon based on his OK season with the White Sox in 2010 (28 starts, 4.64 ERA). Since winning the 2005 AL Cy Young Award, Colon has made just 47 starts, including none in 2010, with a 5.18 ERA. For all the consternation about the Yankees' rotation, they won 95 games last year with
A.J. Burnett
and
Javier Vazquez
posting ERAs over 5. It's About The Money
wonders if the Colon snub is an outrage
.

Silva
2. Cubs release Carlos Silva, eat $8 million, give fifth rotation slot to Andrew Cashner.
Take:
Thumbs up. Silva has been pounded this spring, just another indicator that his decent 2010 season was a fluke. And remember that his good first half was really just a good two months. Cashner pitched in relief as a rookie in 2010, but has a live arm and some upside if he can throw strikes.
3. Nationals trade Nyjer Morgan to Brewers for Cutter Dykstra, son of Lenny.

Morgan
Take:
Thumbs sideways. For both teams. The Brewers already have Nyjer Morgan and his name is
Carlos Gomez
. Milwaukee needed a backup outfielder after trading
Chris Dickerson
to the Yankees for
Sergio Mitre
. The Nationals officially hand over their starting center field job to
Rick Ankiel
, but I suspect
Roger Bernadina
will get a fair share of time out there as Ankiel has issues staying healthy. As for Dykstra the Younger, he hit .312 with a .416 OBP in the Midwest League, but (A) lacks power; and (B) needs to find a position (fielded .894 at third base). But anything that keeps a Dykstra in the news is a good thing.
4. A's name Brandon McCarthy their fifth starter.
Take:
Thumbs down. The odds of this working seem pretty slim. McCarthy, of course, has always had issues staying healthy. He's been about a league-average pitcher with marginal peripherals when he does pitch, and his major problem (home runs) should be lessened a bit pitching in Oakland. That said, I would have gone with
Tyson Ross
or even
Bobby Cramer
. But these issues usually end up resolving themselves on their own and if the A's actually get 20 starts out of McCarthy, kudos to them.
5. Mike Hampton retires.

Hampton
Take:
Thumbs up. It would be easy to make a crack about the excellent schools in Denver, but you have to give Hampton credit for persevering and trying various comebacks when he could have hung up the spikes years ago. As a Mariners fan, it still irritates that he was traded to the Astros for Eric Anthony. Hampton had pitched poorly in a few innings as a 20-year-old rookie in 1993, Lou Piniella for whatever reason wasn't a fan, and the Mariners traded him that offseason for Anthony, a left fielder who wasn't any good and lasted just one season in Seattle. Just one of many terrible trades Seattle made around that time. The Mariners could have had a great rotation in the mid-'90s with
Randy Johnson
,
Jamie Moyer
,
Jeff Fassero
and Hampton. Instead, that club never reached a World Series.
Anyway, Hampton might not have lived up to the huge contract he signed with the Rockies, but he had an excellent career with 148 wins. He was one of the best-hitting pitchers of the past 25 years with 16 home runs, including seven in 2001. Or more than Nyjer Morgan will probably hit in his career.