July, 16, 2011
7/16/11
1:14
AM ET
By
Dave Gershman
| ESPN.com
Friday night's duel in St. Petersburg between the
Boston Red Sox
and
Tampa Bay Rays
featured an extra dose of significance. It didn't have anything to do with the bevvy of homers hit, and it had absolutely nothing to do with the Rays' walloping of the Sox. Instead, it was a bittersweet story that we witness each and every year. Before
David Price
and
Andrew Miller
were yanked from the ballgame, they opposed each other in a matchup that, four years ago, might have been considered one for the ages as a showdown between young guns. Instead, this matchup symbolized the fact that not every drool-inducing prospect makes it as a star.
In the spring of 2006, the University of North Carolina's team boasted one of the best college arms some scouts had ever seen. Miller not only dominated the opposing teams in his conference, he dominated aspiring prospects in the Cape Cod League. For a while, he was projected as the first overall pick in the draft. Despite falling to sixth overall, he was still the top left-handed arm selected in that draft class.
A year and a day later, the best pitcher in the country -- a left-hander as well -- went first overall. You might have heard of him as the ace southpaw and two-time All-Star for the Rays: Price. At the time each was picked, the question was not, "Is this guy going to get to the bigs?" The question was, "How soon?" Both hardly prompted questioning regarding any facet of their makeup, stuff or potential.
However, the tough and rocky road in professional baseball took its toll: Price succeeded; Miller faltered. Baseball is as funny a game as any, and Friday's matchup was a reflection of that, showing us that even the best prospects don't always pan out.
In any case, Miller and Price pitching against each other tells us that despite everything going wrong in Miller's young career, he's valued by the contending Red Sox -- for now. He's here for a reason. The reason truly might be that he's here by default, as three from the initial contingent of Red Sox starters --
Clay Buchholz
,
Jon Lester
and
Daisuke Matsuzaka
-- are currently on the shelf.
Miller is a valuable experiment for now because Triple-A Pawtucket has offered almost all it can at this point. Guys such as
Felix Doubront
are not yet ready, and prospect
Junichi Tazawa
is still getting back in the swing of things following Tommy John surgery.
The nagging problem is that Miller isn't any different than the guy the Marlins recently gave up on. He can't throw strikes consistently, nor can he keep the ball in the yard. Heck, Friday night's game was lousy, even by Miller's standards.
Compared to last season, Miller has actually lowered his walk rate by nearly three per nine innings. However, his strikeout rate has also dropped while his contact rate has gone up. Batters are connecting 77 percent of the time when they swing; last year, that figure was 70 percent. To put his decreased strikeouts into perspective, he's punching out more than two fewer guys per nine than last season.
On the other hand, Price has enjoyed lots of success this year, continuing the success expected of him from his days on Vanderbilt's diamonds. It's no surprise that he is valued much differently than Miller. Price has walked less than two batters per nine innings this year and has struck out almost a man per frame. In addition, he's posted a fielding independent pitching (
FIP
) of 2.90, 80 points less than his ERA on the season. His batting average on balls in play (
BABIP
) is right around league average (.290) and has been worth 1.6 wins so far halfway through the season. In other words, he's been really solid. He's the centerpiece of a young, ace-filled rotation the Rays hope to rely on for years to come. That's obviously hoping that Price remains a Ray and that
Wade Davis
gets his act together. And it relies on the expectation that Matt Moore's development doesn't falter like, say, Miller's.
It's intriguing to look at how similar Price and Miller were at the time they were drafted, and how different they are now. Not just different on the pitching end of things, but one is extremely coveted by his team and the other might lose a rotation spot in the weeks to come -- especially after the trade deadline.
PHOTO OF THE DAY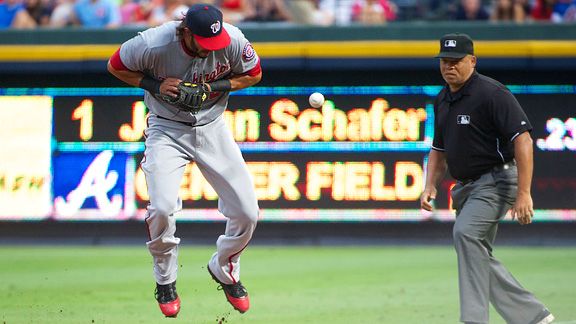 Dale Zanine/US PresswireMichael Morse: Got it! ... Had it... oh man.
Dave Gershman is the author of Marlins Daily, an affiliate of the SweetSpot network.
July, 21, 2009
7/21/09
2:04
PM ET
From SunSentinel.com's Juan C. Rodriguez,
breaking news
about the Marlins:
After Monday's 3-2 win over the Padres, the Marlins optioned left-hander Andrew Miller to Triple-A New Orleans.

Albeit with the All-Star break in between, Miller put together back-to-back starts of 2 2/3 innings, allowing 10 runs (six earned) on 11 hits, seven walks and no strikeouts over the two games.

Rick VandenHurk, who on Monday earned his first major league win since last July 22 after allowing two runs over six innings, will assume Miller's rotation spot. The Marlins don't need a fifth starter until July 31 at the earliest.

--snip--

Miller becomes the second member of the Marlins' ballyhooed season-opening rotation to require a trip to the minors because of performance issues. Ricky Nolasco spent two weeks in New Orleans starting in late May and made two starts before retuning and regaining his form.

No word yet on who will replace Miller on the roster. Manager Fredi Gonzalez wouldn't specific whether it would be a pitcher or position player, but it's likely the latter considering the Marlins are down a bench guy. Ideally, they need a reserve infielder but they can't bring back Andy Gonzalez for 10 days.
Now we do have word on Miller's roster replacement: according to the Miami Herald's Clark Spencer, infield prospect
Gaby Sanchez
has gotten the call. More on him in a moment. First I want to discuss the Marlins' rotation, which essentially has been two different squads this season.
The first squad -- composed of Josh Johnson, Chris Volstad, and Ricky Nolasco -- has issued 2.4 walks per nine innings, with each member posting solid (or better) strikeout numbers.
The second squad -- Miller, Sean West, and Anibal Sanchez -- has issued 4.5 walks per nine innings, with all the corresponding struggles that you might expect.
So it's a good thing they don't need five starters until July 31 (at the earliest), because right now they've got only three reliable starters. Fortunately, VandenHurk's got a chance to become a fourth, at least if his Triple-A career (8-2, 2.99 ERA) is any guide.
It's all moot, I fear. I just don't think the Marlins are serious about winning. I won't think they're serious until they get Emilio Bonifacio out of the lineup; I suspect Sanchez will not be givin Boni's job. And I won't think they're serious until they get bring Cameron Maybin back to the majors and give him an every-day job in the outfield. He's been in New Orleans for more than two months, he's hitting .343/.425/.500 while the big club's corner outfielders are struggling, and you leave him down there ... why, exactly?
Like I said, talk to me when you're serious about winning.