January, 23, 2013
1/23/13
9:00
AM ET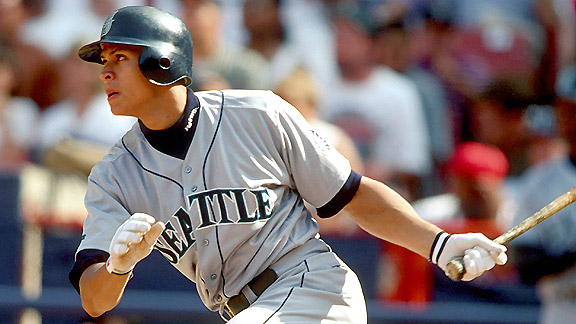 US PresswireAt age 20 in 1996, Alex Rodriguez boasted a 9.2 WAR for the Seattle Mariners.
A couple weeks ago, Keith Law unveiled his annual list of the
top 25 players under the age of 25

. Keith's list isn't a projection of the best players for 2013, but rather a projection and ordering of players if you were starting a franchise.
I thought it would be fun to do a similar list for all time. Of course, it's a difficult assignment because I was attempting to follow the same line of thinking as in Keith's piece: Whom would you build a team around? In doing this you have to pretend to ignore what happened in a player's career
after
a certain moment in time and project how he would have been valued at a particular age.
So this isn't just a list of the best players through the age of 24, or a list of the best seasons under the age of 25 -- although many of those players appear here. We're looking at the numbers and considering what the scouting reports would have been. Mark Fidrych, for example, was great at 21, but didn't possess the explosive fastball to make this list.
So here goes. A couple quick points. First, I ignored the 19th century. Second, I think it's important to understand that it was easier for a young player to excel in 1905 or 1929 or even into the 1950s than it is now. In my opinion, a 20-year-old
Mike Trout
dominating in 2012 is more impressive than a 20-year-old Ty Cobb dominating in 1907. Also, position matters. You build around up-the-middle guys more than corner guys (although there are some of those here). Cobb, for example, spent his early years as a right fielder before moving to center, so I downgraded him because of that.
Here's a way to look at this: If one player is ranked 23rd and another is ranked 14th, I'm saying I wouldn't trade the No. 14 player -- at that point in his career -- for the No. 23 player. Feel free, of course, to disagree.
25. Sam McDowell, LHP, 1965 Indians (age 22)
How dominant was McDowell in 1965? He averaged 10.71 strikeouts per nine innings, a record at the time and one that would last until 1984. In fact, while McDowell's K rate now ranks 25th all time, it's one of only three in the top 25 that came before 1990. He led the American League in ERA that year and the following May Sports Illustrated ran a
cover story
on McDowell with the billing, "Faster than Koufax?"
As you can see from his walk total, he had the blazing fastball but not Koufax-like command. That SI article perhaps points to some of McDowell's future issues in that it portrays him a pitcher with a fastball, slider, changeup and overhand curve ... and all too willing, apparently, to throw all four pitches. "He has such a good changeup that he wants to use it -- too much, in my opinion," catcher Del Crandall said. "I do not believe he is as impressed with his fastball as the hitters have indicated that they are."
McDowell liked to think out there. You wonder if he had just settled on two pitches -- maybe fastball/slider like
Randy Johnson
-- if he would have solved some of the control problems that did plague him throughout his career. The article mentions a game where he threw 163 pitches. "About par for me," McDowell said. Back then, nobody cared. "He has a good idea how to pitch," his manager Birdie Tebbetts said, "and he's going to be a real pitcher, one of the truly great ones. He runs three times as much as some pitchers, and he concentrates. He's going to get very tired in the next few years from all those pitches he throws, but he can stand that because he's young and strong, because he has a perfect build for a pitcher and because he doesn't have a sore-arm delivery. He's smooth."
24. Mel Ott, RF, 1929 Giants (age 20)
John McGraw didn't discover Ott so much as Ott found John McGraw. Ott was a 16-year-old playing for a lumber company semi-pro team in Louisiana when the lumber company owner bought Ott a train ticket to New York to try out for McGraw's Giants. A year later, Ott was playing in the Giants' outfield -- McGraw not wanting to farm out his young discovery to the minor leagues and have him fall prey to unknown evils.
Ott hit .322 with 18 home runs at age 19 and then exploded at age 20. Even in the high-scoring season of 1929, Ott's numbers were impressive: 42 home runs, one behind league leader Chuck Klein and the most ever by a 20-year-old; first in walks; fourth in on-base percentage and third in slugging percentage; second to Hack Wilson in RBIs. Ott -- helped by the short porch at the Polo Grounds -- never again hit 42 home runs but did lead the National League in homers six times and and in OBP four times.
23. Pete Reiser, CF, 1941 Dodgers (age 22)
Reiser's numbers are more impressive then they may appear at first glance: He led the National League in batting average, doubles, triples, runs, slugging percentage, total bases, runs created, OPS and OPS+, plus he was regarded as one of the fastest players in the league and played a terrific center field. Reiser led the NL in WAR that year, not that WAR existed in 1941, so teammate Dolph Camilli, who drove in 120 runs, won MVP honors.
Reiser would become one of baseball's legendary "what if" players. On July 19, 1942, he crashed head-first into an unpadded concrete wall in St. Louis, knocked unconscious with "blood pouring from his ears." Reiser either fractured his skull or didn't;
history is a little murky
on the whole incident, according to Steven Goldman. Reiser would miss only a few games and finished sixth in the MVP vote but he suffered from blurred vision the rest of the year. He was hitting .350 at the time, tailing off to .310 by the end of the season.
After that came World War II, and in 1947 Reiser crashed into another wall and was injured severely enough that he was given last rites. He was never the same. Does he deserve a spot in the top 25? While it's true that he may have never developed into a big home run hitter, it seemed clear he was already one of the game's best all-around players. Leo Durocher, who managed Reiser in '41, would say Willie Mays was the greatest player he ever managed, but that Reiser had the same potential.
22. Andruw Jones, CF, 1998 Braves (age 21)
Look where Jones stood at this point in his career: He already was compared to Willie Mays defensively (indeed, Baseball-Reference ranks Jones' 1998 season as the sixth-best since 1901 of any position, with his '99 season even better), hit more home runs than Ken Griffey Jr. did at the same age, stole 27 bases in 31 attempts and hit a respectable .271. There may have been some concern about the ultimate potential with the batting and on-base ability, but if you remember the young Jones, we saw a gifted all-around player with MVP glitter in his future.
Jones would have seasons of 51 home runs, a .302 average and as many as 83 walks -- he just never did all those things at once. He was a
great
player with his range in center, but eventually he got fat, his 30s were a big zero and a Hall of Fame career wasted away.
21. Bert Blyleven, RHP, 1973 Twins (age 22)
Blyleven ended up pitching so long and then his Hall of Fame debate became so heated that it's easy to forget that he was one of the greatest young pitchers of all time. He made the majors at 19 and the next year won 16 games with a 2.81 ERA. In the early '70s, pitchers were treated about as well as a herd of cattle intended for fast-food hamburgers and Blyleven pitched 278 innings at age 20, 287 at 21 and then 325 at age 22. Somehow his arm remained attached to the shoulder socket.
He threw nine shutouts in 1973 and two one-hitters, leading the AL in adjusted ERA and strikeout/walk ratio. That he finished seventh in the Cy Young vote was a reflection of less-informed times, when writers looked at his 20-17 win-loss record and failed to realize how good he was. While we know about his famous curveball, Bill James also rated Blyleven's fastball the ninth-best between 1970 and 1974. Sure, we would be concerned about Blyleven's workload, but he had the total package.
20. Bryce Harper, OF, 2012 Nationals (age 19)
In terms of WAR, Harper just had the best season ever by a 19-year-old position player. The rest of the top five: Mel Ott,
Edgar Renteria
, Ken Griffey Jr. and Ty Cobb. And Ott is 1.3 wins behind Harper.
19. Frank Tanana, LHP, 1975 Angels (age 21)
Maybe you remember the old junkballing Tanana instead of the young flamethrower who compiled 22.3 WAR from ages 21 to 23 -- second-best over those three ages since 1901, trailing only Walter Johnson (22.7). Nolan Ryan was a teammate those three years and Tanana was better: He went 50-28 with a 2.53 ERA while Ryan went 50-46, 3.16.
As a 21-year-old, Tanana led the AL in strikeouts and strikeout/walk ratio while finishing fourth in the Cy Young voting. Two years later, Sports Illustrated's Ron Fimrite
wrote
, "They know it exists; they just cannot find it, because the Tanana curve is among the most wicked in all of baseball. But then so are his fastball and his changeup. And all three are thrown with withering accuracy. Unlike Ryan, with whom he forms the most devastating one-two pitching entry in the game, he has complete control." James ranked Tanana's fastball the third-best of that era, behind two famous ones: Ryan's and Goose Gossage's.
Then he hurt his shoulder, and lost his speed. To his credit, he stuck around to win 240 games.
18. Hank Aaron, RF, 1957 Braves (age 23)
Aaron hit .314 at 21, won a batting title with a .328 mark at 22, but at age 23 his power exploded as he hit those 44 home runs and won what would be the only MVP Award of his career. Aaron led the NL in home runs, RBIs and runs and chased the Triple Crown into August (he would finish fourth in batting average). The only thing he didn't do yet was run -- one steal that year (though at his base-stealing peak in 1963 he took 31 bases).
In a profile that year in Sports Illustrated -- titled, appropriately,
"Murder With A Blunt Instrument"
-- Roy Terrell painted the image of Aaron that would last throughout his career: "Perhaps the most unusual part of the Aaron story is the fact that no one gets very excited about it. Sometimes it is even easy to forget that Henry Aaron is around. Without the physical proportions or explosive speed of a Mickey Mantle, without the breathtaking color of a Willie Mays, without the long and brilliant -- and controversial -- career of a Ted Williams, Aaron seems to be hardly a personality at all. He says practically nothing, stays out of nightclubs, never loses his cap running the bases, and spits only upon the ground."
17. Al Kaline, RF, 1955 Tigers (age 20)
Here's one example of why this list was difficult to put together: Do you take the 20-year-old Kaline over the 23-year-old Aaron? Or the 20-year-old Kaline over the 21-year-old Aaron for that matter? I think you have to go with Kaline, trying to ignore what happened after each age. An 18-year-old bonus baby in 1953, in 1955 Kaline led the AL with his .340 average, 200 hits and 321 total bases. He finished second in the MVP vote to Yogi Berra. He played a terrific right field.
Kaline went on to collect 3,000 hits and become a Hall of Famer, of course, but 1955 remained arguably the best year of his career (in terms of WAR, 1961 edges it out at 8.2). Kaline never hit 30 home runs and never hit .340 again. Looking back at '55, he got off to a great start, hitting over .400 in April and .371 in the first half (.301 in the second). Perhaps the league eventually figured something out; he also tore up the woeful Kansas City A's that year, hitting .451 against them with nine of his 27 home runs.
16. Cesar Cedeno, CF, 1972 Astros (age 21)
The sky was the proverbial limit for Cedeno in 1972 when he finished third in the NL in OPS while playing in the expansive Astrodome. Not shown above: He stole 55 bases and won a Gold Glove. Cedeno was outstanding again the next year, hitting .320 with 25 home runs and 56 steals. What happened from there? I wrote about his
cautionary tale
last August.
15. Mark Prior, RHP, 2003 Cubs (age 22)
How good was Prior in his first full season in the majors? As good as advertised when he came out of USC. From 1994 to 2004, the only pitchers with a lower ERA in a season were
Greg Maddux
,
Pedro Martinez
,
Kevin Brown
,
Roger Clemens
,
Jake Peavy
, Randy Johnson and
Jason Schmidt
. In the heart of the steroids era, Prior looked like the next Clemens, a 6-foot-5, 230-pound horse who would lead the Cubs to a World Series championship.
"Chicago Heat"
read the Sports Illustrated cover that summer, featuring Prior and
Kerry Wood
. The article detailed Prior's extensive conditioning program between starts and his fundamentally sound mechanics.
The next year, he got hurt.
14. Eddie Mathews, 3B, 1953 Braves (age 21)
Check those numbers again. Mathews' 47 home runs not only led the NL but remain the most ever for a player 21 or younger -- 20-year-old Mel Ott being the only other player that young to hit at least 40. Ty Cobb had seen Mathews as a minor leaguer and declared, "I've only known three or four perfect swings in my time. This lad has one of them."
Mathews finished second in the MVP voting to Roy Campanella that year, but in some regards, Mathews spent the rest of his career trying to live up to the unlimited promise of his sophomore campaign. He would finish second again in the 1959 MVP vote and hit over 500 home runs but tailed off in his early 30s. In his autobiography, Mathews mentioned that his drinking caused him to lose several jobs in baseball, including a stint as Braves manager in the early '70s, although it's unclear if that was a problem during his playing days.
13. Cal Ripken, SS, 1983 Orioles (age 22)
On June 22, 1982, Earl Weaver moved a 21-year-old rookie from third base to shortstop in a game against Cleveland. The Orioles lost 8-6 and the kid moved back to third base. On July 1, Weaver started the rookie again at shortstop. He'd spend the next 14 years there -- starting every game.
In his first full season at shortstop, Cal Ripken's Orioles won the AL East (and went on to win the World Series) and Ripken captured MVP honors with his strong year at the plate -- he led the AL in runs and finished second in total bases -- and surprising defense up the middle. Maybe he didn't have the speed of other shortstops, but his arm strength allowed him to play deep and he had a quick first step.
Ripken's bat never really developed from where it was as a 22-year-old -- he only had two more seasons that compared, offensively, to 1983 (1984 and his second MVP season of 1991) -- and while too much attention was paid to his ironman streak, he remained a power-hitting shortstop with underrated defense.
12. Walter Johnson, RHP, 1910 Senators (age 22)
Johnson's speed was apparent from the day he joined the Senators in 1907, a raw youngster with impossibly long arms. After losing 25 games in 1909 -- the Senators were awful -- Johnson had his breakthrough season at 22, winning 25 games for a team that would limp to a 66-85. Johnson led the AL in games started, complete games, innings pitched and strikeouts, and threw eight shutouts.
That offseason, the Washington Post circulated a rumored trade of Johnson for Ty Cobb. Tigers president Frank Navin denied the rumor, saying the Senators would never trade Johnson, whom Navin called "in my opinion the best young pitcher in the country, and doubly valuable because he is so young."
Was Johnson the hardest thrower of all time? It's possible, although some speculate that Johnson was merely the first pitcher to throw hard all the time (instead of saving his best stuff for key situations, as most pitchers could do during the dead-ball era), thus making his fastball
seem
faster than it was. Cobb would probably disagree with that. In Henry Thomas' biography of Johnson, he quotes Cobb saying, "The first time I saw him, I watched him take that easy windup -- and then something went past me that made me flinch. I hardly saw the pitch, but I heard it. The thing just hissed with danger. Every one of us knew we'd met the most powerful arm ever turned loose in a ballpark."
11. Vida Blue, LHP, 1971 A's (age 21)
Blue had started only 10 games in the big leagues (those 10 games included a no-hitter and one-hitter) when the 1971 season began. He got knocked out in the second inning of the season opener, but then quickly announced his presence: A six-inning shutout with 13 strikeouts in his next start, followed by a two-hit shutout and then eight complete games in his next nine starts, including three more shutouts. At the All-Star break he was 17-3 with a 1.42 ERA and 17 complete games in 22 starts. He would appear on the covers of Sports Illustrated and Time.
"He throws harder than Sandy Koufax did," Orioles first baseman
Boog Powell said
that season. "He has an effortless motion, a smooth, compact delivery. He goes out for nine innings and doesn't seem to weaken."
Blue relied mainly on his overpowering fastball, which he sometimes "cut" to add sinking movement. He also had a curveball and threw an occasional changeup. Blue was an outstanding athlete -- he threw 35 touchdown passes his senior year in high school, but chose baseball because there wasn't a future in pro football back then for black quarterbacks.
Blue's usage was an issue that summer and manager Dick Williams did cut back in the second half. But the damage may have been done. A holdout in 1972 -- Blue went 6-10 that year -- didn't help matters. But a quote from teammate Sal Bando in 1973 sums up why Blue, while remaining an excellent pitcher, never duplicated his 1971 wonders: "He found out that you can't throw the fastball for 300 innings."
10. Ken Griffey Jr., CF, 1990 Mariners (age 20)
"The Natural,"
billed the Sports Illustrated cover in May of 1990. Indeed, when told before one game to watch out for Bert Blyleven's curveball, Junior asked, "Is he a righty or lefty?" Griffey hit .300 and slugged .481 in his second year in the bigs with that picture-perfect swing, numbers more impressive in those years before muscles and offense exploded. He ranked seventh in the AL in batting average and ninth in slugging, won a Gold Glove and drew the inevitable comparisons to the next man on our list.
Am I overrating him on the list? After all, Bryce Harper had the same WAR in 2012, at the age of 19, as Griffey had at 20 and is 10 spots lower on the list. I think there was a certain awe about Griffey's potential at the time -- the leaping grabs in center field, the ability to hit for average, the untapped power that would eventually be unleashed. As Bill James wrote then, "He hasn't been overhyped; he's worth it. Griffey is the only major league player who has not yet established reasonable limits for himself. He could be anything -- he could be the greatest player there ever was, or he could be Cesar Cedeno."
I guess you could say the same thing right now about Harper, but let's wait a year on him. Obviously, I think he's going be awesome -- he's on this list after all -- but potential is a tough label to put on one so young.
9. Willie Mays, CF, 1954 Giants (age 23)
Mays missed most of 1952 and all of 1953 in the Army, but his return to the majors was so spectacular that he cracks my top 10, even if he is a little older than most of the others on this list. This is what the debate is all about: Would you trade 23-year-old Willie Mays for 20-year-old Ken Griffey Jr.? Mays led the NL in batting average and slugging percentage while finishing third in home runs. If there had been a Gold Glove Award back then, Mays would have won that, too. He
did
capture MVP honors and deservedly so.
I think the difference is this: The 23-year-old Mays was the finished product; the 20-year-old Griffey wasn't. While Griffey
did
develop into the player everyone projected, Mays was already that player. While Griffey made the cover of Sports Illustrated in 1990, Mays made the cover of Time in 1954. In July, Mays appeared on three network TV shows in one weekend. He was a phenomenon, and a Newsweek headline read: "Willie Mays: The Hottest Thing Since Babe Ruth."
8. Bob Feller, RHP, 1939 Indians (age 20)
I could have put the 17-year-old Feller on the list (he made the majors while still a high school junior in Iowa and struck out 17 batters in a game that September), or the 18-year-old Feller (he appeared on the cover of Time that spring and his high school graduation was aired by NBC Radio), or the 19-year-old Feller (went 17-11 with a 4.08 ERA but walked 208 batters), but I think the 20-year-old Feller is the better choice.
It was his breakout season and while he still wasn't quite polished, his control had improved enough for him to make that leap to superstar status. He led the AL in wins, innings and strikeouts. In a league where only eight pitchers struck out 100 batters, Feller had 246. How fast did Feller throw? In the days before radar guns, he
challenged a motorcycle
in the summer of 1940. The motorcycle was racing at 86 mph as it flew past Feller as he unleashed his pitch. He managed to hit the target on his first try -- three feet ahead of the motorcycle. MLB declared he threw the ball 104 mph.
7. Mickey Mantle, CF, 1956 Yankees (age 24)
The oldest player on my list, you could argue I made the wrong choice: That 20-year-old Mickey Mantle was more valuable than 24-year-old Mantle, in part because in a theoretical trade you would lose the four seasons from ages 20-23. I'm sure Nate Silver or Dan Szymborski could run the numbers through their projection system and give a mathematical answer. Anyway, the 20-year-old Mantle was already one of the best players in the league: He hit .311 with 23 home runs, led the AL in OPS and finished third in the MVP vote. He remained at the level the next two seasons then hit 37 home runs at age 23.
But then ... then came one of the greatest seasons in major league history. Mantle hit .353 with 52 home runs and won the Triple Crown. He slugged .705 and had a 1.169 OPS. At the time, you may have thought: OK, Mantle raised his game to a new level -- the highest level -- and he's just entering his peak years; he may do this for the next seven or eight seasons. We know now that didn't
quite
happen. He was nearly as good in 1957 when he hit .365 and had an on-base percentage over .500, but those were his two best years.
That Mantle wasn't able to maintain that level of play isn't really a knock against him, although we can debate how much was bad knees and other injuries and how much was off-the-field habits. But he was so good in 1956 that even a 20-year-old Mantle -- even a raw kid with big speed and huge power -- couldn't have been projected to have this kind of season.
6. Joe DiMaggio, CF, 1937 Yankees (age 22)
Picture Joe D at age 22: Second season in the majors, a league-leading 46 home runs, a league-leading 151 runs scored, third in batting average, second in RBIs, first in slugging percentage, graceful in the outfield and on the bases, nearly twice as many walks as strikeouts, the best player on the best team in the world. What kind of future would that player have?
By WAR, it would be DiMaggio's second-best season. One reason I ranked him sixth is that you could easily project a 22-year-old who hit 46 home runs to become a 50-homer guy; but the 46 would be DiMaggio's career high, as he never hit 40 again. (Yankee Stadium, with its mammoth 457 feet to left-center, certainly hurt him; he hit 27 homers on the road in 1937, for example.)
"Name a better right-handed hitter, or a better thrower, or a better fielder, or a better baserunner," Hank Greenberg once said. "That's right, a better baserunner. Did you ever see him slide when he hooked the bag with his toe? Absolutely perfect."
5. Mike Trout, CF, 2012 Angels (age 20)
Wait: I just ran that quote and then ranked Trout ahead of DiMaggio? Well, where do we begin?
1. Trout just played his age-20 season (he turned 21 in August). DiMaggio was still in the Pacific Coast League at 20.
2. DiMaggio may have been a great baserunner, but he did play in an era when there weren't many stolen bases. He stole 30 bases in his career; Trout just stole 49 bases in 54 attempts.
3. Check their adjusted OPS. Trout's is actually a shade higher. The AL hit .281/.355/.415 in 1937; it hit .255/.320/.411 in 2012.
4. Trout drew more walks in fewer plate appearances -- in a league where pitchers averaged nearly a walk less per nine innings.
5. Trout's WAR is the highest of any 20-year-old position player. Or 21-year-old for that matter.
So ... yes, I would rather build around 20-year-old Mike Trout than 22-year-old Joe DiMaggio.
4. Johnny Bench, C, 1970 Reds (age 22)
The only catcher to make the list, Bench's value, in part, lies in that positional scarcity. Who was he in 1970? Only the NL MVP after leading the league in home runs and RBIs while possessing the strongest arm many had ever seen -- he started 130 games at catcher and allowed only 32 steals while throwing out 30. You did not run on Johnny Bench.
3. Ted Williams, LF, 1941 Red Sox (age 22)
OK, maybe he couldn't play center field like DiMaggio or Trout. But the man did hit .400. By the way, the feat is more impressive now than it was at the time. From 1935 to 1940, seven players had hit better than .370, including Luke Appling's .388 mark. So Williams was 18 points higher than the recently established high at the time. The highest average in the past seven years was
Joe Mauer
's .365 mark in 2009, so in some fashion Williams' .406 would be akin to somebody hitting .383 today. (The AL hit .267 in 2009 and .266 in 1941.)
2. Dwight Gooden, RHP, 1985 Mets (age 20)
All these years later, I'm still trying to figure out how Gooden finished
fourth
in the MVP vote. "His pitch does everything," Cubs first baseman
Leon Durham said
that year. "It moves, it sinks, it rises." Gooden threw a hard curve and a slow curve and hitters couldn't touch either one. Batters hit .201 off him and slugged .270. He threw eight shutouts -- and that doesn't count two other games where he pitched nine innings with no runs and got a no-decision. He allowed one run or fewer in 19 of his 35 starts.
It wasn't just the best pitching season ever by a young starter, it may have been the best, period. Baseball-Reference.com rates it fourth-best since 1901, behind two Walter Johnson seasons and one Cy Young year, back in the days when hitters didn't hit home runs and pitchers could spit on the ball.
What happened? Sure, there were the drugs and maybe hitters learned to lay off the high fastball and maybe he lost the feel for his curveball -- as good as Blyleven's they said -- and then pitching coach Mel Stottlemyre instructed him not to go for strikeouts all the time and he hurt his shoulder in 1989 and was definitely never the same after that.
But in 1985, in that glorious summer, Dr. K was as good as any pitcher ever was.
1. Alex Rodriguez, SS, 1996 Mariners (age 20)
"The way he's going, someday he might bat .400 and hit 60 home runs. He's the best young talent I've seen in years." --
Red Sox GM Dan Duquette, summer of 1996
.
I think the 20-year-old A-Rod is the pretty easy call for No. 1. He was already a five-tool player, leading the AL in batting average while swatting 36 home runs and a league-leading 54 doubles. He was polished in the field, with range and a strong arm. Like Trout now, he didn't have to get better to become the best player in baseball.
For me, as a Mariners fan, I can't believe that was 17 years ago. As much as I loved the young Griffey or the middle-aged
Edgar Martinez
or the fireballing Randy Johnson, Rodriguez's year was something special, when a player so young is so good you can only cherish the present and dream of a future with no limits.
* * * *
Honorable mention: Christy Mathewson, Ty Cobb, Smoky Joe Wood, Babe Ruth (the pitcher), Rogers Hornsby, Lou Gehrig, Jimmie Foxx, Arky Vaughan, Herb Score, Frank Robinson, Don Drysdale, Vada Pinson,
Rickey Henderson
, Roger Clemens,
Albert Pujols
.
September, 24, 2012
9/24/12
5:20
PM ET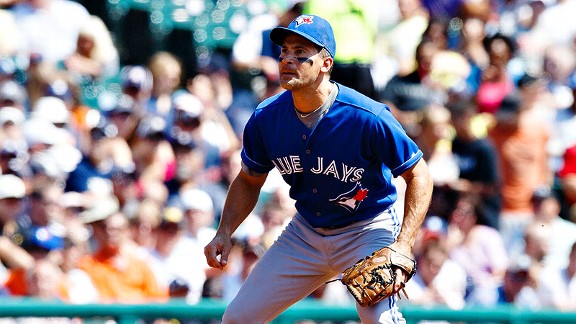 Rick Osentoski/US PresswireOmar Vizquel won 11 Gold Gloves in his career. Will that get him elected to Cooperstown?
A few weeks ago, Joe Posnanski challenged his readers to construct a Hall of Fame argument for Jack Morris. The catch: Whatever your framework for Morris as a Hall of Famer, you then had to agree that any pitcher who also met those criteria should also be a Hall of Famer. So, for example, if your argument is that "Morris won 254 games," any pitcher with more wins should also be in Cooperstown (
Jamie Moyer
, Jim Kaat, Tommy John and others). As Posnanski wrote, you also end up with issues like Bob Forsch winning more games than Sandy Koufax or Jerry Reuss winning more games than
Pedro Martinez
if you apply the framework to other pitchers.
You can read the
whole post and reader comments here
. That idea leads me to
Omar Vizquel
, who is winding down the final days of his 24-year career. It's actually fairly easy to construct a Hall of Fame framework for Vizquel: Any position player with at least 10 Gold Gloves is clearly one of the greatest fielders of all time and merits a Hall of Fame selection purely on his fielding ability. The list of those with at least 10 Gold Gloves:
Brooks Robinson, 16
Ozzie Smith, 13
Ivan Rodriguez
, 13
Roberto Clemente, 12
Willie Mays, 12
Omar Vizquel, 11
Keith Hernandez, 11
Johnny Bench, 10
Mike Schmidt, 10
Ken Griffey Jr.
, 10
Al Kaline, 10
Roberto Alomar, 10
Andruw Jones
, 10
Ichiro Suzuki
, 10
Most of those guys are already in the Hall of Fame or will eventually get elected. OK, you'd have to include Keith Hernandez (who peaked at 10.8 percent of the vote but was a fine player and MVP winner) and Andruw Jones (Willie Mays-like in center field and has more than 400 home runs).
So that wouldn't be so bad. We have to include the "10 Gold Gloves" corollary, because you once you get below that you start getting to names like Don Mattingly and
Torii Hunter
(nine Gold Gloves) or George Scott, Mark Belanger and Frank White (eight apiece), players who don't really fit a Hall of Fame profile.
Of course, Vizquel's Hall of Fame currency doesn't solely reside on his defense. You could add a few other things:
1. Played more games at shortstop than any other player.
2. Ranks 41st on the all-time hits list (2,874) and 78th all time in runs scored (1,444).
3. Key member of six division winners with Cleveland.
4. .272 career hitter with more than 400 stolen bases, so not a complete zero on offense.
There are probably a few other things you could add on his ledger, but those are the big ones.
* * * *
When Vizquel joins the ballot in a few years, his candidacy -- like the one with Morris -- will spark an intense debate, divided among old-school purists and new-school statheads. When it comes to career Wins Above Replacement, Vizquel does not fare particulary well:
His 40.6 Baseball-Reference WAR
, while higher than some of the more marginal Hall of Famers, is well-below the general threshold of most Hall of Famers.

Complicating the debate is that many will hold up Vizquel as a beacon of the steroids era, a little guy who played the game the right way in an era of muscled-up sluggers. Vizquel will also be hailed as the National League version of Ozzie Smith, down to the singular first name. The latter debate is a difficult one to make when you look at WAR:
Ozzie: 73.0
Omar: 40.6
Compared to his contemporaries at shortstop, Ozzie was a little more productive at the plate: 44.5 offensive Wins Above Replacement compared to Vizquel's 27.8. Compared to an average hitter of his time, Smith was 119 runs below average over his career while Vizquel was 243 runs below average. Of course, this gets back to the steroid era argument. Vizquel is being evaluated against all those big hitters (and players at his position that included
Alex Rodriguez
,
Derek Jeter
,
Nomar Garciaparra
and
Miguel Tejada
), while Ozzie gets Garry Templeton and
Shawon Dunston
.
Still, this brings the argument back to Vizquel's fielding. How good was he? Baseball-Reference
does
rate him as a superb fielder, 29th among all players since 1947 in runs saved and fifth among shortstops (behind Belanger, Ozzie,
Cal Ripken
and Luis Aparacio). Belanger (240 runs saved) and Ozzie (239 runs saved) rank second and third overall behind Brooks Robinson. You may not like advanced fielding metrics, but it's hard to argue with the rest of Baseball-Reference's top-10 list: Jones, Clemente,
Adrian Beltre
, Carl Yastrzemski, Mays, Ripken and
Barry Bonds
. Maybe you don't recognize Belanger's name, but he was the shortstop for the Orioles during the Earl Weaver dynasty years, a tall, think shortstop with great range but even less of a bat than Ozzie or Omar. He won those eight Gold Gloves despite a .228 career average, so was certainly recognized as a great fielder during his time.
Even if you believe the metrics underrate Vizquel a bit, is there enough there? Even at his peak, he was the fifth-best shortstop in the American League. He received MVP votes just once in his career (16th in 1999), which isn't a reason to dismiss him entirely, but doesn't equate with a player viewed in his own time as one of the best in the league (Ozzie once finished second in the MVP vote).
Vizquel's longevity, while unique, doesn't increase his value; he just managed to hang a long time. Since turning 40, he's scratched out 400 more hits while batting just .250/.305/.310. Many voters will cite his career hits total, but that ignores that he hung on for six seasons as basically a replacement-level player.
Two more issues to raise. Personally, I would find it hard to see Vizquel as a Hall of Famer while Alan Trammell (67.1 career WAR) remains unelected. Any easy rule for any Hall of Fame debate: Is he the best player at his position not in the Hall of Fame? But Trammell doesn't have that one signature element to his career like Omar ("Best shortstop other than Ozzie!") and besides he'll be off the ballot in four years.
Finally, there are players like Jones and Hunter, who nobody seems to really consider as Hall of Fame-caliber even though they were regarded as terrific fielders (remember, Hunter has won nine Gold Gloves) and contributed more at the plate than Vizquel, even for their positions. What makes Vizquel a better candidate than them?
You can probably see where my opinion sits. It's been an amazing career, no doubt; as someone who watched him when he first came up with Seattle, I can guarantee you that there wasn't one Mariners fan who believed Little O would someday turn into a Hall of Fame candidate. I actually think he
will
get elected after a few years on the ballot.
Maybe Jack Morris will be sitting behind at the induction ceremony.
September, 4, 2012
9/04/12
11:51
PM ET
On July 18, the
New York Yankees
blanked the
Toronto Blue Jays
6-0 in a rain-shortened game.
Hiroki Kuroda
pitched the seven-inning shutout,
Mark Teixeira
homered and the Yankees ripped 12 hits off
Ricky Romero
. The Yankees were cruising, having won nine of 11 and 16 of 22 games, and were leading the American League East by 10 games, on pace for 95 wins.
The hated rivals up in Boston already were turning into a bad joke, barely a rival anymore after the Yankees had taken three of four a few days before. The upstart
Baltimore Orioles
had won that day but had lost 13 of their pevious 19, slowly drifting into their usual pathetic irrelevance. The
Tampa Bay Rays
? Hey, never discount them -- they'd made a big comeback in 2011, after all -- but this wasn't their year, the lineup wasn't any good and the rotation wasn't as dominant as expected.
Yes, the Yankees were going to cruise to another division title. Print the playoff tickets.
* * * *
Perhaps the most impressive aspect of the modern Yankees dynasty is their numbing consistency. Sixteen playoff appearances in 17 years. Twelve division titles. Twelve 95-win seasons in the past 15. Yes, they have more money than Zeus, but money is no guaranteed road to success.
Just look at their neighbors to the north, who are going to miss their third postseason in a row and have won just one division title in 16 years. Look at the
Philadelphia Phillies
, the team with the second-highest opening-day payroll. The Phillies had a nice run, five National League East titles in a row, but age and injuries caught up to them this season, and they're struggling to finish .500. The Angels will have spent more than $300 million the past two seasons and another $104 million in 2010, and might have no playoff appearances to show for that.
The Yankees have kept their dynasty going, defying age and bad luck. They did miss the playoffs in 2008, a season in which they won 89 games. Yes, that was the season they gave 20 starts to
Darrell Rasner
and 15 to
Sidney Ponson
. That offseason, they reloaded with Teixeira,
CC Sabathia
and
A.J. Burnett
, and then they won the World Series.
Still, this can't go on forever, can it?
* * * *
The
Yankees lost 5-2 to the Rays
on Tuesday as Tampa slugged three home runs off
Freddy Garcia
, and a lineup that featured
Raul Ibanez
,
Jayson Nix
,
Chris Dickerson
and
Chris Stewart
failed to do much against
Alex Cobb
. The
Orioles pounded the Blue Jays 12-0
on Tuesday as
Zach Britton
pitched seven scoreless innings and
Mark Reynolds
belted his fifth home run in five games.
The Orioles are now tied with the Yankees for first place.
"We're just having a good time and we're not putting pressure on ourselves," Reynolds said after the game. "Everybody knows the situation we're in but we're just taking it day by day and having fun."
Something tells me the Yankees aren't having a lot of fun right now.
Here's some data from Katie Sharp of ESPN Stats & Information:
Since July 19:
Yankees: 19-25, run differential of plus-3
Orioles: 29-15, run differential of plus-37
Rays: 28-16, run differential of plus-84
As Katie points out,
Nick Markakis
returned from an injury after the All-Star break and the Orioles' offense has been vastly improved since. The O's hit .240/.302/.402 (BA/OBP/SLG) in the first half and .253/.322/.423 in the second (entering Tuesday's game). Markakis' .343 average and .902 OPS in the second half rank fifth and 13th, respectively, among AL hitters (before he went 3-for-5 on Tuesday). In their past 11 games, Orioles starters have nine quality starts and a 2.22 ERA.
Why not Baltimore?
* * * *
If the Orioles and A's are this year's miracle teams, that means we now have to consider the Rays grizzled vets, even if their $64 million payroll is higher than that of just five other teams. The Rays were a miracle in 2008 and a mini-miracle in 2011. We are no longer surprised.
Since the All-Star break, the Rays have a 2.45 staff ERA, which would be the second-lowest second-half ERA by an AL team since the first All-Star Game in 1933 (the 1972 Angels had a 2.37 ERA).
Pitching, my friends, pitching. The Yankees are relying on Sabathia's elbow to hold up, and the retread Garcia, and the inconsistent
Phil Hughes
, all the while hoping 40-year-old
Andy Pettitte
will return to offer a lifeline.
The Yankees look old, mediocre and beaten up.
Why not Tampa Bay?
* * * *
From 10 games ahead to pure panic. Yankees fans
should
be worried. Right now, they're the third-best team in the AL East. They're even with the Orioles, and the Rays are 1.5 games back, with a chance to cut the deficit to a half-game with a win Wednesday.
Sure, injuries. Sure,
Alex Rodriguez
just returned and
Robinson Cano
didn't play Tuesday and Teixeira is out. But that's what happens when you get old. Ibanez is old.
Ichiro Suzuki
is old.
Andruw Jones
is old.
Curtis Granderson
isn't old but has morphed into Dave Kingman in the past couple of months, a guy who hits home runs and strikes out.
The Yankees are struggling. The Yankees are not going to win the AL East.
The playoffs? Hey, it's still the Yankees; you never want to count them out. They have four games left with Tampa Bay and a four-game series this weekend in Baltimore, but the rest of the schedule is soft other than one series with Oakland -- six games against the sinking Red Sox, seven against the banged-up Blue Jays, three against the Twins. Even if the Orioles and Rays rise past the Yankees, New York can make the wild card if it can hold off the Tigers/White Sox loser and the A's and Angels.
I want to say the Yankees won't make it, that they're too old, overpaid and overrated. People in baseball often talk about digging deep. It's just something they like to say.
But I'll say this: Get out your shovels, Yankees.
PHOTO OF THE DAY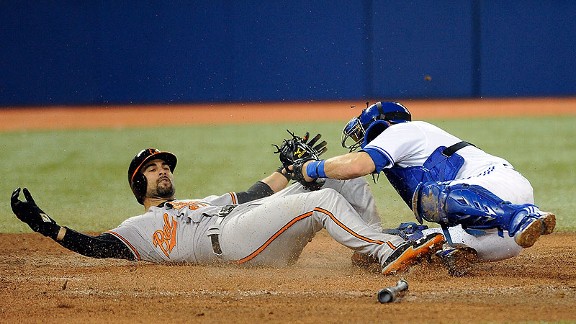 Brad White/Getty ImagesNick Markakis slips in the same way the Orioles tied for first: Stealthily and safely.
July, 10, 2012
7/10/12
3:11
PM ET
Just like Monday night, some booing was also heard on Tuesday's
Baseball Today podcast
as Mark Simon and I talked baseball!
1.
Prince Fielder
won the Home Run derby, but the story was a pair of players that did not homer. Did
Robinson Cano
deserve the fan abuse?
2. What about an All-Star week defensive skills competition? We get creative and we like it!
3. Good emails today, including one about
Scott Rolen
,
Carlos Beltran
and
Andruw Jones
as potential Hall of Famers.
4. There's a Mendoza line for batting average, but what's the line for on-base percentage?
5. Finally, we preview the All-Star Game. Who wins? Who stars? Which matchup is most enticing?
So download and listen to Tuesday's Baseball Today podcast, and prepare for the All-Star game!
May, 16, 2012
5/16/12
12:25
AM ET
Forget
Albert Pujols
. There's another reason to watch the
Los Angeles Angels
, and his name is
Mike Trout
.
For all the hype
Bryce Harper
has rightfully received, it's time to start giving a few headlines to another rookie phenom, time to give the Left Coast a little love. Trout went 3-for-4 with a home run, a stolen base and three runs scored in the Angels'
4-0 victory over the A's
on Tuesday. In 15 games since getting recalled from Triple-A, Trout is hitting .316 BA/.369 OBP/.561 SLG, reminding Angels fans what an All-Star batting line is supposed to look like and why a homegrown, five-tool rookie with young, fresh legs is a player to get more pumped about watching than a money-for-hire Hall of Famer you purchased on the free-agent market.
So while we wait for Pujols to get untracked, maybe the Angels' answer to their offensive prayers -- they've been shut out an MLB-leading eight times -- is a kid who doesn't turn 21 until August.
Against
Bartolo Colon
, he took a middle-in fastball and crushed it just to the right of center field, off the back wall behind the center-field fence in Anaheim. There aren't many leadoff hitters who can mash a pitch with that type of authority. The other day, he showcased his quick, compact swing, yanking a 2-1 fastball from
Yu Darvish
well over the left-field fence in Texas. His first home run came on a 1-0 fastball off Toronto's
Kyle Drabek
, a 93 mph heater low in the zone that Trout hit to left-center.
I think those returns are pretty clear: Trout can do some serious damage when he gets into a fastball count.
Trout is even faster than Harper and much more advanced defensively (although he lacks Harper's arm). And for all the awe for Harper's quick rise, Trout is only a year older. Like Harper, he debuted in the majors while still 19 years old. Like the previous two 19-year-old center-field phenoms -- a couple of guys named
Andruw Jones
and Ken Griffey Jr. -- Trout has that broad range of skills that should make him a franchise player as he matures.
My favorite aspect of the Trout/Harper comparisons is that the two will always be linked, even though they play in different leagues and cities three time zones apart. Just like we debated Rodriguez and Jeter and Garciaparra back in the late '90s, or like New Yorkers debated Mays and Mantle and Snider in the 1950s, I'm sure we'll be endlessly debating Trout and Harper for years to come.
The other highly rated prospects entering the season were
Tampa Bay Rays
lefty
Matt Moore
and Mariners catcher/designed hitter
Jesus Montero
. They aren't off to impressive starts like Trout and Harper, but let's take a closer look at them as well.
Bryce Harper, Washington Nationals
I'll make this one brief. We've seen Harper's lightning-quick bat speed and raw power with his home runs in back-to-back games -- one blast to dead center and the one Tuesday to deep right-center. We've also seen a few misplays in the field, however, from losing a ball in the darkened skies Sunday to dropping a fly ball Monday.

And of course, we've seen the rocket arm and the top-grade athleticism. There's no reason to believe he can't be a superb fielder with more experience. I think the biggest positive is his strikeout rate hasn't been excessive, with 11 in 60 at-bats. Along with his ability to hit left-handers, that was the big concern of his premature call-up. While there were initial thoughts that his time in the majors would be temporary, his play and the Nationals' injuries mean he's here to stay.
Matt Moore, Tampa Bay Rays
When I polled the SweetSpot network bloggers before the season for their
American League rookie of the year predictions
, Moore came out on top, outpointing Darvish. I wasn't quite as optimistic, as I believed Moore's spectacular playoff performance against the Rangers raised expectations to unrealistic levels. The only rookie starter since 2000 to pitch at least 162 innings with an ERA less than 3.00 was
Jeremy Hellickson
, and his flukey .224 average on balls in play had something to do with that. With Moore, I still wanted to see a guy who had the consistent command needed to dominate in the majors.
That's been a big issue with him so far, as he's walked 22 batters in 39 innings, a rate of 5.1 walks per nine. As Justin Havens of ESPN Stats & Info points out, Moore also has struggled with runners on base:
Justin also writes that Moore "continues to leave entirely too many balls up in the zone, ranking sixth out of 115 pitchers in percentage of total pitches 'up' in the zone." This ties into Moore having the third-highest walk rate (12.4 percent) among starters, behind only
Ubaldo Jimenez
and Drabek, and six home runs allowed in seven starts.
There are no major issues here, other than pointing out that most young pitchers do go through a learning curve. Hellickson -- who doesn't have the raw stuff Moore owns -- set the bar high with his own rookie campaign, but that type of season is the exception.
Jesus Montero, Seattle Mariners
It's also a mixed bag so far with Montero. With five home runs, he's displayed the power stroke scouts projected. His overall batting line of .256/.285/.411, however, isn't much to get excited about, as the occasional long ball is marred by a poor 29/6 strikeout/walk ratio.
There are a few things going on here. He has expanded the strike zone, swinging at 36.2 percent of pitches outside the strike zone. That's not necessarily a career-killing attribute (
Josh Hamilton
currently has the second-highest rate in the majors), but it's among the 30 worst percentages so far. The bigger problem is he isn't making contract on those pitches and certainly not good contact. He's swinging and missing at those pitches 56.6 percent of the time, which again places him among the 30 worst rates.
When you dig deeper into the numbers, it's pretty clear what's happening. Check out the heat maps below. On the left, Montero against "hard" stuff, and on the right, Montero against "soft" stuff.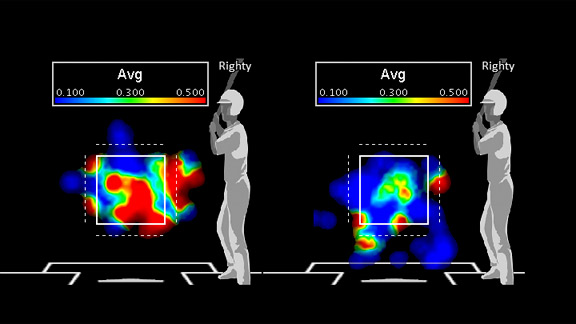 ESPN Stats & InformationMontero has been hitting the hard stuff (left), but struggling against offspeed pitches.
Against "hard" stuff, he's hitting .362 (25-for-69) with four home runs and five doubles. Against "soft" stuff, he's hitting .133 (8-for-60) with one home run and no doubles. So if pitchers get ahead in the count, they can get Montero to chase the offspeed stuff out of the zone.
A final issue is Montero's ability -- or lack of it -- to pull the ball. While he's known for his opposite-field power, I'm not sure you can live off that trait alone. Of Montero's five home runs, two have gone to right-center, one to center and two to left-center. His hit chart is littered with fly balls to right field and the right-field line. Frankly, he just hasn't shown the ability to pull the ball with any authority. To me, this reads like a guy who can be jammed inside and will chase pitches outside. Look, the pitch recognition should improve, but he's going to have to figure out how to do more damage to all fields.
The injury to
Miguel Olivo
also forced the Mariners to play Montero more regularly behind the plate. I haven't seen the defensive butcher advertised, but he's clearly a work in progress. A couple of starts ago,
Kevin Millwood
was constantly shaking him off. However, the two were on the same page in Millwood's win over the Yankees on Sunday. Opponents are 8-for-10 stealing bases off him.
PHOTO OF THE DAY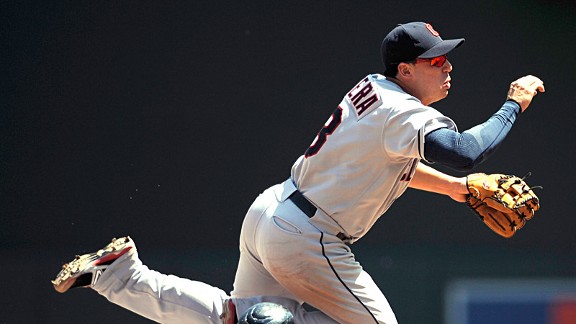 Hannah Foslien/Getty ImagesFred Astaire might have been light on his feet, but could he do what Asdrubal Cabrera has to?
January, 15, 2012
1/15/12
4:40
PM ET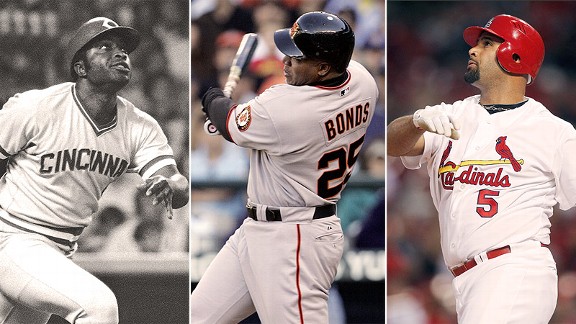 AP PhotoJoe Morgan, Barry Bonds and Albert Pujols all made cases for being the best player in the game during different stages of their career.
The genesis for this article came out of all the recent Hall of Fame discussions. A lot of arguments were along the lines of "Tim Raines was one of the best players in baseball in the mid-'80s," or "You know, Don Mattingly was the best in the game there for a few years," or perhaps "Barry Larkin was as good an all-around player as anybody at his peak."
None of those statements are necessarily incorrect. But are they good Hall of Fame arguments? How many players can you claim were "one of the best in the game" over a period of years? So here's what I did. I went back to 1969 and looked at each five-year span to determine the five best players in baseball, based on cumulative Baseball-Reference wins against replacement over those five years. (For the purposes of this piece, I looked just at position players.)
So here we go, with the usual caveats about WAR. You'll see a lot of the same players and you'll see a lot of Mike Schmidt and
Barry Bonds
and
Albert Pujols
in the top spot. But while the best player may not change all that often, it's interesting to see who pops in some of the top five slots.
1969-1973: Sal Bando (33.6), Joe Morgan (32.7), Reggie Jackson (32.2), Johnny Bench (30.4), Pete Rose (30.1)
Our first entry and we already get a big surprise: Sal Bando, the best player in baseball? It may seem odd now, but Bando was one of the most respected players in the game at the time and finished second, third and fourth in MVP votes in 1971, 1973 and 1974. He hit for power, drew walks and played a solid third base, putting up big numbers for the era in the Oakland Coliseum, a place where batting averages and fly balls often went to die.
1970-1974: Joe Morgan (37.6), Johnny Bench (31.9), Sal Bando (30.0), Reggie Jackson (29.2), Pete Rose (28.8)
No change in the top five, although Morgan takes a big leap ahead of the others, replacing a more mundane 1969 with a monster 1973. You're going to see a lot of Morgan here, as his 1972-76 run was one of the greatest five-year stretches in baseball history.
1971-1975: Joe Morgan (46.2), Reggie Jackson (33.3), Johnny Bench (31.9), Pete Rose (29.6), Willie Stargell (29.5)
Some believe Rose was a compiler, a good player who merely played forever. That's not accurate; while he was never the best player in the game -- although he did win the 1973 MVP Award -- he was clearly one of the best for a period of years. This peak coincides with his years in the outfield; his value started declining once he moved to third base in 1975, where it's fair to say he wasn't exactly Brooks Robinson.
1972-1976: Joe Morgan (51.0), Rod Carew (33.2), Cesar Cedeno (32.5), Johnny Bench (32.1), Bobby Grich (32.0)
Absolutely phenomenal: Morgan was nearly 18 wins better than the No. 2 player over this five-year span. I don't know if any player has ever dominated the game to the extent Morgan did over this stretch (that's another article). Cedeno was a marvelous talent, a power/speed center fielder who hit .298 while averaging 21 home runs and 55 steals per season over these five years. The Astros moved the fences back in 1977 (10 feet at the foul lines, 12 feet in the power alleys), hurting Cedeno's power. He injured his knee in 1978 and then broke his ankle in the 1980 playoffs, sapping his speed and effectively ending his years as a productive player.
December, 21, 2011
12/21/11
6:05
PM ET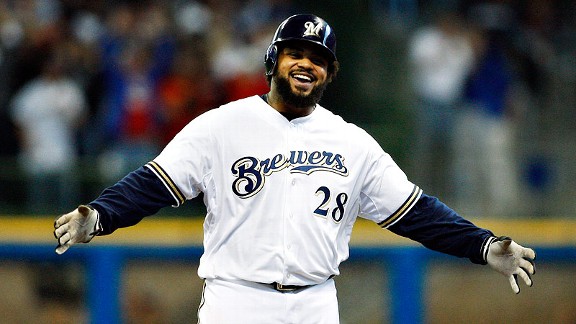 Jerry Lai/US PresswirePrince Fielder is the biggest catch remaining in baseball's pool of free agents.
There are still some good free agents out there, perhaps even a few bargains. What kind of team could you buy if you signed the best of these guys? Let's find out. Here's a 25-man roster of unsigned players, with estimated salaries and WAR (wins above replacement). Would it be a competitive team?
C: Chris Snyder
Snyder is coming off back surgery, but it's a thin lot of available catchers. He's been up and down in his career with his bat, but will draw some walks and has a little pop.
Projected salary: $2.5 million
Projected WAR: 1.0
C: Ramon Castro
The career backup never landed in the right place at the right time, but he can he hit left-handed pitching and provides a capable 200-plate appearance backup.
Projected salary: $1.2 million
Projected WAR: 0.6
1B: Prince Fielder
We're going to empty our pocketbooks and have the big guy anchor our lineup. We'll sign him to a seven-year, $165 million contract, but we'll backload the deal. That way, if we get fired, it screws the next GM.
Projected salary: $20 million
Projected WAR: 5.0
2B: Ryan Theriot
Honestly, he doesn't bring a whole lot to the table other than a proven ability not to be horrible. He'll hit an empty .270 or so and play capable defense.
Projected salary: $2 million
Projected WAR: 0.7
3B: Carlos Guillen
Third base is a bit of a problem so we'll have to gamble on Guillen. He's missed a lot of time the past three years, so we'll sign him to a low base salary with incentives if he remains healthy. Considering the production of third basemen in the majors in 2011, he could produce at a league-wide average for the position.
Projected salary: $1.5 million plus incentives
Projected WAR: 1.0
SS: Ronny Cedeno
No, a shortstop who hits .249/.297/.339 isn't ideal, but
Troy Tulowitzki
isn't available in this scenario. Still, Cedeno was a 1.5 WAR player in 2011 and there's no reason he can't duplicate that effort again.
Projected salary: $4 million
Projected WAR: 1.5
[+] Enlarge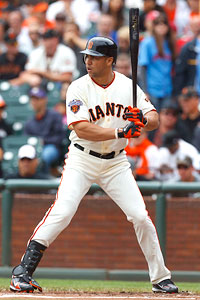 Jason O. Watson/US PresswireWhen healthy, veteran Carlos Beltran is still considered one of baseball's most feared hitters.
RF: Carlos Beltran
We need another big bat and Beltran is still out there. He's been compared to
Michael Cuddyer
, who signed a three-year, $31.5 million deal, so Beltran figures to go in a similar range. The good thing is he's better than Cuddyer. Even if he drops off a bit from his strong 2011, he'll be a productive player.
Projected salary: $12 million
Projected WAR: 3.5
LF: Luke Scott/Andruw Jones
We're going with a platoon here, hoping for Scott to bounce back but signing Jones to play against left-handers. Scott hit .264 and slugged .499 from 2007 to 2010, so we think he has something left in the tank. Jones had a .923 OPS against left-handers in 2011.
Scott's projected salary: $5 million
Scott's projected WAR: 1.9
Jones' projected salary: $3 million
Jones' projected WAR: 1.1
CF: Coco Crisp
We're going to want a good flychaser in center and Crisp is a solid defender who also led the AL with 49 stolen bases. His OBP fell to .314 in 2011, so we should be able to sign him for a decent salary.
Projected salary: $6.5 million
Projected WAR: 2.0
IF: Brooks Conrad
He's an insurance policy for Guillen as someone who could provide some pop off the bench and also play second base in a pinch.
Projected salary: $800,000
Projected WAR: 0.6
IF: Jack Wilson
Ugh. But considering Conrad isn't a glove guy (in fact, I'm not sure he even wears a glove in the field), we better sign Wilson as infield insurance. No, we don't like this move, especially considering Wilson's propensity to get injured while filing his fingernails.
Projected salary: $1.4 million
Projected WAR: 0.0
OF: Rick Ankiel
We wanted to sign
Cody Ross
here, but he's a little expensive for a fourth outfielder (although isn't that what he should be?). Ankiel can play center and provide a left-handed pinch-hitter off the bench.
Projected salary: $1.5 million
Projected WAR: 0.5
OK, now to the pitching staff, which will have to be the strength of our team.
SP: Roy Oswalt
For all the talk about his injury history, 2011 was his first season he didn't start 30 games since 2003. A bad back is always a concern but this was a guy who led the NL in WHIP in 2010. Jerry Crasnick recently reported that Oswalt wants to show he's healthy and is thus willing to take a one-year deal and aim for a bigger contract after 2012. Perfect.
Projected salary: $10 million
Projected WAR: 3.0
SP: Hiroki Kuroda
The Yankees reportedly offered Kuroda a one-year, $12 million deal. Sounds good to us.
Projected salary: $12 million
Projected WAR: 2.8
SP: Javier Vazquez
Yes, we are going to force Javy out of his rumored retirement. He had a 2.15 ERA in the second half last season, so he's far from finished.
Projected salary: $10 million
Projected WAR: 2.5
SP: Joe Saunders
The Diamondbacks declined to offer him a contract, making him a free agent. We're not in love with his soft-tossing style, but he's a solid innings eater for the back of the rotation.
Projected salary: $8 million
Projected WAR: 1.8
SP: Paul Maholm
He may be a little expensive for a No. 5 starter, but we like durability in our rotation. He was 6-14 with the Pirates in 2011, but that was a misleading record for a guy with a 3.66 ERA (4.36 career).
Projected salary: $6.25 million
Projected WAR: 1.5
[+] Enlarge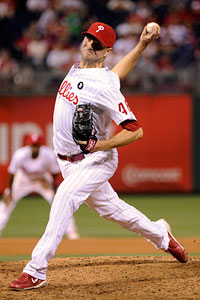 Howard Smith/US PresswireRyan Madson proved last season that he can be one of baseball's most dominant closers.
Closer: Ryan Madson
Baseball's most underrated reliever the past few seasons, Madson finally got a chance to close regularly in Philadelphia and did an outstanding job. His changeup is one of the best pitches in the game and we feel we can bring him in for slightly under his rumored asking price.
Projected salary: $9 million
Projected WAR: 1.7
RP: Hong-Chih Kuo
Kuo was unhittable in 2010, holding opponents to a .139 average and one home run in 60 innings, but developed his usual elbow problems in 2011 and had minor surgery after the season. He's a risky signing but with the potential of a big payoff.
Projected salary: $2.5 million
Projected WAR: 1.0
RP: Chad Qualls
A fungible middle reliever, the right-hander got pounded in 2010 but bounced back ... albeit in San Diego, so he's not necessarily a sure thing. But he's a veteran with a rubber arm. He's not as good as
Octavio Dotel
, who signed for $3.5 million, so we'll sign him for under that.
Projected salary: $2.3 million
Projected WAR: 0.8
RP: Darren Oliver
Doesn't every team need a veteran left-hander? Oliver has now had an ERA under 3.00 four straight seasons.
Projected salary: $2.7 million
Projected WAR: 1.1
RP: Micah Owings
He can be a long man, spot starter or even pinch-hitter!
Projected salary: $1 million
Projected WAR: 0.4
RP: Clay Hensley
After a strong 2010, his control deserted him in 2011 and he walked 30 batters in 67.2 innings and served up nine big ones. But we'll take a flyer to see if he can rediscover his 2010 groove.
Projected salary: $1 million
Projected WAR: 0.5
RP: Jamey Wright
Yes, we could sign
Francisco Cordero
, but bringing in two closers isn't realistic. Wright is cheap, mediocre and the perfect 11th or 12th guy on a staff.
Projected salary: $900,000
Projected WAR: 0.5
Total payroll:
$127.05 million
Projected WAR:
37.0
How good would this team be? A team of replacement-level players would be estimated to win about 48 games, so our team with +37 WAR would be estimated to win about 85 games. Obviously, there's a wide range in there; if everybody stayed healthy and we had some big years, maybe it could win 90. On the other hand, there are a lot of injury risks on this roster, so the downside could be pretty extreme. Plus, there's the simple fact that a $127 million payroll is high -- that's about what the White Sox's payroll was, which ranked fifth in the majors in 2011.
If only we had a few good rookies making the league minimum to supplement the free agents!
September, 16, 2011
9/16/11
6:29
PM ET
By
Christina Kahrl
| ESPN.com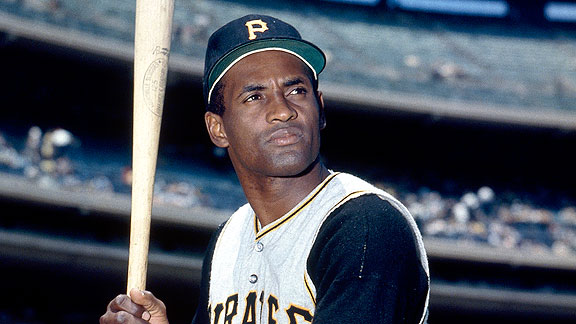 Louis Requena/ MLB Photos via Getty ImagesRoberto Clemente became the first Latin player to win the NL MVP, doing it with the Pirates in 1966.
Yesterday, in recognition of Hispanic Heritage Month, we talked about one person's list -- mine alone -- for
the AL team's all-time greats of Hispanic heritage
, so naturally enough, let's turn to the senior circuit and look at the best of the National League's teams.
Arizona Diamondbacks
: Although a recent expansion addition to the circuit, the Snakes have a clear favorite in
Luis Gonzalez
, who as recently as the All-Star break was inducted into the Hispanic Heritage Baseball Museum Hall of Fame. Gonzo's also the man who beat
Mariano Rivera
in the ninth inning of Game Seven of the 2001 World Series, a postseason feat unlikely to be forgotten any time soon.
Atlanta Braves
: If you make the mistake of thinking this is about Latin America versus what is or isn't culturally Hispanic, you might count
Andruw Jones
, but the Netherlands Antilles aren't culturally Spanish or Portuguese. Among the Braves' Hispanic players, the choices boil down to Dominican bopper Rico Carty or catcher Javy Lopez of Puerto Rico. While the 'Beeg Boy' won the 1970 batting title, I'll go with Lopez for his playing a key role on the great teams of the Braves' recent dynasty.
Chicago Cubs
: Arguments over how he got there will go on for as long as we're willing to debate the impact of PEDs on performance, but Dominican
Sammy Sosa
's easily the most productive player to call Wrigley Field home. His 545 homers top all Cubs ever, and his .569 SLG as a Cub is second only to Hack Wilson.
Cincinnati Reds
: You can make arguments for either of two great Latin players who were key players for the Big Red Machine: first baseman Tony Perez of Cuba, or Venezuelan shortstop Davey Concepcion. Concepcion was a career Red, so 19 years in the Queen City puts the nimble defender high up on the Reds' al-time counting stats, while "Big Doggie" moved around a bit, but was mostly, essentially, a Red. Per WAR, it'd Perez's place, but I'd also cite Joe Posnanski's fine
The Machine
, which helps remind us today how important Perez was then to a team stuffed with stars.
[+] Enlarge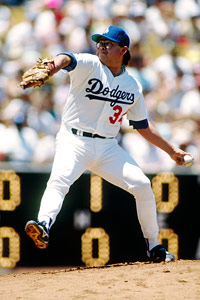 Icon SMIFernando Valenzuela won the NL Rookie of the Year and Cy Young awards in 1981.
Colorado Rockies
: The Rockies have never had a shortage of great Latin players, but perhaps surprisingly, none of them have had long careers in Denver.
Ubaldo Jimenez
would have been an easy choice if he hadn't already been traded away, while Mexico's
Vinny Castilla
mashed 239 homers in nine seasons manning the hot corner. However, let's use this as an opportunity to give well-traveled
Andres Galarraga
some love, because the Big Cat was the team's first star by winning the batting title in the franchise's inaugural season in 1993.
Florida Marlins
: Between going by teams and the near-impossibility of anyone sticking around as a Fish for any great length of time, it makes for a short list, but Dominican
Hanley Ramirez
makes for a relatively easy selection, although you can offer honorable mentions to
Luis Castillo
,
Miguel Cabrera
,
Anibal Sanchez
and
Livan Hernandez
for their contributions to the Marlins' strange, episodic history.
Houston Astros
: Given a choice between Cesar Cedeno and Jose Cruz, you could easily pick either player and have good reason to. Cedeno was a wonderful center fielder and may well be the least well-remembered great player of the '70s, while Cruz was the gifted all-around hitter hurt badly by a career almost entirely spent shackled by the Astrodome. I'm slightly biased towards Cruz (a personal favorite back in the day), but for purposes of this sort of exercise, it's easy to leave this as a tie.
Los Angeles Dodgers
: While you could concoct an argument for Pedro Guerrero because he was one of the best bats of the '80s, this is a slam dunk: Fernandomania, baby! Fernando Valenzuela's breakthrough was a national phenomenon, as the Mexican southpaw provided both peerless pitching early in his career -- winning the Cy Young and Rookie of the Year Awards in 1981 – with unprecedented box-office and media value in Los Angeles. His unique delivery and nifty screwball are things you had to see to believe, putting him on a short list of pitchers you never forgot after watching him work.
Milwaukee Brewers
: It isn't a strong field, but it wasn't Teddy Higuera's fault that his career flamed out early, as injuries sapped the Mexican hurler's career early on. He still ranks third all-time in wins for the team while handily leading their pitchers in career WAR as a Brewer, not too shabby for what was essentially a six-year run spent in relative obscurity.
New York Mets
:
Carlos Beltran
wins via WAR, but he's also been tabbed as the Royals' best, while better health from
Johan Santana
would have made him worth choosing. So let's use the opportunity to cite
Jesse Orosco
, who holds the all-time record for games pitched on a career.
Philadelphia Phillies
: It's perhaps characteristic of the franchise and city that its greatest Latin player, Venezuelan
Bobby Abreu
, was dumped on the Yankees at the deadline in 2006 -- for nothing, effectively -- but Abreu's brand of patience and power made him an offensive keystone for nine years, hitting .303/.416/.513.
Pittsburgh Pirates
: Roberto Clemente, the easiest great to note in a wide field of greats, and the first Latin to win an MVP award in 1966.
St. Louis Cardinals
:
Albert Pujols
has become as easy a selection as Clemente, but with a career that's still going strong, the question best asked might be whether or not the man who will unseat Lou Gehrig on all-time lists walks and plays among us.
San Diego Padres
: Strangely enough, the border town franchise doesn't have a storied history where its Latin talent is concerned, but native son
Adrian Gonzalez
makes for a good fit, even with his recent shuffle to Boston.
San Francisco Giants
: There's a fun debate to be had over whether this ought to be the Baby Bull, Orlando Cepeda or their Dominican ace of the '60s, Juan Marichal. Much like Galarraga and Perez, Cepeda was a hard-hitting first baseman who got around -- he immediately followed Clemente as the NL MVP in 1967, for the Cardinals, but started out winning the Rookie of the Year award in 1958 (second in this as well, as Luis Aparicio was the first to win in 1956 with the White Sox). Against that, Marichal had six 20-win seasons and 238 victories for San Francisco while contributing the highest Giants WAR pitching tally since Christy Mathewson. Whether as a matter of career value or peak value as a Giant, I think you have to go with Marichal.
Washington Nationals
: Vladi Guerrero has already gotten credit as an Angel, but since this is the franchise stolen from Montreal, stealing the Impaler from their list might seem an additional injustice. However, doing so opens the field to tab Nicaragua's greatest player,
El Presidente
. In a 23-year career, Dennis Martinez won 100 or more games with both the Orioles and Expos, pitched the only perfect game thrown by a Latin pitcher, and nearly helped deliver Cleveland a long-awaited championship as a 40-year-old workhorse in 1995.
Christina Kahrl covers baseball for ESPN.com. You can follow her on Twitter.
June, 2, 2011
6/02/11
10:00
AM ET
By
Christina Kahrl
| ESPN.com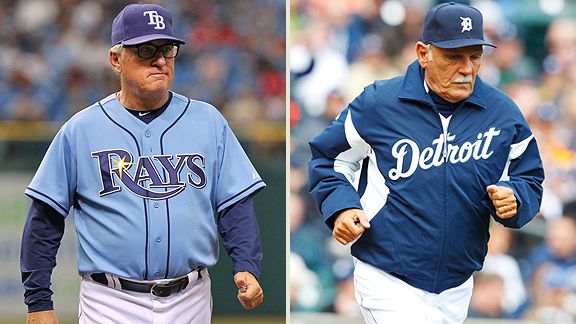 US PresswireJoe Maddon, left, and Jim Leyland utilize platooning as much as any team in the American League.
As much as some of us might grumble about the seeming decline of in-game tactics in recent seasons, one of the simplest yet most reliable gambits in any skipper's arsenal is platooning. If you lack a great everyday player at a position or in a particular lineup slot, you can always try to compensate for the limitations of the alternatives by mixing and matching.
With runs so scarce these days, you might expect to see some more of this. However, the major requirement for operating a platoon beyond mere willingness is roster space, no easy feat in the age of the seven-man bullpen (sometimes eight). With that limitation, which teams are making room to platoon these days? We'll start by looking at the American League today, and then get to the NL on Friday.
The AL's easy heroes in this department are the Rays, because they're the most ambitious platoon-minded team around. In doing so, though, they're reaping the benefit of employing multi-positional players like
Ben Zobrist
and
Sean Rodriguez
. Zobrist plays every day between second and right field, so that Rodriguez is actually somewhat loosely platooned with right fielder
Matt Joyce
. Between Joyce's career .552 SLG versus right-handers and Rodriguez's .789 OPS against lefties, it's not that unwieldy of an arrangement. Lately, they've had less space to keep that going during Reid Brignac's time on the Bereavement Leave list, and Brignac's bat is going to have to come around, but as tactical weapons go, you can still count this as a reliable standby in manager Joe Maddon's bandolier. They're also platooning
John Jaso
and
Kelly Shoppach
at catcher, another holdover arrangement from last year.
Beyond the Rays, nobody in the league is consistently running two platoons simultaneously, and what few platoons that exist generally fall into one of two groups -- platoons in an outfield corner or platoons behind the plate as a way of keeping catching workloads manageable.
In the outfield, the Yankees, Red Sox and A's are platooning with a particular hitter, while showing there are different ways to tailor the job. The Yanks are using
Andruw Jones
as the platoon Bomber he was signed to be, but not at any one teammate's expense, as he's spotting for
Brett Gardner
,
Nick Swisher
and
Jorge Posada
. That's less of a straightforward platoon than a case of making sure that Jones starts versus lefties, and using that commitment as a way to give everyone else a day off. The A's are using
Conor Jackson
in a similar way, spotting the ex-Snake for
David DeJesus
,
Daric Barton
and
Hideki Matsui
against lefties. The Red Sox are running a much more straightforward platoon in right field with
Mike Cameron
subbing for
J.D. Drew
, but we'll see how long it lasts, since Cameron isn't hitting anything against anybody.
After that, there's little that is set in stone. The Orioles
might
be ready to commit to a similar outfield arrangement once
Derrek Lee
comes back from the DL. Once that happens,
Luke Scott
will presumably move back out to left field, where
Nolan Reimold
has already clouted three bombs against southpaws in less than two weeks since his recall. The first-place Indians dabbled with a platoon in left field as Manny Acta compensated during
Grady Sizemore
's absences, but Sizemore's back, and once
Travis Hafner
gets reactivated the only lineup slot the Tribe might reliably platoon at is DH, with
Shelley Duncan
spotting for Pronk against southpaws.
Behind the plate beyond the Rays' tandem, the league has a pair of stable platoon arrangements, in Chicago and L.A. With a six-man rotation
and
a seven-man pen, Ozzie Guillen only has room for this one platoon for the White Sox, almost always giving
A.J. Pierzynski
his days off when a lefty is on the mound to let
Ramon Castro
mash a bit. In contrast, Mike Scioscia has created a true job-sharing arrangement behind the plate, splitting the starts fairly evenly between the switch-hitting
Hank Conger
and the non-hitting
Jeff Mathis
, keeping Mathis' bat from doing too much damage to his own offense while breaking in a rookie receiver.
Looking for AL platoons that don't just involve the five corners or the DH slot? The Royals and Mariners have second-base platoons going at the moment, although how long Ned Yost or Eric Wedge keep to these commitments remains to be seen. In K.C., Yost is using
Mike Aviles
as
Chris Getz
's platoon partner at second. However, Aviles is also getting semi-regular play as the team's utility infielder, so it isn't like he's been pigeon-holed as much as Yost is just benching Getz against lefties. Up in Seattle,
Adam Kennedy
's bat has won him a lion's share of second-base starts at
Jack Wilson
's expense -- perhaps a surprise to those convinced the Mariners' leather fetish was getting the better of them, but Kennedy's career record afield is far from terrible, and to Wedge's credit he was always willing to cobble together a platoon or two during his days in Cleveland.
Overall, this makes for fairly slim pickings, but is there potential for more than this? The Tigers might be the team with the most potential variations, to the point that Jim Leyland could flirt with multi-positional solutions every bit as creative as Maddon's. After all, the Tigers broke in
Ryan Raburn
in a multi-positional utility role with a lean toward starting him against lefties in the past, and using youngsters
Andy Dirks
and
Casper Wells
as platoon outfielders now. Raburn and
Brennan Boesch
have struggled to stick in regular roles, opening up a host of possibilities for Leyland to try to hide some of his players from the sources of some of their struggles.
Although Leyland's track record for building platoons at all five corners is fairly extensive, it's worth noting that he's also fairly adaptable; while
Victor Martinez
has started eight of his 12 games behind the plate with a lefty on the mound, the lefty-batting
Alex Avila
isn't getting hidden away from southpaws, having drawn eight starts of his own against them, while hitting better than well enough to beat a platoon label, a reminder that a platoon isn't automatically a positive end unto itself.
Christina Kahrl covers baseball for ESPN.com. You can follow her on Twitter.
April, 13, 2011
4/13/11
12:48
PM ET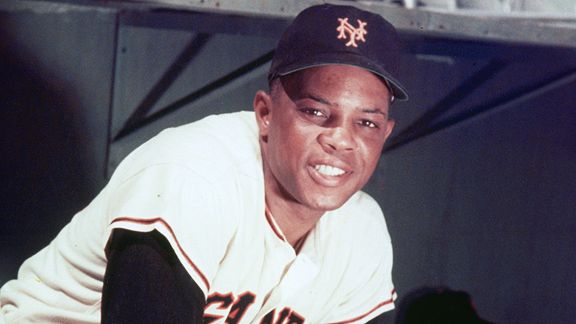 MLB Photos/Getty ImagesDid Willie Mays headline the golden era of center fielders when he played for the New York Giants?
This is somewhat shocking to me: A center fielder hasn't won an MVP Award since Ken Griffey Jr. in 1997. (
Josh Hamilton
played some there last season, but the majority of his games came in left field.)
Before that, it was Robin Yount in 1989.
Since Yount won his MVP Award, a first baseman has won 11 times – sure, three of those trophies belong to
Albert Pujols
, but
Frank Thomas
(twice),
Jeff Bagwell
,
Mo Vaughn
,
Jason Giambi
,
Ryan Howard
,
Justin Morneau
and
Joey Votto
have also won.
This hasn't always been the case. Willie McGee won the NL MVP Award in 1985 with a terrific all-around season. Dale Murphy won back-to-back trophies in 1982 and 1983. Fred Lynn won in '75 and if you go back further, you get all-timers like Willie Mays, Mickey Mantle and Joe DiMaggio.
Anyway, I always thought of center field as baseball's glamour position -- the guys who get to making leaping grabs at the fence, steal bases and belt home runs. More than any other position, center fielders are expected to do everything. As Nick Loucks discovered, however, 2010 was the first season of the live-ball era
that no center fielder hit .300
. Searching through Baseball-Reference's wondrous
Play Index
, I also discovered that 2010 was the first season since 1944 that no center fielder recorded a WAR of 5.0 or better.
Are we in a lull of great center fielders? Maybe so. We have a nice group of power/speed guys like
Chris Young
,
Drew Stubbs
and
Andrew McCutchen
, but none of them are MVP-caliber hitters right now. A decade ago we had guys like Griffey,
Jim Edmonds
,
Carlos Beltran
,
Andruw Jones
and
Bernie Williams
out there. Everybody knows about Willie, Mickey and the Duke patrolling center field in New York in the mid-'50s. It made me curious: What
was
baseball's golden age of center fielders?
Using B-R's search functions, I checked every individual season back to 1901, looking for center fielders who posted a WAR of 5.0 or better. I also broke each decade into five-year increments (2006-2010, 2001-2005 and so on) and checked cumulative WAR for center fielders over those five-year periods.
I think we're only talking about
good
center fielders here -- nobody cares who the 23rd best center fielder is right now. So I focused on the top one-third – the top 10 center fielders in this era (30 teams), but adjusted downward to the top six when there were only 16 teams.
Best single years:
[+] Enlarge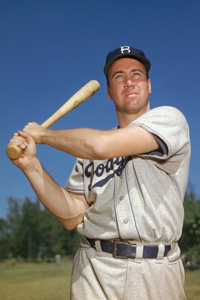 Hulton Archive/Getty ImagesDodgers center fielder Duke Snider had a .341 average with 40 home runs and 130 RBIs in 1954.
1954:
Willie Mays (10.2 WAR), Mickey Mantle (7.8), Duke Snider (7.7), Richie Ashburn (6.2), Larry Doby (5.6). These guys all made the Hall of Fame, Mays won the NL MVP Award, Snider finished fourth in the voting. Doby finished second in the AL vote, and Mantle somehow finished 15th despite leading the AL with 129 runs and generally scorching the baseball. After those guys, you had the original Frank Thomas (23 home runs), Wally Moon (106 runs), Jackie Jensen (92 runs, 117 RBIs) and Gus Bell (104 runs, 101 RBIs). Not bad for a 16-team league.
1992:
This was the final season before offense began jumping up. There were fewer runs per game in '92 than any season between 1982 and 2010. The depth was extraordinary: Andy Van Slyke (6.9), Kirby Puckett (6.7),
Kenny Lofton
(5.7),
Marquis Grissom
(5.6), Ken Griffey Jr. (5.4),
Devon White
(5.3),
Steve Finley
(5.3),
Ray Lankford
(4.3), Brett Butler (4.3). And you had solid players like Lance Johnson, Mike Devereaux (107 RBIs), a young
Juan Gonzalez
(led the AL with 43 home runs) and an aging Yount.
1999:
Andruw Jones (7.0),
Brian Giles
(6.7), Kenny Lofton (5.9),
Carl Everett
(5.9),
Brady Anderson
(5.4), Steve Finley (5.1), Bernie Williams (5.0), Ken Griffey Jr. (4.8),
Chris Singleton
(4.6), Carlos Beltran (4.4),
Doug Glanville
(3.9),
Garret Anderson
(2.7). Griffey led the AL with 48 home runs, knocked in 134 runs and scored 123 – and he rates as only the ninth-best center fielder that season (B-R gives him a very poor defensive rating). The list doesn't even include Edmonds, who was injured that season.
OK, those are nice lists, but I think we're looking more for an era, not a single season. One way to look at this was to simply average the five-year chunks of WAR for our groups of center fielders.
Under this method, it does show 2006-10 as the weakest era for center fielders since Joe DiMaggio headlined a nondescript group from 1936-40 (we didn't count the 1941-45 war period). Carlos Beltran (26.3) had the best WAR over this period, followed by
Grady Sizemore
(20.5),
Curtis Granderson
(20.3),
Torii Hunter
(15.6) and
Mike Cameron
(14.6). A nice group of all-around players, but no future Hall of Famers.
OK, using WAR as the baseline, looking at things like MVP votes and making a few personal judgments as I desired, here are my top golden eras for center fielders:
5. 1986-1990
Top five: Kirby Puckett,
Eric Davis
, Andy Van Slyke, Lenny Dykstra, Brett Butler.
Next five: Robin Yount, Dave Henderson,
Ellis Burks
, Devon White, Gary Pettis/Willie McGee.
Great depth as the top six all accumulated 20-plus WAR. Lacks a signature superstar, but what gloves you had out there: Van Slyke, White and Pettis were all supreme flychasers.
4. 1916-1920
Top five: Ty Cobb, Tris Speaker, Edd Roush, Happy Felsch, Benny Kauff
Next five: Max Carey, Cy Williams, Hi Myers, Clyde Milan, Amos Strunk
You have two of the greatest center fielders of all time each compiling over 7.0 WAR per season, two other Hall of Famers (Roush and Carey) and a slew of other good players.
3. 1966-1970
Top five: Jimmy Wynn, Willie Mays, Paul Blair, Tommie Agee, Reggie Smith
Next five: Willie Davis, Matty Alou, Rick Monday, Curt Flood, Adolfo Phillips
Mays was starting to age but still racked up 28.0 WAR, just behind Wynn's 28.3. There are those who will argue that Blair is the greatest gloveman ever in center. Smith later moved to right field, but he came up with the Red Sox as a power-hitting center fielder. Alou hit .327 over the five years.
2. 1996-2000
Top five:
Ken Griffey Jr.
, Bernie Williams, Andruw Jones, Kenny Lofton, Ray Lankford
Next five: Jim Edmonds, Brady Anderson, Steve Finley, Mike Cameron, Lance Johnson
The top six all accumulated over 20 WAR. Griffey hit 249 home runs, Williams hit .324, Jones covered ungodly amounts of ground, Lofton brought speed and on-base skills and Lankford was one of the most underrated players of his era.
1. 1956-1960
Top five: Mickey Mantle, Willie Mays, Richie Ashburn, Duke Snider, Jim Landis.
Next five: Jim Piersall, Bill Bruton, Bill Virdon, Vada Pinson, Larry Doby.
I guess the song has it right. This era rates a little better than the 1951-55 period due to more overall depth. Doby and Snider had their best five-year stretch in 1951-55, but Mantle and Mays were dominating their leagues. Ashburn was a leadoff guy who rivaled Mays for defensive excellence and guys like Landis, Piersall and Bruton, while forgotten today by all but the most dedicated seamheads, were excellent players. And remember -- this came in a 16-team league.
Follow David Schoenfield on Twitter at @dschoenfield. Follow the SweetSpot blog at @espn_sweet_spot.
March, 2, 2011
3/02/11
10:57
AM ET
By
Chris Quick
| ESPN.com
I hate to say it, but when it comes to evaluating baseball players, I'm a slave to power. I love watching batters launch home runs. I love to see players like
Albert Pujols
hit tape-measure shots. Power is seductive. However, hitting for power isn't a guaranteed route to success in the majors. In fact, there have been more than just a few players who have hit for power and, at the same time, have been poor offensive players.
For this post, I wanted to rank those players who struggled while hitting for power. Using Baseball Reference's handy-dandy Play Index Tool, I ran a query with the following parameters: At least 500 plate appearances in a season, at least 25 home runs hit, and ranked by Adjusted OPS (or OPS+). I ran this search from 1950-2010.
Our top 10 list for sluggers who struggled looks as follows:
10. Chris Young
,
Arizona Diamondbacks
, 2007, 32 HR, 88 OPS+
You can probably forgive Chris Young's 2007 season depending on how you view his defense. Like most on this list, Young hit for great power but his OBP checked in at a dreadful .295. You can hit all the home runs in the world, but if you can't get your OBP over .300 you're in trouble.
[+] Enlarge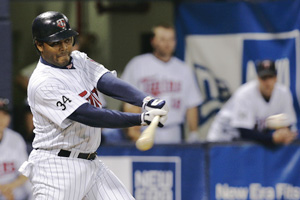 AP Photo/Ann HeisenfeltTony Batista had almost as many home runs (221) in his 11-season career as he did walks (287).
9. Tony Batista
,
Toronto Blue Jays
/
Baltimore Orioles
, 2001, 25 HR, 87 OPS+
The infamous Tony Batista. I have to admit that before I ran this list, I knew I would see a lot of Batista. His batting stance was fun to watch, but all Batista (and I mean all) did in his career was hit home runs. He might be the worst hitter in baseball's history to hit at least 200 career home runs.
8. Jeff Francoeur
,
Atlanta Braves
, 2006, 29 HR, 87 OPS+
This was Francoeur's follow-up season to his promising 2005 rookie year. The homers were nice, the plate discipline (23 walks, 686 PAs) was terrible. Francoeur never met a pitch he didn't like and he's currently set to play 2011 in Kansas City. I'm sorry, Royals fans.
7. Andruw Jones
, Atlanta Braves, 2007, 26 HR, 87 OPS+
Jones' lack of productivity, even with power, is forgivable depending on how you rate his defense in center field. And even in 2007, by most metrics, Jones was still a solid plus in center field. This was, however, the downturn in Jones' career as a hitter.
6. Brandon Inge
,
Detroit Tigers
, 2009, 27 HR, 87 OPS+
You would think that you could at least eke out league average production with 27 homers in your back pocket. Inge only batted .230 in '09 to go with a super low OBP of .314 -- that will wreck anyone's season.
5. Tony Armas
,
Boston Red Sox
, 1983, 36 HR, 85 OPS+
In '83 Armas was second in the AL in homers behind only Jim Rice. He slashed (.218/.254/.453) his way to a below-average season. Armas gets the nod for the hitter with the most homers on our list.
4. Vinny Castilla
,
Colorado Rockies
, 1999, 33 HR, 83 OPS+
I'm kind of surprised that Castilla is the only Coors Field bopper to make our list. Before the Rockies installed the humidor, Coors Field played like some weird trumped-up version of spaceball. Fun fact: Castilla hit 20 of his 33 homers at home.
3. Tony Batista
, Montreal Expos, 2004, 32 HR, 80 OPS+
Holy Batista! I stand firm by my statement that Batista is the worst hitter to ever accrue 200+ career dingers. Yet, in order to hit 200 career homers, you've got to be given the chance. Making it equally frightening is that he played 11 seasons. Ah, such is the alluring power of the homer.
2. Aaron Hill
, Toronto Blue Jays, 2010, 26 HR, 79 OPS+
Coming off a very solid 2009 (114 OPS+), Aaron Hill had a 2010 to forget. The homers mostly carried over from 2009 (36 to 26), but his OBP fell to .271 compared to a career .325. The culprit? A .196 BABIP -- the lowest among all qualified hitters in the majors. Hill seems like a nice rebound candidate next year.
1. Tony Batista
, Baltimore Orioles, 2003, 26 HR, 73 OPS+
Were you really expecting anyone else? Batista's 2003 is a masterful display of hitting for power at all costs. He didn't walk (28 BB, 670 PA), and to make things worse he hit into a career-high 20 double plays.
Tony Batista, incredible baseball player or the most incredible baseball player? You decide.
Chris Quick writes for Bay City Ball, which is part of the SweetSpot blog network.
February, 20, 2011
2/20/11
3:30
PM ET
By
Jason Rosenberg
| ESPN.com
Jim Edmonds
announced his retirement on Friday, his 17 season career finally grounded by an Achilles' tendon injury. Edmonds is best known for his highlight reel catches in center field, but the remainder of his play has been oddly underrated over the years.
So we can begin the debate on whether Edmonds is Hall of Fame worthy. Some say yes (as Chad Dotson
did here Friday
), others no.
When we look at Edmonds' Hall of Fame credentials, we're struck by the numbers he put up in the five years after he was traded by Anaheim to St. Louis . Between 2000 and 2004, Edmonds put together a string of seasons that ranked him with baseball's elite. During this stretch, Edmonds averaged 7 Wins Above Replacement (WAR) annually, and posted an OPS over 1.000. Consider that during this same period, a guy named
Alex Rodriguez
was putting together some of his best seasons as a ballplayer; only during this stretch A-Rod's OPS was 14 points below that posted by Edmonds.
During the complete sweet spot of Edmonds' career (1995-2005, which includes his abbreviated 1999 season when he only played in 55 games), Edmonds was among the very best in the game, ranked by cumulative WAR (from B-R.com):
Any random slice of data creates issues, we acknowledge this. So if you're curious about Edmonds' career numbers, his 68.3 WAR places him eighth all time among center fielders. Filtering for center fielders who played since baseball integrated (1947- present), Edmonds ranks fourth in WAR, behind Willie Mays, Mickey Mantle and Ken Griffey Jr., and sixth in OPS+ at 132. Nice company.
[+] Enlarge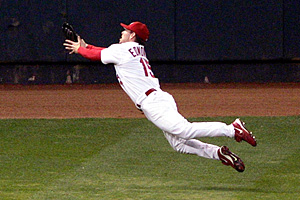 Stephen Dunn/Getty ImagesJim Edmonds was known for diving catches like this one for St. Louis in Game 7 of the 2004 National League Championship Series against Houston.
One unfortunate thing about the table above: Unless the attitudes of the Hall of Fame voters change dramatically, very few of these players are going to make it to the Hall of Fame.
Chipper Jones
and
Vladimir Guerrero
have excellent chances to make it to the Hall.
Jim Thome
is a good bet to be elected to the Hall, thanks to what will likely be 600-plus home runs, not to mention being a Hall of Fame person. Bagwell's first year of HOF eligibility was shrouded in hints and allegations, putting him at 41.7 percent in his debut.
Todd Helton
might struggle, given concerns that his numbers were inflated by playing home games at Coors Field. [
Larry Walker
received a low 20.3 percent of Hall of Fame votes this year, presumably because of the Coors Field factor]. Pudge Rodriguez was named in
Jose Canseco
's book and will face increased scrutiny as a result. But
Barry Bonds
,
Manny Ramirez
,
Jason Giambi
, A-Rod and
Sammy Sosa
will likely be barred because of these players' association with performance-enhancing drugs, again, unless the attitudes of voters change. An entire generation of fans will have very few of the era's best hitters represented.
Edmonds might not have been the greatest player of his generation; he never finished higher than fourth in Most Valuable Player voting. He did not have 2,000 hits for his career, or 400 home runs, or hit .300, milestones that Hall of Fame voters tend to focus on. Still, it seems to us that this generation of players needs Hall of Fame representation -- if not Bonds and Sosa, then why not Edmonds?
Jason Rosenberg writes It's About The Money, Stupid, a blog about the New York Yankees. IIATMS can be found on Facebook, and you can follow Jason on Twitter. Larry Behrendt greatly contributed to this article and can also be followed on Twitter.
December, 15, 2009
12/15/09
4:02
PM ET
Improbably enough, the Dodgers have unloaded
Juan Pierre
. Because, you know, the White Sox didn't already have enough questionable outfielders. Anyway, whatever happens there should be some
good fodder for the jokesters
. Big League Stew:
The trade, however, also opens the door for a lot of great nicknames for the South Siders' outfield when it happens to be comprised of Pierre, former Los Angeles teammate Andruw Jones and expensive Blue Jays castoff Alex Rios. "The Discounted", "The Ned Colletti Memorial Outfield" and "Where's Vernon Wells (notes) When You Need Him?" happen to be my early favorites. (Feel free to submit your favorite nicknames below.)

All three outfielders were previously signed to big money contracts that they didn't live up to, though the White Sox are only responsible for the full weight of Rios' deal. If Rios and fourth musketeer Carlos Quentin don't live up to their potential, there will be a lot of room for ridicule -- particularly from a North Side fanbase that already had its fill of Pierre.

As for the Dodgers, Colletti was able to turn Pierre's Ramirez-replacement stint last summer into a maneuver that got rid of half a $18 million bench player. The return might not be that great, but it's sadly all about small penny-pinching victories for Colletti these days.
Hey, this could work.
What's more likely is that the White Sox will have one of the ugliest outfields in the American League. Rios is coming off a lousy season, while Pierre has zero power and Jones doesn't look anything like the player who was, just three years ago, heading for the Hall of Fame.
Throw in Carlos Quentin, and Kenny Williams has collected four outfielders who have been good in one of the last two seasons, but not in both. Like I said, this
could
work ...