June, 30, 2011
6/30/11
5:10
PM ET
By
Christina Kahrl
| ESPN.com
Seeing
Mark Ellis
get dealt away is sort of a bittersweet thing if you have any rooting interest in the A's. It's been a little more than 10 years now since Oakland got him in the huge three-way deal that put
Cory Lidle
,
Johnny Damon
and Ellis in Oakland. The deal also sent
Ben Grieve
-- once considered proof of the A's draft-day genius -- to the then-Devil Rays, and dispatched
Roberto Hernandez
,
Angel Berroa
and A.J. Hinch to the Royals. It was huge news at the time, and another example of Billy Beane's willingness to wheel and deal.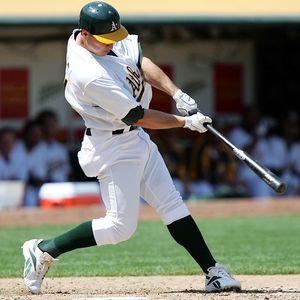 Phil Carter/US PresswireMark Ellis owns a career batting average of .265 after nine seasons in Oakland.
In retrospect, it was a deal that left almost everyone disappointed. Grieve's power evaporated in Florida, leaving the D-Rays stuck with a slow twenty-something DH who didn't "H." The Rays realized all of 2.0
WAR
, wins above replacement, from adding Grieve -- across three seasons, and the former first-round pick was out of the majors before he was 30. In Berroa, the Royals briefly possessed the blue-chip prospect they thought they'd gotten in the deal. He gave them 4.0 WAR in 2003, he won the Rookie of the Year, and all seemed well. Berroa then "contributed" -0.2 WAR over the next three years, making him less valuable over his Royals career than he was in his first season. Hernandez gave the Royals 1.4 WAR across the last two expensive seasons left on his old deal, costing the Royals $12 million for an adequate performance as the team's closer. Hinch was the definition of doing no harm, or much good (0.0 WAR) before earning his release from the Royals' backup backstop duties.
Not that the A's had much to brag about. Damon was in his age-27 season and a year removed from free agency, so if you thought he was going to break out because of his age or his walk year, you were disappointed -- his 2.7 WAR was decidedly worse than his two previous seasons for the Royals. However, it was everything
else
the A's got in the deal that made this a massive win for Beane and for Oakland. Damon's departure as a free agent to Boston gave the A's the pick they used on
Nick Swisher
in 2002, and Swisher eventually became
Gio Gonzalez
,
Ryan Sweeney
, and
Fautino De Los Santos
. Lidle was more valuable than Damon per year in his first two full seasons in the rotation (6.6 WAR, 3.74 ERA in 59 starts) before his final year of arbitration eligibility priced him out of the A's budget. He was dealt to the Jays for junk, so not every offshoot of this trade blossomed.
Then there's Ellis. At the time he was acquired, he was a minor-league shortstop whose arm and range were perhaps a bit short for short. But he was a patient hitter with a line-drive bat and managed a .302/.406/.409 season in Wilmington in the Carolina League, a tough park. The A's had him skip Double-A in 2001, and in 2002 he was ready to take the place of aging scrappers like Frankie Menechino and
Randy Velarde
. He'd miss time to injuries over the years, but between his modest power and plus defense, he gave the A's 21.8 WAR, or 3.3 per 162 games -- more valuable than Damon had been, certainly, and not shabby for a tacked-on talent in the transaction. You didn't have to be an A's fan old enough to remember Dick Green, but it helped, and watching Ellis play, you were almost certainly a fan.
So, Ellis has been shipped off to Denver as a 34-year-old with a slowing bat and a spotty track record for staying healthy. That's not a bad thing in itself.
Jemile Weeks
owns the keystone in Oakland these days. While the A's had to eat some of Ellis' $6 million in salary, they had more use for the roster spot than wait out the end of his deal and send him on his way. He wasn't going to be offered arbitration, so there was no possibility of picks to reap. Getting a PTBNL and
Bruce Billings
, a 25-year-old organizational arm with low-90s heat and a low upside outside of situational ROOGY-dom is a decent return as these things go; this year Billings held Double-A righties to a .670 OPS with a 26 percent strikeout rate. Billings may never don an A's uniform outside of spring training, but that's what you get in most deals these days. Expectations for who the PTBNL might be ought to be set low, but you never know.
As a fan, seeing Ellis wind up a Rockie gives me some small additional cause to hope the Rox make one of their second-half charges back into contention and beyond. His glove should be an asset -- especially now that the brief, mad
Jonathan Herrera
craze has long since worn out its welcome -- and hitting in Coors and in the National League might help put some life back in Ellis' bat. Getting both Ellis and Lidle in the big three-way trade of January 2001 became yet another minor coup, one of the many things behind Beane's reputation as a canny trader before
Moneyball
, and it makes for a nice reminder that sometimes it isn't the name players in the deal who deliver -- or have to.
Christina Kahrl covers baseball for ESPN.com. You can follow her on Twitter.
April, 27, 2009
4/27/09
4:56
PM ET
Tyler Kepner on
big changes afoot in the Bronx
:
After a flurry of roster moves Saturday, the Yankees found themselves with another makeshift third baseman, a jumbled bullpen and two top pitching prospects in their plans.

Phil Hughes, the team's top minor league starter, is not with the Yankees yet, but he will start on Tuesday in Detroit for Chien-Ming Wang, who is on the disabled list with weakness in his hips. Mark Melancon, the team's top relief prospect, joined the Yankees to replace Brian Bruney, whose elbow has landed him on the D.L.

Angel Berroa was promoted to take over at third base for Cody Ransom, who is out with a severe quadriceps injury. And the right-hander Dave Robertson also joined the bullpen, which has nine members for the moment.
So the season comes down to -- as perhaps we have always know it would -- the health of
Alex Rodriguez
.
Rodriguez is one of the very best players in the majors. Berroa is one of the very worst. It's been nearly five years since he's been a good enough hitter to play shortstop, and with the possible exception of 2003 he's never been a good enough hitter to play third base. We usually downplay the impact of any particular player, but over the course of the season we're talking about about an eight-game difference between the two-headed BerroaRansom Monster. More, probably. The Yankees have plenty of talent on their roster, but they don't have enough talent to make up eight wins.
Then again, maybe they do. Nobody in the American League Central or the West figures to win more than 88 games this season. The Red Sox do, of course. So do the Rays. But if one of those clubs should falter, it won't be at all impossible to grab the Wild Card with 88-90 wins. And I'm sure the Yankees could do that even with Angel Berroa playing 125 games.
More from Kepner:
One pitcher who is not joining the bullpen is Joba Chamberlain, who has no record and a 3.94 earned run average in 16 innings over three starts. Girardi said Chamberlain was more consistent with his velocity on Friday and there was no reason to shift his role.

--snip--

As for Wang, who is 0-3 with a 34.50 E.R.A., Girardi said he would continue to pitch at extended spring training in Tampa, Fla., while doing exercises to strengthen his hips.

"This is all caused by the foot injury, we believe," Girardi said. "The lack of use caused a weakness in his hips. Stability and strength of the hips becomes very important in your mechanics, and we need to get that right."
Wang's being replaced in the bullpen by Phil Hughes. According to Allen Barra, Hughes'
ascendance is overdue
:
If the Yankees organization had just a single person with vision, it would be understood that Hughes is worth taking a chance on, that he has the potential to be the Yankees' future and that he is giving the Yankees absolutely no return for the enormous investment they've put into him simply by filling few extra seats for his starts in Trenton.

What you can't help wondering is why, up to now, it wouldn't have been possible to prepare him for a slot in the starting five with some on-the-job training in the bullpen? Why, exactly, did we have to wait to see if Wang's arm fell off before Hughes was given a chance to pitch?
Well, yes. But it's only April. Barra -- or "Allen," as I call him -- believes the Yankees should have given Hughes the job already instead of re-signing
Andy Pettitte
. Most teams, yes. But the Yankees? The Yankees, like the Red Sox, have the luxury of great depth. Let's say you don't re-sign Pettitte
or
you discover that Joba Chamberlain can't withstand the rigors of throwing 100 pitches every five days. What if you discover
both
things?
Hughes has gone through some rough times. After an injury cost him three months in 2007, he came back strong that fall, only to suffer through an awful and winless 2008. One can hardly blame the Yankees for wanting to give the kid -- he's still only 22 -- a chance to win some games in Triple-A before throwing him to the American League wolves once again. More to the point, I think the Yankees knew they would need him at some point this season. They probably didn't figure it would happen so soon. But after all he's gone through, maybe now is exactly when he's ready.