November, 2, 2012
11/02/12
5:17
PM ET
As we wait for free agency to officially begin, a few Friday afternoon links to check out.
July, 17, 2012
7/17/12
3:37
PM ET
With a Monday night full of injuries for us to discuss, a seemingly healthy Keith Law and myself were eager to discuss the greatest game on Tuesday's
Baseball Today podcast

!
1. Losing
Joey Votto
for a month shouldn't cripple the
Cincinnati Reds
, especially if
Todd Frazier
can continue his performance. Just how good has Votto been?
2. Meanwhile, the news should be harsher for the
Toronto Blue Jays
concerning
Jose Bautista
. Who is youngster Anthony Gose and what does he bring to the table?
3. And finally, the Red Sox won a game but potentially lost Big Papi. We discuss the battle of the Sox and return of
Kevin Youkilis
.
4. Our emailers want to know about Ryan Dempster's BABIP, testing strategic development in the minor leagues and draft compensation strategy, among other things.
5. Tuesday figures to be another big night in baseball, with
Roy Halladay
and
CC Sabathia
returning,
Trevor Bauer
facing a more legit offense and the "contending" Orioles trying to avoid allowing three touchdowns in Minnesota.
So download and listen to Tuesday's Baseball Today podcast and please, don't pull a groin in the process. Stay healthy!
May, 29, 2012
5/29/12
4:00
PM ET
Here's the
big chat wrap
from Tuesday afternoon. Among the heated discussion: Anthony Gose versus Billy Hamilton, whether or not Zack Greinke could pitch in New York and whether you'd rather have Mike Trout or Bryce Harper.
October, 6, 2011
10/06/11
1:57
PM ET
The National League elimination games Wednesday went the way of the home teams, giving us much to look forward to on Friday! Keith Law and I discussed these matters and much more on Thursday's
Baseball Today podcast
!
1. The Phillies just can't hit. Credit the Cardinals, but baseball's best team is in trouble if they keep relying on the three-run home run. In a related note, a squirrel did something interesting Wednesday.
2. Both the Diamondbacks and Brewers can clearly hit at home. Can either hit enough away from home? Kudos to Kirk Gibson, by the way.
3. The Yankees and Tigers play one more game to decide the opponent for Texas, and we tell you which team will have its closer on the mound deciding things.
4. It was a clutch show today, but does that make Klaw and I clutch? We debate this issue for baseball players.
5. Keith shares his thoughts on a Blue Jays prospect and more from the Arizona Fall League.
So download and listen to Thursday's Baseball Today podcast because otherwise, you won't know what's happening in the game or hear Soderberg's squirrel noises. Yes sir!
July, 23, 2011
7/23/11
3:00
PM ET
By
Charlie Saponara
| ESPN.com
With trade rumors hitting us in full force as the deadline approaches, let's take a look back at some of what happened at the 2010 trade deadline and see how many of those players are making an impact for their new teams.
Cliff Lee traded to the Rangers; Mariners acquired Justin Smoak, Blake Beavan, Matthew Lawson and Josh Lueke
Despite a solid BB/K rate, Smoak continues to struggle with consistency at the big league level. He's still only 24, so there is time for him to improve, but he's not the instant impact bat that the Mariners were hoping for. Both Beavan and Lueke have pitched in spots for the Mariners this season. The Rangers rode Lee's contributions to the World Series and have since moved on from Smoak seamlessly, relying instead on the likes of postseason hero
Mitch Moreland
,
Michael Young
and
Mike Napoli
.
[+] Enlarge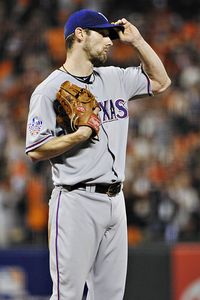 Scott Rovak/US PresswireThe Rangers acquired Cliff Lee in a 2010 deadline deal and rode his arm to a World Series appearance.
Dan Haren traded to the Angels; Diamondbacks received Joe Saunders, Tyler Skaggs, Patrick Corbin and Rafael Rodriguez
Haren has thrived for the Angels this season, and Saunders has held his own with the surprise contenders in Arizona. However, the big score for the D-Back may not arrive until late next season or 2013, as Skaggs has continued to impress all those who have seen him pitch. Recently, he earned a promotion to Double-A after posting a 3.22 ERA, 2.65
FIP
and 3.7 K/BB rate at High-A Visalia in the hitter-friendly California League. Corbin has had his struggles at Double-A, but he has posted an impressive 4.5 K/BB rate and should see the big leagues one day.
Edwin Jackson traded to the White Sox; Diamondbacks received Daniel Hudson and David Holmberg
This move was sort of a head-scratcher at the time, and the way Hudson has pitched for the D'backs ever since confirms that confusion. The Snakes have Hudson under team control through 2016 while Jackson will hit the free-agent market this winter.
Roy Oswalt traded to the Phillies; Astros acquired J.A. Happ, Anthony Gose and Jonathan Villar
Oswalt pitched brilliantly for the Phils in the 2010 postseason. However, career-long back problems may have finally caught up to him. On the Astros' side, Happ was plugged right into the rotation, but his struggles with command and allowing the long ball have led to an ERA nearing six. Gose never played a game in the Astros' system as he was flipped to the Blue Jays for first baseman
Brett Wallace
; the 24-year-old Wallace has been unimpressive in his young major league career, though he does sport an above-average OBP. Villar continues to struggle with strikeouts in the minor leagues.
Lance Berkman traded to the Yankees; Astros received Mark Melancon and Jimmy Paredes
While Berkman is in the midst of a late-career renaissance with the Cardinals, Melancon has taken over as the Astros' closer with a 2.91 ERA, 3.33 FIP and ground-ball rate of 60 percent. Jimmy Paredes is now in Double-A and continues to steal bases, but he also continues to struggle with his lack of plate discipline.
Matt Capps traded to the Twins; Nationals received Wilson Ramos and Joe Testa
Capps pitched well for the Twins down the stretch in 2010, but his huge regression in strikeout rate has hurt him big-time this season. In the meantime, despite some ups and downs in his first full big-league season, Ramos has established himself as the Nationals' catcher of the now and the immediate future.
Jhonny Peralta traded to the Tigers; Indians received Giovanni Soto
Peralta re-signed with the Tigers last offseason and has been worth every penny of the $5.25M he is making this season. Over the past two seasons, Peralta has improved his contact rate, which has helped to lower his strikeout rate. Meanwhile, the 20-year-old Soto continues to show good strikeout ability at the lower minor-league levels of the Indians' organization.
Ted Lilly and Ryan Theriot traded to the Dodgers; Cubs received Blake DeWitt, Brett Wallach and Kyle Smit
Lilly pitched well for the Dodgers down the stretch in 2010, but his issues with the gopher-ball have hurt him this season. With the Dodger's financial situation in shambles, the three-year $33 million deal Lilly signed last offseason only makes things worse. Overall, this deal has helped no one, though the Dodgers did at least acquire league-average reliever
Blake Hawksworth
in exchange for Theriot this past offseason.
Octavio Dotel traded to the Dodgers; Pirates acquired James McDonald and Andrew Lambo
After being acquired by Los Angeles, Dotel appeared in 19 games, allowed seven earned runs and was then traded to the Rockies in September. The Pirates landed the high-upside, inconsistent McDonald, who has been once again inconsistent. However, his 4.15 ERA (4.57 FIP) have at least contributed as a back-end rotation piece to the surprising Pirates. Lambo was once a top-end prospect with the Dodgers, but his prospect status is all but gone now. He's hitting .206/.278/.326 between Double- and Triple-A this season.
Kyle Farnsworth and Rick Ankiel traded to the Braves; Royals received Tim Collins, Jesse Chavez and Gregor Blanco
Both Farnsworth and Ankiel moved on from the Braves in the offseason, and Blanco was traded to the Nationals this past May. Collins made the Royals out of spring training and has continued to prove that he can miss bats (24.3 percent whiff rate), but his control has really tailed off at the big-league level. Collins is only 21 years old, so his future may still be as a consistent late-inning reliever someday.
Charlie Saponara writes for SweetSpot blog, "Fire Brand of the AL." You can find all of his writing adventures by following on Twitter.
July, 29, 2010
7/29/10
7:47
PM ET
Well, that was quick: Immediately after getting
Anthony Goss
in
the Roy Oswalt deal
, the Astros flipped Goss to the Blue Jays for young first baseman
Brett Wallace
. From the
Toronto Star
:
Jays general manager Alex Anthopoulos knows giving up Wallace was a steep price, especially since he had been penciled in as the club's first baseman of the future, but says top-flight centre fielders are next to impossible to trade for at the big-league level. To acquire one, he says, you need to gamble.

In this case it means betting that Gose, who was hitting .263 with four home runs at Class-A Clearwater, will give the Jays more in the long run than Wallace, who hit .301 with 18 home runs and Triple-A Las Vegas.

--snip--

The GM says Gose has Gold Glove potential and that the Jays originally tried to acquire him last December in the Roy Halladay trade. When that didn't work out they tried again earlier this season.

While Wallace's departure means the Jays have no full-time first basemen under contract beyond this season, Anthopoulos isn't ready to panic. He acknowledges that Adam Lind is an option, but points out the club has until next spring to develop a first baseman or acquire one.
Gose has
tools
, no question. As Baseball America noted last winter, "Gose earns 70 grades on the 20-80 scouting scale for three tools: his arm, his center-field defense and his speed."
They also said, "He led the minor leagues with 76 steals in 96 attempts, and he'll be even more dangerous as he gets on base more often and refines his base stealing instincts."
Really? More dangerous than 76 steals in 96 attempts, in 131 games?
In the event, Gose has stolen only 36 bases in 103 games this season ... and been caught 26 times. My guess is that he's grown out of his base stealing body, and the Jays should forget about getting a guy who steals bases like
Carl Crawford
and plays center field like
Michael Bourn
. My guess is that while Gose will still be fast, two or three years from now, he'll have to hit to justify an everyday job in the majors. You know, because the most important
tool
-- or if you prefer,
skill
-- is hitting.
And whether he'll hit is a wide-open question. Again, Baseball America: "He gives away too many at-bats and lacks a two-strike approach ... he may need 2,000 minor league at-bats."
Here's John Sickels (also last winter): "Like many of the raw tools players collected by the Phillies in recent years, Gose has trouble with the hitting. His plate discipline is poor, and for a guy who hit just two homers last year, he takes big cuts at the plate and is prone to strikeouts."
Has Gose made any progress this season? His power's up a notch, but so are his strikeouts. He's only 19 and maybe he'll figure it out. But at this point, he's little more than a gleam in the scout's eye.
Wallace is different. He's almost 24 and has played nearly a season's worth of Triple-A games, with a .299/.357./484 line. Also, he was the 13th pick in the June draft just two years ago. So the pedigree is there, and the performance isn't bad. Presumably he'll take over at first base next spring, upon the departure of (free-agent-this-November)
Lance Berkman
.
We shouldn't expect the next
Jeff Bagwell
(or Berkman), though. Wallace doesn't draw many walks and his power is just decent for a first baseman; his Triple-A numbers aren't brilliant, considering his home ballparks and his league. But this does make the Oswalt trade look a little better, as it now seems the Astros got a guy with a decent shot at becoming a solid major league hitter.