SweetSpot:

Anthony Rendon
September, 17, 2014
9/17/14
2:26
PM ET
Washington Nationals
infielder
Anthony Rendon
has made the jump from impressive rookie to elite player in the span of a season.
Rendon
Rendon has fared very well in the basic stats -- a .285 batting average with 20 home runs and 80 RBIs. He ranks sixth among National League position players with 5.9 wins above replacement.
But there's something he's currently doing that no one else has managed to replicate. In making the move from second base back to third base, where he played in college at Rice, Rendon has made significant statistical improvements defensively. He has nine defensive runs saved (DRS), which ranks eighth among third basemen (he also has four DRS at second base in the games he's played there).
For a third baseman, DRS is based on the ability to turn batted balls into outs, convert double plays and defend bunts. The majority of Rendon's defensive rating comes from his defending bunts like no one else in the 12 years that the stat has been tracked. Rendon has six defensive runs saved specifically from fielding bunts. No one else in the majors has more than two. In fact, no player has recorded as many as six runs saved in the 12 seasons in which this stat has been tracked.
One of the reasons for this is volume: The Elias Sports Bureau tells us that Rendon leads the majors with 22 assists on bunts this season. Rendon has nailed the lead runner on bunts three times and recorded a double play once (those four plays provide a nice spike to his numbers). He's also recorded at least one out on each of the sacrifice attempts against him this season. In all, he's fielded 26 bunts, and they've resulted in at least one out 23 times. That's a success rate that hasn't been matched.
Watch
Rendon's highlight reel of bunt defense
and a few things stand out. A look at one bunt by
Peter Bourjos
illustrates Rendon's abilities well
.
He anticipates well, as was noted on the broadcast, allowing him to get really close to home plate without fear that the hitter is going to swing away. He has good fundamentals when it comes to picking the ball up with his bare hand. Baseball Info Solutions (which devised the DRS metric) has tallied barehand plays for us this season. Rendon is tied for second among infielders with 13, two behind major league leader
Nolan Arenado
.
Rendon also has a strong throwing arm, one that has suited him well at the hot corner and allows him to nail the fastest players in baseball, including Reds outfielder
Billy Hamilton
on another bunt attempt
worth watching
.
Some may knock the advanced defensive stats for the manner in which they're calculated. But in some cases, they allow us to become aware of things we wouldn't possibly know otherwise.
This is one of those instances. We already knew that Rendon was a well-skilled player in all aspects of the game. It just turns out he's performing one skill far better than anyone knew.
July, 18, 2014
7/18/14
3:37
PM ET
So Washington third baseman
Anthony Rendon
says
baseball is too long and boring
to watch on television and that he prefers to watch the History Channel. Good thing for Rendon that the History Channel does not own the broadcast rights to past seasons.
"Next on the History Channel: The 2009 Washington Nationals strike out 13 times and suffer their 96th loss of the season in a five-hour, 14-inning game against the San Diego Padres."
Rendon is just one of those unrelenting voices that baseball always hears on this subject. Someone has always been complaining about the length of baseball games since before Jack Norworth wrote the lyrics "I don't care if I never get back" in 1908. They still do this even though most baseball games are shorter than football games –- and the majority of football games are spent with 11 men standing around in a conference meeting.
Could baseball games be shorter? Of course. The easiest way to tighten games would be to require hitters like Rendon to stay in the batter's box -– or step back in more quickly -- to resume their at-bats rather than standing outside tightening their batting gloves, staring at the third-base coach for signs, or scanning the stands for pretty women. The same applies to pitchers who take too long between pitches. Just get on with it, guys.
Failing that, how could baseball games be more interesting on TV? A couple suggestions:
Microphone the players –- but don't tell them:
That will provide us with viral-ready video as we eavesdrop on players and hear what they
really
think about their teammates and opponents.
"I like Bryce [Harper], but I wish the guy would stop instructing Matt Williams on his WAR numbers and more about the latest World War II broadcast on the History Channel."
Sexy shots:
Football broadcasters fill their many breaks in the action by showing long, sensuous shots of cheerleaders kicking their legs and jiggling their breasts while wearing tight, skimpy tops and shorts. They can't do this in baseball because the game doesn't have cheerleaders. But perhaps broadcasters could instead show the players' girlfriends, wives and, most provocatively, their mistresses. Why,
Derek Jeter
's girlfriends could fill all four hours and 23 minutes of the average Red Sox-Yankees marathon.
Amazing non-pennant races:
Television viewers flock to reality shows. Take advantage of this by duplicating the "Amazing Race" with a competition in which pairs of teammates must make their own way to the next city on a road trip. Then show snippets of this competition throughout the season.
"Rendon and Harper are out of the starting lineup once again because their flight out of Denver was cancelled and they decided to take Greyhound instead. Here they are complaining about how long last night's game took while watching it on TV in the Chattanooga bus station."
And finally ...
Show historic footage while hitters are stepping out of the box:
Well, this might appeal to Rendon.
Or better yet, to make broadcasts more appealing, perhaps Rendon should start dating a Kardashian.
July, 5, 2014
7/05/14
8:27
PM ET
By
Christina Kahrl
| ESPN.com
With the All-Star rosters being named Sunday night, I'm sure we all have guys we'd like to see make it and our different reasons, as fans or as analysts, for wanting them to get in. It's easy to be excited for guys such as
Andrew McCutchen
or
Josh Donaldson
or
Yasiel Puig
, guys we expect to be there who are just flat-out fun to watch play the game.
But beyond those kinds of selections, there are two players I'd like to see make it to the All-Star team this year, as recognition of what they've delivered. One is a rising star in the National League who will have multiple chances in the years to come; the other is an American League long shot making his last, best case for inclusion. I'd like to see both on the foul lines on July 15 at Target Field when they make the full-team introductions.
In the NL, I'm not being especially sentimental in stating that I think
Anthony Rendon
of the Nationals flat-out belongs. He's knocking around with Puig and
Hunter Pence
in terms of WAR, just outside the league's top 10. Puig and Pence are both likely to make it; Rendon might not.
In part that's because Rendon was on the ballot as a second baseman, where
Chase Utley
should have won the fan vote handily in recognition of past greatness and present goodness. It probably didn't help Rendon's case that he's had to split his playing time this season between the keystone and the hot corner because of
Ryan Zimmerman
's injury. If you consider him a third baseman, Rendon suffers because whomever the fans vote in between
Aramis Ramirez
and
David Wright
,
Todd Frazier
is the first choice for who should be selected to sit behind the starter.
But it has been a pretty weak season for second basemen around the senior circuit:
Neil Walker
got hurt, while
Brandon Phillips
has gotten old;
Rickie Weeks
has slipped back into a platoon role, while
Matt Carpenter
moved to third base to stay. Utley is clearly the league's best, but after that, who's the obvious reserve at second base? There really isn't one.
However, Rendon has made himself into a good second baseman after last year's midseason live-fire conversion. I figure between his reliability at the plate and flexibility around the diamond, he has been the glue that has held both the Nationals' offense and their infield together during a bumpy first half. While all of their more famous and expensive people have broken down or provided one form of disappointment or another, Rendon has been the Nats' first-half MVP. It should be the first of many All-Star invitations for him.
[+] Enlarge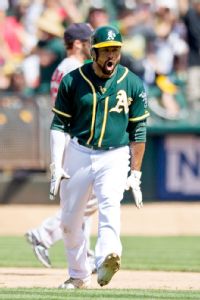 Jason O. Watson/Getty ImagesHere's hoping Coco Crisp is at least this excited if he's named to the American League All-Star team.
On the opposite side of the spectrum, in the AL the guy I'm rooting for is
Coco Crisp
. This might surprise you because the A's player who comes up after Josh Donaldson in this context is usually
Brandon Moss
. And I agree with the proposition that Moss would be a worthy selection, for many of the same reasons: If you want to honor a broad, deep Athletics lineup, you couldn't do much better for a "Moneyball 2.0" poster boy than Moss, a 30-year-old journeyman who washed out with the Pirates and put in a season in Triple-A for the Phillies before resurrecting his career with the A's in 2012.
But my case for Crisp relies on a couple of considerations. I can start off with a subjective argument that he's just flat-out fun to watch play, not that that means much -- most All-Stars are, and they should be. This would also be a way of recognizing his critical impact on the contending A's in the past year and a half, because after last year's 22-homer, 4.3-WAR season helped propel him to a 15th-place finish in the AL MVP voting, this year he's made it clear that his bigger impact on the A's offense isn't a one-year phenomenon. Crisp never merited mention for an All-Star invitation earlier in his career, but his late-career surge deserves notice.
The thing to recognize about Crisp's impact at the plate is that he's something of a sorting-stat victim this season. Crisp's overall WAR this year of 1.9 doesn't sound especially awesome, and it isn't. But it suffers because various defensive metrics aren't wild about his contributions in the field, which reflects a long-standing problem -- while WAR relies on the offensive value we can measure so well, it relies on less-certain data when it comes to evaluating defense. WAR is like a good fruit punch on that score: You mix your apples and oranges and they might seem great together, but one is recognizably better than the other.
In this instance, I'd argue that it's undermining Crisp's perceived value. While he's just 41st overall in the American League in WAR,
he's in the AL top 10 in the more reliable offensive component of WAR with 3.0 oWAR
, effectively tied with Baltimore's
Adam Jones
as the second-best bat in center after some kid named Trout, and that's a tie only because Crisp lost time to the DL earlier this year. It's also a higher mark than Moss (2.5 oWAR), again in much less playing time. Crisp is
13th in the AL in OPS
; Jones is 14th.
All of which makes for an interesting argument about who the second-best center fielder in the league might be. But whereas Jones has been an All-Star three times before, Crisp has never made it. At 34 years old, this might be his last chance to merit an All-Star conversation. So, between his bat and his never having earned the honor before, and because he's become a fan favorite in the East Bay in recent years, here's hoping that Crisp gets to go to Target Field to play for the American League.
Christina Kahrl writes about MLB for ESPN. You can follow her on Twitter.
April, 27, 2014
4/27/14
12:13
PM ET
By
Christina Kahrl
| ESPN.com
Another week, another bit of
Bryce Harper
drama. If anyone out there has Harper fatigue, I guess one way to look at it is that you won't have to hear much about him for a couple of weeks at the very least.
But if that's your sentiment, shame on you. For me, it's always going to be better to get to see Harper play. If that invites an element of "what's going to happen to him next?" hyperfocus that has been associated with his career from the outset, so what? Sports has loved and will always love its
enfant terribles
, generation after generation. Nothing Harper has done puts him on the level of, say, John McEnroe or
Deion Sanders
, but your mileage may vary.
Consider this my taking common cause with a lot of Nationals fans: I'd rather see Harper's name in the lineup, not just because of what he has done and can do but because of what he
might
do. That's the other function of rooting for or against a player you watch grow up in the major leagues. No matter how talented they are, most players aren't Dwight Gooden or
Mike Trout
, almost perfect at the outset.
[+] Enlarge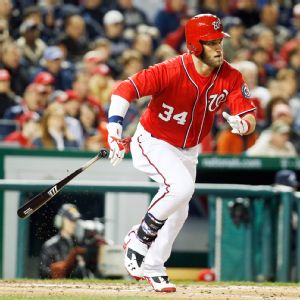 AP Photo/Alex BrandonBryce Harper has to head to the DL, and the Nationals will miss him.
Admittedly, there's an element of irony that Harper landed on the disabled list for a hustle play, motoring into third base Friday night, just a few days after being benched for not hustling by manager
Matt Williams
. I'm sure we can start up another long list of complaints about poor fundamentals because he slid headfirst and that's why he's on the DL with an injured thumb. None of this is quite as epic as Mickey Mantle's early-career squabbles with Casey Stengel.
No, dialing back from the entire concept of Harper drama, for the Nationals this is a problem. Even if Harper misses just the two weeks, that's two weeks without three men from the Nats' ideal eight-man lineup available, because this is the latest injury to add to a lineup litany that already includes the losses of
Ryan Zimmerman
and
Wilson Ramos
until mid-May. Even with
Adam LaRoche
and
Anthony Rendon
off to good starts, even with
Jayson Werth
getting on base, even with fallen former prospect
Danny Espinosa
redeeming himself in the playing time created in the infield by Zimmerman's absence, that's a lot to have to go without. They also lost
Denard Span
for a week after he suffered a concussion. If there's good news, it's that while Doug Fister is on the DL instead of in the rotation, he is ideally due back around the same time as Harper and due to make his first rehab start today.
Meanwhile, for the immediate future, this looks like an opportunity for
Nate McLouth
to finally start hitting as the Nationals' initial choice to fill Harper's shoes in left, although the measure of Williams' confidence is that he's penciled McLouth into the eighth slot in Sunday's lineup. I wouldn't count on seeing much of
Steven Souza
, the farmhand called up in Harper's absence. He's a toolsy, slow-developing prospect taken in the third round in 2007 who didn't break out at the plate until 2012 (after going back down to the low-Class A Sally League for a
fourth
stint), but he put an exclamation point on that breakout last year with a .953 OPS in Double-A and has been hitting in Triple-A this year around his shuttling back and forth between Syracuse.
Christina Kahrl writes about MLB for ESPN. You can follow her on Twitter.
April, 22, 2014
4/22/14
12:58
PM ET


It's another edition of rapid fire, featuring Masahiro Tanaka, Anthony Rendon, Bryce Harper, Jesse Chavez, Chase Utley, Mike Moustakas, the Mets and the Mariners.
April, 13, 2014
4/13/14
1:39
AM ET
By
Jason Wojciechowski
| ESPN.com

Remember 2012, when a Nationals-Braves series was a baseball jamboree to be highlighted in yellow weeks in advance? When the teams combined for 192 wins? When each went to the playoffs? The future was bright then, and full of stars. You'd see Jason Heyward, Andrelton Simmons and Craig Kimbrel suit up for Atlanta, or see Bryce Harper, Stephen Strasburg, Ryan Zimmerman, Gio Gonzalez and Jordan Zimmermann for the Nationals.

The bright future past gave way to a somewhat mediocre 2013. Zimmermann and Gonzalez experienced slight regression while Strasburg and Harper were merely excellent rather than otherworldly -- with Harper missing 40-plus games to boot -- leading to a disappointing 86 Nats wins, four games back of even the second wild-card slot. The Braves did everything right and ran away with the division by 10 games, but it wasn't the same, at least for nonpartisans, as a fully competitive, hard-fought division.

Then, before 2014 really got going, the baseball gods found some excuse to punish the Braves, sending Brandon Beachy and Kris Medlen to Tommy John surgery while afflicting Mike Minor with shoulder tendinitis. Suddenly, with a back end of their rotation made up of Alex Wood, David Hale, and Aaron Harang, the team was going to have to overcome the free-agency loss of Brian McCann through the sheer force of will of Justin Upton and Heyward. Good as they are, neither guy is Barry Bonds, capable of bearing alone the burden of elevating mediocrity to respectability.

So the hoped-for two-team division race was down, realistically, to just the Nats ... except for those pesky baseball gods, who apparently want to see the Marlins make the playoffs with 82 wins and therefore decided to strike down the Nationals' big winter trade acquisition, Doug Fister, and snakebit catcher Wilson Ramos, each of whom has star-level talent and mediocre backups (Tanner Roark/Taylor Jordan and Jose Lobaton, respectively).
[+] Enlarge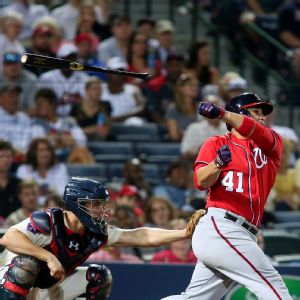 AP Photo/Jason GetzAbsent Ryan Zimmerman, the Nats' hit-or-miss offense might become that much more miss.

Worse yet, Saturday's pregame announcements featured the news that Denard Span had to head to the disabled list with a concussion suffered in a weird collision with Dan Uggla. Concussions being what they are, Span could be back in a week or a month or not at all. This leaves Nate McLouth in the Nationals' outfield, which is something other than a disaster, McLouth having experienced an unpredictable renaissance over the last two years, hitting .252/.324/.393. That line plays fine in this low-offense era, but the likely two-position defensive drop, from Span to Harper in center and from Harper to McLouth in left, won't make many Nationals hurlers happy. Strasburg and Gonzalez don't have much to worry about, both being strikeout pitchers with solid-to-good ground-ball rates, but pitchers less apt to miss bats may find themselves frustrated by doubles in the gap that Span would have run down.

All of this, bad as it is, could be overcome, except that suddenly, as of the fifth inning of Saturday's loss to the Braves, Washington finds itself without Zimmerman for the next four to six weeks after the third baseman broke his thumb diving back into second base on a pickoff. (He was out, adding insult to literal injury.) The Nats' depth was sorely tested last year, with "tested" serving as a euphemism for the fact that the non-regulars were completely awful. Danny Espinosa, a handy example because he will have to cover second base in Zimmerman's absence while Anthony Rendon shifts back over to his original position at third, somehow hit .158/.193/.272 in 2013. Sure, Espinosa probably isn't that bad, as he broke his wrist early in 2013 after managing a low-contact, high-power .242/.319/.408 line from 2011 to 2012. Combine that with good defense and Espinosa was once and might still be a nice above-average player. The possibility remains, however, that he is exactly as bad as he looked last season.

If the 2011-12 Espinosa is who the Nationals get in their lineup now, and if Zimmerman returns in the time expected, and if Fister recovers in good order from his lat strain, and if Ramos can come back at full strength after hamate bone surgery, and if Span makes a complete recovery from his concussion, and, as long as we're here, if Harper's wall-smashing approach to the sport doesn't result in his missing any time, then the Nationals should be fine. Indeed, given the maladies faced by their competition, Washington should still be the favorite in the NL East even if only half of that list works out.

But that's a lot of ifs, ones that this team isn't built to deal with, ones that, should the Nats wend their way through the darkness and despair of an injury-riddled season, could before we know it lead to the Dinger Machine in Miami lighting up the October skies after a series-winning 480-foot walk-off homer by newly minted playoff hero Giancarlo Stanton. The prudent fan will begin preparing mentally and emotionally for this possibility posthaste.
Jason Wojciechowski blogs for Beaneball, the SweetSpot network's affiliate dedicated to covering the Oakland Athletics.
January, 24, 2014
1/24/14
10:00
AM ET
These are 10 players I like heading into the season, five position players and five pitchers. I'm calling them breakout candidates, although if you're a fantasy player, you already know about them. You always have to be wary about projecting too much growth in a young player -- many fantasy owners have been ruined by falling prey to prospect hype -- but these are 10 young players I'd love to have in 2014.
Jedd Gyorko, 2B, San Diego Padres:
He had an impressive rookie season with 23 home runs in 125 games, although a .249 average and .301 on-base percentage leaves room for improvement. Still, his season went pretty unrecognized for several reasons: (1) He plays for the Padres, and (2) it was such a strong rookie class in the National League that there wasn't much attention left over after
Jose Fernandez
,
Yasiel Puig
,
Shelby Miller
and
Julio Teheran
; (3) His splits made for an odd season, as he hit .272 with eight home runs in the first half, .226 with 15 home runs in the second half.
Gyorko needs to consolidate those two approaches. Some of that difference came from a big split in BABIP -- .325 in the first half and .245 in the second half, but he did start chasing more pitches out of the strike zone in the second half (34 percent compared to 30 percent). He was a .321 hitter in the minors, so if he can reign in the over-aggressiveness just a bit I think his average and OBP will come up. He hit 13 of his 23 home runs at Petco and hit 30 in the minors in 2012, so the power is definitely legit.
Didi Gregorius, SS, Arizona Diamondbacks:
When Kevin Towers acquired Gregorius from the Reds last offseason in a three-team deal, the trade was widely criticized since Arizona surrendered
Trevor Bauer
, the third overall pick in the 2011 draft. But Towers loved Gregorius' defense and Bauer had worn out his welcome in Arizona. Gregorius missed some time with injuries as a rookie but showed more potential with the bat than many expected, hitting .252/.332/.372, and showing the ability to turn on some pitches with seven home runs.
He's never going to be an offensive star, but he puts the ball in play, and if he can improve against left-handers (.200/267/.245), his numbers will look pretty good for a shortstop. If his defensive proves to be as strong as Towers sold us on them (the defensive runs saved metric had him at minus-1 run in 2013), he has a chance to be a very good player. His fantasy value may be limited by his lack of offensive skills, but I believe Gregorius can turn into a championship-caliber shortstop.
Kole Calhoun, RF, Los Angeles Angels:
A big reason the Angels felt they could trade
Mark Trumbo
for pitching depth was the emergence of Calhoun, who hit .282/.347/.462 in 222 plate appearances. He's older (26), so his star potential is limited. He has a decent approach at the plate and could hit 15 to 20 home runs. A left-handed batter, he has handled lefties well enough that he doesn't necessarily have to be platooned.
Josmil Pinto, C, Minnesota Twins:
You never want to count too much on a young catcher -- we've seen top hitting prospects like
Devin Mesoraco
and
Jesus Montero
struggle mightily at the big league level -- but the Twins are moving
Joe Mauer
to first base due to their confidence in Pinto. His 21-game stint in the majors was obviously impressive (.342, five doubles and four home runs in 83 plate appearances) but he has hit very well the past two seasons in the minors, including a .309/.400/.482 line between Double-A and Triple-A in 2013. I like his discipline -- 66 walks, 83 strikeouts in the minors -- and his arm is solid (threw out five of 11 basestealers with the Twins). The Twins brought in veteran
Kurt Suzuki
, but playing him would be a mistake. Pinto needs to get 450 to 500 plate appearances as the regular catcher. I think he'll hit enough and play well enough behind the plate to give manager Ron Gardenhire little option but to do just that.
Anthony Rendon, 2B, Washington Nationals:
No surprise here. Everyone has expected Rendon to hit since his college days at Rice. The big question with him has always been staying on the field. Injuries limited him to 43 games in the minors in 2012, but he stayed relatively healthy last season, playing 134 games between the minors and the majors. He may end up being more of a doubles guy with a good average than a big power hitter, but either way he's going to provide value at the plate. Rendon has good balance, quick wrists and he walked more than he struck out in the minors, an approach that should help him improve on the .265 average he hit as a rookie. His defensive transition to second base still needs work, but he's athletic enough to be acceptable.
With Rendon and
Bryce Harper
-- heck, I could have put Harper on the list except he's already such a big name -- the Nationals should score more than the 656 runs they tallied a season ago.
Nate Eovaldi, P, Miami Marlins:
Among pitchers who threw at least 100 innings in 2013, guess who had the highest average velocity on the fastball? Yep, this guy. Eovaldi averaged 96.2 mph on his heater, one of just four starters to average 95-plus, along with
Gerrit Cole
,
Matt Harvey
and
Stephen Strasburg
. It's a good weapon and proved to be a fairly effective pitch for him; he allowed a lower OPS on his fastball than
Zack Greinke
,
Julio Teheran
,
Anibal Sanchez
,
Adam Wainwright
and
Felix Hernandez
. Eovaldi still needs to improve his command, but more importantly needs to refine his secondary pitches. He threw his fastball 1,189 times out of 1,696 total pitches, relying little on his slider or curveball. He needs to turn one of those pitches into more of a strikeout pitch. He did have some shoulder problems at the start of 2013 but was fine after that. He turns 24 in February, and with 46 career starts under his belt, he's young enough to put everything together.
James Paxton, P, Seattle Mariners:
Taijuan Walker
is the Mariners' rookie starter who has received most of the attention on prospect lists, but Paxton may be more ready for the majors. A lefty with good size at 6-foot-4, Paxton brings a good fastball (he averaged 94.8 mph in his four-start stint in September in which he held batters to a .172 average) along with a curve and changeup, although with a history of shaky command. His Triple-A numbers aren't impressive -- 4.45 ERA, 158 hits in 145.2 innings -- but were better in the second half. The Mariners were a terrible defensive team last year and could be again this year, especially if they end up adding
Nelson Cruz
in the outfield alongside
Corey Hart
or
Logan Morrison
, so keep that in mind. A shaky defense can hurt a young pitcher's confidence and force him to start nibbling at the corners too much.
Corey Kluber, P, Cleveland Indians:
Kluber was pretty good in 2013 -- 3.85 ERA in 147 innings -- so this is confirmation bias as much as anything. Originally a fourth-round pick of the Padres way back in 2007, Kluber came to Cleveland in the three-way trade that sent
Jake Westbrook
to the Cardinals. He finally put everything together in 2013, improving his command and cutting his walks way down. He finished with 136 strikeouts and 33 walks, a 4.1-to-1 ratio, the sixth best in the American League behind guys named
David Price
,
Chris Sale
,
Felix Hernandez
,
Hisashi Iwakuma
and
Max Scherzer
. I'm not saying he's as good as those guys, but he's not just a finesse guy who lucked into a good year, as he owns a solid fastball (93.1 mph average velocity) and terrific curve. Batters hit .196 off it with just two home runs, 50 strikeouts and no walks.
Here's an examination
of Kluber's improvement, which even spawned the Corey Kluber Society.
Yordano Ventura, P, Kansas City Royals:
He'll rank high on prospect lists heading into the season with his high-octane heater. The Royals believed enough to give him three starts down the stretch with the club battling for a wild-card spot. Ventura isn't a lock for the rotation --
James Shields
,
Jeremy Guthrie
and
Jason Vargas
are locks, with
Danny Duffy
and
Wade Davis
also in the mix -- but the Royals should go with the potential upside of Ventura over Duffy or Davis. Ventura struck out 155 in 134.2 innings between Double-A and Triple-A and while the curveball and changeup are still works in progress, it's the fastball, which hit 101.9 mph with the Royals, that should make him an effective starter as a rookie.
Erik Johnson, P, Chicago White Sox:
A second-round pick out of Cal in 2011, Johnson dominated the high minors, posting a 1.96 ERA and allowing just 100 hits in 142 innings. He mixes in a four-seamer and two-seamer with an upper-80s slider that neutralizes right-handed batters. He needs to improve his curveball and/or changeup to become more effective against lefties and pitching in The Cell, where the ball flies, isn't easy, so don't expect a low ERA from him. But he could develop into a middle-rotation type of starter, part of a suddenly interesting young core in Chicago that includes
Jose Abreu
,
Adam Eaton
and
Avisail Garcia
.
June, 5, 2013
6/05/13
2:20
PM ET
Somehow,
Danny Espinosa
played more than month with a fractured right wrist without it being properly diagnosed. After discovering the injury on May 24, the Nationals still kept around, as his average plummeted to .158. The Nationals finally ended this little experiment today by placing Espinosa on the disabled and
calling up top prospect
Anthony Rendon
.
Nationals GM Mike Rizzo to the Washington Post:
"It wasn't for the jolt scenario. More like getting guys here that give us the best chance to win baseball games. ... It's about putting the best 25 out there at this particular time to help win games. Decisions would be different if we had a full healthy team the whole season and we were hitting on all cylinders. But we're not healthy and trying to piece together a lineup to help us scratch together enough runs to win some games. We felt like to get healthy players to give us a chance to be as good offensively as we can."
OK, but why did it take 10 days to put an injured Espinosa on the DL? With backup infielder Steve Lombardozzi struggling at the plate as well, the Nationals turn to Rendon, a third baseman in college who has played eight games at second base this year in the minors. The risky move is understandable -- the Nationals are averaging a pathetic 3.45 runs per game (second-worst in the NL) so the hope is Rendon can provide some offense even if he's a defensive liability. Maybe they've paid attention to what the Cardinals have done with
Matt Carpenter
, a minor league third baseman who has successfully transitioned to second base this season, although these third-to-second moves rarely work.
Our Nationals blogger Harper Gordek questioned the timing of the moves:
They will start winning more regardless of the make-up of the roster. It's just going to happen. By waiting until yesterday to make these moves you guarantee that the moves will be associated with more winning, even if it would have happened on some level anyway. It's a brilliant strategical move to make yourself look better. It's a terrible move though to stand pat on moves that were obvious weeks ago.
Rendon alone won't revive this offense, the reason the Nationals are 29-29 and arguably the season's most disappointing team so far. They're getting little production from catcher
Kurt Suzuki
and much-praised acquisition
Denard Span
has a .316 OBP and no home runs. Espinosa was wretched (47 K's, 4 BB) and the entire bench has been awful.
There are a lot of people rooting against the Nationals, feeling the decision to sit
Stephen Strasburg
last year was a sign of arrogance. How can you just assume you'll be back in a position to reach the World Series again? I disagreed with the decision to sit Strasburg, but I was there with everyone else: I thought the Nationals were going to be the best team in baseball.
Winning isn't so easy, however. Davey Johnson, who managed the 1986 Mets to a World Series title with a young, talented team, knows this better than anybody; those Mets only made it back to the playoffs one more time. It's not too late for the Nationals to rescue their season, but they can't rely on a rookie moving to a new position to be the guy who turns on the ignition switch.
June, 7, 2011
6/07/11
12:30
PM ET
We're draft heavy on Tuesday's
Baseball Today podcast

, as expert Keith Law and I analyze from the same studio for the first time. Keith breaks down what you need to know after the first round, as well as these other fun tidbits that make your download well worth it.
1. Keith tells us the winners, losers and other interesting facts from the Monday portion of the draft, including why the Tampa Bay Rays couldn't help but succeed, and how the No. 2 overall pick might not have been the correct one.
2. What does the term "over slot" mean and why are so many teams likely to pay their new youngsters well, and likely anger the league office?
3. Bryce Harper gets himself into the news for something he did Monday ... but there might be repercussions. Is the atty-tude warranted?
4. Los Angeles Dodgers right-hander Rubby De La Rosa makes his first start in Philadelphia Tuesday, and Mr. Law tells us why his future is a bright one.
5. There's plenty to watch on Tuesday night, but here's why among the names we're rooting for include Vin Mazzaro and Kyle Drabek. Hey, don't get Mazzaroed!
Plus: Excellent emails, why we fear the worst for Brett Anderson, Milwaukee's haul from Monday, how the Nationals and Royals could be ruling MLB in a few years and congratulations to Chicago White Sox left-hander John Danks, all on a packed Tuesday edition of Baseball Today!