SweetSpot:

Anthony Swarzak
January, 26, 2012
1/26/12
8:30
AM ET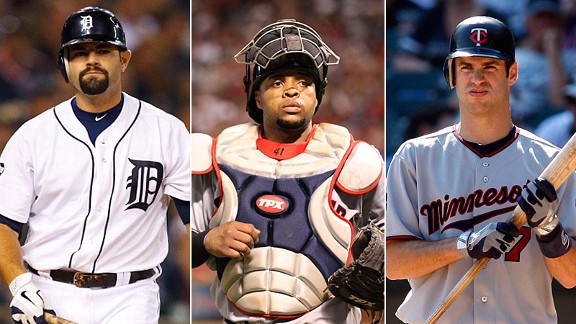 US PresswireWith Alex Avila, Carlos Santana and Joe Mauer, the AL Central is loaded at catcher.
We're back with more divisional position rankings for 2012. You can scream, you can holler, you can protest and call me names. But just because I rated your player lower than you think he deserves doesn't mean I hate your team.
(Here are the
NL East
and
NL West
rankings.)
Catcher
1.
Alex Avila
, Tigers
2.
Joe Mauer
, Twins
3.
Carlos Santana
, Indians
4.
Salvador Perez
, Royals
5.
A.J. Pierzynski
, White Sox
The AL Central might not be baseball's glamor division, but it may have three of the top five catchers in the game if Mauer bounces back from his injury-plagued campaign. Since we're not certain of his health, I'm going to give top billing to Avila, who had the best hitting numbers of any catcher outside of
Mike Napoli
and plays solid defense. I wouldn't be surprised if Santana explodes; with his power-and-walks combo, all he has to do is raise his average 30 points and he'll be one of the most valuable players in the game. Considering that his average on balls in play was .263, there is a good chance of that happening. Perez hit .331 in 39 games; OK, he won't do that again, but he doesn't turn 22 until May and puts the ball in play. There's no shame in being fifth in this group but that's where I have to place Pierzynski, who keeps rolling along and is now 36th on the all-time list for games caught.
First base
1.
Prince Fielder
, Tigers
2.
Paul Konerko
, White Sox
3.
Eric Hosmer
, Royals
4.
Justin Morneau
, Twins
5.
Matt LaPorta
, Indians
In 2009, when Morneau played 135 games, he hit .274 AVG/.363 OBP/.516 SLG. Even if he replicates that line, he may rank only fourth. Konerko has hit a combined .306 with 70 home runs the past two seasons. He's 104 home runs from 500 but turns 36 in March, so he's probably four seasons away; not sure he'll hang on that long, but who knew he'd be this good at this age. If Hosmer improves his walk rate and defense and Konerko declines, Hosmer could climb past him. If it doesn't happen this year, it will happen next. The most similar batter to him at age 21: Eddie Murray.
Second base
1.
Jason Kipnis
, Indians
2.
Gordon Beckham
, White Sox
3.
Johnny Giavotella
, Royals
4.
Alexi Casilla
, Twins
5.
Ramon Santiago
, Tigers
Well, this isn't exactly a
Robinson Cano
/
Dustin Pedroia
/
Ben Zobrist
debate, is it? Kipnis' bat is a sure thing, as evidenced by his excellent play after his call-up (.272 average and .507 slugging in 36 games). His glove was once a question mark but now appears solid enough that he looks like a future All-Star to me. Can anybody explain what has happened to Beckham? He's second mostly by default; he's gone downhill since his superb rookie season in 2009 but is only 25, so there's hope that he'll find those skills again. Giavotella has some potential with the bat (.338/.390/.481 at Triple-A), which is more than you can say for Casilla and Santiago.
Third base
1.
Miguel Cabrera
, Tigers
2.
Mike Moustakas
, Royals
3.
Lonnie Chisenhall
, Indians
4.
Danny Valencia
, Twins
5.
Brent Morel
, White Sox
We'll go with the idea that Cabrera is Detroit's starting third baseman, although I predict he'll end up starting more games at designated hitter. Manager Jim Leyland will end up doing a lot of mixing of his lineups, but for this little exercise we have to choose a starter. Moustakas didn't tear up the league as a rookie and I worry about his ability to hit lefties (.191, homerless in 89 at-bats), but he showed more than fellow rookies Chisenhall and Morel. Valencia doesn't get on base enough and he rated poorly on defense in 2011. I hope he's at least good in the clubhouse. Morel was terrible all season and then exploded for eight of his 10 home runs in September and drew 15 walks after drawing just seven the previous five months. Maybe something clicked.
Shortstop
1.
Asdrubal Cabrera
, Indians
2.
Alexei Ramirez
, White Sox
3.
Jhonny Peralta
, Tigers
4.
Alcides Escobar
, Royals
5.
Jamey Carroll
, Twins
Peralta had the best 2011 season, but he's a difficult guy to project. He had an .804 OPS in 2008 but dropped to .691 in 2009. He had a .703 OPS in 2010 and then .823 in 2011. I just don't see a repeat season, at the plate or in the field. Cabrera didn't rate well on the defensive metrics, and after a strong start he wore down in the second half. Ramirez has turned into a nice player, with a good glove and some power, and he even draws a few walks now. Escobar is a true magician with the glove. Carroll is actually a useful player who gets on base (.356 career OBP), but he's pushed as an everyday shortstop and he'll be 38. He'll be issued the honorary
Nick Punto
locker in the Twins' clubhouse.
Left field
1.
Alex Gordon
, Royals
2.
Alejandro De Aza
, White Sox
3.
Ben Revere
, Twins
4.
Michael Brantley
/
Shelley Duncan
, Indians
5.
Ryan Raburn
/
Don Kelly
, Tigers
I'm not sure what to do here. After Gordon, I just get a headache. We'll pretend to believe in De Aza after his impressive stint in the majors (171 plate appearances, .329/.400/.920). He's hit in Triple-A for three seasons now, and while he's not going to post a .400 OBP again, he should be adequate. Revere is one of the fastest players in the majors, but he's all speed and defense; he hopes to grow up to be
Brett Gardner
, which isn't a bad thing, but he'll have to learn to get on base at a better clip. Brantley doesn't have one outstanding skill so he'll have to hit better than .266 to be anything more than a fourth outfielder; Duncan provides some right-handed pop as a platoon guy. The Tigers have
Delmon Young
, but I'll slot him at DH. That leaves supposed lefty masher Raburn and utility man Kelly to soak up at-bats; both had an OBP below .300 in 2011, although Raburn has hit better in the past.
Center field
1.
Austin Jackson
, Tigers
2.
Denard Span
, Twins
3.
Grady Sizemore
, Indians
4.
Lorenzo Cain
, Royals
5.
Alex Rios
, White Sox
I can't rate Sizemore any higher since he's played just 104 games over the past two seasons, and he hasn't had a big year since 2008. Rios was terrible in '09, OK in '10 and worse than terrible in '11. I'm not betting on him.
Right field
1.
Shin-Soo Choo
, Indians
2.
Brennan Boesch
, Tigers
3.
Jeff Francoeur
, Royals
4.
Josh Willingham
, Twins
5.
Dayan Viciedo
, White Sox
Choo would like to forget 2011, but there's no reason he shouldn't bounce back and play like he did in 2009 and 2010, when he was one of the 10 best position players in the AL. I don't expect Francoeur to deliver 71 extra-base hits again, but maybe he'll surprise us. Viciedo is apparently nicknamed "The Tank," which makes me wonder how much ground he can cover. He did improve his walk rate last season in the minors and turns 23 in March, so there's still room for more growth.
Designated hitter
1.
Billy Butler
, Royals
2.
Travis Hafner
, Indians
3.
Ryan Doumit
, Twins
4. Delmon Young, Tigers
5.
Adam Dunn
, White Sox
Has there been a bigger prospect disappointment than Young in the past decade? I mean, yes, there were complete busts like
Brandon Wood
and
Andy Marte
, but those guys had obvious holes in their games, while Young was viewed as a
sure thing
, a consensus No. 1 overall prospect. But his bat has never lived up to its billing. Other than one decent year in Minnesota, he has low OBPs and he clearly lacked range in the outfield. His career WAR on Baseball-Reference is minus-0.2 (1.6 on FanGraphs), meaning he's been worse than replacement level. He's just not that good, Tigers fans.
No. 1 starter
1.
Justin Verlander
, Tigers
2.
John Danks
, White Sox
3.
Justin Masterson
, Indians
4.
Luke Hochevar
, Royals
5.
Carl Pavano
, Twins
Masterson was better than Danks in 2011, and I do believe his improvement was real. He absolutely crushes right-handers -- they slugged an anemic .259 off him. Danks had two bad months but has the longer track record of success. Even in his "off year" he had a higher strikeout rate and lower walk rate than Masterson. If you want to argue about Hochevar versus Pavano, be my guest.
No. 2 starter
1.
Doug Fister
, Tigers
2.
Ubaldo Jimenez
, Indians
3.
Gavin Floyd
, White Sox
4.
Francisco Liriano
, Twins
5.
Jonathan Sanchez
, Royals
Yes, sign me up for the Doug Fister bandwagon club. Jimenez's fastball velocity was down a couple miles per hour last season but the positives are that his strikeout and walk rates were identical to 2010; he'll be better. Floyd isn't flashy but he's now made 30-plus starts four years in a row, and he'll become a very rich man when he becomes a free agent after this season. Sanchez won't have the luxury of pitching in San Francisco (and to eight-man NL lineups).
No. 3 starter
1.
Max Scherzer
, Tigers
2.
Scott Baker
, Twins
3.
Philip Humber
, White Sox
4.
Bruce Chen
, Royals
5.
Josh Tomlin
, Indians
I could be underrating Baker, who was excellent last season, but only once in his career has he made 30 starts in a season. Tomlin's fans will disagree with this ranking, but he's a finesse guy who relies on the best control in baseball (21 walks in 26 starts). He's the kind of guy you root for, but the league seemed to figure him out as the season progressed.
No. 4 starter
1.
Felipe Paulino
, Royals
2.
Rick Porcello
, Tigers
3.
Jake Peavy
, White Sox
4.
Derek Lowe
, Indians
5.
Nick Blackburn
, Twins
Scouts still love Porcello's arm and I know he's just 23, but he's made 89 big league starts and shown no signs of getting better. His WHIP has increased each season and his strikeout rate remains one of the lowest in baseball. Paulino has an electric arm -- he averaged 95 mph on his fastball -- and
is
getting better. How could the Rockies give up on him after just 14 innings? How could the Astros trade him for
Clint Barmes
? Anyway, kudos to the Royals for buying low on the guy who may turn into their best starter. Peavy can't stay healthy. Lowe has led his league in starts three out of the past four seasons, but I'm not sure that's a good thing anymore. Blackburn is a poor man's Lowe, and I don't mean that in a good way.
No. 5 starter
1.
Chris Sale
, White Sox
2.
Jacob Turner
, Tigers
3.
Aaron Crow
/
Danny Duffy
, Royals
4.
Fausto Carmona
/
David Huff
/
Jeanmar Gomez
, Indians
5.
Brian Duensing
/
Jason Marquis
, Twins
Welcome to the AL Central crapshoot. Turner and Sale have the most upside, but one is a rookie and the other is converting from relief. Crow will also be given a shot at the rotation, but his difficulties against left-handed batters (.311 average allowed) don't bode well for that transition. Even if the artist formerly known as Carmona gets a visa, what do you have? A guy with a 5.01 ERA over the past four seasons. Duensing is another typical Twins pitcher, which means he at least throws strikes. His first full season in the rotation didn't go well, so of course the Twins brought in Marquis, yet another guy who doesn't strike anybody out.
Closer
1.
Jose Valverde
, Tigers
2.
Joakim Soria
, Royals
3.
Matt Thornton
, White Sox
4.
Chris Perez
, Indians
5.
Matt Capps
, Twins
Four good relievers plus Matt Capps. I do admit I'm a little perplexed by Perez, however. In 2009, he struck out 10.7 batters per nine innings. In 2010, that figure fell to 8.7 but he posted a pretty 1.71 ERA. In 2011, it was all the way down to 5.9, but without much improvement in his control. Perez blew only four saves but he did lose seven games. He survived thanks to a low .240 average on balls in play. He's an extreme fly-ball pitcher but didn't serve up many home runs. Bottom line: I'd be nervous.
Bullpen
1. Indians --
Vinnie Pestano
,
Rafael Perez
,
Tony Sipp
,
Joe Smith
,
Nick Hagadone
2. Royals --
Jonathan Broxton
,
Greg Holland
,
Louis Coleman
,
Tim Collins
,
Jose Mijares
3. Tigers --
Joaquin Benoit
,
Octavio Dotel
,
Phil Coke
,
Daniel Schlereth
,
Al Alburquerque
4. White Sox --
Jesse Crain
,
Jason Frasor
,
Will Ohman
,
Addison Reed
,
Dylan Axelrod
5. Twins --
Glen Perkins
,
Alex Burnett
,
Anthony Swarzak
,
Kyle Waldrop
,
Lester Oliveros
If you're starting to think I'm not high on the Twins for this season, you would be correct.
Intangibles
1. Royals
2. Indians
3. Tigers
4. White Sox
5. Twins
I like the youthful exuberance of the Royals, plus the likelihood of improvement from the young players and the possibility of some midseason reinforcements from the minors. The depth of the bullpen will help bolster a shaky rotation, and this just feels like an organization that is finally starting to believe in itself. The Indians are riding last year's positive results and enter the season knowing they might get better production from Choo and Sizemore and full seasons from Kipnis and Chisenhall. I'm not knocking the Tigers here, but they do lack depth in the pitching staff and the pressure is on them.
The final tally
1. Tigers, 65 points
2. Royals, 55 points
3. Indians, 54 points
4. White Sox, 46 points
5. Twins, 35 points
No surprise here: The Tigers will be heavy favorites to win the division with a lineup that should score a ton of runs. I don't think it's a lock that they'll win -- Verlander, Avila, Peralta and Valverde will all be hard-pressed to repeat their 2011 campaigns, for example. But the Royals and Indians appear to have too many questions in the rotations, the White Sox have serious lineup issues, and the Twins have a beautiful ballpark to play their games in.
May, 29, 2011
5/29/11
12:07
AM ET
By
Bill Parker
| ESPN.com
If you're not a
Minnesota Twins
fan you could be forgiven for not knowing who
Anthony Swarzak
is. Before Saturday night, the 25-year-old Swarzak had thrown just 66 innings in the majors (59 in 2009, seven so far this season). He notched a 6.41 ERA during that span thanks mostly to serving up nearly two homers per nine innings. Swarzak's good-but-not-great stuff wasn't something a pitcher should leave over the middle of the plate. But in his brief big league career, that's just where his pitches would too often come in.
There was a time when Swarzak was considered one of the Twins' top prospects -- he was a second-round pick in 2004, and made Baseball America's Top 100 (at No. 100) in 2006. But in between then and now came a 4.55 ERA in Double-A (188 innings), a 4.32 ERA in Triple-A (268 2/3 innings, including a 6.21 ERA in 22 starts in 2010), and a few injuries. One could argue that the Twins did a disservice to Swarzak by sending him back to the minors for all of 2010 after sticking with him for only 12 starts in 2009. But given the tight pennant races the Twins were in in both of those seasons, it's hard for me to fault the decision, and he's done little in the minor leagues to make them regret it.
Then came Saturday night, when Swarzak was called upon to fill in for the sore-shouldered
Francisco Liriano
, their starter who threw a no-hitter earlier this month. All Swarzak did was nearly duplicate Liriano's feat -- except that, frankly, he did it better. His no-hitter against the
Los Angeles Angels
lasted until the eighth inning, when
Peter Bourjos
' one-out double finally broke it up. While Swarzak had only four strikeouts, he was hitting his spots perfectly -- giving up only two walks, painting the corners, and inducing weak grounders and popups. It was very likely the best pitching performance the Twins have gotten all year, including Liriano's no-no.
So it seems particularly fitting given the Twins' season-long futility that Swarzak's performance won't have a "W" next to it in the box score. The considerably more prestigious
Jered Weaver
matched Swarzak pitch for pitch, but Weaver threw a shutout ninth to ruin the symmetry. Through eight innings both pitchers had each permitted exactly three baserunners and thrown exactly 105 pitches, and exactly 68 for strikes. Weaver continued his season-long dominance by finishing the ninth and lowering his 2011 ERA to 2.10.
Twins pitching has on the whole been dreadful. Entering Saturday, the team's 4.87 ERA (legitimized by a 4.50 FIP) was easily the worst in the majors, and while much of that is thanks to a disastrously bad bullpen, the starters' 4.51 ERA was second-worst to only the
Kansas City Royals
in the American League. Even when they do get a strong pitching performance, baseball's worst offense still stands between the Twins and victory. The team came in batting just .235/.297/.339, comparable only to the Mariners and Padres -- both teams play in tougher hitting parks than the Twins. Minnesota got an eight-inning one-hitter from a spot starter making his fourth 2011 appearance and
still
didn't manage to get him the one run to earn him a win. This feat says more about the team's season to date than any words I could possibly write.
That tidy narrative was broken in the 10th inning, when the Twins finally managed to score. They had the decency to do it without a walk or extra-base hit, though, scratching across the game's lone run on four consecutive singles. In those four at-bats, they more than doubled the combined hit output by both teams for the game. If these Twins are to win a game, winning it 1-0, on a dominant performance from a starter just up from Triple-A, and on four consecutive singles in the 10th is approximately the way we would expect it to happen.
On a larger level, Saturday's game was kind of a microcosm of the entire 2011 baseball season so far. The weather was chillier than usual for this time of year. Both teams, missing star hitters (
Kendrys Morales
for the Angels,
Joe Mauer
for the Twins) and with others struggling mightily, had a terrible time scoring runs. Pitching dominated, but did so with accuracy and defense much more than with power. This is precisely what's been happening throughout the league; the AL's ERA (3.85, entering Saturday) is down a half-run from where it ended in 2008 (4.35). If you'd like to describe the 2011 season with a box score rather than with words, this game may be the one to use.
For Swarzak, it was the greatest game he's ever pitched, and it might not get him anything more than a trip back to the bullpen or the minor leagues once Liriano comes back. For one night, though, he was really, really good. And if it wasn't just that one night -- if he can keep working the corners with the kind of precision he showed on Saturday night -- they can't keep him out of the rotation for long.
PHOTO OF THE DAY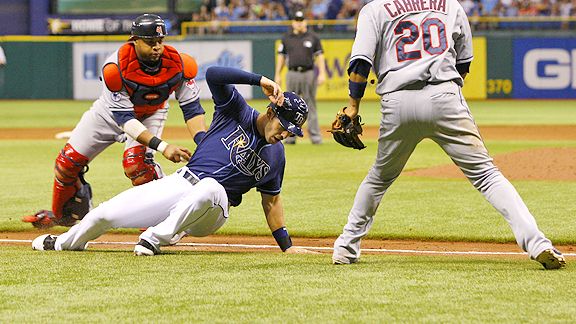 Kim Klement/US PresswireAs Sean Rodriguez found out, sometimes a rundown is about the bitter end, not just a recap.
Bill Parker is the co-founder and a writer of the SweetSpot Network's general baseball blog, The Platoon Advantage. You can follow him on Twitter.
July, 28, 2009
7/28/09
10:43
AM ET
As
Joe Christensen writes
, the Twins' postseason chances have just
taken a serious blow
:
The list of Twins needs heading into Friday's non-waiver trade deadline grew Monday, when they learned that starting pitcher Kevin Slowey will undergo season-ending surgery on his right wrist.

The Twins were focusing their trade efforts primarily on relievers and middle infielders, though even before getting the Slowey news, they inquired about Toronto's Roy Halladay and Seattle's Jarrod Washburn.

Halladay did not include the Twins on his list of teams for which he would waive his no-trade clause, according to a person familiar with the talks. And though the Twins came close to a deal for Washburn last August, they aren't optimistic this time.

--snip--

Rookie Anthony Swarzak is now entrenched in a rotation that includes Glen Perkins, Scott Baker, Francisco Liriano and Nick Blackburn. Perkins, for one, has mentioned shoulder concerns, and if the Twins need another starter, their best options reside in their bullpen, with R.A. Dickey, Bobby Keppel and Brian Duensing.

Slowey, 25, went 10-3 with a 4.86 ERA this season and has been on the disabled list since July 4. He had been trying to rehab the injury but had another setback Friday.
Slowey's ERA isn't anything special, but he's got the best strikeout-to-walk ratio in the rotation. He will be missed. Swarzak, his replacement, has a fine ERA but doesn't seem to have the skills to support it. Not yet, anyway. Meanwhile, Liriano keeps getting roughed up; when he's not walking guys, he's giving up home runs.
It's too early for the Twins to give up. They're only three games out of first place, they're trailing two teams (Detroit and Chicago) that have plenty of issues of their own, and any club featuring Justin Morneau and Joe Mauer has a puncher's chance. But considering the Twins' huge holes in the middle of the infield, the outfield and now in the rotation, you wonder how long the center can hold.