SweetSpot:

Antonio Bastardo
July, 22, 2014
Jul 22
1:00
AM ET

PHILADELPHIA -- It's been a while since the last Cliff Lee sighting on the Citizens Bank Park mound. He went on the disabled list with a strained left elbow on May 18, which means that he was rehabbing through Memorial Day, Flag Day, Father's Day, the first day of summer solstice and Independence Day while any semblance of spring training optimism faded for the Philadelphia Phillies.

Lee finally made it back in time for National Baseball Trade Speculation week -- but just barely.

As the July 31 non-waiver trade deadline approaches, Lee essentially has a two-start showcase to help drum up interest among trade partners looking for rotation help down the stretch. For the sake of brevity, let's just say the first installment didn't go so hot.

Lee returned to the Phillies' rotation in a 7-4 loss to San Francisco on Monday. He did get off to an encouraging start with a nine-pitch, 1-2-3 first inning. But the storyline regressed from there. Lee tied a career high with 12 hits allowed over 5⅔ innings and threw 90 pitches -- 59 of them strikes -- before giving way to reliever Justin De Fratus. Although he broke several bats and gave up an inordinate number of bleeders, it wasn't the type of performance that's going to make general manager Ruben Amaro's cell phone vibrate with calls from motivated suitors.

"I thought he showed some rust," an AL scout said of Lee. "His fastball command was off and he wasn't nearly as precise as usual. He threw too many hittable pitches, and his overall stuff was flatter than normal. Give him another start before rushing to judgment. He threw strikes, but not with the level of precision he typically does."
[+] Enlarge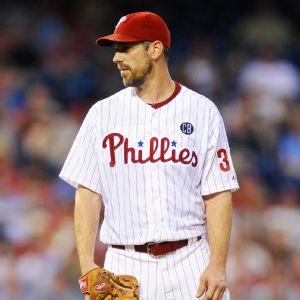 AP Photo/Michael PerezAs rumors about Phillies trades swirled, all Cliff Lee could do was focus on execution.

Contending teams typically want to see more than a two-start cameo before putting their heart into a trade, but it's not unprecedented for clubs to take the plunge off a limited sample size. In 2013, Jake Peavy of the Chicago White Sox missed six weeks with a fractured left rib and returned to make two starts in late July. That 13-inning audition was enough to convince Boston to trade shortstop Jose Iglesias and acquire Peavy in a three-team deal with Chicago and Detroit at the deadline.

In Lee's case, money definitely complicates matters. He's still owed about $10 million this season. Throw in a $25 million salary in 2015 and a $27.5 million mutual option for 2016 that automatically vests if he throws 200 innings next year (not to mention a $12.5 million buyout), and Lee is guaranteed somewhere between $47.5 million and $62.5 million through age 37 or 38. As good as he is, the Phillies are faced with the prospect of having to kick in millions to subsidize him pitching somewhere else.

Lee's deal also includes a limited no-trade clause that allows him to block trades to 20 teams. According to a baseball source, Lee has listed Atlanta, Cleveland, Houston, Miami, Minnesota, the New York Mets, San Diego, Tampa Bay and Washington as the nine teams he can be traded to without his consent.

Against that backdrop, the Tigers, Pirates, Orioles, Mariners, Angels, Royals, Blue Jays and Giants -- contenders all -- were among a dozen teams that had scouts at Monday's game. No one can say for sure who was on hand to expressly scout Lee, in part because the Phillies have so many other tradable commodities on their roster.

Outfielder Marlon Byrd is a potential target for teams in search of a right-handed outfield bat. Closer Jonathan Papelbon is being scouted by the same talent evaluators who are checking in on Joakim Soria, Joaquin Benoit, Brad Ziegler, Steve Cishek, et al. Chase Utley and Jimmy Rollins could help contending teams in need of middle infield help, but their 10-and-5 service-time rights give them veto power over any deal. And while Cole Hamels' name has been mentioned here and there, those rumors have never gained any traction.

Anyone up for some good A.J. Burnett, Antonio Bastardo or Kyle Kendrick speculation?

With Jeff Samardzija, Jason Hammel and Brandon McCarthy already traded and Tampa Bay more conflicted than ever about moving David Price because of its recent surge in the standings, the list of available impact starters is slim. But is it slim enough for a team to make a run at Lee even though he looked like a guy who will need a few more outings to round into top form? At this point, it takes a pretty active imagination to envision Lee pitching anywhere other than Philadelphia this season.

Lee, for his part, said he's oblivious to the Internet buzz. His fastball checked in at an average of 89.1 mph Monday night, slightly below what he was throwing earlier this season. And the Giants recorded three hits against his cutter, a pitch that's been less effective for him this year compared with recent seasons. So he'll make some adjustments and hope the results are better against the Arizona Diamondbacks on Saturday.

"I didn't know how many scouts were here and I don't care about the rumors," Lee said. "My goal is to get out there and try to give the team a chance to win. Obviously I didn't do that as well as I would like. But that's where my focus is. I could care less about the scouts in the stands or the trade rumors. It doesn't mean anything to me. I never cared about that. I still don't."

Spoken like a man who has been through this routine about a half-dozen times already in his career. Lee was 23 years old in 2002 when he went from Montreal to Cleveland with Grady Sizemore and Brandon Phillips in the big Bartolo Colon trade. He has since been traded from the Indians to the Phillies, from the Phillies to Seattle and from Seattle to Texas, so he understands the importance of being an emotional flatliner in July.

"It's not my job to make trades and acquire players and all that stuff," Lee said. "Let them do their job upstairs, and our job as players is to go out there and compete and try to win. It's really that simple to me. I'm not going to get caught up in trades and all the speculation. I'm a Phillie and I want this team to win and I'm going to do everything I can to help that happen. That's really it."

Except that it isn't -- for the embattled Amaro and season-ticket holders who have grown tired of the product the Phillies are selling and want to see changes. Monday night the focus was on Lee. Tuesday it will shift to somebody else. There could be a lot of action in Philadelphia between now and July 31. Some of it might actually take place on the field.
December, 1, 2012
12/01/12
11:35
AM ET
The Phillies are in an interesting and unfamiliar position this offseason. Finishing at 81-81, they watched the playoffs from home for the first time since 2006, a result of a rash of injuries and under-performing players, particularly the young arms in the bullpen. With one of baseball's largest payrolls, they have the capacity to quickly bounce back from yesterday's mistakes by acquiring premier talent via free agency.
It isn't as simple as paying the most money for the best players, however. Some players come with risks, some aren't worth the money they are requesting, and some aren't very likely to be as productive going forward. That is why the Phillies, eager to reclaim the NL East throne from the
Washington Nationals
, need to be cautious and studious this winter. Here are five strategies the Phillies should utilize for a more successful 2013 season.
5. Avoid Josh Hamilton
Hamilton is reported to be expecting
Prince Fielder
money. That is, a contract in excess of $200 million. Back in January, Fielder signed with the Tigers on a nine-year, $214 million contract. Hamilton won't get anything close to nine years because he turns 32 in May, but as one of baseball's best hitters, he can put the onus on other teams to prove how much they need his bat.
The Phillies don't need to think very hard to come up with a contract given to a player older than 30 that hasn't turned out very well. In April 2010, GM Ruben Amaro agreed to a five-year, $125 million contract extension with first baseman
Ryan Howard
that covers his age 32-36 seasons. Lauded at the time, it has since turned out to be the signature blunder of the Amaro era, hamstringing the Phillies in many ways.
It isn't as if Hamilton is an outlier older player worthy of the risk. His injury history is long and mysterious. Just in the past two years, he has missed time because of your standard foot and groin injuries, but also sinus problems and migraines. Older players don't become more durable, even with today's era of incredible medical knowledge and technology. Signing Hamilton to a long-term deal not only has problems at the end of the road, but right at the start as well.
4. Embrace the platoon
When you think of platoons, you probably think of the 2012
Oakland Athletics
, utilizing platoons at catcher, first base, second base and designated hitter. Sometimes it is borne of necessity; other times of luxury. The Phillies are somewhere in between in that they don't have players thought of as ideal for the situation, but neither do they have players so bad in one matchup that they would be shooting themselves in the foot otherwise.
Third base is one position where they should platoon, simply because there aren't any reasonable full-time options available in free agency and their internal options are less than stellar. The Phillies re-signed
Kevin Frandsen
, who had a breakout year in 2012 in just over 200 plate appearances. However, Frandsen had a .980 OPS against left-handed pitchers compared to just .762 against right-handers.
Eric Chavez
, a left-handed hitter who faced mostly right-handers with the Yankees in 2012, would be a cheap, non-risky platoon partner with Frandsen. Chavez posted a .908 OPS against right-handers and a shockingly low .382 mark against lefties.
[+] Enlarge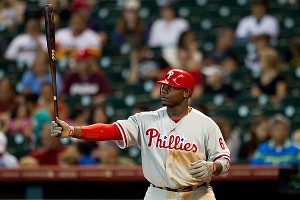 Andrew Woolley/Four Seam Images via AP ImagesDespite his hefty salary, it's time to bench Ryan Howard against left-handed starters.
With
Domonic Brown
in one corner, the Phillies should use a platoon in the other, sandwiching a newcomer in center.
Nate Schierholtz
and
John Mayberry
would be an easy in-house pairing. Last year, Schierholtz tagged RHP for an .826 OPS and lefties just .444 while Mayberry was at .626 and .811 respectively. Schierholz was non-tendered, but could still be brought back.
Here's a controversial one for you: The Phillies should platoon Howard at first base. It would never happen, as it would be admitting in the second year of Howard's five-year deal that they made a grievous error, but Howard has been subpar against lefties for a few years now, and he is only trending downward. Since 2010, his OPS against southpaws has gone .826, .634, .604. If the Phillies don't utilize Mayberry in an outfield platoon, they could pair him up with Howard at first base. Otherwise, they could find someone in free agency or give breakout prospect
Darin Ruf
a shot. Ruf posted a 1.593 OPS against lefties in the minors and 1.326 in 22 chances at the major league level in September.
3. Rely on young bullpen arms
This strategy backfired early in the season for the Phillies, but in fairness, so, too, did their reliance on veteran arms such as
Jose Contreras
and
Chad Qualls
.
Antonio Bastardo
did not follow up a breakout 2011 with similar results, while
Michael Schwimer
disappointed, and
Mike Stutes
and
David Herndon
succumbed to season-ending injuries. The only consistently bright light was closer
Jonathan Papelbon
, who finished with 38 saves and a 2.44 ERA in his first season after signing a four-year, $50 million contract with the Phillies last offseason.
There was reason to believe that several of the young arms were simply victims of bad timing and bad luck. Bastardo might have had a 4.33 ERA, but his strikeout rate improved and his walk rate didn't change. Pitchers have a lot of control over strikeouts and walks, whereas they tend not to have much control over the conversion of batted balls into outs. His SIERA -- Skill Interactive ERA, which is a "retrodictor," telling you what a pitcher's ERA should have been based on factors in his control -- was 2.47, almost two full runs per nine innings lower than his ERA. So there is plenty of reason to think Bastardo will rebound in 2013.
Jeremy Horst
,
Phillippe Aumont
, and Jake Diekman are three more who finished with a SIERA below 4.00, creating reason for optimism going forward. The Phillies were reported to have traded for Astros reliever
Wilton Lopez
, but it reached a snag because of his elbow. If the trade does fall through, the Phillies shouldn't scramble to find someone else such as
Mike Adams
; they should be content to roll into the next season relying on a group of young arms that have as much talent and potential as anyone else out there.
2. Get Angel Pagan
Three of the six leaders in WAR (per Baseball Reference) among center fielders since 2009 are free agents this offseason:
Michael Bourn
(1st, 19.0 WAR), Pagan (t-5th, 13.9 WAR), and
Shane Victorino
(t-5th, 13.9 WAR). Why, then, is Pagan preferable to Bourn and Victorino? As you may have heard, Bourn is expected to take home quite a hefty contract on the heels of an extremely productive 2012 season with the
Atlanta Braves
. As for Victorino, he should be utilized as a platoon player as I noted on Twitter recently:
Victorino OPS as a LHB... 2010: .681, 2011: .787, 2012: .629. As a RHB... 2010: .921, 2011: 1.032, 2012: .906.

— Bill Baer (@CrashburnAlley) November 29, 2012
Pagan is viewed as the Plan A for smaller market teams, and the fallback option for teams that miss out on the likes of
B.J. Upton
, Hamilton, and Bourn. Pagan should get a three- or four-year deal in the $50 million range, so the Phillies would save themselves a bit of money and commit less to a player who will put up similar production.
Pagan fits in well with the Phillies, too. He would make for a great leadoff hitter as his .338 OBP was nearly 30 points better than the league average, and he stole 29 bases in 36 attempts as well (81 percent). They have been using
Jimmy Rollins
in the leadoff spot, but his on-base percentage has left a lot to be desired in recent years. Additionally, Pagan would provide power they wouldn't get from Bourn -- 35 percent of Pagan's hits went for extra bases in 2012, compared to Bourn's 26 percent.
1. Give Chase Utley and Howard scheduled days off
In each of the past two years, the Phillies expressed the desire to give their franchise cornerstones more scheduled days off given their advancing age and injury histories, but it never happened. Last year in particular, the Phillies called Utley's presumptive schedule "two on, one off" but it ended up being more like "two on, two more on, two more on, two more on ..." You get the picture. Utley made his his season debut on June 27. Starting on July 6, he would play in 35 consecutive games. He returned on August 20, then played in another 41 consecutive games. Utley is the breed of ballplayer who gives 110 percent every second he's on the baseball field, so he is not someone who can be trusted to pace himself; the Phillies need to intervene on his behalf and tell him to take a breather.
It was painful to watch Howard run the bases when he returned from an Achilles injury in July. Once-routine doubles required too much effort and he went first-to-third less often than he did when he was healthy (which wasn't much). Despite looking less-than-100 percent and hitting like it, too, Howard was in the lineup most days, starting in 66 of the 77 games in which he appeared. Howard didn't improve with time, either, as he posted a .601 OPS in 104 plate appearances in September and early October.
Depending on what the Phillies do at third base,
Freddy Galvis
will likely be on the bench most days, so he would be a suitable stand-in for Utley once a week. He doesn't have a major league-ready bat and might never, but his defense is already among the best at the position. The Phillies wouldn't lose too much relying on Galvis for 25 starts at second base during the season. And, as mentioned, Howard hasn't handled left-handed pitching well over the years, so sitting him against a tough lefty starter (such as
Gio Gonzalez
) in favor of Mayberry or Ruf has the two-sided benefit of giving Howard rest and getting a more productive player in the lineup.
Bill Baer runs the Phillies blog Crashburn Alley. You can follow him on Twitter @CrashburnAlley.
September, 10, 2012
9/10/12
4:30
PM ET
No, seriously, don't laugh. You can't write off the
Philadelphia Phillies
and
Milwaukee Brewers
just yet. Both teams are 69-71 and six games behind the Cardinals for the second wild card (with the Dodgers and Pirates also ahead of them), but didn't we learn last year that crazy, ridiculous things can happen in September?
Is it possible for either team to catch the Cardinals? Sure. Consider:
St. Louis is 75-65. If they go 10-12 the rest of the way, they finish 85-77. And they're 4-8 over their past 12 games.
That means the Phillies or Brewers have to go 17-5 to win 86 games or 16-6 to tie (and assume the Dodgers and Pirates slide as well). The Phillies are 12-4 over the past 16 and the Brewers are 15-5 over the past 20.
The Phillies also have a pretty favorable schedule the rest of the way: Miami (3), at Houston (4), at the Mets (3), Atlanta (3), Washington (3), at Miami (3), at Washington (3). They do have a tough series against the Braves and two against the Nationals, but Washington will likely be resting its best pitchers in the final series. If the Phillies go 9-1 or 8-2 over these next 10 games, you never know. The Brewers have a little tougher slate: Atlanta (3), Mets (3), at Pittsburgh (3), at Washington (4), at Cincinnati (3), Houston (3), San Diego (3).
In the end, both teams will likely fall a few games short and will reflect back on bullpens gone awry. The Brewers lead the NL with 31 bullpen losses and have lost 10 games when leading heading into the ninth inning, most in the majors in a category where most teams have only a few such defeats (the Pirates have none, the Orioles one). The Phillies are 58-2 when leading after eight innings, but they've lost 11 games when leading after seven. While their bullpen has pitched the fewest innings in the NL, it's tied for second with 23 bullpen losses.
Jonathan Papelbon
, the $50 million closer, has six losses by himself.
Both teams, of course, expected to be stellar at the back, but Papelbon and setup man
Antonio Bastardo
have each allowed seven home runs. For the Brewers,
John Axford
and
Francisco Rodriguez
have also each allowed seven home runs and have combined for 15 blown saves and 14 losses. With just average performance from those two guys, the Brewers would have an additional five or six wins ... and be right there with the Cardinals instead of six games back.
May, 8, 2012
5/08/12
8:05
PM ET
As if Phillies fans didn't have reason enough to be exasperated with the way the first month-plus of action has gone for their club, over on
Crashburn Alley
, Bill Baer has come up with a visual presentation of how
Jonathan Papelbon
has basically gone underutilized in the Phillies' bullpen, sitting by unused as key in-game situations get handed to just about everybody else associated with the organization, Philly Phanatic-inclusive. If you're looking for a great example for how the obsession with accumulating saves instead of saving leads can pervert reliever pitcher usage patterns,
Bill's given you one here
. Be ready for a vigorous discussion on the points, but be ready: Bill knows his stuff, especially where the Phillies (and their dissatisfactions) are concerned. Check it out!
February, 17, 2012
2/17/12
5:00
PM ET
By
ESPN.com staff
| ESPN.com
First the SweetSpot network took on
the AL teams
. Now they look at the NL. Which players are bloggers most excited to watch this season, and why?
Arizona Diamondbacks:
Justin Upton

Upton was finally healthy for an entire season in 2011, and met all the lofty expectations placed on him in the second year of a six-year, $51.25 million contract signed when he was 22. He set career highs in homers (31), RBI (88) and stolen bases (21, caught nine times), while compiling a .289/.369/.529 line. Through their age-23 season, there have been only four others to match Upton's 91 homers, 62 stolen bases and 119 OPS+:
Alex Rodriguez
,
Jose Canseco
, Ken Griffey Jr. and Orlando Cepeda. Pretty elite company, and Upton still has time to mature as a player and team leader. I'm looking forward to watching this multifaceted young man do his thing again in 2012. --
Diane Firstman
,
Value Over Replacement Grit
Atlanta Braves:
Jason Heyward

A healthy Heyward has to be the player Braves fans are most excited to see this season. Through injuries, bad habits developed while playing injured and benchings, just about everything that could have gone wrong for such a talent did go wrong last year. Despite all of that, Heyward never hung his head or complained and actually managed to produce slightly above-league-average value in right field. Heyward has reportedly straightened his swing out this offseason and has really worked hard to get his game back on track. If Heyward can get a little more elevation on his swing, while maintaining the other aspects of his rookie performance, Braves fans could once again witness a once-in-a-generation talent leading the team to a successful season. --
Franklin Rabon
,
Capitol Avenue Club
Chicago Cubs:
Travis Wood

In 2010, Wood made his big league debut for the Reds in an outing against the Cubs. He was brought in this offseason as part of the deal that sent
Sean Marshall
packing. For some, that was a disappointment considering Wood's ERA last year was 4.84, but if we look beyond that we see that Wood posted a FIP ERA of 4.06, and Bill James projects him for an ERA of 3.75 in 2012. Also factor in that Great American Ballpark is a tough place to pitch; Wood had a 5.30 in the Gap vs. 3.58 on the road. Wrigley is not the hitters' park we've all been told it is, primarily due to the wind blowing in often early in the year. The move from Cincinnati should do a lot toward boosting Wood's production and confidence. --
Joe Aiello
,
View From the Bleachers
Cincinnati Reds:
Mat Latos

Anticipation is building steadily for Latos' debut in a Cincinnati uniform. At 24 years of age and with a couple of excellent seasons already under his belt, the sky is the limit for him. For Reds fans, there is the hope that the club will have a legitimate ace at the top of the rotation for the first time in a couple of decades. Yes, there is reason for legitimate excitement in the Queen City. --
Chad Dotson
,
Redleg Nation
Colorado Rockies:
Troy Tulowitzki

It's a debate in my mind between Tulowitzki and
Carlos Gonzalez
. Both have tremendous gloves, bats and arms. Tulo trained this offseason with
Jason Giambi
in Las Vegas, and one could extrapolate some motivation from Dan O'Dowd's offseason acquisitions and trades. (O'Dowd believes the team needs leaders and better clubhouse guys, so what does that say about Tulo who plays the most important position on the field, is signed through 2020 and the face of the franchise?). What will Tulo do this year? I think 30 homers, Gold Glove-level defense and solidifying his place as the best player in baseball is a sure bet. Are the playoffs a sure bet for the Rockies? MVP for Tulo? I can't wait to see! --
Travis Lay
,
Blake Street Bulletin
Houston Astros:
Jordan Lyles

With all of the changes, everyone seems to have forgotten that Lyles was recently the Astros' top prospect. How quickly a young player that showed real promise last year has become overlooked in Houston. He's only 21 years old and had a number of very promising starts last year, posting a fair 4.41 ERA through July before running out of gas and getting shelled in August and September. He clearly needs to continue to build his stamina and strengthen himself to last the entire season. I'm interested to see how he continues to progress and if we can see him grow into the kind of player that can withstand the rigors of an entire major league season. I don't know how the Astros faithful have forgotten about Lyles so fast, but I think they'll be quickly and pleasantly reminded why he was considered a top prospect. --
Austin Swafford
,
Austin's Astros 290 Blog
Los Angeles Dodgers:
Kemp
and
Kershaw

Heaven knows it's hard not to be excited about the return of
Juan Uribe
or the potential of having
Juan Rivera
for a full season. But even so, there's a small, small part of me that is intrigued by these fellas named
Matt Kemp
and
Clayton Kershaw
. They made a bit of an impression last year, and I can't say I'm not going to be, well ... OK, hanging on their every swing and pitch. But to avoid being too reliant on last year's stars, the new Dodger Roadrunner,
Dee Gordon
, will also be an exciting player to watch. --
Jon Weisman
,
Dodger Thoughts
Miami Marlins:
Logan Morrison

The player I'm truly most excited to see don a Marlins uniform this season is Logan Morrison. Following a splendid sophomore season in 2011, Morrison enters the new season as one of the game's top outfielders in the National League. With a solid approach and some power, a full season from Morrison could result in at least five additional wins for the Fish -- assuming Morrison can remain healthy. --
David Gershman
,
Marlins Daily
Milwaukee Brewers:
Zack Greinke

Last season, the Brewers didn't even get to see their prized acquisition participate in spring training, as Greinke broke a rib playing pickup basketball and missed all of spring and the first month of the season. This season, no basketball for the former Cy Young award winner. He'll be there through spring training and Brewer fans hope to avoid the slow start he suffered through last season. Greinke posted just a 5.63 ERA despite an 80:12 K:BB ratio in May and June last season (mostly thanks to eight home runs) before calming down in the second half. Greinke finished strong, posting a 2.80 ERA thanks to a .233/.293/.373 line allowed in July, August and September. --
Jack Moore
,
Disciples of Uecker
New York Mets:
David Wright

After a winter of discontent for Mets fans, it's hard to be excited about anyone in particular. The team is in desperate financial straits, is slashing payroll at record rates, and appears destined to finish in last place. Wright, the one player for whom I reserve excitement, may not even be on the team after July 31. Still, I'm highly anticipating his 2012 performance, because after two disappointing seasons I'm convinced that Wright has too much pride to have a third. For the first time in his career, the Mets are "his" team -- he's the de facto leader, the man who sets the example for everyone else. Chances are, Wright is determined to have a career year, and will pound opposing pitching with a savage vengeance -- all in the name of leading the Mets to a less-than-90-loss season. --
Joe Janish
,
Mets Today
Philadelphia Phillies:
Antonio Bastardo

It was easy to be impressed by the sustained excellence of Atlanta's
Jonny Venters
last season, but Bastardo was quietly in the same neighborhood. Bastardo had a monster 2011 in which he struck out nearly 11 batters per nine innings and held opponents to a .524 OPS. If he can even approach his 2011 performance, Bastardo, along with
Jonathan Papelbon
and the Phillies' army of young guys who throw hard (Mike Stutes,
Justin De Fratus
,
David Herndon
and so on), gives the Phillies' bullpen the potential to be one of the best in the National League. --
Michael Baumann
,
Crashburn Alley
Pittsburgh Pirates:
Pedro Alvarez

While
Andrew McCutchen
remains eminently exciting, we have a firm grasp on his star-level capabilities. I'm more excited to see whether Alvarez can rebound from his terrible sophomore season and get back to where his debut left off. The Pirates have a chance at a bright future, but all of their elite prospects are several years away. If there is any hope to be a competitive team in 2012, Alvarez has to give McCutchen and
Neil Walker
some help offensively. He has barely played a full season of games (169), and there is still time for him to meet the expectations that come as a No. 2 overall pick. Hey,
Alex Gordon
finally did. --
Paul Sporer
,
Pitt Plank
St. Louis Cardinals:
Adam Wainwright

Despite losing everyone's perennial favorite player to watch to free agency, the defending champs have several captivating players in 2012. Partly because fans haven't seen him in a year and partly because he throws one of the most entertaining curveballs in the game, Wainwright will be a sight for sore eyes as he comes back from Tommy John surgery. But the player with whom Wainwright will forever be linked in fans' memories,
Carlos Beltran
, also figures to be a pivotal and exciting addition to the post-Pujols roster. --
Matt Philip
,
Fungoes
San Diego Padres:
Carlos Quentin

The acquisition of Quentin brings energy, excitement and more total bases (210 in 2011 with the White Sox) and home runs (24) than any Padres player had last year. The Padres now employ two hitting coaches -- a model just a few MLB teams use -- as Phil Plantier and Alonzo Powell help with the workload hitting instruction requires. Quentin plays hard and he will help change the dynamics in the clubhouse. With the Padres' deep farm system and strong pitching, Quentin just might be the player to add the much needed spark of power in the middle of the order. --
Anna McDonald
San Francisco Giants:
Buster Posey

I think I can speak for Giants fans everywhere when I say the player that I'm most excited to see play this season is Posey, and it's not even close. His injury in 2011 was a black mark on a year that we'd all like to forget. Beyond the numbers, Posey has quickly become the face of the Giants. He's young, energetic, talented and -- for us fans -- we hope healthy. Regardless of what happens, I'll be happy to see him back on the field in 2012. --
Chris Quick
,
Bay City Ball
Washington Nationals:
Stephen Strasburg

How could it be anyone but Strasburg? When healthy, the most hyped pitching prospect in over a decade has delivered some fabulous pitching performances, and yet it feels like he is just scratching the surface of what he can do. He's as equally likely to blow guys away for a double-digit K performance as he is to shut a team down and let just two guys reach first over eight innings. He looked so good at the end of last year that the feeling is the only thing that can stop him in 2012 are the limits imposed by his own team to protect his recovering arm. --
Harper Gordek
,
Nationals Baseball
September, 15, 2011
9/15/11
3:30
PM ET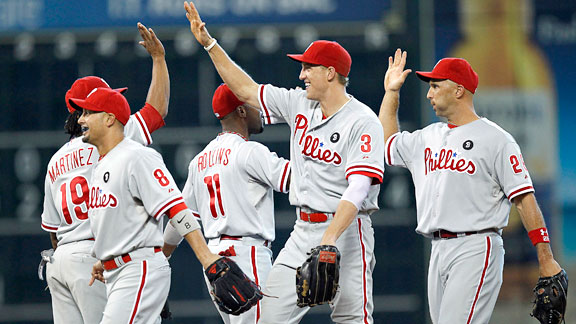 Bob Levey/Getty ImagesThe Phillies have crushed the NL all season and are on their way to 100-plus victories.
Back on March 31, I wrote a fateful post entitled,
"Why the Phillies won't make the playoffs."
And, yes, a certain group of fans have not let me forget about it. Nick Pietruszkiewicz, one of the baseball editors here, warned me; he gave me a chance to change my stance. I was stubborn. I should have listened.
So I'm here to apologize, to face the Phillies' faithful, to admit I was wrong and that I hope the ESPN cafeteria has crow on the menu today. Because I need a big, fat serving of it.
In my original post, I explained why I had the Phillies winning 90 games, losing the NL East to the Braves and the wild-card race to the Rockies and Giants. Where did I go wrong? (Besides thinking the Rockies were a good team?) The Phillies are on pace to win 105 games, which to be fair not only exceeded my expectations but those of nearly everyone outside the greater Philadelphia metropolitan area. The Vegas over/under line on the Phillies was 96.5 wins. At the start of the season, I asked the SweetSpot bloggers to predict if the Phillies would achieve the over or under on 96.5 wins; all 10 predicted the under. Baseball Prospectus projected the Phillies to win 91 games.
Still, I was off by 15 wins, although I did also write this: "Now, look ... there is a more optimistic view here: (Ryan) Howard could be better, (Jimmy) Rollins could turn back the clock and hit better, even (Roy) Halladay could be more dominating. (Joe) Blanton could be inspired by rotation-mania and have a career year. Maybe the bullpen will be fine. (Chase) Utley returns sooner than expected and plays great. It could be a 105-win team, maybe a 110-win team in a dream scenario."
So why will they win 100-plus games instead of 90? Here's what happened:
The Phillies, meanwhile, have had a few dents and dings -- but that stuff should be expected from a lineup full of 30-somethings. For the most part, most of the players performed as expected --
Ryan Howard
continued his decline,
Raul Ibanez
was worse,
Carlos Ruiz
couldn't match his superb 2010,
Jimmy Rollins
was better than 2010. Blanton was the only major injury, and the guy who stepped in was unbelievable.
Roy Oswalt
is really the only guy who wasn't as good as projected.
In the end, any team will have a wide range for a likely finish. I took the low end, and was wrong. Congrats to the Phillies for a terrific, fun, dominant season. They'll enter the playoffs as the World Series favorite and will try to break an odd trend: the team with the best record in the National League hasn't won a World Series since the 1995
Atlanta Braves
. And the National League team with the best overall record in the majors hasn't won the World Series since the 1986
New York Mets
.
July, 20, 2011
7/20/11
7:30
PM ET
By
Christina Kahrl
| ESPN.com
On Wednesday at Wrigley, it wasn't just the ballpark that was scorching hot, with temps pushing 117 degrees on the field. The Phillies own the best record in baseball, after all, but perhaps hotter still was their starting pitcher,
Vance Worley
. Across his past six starts and 38 1/3 IP, the Phillies rookie has posted a 0.94 ERA with four quality starts while allowing just 38 baserunners. Wednesday's eight-inning, one-run effort
raised
his ERA since his second stint with the big-league club began, from 0.89.
Worley is the signature contributor from a growing herd of recently foaled Phillies, because MLB-best record or no, it isn't like the season has shuttled smoothly down the tracks of whatever master plan GM Ruben Amaro Jr. laid down for his club. To some extent, every team has to endure setbacks, injuries and ineffectiveness, every season. It's just that, for the Phillies, the injuries haven't mattered much -- if at all. For that, they can thank the replacements.
Even using these twentysomethings to fill the gaps, the Phillies nevertheless boast the oldest average lineup and one of the oldest pitching staffs in the league, but they're no longer reliant on the famous names from past pennant-winners alone. Between Worley in the rotation,
John Mayberry Jr.
in the outfield, Rule 5 pick
Michael Martinez
in a utility role, and
Antonio Bastardo
and
Michael Stutes
in the bullpen, the Phillies have found ready cures for many of the things that have ailed them this season. With his reliable capacity for understatement, Charlie Manuel observed, "It's real big. We've had some guys step in and do the job."
The concept of replacement level is fairly straightforward in sabermetric circles -- it's an artificial thing, a baseline that lets us scale player performance relative to an absolute standard. There's less reliable agreement about where that level should be set, but more importantly, replacement level is not the same thing as a replacement player -- those are the guys teams actually have to use.
In the Phillies' case, the replacements have been critical reinforcements, reflecting a better crop of talent from the farm than many anticipated. Putting
Domonic Brown
in right field in the departed
Jayson Werth
's place was part of the plan, as was using Bastardo in the bullpen as the squad's other lefty reliever beyond veteran
J.C. Romero
.
[+] Enlarge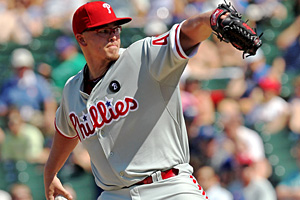 Jonathan Daniel/Getty ImagesVance Worley pitched allowed one run in eight innings of work against the Cubs, striking out seven and walking two.
But having Bastardo step into the mix for closer? Definitely not in the script, although as Manuel drily noted after the game, "I don't mind that kind of problem." Having to rely on John Mayberry Jr. in center field during both of Victorino's breakdowns? Unexpected, to say the least. And getting an assist from Stutes, an 11th-round pick from the 2008 draft and another rookie, to the point that he's pitching in tighter games and protecting leads? A definite surprise.
But perhaps the biggest surprise from among the newly necessary next-gen Phillies was having to give Worley 10 starts, all of them long before September. With heat clocked around 90 mph, what Worley's fastball lacks in pure velocity he's more than made up for with a broad spread of cutters, changeups, sliders and sinkers. It's a spread that might seem surprising for somebody just 23 years old, but its effectiveness has given the Phillies plenty of cause to take their time with rehabbing Oswalt and Blanton.
Against the Cubs on Wednesday, Worley took a no-hitter into the fifth inning. The Cubs may not be the best lineup in the league, but even so, he seemed to be cruising from the start. Getting spotted to a seven-run lead by the bottom of the fourth helped. A baserunner didn't get as far as second base until the fifth, but after Worley allowed a run in the seventh, Manuel nevertheless let him pitch the eighth to get his pitch count up to 117. Worley noted he started feeling the load, saying, "I started to get a little tired. It was the heat, not the pitch count." But asked if he wanted to go out for the eighth -- and for his longest spin yet as a big-league starter -- he said yes, noting after so many earlier hooks, "the pitch counts are… what's ruining the games."
Afterwards, the Phils' skipper explained that Stutes' two-inning stint on Tuesday left him feeling a little short, but there was also an element of seeming like he wanted to challenge Worley to keep on keeping on. "Letting him get up in the pitch count, we'll see how he does his next time out." Put on the spot and pitching this hot, Worley may give Manuel and Amaro another problem they won't mind having, not in the very least.
Christina Kahrl covers baseball for ESPN.com. You can follow her on Twitter.
July, 20, 2011
7/20/11
2:40
PM ET
Wednesday's
Baseball Today podcast
is a packed one with special guests Jim Bowden and David Schoenfield helping me and the show reach utter greatness! Among the topics discussed today ...
1. The
San Francisco Giants
made a trade Tuesday, but as Bowden notes, it wasn't their biggest move of the day. We get the GM's angle to trading and dealing with struggling minor leaguers and veteran loyalty.
2. Bowden's recent blog entry about
all 30 general managers
sparked discussion as well. Which GM is really on the spot in the next two weeks? The answer might surprise you!
3. Is it good or bad if America's Team wins the NL Central? I'm shocked -- shocked, I tell ya! -- at the direction this theme is going! Chime in!
4. OK, so it appears the poor
Seattle Mariners
aren't buying anymore, so we ask our resident M's fan whether this franchise can introduce a credible lineup ... in 2012.
5. One of the better pitching matchups of the night is scheduled to take place in Anaheim, but will we learn anything about
Derek Holland
against
this
lineup?
Plus: Excellent emails, whether not trading
Jose Reyes
is a mistake, the
Los Angeles Dodgers
angle, the underrated
New York Mets
' starting pitchers and a whole lot more in a packed Baseball Today podcast for Wednesday!
April, 29, 2011
4/29/11
12:05
PM ET
The SweetSpot blog network weighs in with April's best surprises ...

Beachy
Atlanta Braves
Simply put, the Braves' most pleasant surprise has been
Brandon Beachy
. At this time last year, Beachy was a virtually unknown prospect at Double-A Mississippi. Now he's leading the Atlanta starting staff in strikeout per nine innings (9.51) and is a prime candidate for the NL Rookie of the Month award for April. At this pace, it's going to be impossible for
Mike Minor
to unseat him for the fifth-starter role, regardless of his dominance in Triple-A.
--Kevin Orris. Capitol Avenue Club
Florida Marlins
It is absolutely amazing that the Marlins are just a half-game out of first place, especially considering the rough start of
Hanley Ramirez
(.197/.299/.250). In another amazing twist, given the shaky outfield defense that was expected of them, the Fish have the best defensive efficiency in the National League, turning almost 73 percent of balls in play into outs, and understandably have given up the fewest runs in the Senior Circuit.
--The Common Man, The Platoon Advantage
New York Mets
Though the hot starts of
Ike Davis
and
Jose Reyes
have been greatly appreciated by Mets fans, they are not necessarily surprises -- at least, not compared to
Pedro Beato
. A Rule 5 pick, the hard-throwing Beato began the season as the last man out of the bullpen but has quickly emerged as arguably the Mets' most reliable reliever. Through 12 innings, Beato has yet to allow an earned run, has struck out eight and boasts a 0.75 WHIP. Perhaps most impressive, the youngster is now being called upon in high-leverage, late-inning situations.
--Joe Janish,
Mets Today

Bastardo
Philadelphia Phillies
The Phillies' most pleasant surprise has been
Antonio Bastardo
. As
Brad Lidge
,
J.C. Romero
and
Jose Contreras
succumbed to injury, Bastardo emerged as a legitimate late-innings option, striking out 15 and allowing just one run in 10 1/3 innings.
--Bill Baer, Crashburn Alley
Washington Nationals
Wilson Ramos
has been the Nats' pleasant (yet probably unsustainable) surprise. He is hitting a cool .375/.426/.563, while playing acceptably behind the plate, gunning down three of eight attempted base stealers. Given that he has a batting average on balls in play of around .450, he's sure to cool off a lot, but we're grateful for each additional day he keeps the corpse of Pudge Rodriguez from getting up to bat.
--Harper Gordek, Nationals Baseball
Chicago Cubs
Darwin Barney
came into spring training fighting to make the roster. One month into the season, he's a viable No. 2 hitter in the lineup and deserving of the spot on the All-Star ballot
Blake DeWitt
is hoarding.
--Joe Aiello, View from the Bleachers

Gomes
Cincinnati Reds
The plate discipline shown by
Jonny Gomes
has been the most pleasant surprise, by far. Gomes has drawn 19 walks in the first month (second in the league, behind teammate
Joey Votto
), after walking only 39 times in the entire 2010 season. Because of Gomes' patience, his OPS remains over .900, despite a batting average hovering around the Mendoza line.
--Chad Dotson, Redleg Nation
Houston Astros
As the last-place team in the NL Central, there's been very little for the Astros to be pleasantly surprised about. But for the team that won one series in April (a distinction the Mets would rather forget), its lone pleasant surprise is
Brett Wallace
, who is hitting great despite having the unfortunate situation of being sandwiched between
Carlos Lee
and
Bill Hall
. He leads the team in batting average (.373), on-base percentage (.441) and slugging (.518).
--Austin Swafford, Austin's Astros 290 Blog
Milwaukee Brewers
The best surprise for the Brewers is they're 12-12 despite
Zack Greinke
not making a start,
Corey Hart
missing nearly the entire month and the bullpen leading the majors with seven losses. They can thank the hot starts of
Ryan Braun
(.356/.454/.689),
Prince Fielder
(leading the NL with 23 RBIs) and
Rickie Weeks
(21 runs scored).
--David Schoenfield

Morton
Pittsburgh Pirates
In five starts,
Charlie Morton
already has as many wins as he did in 2010, and his ERA is 60 percent lower. Don't buy into it, though. His 18:18 strikeout-to-walk ratio is highly troubling, and his .253 BABIP is completely unsustainable, even though he's getting 2.25 grounders for every fly ball so far. The Pirates will have to hope the coming regression is accompanied by a return to form for
James McDonald
, who has been terrible.
--The Common Man, The Platoon Advantage
St. Louis Cardinals
When the Cardinals lost ace
Adam Wainwright
for the season, the pressure suddenly shifted to their starting rotation. In particular, to
Kyle Lohse
, the righty who made only 40 starts in the two seasons since signing a hefty 4-year, $41 million contract extension. Given that from 2009-10 his ERA was indistinguishable from his strikeout rate (though, to be fair, his expected Fielding Independent Pitching was much lower), expectations were tempered. So his 2011 campaign thus far -- five Wainwright-like starts with an ERA of 1.64 -- has been the most pleasant surprise for the Cardinals. He is inducing ground balls like never before (48.6 percent) and limiting self-inflicted damage with a walk rate (1.17 walks per nine innings) that
Cliff Lee
would be proud of. And he's tied for fourth among NL pitchers in Wins Above Replacement.
--Matt Philip, Fungoes.net
Arizona Diamondbacks
Bright spots are fairly few and far between for the D-backs. The starting pitching has been atrocious, but the hitters have proven solid. The most shocking performance has been from
Ryan Roberts
, a minor league lifer who has seemingly taken over the third-base job by hitting .311/.408/.607 through 20 games. It's not a mirage. Roberts is a legitimate hitter, and as long as his defense holds up, he'll be a very productive and cheap option for the near future.
--The Common Man, The Platoon Advantage
Colorado Rockies
Where in the world did
Jonathan Herrera
(.317/.442/.429) come from? The 26-year-old has never really done anything like this before and is a good bet to regress. Still, he's done a terrific job of making up for the disappointing, but totally predictable, performances of
Ty Wigginton
(.233/.309/.383) and
Jose Lopez
(.143/.169/.254).
--The Common Man, The Platoon Advantage

Kemp
Los Angeles Dodgers
The return -- and then some -- of
Matt Kemp
has been the biggest surprise. Even though he has tapered off in his past 10 games, going 10-for-41 with 15 strikeouts, he still has walked six times in that stretch and has had a superb start overall (1.072 OPS). One question is whether his walks reflect better plate discipline or the horrors of the Dodgers lineup after his spot in the order.
--Jon Weisman, Dodger Thoughts
San Diego Padres
In a month of unpleasant surprises, one exception for San Diego has been the performance of catcher
Nick Hundley
. After splitting duties with veterans
Henry Blanco
and
Yorvit Torrealba
the past two seasons, Hundley has assumed a larger role this year and responded. He is hitting .286/.356/.481 and providing the bulk of what little offense the Padres have been able to muster.
--Geoff Young, Ducksnorts
San Francisco Giants
The Giants' most pleasant surprise is this: They're still around .500 despite going through a month bereft of actual pleasant surprises. That's not to say the Giants haven't had good performances, but what's been good hasn't been surprising and what's been surprising hasn't been good.
Pablo Sandoval
shouldn't surprise anyone when he hits .330 in a month; he'll do that.
Buster Posey
and
Tim Lincecum
have played well, yes. They're good, you know. The bad surprises on the other hand: a bushel of injuries, month-long slumps from key regulars and defense that has had fans saying to each other, "You know, I don't think that fellow can really play that position."
--Otis Anderson, Bay City Ball
April, 17, 2011
4/17/11
10:40
PM ET
Who says there's no such thing as a big series in April? Not me.
Starting Monday, we have Giants at Rockies for three games, and it certainly
feels
like a big showdown to me. The Rockies have baseball's best record at 12-3 -- but have yet to play a team with a winning record, as they've cleaned up against the Diamondbacks, Dodgers, Pirates, Mets and Cubs. So they have a little something to prove. The Giants are 8-7, four games behind the Rockies, and certainly don't want to leave Denver seven games out of first place. They have their three top starters lined up (
Tim Lincecum
,
Jonathan Sanchez
,
Matt Cain
) to prove something to
Troy Tulowitzki
and Co.
The Rockies have been impressive in outscoring their opponents 85 to 59, especially going 7-1 on the road, after a dismal 31-50 mark in 2010. The Rockies have had only one winning road season in franchise history -- 41-40 in 2009 -- so getting off to a strong start there is a positive sign.
Second-year righty
Esmil Rogers
starts Monday against Lincecum in what may look like a mismatch, but Rogers has been solid in winning his first two starts. As a rookie in 2010 he was jerked around between Triple-A and the majors, between the bullpen and starting, so this is a good opportunity for the Rockies to see what they have. So far he's been effective against left-handers (.200/.300/.343) but there are doubts on how his stuff will fare consistently against lefty swingers.
And with
all the attention given to Tulowitzki and
Carlos Gonzalez
, it's easy to forget that
Ubaldo Jimenez
is back after missing a couple starts with a cracked cuticle. The Giants hit just .168 in four games against Jimenez last season. He starts Tuesday against Sanchez.
Cain has allowed three runs over his first three starts, despite just 10 strikeouts over 19 innings. Going back to last September, and including his three postseason starts, Cain has allowed more than two runs just once in 10 starts (his final regular-season start of 2010). He may not impress you with the raw stuff that Lincecum and Jimenez possess, but since 2009 the only starters with a better ERA are
Felix Hernandez
,
Adam Wainwright
,
Roy Halladay
,
Josh Johnson
,
Clayton Kershaw
,
Chris Carpenter
and Lincecum.
The Giants may also make a move with
Cody Ross
during the series. After a couple rehab starts with Fresno on Sunday and Monday, he should be activated from the DL. Will rookie first baseman
Brandon Belt
be sent down? After an 0-for-4 effort on Sunday, Belt is down to .200/.310/.280, with one homer and one double in 50 at-bats. But his eight walks shows the excellent discipline and understanding of the strike zone he displayed in the minors.
Considering Aubrey Huff's shaky efforts in the outfield, the Giants may want to move Huff back to first and send Belt down until his bat gets going. I think it would be a mistake; despite his postseason heroics, Ross just isn't that good (and it hurts saying that, as I'm a big fan). Ross can hit lefties -- .883 OPS in 2010 -- but shouldn't be a regular against righties (.687 OPS in 2010). Andres Torres' strained Achilles tendon that landed him on the DL may give Belt a two-week reprieve, as Ross could slide into center field (except Aaron Roward is inexplicably off to a .364/.378/.568 start in 44 at-bats).
It all adds up to some intriguing subplots to the best series of the week.
OTHER SERIES OF THE WEEK
Los Angeles Angels at Texas
Monday:
Ervin Santana
(0-1, 3.74 ERA) vs.
C.J. Wilson
(1-0, 3.72)
Tuesday:
Matt Palmer
(0-0, 7.71) vs.
Colby Lewis
(1-1, 5.25)
Wednesday:
Jered Weaver
(4-0, 1.30) vs.
Matt Harrison
(3-0, 1.23)
The Angels are riding the red-hot arms of Jered Weaver and
Dan Haren
and come to Texas riding a five-game winning streak. The offense has been solid, but it's coming from surprising sources:
Maicer Izturis
is hitting .383,
Alberto Callaspo
.346 and Howie Kendrick has five home runs.
Vernon Wells
has raised his average to .148, but still seeks his first home run. (How many years left on that deal?) For the Rangers, their own hot pitcher, Matt Harrison, squares off against Weaver in the series finale. Harrison's start is especially impressive considering his outings have come against the Yankees, Orioles and Red Sox. Harrison entered this season with 225 major league innings and not much of a track record -- 5.39 ERA, 261 hits, 31 home runs, only 4.9 K's per nine innings. He's allowed just 14 hits in 22 innings despite a below-average strikeout rate (5.7). He's throwing more strikes and getting more ground balls, but I'm not sold on him just yet.
PITCHING MATCHUP OF THE WEEK
Friday:
Jon Lester
(1-1, 3.20 ERA) vs. Dan Haren (4-0, 1.16 ERA), Red Sox at Angels
Haren has been absolutely dominant so far, pounding the strike zone, allowing opponents a .164 average and generally looking like the best pitcher in the AL. If there's been one complaint about Haren over the years it's that he throws
too
many strikes, leading to a lot of home runs (31 in 2010, 27 in 2009), So far, he's allowed just one in 31 innings, and pitching in Angel Stadium will help, as it's one of the tougher home runs parks in the AL.
THREE SWINGS
1. Watched
Jose Contreras
close out the Phillies' 3-2 win over the Marlins for his third save. It wasn't pretty, as he walked two batters and threw just nine of 22 pitches for strikes, finally getting
Omar Infante
to ground out sharply to end it. Contreras hasn't allowed a run in five innings, but I'm still a little skeptical about the Philly bullpen. But … maybe the Phillies won't need much beyond Contreras,
Ryan Madson
(five scoreless innings) and
Antonio Bastardo
(nine K's in 5 2/3 innings). Philadelphia relievers threw just 421 innings last season, fewest in the NL. No team has pitched fewer than 400 since the 2005 Cardinals threw 397 2/3, but the Phillies are a good bet to do it. That Cardinals team won 100 games and all five starters -- Chris Carpenter,
Jason Marquis
,
Mark Mulder
,
Jeff Suppan
and
Matt Morris
-- made at least 31 starts.
2. Welcome back,
Grady Sizemore
. Nice to see Cleveland's center fielder go 2-for-4 with a home run, double and an RBI in his first game since May 16. The Indians are 11-4 after sweeping the Orioles for their third series sweep already, and it's worth noting that
Shin-Soo Choo
(.214/.286/.339) and
Carlos Santana
(.196/.276/.314) aren't hitting yet, and they will.
3. I watched the major league debut of Arizona pitcher Josh Collmenter and he had one of the weirdest motions you'll see. Midway through the windup, as he brings the ball back behind him, he does a little bit of a knee jerk of sorts, leans back a bit, and then comes straight over the top. He's not really much of a prospect -- Baseball America didn't rate him as one of Arizona's top 30 prospects -- but he entered in the 11th inning against the Giants, threw strikes, worked quickly (a lesson for all rookies), retired all six batters he faced and got the win when Arizona scored in the bottom of the 12th. Congrats, Josh.
RANT OF THE WEEK
Right when I start believing in the Brewers … they go out and lose a doubleheader to Jason Marquis and
Livan Hernandez
, two guys who can't break 90 with their fastballs (actually, in the case of Livan, he can't break 85). The Brewers desperately need
Corey Hart
to return, as the team's lack of depth is embarrassing.
Mark Kotsay
? Forty-year-old
Craig Counsell
? Thirty-three-year-old outfielder
Erick Almonte
, once hailed as the next
Derek Jeter
, but now listed at 245 pounds and coming off a two-homer season in Triple-A? Please. This has to be one of the worst benches in the majors, especially for a supposed contender.
PHOTO OF THE DAY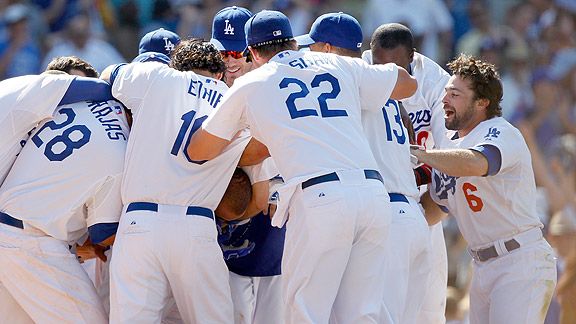 AP Photo/Alex GallardoSomewhere in there is Matt Kemp, who belted a walk-off winner in the ninth against St. Louis.
June, 30, 2009
6/30/09
7:42
PM ET
I've been dismissing the Giants' postseason chances because they're 15th in the National League in scoring, and nobody's been saying I'm all that wrong. But do you know who's 15th in the National League in ERA?
The Phillies, whose postseason chances nobody has been dismissing. Which suddenly strikes me as odd, since everybody knows that pitching is 75 percent of the game.
I kid, of course. And the Phillies aren't really that bad. There are actually four teams that have allowed more runs than the Phillies have allowed. And of course the Phillies play in a hitter's park; considering only road games, they're 10th in ERA and eighth in runs allowed. So we ignore their ERA and look at the other things, which suggest that the Phillies are more middle-of-the-road when it comes to run prevention
Still, this isn't great news:
The Philadelphia Phillies, already hurting in the rotation, are down another starting pitcher.

Left-hander Antonio Bastardo was placed on the 15-day disabled list late Monday night because of a strained shoulder.

--snip--

Bastardo is 2-3 with a 6.75 ERA in five starts and has lost his past three outings.

The Phillies were off Monday and begin a three-game series in Atlanta on Tuesday. Right-hander Joe Blanton will start the opener, with left-hander Cole Hamels pitching on regular rest in Bastardo's spot Wednesday. Another left-hander, J.A. Happ, is listed as Thursday's starter against the Braves.

Lefty reliever Sergio Escalona was brought up from Triple-A Lehigh Valley to take Bastardo's spot on the roster.

General manager Ruben Amaro Jr. says the Phillies have been shopping for pitching help in recent weeks -- without much luck.

"We have interest in a lot of guys and we have talked to several teams about pitching across the board," Amaro told MLB.com Monday. "But a lot of it just depends on which pitching becomes available. And if they do become available, if we have the right fits for them."
Escalona hasn't started a professional game since 2007, so he's probably not the answer in the No. 5 slot (in addition to the three healthy starters listed above,
Jamie Moyer
's still in the rotation). Not that the Phillies will really miss Bastardo. Since his impressive
debut
, he's 1-3 with an 8.64 ERA. He was never the answer to the Phillies' problem.
This subject came up during the spring when the Phillies needed a starter -- and Bastardo got the call -- and my answer today is the same as then: Carlos Carrasco. At the time, he had solid peripherals but a terrible ERA. Today, his peripherals are still solid -- better than solid, really -- and he's got his ERA down to 4.92. And Carrasco's not some Triple-A veteran; he just turned 22 this spring, and was ranked by Baseball America as the Phillies' No. 2 prospect.
Really, it's sort of amazing that the Phillies have left Carrasco in Triple-A as long as they have, considering their obvious need for a decent starting pitcher all season. Sure, they can recycle Kyle Kendrick or Gustavo Chacin or Rodrigo Lopez. But what's the upside for one of those guys? League-average, at best? Carrasco's got a real shot at winning six or seven games in the second half, and he's apparently got little to prove or learn in the International League.
June, 3, 2009
6/03/09
4:42
AM ET
Talk about your freaky trivia. According to ESPN Stats & Information, with Philadelphia's Antonio Bastardo beating
Jake Peavy
and Oakland's Vin Mazzaro beating
Bartolo Colon
Tuesday night, it was the first time in MLB history that two pitchers won in their debuts against former Cy Young winners.
I missed Mazzaro -- and frankly, despite pitching a short shutout he wasn't all that impressive, which has been sort of a hallmark of Athletic hurlers this season -- but I did watch Bastardo's outing, and he was a surprise, both to me and to the Padres TV broadcasters, as we all were led to believe that Bastardo is sort of a finesse pitcher. From Baseball America's 2009 Prospect Handbook (which lists the small left-hander as the Phillies' No. 11 prospect):
Bastardo has made such rapid progress due to the deception and command he had of his average repertoire. His fastball sits at 87-91 mph and tops out at 93. It gets on top of hitters quickly and has some cut action. He pitches inside, but he's not overly physical or a power pitcher.
It was fascinating watching Bastardo Tuesday night. Not a power pitcher? He threw mostly fastballs throughout his outing. What's more, in the first couple of innings, he was throwing 94 and 95. In the next couple of innings, he was throwing 92 and 93. And in the fifth and sixth, he was mostly down to 90 and 91, just like the scouting reports said. I will say this, though: I never did see a fastball clocked lower than 90. And if he can stay in the 90s while pitching into the sixth inning, he's got a shot. Of course, it's also possible that the gun was running a few miles an hour too fast.
What's most likely is that Bastardo's fastball was fueled by adrenaline (and perhaps a bit of physical maturity), and that he'll not spend much time this summer throwing in the mid-90s. Whether he's really the reliable No. 5 starter who might keep the Phillies in first place, no one can rightly say. This was just Bastardo's third start above Class AA. But he'll always have this grand debut.