SweetSpot:

Armando Galarraga
November, 8, 2011
11/08/11
4:15
PM ET
By
Christina Kahrl
| ESPN.com
During Hot Stove season, the majority of attention goes to the major league free agents, of course. But every winter, attention goes to that less-heralded crop of talent dumped into the "free talent" pool, available to the highest bidder: minor-league free agents.
These are the veterans not on teams' 40-man rosters who have used up all six of their contract renewals with their original organization or whose one-year contracts have run out. As
Baseball America's Matt Eddy reported
on Friday, there are more than 530 minor-league free agents, but now there's over 600 available.
Admittedly, most of these guys are going to wind up still beating the bushes after getting no more than a spring-training invite. Their value is usually in the depth they can provide a team -- a well-run organization makes sure it has big league-ready depth available at Triple-A, because
everyone
will have to deal with injuries at one point or another.
But a handful of these guys will get big-league deals, and more will be pursued every bit as aggressively as major league free agents. Even if they're signed to non-roster deals, more than a few can anticipate winning jobs in spring training and getting added to the 40-man roster before Opening Day.
Starting with the outfielders available, more than a few guys with serious big-league experience are available:
Scott Podsednik
,
Fred Lewis
,
Jay Gibbons
,
Ryan Langerhans
and
Reggie Willits
, for example. Lewis could still prove a useful fourth outfielder in a platoon role; he clearly struggled getting fewer at-bats as a player on Dusty Baker's bench with the Reds.
There are also some former highly-touted prospects in the mix, notably
Felix Pie
and
Lastings Milledge
. Like Lewis, Pie flopped in a part-time role, but come the opening of camps next spring, he makes for a nifty stealth alternative for teams looking for a regular center fielder, especially considering he'll be just 27 years old. Milledge failed to go nuts at the plate in a full season with Triple-A Charlotte (.295/.364/.441), but he's also heading into his age-27 season -- as a bargain pickup, he might surprise, but if he doesn't the very small expense is easy enough for most teams to absorb.
Beyond the outfielders, other names worth noting at a few positions:
Catcher:
From among the more catch-and-throw types,
Rob Johnson
,
Dusty Brown
and
Dusty Ryan
, and Cole Armstrong (guys who bat lefty are always a little interesting); for bat-first/only types,
Max Ramirez
and
Jake Fox
are out there. The guy who might be especially interesting to check out is Mark Wagner, back from a hamate bone injury and perhaps finally ready to live up to the hype he once got in the Red Sox system.
Infield corners:
Jorge Cantu
and
Kevin Kouzmanoff
are the veterans with some success on their track records, while
Andy LaRoche
,
Brandon Wood
and
Jeff Clement
might represent the best of the former blue chippers who've faded like an old pair of Levi's. I'm interested in seeing where the always-fragile
Nick Johnson
lands.
Middle infield:
If you're wondering if this pool of talent holds lots of alternatives for teams unwilling to chase the big-names shortstops on the market, the answer's no.
Chin-lung Hu
might be worth a look if you think all of the weirdness of the last two years is behind him -- between injuries, an attempt to convert to switch-hitting, and a case of the yips on throwing, clearly there's a lot that has gone wrong. At the keystone, veterans such as
Felipe Lopez
,
Bill Hall
and
Kevin Frandsen
are available.
Starting pitchers:
Armando Galarraga
might be a nice guy for a team with a big outfield and distant fences to take a chance on; going to Phoenix from Detroit wasn't going to be a good fit. Laugh if you like, but somebody's going to take a look at
Oliver Perez
now that his contract's a thing of the past. Extreme strike-throwers like Matt Torra and Will Inman are available; while they're not great bets for extended success, but at the back end of big-league rotations all sorts of people can get a look.
Relievers:
Jason Bulger
and
Shane Lindsay
both cook with gas, while for ex-famous veteran types you've got names like
Robinson Tejeda
,
Vinnie Chulk
and
Lance Cormier
to choose from. I'm curious to see where Sam Deduno winds up, given a career minor-league strikeout rate of 9.6 K/9. For lefties, you're no doubt already familiar with
Hideki Okajima
and
Dennys Reyes
, but I'd be more interested in seeing where the Giants'
Alex Hinshaw
and his swing-and-miss stuff winds up; also a healed-up Donald Veal.
Christina Kahrl covers baseball for ESPN.com. You can follow her on Twitter.
May, 18, 2011
5/18/11
5:30
PM ET
By
Christina Kahrl
| ESPN.com
Armando Galarraga
's name is always going to be associated with something he almost achieved, but will never officially get credit for -- a perfect game. While losing his bid one out shy of perfection almost exactly a year ago gives him
something in common
with
Mike Mussina
or Dave Stieb, by getting designated for assignment today, Galarraga now has something in common with a few thousand pitchers in major-league history.
Galarraga
Despite Galarraga's run at history, seeing him get squeezed out in Detroit by the decision to sign
Brad Penny
wasn't that surprising as decisions go. His strikeout rate had declined from 16.9 percent in 2008 to 13.8 percent in 2009 to 12.0 percent in 2010, at a time when game-wide strikeout rates are headed in the other direction. He did this while walking an above-average 8-10 percent of opponents. So he was already fooling fewer people. Add in the fact that he's always been a fly ball-oriented pitcher, which involves risking -- and giving up -- plenty of home runs, and you can see how this had all sorts of potential to go badly.
But perhaps getting traded to Arizona was the coup de grace. Chase Field is already a homer-generating ballpark, indexing via Baseball Info Solutions' park factors just a little bit worse than Comerica for bombs over the past few years, and a lot worse last year. However, it's reliably better at inducing more extra-base hits of every flavor than almost any venue in the majors.
Changing leagues, Galarraga got a slight strikeout bounce by moving to the league where pitchers have to hit, but as a guy prone to lots of balls in play in the first place, the combination of his nibbling and walking people plus getting hammered for a league-leading 13 homers seemed like a predictable outcome for a guy who'd be better off pitching someplace like Petco. (Then again, who wouldn't?)
Finally, as if you couldn't make matters any worse for the man, if he does make it through waivers and goes to Reno, the Aces' home field indexes as one of the worst parks for pitchers in the PCL.
Christina Kahrl covers baseball for ESPN.com. You can follow her on Twitter.
February, 20, 2011
2/20/11
9:30
AM ET
By
Geoff Young
| ESPN.com
You know the story: A young right-hander dominates for nine innings. The only thing standing between him and baseball immortality is a weak infield grounder that ends in a bang-bang play at first base.
[+] Enlarge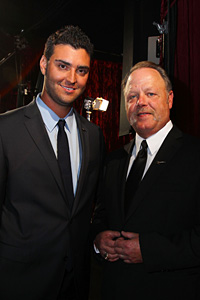 Alexandra Wyman/Getty ImagesDetroit Tigers pitcher Armando Galarraga, left, and umpire Jim Joyce attended the 2010 ESPY Awards on July 14 in Los Angeles.
You're probably thinking about Detroit 's
Armando Galarraga
, who just missed a perfect game against the Indians
on June 2
. The story gained national attention because of the way perfection was denied (an umpire's blown call) and the feel-good forgiveness fest that followed in its wake.
Time Magazine called the game the
top sports moment of the year
. Galarraga and Jim Joyce, the umpire who blew the call,
have written a book together
.
The story fascinates for many reasons. Beyond the game's surreal ending, there's the fact that Galarraga never was accused of having "no-hit stuff." He was a journeyman pitcher, an everyman figure, and who doesn't love when a guy like that does something great once in his life?
Two weeks earlier, on the other side of the continent, something similar happened. On May 13, San Diego 's
Mat Latos
came
within inches of throwing a perfect game
against the Giants. Although the results were nearly identical, the circumstances differed enough that one man will forever be associated with
"The Galarraga Game"
, while the other is relegated to a footnote glossed over by all but the most careful readers.
I once believed that numbers were the whole story, but subsequent experiences have forced me to revise my stance. Consider the lines of Galarraga and Latos in their near-historical starts:
          IP H R ER HR BB SO

Galarraga  9 1 0  0  0  0  3

Latos      9 1 0  0  0  0  6
There isn't much separating these two performances. Latos had more strikeouts, but otherwise, they're the same.
The difference lies in the narrative. Details.
[+] Enlarge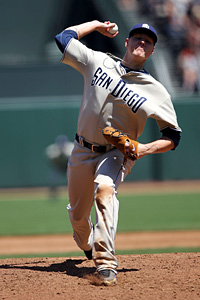 Jed Jacobsohn/Getty ImagesThe Padres' Mat Latos during his gem last season in San Francisco.
Galarraga's lone blemish occurred because first base umpire Joyce incorrectly called
Jason Donald
safe. Latos' came when he fumbled
Eli Whiteside
's grounder before throwing to first a shade late. One man (Galarraga) was subject to forces beyond his control (Joyce's imperfect interpretation of events), while the other (Latos) has only himself to blame (and forgive) for the event that kept him from pitching a perfect game.
Timing enters into the equation as well. Galarraga lost his perfect game with two outs in the ninth. Latos lost his with no outs in the sixth; he still needed 12 more outs at the time of Whiteside's hit. In terms of drama, Latos' situation doesn't approach Galarraga's.
The result is important, but what sticks in our memory are the moments that led to it. Galarraga's denial by forces beyond his control at the very conclusion of his journey stays with us in a way that Latos' self-inflicted wound in the middle doesn't.
Numbers
tell
a story, but people
are
the story. As someone who buries himself in numbers for extended periods of time, I have been known to forget that. Then I come up for air and notice everyone talking about Galarraga's game, but not Latos'.
In many respects, the games are the same. The key difference is, 20 years from now, the one that lacks a compelling narrative will have faded from our memory.
Geoff Young writes Ducksnorts, a blog about the San Diego Padres. Follow him on Twitter.
August, 20, 2010
8/20/10
3:00
PM ET
When I read a book, I usually have a pencil at hand, for marking passages or circling words I want to look up later. With each notation, I'll also pencil in a page number on the book's endpaper. In the case of Kathryn Schulz's "Being Wrong: Adventures in the Margin of Error," there wasn't much point in noting the page numbers, because I marked up something on almost every page. Yesterday, Schulz was kind enough to answer a few questions about being wrong, via e-mail ...
Rob:
My last book
was about memory. Or, to be more precise, the running subtext was the failure of memory. My
intention
was to delve into the
mechanics
of memory failure, but ultimately I failed to do the necessary work. Anyway, the book was really a collection of baseball stories, and it really was shocking how many of them didn't quite check out. Or checked out hardly at all. I don't think the storytellers were making things up. Not usually. I think they really believed the stories they told. But it wasn't until I read the passage in your book about "confabulation" that I began to understand where those stories came from. Can you explain what that means?
[+] Enlarge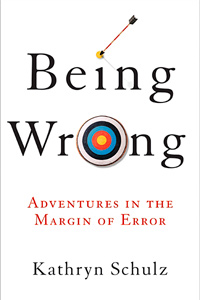 Harper Collins
Kathryn:
Sure, but first I have to quickly recount my personal favorite baseball-and-memory story. It concerns a 13-year-old kid named Ulric Neisser, who was listening to a baseball game on the radio when a newscaster interrupted to announce that the Japanese had just attacked Pearl Harbor. The announcement made a huge impression on the kid, and he never forgot it. (Think about your own unforgettable memories of 9/11.) It wasn't until decades later that Neisser suddenly realized that Pearl Harbor was attacked on December 7, 1941 -- and major league baseball isn't played in December. In other words, this vivid, pivotal, life-long memory of his was simply wrong. What I particularly love about this story is that the kid in question grew up to be one of most influential memory scientist of the 20th century, and established a lot of what we now know about the fallibility of memory.
But on to confabulation. Confabulations are basically made-up explanations that people provide when the real explanation is unavailable to them -- most often because they're experiencing some kind of cognitive impairment. These made-up explanations are sincere (that is, the confabulator isn't trying to deceive anyone), and they're more or less plausible, but they're completely wrong. For instance, an elderly woman who suffers from dementia might claim that a hospice worker stole her purse, when in reality she simply forgot where she put it and needs to account for why it isn't where she expected it to be. More dramatically, people who are paralyzed by a stroke are sometimes neurologically incapable of recognizing their paralysis; they can't move, and they can't know that they can't move. When you ask such a person why he's not moving, he can't give you the real answer, so he'll often confabulate -- claiming, for example, that he's exhausted from that morning's round of golf.
As it turns out, though, you don't need to be brain damaged to confabulate. We're all extremely adept at providing plausible explanations for events, decisions, beliefs and emotions whose real explanations elude us. So you're right: it's likely that confabulation played a role in some of those mistaken baseball stories -- although, for better or worse, there are also many other reasons we mistake false memories for true ones.
Rob:
For a while now, serious baseball analysts (and nerds like me) have been railing about sunk cost; specifically, that when a team is considering whether to release a player, his future contract obligations should hardly be considered because that money's already gone. It's still a problem, but teams seem to have a better handle on the concept than they used to. But you raised a point I'd never considered: Baseball executives are people, people are
quasi
-rational actors, and sunk costs extend far beyond matters of money ...
Kathryn:
They sure do. The term itself comes from economics, and, traditionally, it does refer specifically to money: your sunk costs are whatever funds you've already spent and can't recover. But money isn't the only thing that keeps us mired in situations that, objectively speaking, we'd be better off getting out of. There are also other resources, most notably time and energy. As in: We've been working with this kid all season, he's come a long way, we can't let all that effort go to waste. Then there's public commitment: Not only did we spend a bazillion dollars on this player, we held a big press conference about him and went on the record about our hopes and dreams and made a promise to our fans and owners and the media. And of course there's ego: I picked this guy, his presence on this team reflects my judgment, so I've got to keep believing that he's going to work out, because to do otherwise is to admit that my judgment is fallible. And there are even more intangible sunk costs as well -- things like affection and optimism -- that keep you standing there saying, Look, I know the record looks bad, but I still like this kid, I've got a good feeling here, I think we can turn this around.
Economists are driven batty by this kind of behavior, because, as you said, they want baseball managers to act like perfectly rational actors—to make decisions based on the present and future value of a player, measured as empirically as possible. But in defense of managers (and all the rest of us) who tend to be swayed by sunk costs, I'd point out that, at least to some extent, sports are about irrationality. Certainly they're at least as much about optimism and ego and affection and emotion as they are about money. And that's probably as it should be. I suspect that if we tried to rid sports of all its irrational quirks—from sunk costs to superstitions—we'd wind up eliminating a lot of the joy of the game.
Rob:
I suppose this question is a little dated and I know you don't follow baseball closely, but I'm still wondering about your take on
The Imperfect Game
, in which first-base umpire Jim Joyce obviously missed the call that would have given Armando Galarraga -- who doesn't figure to have many chances in his career for great glory -- a perfect game.
Kathryn:
I'm glad you asked, since this is one baseball question I'm actually equipped to answer. (I had to be: I was just heading out on my book tour when Joyce made that call, and suddenly everyone started asking me about wrongness and baseball.) Here's the thing about this story: it could have gone very, very badly. The minute I heard about it, I thought about Don Denkinger, who blew a call at first base during the 1985 World Series and subsequently got death threats and hate mail and is still pretty much despised in St. Louis all these years later. So it was entirely possible that Joyce's blown call could've turned terrifically nasty as well. Galarraga could've freaked out. The Tigers could've freaked out. The fans could've freaked out. Even Joyce could have freaked out; after all, plenty of people get defensive and angry in the face of their mistakes.
But look at what happens instead. Joyce immediately acknowledges the mistake and apologizes for it with obvious sincerity. Galarraga is supremely gracious. Jim Leyland defends Joyce and asks the fans to be kind to him, which they are. Galarraga is treated like a hero; he gets a standing ovation, a Corvette, and at least as much press for his imperfect game as he would've gotten for a perfect one. And he'll still go down in the record books, albeit in a more unusual way.
But here's the most interesting part: according to an ESPN survey conducted a few weeks after the Galarraga game, the vast majority of fans didn't want Bud Selig to reverse the call, and didn't want to start using instant replay to verify base calls. In other words, most fans seem to understand that mistakes are a part of the game -- sometimes even the most memorable part. Mistakes keep sports human. And, at their best, sports show us how to cope with our humanity. That's why we use them to teach kids about leadership and teamwork and effort and failure and success; that's why we being a "good sport" means being a good person. In that vein, the Galarraga game gave us a glimpse of how much better things go when we can accept fallibility, in other people as well as in ourselves. So, sure, it might have been an imperfect game. But to my mind, it was a perfect mistake.
July, 9, 2010
7/09/10
12:54
PM ET
Hey,
Brian Bannister
and
Zack Greinke
aren't the only pitchers who look at non-traditional statistics on their laptops in the clubhouse.
Max Scherzer
might have an ugly ERA, but at least
he's paying attention
. Steve Kornacki:
What fans might not realize is he's one of the few pitchers in the game who utilizes advanced metrics to evaluate his results during the course of the season, but still focuses on scouting reports for game plans.

Scherzer, who studied business finance at the University of Missouri before the Arizona Diamondbacks made him their first-round pick in 2006, scored a 35 out of a possible 36 in math on the ACT.

Statistical application comes naturally to him, and he uses advanced metrics to study his performances.

"I got interested in it through my brother, Alex, who was a very, very bright business economics major at Missouri," Scherzer said. "He was in a top-tier statistics class and came upon advanced metrics in baseball.

"Before a game two years ago, he said, 'You are due to give up home runs.' Then, I gave up two home runs and he told me, 'I told you.' I asked, 'What do you know that I don't?' "

Scherzer learned it appears pitchers can only control home runs, walks, strikeouts and hit batters. And a high number of fly balls relate directly to increases in home runs allowed.

"There is a high correlation between this number (a formula using those factors and dividing by innings pitched) and your ERA," Scherzer said.

--snip--

Using the batting average for balls in play (BABIP) statistic also has aided him.

"It comes back to accepting inherent failure," Scherzer said. "When a soft liner to right field dropped for a hit in Atlanta, instead of getting frustrated by it, I let it go. It's about moving forward.

"I think it is important for me to reach long-term goals I set with these statistics, but it is way more important for me to compete every time I take the mound and give our team a chance to win. As long as I execute every pitch, both of these goals will happen."
I snipped the real meat of the piece, in which Scherzer says the only thing he finds particularly useful is PITCHf/x, which is more raw data than sabermetrics, per se. At its heart, that data is simply the modern version of pitch-charting, which has been used by pitchers and coaches for many decades (if haphazardly).
I kept the sensible part at the end about BABiP because it's the perfect lead-in to this letter from Brian, in St. Louis ...
Maybe you can explain the seemingly mindless association of BABiP and luck. To me a low BABiP is indicative of a pitcher that puts the ball where he wants it and gets a weakly hit grounder or popup, not that he's just been lucky. Alternatively a high BABiP shows that the pitcher is throwing meatballs that are getting hit hard.I know there is no real way to quantify the difference, but the low = lucky, high = unlucky approach is silly to me.
Greg Maddux
and
Mike Morgan
both pitched in the majors for a long time. Maddux, in his long career, gave up a .286 batting average on balls in play. Mike Morgan, in his long career, gave up a .295 batting average on balls in play.
That nine-point difference is significant, given how many innings each of them pitched, and does help explain why Maddux is heading for the Hall of Fame and Morgan went 141-186. But it helps just a
little
, don't you think?
Pedro Martinez
's career BABiP is .282, even lower than Maddux's. On the other hand,
Randy Johnson
's is .295, exactly the same as Morgan's.
Yes, great pitchers tend to have lower BABiPs than accomplished journeymen like Mike Morgan ... but it's not a strong tendency, which suggests that other things -- most particularly, the ability to control the strike zone -- tell us more about a pitcher's underlying skills.
Which is really the point. If BABiP is really about a pitcher's ability to "put the ball where he wants it and get a weakly hit grounder or popup," wouldn't you expect that ability to show up from one year to the next, like any other fundamental ability?
Well, it doesn't. Not at the extremes, anyway.
In 2008, David Bush led the majors with a .245 BABiP. At the time, I would have chalked that up to a fantastic run of luck. I don't want to read your mind, but I will guess that you would have chalked that up to something else. You might have been right. But should we really have been surprised when, just one season later, Bush gave up a .324 BABiP? Should we be surprised that he's given up a .298 BABiP in 2010.
Also in 2008,
Armando Galarraga
went 13-7 with a 3.73 ERA. At the time, I had the temerity to point out that he'd been absurdly
lucky
on balls in play, giving up a .247 BABiP. Well, maybe he just forgot to
put the ball where he wants it
in 2009, but somehow his BABiP jumped to (a perfectly normal) .302 and his ERA jumped to 5.64.
Maybe you still don't believe in luck. That's fine. I have my belief system, and you have yours. But I can tell you, with metaphysical certitude, that if you bet on pitchers with sub-.280 BABiPs allowed to do it again next year, you'll lose almost every time. Because almost anything lower than .280 (or higher than .320) can easily be dismissed when discussing a pitcher's
skills
.
July, 7, 2010
7/07/10
11:29
AM ET
Geez.
Tough crowd
:
After his near-perfect game last month, Armando Galarraga seemed the least upset person in the Tigers' locker room. He said he felt for Jim Joyce, the umpire who missed the ninth-inning call at first base.

After the Tigers' 11th-inning win over Baltimore Tuesday night, Galarraga — the night's starting pitcher — seemed the most disappointed person in the locker room.

Because he won't need to start again for nearly two weeks because of the upcoming All-Star break, Galarraga had just been told that he's being sent to Triple-A Toledo for one start, then will be recalled to start for the Tigers on July 20, almost two weeks from now.

--snip--

For his temporary demotion, Galarraga can blame the All-Star break and the lefty-heavy lineup of the Minnesota Twins.

Galarraga was originally scheduled to pitch Sunday against Minnesota in the finale before the Tigers' four-day All-Star break.

But because the Twins have so many left-handed hitters, the Tigers flipped Andy Oliver and Galarraga in the rotation this week. That way, the rookie Oliver — the Tigers' only left-handed starter — will face the Twins on Sunday.
For his temporary demotion, Galarraga can also blame HIS LOUSY PITCHING.
Since the Perfect Game That Wasn't, Galarraga's made five starts. The Tigers are 4-1 in those games, which is good. Galarraga's got a 6.00 ERA in those games, which is bad. Galarraga struck out seven hitters in those five games, which is (almost) impossible.
In 2008 and '09, Galarraga's first two seasons with the Tigers, his strikeout rate was decent but he walked too many hitters and gave up too many home runs. In 2008 he was lucky, and posted a 3.73 ERA. In 2009 he was unlucky and posted a 5.64 ERA. The ERAs were vastly different, but the underlying performances (and presumably, the underlying skills) were not.
In 2010, Galarraga's ERA has split the difference, suggesting that he's finally found his level -- except he's actually been a completely different pitcher (granted, we're talking about just 48 innings). Galarraga's throwing more fastballs, which has led to fewer walks and home runs (good) and many fewer strikeouts (very bad).
Galarraga remains a young, talented, and (we may assume) highly motivated pitcher. But I can't escape the notion that he'll never be much more than a No. 5 starter, because he simply doesn't have the stuff to strike out hitters
and
limit the walks and homers. He has to choose one or the other, and the result will always be less than brilliant (with, of course, the exception of a near-perfect game every so often).
June, 11, 2010
6/11/10
8:15
PM ET
From the "Dear Rob" files ...
Re: Galarraga -- Has anyone brought up the Pine Tar game? It seems that set the precedent for the Commissioner's Office to be able to change a mistake by the umpires. They nullified the final inning and replayed the end of the game months later. Selig could have done the same thing here ... only nullify the 28th out and reinstate the perfecto.

T.W.
Walpole, Mass.
It's not really the same thing. In the Case of the Sticky Tar, the Royals lodged a protest regarding the umpire's
interpretation
of a rule. The American League office ruled in their favor, and you know the rest. But I don't believe that league officials have ever, in the history of the major leagues, overruled an umpire's
judgment
call, for the simple reason that no protest was, or can be, lodged.
They're just different things. Or they always have been, anyway.
I wanted to follow up on one of your "pitchers hitting" points. The reason I suspect pitchers don't work on hitting is that it's a staggeringly inefficient use of their time. A pitcher's only going to get 85-90 PA's a year -- and even a good-hitting pitcher who would be pinch hit for less would struggle to see over 100 -- which means the difference between a poor hitting pitcher (say .150) and a good hitting pitcher (Say .300) is what, 12-15 hits a season? What's the tangible value there, even if we factor in the benefit of not needing to go to your bullpen? Is it worth the time they'll take away from work on their primary job? And with that few plate appearances, luck plays a huge factor anyway. Dan Haren's hitting .405 this year with a .468 BABIP. Two years ago, he was .211 with a .258 BABIP.

Patrick
Ithaca, N.Y.
Patrick, have you spent much time at the ballpark before the games? Starting pitchers have an
immense
amount of free time. They throw, what, once or twice between starts. The rest of the time they're shagging fly balls during batting practice, running the occasional wind sprints, and shooting the breeze with their pals.
I'm exaggerating, obviously. Starting pitchers do have things to do. Important things. But I'm fairly sure they could carve out a few hours per week to work on their hitting.
Wakefield's accomplishment is even more incredible given that the Pirates gave up on him! He pitched well and then one year he seemed to lose his skills and they released him. He's not only had a great career with the Red Sox, he resurrected his career with them. (I'm not sure that he had only one bad year with Pittsburgh, but I think so.)

David
Baltimore, Md.
It was the damnedest thing, David.
Tim Wakefield
was utterly brilliant as a rookie in 1992, going 8-1 down the stretch for the Pirates. In 1993, he couldn't get anybody out in the majors
or
the minors (after his demotion). He spent the entire 1994 season in Triple-A, and went 5-15 with a 5.84 ERA and with all the accompanying statistics you would expect.
So that was two straight lousy season, and you really can't blame the Pirates for giving up on him. What you can do is applaud the Red Sox for signing him. Wakefield opened 1995 with Triple-A Pawtucket, pitched well in four starts, kept pitching well after a promotion to the big club, and now he's the franchise's all-time leader in innings. Knuckleballers often come with good stories, but Wakefield's got one of the best.
Rob, I'm still waiting for a Ubaldo luck post from you. People are wearing rose-colored glasses when it comes to Jimenez' numbers right now. Because the guy has great stuff they assume he's every bit as good as his ERA. Everyone is neglecting to realize that this guy is having one of the luckiest starts to a season ever. Everyone is quick to say how lucky livan Hernandez has been and that he's a sham when in reality Ubaldo has been just as lucky. Livan has an xFIP of 2.69 next to Ubaldo's 2.58. I mean Phil Hughes has pitched just as good Ubaldo while doing it in the tougher division yet doesn't get the Bob Gibson 1968 love. Don't get me wrong, Ubaldo without the luck is still a stud but give me a little help here to get everyone ready for an ERA much closer to 4.00 than to 1.00 from here on out.

Matt
New York
Does anyone really think
Ubaldo Jimenez
is going to finish with an ERA around 1.12? Nobody that I know about. I'm not even sure if everyone thinks he's the best pitcher in the National League. I think most of the aficionados would give that title to
Roy Halladay
, and
Tim Lincecum
might get back into the mix, too.
Has Jimenez been lucky? Sure. Most pitchers with sub-1.00 ERAs are lucky, Exceptionally lucky. But it's also true, I suspect, that most pitchers with sub-1.00 ERAs are exceptionally talented. Yes, Jimenez is going to give up more home runs than he has. Nobody can maintain his pace. But he'll still be real good, and maybe one of the three best pitchers in the league.
Update:
A Friend of the Blog points out, "In the last question in your "Dear Rob" post, the guy says that Livan Hernandez has the same xFIP as Ubaldo Jimenez. He was looking at Livan's BB/9, which is 2.85. Livan's xFIP is 4.96, same as always."
June, 10, 2010
6/10/10
2:10
AM ET
Was on a plane this evening, just trying to catch up on e-mail and some reading, when
Craig Wright
blew my mind. From Craig's response to a reader who asked for his take on The Perfect Game That Wasn't:
You now know that the Commissioner is not going to change the call, which is absolutely the right decision. That would have been totally unprecedented and it would not really be in the spirit of the broad powers given to the Commissioner. The rules are very clear that this decision is to be the judgment of the umpire at that point in the game. What if it had been the other way around, that umpire Jim Joyce had called the batter out but the replay showed he was safe? Would you take away the perfect game and replay the game from that point somewhere down the road? No, of course not.
Craig blows my mind every week. If you want your mind blown, too, subscribe to one (or both) of Craig's newsletters.
June, 3, 2010
6/03/10
10:49
AM ET
I've been struggling, late into last night and now early this morning, to write something about
Armando Galarraga
and Jim Joyce that you don't already know.
[+] Enlarge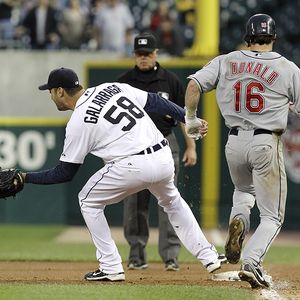 AP Photo/Paul SancyaAn easy call? Not in real time and from where Jim Joyce was standing.
Maybe that's already impossible, but I was watching the game and I've now seen the replay many times, and there's one thing I think too many people are missing ... This was
not
an easy call. Sure, in slo-motion and from the perfect angle, it's obvious that
Jason Donald
's foot touched first base a split-second after Galarraga controlled the baseball with his foot on the base. But in real time, and from Jim Joyce's angle?
Not so much.
Miguel Cabrera
's throw, while perfectly fine, was slightly behind Galarraga as he approached first base, necessitating a slightly backwards shift of Galarraga's glove. And Galarraga didn't catch the ball cleanly; after hitting the pocket of the glove, it squirted up toward the edge of the webbing.
Watch the play in real time, imagine that you're watching it from where Joyce was standing, and then tell me it was an "easy call."
I don't think you will. Which is all that matters. If Jim Joyce misses an easy call, maybe you go back and see if he's been missing other easy calls. If he has, then you start figuring out how to ease him out of his job. But if he simply missed a tough call ... Well, umpires miss tough calls every day of the week. I mean, literally every day. They miss tough calls behind the plate in just about every
inning
, and they miss calls on the bases every day. The human eyes, as amazing as they are, simply can't process everything that happens on a baseball field with unerring precision.
Yeah, Joyce missed one. Get over it already. He didn't cost the Tigers a World Championship, or an American League pennant, or a division title, or even a win. He did cost Armando Galarraga a perfect game ... but as a few of my more intelligent colleagues have pointed out, Galarraga will be more famous for
not
throwing this perfect game than he would have been for throwing one. So the only losers are probably the fans in Detroit. I'm sympathetic ... but only to a point. This was just one game in a long season of games, and anyway if you can't handle the occasional sharp pain you don't have any business following sports.
So, enough with the death threats and the Wikipedia vandalism and everything in between. If, in the clear light of the next day, you're actively demonizing Jim Joyce, you've got far bigger problems than being deprived of a perfect game. Find a free clinic. Get some help.
While you're doing that, I'm going to get a bit of sleep. Maybe later I'll try to figure out what this means, or should mean, for the future of video review ...