SweetSpot:

B.J. Rosenberg
September, 14, 2012
9/14/12
12:00
AM ET
As the
Tampa Bay Rays
and
Baltimore Orioles
played on in the late-afternoon shadows, the managers turned to
Chris Archer
and
Tommy Hunter
, a rookie with just 18 innings of big league experience making his first relief appearance of the season and a veteran starter banished to the bullpen, respectively.
This is pennant-race baseball.
In Anaheim, Angels ace
Jered Weaver
took the mound, making his first start in 11 days because of biceps tendinitis, and all he had to do was prevent the A's from completing a four-game sweep and keep the Angels within shouting distance of the playoffs.
This is playoff-race baseball.
In Houston, the Phillies -- who punted back in July when they traded two-thirds of their starting outfield -- had suddenly found themselves smelling the sweat of the Cardinals, Dodgers and Pirates. They started a rookie named
Tyler Cloyd
, making his fourth major league start. Not only that, he was starting on three days' rest. I knew nothing about him, so I looked up a few facts. He was the International League pitcher of the year, but he's a finesse right-hander who rarely reaches 90 mph. He was an 18th-round draft pick in 2008 out of Nebraska-Omaha, but his lack of velocity meant he wasn't one of Baseball America's top 30 Phillies prospects entering the season despite good minor league numbers in 2011.
This is wild-card baseball.
I intended to watch the monumental
Chris Sale
-
Justin Verlander
showdown, two Cy Young contenders facing off in a crucial game in the American League Central, but that game was rained out, so I focused on the Yankees-Red Sox showdown at Fenway Park.
Phil Hughes
, a pitcher who had allowed the second-most home runs in the major leagues, was trying to pitch the Yankees back into a first-place tie with the Orioles. All he did was pitch one of the best games of his career, allowing no runs for just the second time this season.
This is baseball.
[+] Enlarge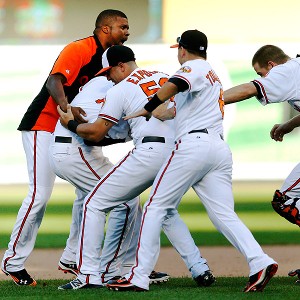 AP Photo/Patrick SemanskyThe Orioles should be celebrating. They're in playoff contention after not having a winning record in 15 seasons.
I'm riveted to my television set, flipping channels, checking box scores, watching a second game on my laptop. It's the best time of the year, when nearly every game matters, when important outs in important games start taking on an October-like intensity. It's why we watch the first 140 games, to build up to these moments: Archer versus 20-year-old rookie
Manny Machado
with the game on the line.
Archer had used a little magic in the 13th inning, when he escaped a bases-loaded, no-outs jam to extend the game another inning. During that high-wire act, he fell behind
Matt Wieters
3-0 but came back to strike him out on a 94 mph fastball, his seventh consecutive fastball of the at-bat. No tricks, just heat, and it worked. I tweeted something along the lines of: "If the Rays win this game and eventually make the playoffs, remember this inning."
But Buck Showalter has been around this game a few years. They say he's pretty wise. In the 14th inning, Archer got the first batters out, but
Adam Jones
fouled off a 3-2 slider and then drew ball four.
Endy Chavez
singled to left. That brought up the rookie Machado, 0-for-5 on the day, 2-for-his-past-20. Archer fell behind 3-and-0.
You don't give a rookie the green light.
Buck gave Machado the green light.
Machado swung and lofted a sinking line drive near the left-field line.
Matt Joyce
ran in, dove, stretched out, his glove reaching for the baseball, reaching for hope -- to keep the game going, to give the Rays hope of getting a win closer to the playoffs rather than a loss further away. Off the glove. Base hit.
Orioles win 3-2
-- their 13th in a row in extra innings; 27-7 in one-run games, the best percentage in history. How can you not believe in the Orioles?
Joyce came up a few inches short. If
Sam Fuld
, an outfielder with more range, had been in left field, he makes the play. But Fuld had been removed in the 13th inning when Joe Maddon had replaced him with
Reid Brignac
to give the Rays five infielders after the Orioles loaded the bases. And that strategy worked when the Rays got the first out of the inning on a force at home. Maddon used 26 players in the game, clawing for any little edge.
That's what you do this time of year.
* * * *
Cloyd pitched three scoreless innings against the Astros but then gave up a single -- single -- home run and got the hook. He was replaced by another rookie,
B.J. Rosenberg
, with an ERA of 9.00. Rosenberg pitched two scoreless innings. In the eighth, the Phillies clinging to a 4-3 lead, Charlie Manuel turned to yet another rookie,
Phillippe Aumont
, once the prize of the
Cliff Lee
trade with the Mariners. Big stuff, no command: He averaged 6.9 walks per nine innings in Triple-A. He walked a guy, but got a caught stealing. He walked another guy. He hit a batter.
Two outs, two on, the Phillies cannot afford to lose. They have a $50 million closer in the bullpen.
Manuel brought in yet another rookie,
Jake Diekman
. He gave up a two-run double and an RBI single, and the
Phillies lost 6-4
.
Jonathan Papelbon
sat in the bullpen, and suddenly that playoff run seems a little less likely.
The victories are extra sweet. The losses extra bitter. Welcome to the best time of the season.