August, 10, 2012
8/10/12
10:00
AM ET
This is a weekend in which quite a few contending teams can do damage against weaker opponents. No, we're not picking on the lowly
Houston Astros
again, as they face the disappointing
Milwaukee Brewers
, but most of the good teams, especially in the National League, get to face teams with a lot more losses than wins: Reds-Cubs, Orioles-Royals, Pirates-Padres, Braves-Mets, Dodgers-Marlins, Angels-Mariners, Giants-Rockies. Of course, that doesn't make this weekend less interesting than normal. Returning to our Friday staple blog entry, here's what to watch.


1. The Tigers and Rangers met to decide the AL championship last season, and it wouldn't be a shock if that happened again. The Rangers were big winners last October, buoyed by a pair of separate four-run 11th innings and the final memory of the 15-5 clincher, but the Rangers certainly have more rotation question marks now, despite the best efforts of overhyped
Yu Darvish
. The Rangers took three of four when these clubs met in April, with only
Justin Verlander
prevailing, then took two of three in June. This is a bigger series for the Tigers, as it's pretty much assumed the Rangers are playoff-bound. Well, don't assume anything. Detroit is scheduled to face
Scott Feldman
,
Derek Holland
and Darvish. Think
Miguel Cabrera
,
Prince Fielder
and pals are scared?


2. The Athletics are clearly still relevant and were impressive in taking two of three from the Angels this week, and Friday they're in Chicago to face the White Sox. Right-hander
Brandon McCarthy
and his 2.54 ERA are scheduled to come off the DL for Friday's start, and after that the White Sox will send 3-10
Francisco Liriano
to the mound and 13-3
Chris Sale
on Sunday. Oakland is scoring enough runs and they seem to have rotation depth, with lefty
Brett Anderson
close to a return, but the bullpen has become a question mark, as closer
Ryan Cook
has permitted runs in six of his past eight appearances, spiking his ERA from 1.34 to 2.79. This could be the weekend
Grant Balfour
or
Sean Doolittle
see a change in their roles.


3. The sole matchup between teams with winning records in the NL features Washington at Arizona. Are the Diamondbacks contenders or not? The Giants and Dodgers certainly aren't pulling away in the NL West, but an Arizona club that has struggled to score runs in August (they entered Thursday hitting .231 with a .271 OBP as a team for the month) probably won't enjoy facing
Stephen Strasburg
,
Edwin Jackson
and the better-than-expected
Ross Detwiler
. The Nationals aren't going away, but it remains to be seen if the Diamondbacks can make the NL West a three-team race.
Three more stats to watch:
10-5, 2.91 ERA:
Minnesota Twins
lefty
Scott Diamond
has posted these numbers in 17 starts. All of the Twins
other
starting pitchers are 19-44 with a cumulative 5.97 ERA. Diamond faces the Rays and resurgent right-hander
James Shields
Sunday.
3-1, 2.48 ERA:
Tim Lincecum
has done some fine work in his past five outings, and things should get even better Friday as he gets one of baseball's worst road teams in the Rockies.
1.41 ERA, 1.19 WHIP:
Atlanta didn't have to trade anything to get right-hander
Ben Sheets
. His first 32 innings have been pretty good. He's scheduled to face
Jon Niese
of the Mets on Sunday Night Baseball on ESPN.
Have a great weekend!
July, 15, 2012
7/15/12
9:40
PM ET
One thing about
Ben Sheets
: He could always throw strikes. Even when he was battling a bad back in 2003, inner-ear infections that caused dizziness in 2005, and shoulder tendinitis in 2006, Sheets could locate and hit corners. His 116/11 strikeout-to-walk ratio in 2006 is the second-best ever for a pitcher with at least 100 innings. His 264/32 mark in 2004 is the sixth-best ratio for those with 200 innings.
So maybe it's no surprise that in his first major league start since July 19, 2010, Sheets threw strikes and walked just one batter in six innings in the
Atlanta Braves' 6-1 win over the New York Mets
on Sunday. Maybe what's surprising is that he threw six scoreless innings. Or, more likely, that he was even here at all.
When Sheets tore the flexor in his elbow while with the Oakland A's in 2010 -- after missing all of 2009 following elbow surgery -- he feared his career was over. "I just wanted them to fix me so I could play catch with my boy," he told the Atlanta Journal Constitution's Jeff Schultz. "Honestly, in my mind two years ago, I was done."
The Braves signed Sheets on July 1, as much out of desperation and frugal management as anything.
Brandon Beachy
, the team's best starter, had gone down for the season with a torn elbow ligament. Youngsters
Mike Minor
and
Randall Delgado
had been inconsistent.
Jair Jurrjens
, a 2011 All-Star, had only recently been recalled from Triple-A, where he'd been demoted after a terrible April. With top prospect
Julio Teheran
still in need of more time in the minors, the Braves signed Sheets after watching him throw a simulated game to former big league catcher
Eddie Perez
in front of scouts from five teams.
"I ain't telling you I'm throwing 100 [mph], but I'm just saying the ball's coming out of my hand really good,"
Sheets said when he signed
. "Breaking ball's spinning. Eddie even told me my cutter/slider looked good. I know he's lying."
After just two starts in Double-A (he allowed seven runs in 10.2 innings), the Braves called Sheets up. Considering his elbow has been patched together with glue and thumbtacks, it was probably wise to get him into the rotation as soon as possible. Who knows how long the elbow will hold together.
Sheets' first pitch to
Ruben Tejada
was a 91-mph fastball. Maybe not the 96-to-98 heat he threw back at his peak, but fast enough for a guy who can paint the black. He struck out Tejada swinging on a 1-2, 79-mph curveball, his first of five strikeouts. He cranked his fastball up to 93 on four occasions. On his 88th and final pitch, he struck out
David Wright
swinging on a 91-mph fastball. In between, he mixed in curveballs, changeups and his cutter/slider. And threw them where he wanted.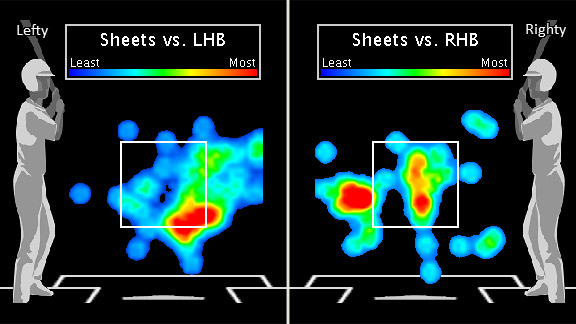 ESPN.comBen Sheets was able to hit his spots on Sunday in his first start since 2010.
Sheets' biggest out came when he retired Wright in the third inning after
Daniel Murphy
's two-out double put runners on second and third. Wright flew out to the warning track in right field on a 93-mph fastball. "It was a big moment, a big pitch," Sheets told MLB.com. "One big pitch, that can really turn things around."
Sheets watched the last three innings from the dugout, despite the stifling humidity in Atlanta. The Braves' six-run fifth off
Johan Santana
held up as they finished off the series sweep and won their seventh in a row.
Chipper Jones
was impressed with his new teammate. "We are ecstatic. For him to come in and build on our winning streak -- seven-game winning streaks don't come along very often -- we keep the ball rolling," he said.
So while other teams contemplate the prices they'll have to pay to acquire
Zack Greinke
or
Ryan Dempster
or
Matt Garza
or maybe even
Cole Hamels
, it's possible Sheets could end up being one of the most important deadline acquisitions.
Though you can credit Atlanta's front office, it's also a sign of how the Braves operate on a tight budget. Liberty Media, which has owned the Braves since 2007, is unlikely to make a trade for a starting pitcher such as Greinke or Hamels. Instead of going for a big name that would increase payroll and require prospects, the Braves took a chance on a low-cost player who could pay big dividends.
Since Liberty took control of the Braves, payroll has been slashed from $102 million in 2008 to $93 million this year (including the $10 million being paid to
Derek Lowe
). Liberty chairman John Malone has said in the past that he doesn't consider the Braves a strategic asset, although Braves CEO Terry McGuirk said in January that Liberty
doesn't intend to sell the team in the near future
.
Still, the Braves are locked into 25-year television contracts that leave them at a disadvantage compared to big deals signed in recent seasons by clubs such as the Los Angeles Angels and Texas Rangers.
"Whenever old [TV] deals are up and new deals get realized, there are big jumps in value. I have predicted that, knew it was coming," McGuirk told the AJC. "And I think we have an undervalued local rights [deal]."
The Braves did acquire
Michael Bourn
from the Houston Astros at last year's deadline, although Houston picked up an undisclosed portion of Bourn's remaining salary. But that was an unusual salary addition for the Braves, who didn't have to give up any top prospects to get him. Acquiring Greinke, Hamels or even Dempster would require both a sizable financial commitment plus some quality kids from the farm.
So for now the Braves turn to Sheets.
It's just one start and, as Grantland writer Jonah Keri tweeted, let's see a start without the notoriously inconsistent C.B. Bucknor behind the plate. (Mets pitching coach Dan Warthen was ejected in the fifth for arguing balls and strikes.)
But it's a great comeback story, one you have to root for. Plus, it's easy to root for a pitcher who named one of his sons Seaver.
PHOTO OF THE DAY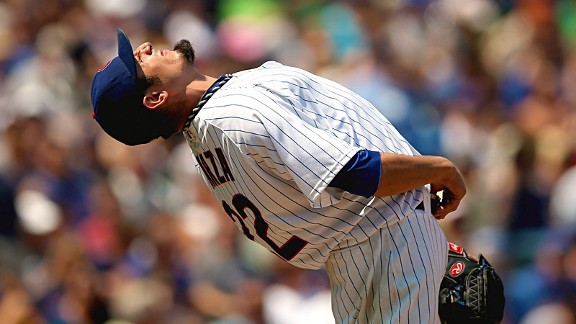 Jonathan Daniel/Getty ImagesNo, that's not a high fly ball bugging Matt Garza, just a kink to work out.
August, 19, 2011
8/19/11
3:48
PM ET
By
David Lipman
| ESPN.com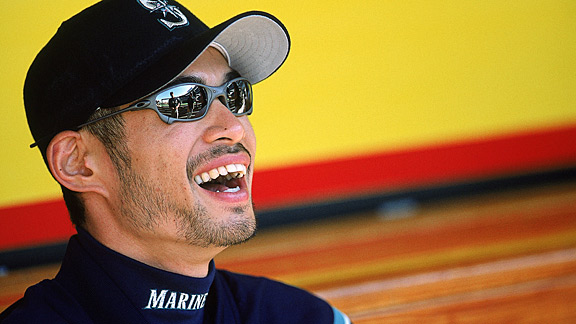 Jeff Gross/Getty ImagesAs a rookie in 2001, Ichiro hit .350, stole 56 bases, scored 127 runs and won MVP honors.
Each day, fans cheer as
Eric Hosmer
,
Freddie Freeman
and
Jeremy Hellickson
go about their business. Wouldn't it be great to look into the future, and see how their careers take shape? Eric Karabell wrote about the
2011 rookies earlier today
, but I'm still partial to the outstanding rookie class of 2001. Here's a look at 10 outstanding rookies from that year.
Adam Dunn
At the end of the 2010 season, Dunn was considered the most consistent player in baseball. For seven years, he had hit between 38 and 46 home runs (including four straight years of 40 homers) with between 92 and 106 RBIs. With over 350 home runs in 10 seasons, it appeared Dunn would easily approach some important milestones. However, in 2011, the bottom has fallen out, and Dunn has struggled to approach a .300 slugging percentage thanks to his .163 average. Dunn's progression into a prodigious slugger was fun to watch, but there is a real possibility that those days are over.
Highlight:
Hitting 46 home runs in 2004, becoming the slugger everyone had predicted.
Hall call:
If Dunn can produce a couple more 40-homer seasons, he will approach 500 career home runs. It would be difficult to ignore that number, although Dunn's low batting average and poor fielding would likely keep him out.
David Eckstein
Just by reaching the major league level, Eckstein was a feel-good kind of story. One of the shortest players in baseball, Eckstein carved out a niche by hitting, fielding, running, and hustling enough to help teams for 10 years. While he had a nice career, when compared to the other players on this list, Eckstein falls far short. Eckstein's career high in slugging was .395; by contrast,
Michael Young
has surpassed that number every full season.
Highlight:
Winning the World Series with the Angels 2002 and winning World Series MVP honors with the Cardinals in 2006.
Hall call:
Though he'll have plenty of stories to tell, Eckstein will not get to tell them in Cooperstown.
Roy Oswalt
Oswalt debuted on May 6 and immediately became one of the best pitchers in the National League, finishing with 14 wins and a 2.73 ERA. In a year of great rookie seasons, Oswalt was one of the best. It got better from there; after winning 19 games in his sophomore season, Oswalt has twice won 20 games, had an ERA of 3.01 or better in six of his 11 seasons and led the NL with a 2.98 mark in 2006. Though his strikeout rate is lower than his first few years, Oswalt should have a few more years in him if he can avoid the injuries that have hurt him this year.
Highlight:
Winning Game 6 of the 2005 NLCS, pitching seven innings to lead the Astros to their first World Series berth.
Hall call:
Though Oswalt has been called an ace his whole career, it's been awhile since he dominated the league, other than his stint late last season with the Phillies. He's on a good team, so if he can stick around and increase his counting stats, along with some postseason memories, he might have a shot.
Albert Pujols
In 2001, Pujols had just turned 21 and was thrust into the starting gig at third base, with only a few games above Class A ball. Pujols had a season for the ages, hitting 37 home runs, 47 doubles, with a robust 1.013 OPS. Pujols managed to exceed his seemingly unlimited potential and dominated baseball over the next decade, with a .328 career average and three MVP Awards.
Highlight:
2005 NLCS home run off
Brad Lidge
that is still going.
Hall call:
Five years after his retirement, Pujols will coast into the Hall of Fame.
Jimmy Rollins
From the time he put on his first Phillies uniform, Jimmy Rollins was exciting. As a rookie, Rollins hit 14 home runs and stole 46 bases. For a team in the midst of losing franchise stalwarts
Curt Schilling
and
Scott Rolen
, Rollins was a breath of fresh air. Rollins never did get on base nearly enough, and while he eventually developed some pop and the speed is still around, he has never posted an on-base percentage of even .350. By contrast, teammate
Chase Utley
hasn't posted an OBP below .375 in any full season of his career.
Highlight:
Being named the 2007 National League Most Valuable Player when he scored 139 runs and had 88 extra-base his, including 20 triples and 30 home runs.
Hall call:
Rollins is approaching 2,000 career hits and still has a few years left, but the .272 career average and .329 on-base percentage could certainly sway voters against him.
CC Sabathia
Sabathia turned 21 during the 2001 season. Despite his youth, he pitched like he had plenty of experience, winning 17 games and striking out 171 batters in 180 innings. After a few modest years, Sabathia turned into an ace in 2006 and became a regular Cy Young contender. Still only 31, Sabathia has over 170 wins and 2,300 innings, showing no signs of slowing down.
Highlight:
Clinching the 2008 National League wild card on three days' rest for the Brewers.
Hall call:
Sabathia seems like an obvious Hall of Famer, but there are plenty of cautionary tales among pitchers who came up early and seemed like Cooperstown locks.
Ben Sheets
Sheets started his career like many rookies. The hype of a top prospect -- he even made the All-Star Game -- gave way to major league mediocrity, with enough potential demonstrated to spark much debate about the future. In 2004, Sheets dominated, having a season for the ages with a 2.70 ERA and 264 strikeouts. Though Sheets' teammates could only help him to 12 wins, his season was a great one. Unfortunately, that was as far as his brilliance reached, as injury issues affected his performance. Sheets still hasn't been able to recapture the magic and might not have much left in his arm.
Highlight:
2004, a great pitcher on a bad team.
Hall call:
Is there a Hall of Fame for potential?
Alfonso Soriano
Sometimes, the much-hyped prospects actually come through. Soriano was a ballyhooed Yankee prospect and hit right away, with 18 home runs and 43 stolen bases as a rookie. The power developed, and Soriano became a rare dual threat who terrorized opposing pitchers, including four 30-30 seasons. For all his strengths, Soriano never drew many walks, which has led to an unimpressive career on-base percentage of .323. Worse, that mark seems to be ever-decreasing, as Soriano has been below that level every season since 2008.
Highlight:
Hitting the would-be winning home run in Game 7 of the 2001 World Series versus Arizona.
Hall call:
Soriano was certainly one of the most exciting players of his generation and spent most of his career in New York and Chicago. At the end of the day, the power and speed won't be enough to overcome the other flaws in his game.
Ichiro Suzuki
Ichiro had almost 1,300 hits and a .943 OPS in eight seasons in Japan. Naturally, lofty expectations were set when he came to the United States in 2001. Right off the bat, he hit well, and really didn't stop until his mysterious drop-off this season. Ichiro plays almost every game, excels in the field and on the basepaths and has hit over .350 four times. No matter how it ends, Ichiro's legacy will be impressive; the icing on the cake will be if he enters (and wins) the Home Run Derby.
Highlight:
Setting the all-time single-season hits mark in 2004.
Hall call:
Even without his Japan stats, Ichiro's career numbers are terrific, especially his defense and 80 percent stolen base rate. He should make it to Cooperstown on his first ballot.
Michael Young
Young was 24 when he became a Rangers regular, which is older than where most stars begin. Young proved to be one of the most consistent and versatile players in baseball. He's had modest power, a small amount of speed, and played over 300 games at three different positions. Young has always hit around .300 but rarely walked so never threatened to lead the league in OBP. Despite trade rumors and position shifts, Young has continued to play at a high level into his mid-30s.
Highlight:
Winning the 2006 All-Star Game MVP.
Hall call:
With 2,000 hits and counting, Young might someday approach counting stat totals that will make the discussion interesting, although he was certainly never close to the best player in the league.
David Lipman is a senior manager for ESPN Mobile, and you can follow him on Twitter.
August, 18, 2011
8/18/11
3:30
PM ET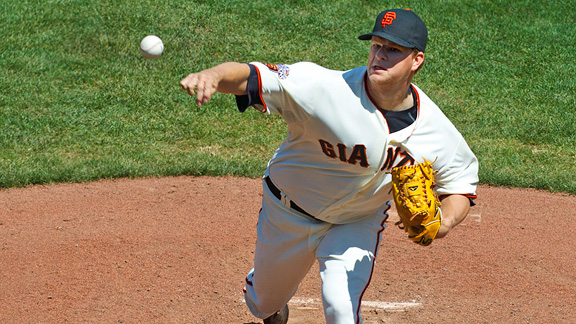 Jason O. Watson/US PresswireMatt Cain has a 2.86 ERA for the Giants in 2011, but a record of 10-9 thanks to poor run support.
So mjames89 asked on Twitter:
Matt Cain
, best pitcher in history with an under-.500 record?
Good question. Cain won Wednesday night to push his career W-L record to 67-71, despite a 3.37 ERA and an ERA+ (ERA adjusted for home ballpark and league era) of 126. To compare, here are a few other pitchers with a similar ERA+ and their career W-L record:
OK, I cheated a little bit, picking out guys with exceptional winning percentages. But it does point to the caliber of pitchers comparable to Cain (obviously, besides Hamels, the others performed at that level for a much longer time).
Among pitchers with at least 1,000 innings, I went to
Baseball-Reference.com
and found 10 with an ERA+ of 120 or better and a losing record. Seven of them were relief pitchers:
Trevor Hoffman
, Bruce Sutter, Lee Smith,
Roberto Hernandez
, Doug Jones,
Mike Jackson
and Jeff Reardon.
The three starters were Cain, Johnny Rigney (122 ERA+, 63-64 W-L record) and Jim Scott (121 ERA+, 107-114). Rigney pitched for the White Sox in the late '30s and early '40s while Scott also pitched for the White Sox, from 1909 to 1917.
Scott was born in Deadwood, S.D., and apparently earned the nickname "Death Valley Scott," apparently also the moniker of a famous con man of the time. Scott later worked in the movie industry in Hollywood, umpired for two seasons in the National League and even joined a religious cult for a short period.
You can read his bio here
.
A reader on Twitter also mentioned
Ben Sheets
, who is 90-92 in his career with a 3.79 ERA. That translates to a 113 ERA+, so I'd argue Cain has been a little better over their careers. Sheets did have a particularly tough-luck season in 2004, when he posted a 2.70 ERA with a 264/32 SO/BB ratio in 237 innings for the Brewers. He may have been the best pitcher in the NL that year but finished 12-14.
As for Cain, does this make him the unluckiest pitcher in big league history? I don't know about that, but it seems like he has a decent argument.
Follow David Schoenfield on Twitter @dschoenfield.
February, 17, 2011
2/17/11
8:49
AM ET
In the spring of 2009, when Nolan Ryan sent a directive to the entire
Texas Rangers
organization banning pitch counts as a means of regulating a starting pitcher's length of time in a game, it sent shockwaves throughout baseball -- and criticism toward Ryan.
After Texas reached the World Series for the first time in its history -- with some of the success attributed to its suddenly formidable, unlimited moundsmen -- Ryan got the last laugh, and one has to wonder if the 100-pitch boundary is on the way out.
Ironically, it was Ryan's first manager in baseball -- Gil Hodges -- who brought the idea of counting pitches from his days with the Dodgers to the Mets. Though Hodges counted, he did not necessarily limit -- the purpose was to "condition" arms to handle specific workloads, via a measured training progression, and to get a finite understanding of each individual's point of fatigue.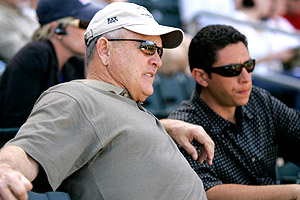 AP Photo/Charlie RiedelNolan Ryan isn't a fan of using pitch counts as a method of regulating a pitcher's time on the mound.
Which brings us to the irony: The counting helped Hodges ascertain unique limits (everyone is different, after all); yet for the rest of baseball, the counting evolved into a general demarcation line applied universally. Specifically, into a nice, round, arbitrary number that satisfied physicians and statisticians, and gave managers an easy, cover-your-butt reason to pull a starter from the mound: the 100-pitch limit.
There are some statistical studies suggesting that pitchers tire after pitch No. 100, but that's not the point to argue today. Rather, it's the theory that developed suggesting pitchers' careers ended because their workload was too heavy. Mark Fidrych was often referenced as an example, since he completed 24 games in his phenomenal 1976 rookie season, but never pitched well again. However, Fidrych's arm injuries began only after he suffered a serious knee injury while goofing around in spring training shagging flies. "The Bird" missed the first month and a half of 1977, returned too soon with altered mechanics that took stress (and pain) off the knee but put more on the shoulder, resulting in a rotator-cuff tear that eventually ended his career.
And that's the crux of the matter when it comes to protecting pitchers: Generally speaking, it is poor mechanics, rather than the workload, that ultimately injures a pitcher. Too many young pitchers with potentially harmful pitching motions go uncorrected due to disagreement over what constitutes "correct" form, the financial ramifications and the dearth of talent.
"Fixing" a mechanical issue can be a long-term process that becomes more difficult as a pitcher ages (and bad habits become more ingrained). With the six- and seven-figure bonuses paid to young hurlers these days, there's an economical urgency to get that talent to the big leagues as soon as possible. There's also the thought that "if it ain't broke (yet), don't fix it." In other words, if a teenage fireballer is touching triple digits on the radar gun, why change what he's doing, even if it looks awkward? The coach/organization would look bad if the change caused a drop in velocity, after all. Real life example:
Joel Zumaya
.
Zumaya's mechanics -- like many hard-throwing youngsters today -- are inefficient and fight, rather than embrace, the principles outlined in Newton's Laws of Motion (straight lines, momentum, etc.). Zumaya has been seriously injured twice, despite the "protection" of pitch counts. He heads a long list that includes
Matt Anderson
,
Chien-Ming Wang
,
Ben Sheets
,
Rich Harden
,
Angel Guzman
and countless others who have suffered career-threatening injuries despite limited pitch counts.
The number of seriously injured pitchers -- i.e., those who require surgery -- that we see today is more voluminous than the career-ending stories of 25-30 years ago, when pitchers routinely completed games and hurled in 220-250-plus innings in a season -- in four-man rotations, no less. For every Steve Busby of yesterday there are five Erik Bedards today, so how has the coddling and pitch counts helped avoid injury? If it weren't for modern medicine there would be just as many, if not more, career-ending stories resembling those of Busby, Fidrych, Wayne Garland, etc.
Throwing a baseball is an unnatural act for the human body to perform -- I get that. Doing it 150-175-plus times a day could be harmful, I'll admit -- particularly if the action used is inefficient and/or the person is not properly conditioned to handle such a workload. But the idea that limiting a pitcher to 100 pitches in and of itself is "protection" is nonsense. Nolan Ryan knows that, and began proving it with the 2010 Rangers. Hopefully, more organizations will follow his lead and begin instilling more logical methods of developing and "protecting" young arms.
Joe Janish writes the Mets Today blog and is a part of the SweetSpot blog network.
September, 28, 2010
9/28/10
5:41
PM ET
Bloomberg Sports' Tommy Rancel
reviews Oakland's pitchers
and arrives at
Trevor Cahill
as biggest surprise,
Ben Sheets
as biggest bust,
Gio Gonzalez
as 2011 keeper, and cites Cahill as a good candidate for 2011 regression ...
As mentioned, Cahill has really good traditional stats, but a quick check of his peripherals show he has not been as impressive as those numbers suggest. His 5.31 K/9 IP is poor and his 2.89 BB/9 is acceptable, but only with a higher strikeout rate. In addition to the mediocre control rates, his .237 batting average on balls in play (BABIP) is not likely to be repeated again (league average is typically around .300). Cahill is a fine young pitcher with a terrific groundball rate (55.7% ranks among the league leaders) and plenty of room to improve. But buyers beware next season - his ERA's likely to rise, and 17 or more wins might be a reach.
You think? W/L-wise, Cahill might be the biggest (positive) fluke of this season. It'll be akin to a miracle if he wins 15 games next season. Especially considering the Athletics' chronically anemic hitting.
But yes, Cahill's been the biggest surprise, Sheets has been the biggest bust -- as long as I live, I'll never figure that one out -- and Gonzalez is a keeper.
He's not the only one, though.
Dallas Braden
shares Cahill's strikeout rate but has walked roughly 30 percent fewer hitters. Not to mention founding
the autonomous region of Bradenia
. (Granted, Braden's been both hit-lucky -- like Cahill -- and probably homer-lucky this season, so he's also a candidate for ERA regression.)
And Oakland's best starting pitcher is the guy with the 6-6 record: 22-year-old
Brett Anderson
. In 48 major league starts, he's got a 3.62 ERA and a 3.32 strikeout-to-walk ratio. Anderson missed two months in the middle of the season with an elbow injury, but since coming off the DL in late July he's pitched as well as ever. The only category he wins is probably "2011 Cy Young candidate if he doesn't get hurt again."
June, 14, 2010
6/14/10
6:45
PM ET
Monte Poole on the
Bay Area teams' comparative winters
:

Sabean spent the offseason scouring the free-agent market for offense and bought, in order, Mark DeRosa (two years, $12 million), Uribe (who re-signed for one year, $3.25 mil) and Huff (one year, $3 mil).

With plenty of revenue-sharing cash available, Beane spent the offseason shopping for an ace and an outfielder. His major purchases were Ben Sheets, coming off major surgery, at a salary of $10 million, and Coco Crisp, also coming off injury, at a salary of $5 million.

DeRosa and Crisp haven't played much because of injuries. Sheets is 2-6 with a 4.93 ERA; he was the losing pitcher Saturday night. Huff (10 homers, 33 RBIs, .303 average, .395 on-base percentage) and Uribe (10, 41, .290, .356) have given the offensively challenged Giants more than they could have imagined.

I didn't like the Sheets contract, and wrote so at the time. Uribe's doing essentially what he did last season (which is still better than most of us expected). Huff's doing roughly what he did in 2008, with his awful 2009 now looking like an anomaly. I'm perfectly happy to credit Sabean for liking what he saw in Uribe last season, and for not giving a great deal of weight to Huff's '09 numbers, with the caveat that it's still fairly early.
I don't know that I'll ever be able to understand the Sheets deal, though. Unless he pitches brilliantly in July or the A's wind up in the playoffs -- both of which seem exceptionally unlikely -- this one's going to blow in Beane's face.
January, 26, 2010
1/26/10
5:42
PM ET
Really, A's? With all those complaints about your market and (especially) your ballpark, you can afford to
spend $10 million on
Ben Sheets
?
I don't want to rush to judgment ... Maybe he has to pitch 180 innings to earn the full $10 million?
Over the past five seasons,
Ben Sheets
has averaged 120 innings: 157-106-141-198-0.
When he's actually pitched, his performance has been impeccable. Are 120 innings of impeccable performance worth $10 million, though? No.
But what about a deal for $6 million guaranteed, with bonuses for hitting certain numbers of innings? That's the sort of deal that would make sense for a guy who hasn't thrown 200 innings in a season since 2004.
And then I read
this report
: Sheets' contract is worth $10 million
plus
performance incentives. Now, "performance" might mean innings, awards, or both. If Sheets hits any of those incentives, he'll probably be worth the $10 million-plus. If he doesn't, he won't be worth even the $10 million. And you can probably guess which of those I'm predicting.
Hey, it's not my money. I can understand the desire for a talented pitcher who might provide some veteran leadership for a rotation that's populated mostly by fresh-faced kids. I just don't know how much leadership the A's will get from a guy who typically spends a good chunk of the season on the DL.