March, 1, 2013
Mar 1
12:15
PM ET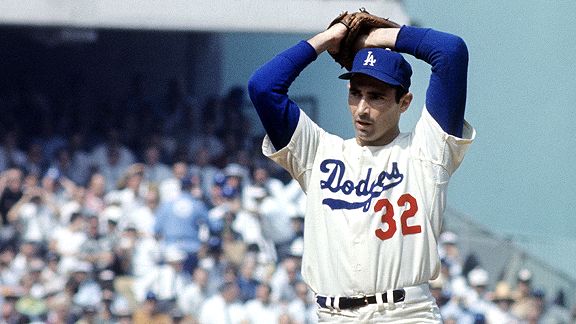 Focus on Sport/Getty ImagesOver his final five seasons, Sandy Koufax went 111-34 with a 1.95 ERA and three Cy Young Awards.
This is another follow-up to a debate that arose in a recent chat session: Which pitcher had the best five-year peak?
With
Sandy Koufax having spent time at Dodgers camp this spring
it seems like a perfect time for a list, doesn't it?
Well, I can never make things easy, so this will be a long list. I started with pitchers since 1950, primarily because I'm not as interested in comparing the peak of dead-ball era pitchers to the more modern game. Plus, we had to make this somewhat manageable. I'm going to use Baseball-Reference Wins Above Replacement to rank the pitchers and we'll have a vote at the end of the story.
The rules: It has to be a five-year consecutive peak -- not necessarily the best five seasons of a pitcher's career, but the best five years in a row. A pitcher can appear only once. That's it. I didn't include postseason results, but maybe should have. I looked at all the Hall of Fame starting pitchers from this era, some current guys and some others I wanted to include. The list is 41 pitchers, but this is
not
the best 41 peaks. I left out some good pitchers, such as Orel Hershiser, Dwight Gooden,
Roy Oswalt
and others. I do think I got all the guys who accumulated at least 30 WAR, however.
Jack Morris, 1983-1987: 20.2 WAR
We have to start somewhere.
Don Sutton, 1971-1975: 21.1
Despite winning 324 games, Sutton was a controversial selection to the Hall of Fame when he made it on his fifth year on the ballot. He was viewed as a compiler -- and, well, he sort of was, as his career-high WAR was 6.3 and he topped 5.0 just three times. From '71 to '75 he went 89-53 with a 2.63 ERA and 25 shutouts. Not bad for a compiler.
Early Wynn, 1952-1956: 22.3
In 1948, Wynn went 8-19 with a 5.82 ERA for the Senators, walking 94 and striking out 49. Bill Veeck of the Indians coveted Wynn anyway because of his good fastball, they got him along with Mickey Vernon in a trade, pitching coach Mel Harder taught Wynn a curve and slider, and he went on to average 18 wins per season in his nine years in Cleveland.
Whitey Ford, 1961-1965: 22.5
Here's a fair question: Is Whitey Ford overrated? Think about it: He pitched in the old Yankee Stadium, with its mammoth left-center power alley, certainly helpful to a left-handed pitcher; he didn't have to face the best team in the league, back when there were only eight teams in the league for much of his career; he won "only" 236 games. Of course, he was the ace of many World Series winners and was certainly clutch in the postseason. Ford's best five years came after Casey Stengel was fired after the Yankees lost the 1960 World Series. Stengel was always cautious with Ford's workload, using him for more than 230 innings only once. But from '61 to '65 Ford averaged 260 innings and went 99-38, a .723 winning percentage.
John Smoltz, 1995-1999: 22.9
When Smoltz shows up on the Hall of Fame ballot, it will be interesting to see how he fares compared to Curt Schilling, two guys with similar career records (Smoltz: 213-155, 3.33; Schilling: 216-146, 3.46) and similar excellence in the postseason. The big difference between the two is Smoltz never had the string of dominant seasons like Schilling did.
Catfish Hunter, 1971-1975: 23.4
Made his mark by winning seven games in the postseason as the A's won three consecutive World Series from 1972 to 1974, but vastly overrated as a pitcher. This five-year peak accounts for two-thirds of his career WAR of 32.1
Tom Glavine, 1995-1999: 24.0
What were the odds that a 22-year-old pitcher who led the league with 17 losses and struck out only 84 batters in 195 innings would turn into a 300-game winner and future Hall of Famer? Lower than slim and none? Glavine's best season via WAR was his breakout campaign in 1991 (8.2) when he won his first Cy Young Award, but in many ways he was similar to Sutton, an amazingly durable pitcher who was very good for a long time.
Felix Hernandez, 2008-2012: 24.1
Working on four straight years of 230-plus innings and doesn't turn 27 until April. With his new contract, the Mariners are banking on many more of those 230-inning seasons in the future.
Nolan Ryan, 1973-1977: 26.0
His first big year came after the Mets traded him to the Angels in 1972 and he won 19 games with a 2.28 ERA, worth 5.8 WAR. Twenty years later he was 44 and posted a 5.0 WAR season for the Rangers. In between, he was a dynamic, often wild, always amazing, and certainly one-of-a-kind. His mid-'70s peak was dragged down by a couple mediocre seasons in '75 and '76 when he posted a 3.40 ERA, only league average for the time once you adjust for his home park.
Mike Mussina, 1999-2003: 26.7
His career WAR of 78.1 is higher than many Hall of Fame pitchers of this era. Best season came in 1992 (7.9 WAR), but he had seven seasons of 5.0 or higher, five of those coming with the Orioles.
Justin Verlander, 2008-2012: 26.7
This stretch includes Verlander's 2008 when he went 11-17 with a 4.84 ERA, worth 1.5 WAR, so the total will jump up with a big 2013. Verlander led the league in losses that year, which prompts the question: How many Hall of Fame pitchers led their league in losses? Well, Phil Niekro managed to do it four straight seasons. Bert Blyleven did it at the end of his career in 1988, and future Hall of Famer Glavine did it the same season at the beginning of his career. Steve Carlton and Robin Roberts each did it twice. Early Wynn and Hal Newhouser. A couple of others. Not necessarily that unusual.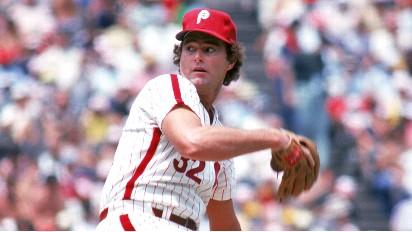 Rich Pilling/Getty ImagesSteve Carlton won four Cy Young Awards, but only one came during his best five-year WAR peak.
Steve Carlton, 1969-1973: 27.9
Maybe the most inconsistent great pitcher ever, this period includes Carlton's all-timer season in 1972 when he went 27-10 with a 1.97 ERA for a Phillies team that won only 59 games. No other pitcher won more than seven games, and he was a reliever. But Carlton followed that up with a 13-20, 3.90 year in 1973 and had some less-than-stellar years. His best stretch of consistent excellence actually came later in his career from 1980-1983, but his 11.7 WAR in '72 helps make this his best five-year stretch.
Don Drysdale, 1960-1964: 28.0
Dodger Stadium: 65-43, 2.19 ERA
L.A. Coliseum: 36-25, 3.14 ERA
Road games: 95-92, 3.41 ERA
Cliff Lee, 2008-2012: 28.9
Sort of the anti-Nolan Ryan. Whereas Ryan would
never
give in to a hitter, preferring to walk a batter rather than just throw something over the middle of the plate, Lee
never
wants to give up a free pass. Over this five-year stretch he has walked 165 batters; Ryan walked that many in a season three times.
Bret Saberhagen, 1985-1989: 29.1
Includes his Cy Young seasons in 1985 (6.9 WAR) and 1989 (9.2 WAR), but he couldn't stay healthy after that. Remember when Dave Stewart whined about not winning the Cy Young in 1989? Yeah, let's not get into that.
Jim Palmer, 1975-1979: 29.2
Palmer won 20 games eight times in nine seasons, but went 7-12 in 1974 right in the middle of that stretch to drag down his five-year peak (we ended up using a mediocre 10-6, 3.30 partial season in 1979 to round out our five years).
Frank Tanana, 1974-1978: 29.3
One of the best young pitchers ever, but hurt his arm in 1978. Returned as a finesse guy to have a long career.
David Cone, 1993-1997: 29.4
Only averaged 184 innings per season over this span thanks to the two strike-shortened seasons and an injury in 1996 that limited him to 11 starts, but went 64-35 with a 3.17 ERA during a high-scoring era and won the Cy Young Award in 1994.
CC Sabathia, 2007-2011: 29.7
Finished in the top five of the Cy Young voting all five seasons.
Rick Reuschel, 1976-1980: 29.8
A favorite of sabermetricians because of a career WAR of 64.6 that ranks 32nd
all time
among pitchers -- just ahead of Palmer, Sutton and Smoltz. Hmm. Reuschel's career record of 214-191 with a 3.37 ERA doesn't blow you away, but he spent his best years with mediocre Cubs teams in a hitter's park with bad defenses behind him. In these five years, he went 77-62 with a 3.33 ERA, topped by a 1977 season (20-10, 2.79 ERA) in which Baseball-Reference rates him not only as the best pitcher in the National League (9.2 WAR), but as the most valuable
player
. In comparing to Palmer, Baseball-Reference estimates Palmer's defense saved him 0.33 runs per nine innings over his career but cost Reuschel 0.18 runs per nine innings (a difference of about 14 runs over 250 innings). Maybe Reuschel would have won three Cy Young Awards if he had Mark Belanger and Paul Blair behind him.
Jim Bunning, 1963-1967: 30.2
After going 12-13 with a 3.88 ERA in 1963, the Tigers traded Bunning to the Phillies (for Don Demeter and Jack Hamilton), figuring at 32 he was past his prime. He wasn't. Instead, Bunning reeled off four magnificent seasons with the Phillies, going 74-46 with a 2.48 ERA while averaging 298 innings per season.
Kevin Appier, 1992-1996: 30.9
Surprise! Went 69-43 with a 3.22 ERA, including a spectacular 9.0-WAR 1993 when he led the AL with a 2.56 ERA and allowed only eight home runs. Should have won the Cy Young Award that year.
Warren Spahn, 1949-1953: 32.2
This stretch includes four of his five highest WAR seasons, the other being his best one -- 9.1 in 1947. Two awesome Spahn stats: (1) From 1947 to 1963, the
fewest
innings he pitched was 245.2; (2) Led the NL in complete games seven consecutive seasons, from ages 36 to 42. Here's a third one: Led or tied for the NL lead in wins eight times.
[+] Enlarge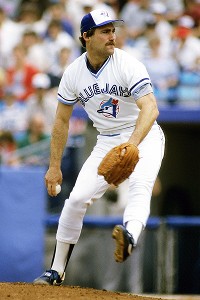 Ronald C. Modra/Getty ImagesToronto ace Dave Stieb should have won a Cy Young Award or two in the early '80s.
Dave Stieb, 1981-1985: 32.4
Underrated in his own time, Baseball-Reference rates Stieb as the first- or second-best pitcher in the AL all five seasons in this stretch, but he never finished higher than fourth in the Cy Young voting because they were giving the awards to guys like Pete Vuckovich and LaMarr Hoyt.
Roy Halladay, 2007-2011: 32.5
Went 93-44 with a 2.80 ERA.
Bert Blyleven, 1971-1975: 33.5
Blyleven's run came from ages 20 to 24 and included a 325-inning season in 1973 when he was 22. Somehow his ligaments and tendons remained attached and didn't turn into soba noodles. You'll notice that Blyleven is the third pitcher with the exact same five-year dates; to a large extent this is because innings totals increased during this period. With more innings comes a higher WAR. In the 1960s, for example, there were 25 300-inning seasons; in the first five years of the '70s, there were 27. Or, really, innings started ramping up in the late '60s, when offense declined, leading to the lowering of the mound after 1968 and the advent of the designated hitter in the American League. To put a more dramatic spin on the increase in workload, from 1955 to 1964, there were seven 300-inning seasons (three by Drysdale); in the next 10 years, there 47 300-inning seasons.
Johan Santana, 2004-2008: 34.2
Won three ERA titles and two Cy Young Awards (and probably should have won a third) in this period.
Ferguson Jenkins, 1968-1972: 34.9
Went 107-71 with a 3.02 ERA, averaging 309 innings and winning the 1971 Cy Young Award. The Cubs were still pretty good in this era, finishing over .500 all five years, so this wasn't just a pitcher excelling despite a bad team behind him.
Curt Schilling, 2000-2004: 35.0
This run includes half a season in Philly, three and a half in Arizona and his first year in Boston, a year that culminated with a bloody sock and the lifting of a curse. Five-year totals: 85-40, 3.24, three Cy Young runner-up finishes, three 20-win seasons, a 300-strikeout season (he had two more in 1997 and 1998) and two World Series championships. Schilling pounded the strike zone -- he averaged only 1.5 walks per nine innings -- and had a remarkable 316/33 strikeout/walk ratio in 2002.
Kevin Brown, 1996-2000: 35.4
Deserved to hang out on the Hall of Fame ballot longer than one year and have his case at least discussed. For a time, Brown was impressive as any pitcher of his generation, throwing that hard, mid-90s sinker. In this stretch he went 82-41 with a 2.51 ERA in the heart of the steroids era, averaging 242 innings, twice leading in ERA and pitching in two World Series. His seasonal WAR totals: 7.7, 6.7, 8.3, 5.9, 6.8.
Juan Marichal, 1962-1966: 35.4
Starting in 1963, he went 25-8, 21-8, 22-13, 25-6, 14-10, 26-9 and 21-11. You know how many Cy Young votes he received those seasons? None. His best five-year peak would be better if not for that 1967 season where he missed some time and made 26 starts. As is, he went 107-45 with a 2.37 ERA.
Wilbur Wood, 1970-1974: 36.7
Another early '70s guy, Wood's knuckleball allowed him to post some of the more freakishly awesome seasons in modern history, including 1971 when he had a 1.91 ERA in 334 innings, and 1972 when he started 49 games and pitched 376.2 innings. Those two seasons were worth 11.5 and 10.3 WAR. (He slacked off in 1973 and started only 48 games and threw 359.1 innings.)
10. Gaylord Perry, 1972-1976: 37.0
OK, we're into the top 10, so we'll start numbering the countdown. If you're getting the idea that the early '70s were to pitching what the late '90s and early aughts were to hitting, then give yourself a gold star. Perry's 1972 with Cleveland was an amazing season: 24-16, 1.92 ERA, 29 complete games, 342 innings, worth 10.4 WAR. From May 6 to Aug. 5 he started 22 games and completed 19, posting a 1.55 ERA. Here's the kicker: He averaged
more than
nine innings per start in that stretch (one of his non-complete games was a
13-inning scoreless effort
).
Five-year totals: 97-79, 2.83 ERA, 313 innings per season.
9. Tom Seaver, 1969-1973: 37.4
Went 103-51 with a 2.35 ERA. Followed this up with another five-year stretch valued at 30.2 WAR.
8. Bob Gibson, 1966-1970: 38.0
This period includes his memorable 1968 season when he went 22-8 with a 1.12 ERA, a year that included a 47-inning scoreless streak and one period where he allowed two earned runs in 92 innings. No wonder baseball lowered the height of the mound from 15 to 10 inches for 1969. That season was worth 11.1 WAR, and he followed that up with two more pretty good ones: 10.3 WAR in 1969 and 8.4 in 1970, when he won another Cy Young Award. If not for a broken leg that forced him to miss two months in 1967, he'd be even higher on the list. (Or if we included hitting; he accumulated 3.3 WAR at the plate as well, and had 19 RBIs in 1970.) Five-year totals: 99-48, 2.30, 27 shutouts.
7. Phil Niekro, 1974-1978: 38.6
This is never mentioned as a great peak since Niekro's record was just 87-77 (pitching for bad Braves teams in the post-Aaron era) and his ERA was 3.16. He even led the league in losses in 1977 and 1978 (and would do so again in 1979 and 1980, joining Pedro Ramos as the only pitchers to do that four consecutive years). His ERA+ of 127, for example, was much lower than Gibson' five-year mark of 153. What Niekro did was throw a lot of innings -- 302.1, 275.2, 270.2, 330.1 and 334.1 -- and that workload led to WAR totals of 7.5, 6.5, 6.4, 8.6 and 9.6.
6. Sandy Koufax, 1962-1966: 39.1
Only sixth? For a pitcher who went 111-34 with a 1.95 ERA, won the NL ERA crown all five years and had seasons of 25-5, 26-8 and 27-9? He won an MVP Award and finished second in the voting two other years, while winning three Cy Young Awards (when they gave it to just one pitcher in all of baseball). So why only sixth? Well, there's no doubting Koufax's domination -- he, Gibson and Wood are the only two pitchers with two seasons of 10+ WAR during their peak runs. But a couple of things: (1) Dodger Stadium was a huge pitcher's park in those days, with a notoriously high mound (Koufax had a 1.37 ERA at home and 2.57 on the road, not that there's anything wrong with 2.57), so his numbers are knocked down a bit to adjust for that; (2) He missed time in 1962 (184 innings) and 1964 (223 innings), so that cuts into his value, at least compared to the other three seasons.
5. Greg Maddux, 1992-1996: 39.2
This is when he won his four consecutive Cy Young Awards. Five-year math: 90-40, 2.13 ERA, 191 ERA+, single-season WAR of 8.9, 5.5, 8.3, 9.5, 7.0 (followed by seasons of 7.6 and 6.3). And remember, his value was held down by the shortened seasons of 1994 and '95, when he had ERAs of 1.56 and 1.63.
[+] Enlarge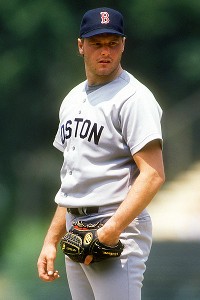 Mitchell Layton/Getty ImagesThe young Roger Clemens wasn't too shabby.
4. Roger Clemens, 1986-1990: 40.1
The numbers: 100-42, 2.71 ERA, 156 ERA+, 256 innings per season, 57 complete games, 23 shutouts, two Cy Young Awards (and was robbed in 1990). Also had 33.7 WAR from 1996 to 2000 and six other seasons of 5+ WAR not included in either of those two stretches.
3. Robin Roberts, 1950-1954: 40.5
Now this is what you call a peak: 115-64, 2.87 ERA, 138 ERA+, 135 complete games, 327 innings per season, seasons of 7.0, 7.6, 7.9, 9.4 and 8.6 WAR. By the 1950s, innings pitched totals had to started to decline, especially compared to the dead-ball guys, but not for Roberts. There were 10 300-inning seasons in the decade and Roberts had six of them. From his autobiography (tip of the cap to the "Neyer/James Guide to Pitchers"): "I was mainly a one-pitch pitcher, although sometimes I mixed in a curveball when I was ahead in the count. I could put my fastball where I wanted it, but I was sometimes criticized for not pitching inside more. ... I just went after people with my best stuff and let the batters hit it if they could."
Roberts threw very hard -- Bill James says he threw about as hard or possibly harder than Bob Feller or Bob Gibson or any of those big guys. Because his control was so good, he relied primarily on that one pitch. (He did give up a lot of home runs.) Outside of this stretch, Roberts had only one more season rated above 5.0 WAR, and one other above 4.0.
2. Pedro Martinez, 1997-2001: 41.4
Let's take these seasons one-by-one:
--1997: 17-8, 1.90 ERA, 8.7 WAR, 241.1 IP, 158 H, 305 SO, won Cy Young Award. Led NL in ERA and complete games (13).
--1998: 19-7, 2.89 ERA, 6.9 WAR, second in Cy Young voting in first year with Red Sox, struck out 251 in 233.2 innings.
--1999: 23-4, 2.07 ERA, 9.5 WAR, won Cy Young, second in MVP voting, 313 SO in 213.1 innings (13.2 per nine).
--2000: 18-6, 1.74 ERA, 11.4 WAR, won Cy Young, somehow only fifth in MVP voting, 284 SO in 217 IP, opponents hit .167 off him --
.167!
This isn't a closer we're talking about here. .167.
--2001: 7-3, 2.39 ERA. Injured, made only 18 starts.
It's too bad we couldn't sub in his 2002 (20-4, 2.26) or 2003 (14-4, 2.22). Great fastball, the best changeup of all time, command, varied his arm angles, mixed in a cut fastball, slider and curveball, and wasn't afraid to deliver some chin music every now and then. Only thing he lacked was the durability to rack up a lot of innings.
Five-year totals: 84-28, 2.18 ERA, 215 ERA+, 1,316 SO in 1,022 innings.
1. Randy Johnson, 1998-2002: 42.2
As awesome as Pedro was, the Unit rates even higher, which tells us something about how good
he
was. Five-year totals: 100-38, 2.63 ERA, 174 ERA+, four Cy Young Awards, three ERA titles, 41 complete games, 17 shutouts, five 300-strikeout seasons, 1,746 SO in 1,274 innings.

Individual seasons: 5.4, 8.8, 7.8, 9.8, 10.4. In fact, his five-year peak could have been higher had he not sulked his way through the first half of 1998 with the Mariners before finally getting traded to the Astros (where he went 10-1 with a 1.28 ERA in 11 starts).
On a rate basis, Pedro was a little better, as reflected in his better ERA+. He also had to face DH lineups for four of his five seasons. But Johnson was dominant
and
durable -- he pitched 252 more innings than Pedro in his five-year peak and that puts him at No. 1.
* * * *
Of course, you don't have to rely on WAR for your own personal rankings. My top five would probably go Johnson, Martinez, Koufax, Maddux, Clemens, with apologies to Bob Gibson.
In the poll, we can only include five names. I apologize to Robin Roberts fans for leaving him out despite his No. 3 ranking above. Like Phil Niekro, his value comes as much from a huge workload as being a great pitcher. But he wasn't dominant in the same sense as some of these other pitchers -- he never led his league in ERA, for example, and his ERA+ during his five-year peak was 138, well below the others. So he got the boot from the poll.
Who do you have?
January, 23, 2013
Jan 23
9:00
AM ET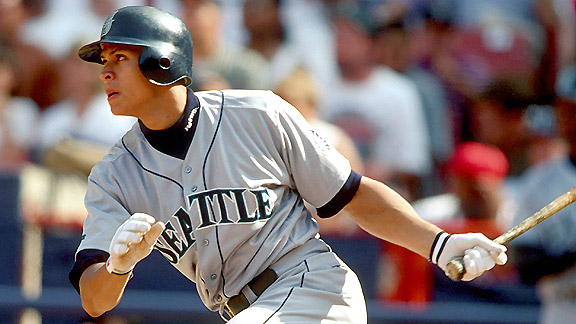 US PresswireAt age 20 in 1996, Alex Rodriguez boasted a 9.2 WAR for the Seattle Mariners.
A couple weeks ago, Keith Law unveiled his annual list of the
top 25 players under the age of 25

. Keith's list isn't a projection of the best players for 2013, but rather a projection and ordering of players if you were starting a franchise.
I thought it would be fun to do a similar list for all time. Of course, it's a difficult assignment because I was attempting to follow the same line of thinking as in Keith's piece: Whom would you build a team around? In doing this you have to pretend to ignore what happened in a player's career
after
a certain moment in time and project how he would have been valued at a particular age.
So this isn't just a list of the best players through the age of 24, or a list of the best seasons under the age of 25 -- although many of those players appear here. We're looking at the numbers and considering what the scouting reports would have been. Mark Fidrych, for example, was great at 21, but didn't possess the explosive fastball to make this list.
So here goes. A couple quick points. First, I ignored the 19th century. Second, I think it's important to understand that it was easier for a young player to excel in 1905 or 1929 or even into the 1950s than it is now. In my opinion, a 20-year-old
Mike Trout
dominating in 2012 is more impressive than a 20-year-old Ty Cobb dominating in 1907. Also, position matters. You build around up-the-middle guys more than corner guys (although there are some of those here). Cobb, for example, spent his early years as a right fielder before moving to center, so I downgraded him because of that.
Here's a way to look at this: If one player is ranked 23rd and another is ranked 14th, I'm saying I wouldn't trade the No. 14 player -- at that point in his career -- for the No. 23 player. Feel free, of course, to disagree.
25. Sam McDowell, LHP, 1965 Indians (age 22)
How dominant was McDowell in 1965? He averaged 10.71 strikeouts per nine innings, a record at the time and one that would last until 1984. In fact, while McDowell's K rate now ranks 25th all time, it's one of only three in the top 25 that came before 1990. He led the American League in ERA that year and the following May Sports Illustrated ran a
cover story
on McDowell with the billing, "Faster than Koufax?"
As you can see from his walk total, he had the blazing fastball but not Koufax-like command. That SI article perhaps points to some of McDowell's future issues in that it portrays him a pitcher with a fastball, slider, changeup and overhand curve ... and all too willing, apparently, to throw all four pitches. "He has such a good changeup that he wants to use it -- too much, in my opinion," catcher Del Crandall said. "I do not believe he is as impressed with his fastball as the hitters have indicated that they are."
McDowell liked to think out there. You wonder if he had just settled on two pitches -- maybe fastball/slider like
Randy Johnson
-- if he would have solved some of the control problems that did plague him throughout his career. The article mentions a game where he threw 163 pitches. "About par for me," McDowell said. Back then, nobody cared. "He has a good idea how to pitch," his manager Birdie Tebbetts said, "and he's going to be a real pitcher, one of the truly great ones. He runs three times as much as some pitchers, and he concentrates. He's going to get very tired in the next few years from all those pitches he throws, but he can stand that because he's young and strong, because he has a perfect build for a pitcher and because he doesn't have a sore-arm delivery. He's smooth."
24. Mel Ott, RF, 1929 Giants (age 20)
John McGraw didn't discover Ott so much as Ott found John McGraw. Ott was a 16-year-old playing for a lumber company semi-pro team in Louisiana when the lumber company owner bought Ott a train ticket to New York to try out for McGraw's Giants. A year later, Ott was playing in the Giants' outfield -- McGraw not wanting to farm out his young discovery to the minor leagues and have him fall prey to unknown evils.
Ott hit .322 with 18 home runs at age 19 and then exploded at age 20. Even in the high-scoring season of 1929, Ott's numbers were impressive: 42 home runs, one behind league leader Chuck Klein and the most ever by a 20-year-old; first in walks; fourth in on-base percentage and third in slugging percentage; second to Hack Wilson in RBIs. Ott -- helped by the short porch at the Polo Grounds -- never again hit 42 home runs but did lead the National League in homers six times and and in OBP four times.
23. Pete Reiser, CF, 1941 Dodgers (age 22)
Reiser's numbers are more impressive then they may appear at first glance: He led the National League in batting average, doubles, triples, runs, slugging percentage, total bases, runs created, OPS and OPS+, plus he was regarded as one of the fastest players in the league and played a terrific center field. Reiser led the NL in WAR that year, not that WAR existed in 1941, so teammate Dolph Camilli, who drove in 120 runs, won MVP honors.
Reiser would become one of baseball's legendary "what if" players. On July 19, 1942, he crashed head-first into an unpadded concrete wall in St. Louis, knocked unconscious with "blood pouring from his ears." Reiser either fractured his skull or didn't;
history is a little murky
on the whole incident, according to Steven Goldman. Reiser would miss only a few games and finished sixth in the MVP vote but he suffered from blurred vision the rest of the year. He was hitting .350 at the time, tailing off to .310 by the end of the season.
After that came World War II, and in 1947 Reiser crashed into another wall and was injured severely enough that he was given last rites. He was never the same. Does he deserve a spot in the top 25? While it's true that he may have never developed into a big home run hitter, it seemed clear he was already one of the game's best all-around players. Leo Durocher, who managed Reiser in '41, would say Willie Mays was the greatest player he ever managed, but that Reiser had the same potential.
22. Andruw Jones, CF, 1998 Braves (age 21)
Look where Jones stood at this point in his career: He already was compared to Willie Mays defensively (indeed, Baseball-Reference ranks Jones' 1998 season as the sixth-best since 1901 of any position, with his '99 season even better), hit more home runs than Ken Griffey Jr. did at the same age, stole 27 bases in 31 attempts and hit a respectable .271. There may have been some concern about the ultimate potential with the batting and on-base ability, but if you remember the young Jones, we saw a gifted all-around player with MVP glitter in his future.
Jones would have seasons of 51 home runs, a .302 average and as many as 83 walks -- he just never did all those things at once. He was a
great
player with his range in center, but eventually he got fat, his 30s were a big zero and a Hall of Fame career wasted away.
21. Bert Blyleven, RHP, 1973 Twins (age 22)
Blyleven ended up pitching so long and then his Hall of Fame debate became so heated that it's easy to forget that he was one of the greatest young pitchers of all time. He made the majors at 19 and the next year won 16 games with a 2.81 ERA. In the early '70s, pitchers were treated about as well as a herd of cattle intended for fast-food hamburgers and Blyleven pitched 278 innings at age 20, 287 at 21 and then 325 at age 22. Somehow his arm remained attached to the shoulder socket.
He threw nine shutouts in 1973 and two one-hitters, leading the AL in adjusted ERA and strikeout/walk ratio. That he finished seventh in the Cy Young vote was a reflection of less-informed times, when writers looked at his 20-17 win-loss record and failed to realize how good he was. While we know about his famous curveball, Bill James also rated Blyleven's fastball the ninth-best between 1970 and 1974. Sure, we would be concerned about Blyleven's workload, but he had the total package.
20. Bryce Harper, OF, 2012 Nationals (age 19)
In terms of WAR, Harper just had the best season ever by a 19-year-old position player. The rest of the top five: Mel Ott,
Edgar Renteria
, Ken Griffey Jr. and Ty Cobb. And Ott is 1.3 wins behind Harper.
19. Frank Tanana, LHP, 1975 Angels (age 21)
Maybe you remember the old junkballing Tanana instead of the young flamethrower who compiled 22.3 WAR from ages 21 to 23 -- second-best over those three ages since 1901, trailing only Walter Johnson (22.7). Nolan Ryan was a teammate those three years and Tanana was better: He went 50-28 with a 2.53 ERA while Ryan went 50-46, 3.16.
As a 21-year-old, Tanana led the AL in strikeouts and strikeout/walk ratio while finishing fourth in the Cy Young voting. Two years later, Sports Illustrated's Ron Fimrite
wrote
, "They know it exists; they just cannot find it, because the Tanana curve is among the most wicked in all of baseball. But then so are his fastball and his changeup. And all three are thrown with withering accuracy. Unlike Ryan, with whom he forms the most devastating one-two pitching entry in the game, he has complete control." James ranked Tanana's fastball the third-best of that era, behind two famous ones: Ryan's and Goose Gossage's.
Then he hurt his shoulder, and lost his speed. To his credit, he stuck around to win 240 games.
18. Hank Aaron, RF, 1957 Braves (age 23)
Aaron hit .314 at 21, won a batting title with a .328 mark at 22, but at age 23 his power exploded as he hit those 44 home runs and won what would be the only MVP Award of his career. Aaron led the NL in home runs, RBIs and runs and chased the Triple Crown into August (he would finish fourth in batting average). The only thing he didn't do yet was run -- one steal that year (though at his base-stealing peak in 1963 he took 31 bases).
In a profile that year in Sports Illustrated -- titled, appropriately,
"Murder With A Blunt Instrument"
-- Roy Terrell painted the image of Aaron that would last throughout his career: "Perhaps the most unusual part of the Aaron story is the fact that no one gets very excited about it. Sometimes it is even easy to forget that Henry Aaron is around. Without the physical proportions or explosive speed of a Mickey Mantle, without the breathtaking color of a Willie Mays, without the long and brilliant -- and controversial -- career of a Ted Williams, Aaron seems to be hardly a personality at all. He says practically nothing, stays out of nightclubs, never loses his cap running the bases, and spits only upon the ground."
17. Al Kaline, RF, 1955 Tigers (age 20)
Here's one example of why this list was difficult to put together: Do you take the 20-year-old Kaline over the 23-year-old Aaron? Or the 20-year-old Kaline over the 21-year-old Aaron for that matter? I think you have to go with Kaline, trying to ignore what happened after each age. An 18-year-old bonus baby in 1953, in 1955 Kaline led the AL with his .340 average, 200 hits and 321 total bases. He finished second in the MVP vote to Yogi Berra. He played a terrific right field.
Kaline went on to collect 3,000 hits and become a Hall of Famer, of course, but 1955 remained arguably the best year of his career (in terms of WAR, 1961 edges it out at 8.2). Kaline never hit 30 home runs and never hit .340 again. Looking back at '55, he got off to a great start, hitting over .400 in April and .371 in the first half (.301 in the second). Perhaps the league eventually figured something out; he also tore up the woeful Kansas City A's that year, hitting .451 against them with nine of his 27 home runs.
16. Cesar Cedeno, CF, 1972 Astros (age 21)
The sky was the proverbial limit for Cedeno in 1972 when he finished third in the NL in OPS while playing in the expansive Astrodome. Not shown above: He stole 55 bases and won a Gold Glove. Cedeno was outstanding again the next year, hitting .320 with 25 home runs and 56 steals. What happened from there? I wrote about his
cautionary tale
last August.
15. Mark Prior, RHP, 2003 Cubs (age 22)
How good was Prior in his first full season in the majors? As good as advertised when he came out of USC. From 1994 to 2004, the only pitchers with a lower ERA in a season were
Greg Maddux
,
Pedro Martinez
,
Kevin Brown
,
Roger Clemens
,
Jake Peavy
, Randy Johnson and
Jason Schmidt
. In the heart of the steroids era, Prior looked like the next Clemens, a 6-foot-5, 230-pound horse who would lead the Cubs to a World Series championship.
"Chicago Heat"
read the Sports Illustrated cover that summer, featuring Prior and
Kerry Wood
. The article detailed Prior's extensive conditioning program between starts and his fundamentally sound mechanics.
The next year, he got hurt.
14. Eddie Mathews, 3B, 1953 Braves (age 21)
Check those numbers again. Mathews' 47 home runs not only led the NL but remain the most ever for a player 21 or younger -- 20-year-old Mel Ott being the only other player that young to hit at least 40. Ty Cobb had seen Mathews as a minor leaguer and declared, "I've only known three or four perfect swings in my time. This lad has one of them."
Mathews finished second in the MVP voting to Roy Campanella that year, but in some regards, Mathews spent the rest of his career trying to live up to the unlimited promise of his sophomore campaign. He would finish second again in the 1959 MVP vote and hit over 500 home runs but tailed off in his early 30s. In his autobiography, Mathews mentioned that his drinking caused him to lose several jobs in baseball, including a stint as Braves manager in the early '70s, although it's unclear if that was a problem during his playing days.
13. Cal Ripken, SS, 1983 Orioles (age 22)
On June 22, 1982, Earl Weaver moved a 21-year-old rookie from third base to shortstop in a game against Cleveland. The Orioles lost 8-6 and the kid moved back to third base. On July 1, Weaver started the rookie again at shortstop. He'd spend the next 14 years there -- starting every game.
In his first full season at shortstop, Cal Ripken's Orioles won the AL East (and went on to win the World Series) and Ripken captured MVP honors with his strong year at the plate -- he led the AL in runs and finished second in total bases -- and surprising defense up the middle. Maybe he didn't have the speed of other shortstops, but his arm strength allowed him to play deep and he had a quick first step.
Ripken's bat never really developed from where it was as a 22-year-old -- he only had two more seasons that compared, offensively, to 1983 (1984 and his second MVP season of 1991) -- and while too much attention was paid to his ironman streak, he remained a power-hitting shortstop with underrated defense.
12. Walter Johnson, RHP, 1910 Senators (age 22)
Johnson's speed was apparent from the day he joined the Senators in 1907, a raw youngster with impossibly long arms. After losing 25 games in 1909 -- the Senators were awful -- Johnson had his breakthrough season at 22, winning 25 games for a team that would limp to a 66-85. Johnson led the AL in games started, complete games, innings pitched and strikeouts, and threw eight shutouts.
That offseason, the Washington Post circulated a rumored trade of Johnson for Ty Cobb. Tigers president Frank Navin denied the rumor, saying the Senators would never trade Johnson, whom Navin called "in my opinion the best young pitcher in the country, and doubly valuable because he is so young."
Was Johnson the hardest thrower of all time? It's possible, although some speculate that Johnson was merely the first pitcher to throw hard all the time (instead of saving his best stuff for key situations, as most pitchers could do during the dead-ball era), thus making his fastball
seem
faster than it was. Cobb would probably disagree with that. In Henry Thomas' biography of Johnson, he quotes Cobb saying, "The first time I saw him, I watched him take that easy windup -- and then something went past me that made me flinch. I hardly saw the pitch, but I heard it. The thing just hissed with danger. Every one of us knew we'd met the most powerful arm ever turned loose in a ballpark."
11. Vida Blue, LHP, 1971 A's (age 21)
Blue had started only 10 games in the big leagues (those 10 games included a no-hitter and one-hitter) when the 1971 season began. He got knocked out in the second inning of the season opener, but then quickly announced his presence: A six-inning shutout with 13 strikeouts in his next start, followed by a two-hit shutout and then eight complete games in his next nine starts, including three more shutouts. At the All-Star break he was 17-3 with a 1.42 ERA and 17 complete games in 22 starts. He would appear on the covers of Sports Illustrated and Time.
"He throws harder than Sandy Koufax did," Orioles first baseman
Boog Powell said
that season. "He has an effortless motion, a smooth, compact delivery. He goes out for nine innings and doesn't seem to weaken."
Blue relied mainly on his overpowering fastball, which he sometimes "cut" to add sinking movement. He also had a curveball and threw an occasional changeup. Blue was an outstanding athlete -- he threw 35 touchdown passes his senior year in high school, but chose baseball because there wasn't a future in pro football back then for black quarterbacks.
Blue's usage was an issue that summer and manager Dick Williams did cut back in the second half. But the damage may have been done. A holdout in 1972 -- Blue went 6-10 that year -- didn't help matters. But a quote from teammate Sal Bando in 1973 sums up why Blue, while remaining an excellent pitcher, never duplicated his 1971 wonders: "He found out that you can't throw the fastball for 300 innings."
10. Ken Griffey Jr., CF, 1990 Mariners (age 20)
"The Natural,"
billed the Sports Illustrated cover in May of 1990. Indeed, when told before one game to watch out for Bert Blyleven's curveball, Junior asked, "Is he a righty or lefty?" Griffey hit .300 and slugged .481 in his second year in the bigs with that picture-perfect swing, numbers more impressive in those years before muscles and offense exploded. He ranked seventh in the AL in batting average and ninth in slugging, won a Gold Glove and drew the inevitable comparisons to the next man on our list.
Am I overrating him on the list? After all, Bryce Harper had the same WAR in 2012, at the age of 19, as Griffey had at 20 and is 10 spots lower on the list. I think there was a certain awe about Griffey's potential at the time -- the leaping grabs in center field, the ability to hit for average, the untapped power that would eventually be unleashed. As Bill James wrote then, "He hasn't been overhyped; he's worth it. Griffey is the only major league player who has not yet established reasonable limits for himself. He could be anything -- he could be the greatest player there ever was, or he could be Cesar Cedeno."
I guess you could say the same thing right now about Harper, but let's wait a year on him. Obviously, I think he's going be awesome -- he's on this list after all -- but potential is a tough label to put on one so young.
9. Willie Mays, CF, 1954 Giants (age 23)
Mays missed most of 1952 and all of 1953 in the Army, but his return to the majors was so spectacular that he cracks my top 10, even if he is a little older than most of the others on this list. This is what the debate is all about: Would you trade 23-year-old Willie Mays for 20-year-old Ken Griffey Jr.? Mays led the NL in batting average and slugging percentage while finishing third in home runs. If there had been a Gold Glove Award back then, Mays would have won that, too. He
did
capture MVP honors and deservedly so.
I think the difference is this: The 23-year-old Mays was the finished product; the 20-year-old Griffey wasn't. While Griffey
did
develop into the player everyone projected, Mays was already that player. While Griffey made the cover of Sports Illustrated in 1990, Mays made the cover of Time in 1954. In July, Mays appeared on three network TV shows in one weekend. He was a phenomenon, and a Newsweek headline read: "Willie Mays: The Hottest Thing Since Babe Ruth."
8. Bob Feller, RHP, 1939 Indians (age 20)
I could have put the 17-year-old Feller on the list (he made the majors while still a high school junior in Iowa and struck out 17 batters in a game that September), or the 18-year-old Feller (he appeared on the cover of Time that spring and his high school graduation was aired by NBC Radio), or the 19-year-old Feller (went 17-11 with a 4.08 ERA but walked 208 batters), but I think the 20-year-old Feller is the better choice.
It was his breakout season and while he still wasn't quite polished, his control had improved enough for him to make that leap to superstar status. He led the AL in wins, innings and strikeouts. In a league where only eight pitchers struck out 100 batters, Feller had 246. How fast did Feller throw? In the days before radar guns, he
challenged a motorcycle
in the summer of 1940. The motorcycle was racing at 86 mph as it flew past Feller as he unleashed his pitch. He managed to hit the target on his first try -- three feet ahead of the motorcycle. MLB declared he threw the ball 104 mph.
7. Mickey Mantle, CF, 1956 Yankees (age 24)
The oldest player on my list, you could argue I made the wrong choice: That 20-year-old Mickey Mantle was more valuable than 24-year-old Mantle, in part because in a theoretical trade you would lose the four seasons from ages 20-23. I'm sure Nate Silver or Dan Szymborski could run the numbers through their projection system and give a mathematical answer. Anyway, the 20-year-old Mantle was already one of the best players in the league: He hit .311 with 23 home runs, led the AL in OPS and finished third in the MVP vote. He remained at the level the next two seasons then hit 37 home runs at age 23.
But then ... then came one of the greatest seasons in major league history. Mantle hit .353 with 52 home runs and won the Triple Crown. He slugged .705 and had a 1.169 OPS. At the time, you may have thought: OK, Mantle raised his game to a new level -- the highest level -- and he's just entering his peak years; he may do this for the next seven or eight seasons. We know now that didn't
quite
happen. He was nearly as good in 1957 when he hit .365 and had an on-base percentage over .500, but those were his two best years.
That Mantle wasn't able to maintain that level of play isn't really a knock against him, although we can debate how much was bad knees and other injuries and how much was off-the-field habits. But he was so good in 1956 that even a 20-year-old Mantle -- even a raw kid with big speed and huge power -- couldn't have been projected to have this kind of season.
6. Joe DiMaggio, CF, 1937 Yankees (age 22)
Picture Joe D at age 22: Second season in the majors, a league-leading 46 home runs, a league-leading 151 runs scored, third in batting average, second in RBIs, first in slugging percentage, graceful in the outfield and on the bases, nearly twice as many walks as strikeouts, the best player on the best team in the world. What kind of future would that player have?
By WAR, it would be DiMaggio's second-best season. One reason I ranked him sixth is that you could easily project a 22-year-old who hit 46 home runs to become a 50-homer guy; but the 46 would be DiMaggio's career high, as he never hit 40 again. (Yankee Stadium, with its mammoth 457 feet to left-center, certainly hurt him; he hit 27 homers on the road in 1937, for example.)
"Name a better right-handed hitter, or a better thrower, or a better fielder, or a better baserunner," Hank Greenberg once said. "That's right, a better baserunner. Did you ever see him slide when he hooked the bag with his toe? Absolutely perfect."
5. Mike Trout, CF, 2012 Angels (age 20)
Wait: I just ran that quote and then ranked Trout ahead of DiMaggio? Well, where do we begin?
1. Trout just played his age-20 season (he turned 21 in August). DiMaggio was still in the Pacific Coast League at 20.
2. DiMaggio may have been a great baserunner, but he did play in an era when there weren't many stolen bases. He stole 30 bases in his career; Trout just stole 49 bases in 54 attempts.
3. Check their adjusted OPS. Trout's is actually a shade higher. The AL hit .281/.355/.415 in 1937; it hit .255/.320/.411 in 2012.
4. Trout drew more walks in fewer plate appearances -- in a league where pitchers averaged nearly a walk less per nine innings.
5. Trout's WAR is the highest of any 20-year-old position player. Or 21-year-old for that matter.
So ... yes, I would rather build around 20-year-old Mike Trout than 22-year-old Joe DiMaggio.
4. Johnny Bench, C, 1970 Reds (age 22)
The only catcher to make the list, Bench's value, in part, lies in that positional scarcity. Who was he in 1970? Only the NL MVP after leading the league in home runs and RBIs while possessing the strongest arm many had ever seen -- he started 130 games at catcher and allowed only 32 steals while throwing out 30. You did not run on Johnny Bench.
3. Ted Williams, LF, 1941 Red Sox (age 22)
OK, maybe he couldn't play center field like DiMaggio or Trout. But the man did hit .400. By the way, the feat is more impressive now than it was at the time. From 1935 to 1940, seven players had hit better than .370, including Luke Appling's .388 mark. So Williams was 18 points higher than the recently established high at the time. The highest average in the past seven years was
Joe Mauer
's .365 mark in 2009, so in some fashion Williams' .406 would be akin to somebody hitting .383 today. (The AL hit .267 in 2009 and .266 in 1941.)
2. Dwight Gooden, RHP, 1985 Mets (age 20)
All these years later, I'm still trying to figure out how Gooden finished
fourth
in the MVP vote. "His pitch does everything," Cubs first baseman
Leon Durham said
that year. "It moves, it sinks, it rises." Gooden threw a hard curve and a slow curve and hitters couldn't touch either one. Batters hit .201 off him and slugged .270. He threw eight shutouts -- and that doesn't count two other games where he pitched nine innings with no runs and got a no-decision. He allowed one run or fewer in 19 of his 35 starts.
It wasn't just the best pitching season ever by a young starter, it may have been the best, period. Baseball-Reference.com rates it fourth-best since 1901, behind two Walter Johnson seasons and one Cy Young year, back in the days when hitters didn't hit home runs and pitchers could spit on the ball.
What happened? Sure, there were the drugs and maybe hitters learned to lay off the high fastball and maybe he lost the feel for his curveball -- as good as Blyleven's they said -- and then pitching coach Mel Stottlemyre instructed him not to go for strikeouts all the time and he hurt his shoulder in 1989 and was definitely never the same after that.
But in 1985, in that glorious summer, Dr. K was as good as any pitcher ever was.
1. Alex Rodriguez, SS, 1996 Mariners (age 20)
"The way he's going, someday he might bat .400 and hit 60 home runs. He's the best young talent I've seen in years." --
Red Sox GM Dan Duquette, summer of 1996
.
I think the 20-year-old A-Rod is the pretty easy call for No. 1. He was already a five-tool player, leading the AL in batting average while swatting 36 home runs and a league-leading 54 doubles. He was polished in the field, with range and a strong arm. Like Trout now, he didn't have to get better to become the best player in baseball.
For me, as a Mariners fan, I can't believe that was 17 years ago. As much as I loved the young Griffey or the middle-aged
Edgar Martinez
or the fireballing Randy Johnson, Rodriguez's year was something special, when a player so young is so good you can only cherish the present and dream of a future with no limits.
* * * *
Honorable mention: Christy Mathewson, Ty Cobb, Smoky Joe Wood, Babe Ruth (the pitcher), Rogers Hornsby, Lou Gehrig, Jimmie Foxx, Arky Vaughan, Herb Score, Frank Robinson, Don Drysdale, Vada Pinson,
Rickey Henderson
, Roger Clemens,
Albert Pujols
.
February, 8, 2012
2/08/12
11:36
AM ET
The awesome
Baseball-Reference.com
lists something called "similarity scores" for each player. Originally introduced by Bill James,
similarity scores
takes a player and compares his basic statistics to other players, starting with 1000 points and subtracting points for degrees in difference in various categories. It doesn't adjust for era or ballparks so isn't necessarily meant to be serious sabermetric analysis, but it is a fun tool.
Anyway, here are
Clayton Kershaw
's top 10 most similar pitchers through age 23:
1. Vida Blue
2. Dontrelle Willis
3. Hal Schumacher
4. Ramon Martinez
5. Jimmy Dygert
6. Dean Chance
7. Dave Boswell
8. Ismael Valdez
9. Al Mamaux
10. Ken Holtzman
Some of these guys had excellent, long careers like Blue and Holtzman. Others developed arm problems and never matched their early dominance (Martinez, Chance, Boswell). Two were pitches from the first two decades of the 20th century (Dygert, Mamaux).
Anyway, none became Hall of Famers. Which I promptly tweeted.
Does this mean we should be worried about Kershaw's future? There's an old axiom that too many innings on a young pitcher's arm may not bold well for a long career. Of course, teams are more careful about the workloads they give to young pitchers now than even 20 years ago. Martinez, another young Dodgers ace, pitched 234 innings at age 22 -- not much different than the 233 Kershaw just threw at age 23. However, Martinez had at least eight games of 130-plus pitches (we're missing pitch counts for a few other starts as well). Kershaw's high game at age 22 was 118 pitches and he exceeded 120 just twice in 2011.
Kershaw is a pretty unique talent, so I didn't necessarily like that list of comps. Here's another list. Most strikeouts through age 23 since 1947:
1. Bert Blyleven
2. Dwight Gooden
3. Frank Tanana
4. Larry Dierker
5. Sam McDowell
6. Fernando Valenzuela
7. Don Drysdale
8.
Felix Hernandez
9. Clayton Kershaw
10. Gary Nolan
11. Dennis Eckersley
12. Catfish Hunter
Now, I think Dodgers fans will agree that's a little better list, with four Hall of Famers. Not incuding Kershaw and Hernandez, Nolan had the fewest wins on the list at 110. He was a dynamic talent who battled shoulder injuries after dominating in the majors at age 19.
Gooden, of course, also dominated at age 19 and won his Cy Young at age 20. We don't have pitch totals for those early years, but we do have them from 1988, Gooden's age-23 season. He had eight games of 120-plus pitches, including one with 138 and another with 131. Actually, not too bad. But who knows how many pitches he had thrown from 19 to 21, when he averaged 248 innings per season.
Stating the obvious: the Dodgers have done a terrific job handling Kershaw's workload, slowly ramping up his innings from 171 to 204 to 233. That's no guarantee he'll have a long and healthy career -- and he'll have to prove he can handle the 230-plus innings year after year like Hernandez has shown the past three seasons -- but the Dodgers have done everything possible to protect their prized left-hander. There's no reason not to expect Kershaw to contend for a few more Cy Young trophies.
The Dodgers open the season April 5 in San Diego. Their home opener is five days later against the Pirates, so Kershaw should start that one as well.
I know it's been a rough year for Dodgers fans, but let's hope they show up en masse to support their Cy Young winner. I know I'll be watching.
September, 6, 2011
9/06/11
5:37
PM ET
It won't come with the same level of celebration as, say, a World Cup title, but the
Mariners are recalling
third baseman
Alex Liddi
, who was born and grew up in Italy. He'll be the first Italian-born major leaguer in nearly 50 years, and just the sixth ever, but the first one who didn't move to the United States or Canada at an early age.
Liddi is a legitimate prospect, a 23-year-old with big power potential. He hit .259 with 30 home runs at Triple-A Tacoma, but the 170 strikeouts in 138 games indicates plenty of holes in his swing. His glove reportedly needs works, although he fielded .943 at third base and actually played 24 games at shortstop. Liddi also will become the first graduate of Major League Baseball's European Academy to reach the majors.
In honor of Liddi's recall, let's produce a list of the best players born in Europe. There have been many European-born major leaguers, although almost all of the recent ones were sons of U.S. military personnel stationed in Europe. For example, Bruce Bochy was born in France and Ron Gardenhire was born in West Germany. Ireland has produced 46 major leaguers -- but nearly all were born before 1900 and immigrated to the U.S. The last Irish-born big leaguer was Joe Cleary, who graduated from high school in New York City and pitched one game for the Senators in 1945.
C Eddie Ainsmith (Russia).
He wasn't much of a hitter, but he played from 1910 to 1924.
1B Jack Doyle (Ireland).
He was known as Dirty Jack, which I think is all he needs to make this team. On his SABR bio page, Lyle Spatz writes, "Always a fierce competitor, Doyle engaged in brawls and fistfights with umpires, fans, opposing players, and even his own teammates. Two of his more notorious assaults were on umpires Tom Lynch in August 1897 and Bob Emslie on the 4th of July 1900. On several occasions he went into the stands to battle fans, including a spring training game in Norfolk in 1896. He made another foray into the stands in 1901 on his first visit to the Polo Grounds after having been traded from the Giants to the Cubs. More than once these battles led to his being arrested." He was good enough to last 17 seasons.
2B Glenn Hubbard (West Germany).
Born on Hahn Air Force Base, Hubbard was a slick-fielding second baseman known mostly for his bushy beard while playing for the Braves in the late '70s and '80s. He had his best season in 1983 when he drove in 70 runs and made the All-Star team.
3B Jimmy Austin (Wales).
Austin's father was a shipbuilder who moved to Ohio in 1885 and brought his family over in 1887. Austin was older than most of the Europeans immigrants, 8 years old when he came over. He reportedly didn't see his first baseball game until he was 14. Austin worked as a machinist and didn't begin a professional career until he was left jobless when the union went on strike. He didn't reach the majors until he was 29, but played into his 40s.
SS Steve Jeltz (West Germany).
His father was in the military and Jeltz was a terrible hitter for the Phillies in the '80s, but I'm having troubling finding another shortstop with a significant career.
OF Bobby Thomson (Scotland).
Yes, the most famous home run in major league history was struck by a Scotsman. Thomson was born in Glasgow but grew up on Staten Island, and the Giants signed him out of high school for $100. He hit 264 home runs and drove in 1,206 runs.
OF John Anderson (Norway).
One of three major leaguers born in Norway, "Honest John" played in the majors from 1894 until 1908, one of the few switch-hitters of his era and, 6-foot-2, one of the era's biggest players. Powerful enough to once lead the NL in slugging percentage, he fashioned more than 1,800 hits in his career.
OF Elmer Valo (Czechoslovakia).
Valo's family emigrated to the U.S. when he was 6. He had a 20-year career in the majors, batting .282 with 1,420 career hits.
OF Patsy Donovan (Ireland).
Born in County Cork in 1863, Donovan's family moved to Lawrence, Mass., when he was 3 years old. Like many in the area, he eventually dropped out of school to work in the town's cotton mills, but later pursued a professional baseball career. A fleet-footed right fielder, he hit .301 in his career with 2,256 hits. He also managed 11 years in the majors, many years in the minors and even coached at St. Phillips Academy in Andover, Mass., where one of his players was George H.W. Bush.
P Bert Blyleven (Netherlands).
Born in Zeist, Blyleven's father moved the family to Canada when Blyleven was 2 and then to California when he was 5.
P Tony Mullane (Ireland).
Known as "The Apollo of the Box," Mullane won 284 games from 1881 through 1894. Mullane threw primarily right-handed, but on occasion would throw left-handed, apparently possible in part because he didn't wear a glove. He later became a Chicago police officer.
P Jack Quinn (Austria-Hungary).
Quinn was one of the great old pitchers of all time, appearing in his final game in 1933 when he was 50 years old. He won 248 games in the majors, and more than another 100 in the minors. What's even more interesting is that nobody seems completely sure of his ancestry, age or even real name -- in part, because Quinn was purposely elusive about his background. Researcher Michael Scott published evidence in 2008 that
Quinn was born in Stefurov in 1893
, now part of Slovakia, but then part of Austria-Hungary.
P Tommy Bond (Ireland).
One of the first stars of the National League, Bond led the circuit in wins and strikeouts in 1877 and 1878. He died in 1941, when he was 84 years old -- the last survivor of the NL's inaugural season in 1876.
P Moe Drabowsky (Poland).
Born in 1935, Drabowsky escaped Poland in 1938, settling in Connecticut. Pitching mostly out of the bullpen, he went 88-105 with a 3.71 ERA over 17 seasons.
Manager: Harry Wright (England).
The Hall of Famer was born in Sheffield in 1935. His family moved to New York when he was 3 and his father found work as a bowler, coach and groundskeeper at the St. George's Cricket Club. Wright moved to Cincinnati where he eventually helped build the first professional team and he later managed the Boston Red Stockings of the National Association and National League, as well as Providence and Philadelphia.
July, 25, 2011
7/25/11
4:53
PM ET
The members of the Baseball Today podcast team enjoyed their weekend -- some more than others -- and so it was back to work to help create
Monday's fine show
, as Mark Simon and I aimed to entertain, with these topics:
1. Most of the show was spent looking ahead, but we share our thoughts on a fine Hall of Fame weekend as well.
2. If it's Monday we rank the top teams from 1 to 10, and of course our lists look a bit different. Did America's team make the cut?
3. Oh, to be a Seattle Mariners fan. At least things should get better this week at Yankee Stad-- ... ugh.
4. With Mark planning a trip to Cincinnati on Tuesday to see his beloved Mets, we check out listener suggestions on where to dine, and Mark has a treat for those who meet him!
5. Mark brings great insight in his Simon Says segment, discussing historical facts about Cincinnati, the best players on glove flips and why Randy Choate did not quite make history recently.
Plus: Excellent emails, the matchup of young pitchers in Los Angeles, when we knew we wouldn't be big leaguers and more on the heat, all on Monday's hot Baseball Today podcast!
July, 22, 2011
7/22/11
2:09
PM ET
It's Friday, it's hot and the trade rumors are flying fast and furious. But let's take a break and check on some links.
May, 3, 2011
5/03/11
7:30
PM ET
After listing the
youngest MVP winners
in my previous post, here's a list of the all-time all-young team, the best seasons by players in their age-22 (or younger) seasons*:
C -- Johnny Bench, 1970 Reds (22).
The MVP winner led the NL with 45 home runs and 148 RBIs and won the Gold Glove after throwing out 48 percent of basestealers. According to
Baseball-Reference
's WAR figure, three of the top four 22-and-under catcher seasons belong to Bench (Bill Freehan's 1964 sneaks in). That's why Bench was the most popular baseball player in the early '70s.
1B -- Jimmie Foxx, 1929 A's (21).
Only three first basemen accumulated a 5.0 WAR or better at 22 or younger: Foxx (twice), Stuffy McInnis (twice) and Hal Trosky. Foxx hit .354 with 33 home runs and led the AL with a .463 on-base percentage in '29.
2B -- Eddie Collins, 1909 A's (22).
I think we'll find that most of the big offensive seasons at these young ages came from outfielders. Based on WAR, Collins is a landslide winner for his sterling .347/.417/.450 line from '09. Tack on 67 steals and great defense and he's an amazing four wins better than the next-best season, Joe Morgan's 1965 campaign for Houston.
3B -- Eddie Mathews, 1953 Braves (21).
Mathews' second season in the bigs was so spectacular -- 47 home runs, 135 RBIs, .406 OBP, .627 slugging -- that it put unfair expectations on him the rest of his career. He remained one of the NL's best players throughout his 20s, but his last All-Star appearance came when he was 30.
SS -- Alex Rodriguez, 1996 Mariners (20).
Slight edge over Cal Ripken's 1983 or A-Rod's 1998. In '96, in his first full season, he hit line drive after line drive after line drive. He hit .356 with 54 doubles and 36 home runs and didn't turn 21 until late in July.
LF -- Ted Williams, 1941 Red Sox (22).
Rickey Henderson was awesome in '80 (100 steals, .420 OBP), but Ted hit .406.
CF -- Cesar Cedeno, 1972 Astros (21).
Hit .320/.385/.537 in the Astrodome, with 55 stolen bases. At the time, he looked like a sure bet Hall of Famer. As predicted, many great young center fielders to choose from -- Joe DiMaggio, Mickey Mantle, Ken Griffey Jr., Tris Speaker, Andruw Jones ... which tells how good Cedeno was.
RF -- Ty Cobb, 1909 Tigers (22).
Won the Triple Crown while also leading the league in runs, hits, stolen bases, on-base percentage and slugging percentage. I'd say that was a pretty good season.
P -- Dwight Gooden, 1985 Mets (20).
Went 24-4 with a 1.53 ERA, 16 complete games and eight shutouts. Should have won the MVP Award, but received just one first-place vote. Strange because Roger Clemens would win the AL MVP the next season with an identical 24-4 record.
P -- Bob Feller, 1940 Indians (21).
If you think Gooden was worked hard, Feller went 27-11 with 31 complete games and 320 innings pitched.
P -- Vida Blue, 1971 A's (21).
As mentioned earlier, he's the youngest player to win the MVP Award. With a blazing fastball, he went 24-8 with a 1.82 ERA and 301 strikeouts in 312 innings. He had a long, successful career, but was never again as dominant.
P --Bert Blyleven, 1973 Twins (22).
People forget how good Blyleven was at a young age. He went 20-17, but led the AL in adjusted ERA and threw nine shutouts while pitching 325 innings.
P -- Joe Wood, 1912 Red Sox (22).
His 34-5 record was impressive even for 1912. They called him Smoky because of his fastball, and Walter Johnson once said Wood threw harder. Wood led the Red Sox to the World Series title but a broken thumb the next season led to arm problems that eventually ended his pitching career (he made it back to the majors as an outfielder).
*22 as of June 30 of that season.
Follow David Schoenfield on Twitter at @dschoenfield. Follow the SweetSpot blog at @espn_sweet_spot.
April, 4, 2011
4/04/11
1:31
PM ET
By
Christina Kahrl
| ESPN.com
Beyond having to see his effort go for naught thanks to
Carlos Marmol
's blown save,
Matt Garza
's 12-hit, 12-strikeout game against the Pirates put him in fairly exclusive company historically. As Rob Bradford of Baseball Prospectus notes, such a double-dozen combo had previously been achieved just 22 times from 1919 to the present, and just seven times since the lowering of the mound after 1968, most recently by
Curt Schilling
a decade ago.

Garza
Even among the most recent efforts, not all are the same sort of thing as Garza's seven-inning quality start. Bob Gibson's game in 1970 was a 14-inning victory over the recently invented Padres, while Bert Blyleven's contribution to the list in 1975 involved the first 10 innings of a 12-inning loss for the Twins. And Blyleven allowed his sixth run in the top of the 10th, after having already faced 37 batters through nine. If you think that's a horrifying feat, it pales next to Red Ruffing's 1927 spin, facing 73 batters by pitching the first 15 frames against the Red Sox in the first game of a doubleheader against the Yankees;
the Yankees lost the game in 18
, but they came back to win a 55-minute, five-inning shutout in the second.
Blyleven's game was the only one of the seven before Garza's where the dude dealing a double dozen didn't get a win -- and the only time before which puts Garza in even more exclusive company. Nobody has lost a double-dozen since "Blue Moon" Odom did in the bottom of the 13th on July 29, 1968.
The more basic point is that you have to be a pretty good pitcher to achieve this sort of statistical oddity. Schilling and Todd Stottlemyre are the two non-Hall of Famers among the most recent seven, with Gibson, Nolan Ryan, Gaylord Perry, Steve Carlton, and the newly elected Blyleven rounding out the field. Garza has a long road ahead of him before he might ever enter that kind of conversation, but there are those who will argue for Schilling's eventual election, of course.
January, 8, 2010
1/08/10
1:57
PM ET
Honestly, I can't remember seeing the baseball writers as worked up about anything as they are about
Roberto Alomar
. Here's Ken Rosenthal with a fairly
representative opinion
:

Our membership is too bloated, too riddled with voters who do not take the process seriously enough to educate themselves properly.

Oh, we usually get it right, and we'll surely get it right next year with Alomar, who fell short by only eight votes. But the eligibility requirements for voters need to be tightened before worse mistakes are made.

To vote for the Hall, a writer must be a 10-year member of the BBWAA. But one sports editor from each outlet also is eligible, and so are feature writers and current or former columnists who rarely attend games.

The sports editors should be eliminated immediately; they simply do not develop the same feel for the game as writers who cover the sport regularly. Drawing the line on feature writers and columnists would be more difficult; many columnists, in particular, are astute observers of the game. But somehow, the local chapters need to police their memberships more diligently. There has to be a better way.

--snip--

Virtually every voter I know is honored to participate in the process. Virtually every voter I know considers the ballot a tremendous responsibility. It's the voters I don't know — the ones I never see at ballparks — who worry me. I fear that some do not give the candidates the consideration they deserve.

The BBWAA has done a fine job in recent years of adding Web-based writers, including several whose work is strongly influenced by sabermetrics. The next step is to go the other way, trim the fat from the membership, purge those who do not study the game closely enough to warrant Hall of Fame votes.

The Alomar snub is an embarrassment.

If people's feelings get hurt, too bad.

Rosenthal isn't the only prominent BBWAA member calling for change. Shoot, Buster Olney believes the
writers shouldn't be involved
at all (
Jeff Pearlman agrees
, snarkily).
Rather than editorialize -- Rosenthal and Olney have beaten me to the punch, with style -- I'll simply offer a bit of knowledge and a humble prediction.
First, Rosenthal is absolutely right about the voting population. I've written about this at some length, and if the die-hard baseball fans knew who's being sent Hall of Fame ballots every year, it would be a major scandal.
Or a minor kerfuffle, at least.
But my prediction is that little will come of this. Sure, it would be a neat story if the snubbing of Alomar wound up as the tipping point for real reform. But the BBWAA is a big ship that takes a great deal of time and effort to change directions. I suspect that if a candidate like Alomar was repeatedly snubbed, something might actually change after a few years. But it takes time, and any real movement toward change will likely be forgotten a year from now, when Alomar is elected. The next controversy will come in a few years if
Roger Clemens
and
Barry Bonds
aren't elected. That will result in a great deal of hand-wringing and self-reflection, and might eventually lead to something.
I take it back. I will editorialize. I agree with Rosenthal the system is flawed. I don't necessarily agree that the writers shouldn't be involved, but I believe they (we) should be somewhat
less
involved. But be careful what you wish for. If the BBWAA culls all the current voters who don't really pay any attention to baseball -- and there are many dozens of them -- we'll have
more
candidates elected. How many more, I don't know. But more, for sure.
More isn't necessarily bad. But more wouldn't mean Tim Raines and Alan Trammell. It would mean Jack Morris and Lee Smith. The standards for election would inevitably be lowered. Not maintained. Lowered.
The system that's in place, however flawed, usually arrives at a good result, eventually. It took too long, but eventually Ryne Sandberg and Gary Carter were elected. It's taking too long, but eventually Bert Blyleven and Roberto Alomar will be elected. Raines and Trammell? Sure, they've been terribly jobbed. But the Hall of Fame would never endorse any reform that would get either of them elected.
Be careful what you wish for.