February, 22, 2013
2/22/13
9:00
AM ET
By
Mark Simon, ESPN Stats
and
Information
| ESPN.com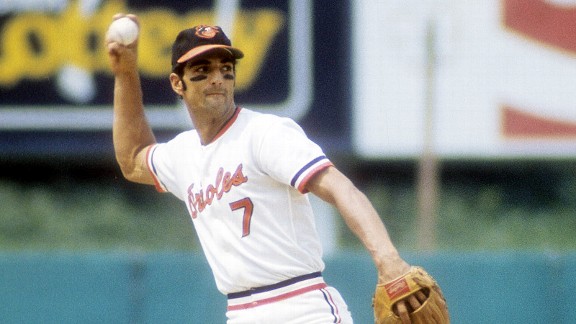 Focus on Sport/Getty ImagesMark Belanger was an eight-time Gold Glove winner with the Orioles.
Everyone has things they like to do to kill time during the baseball offseason, particularly on days in which massive snowstorms blanket the East Coast. Our editor, Dave Schoenfield, likes to make lists of things like the best one-season wonders.
In my case, I like to fiddle with and look more closely at advanced defensive numbers.
That got me to thinking of a little project, albeit an obscure one: What was the best individual defensive season in each team's history, strictly from a statistical perspective?
This can be done, thanks to the wonder that is
Baseball-Reference.com
.
Through 2002, B-R's metric of choice is Sean Smith's Total Zone runs, a statistic that can be tracked throughout baseball history (a full explanation on which
can be found here
.) It's one that checks out reasonably well from our initial examination.
From 2003 to 2012, Baseball-Reference uses the metric we use -- Defensive Runs Saved. Both those stats have the same goal: To estimate the value of a player's defense in runs as opposed to something such as fielding percentage.
It is a painstaking process to go through all 30 teams. So I picked out my 10 favorites and thought I'd share them.
Baltimore Orioles: SS Mark Belanger, 1975 (35 Defensive Runs)
One of the reasons to feel good about the Total Zone metric is that it often (though not always) passes the smell test.
It does so, perhaps no better, than with the Orioles. Of the top 11 stat-based defensive seasons in Orioles history, all belong to either Belanger, Brooks Robinson, Paul Blair or Bobby Grich, each of whom was regarded during his time as a defensive superstar (Grich's four Gold Gloves are the fewest among them).
Belanger's 1975 tally ranks best ever by any shortstop on any team.
Cincinnati Reds: 2B Pokey Reese, 1999 (29 Defensive Runs)
Scouts and stats agreed on the greatness of Reese at that time in his career, when he won a pair of Gold Glove Awards for his defensive excellence.
An article in the Cincinnati Enquirer that year assessed Reese by each of four defensive tools -- range, positioning, footwork, and arm strength, showing what made him so good. It also included this quote from Reds scout Johnny Almarez:
"With Pokey, it's like a sixth sense. It's almost like he knows where the ball's going before it's hit."
Kansas City Royals: LF Willie Wilson, 1979 (25 Defensive Runs)
Of the top four seasons in Royals history, Wilson has three of them (
Alex Gordon
's 24 Runs in 2012 is the other). He racked up at least 20 Defensive Runs four seasons in a row, largely because his speed allowed him to catch up to a lot of flyballs in spacious Royals Stadium.
Wilson averaged 2.77 putouts per nine innings as a left fielder, the best by anyone for as far back as range factor per nine could be tracked (since 1954).
Milwaukee Brewers: LF Greg Vaughn, 1993 (20 Defensive Runs)
This is a misprint.
Actually no, we're surprised to say it isn't. This is by far the biggest outlier on our list. Since 1969 (the Brewers' first season, when they were still the Seattle Pilots), there have been 222 seasons in which a player accumulated either 20 Total Zone Runs or 20 Defensive Runs Saved. Vaughn's is the only one in Brewers history.
Vaughn somehow racked up 20 Defensive Runs despite being used as an outfielder in fewer than 100 games, with putouts and assist totals that were pedestrian. He didn't have any seasons that came close to approaching this. His next-best was six Defensive Runs for the 1999 Cincinnati Reds.
The best possible means of explanation I can come up with (beyond Greg Vaughn breaking into cyberspace and tinkering with his metrics) is that the Brewers don't have a history of defensive greatness.
Of the nine Gold Glove Awards won by the franchise, seven came by first basemen George Scott or Cecil Cooper. And it's rare that first basemen run up the amazing defensive numbers of some other positions.
Anyways. If you don't buy it, we completely understand. Second-best was a tie between shortstop Robin Yount (1981) and catcher
Jason Kendall
(2008). Each finished with 19 Defensive Runs.
Montreal Expos/Washington Nationals: C Gary Carter, 1983 (27 Defensive Runs)
This is the rare instance of a catcher topping the list. In fact, No. 2 in Expos/Nationals history is a 24-run season by Brian Schneider in 2004.
How does a catcher go about saving 27 runs in a season?
That year, Carter threw out 70 of 156 would-be basestealers. His 45-percent success rate led the majors, as did his six catcher pickoffs. That caught-stealing rate was impressive -- it was 12 percentage points better than the major-league average.
Lastly: the Expos' ERA with Carter behind the plate was 3.52. Without him, it was 3.86.
Oddly, Carter won the Gold Glove every year from 1980 to 1982, but lost out to Tony Pena in 1983.
New York/San Francisco Giants: 2B Hughie Critz, 1933 (32 Defensive Runs)
This is the educational portion of this article. I'll admit to never having heard of Hughie Critz before I began this project (I was guessing the answer here was going to be Willie Mays).
Critz was a second baseman, and a pretty good one, from 1924 to 1935. He was runner-up for the MVP with the Reds in 1926, in the days before the BBWAA voted and it must have been for his defense, because Critz finished the season with an 87 OPS+ and only seven steals.
Critz was traded to the Giants in 1930 and helped the 1933 Giants win the World Series. Not long after the deal, Metropolitan Newspaper Feature Services put together an argument that the Giants had the best infield ever (69 years before the 1999 Mets).
In the article, Critz is described as "a million dollar fielder."
That's good enough for us.
Oakland Athletics: CF Bill North, 1973 (25 Defensive Runs)
North wasn't the star of stars like Reggie Jackson and Catfish Hunter were on those Athletics teams. But he played an important undervalued role, both with his ability to get on base (.376 on-base percentage) and his defense.
There is a great anecdote in Tim Herlich's internet biography of North on the SABR bioproject website:
"Always taking pride in his defense, North attended the pitchers' meetings to find out how they were going to pitch to opposing batters. Before computer models were developed to dictate placement of the outfielders, Bill ran the A's outfield and made those decisions. 'I took running my outfield very importantly. That's part of the reason we had good outfield defense.'"
San Diego Padres: CF Darrin Jackson, 1992 (30 Defensive Runs)
Spots two through four on this list are held by who you would expect -- Tony Gwynn and Ozzie Smith. But the top honor goes to Jackson for his 1992 season, the only year in his career in which he played more than 122 games.
Internet searches produce quotes from the likes of Don Zimmer saying that Jackson was a great defender: "This was a year in which everything came together and he was able to show just how great he could be."
Jackson was significantly better than his peers in throwing out baserunners. He led major-league outfielders with 18 assists and nine double plays (no one else in the NL had more than four).
Seattle Mariners: CF Ken Griffey Jr., 1996, and CF Franklin Gutierrez, 2009 (32 Defensive Runs)
For the most part the advanced defensive metrics are not kind to Griffey Jr., particularly on the downside of his career. But the early days rate pretty well, 1996 more so than any other (his next-best seasons are 1997 with 15 runs and 1995 with 14 runs).
It took a herculean effort by Gutierrez in his first year as an everyday center fielder to catch him, including home run robberies of
Jason Kubel
and
Mark Teixeira
.
Gutierrez's ranking (one that rates well across the board regardless of your advanced stat of choice) was the product of his ability to run down the balls hit to the deepest parts of spacious Safeco's center field.
Texas Rangers: 3B Buddy Bell, 1979 (30 Defensive Runs)
The all-time leaders in Total Zone runs for third base is a great list. Brooks Robinson leads the way, but Bell ranks a very solid second ahead of Clete Boyer, Robin Ventura and
Scott Rolen
Bell won six Gold Gloves in his career, though he didn't win any until he arrived in trade from the
Cleveland Indians
in 1979.
Bell got to balls at a considerably higher rate than his peers (3.48 putouts + assists per 9 innings compared to league average of 3.07) and limited his mistakes.
It only took the Rangers a couple of weeks to realize what they were getting. Hall of Fame teammate Ferguson Jenkins paid Bell a strong compliment:
"The thing I'm happy to see is nobody is comparing Buddy Bell to anybody. When a great defensive player comes along, people are always comparing them with somebody else. With third basemen, it's always Brooks Robinson. But I haven't heard any comparisons with Bell. That's good, because Buddy Bell is Buddy Bell and that's enough."
March, 8, 2011
3/08/11
11:16
AM ET
By
Geoff Young
| ESPN.com
I'm a sucker for lists. Chris Quick recently
assembled a fun one
in this space celebrating power hitters who weren't particularly productive.
Chris is a self-proclaimed slave to power. Me, I'm a slave to patience. And just as Bryan Ferry couldn't escape love, I cannot escape walks.
With that curious and dated musical reference out of the way, let's get to the details. Using Baseball-Reference's Play Index tool, I searched for players based on the following criteria:
Minimum of 3,000 career plate appearances since 1961
ISO (SLG -- BA) of .150 or lower
Walks greater than 10 percent of plate appearances
I then sorted by ISO to get a list of players who least justified the amount of fear they apparently instilled in pitchers. And to make it a team, I ran the same query for players at each non-pitching position (minimum 50 percent of games at that position). To the names:
Catcher
Starter: Butch Wynegar, 1976-88 (626 BB, .092 ISO, .255/.348/.347)
Picture
Craig Counsell
behind the plate. Can't stop laughing, can you? Anyway, Wynegar was that kind of hitter, only a little better given the context of his era.
Backup: Mike Scioscia, 1980-92 (567 BB, .097 ISO, .259/.344/.356)
OK, I'll come clean. This exercise was an excuse to get Scioscia, my favorite player as a kid, onto a team of his own.
First base
Starter: Mike Hargrove, 1974-85 (965 BB, .101 ISO, .290/.396/.391)
Hargrove's strategy was simple: stall until the pitcher loses focus and forgets how to throw strikes. It may have been annoying, but it worked.
Backup: Wes Parker, 1964-72 (532 BB, .108 ISO, .267/.351/.375)
They don't make first basemen like this anymore. The most recent guys to meet our criteria are
Doug Mientkiewicz
and
Scott Hatteberg
, both of whom had way too much power.
Second base
Starter:
Luis Castillo
, 1996-2010 (800 BB, .061 ISO, .290/.368/.351)
Castillo enters 2010 with 1,889 hits, the same as Jim Gilliam and
Adrian Beltre
.
Backup: Jose Oquendo, 1983-95 (448 BB, .061 ISO, .256/.346/.317)
Of Oquendo's 14 big-league homers, 13 came against left-handed pitchers.
Congratulations, Doug Bair, you are the answer to a trivia question that no one will ever ask.
Third base
Starter: Paul Schaal, 1964-74 (516 BB, .100 ISO, .244/.341/.344)
Schaal attended Compton High School in Los Angeles, which also produced the late Duke Snider.
Backup: Wayne Garrett, 1969-78 (561 BB, .102 ISO, .239/.350/.341)
As a 21-year-old rookie, Garrett hit .218/.290/.268 for the Miracle Mets. After his bat came to life in the NLCS against Atlanta, he yielded to veteran Ed Charles in the World Series.
Shortstop
Starter: Bud Harrelson, 1965-80 (633 BB, .052 ISO, .236/.327/.288)
Mike Hampton
hit as many homers (7) in 2001 as Harrelson hit in his career.
Backup: Walt Weiss, 1987-2000 (658 BB, .068 ISO, .258/.351/.326)
Among players with at least 3,000 career plate appearances, three have finished with the same number of walks as strikeouts: Frank Baumholtz (258), Jim Dwyer (402) and Weiss (658).
Left field
Starter: Carlos May, 1968-77 (512 BB, .118 ISO, .274/.357/.392)
Talk about guys who peaked early. May hit like Dave Winfield through age 25 (well, technically Winfield hit like May) but was finished at age 29.
Backup: Tim Raines, 1979-2002 (1,330 BB, .131 ISO, .294/.385/.425)
Exhibit A for why this is a stupid list: Raines was a great player. It's hard to find weak-hitting left fielders.
Center field
Starter: Otis Nixon, 1983-99 (800 BB, .044 ISO, .270/.343/.314)
What a bizarre career path. The man didn't get 500 plate appearances in a season until age 33 and still ended up with 620 big-league stolen bases.
Backup: Bill North, 1971-81 (627 BB, .062 ISO, .261/.365/.323)
I assumed Gary Pettis would be here, but he comes in third (too much power). North led his league in caught stealing four different times.
Right field
Starter: Pat Kelly, 1967-81 (588 BB, .113 ISO, .264/.354/.377)
Kelly is tied with Reggie Jackson and Roy White for sixth in career walks (18) drawn against Nolan Ryan.
Backup: Floyd Robinson, 1960-68 (408 BB, .126 ISO, .283/.365/.409)
I fudged the parameters for this one. Robinson played 22 games in 1960, but he better represents the spirit of our list than does the late Willie Crawford.
Geoff Young writes Ducksnorts, a blog about the San Diego Padres. Follow him on Twitter.