September, 30, 2014
9/30/14
9:33
PM ET
It's not too often you see a Little League play work in the majors. And it didn't work in the first inning when
Billy Butler
wandered off first base and got caught in a rundown and then
Eric Hosmer
got caught trying to score. Officially, Hosmer is credited with a caught stealing of home, the first in the postseason since
Elvis Andrus
in Game 3 of the 2011 American League Division Series.
The play is a little strange considering Butler is one of the slowest runners in the majors, but consider these facts:
--The count was 0-2 on
Alex Gordon
. He hit .136 on 0-2 counts on the season and .200 on all two-strike counts. Lester allowed a .118 average on 0-2 counts.
--Lester hadn't thrown to first base ALL SEASON long, a much-tweeted topic before the game began.
--As Susan Slusser tweeted, a similar play had just worked against Lester.
I'm guessing the Royals had considered this play as a possibility given the right situation. So while everyone was ripping Butler on Twitter, the idea appears to have come from the bench or pregame scouting reports.
It just didn't work. As Royals manager Ned Yost would later say in his in-game interview, Butler left too soon, not waiting until Lester had started his delivery. Still, while these plays are easy to pull off against 12-year-olds, they don't work often in the majors.
Was it a bad play? You can argue if it had greater than a 15 percent chance of succeeding that it was a good play, given the odds of Gordon getting a hit on an 0-2 count. I don't know the odds of that play working -- especially with a baserunner like Butler -- since you rarely even see it attempted. I'd probably give Gordon -- one of your best hitters -- a chance to drive in the run, even with two strikes.
Just don't necessarily go blaming Butler for a bonehead play.
June, 15, 2014
6/15/14
10:52
PM ET
So here's the deal: Two weeks ago, the
Kansas City Royals
were scuffling along at 26-30, Ned Yost was doing funny things with the batting order, nobody was hitting for power, and
Yordano Ventura
's elbow had an ache.
Two weeks later, the Royals are 36-32 after
winning 6-3 on Sunday
, Ned Yost is still doing funny things with the batting order, the Royals have slugged 11 home runs and 28 doubles in their past 12 games, and Ventura, while not dominating like earlier in the season, is at least back in the rotation.
The Royals now trail the Tigers by a mere 1.5 games in the AL Central -- and they just happen to be traveling to Detroit for a four-game series that begins Monday. To say this is the biggest series the Royals have played in years isn't an overstatement; even during last year's feel-good season the closest they got to first place after June 1 was 4.5 games. They climbed 2.5 games behind Cleveland in late September for the second wild card, but even then there were two other teams ahead of them before getting to the Indians.
So yes, it's only June, but this is an important series for the Royals, considering they come in riding a seven-game winning streak and the Tigers are 9-17 over their past 26 games. There's also this: The Royals are 0-5 against the Tigers this season, getting hammered 32-12 in the process.
Over these past 12 games, however, the Royals have hit .284/.335/.444 and have the sixth-best wOBA in the majors over that stretch. This comes after ranking 28th -- ahead of only two National League teams -- through June 1, due primarily to hitting just 24 home runs in 56 games.
So here's the question: Are the Royals just hot at the plate right now or are they finally progressing toward their true talent level?
One way to examine this is to look at player projections. Dave Cameron wrote a piece on FanGraphs the other day titled
"You Should Trust the Projections."
Dave borrows from a study done by Mitchel Lichtman that looked at players from 2007-2013 who were off to hot or cold starts after one month compared to their season projection. As it turns out, the rest-of-season projection more accurately projected the player's stats the rest of the way than their first-month totals. This remained the case whether you look at two months or three months and held up for pitchers as well. In other words, trust the projections: A player's entire career is still a better barometer of his talent level than what he's done after 50 or 60 games.
[+] Enlarge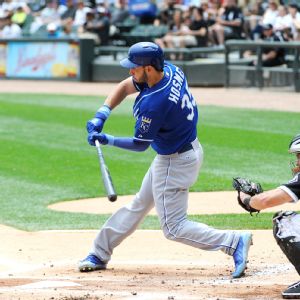 David Banks/Getty ImagesEric Hosmer has hit three of his four home runs this season over the past seven games.
Before you throw up your arms in sabermetric disgust, as Dave writes, "it's not like projection systems are infallible." He cites extreme examples like
Jose Bautista
or
Cliff Lee
. And certainly young players are less predictable. Yes, of course, pitchers can add a pitch or get healthy (or injured) or a hitter can tweak his stance. But, generally speaking, the projection systems do work.
With that in mind, let's see where the Royals hitters are now and see where the ZiPS and Steamer systems have them finishing the season.
Jarrod Dyson
Current: .293/.352/.317
ZiPS: .258/.320/.315
Steamer: .268/.331/.328
Dyson started Sunday in place of
Norichika Aoki
, but he normally comes off the bench and has just 95 plate appearances. He has a few extra hits to boost his average and OBP, but otherwise he's doing what you'd expect.
Norichika Aoki
Current: .259/.320/.319
ZiPS: .268/.327/.338
Steamer: .278/.340/.358
Steamer sees a little improvement moving forward. His power has been nonexistent (zero home runs) after hitting eight for Milwaukee last season.
Omar Infante
Current: .245/.288/.337
ZiPS: .262/.299/.363
Steamer: .271/.310/.378
Maybe he's a little better than the .288 OBP he's putting up now, but not much. Speaking of Yost's bad lineups: Why keep Infante in the two-hole? (Well, we know
why
Yost does, but it's still bad lineup ordering.)
Eric Hosmer
Current: .263/.305/.381
ZiPS: .278/.327/.410
Steamer: .273/.325/.408
While both systems see improvement moving forward, note that Hosmer's slow start has them projecting him well below last year's .302/.353/.448 line. He does have three of his four home runs in the past 12 games. Some will suggest the uptick in power had to with the firing of hitting coach Pedro Grifol on May 29 and the hiring of Dale Sveum -- similar to when George Brett temporarily took over as hitting coach last year and Hosmer starting hitting better. If only it were so simple. Sveum does have a different philosophy than Grifol -- apparently emphasizing head and hands compared to Grifol's focus on the lower half. Hosmer himself downplayed the change after Friday's game,
telling the Kansas City Star
, "Honestly, man, I really don't think that had anything to do with it, to be honest with you. But something had to happen, obviously. If anything, it was a spark for us. Woke us all up."
Billy Butler
Current: .263/.316/.342
ZiPS: .273/.334/.386
Steamer: .276/.340/.402
Two years ago, Butler hit a career-high 29 home runs. His
home run on Saturday
was just his second, his first since May 2. His reaction resembled a guy who just got off death row. The systems see a little more power moving forward.
Alex Gordon
Current: .280/.365/.440
ZiPS: .276/.354/.439
Steamer: .280/.358/.442
Right in line with his projection. Should obviously be hitting higher in the order considering he can actually get on base.
Salvador Perez
Current: .278/.331/.441
ZiPS: .279/.322/.427
Steamer: .279/.323/.427
Again, right in line with his projection.
Lorenzo Cain
Current: .301/.337/.405
ZiPS: .281/.327/.392
Steamer: .283/.331/.396
The batting average is up although that's been negated by a slightly lower walk rate, so overall we shouldn't see much improvement or regression.
Mike Moustakas
Current: .178/.246/.355
ZiPS: .216/.272/.387
Steamer: .216/.274/.388
OK, he's expected to raise his average 30 or so points, and thus his OBP and slugging. He's still bad.
Alcides Escobar
Current: .286/.328/.398
ZiPS: .276/.312/.377
Steamer: .274/.313/.374
Minor regression predicted.
* * * *
Where does that leave us? The numbers suggest a few players may show slight improvement; I guess the good news is that nobody is over performing expectations by much and the Royals have still gone 36-32. Overall, the Royals are averaging 4.10 runs per game -- barely higher than last year's 4.0 runs per game.
The problem, just like last year, is there's no go-to guy in this lineup. It's certainly not Hosmer, no matter what may have once been expected of him. Gordon is a nice player but compare him to
Miguel Cabrera
or
Victor Martinez
and he doesn't match up. Butler's freefall may not be reversible. It's an underwhelming attack not likely to perform all that much better.
But I suppose the other good news is that it may not have to be better. The Royals' run prevention, while predictably not as good as last year, is still third-best in the AL.
I don't have much faith in Yost's strategic moves helping the team out, so that's a strike against them. They're counting on Ventura, who has three or fewer strikeouts in five of his past six starts, and Duffy, neither of whom has pitched a complete season in the majors, suggesting they could perhaps go after
Jason Hammel
or another starter at some point. The offense looks like the offense of a .500 team.
In the mediocre AL Central -- combined run differential: minus-47 runs -- that may be enough, however, and it may have the Royals playing even bigger series late in September. For Royals fans, they'll take that.
March, 25, 2014
3/25/14
10:29
AM ET
Eric Karabell and myself discuss the top designated hitters. Considering few teams use a regular DH these days, it's pretty thin once you get pass the
ageless David Ortiz
. Only five players were regular DHs last year -- Big Papi, Victor Martinez of the Tigers, Billy Butler of the Royals, Kendrys Morales of the Mariners and Adam Dunn of the White Sox. Morales remains unsigned and Dunn will be sharing duties with Paul Konerko. It will also be interesting to see how much the Rangers end up using Prince Fielder at DH since Mitch Moreland is the better defender at first base.
Butler could be a key guy in the AL Central race. After hitting .313 with 29 home runs in 2012, he fell to .289 with 15 home runs in 2013. This was also a guy who two years ago hit 44 doubles, following seasons of 51 and 45; but he was down to 27 doubles last year. And when your double plays (28) nearly double your home run total you're not contributing a whole lot to the offense.
Nelson Cruz could end up as a full-time DH for the Orioles, as David Lough is the better defender in left, but I'm guessing Cruz will play a couple times a week in the outfield. The Indians are trying to convert Carlos Santana to third base, but if that doesn't take he can DH since the Indians don't really have an option there aside from Jason Giambi.
December, 11, 2012
12/11/12
12:17
AM ET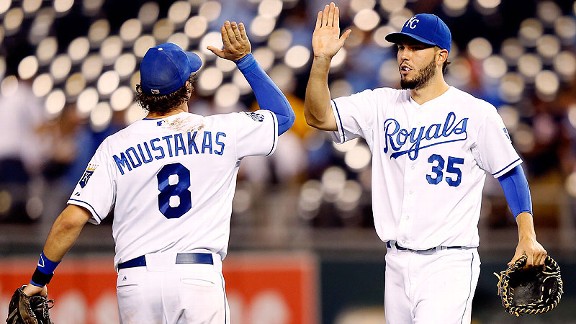 Jamie Squire/Getty ImagesImprovement from Mike Moustakas and Eric Hosmer, right, could lift the Royals into contention.
What would it take for the
Kansas City Royals
to unseat the
Detroit Tigers
, overtake the
Chicago White Sox
and hold off the
Cleveland Indians
and
Minnesota Twins
to win the American Central in 2013?
Over the past three seasons, the AL Central champions finished the season with a roster totaling about 38 wins above replacement.
The 2012 Royals finished the season 25 wins above replacement, so there is a gap to be closed. We're going to see if we can come up with the combination of numbers to close it.
Position players
The chart on the right shows
MLBdepthcharts.com
's projected Royals lineup for 2013 along with 2012 WAR total for those players.
Let's take the youngest players in that group and give them some room to grow. Let's bump Lorenzo Cain, Alcides Escobar, Billy Butler, Mike Moustakas and Salvador Perez up an average of half a win each. And let's work off the idea that Alex Gordon and the
Chris Getz
/
Johnny Giavotella
platoon will match in 2013 what they did in 2012.
Then, let's make two leaps of faith.
1. That Jeff Francoeur goes from being the lowest-valued position player in baseball (minus-2.7 WAR) to borderline-replacement level (minus-0.7 WAR) by getting his defensive game back to something reasonable and by improving slightly as a hitter and baserunner (remember, he'll be only 29 when the season starts).
2. That Eric Hosmer fixes what ailed him during his sophomore slump and gains back the WAR that he lost from 2011 to 2012, pushing him back up to 1.3 for 2013.
If all of that was to happen for the Royals, that lineup would be worth a collective 22.8 WAR, up 6.5 wins from what it was worth in 2012.
The Royals are not projected to have a strong bench in 2013, and most of their top-prospect position players are projected to start the season in Double-A or below.
So we're going to presume that when they do go to reserves, they are hurt by replacement-level-or-less players more often than they are helped by
Jarrod Dyson
and
Irving Falu
.
Let's subtract 2.0 WAR over the course of the season for the time seen by the bench.
That gives the Royals a position-player group worth 20.8 WAR.
Pitchers
The Royals basically have a No. 2 starter (
James Shields
) filling a No. 1 role, a No. 3 starter (
Jeremy Guthrie
) filling a No. 2 role, and a No. 4 starter (
Ervin Santana
) filling a No. 3 role. They have
Wade Davis
as their No. 4, which seems about right, and
Bruce Chen
as the No. 5.
Again, remember that we're creating a scenario in which the Royals win the AL Central. So let's take a rosy view of this fivesome and hand them 140 starts.
Let's peg Shields as a 4-WAR pitcher, Guthrie as a 3-WAR pitcher and Santana as a 2-WAR pitcher.
That's not a horrendous reach. Those numbers would rate as the third-, fourth- and fifth-best seasons for those pitchers, respectively.
Davis was a 1.1-WAR starter in 2010, so let's plug him in for 1.0 in 2013.
With Chen set to turn 36 in June and trending downward, we'll drop him from -0.2 to -1.2.
We'll split up the remaining 22 starts among
Luis Mendoza
,
Luke Hochevar
,
Guillermo Moscoso
,
Will Smith
, Tommy John-recoverees
Felipe Paulino
and
Danny Duffy
and whichever prospects (and they still have a few) emerge from the minors.
The big thing here is that if those top five Royals starters are healthy, their fill-ins can't do too much damage. We'll subtract 1.0 WAR for their work.
Now to the bullpen -- and we know that relief pitching is volatile. But again, we're trying to establish what the Royals need to win, not what they will do.
Among
Greg Holland
,
Kelvin Herrera
,
Aaron Crow
,
Louis Coleman
and
Tim Collins
, two will probably struggle to duplicate their 2012 numbers, and maybe one of the others gets hurt.
As a group, those five guys were worth 6.8 WAR last season. That's pretty good and strikes us as hard to duplicate. But again, this is a young group, so maybe the drop-off isn't so great.
Let's give them 5.0 WAR this time around and take away 1.0 WAR for anyone else who fills in for a time (the starters listed above, and
Everett Teaford
get the first crack).
Let's add it all together. The lineup has a value of 20.8 WAR. The starting rotation is worth 8.0 WAR and the bullpen is worth 5.0 WAR.
That gets us to almost 34 wins above replacement.
Our target was 38.
So we still have four wins to make up.
How do we do that? We change a few numbers.
Let's add a win to Shields and make him a 5-WAR pitcher, something he has done once before in his career. That means he should be getting some Cy Young votes.
Let's make Guthrie a 3.5-WAR pitcher, meaning he basically does what he did in 91 innings for the Royals in 2012 for 200 innings in 2013.
Let's make Davis a 1.5-WAR pitcher, which is better than he has done before, but he's young enough to improve.
That takes care of half of the win gap. Now we need to find two more wins among the position players.
There are a number of ways to do this, such as adding 0.2 WAR to every regular (boring), taking a couple regulars and making them a bit better (also boring), making Francoeur into an almost-average player (meh) or hand all of that WAR to one player (fun!).
I like the last option, even though it's a bit reckless.
I'm going to give those 2 WAR to Hosmer and make him a 3.3 for 2013.
Hosmer rated 26th in WAR among the 30 players with 300 at-bats who played at least half their games at first base last season. Bumping him to a 3.3 would jump him 20 spots, to the point of being viewed among the better first basemen in the game.
So, Royals fans, that's what you're looking at. Unrealistic? Probably.
But here's the key point: No one said this was going to be easy.
September, 15, 2012
9/15/12
1:51
PM ET
Curtis Granderson didn't start last Sunday's game against Baltimore, but was available to pinch-hit. He probably didn't expect to have quite the game he did. Granderson drilled a pinch-hit home run in his first plate appearance in the sixth inning. He stayed in the game in center field, and then came up twice more with the bases loaded as the Yankees exploded for seven more runs in the next two innings. All told, Granderson went 3-for-3 with five RBI in a game he didn't start. Toronto's Kelly Gruber was the last player to have three hits and drive in five runs as a substitute. Gruber entered Toronto's game against the Yankees on April 11, 1988, in the first inning after starting 3B Rance Mulliniks was injured in a collision with a stealing Rickey Henderson. The last player to do it who didn't enter a game until the sixth inning was Cincinnati's Art Shamsky, who had a three-homer game on August 12, 1966. And Granderson is the first Yankee ever to have five RBIs (on any number of hits) in a game that he didn't start.

[+] Enlarge

J. Meric/Getty ImagesLast Sunday, Ichiro Suzuki became the third Yankee in the past 30 years to play all three outfield positions in the same game.

Ichiro Suzuki had an interesting line in that same game last Sunday as well, over and above his two singles and an RBI: He played all three outfield positions. When Granderson entered the game, Ichiro moved from center over to left. The next inning, Raul Ibañez pinch-hit and stayed in left, forcing No. 31 back across to right field. He's the fourth player this year to see all three outfield positions in the same game, but just the third Yankee in the past 30 years. Gerald Williams (July 2001) and Melky Cabrera (September 2009) both did it in equally-lopsided games.

Although he only drove in two runs rather than Granderson's five, Arizona's Chris Johnson duplicated Granderson's three-hit feat on Friday night, going 3-for-3 after batting for Ryan Wheeler in the sixth inning. Johnson, Granderson, and Sam Fuld (August 28) are the only players this season with three hits in a game they didn't start. Johnson's two RBIs accounted for both Arizona runs in its 6-2 loss to San Francisco. Johnson became just the third player in Diamondbacks history to record at least three hits as a sub. Quinton McCracken went 4-for-5, including a walk-off triple in the 11th, against Florida on July 18, 2005; and Mark Grace went 3-for-3 against Colorado on July 17, 2002. As for plating both Arizona runs, no substitute had posted three-plus hits AND driven in all his team's runs in a game since Dave Hostetler had the lone RBI in Montréal's 2-1 loss to the Mets on the final day of the 1981 season. And the only sub ever to do it where multiple runs were involved had been Billy Hitchcock of the Athletics, who replaced Hank Majeski on Sept. 5, 1951, after the latter fouled a ball off his face in the first inning. Hitchcock then went 4-for-4 and drove in all the runs in Philadelphia's 4-1 win over the Senators.

Cincinnati's 14-inning win over Pittsburgh on Monday was a classic "September call-up" game. The teams combined to use 49 players -- five more than in any other game this year, and the most since Washington and Atlanta combined for 51 on Sept. 7, 2008. If you recognize that pinch hitters are denoted with letters in the box score, better brush up on your alphabet. Of those 49 entries on the lineup card, 14 of them were "pinch" players (hitters and runners). Each team used seven, and that was one day after the Phillies became the first team this season to use seven pinch-players in any game (the nightcap of their doubleheader with Colorado). The Pirates hadn't used seven pinch-players in a game since losing a rainy 8-6 affair with St. Louis on May 3, 1995. The Reds had used no more than seven over that same span.

Pittsburgh had the bases loaded with nobody out in the top of the 14th inning of that game, and didn't score. The next three batters hit a short fly ball, a fielder's choice with the out recorded at home, and a ground ball to end the inning. That made the Pirates the first team this year to have three on with none out in the 13th inning or later and fail to score at least one run. On Thursday, the Orioles matched them, filling the sacks in the 13th before eventually walking off with the win in the 14th. It was only their fifth time loading the bases with no outs after the 13th since moving to Baltimore in 1954, and the first of those five occurrences where they didn't score.

As for that Baltimore win in the 14th, it was the 13th straight extra-inning game that the Orioles had won. According to Elias, that ties the '95 Indians for the second-longest such streak in major-league history. The 1949 Cleveland squad won 17 straight extra-inning affairs. The O's also extended their record in one-run games to 27-7 (.794); they can lose two more one-run games and STILL have the best winning percentage in history. But possibly the quirkiest thing about that game was when Ryan Roberts injured himself with two strikes in the top of the 11th. Chris Archer, who was already set to pitch the bottom of the 11th for Tampa Bay, was sent up to complete the at-bat in Roberts' stead. Archer took a called third strike, ending the inning, and invoking the rule (10.15b) where Roberts gets credited with the strikeout.

Archer then remained in the game to pitch as scheduled -- becoming just the second American League pitcher ever to enter a Designated Hitter game as a pinch-hitter, and then stay in the game to pitch. Joel Finch of the Red Sox (who pitched only 15 games in his career) was the other occurrence, on July 25, 1979, in a 16-4 blowout of the Athletics at Fenway. Carl Yastrzemski left the game after the seventh inning, causing the Red Sox to surrender the DH. Catfish Hunter is listed as a PH/P in a Sept. 5, 1976, game against the Orioles; but in that case, Hunter started the game and the Yankees gave up the DH by having Hunter "pinch-hit" for Sandy Alomar, thereby assuming Alomar's spot in the order. Ron Mahay and Steve Avery also pinch-hit and pitched in interleague games played under NL rules. Thanks to forfeiting the DH, the Rays had 20 players who assumed an official spot in the batting order (not all of them batted), the most in their history.

That strikeout rule came into play again on Thursday night, when Billy Butler of the Royals got ejected in mid-at-bat for arguing a called second strike. Tony Abreu had to come in to finish the plate appearance, swung at and missed the only pitch he saw, and then sat back down. So again, because Butler "left the game" with two strikes, he gets charged with the K -- despite already having been tossed out of the game. The last known occurrence of a player striking out after getting ejected was on June 24, 2004. Then-Giant Michael Tucker took offense to a high pitch from Eric Gagné, dived out of the way, and then got in a shouting match that cleared the benches and got both players ejected. Damon Minor came on to complete the strikeout once order was restored.

In other pinch-hitter news this week, Tyler Moore of the Nationals homered in Tom Gorzelanny's spot in the seventh inning on Tuesday. The Nats have four pinch-hit home runs this year; Moore has the last two. But two innings later, Scott Hairston hit for Mets CF Andres Torres and also belted a home run. The Mets have 10 pinch-hit homers this year, tied with Colorado for the most in the majors. It's just the second time this year that opposing teams have hit pinch-hit home runs in the same game; both have been in the last week. The Mets (Ronny Cedeño) and Braves (Eric Hinske) matched each other last Saturday. There were two such games in 2010, but none during the 2011 campaign.

Dexter Fowler led off for the Rockies last Sunday (as he's been doing for all of September). If the leadoff man is supposed to get on base, Fowler cooperated. He went 3-for-3 with two doubles and two walks. He was retired once on a double play, and stranded at either first or second the other four times. Didn't score a single run. He's the only leadoff hitter this season to reach base five times (via any combination of hits, walks, errors, etc.) and not score at least once. Nobody did it last year, either.Then-Royal Gregor Blanco (four hits and a walk) posted the last such line on August 27, 2010. Fowler's "feat" was a first (for a leadoff hitter) in Rockies franchise history.

[+] Enlarge

Charles Sonnenblick/Getty Images B.J. Upton takes a curtain call after hitting his third homer of the game last Sunday.

B.J. Upton launched three homers out of Tropicana Field last Sunday. (OK, not really "out of" Tropicana Field, but over the wall.) He joins Jonny Gomes (2005) and Evan Longoria (2008) as the three Tampa Bay hitters with three-homer games. It's also the sixth consecutive season that exactly one leadoff hitter has had three home runs; Chris Heisey of the Reds (June 22) was last year's winner. Upton's homers were all solo shots, meaning he finished the game with "only" three RBI. Among this year's 10 three-homer games, only Ike Davis (July 28) hit three of the solo variety. The aforementioned Jonny Gomes had another three-HR game for Cincinnati on August 13, 2009. And he was the last player (before Upton on Sunday) to have a three-homer game and out-hit the entire opposing team. The Nats were shut out on two hits that day, just as the Rangers were against Upton. The two-hit shutout thrown by James Shields was the Rays' first since Matt Garza's no-hitter in July 2010.

Jarrod Saltalamacchia pulled off the rarest of cycle misses this week, going homer-triple-double and needing just the "elusive" single for Boston's first cycle since 1996 (John Valentin). Only 13 players have missed the cycle by the single this year, versus 219 needing the triple, 14 the double, and 46 the homer. Since Valentin, six other Red Sox hitters have gone homer-triple-double, most recently Dustin Pedroia on July 2, 2008. And 'Salty' is the first Boston catcher to have a homer, a triple, and a double in the same game since Rich Gedman hit for the cycle against Toronto on Sept. 18, 1985.

Hitter-friendly Chase Field (whose Park Factor for runs trails only Coors Field among NL stadiums) saw just one run and nine hits on Tuesday as the Diamondbacks got an RBI double from Miguel Montero to beat the Dodgers 1-0 on an unearned run. (Montero's hit scored Paul Goldschmidt, who had reached on an error.) It was the first 1-0 game at the ballpark this year, and just the 13th in its history. The Diamondbacks have won seven of those. Overall, Arizona has won just 16 1-0 games since the franchise was founded, and Tuesday's was the second of those wins that came on an unearned run. The first was last year (May 14), also against the Dodgers, when Stephen Drew was on second, went to third on a wild pickoff throw and then scored on a sacrifice fly.

The Astros also won a 1-0 game on Tuesday, the third 1-0 victory among their 46 this season. That's actually the most 1-0 wins in the National League, and it trails only Seattle (who has five) in the majors. These are, however, still the Astros. En route to their 1-0 win, they committed four errors, all allowing batters to reach base. But those errors came in four different innings, and the Cubs didn't advance any of the runners. The last team to commit four-plus errors, score only one run, and still win the game? That's your 1997 World Champion Florida Marlins, who also made four miscues against the Cubs on April 10 of that season but made Gary Sheffield's RBI single in the first inning stand up for the win.

It took until Sept. 14 for the Reds to make their first foray into the new Marlins Park in Miami. It didn't go well. Cincinnati managed just three hits and got shut out 4-0, just the third shutout the Marlins have put up in their new home. Of the 18 visiting teams to play their first game on the former Orange Bowl site this year, the Red Sox (one run on five hits) came the closest to the Reds' futility. Half got to double digits in hits, and three scored 10-plus runs. Overall, visiting teams were an even .500 (9-9) in their first game at the new stadium this season.

CC Sabathia threw two wild pitches and hit a batter (Evan Longoria) in Friday night's loss to the Rays. Although none of those directly led to a run, it was just the second game in Sabathia's career with two-or-more WP and a hit batter. The other was back in 2005 when he was with Cleveland. In the majors, 10 pitchers this year have bounced two and hit one in a game. Three of them have been Yankees, including Freddy Garcia's infamous five-WP game back in April and Hiroki Kuroda in July. No other team has had more than one such game. And it's the first time in the live-ball era that three different Yankees have done it in the same season. (They had three such outings in 2002, but two were by Roger Clemens.)

Kris Medlen of the Braves posted 13 strikeouts in his seven innings on Friday night, allowing just one run to the division-leading Nationals. Atlanta, however, couldn't get the offense going, and Medlen left the game tied 1-1. The Braves needed a walk-off throwing error to win the game in the bottom of the ninth. Medlen is just the fourth pitcher this season to record 13 strikeouts and NOT win the game. Aaron Harang and Anibal Sanchez got no-decisions in April, while Francisco Liriano took a 15-K loss in Minnesota's first game after the All-Star Break. Medlen is the first Braves pitcher with a 13-strikeout non-win since John Smoltz allowed two runs (and the bullpen allowed four more) to the Mets on April 10, 2005. The last five Braves to do it before that: Jason Marquis (2001), Kevin Millwood (2000), Pete Smith (1989), Phil Niekro (1977), and Warren Spahn (1952).
July, 9, 2012
7/09/12
11:16
PM ET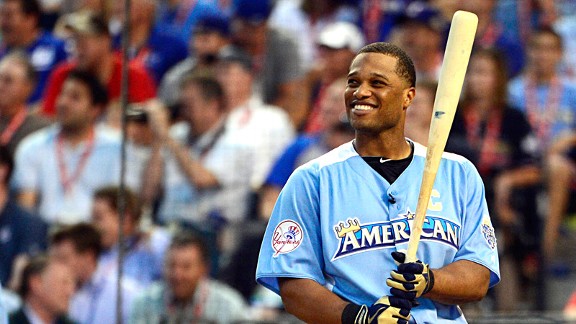 Scott Rovak/USA TODAY Sports/US PresswireRoyals fans did everything they could to wipe that smile off of Robinson Cano's face.
KANSAS CITY, Mo. -- Years from now, baseball fans might not remember that
Detroit Tigers
first baseman
Prince Fielder
won the 2012 State Farm Home Run Derby, but they'll certainly remember how an angry pro-
Kansas City Royals
crowd and its "ignored" slugger
Billy Butler
became the story of the night. And no, Butler was most certainly not one of the eight participants!
Butler, sitting on 16 home runs for the hometown Royals -- the
average
total for the four AL participants is 21 -- was not chosen by American League captain/defending derby champion
Robinson Cano
to compete and well, you see, that's the issue. Whether it
should
have been an issue is irrelevant; a year ago,
Arizona Diamondbacks
fans showed their displeasure when hometown star outfielder
Justin Upton
wasn't chosen to compete. But this time, Cano said he would consider a Royal (Butler), then he didn't pick any and a large Kauffman Stadium crowd of more than 40,000 Royals fans really let him know it every last chance Cano was on camera, chanting Butler's name, booing Cano, having a passionate blast.
As for Cano, a year after blasting 32 home runs at Chase Field and earning the derby title, with all the pleasant feelings from his father Jose pitching to him, he managed nary a home run Monday. He was definitely one of the favorites in the competition, and could have become the first to repeat since Ken Griffey Jr. in 1999. Instead, Cano became the first player since Detroit Tigers third baseman
Brandon Inge
in 2009 -- yes, Inge once competed in a home run derby -- to go
scoreless
. The crowd couldn't have been more pleased.
Even Butler, hanging around the first-base dugout with the other All-Stars, smiled and seemed to enjoy the attention. Of course, Cano is a lifetime .311 hitter against generally below-average Royals pitching, so perhaps he's getting the last laugh. Don't expect the omission from the event to derail Butler's career, either.
The moral of the story, no matter how you feel about the crowd's
performance
, and it seemed to elicit strong feelings on pro/con sides on Twitter: If you're the captain of the league's team hosting the derby, seriously consider picking a hometown guy, supposedly deserving or not (and Butler was not more deserving than the fellows Cano chose). It's a fun event, after all, and it's not like World Series home-field advantage is on the line (sorry). Basically,
New York Mets
third baseman
David Wright
should make plans now for the 2013 event at Citi Field.
As for the actual competition, it was certainly memorable for some majestic blasts by Fielder and
Los Angeles Angels
outfielder
Mark Trumbo
. Fielder hit the longest home run of the night -- 476 feet -- baseball met water numerous times and oohs and aahs were common. Trumbo did not advance to the final, falling in a semifinal swing-off with
Jose Bautista
. Needless to say many people who didn't know his name -- East Coast bias being what it is, you know -- learned about him and won't forget his performance. Fielder mashed 12 home runs in a somewhat anticlimactic final round, tying Cano's 2011 mark for most home runs in a final, while Bautista managed seven. The American League destroyed the National League in overall home runs 61-21, if anyone is counting.
Bautista, tied with
Texas Rangers
star
Josh Hamilton
in actual real-life home runs that matter this season with 27, smacked 11 in the opening round, four more than anyone else. He held off seeming fatigue to edge
Carlos Beltran
by one home run, outlasted Trumbo as well and eventually fell in valiant fashion to Fielder, who had previously won the competition in 2009 in Busch Stadium in St. Louis. The man is clearly unbeatable in Missouri.
Bautista, Fielder, Trumbo and Beltran, a former Royal who was cheered all night, advanced past the first round.
Carlos Gonzalez
,
Andrew McCutchen
,
Matt Kemp
and Cano missed the cut. Kemp, who last played in a big league game in May due to a hamstring injury and should return to the hurting
Los Angeles Dodgers
this week, managed one home run. His two-year total of long balls in this competition is merely three more than Butler, or just three. Kemp was not booed.
June, 12, 2012
6/12/12
12:51
PM ET
Do the Detroit Tigers need a second baseman more than a starting pitcher? Are the Pittsburgh Pirates for real? Will the Cleveland Indians make a deal? Who should be in the Home Run Derby? Is Mike Trout worthy of MVP discussion? And why were accused of AL bias? Check it out in today's
chat wrap
.
January, 26, 2012
1/26/12
8:30
AM ET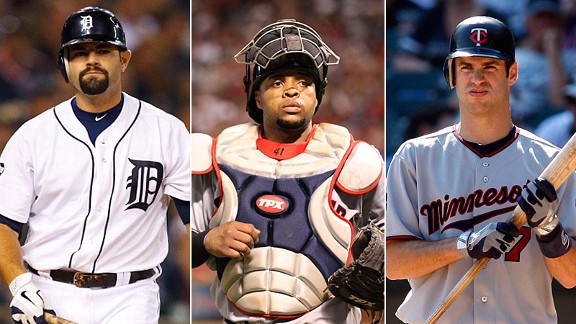 US PresswireWith Alex Avila, Carlos Santana and Joe Mauer, the AL Central is loaded at catcher.
We're back with more divisional position rankings for 2012. You can scream, you can holler, you can protest and call me names. But just because I rated your player lower than you think he deserves doesn't mean I hate your team.
(Here are the
NL East
and
NL West
rankings.)
Catcher
1.
Alex Avila
, Tigers
2.
Joe Mauer
, Twins
3.
Carlos Santana
, Indians
4.
Salvador Perez
, Royals
5.
A.J. Pierzynski
, White Sox
The AL Central might not be baseball's glamor division, but it may have three of the top five catchers in the game if Mauer bounces back from his injury-plagued campaign. Since we're not certain of his health, I'm going to give top billing to Avila, who had the best hitting numbers of any catcher outside of
Mike Napoli
and plays solid defense. I wouldn't be surprised if Santana explodes; with his power-and-walks combo, all he has to do is raise his average 30 points and he'll be one of the most valuable players in the game. Considering that his average on balls in play was .263, there is a good chance of that happening. Perez hit .331 in 39 games; OK, he won't do that again, but he doesn't turn 22 until May and puts the ball in play. There's no shame in being fifth in this group but that's where I have to place Pierzynski, who keeps rolling along and is now 36th on the all-time list for games caught.
First base
1.
Prince Fielder
, Tigers
2.
Paul Konerko
, White Sox
3.
Eric Hosmer
, Royals
4.
Justin Morneau
, Twins
5.
Matt LaPorta
, Indians
In 2009, when Morneau played 135 games, he hit .274 AVG/.363 OBP/.516 SLG. Even if he replicates that line, he may rank only fourth. Konerko has hit a combined .306 with 70 home runs the past two seasons. He's 104 home runs from 500 but turns 36 in March, so he's probably four seasons away; not sure he'll hang on that long, but who knew he'd be this good at this age. If Hosmer improves his walk rate and defense and Konerko declines, Hosmer could climb past him. If it doesn't happen this year, it will happen next. The most similar batter to him at age 21: Eddie Murray.
Second base
1.
Jason Kipnis
, Indians
2.
Gordon Beckham
, White Sox
3.
Johnny Giavotella
, Royals
4.
Alexi Casilla
, Twins
5.
Ramon Santiago
, Tigers
Well, this isn't exactly a
Robinson Cano
/
Dustin Pedroia
/
Ben Zobrist
debate, is it? Kipnis' bat is a sure thing, as evidenced by his excellent play after his call-up (.272 average and .507 slugging in 36 games). His glove was once a question mark but now appears solid enough that he looks like a future All-Star to me. Can anybody explain what has happened to Beckham? He's second mostly by default; he's gone downhill since his superb rookie season in 2009 but is only 25, so there's hope that he'll find those skills again. Giavotella has some potential with the bat (.338/.390/.481 at Triple-A), which is more than you can say for Casilla and Santiago.
Third base
1.
Miguel Cabrera
, Tigers
2.
Mike Moustakas
, Royals
3.
Lonnie Chisenhall
, Indians
4.
Danny Valencia
, Twins
5.
Brent Morel
, White Sox
We'll go with the idea that Cabrera is Detroit's starting third baseman, although I predict he'll end up starting more games at designated hitter. Manager Jim Leyland will end up doing a lot of mixing of his lineups, but for this little exercise we have to choose a starter. Moustakas didn't tear up the league as a rookie and I worry about his ability to hit lefties (.191, homerless in 89 at-bats), but he showed more than fellow rookies Chisenhall and Morel. Valencia doesn't get on base enough and he rated poorly on defense in 2011. I hope he's at least good in the clubhouse. Morel was terrible all season and then exploded for eight of his 10 home runs in September and drew 15 walks after drawing just seven the previous five months. Maybe something clicked.
Shortstop
1.
Asdrubal Cabrera
, Indians
2.
Alexei Ramirez
, White Sox
3.
Jhonny Peralta
, Tigers
4.
Alcides Escobar
, Royals
5.
Jamey Carroll
, Twins
Peralta had the best 2011 season, but he's a difficult guy to project. He had an .804 OPS in 2008 but dropped to .691 in 2009. He had a .703 OPS in 2010 and then .823 in 2011. I just don't see a repeat season, at the plate or in the field. Cabrera didn't rate well on the defensive metrics, and after a strong start he wore down in the second half. Ramirez has turned into a nice player, with a good glove and some power, and he even draws a few walks now. Escobar is a true magician with the glove. Carroll is actually a useful player who gets on base (.356 career OBP), but he's pushed as an everyday shortstop and he'll be 38. He'll be issued the honorary
Nick Punto
locker in the Twins' clubhouse.
Left field
1.
Alex Gordon
, Royals
2.
Alejandro De Aza
, White Sox
3.
Ben Revere
, Twins
4.
Michael Brantley
/
Shelley Duncan
, Indians
5.
Ryan Raburn
/
Don Kelly
, Tigers
I'm not sure what to do here. After Gordon, I just get a headache. We'll pretend to believe in De Aza after his impressive stint in the majors (171 plate appearances, .329/.400/.920). He's hit in Triple-A for three seasons now, and while he's not going to post a .400 OBP again, he should be adequate. Revere is one of the fastest players in the majors, but he's all speed and defense; he hopes to grow up to be
Brett Gardner
, which isn't a bad thing, but he'll have to learn to get on base at a better clip. Brantley doesn't have one outstanding skill so he'll have to hit better than .266 to be anything more than a fourth outfielder; Duncan provides some right-handed pop as a platoon guy. The Tigers have
Delmon Young
, but I'll slot him at DH. That leaves supposed lefty masher Raburn and utility man Kelly to soak up at-bats; both had an OBP below .300 in 2011, although Raburn has hit better in the past.
Center field
1.
Austin Jackson
, Tigers
2.
Denard Span
, Twins
3.
Grady Sizemore
, Indians
4.
Lorenzo Cain
, Royals
5.
Alex Rios
, White Sox
I can't rate Sizemore any higher since he's played just 104 games over the past two seasons, and he hasn't had a big year since 2008. Rios was terrible in '09, OK in '10 and worse than terrible in '11. I'm not betting on him.
Right field
1.
Shin-Soo Choo
, Indians
2.
Brennan Boesch
, Tigers
3.
Jeff Francoeur
, Royals
4.
Josh Willingham
, Twins
5.
Dayan Viciedo
, White Sox
Choo would like to forget 2011, but there's no reason he shouldn't bounce back and play like he did in 2009 and 2010, when he was one of the 10 best position players in the AL. I don't expect Francoeur to deliver 71 extra-base hits again, but maybe he'll surprise us. Viciedo is apparently nicknamed "The Tank," which makes me wonder how much ground he can cover. He did improve his walk rate last season in the minors and turns 23 in March, so there's still room for more growth.
Designated hitter
1.
Billy Butler
, Royals
2.
Travis Hafner
, Indians
3.
Ryan Doumit
, Twins
4. Delmon Young, Tigers
5.
Adam Dunn
, White Sox
Has there been a bigger prospect disappointment than Young in the past decade? I mean, yes, there were complete busts like
Brandon Wood
and
Andy Marte
, but those guys had obvious holes in their games, while Young was viewed as a
sure thing
, a consensus No. 1 overall prospect. But his bat has never lived up to its billing. Other than one decent year in Minnesota, he has low OBPs and he clearly lacked range in the outfield. His career WAR on Baseball-Reference is minus-0.2 (1.6 on FanGraphs), meaning he's been worse than replacement level. He's just not that good, Tigers fans.
No. 1 starter
1.
Justin Verlander
, Tigers
2.
John Danks
, White Sox
3.
Justin Masterson
, Indians
4.
Luke Hochevar
, Royals
5.
Carl Pavano
, Twins
Masterson was better than Danks in 2011, and I do believe his improvement was real. He absolutely crushes right-handers -- they slugged an anemic .259 off him. Danks had two bad months but has the longer track record of success. Even in his "off year" he had a higher strikeout rate and lower walk rate than Masterson. If you want to argue about Hochevar versus Pavano, be my guest.
No. 2 starter
1.
Doug Fister
, Tigers
2.
Ubaldo Jimenez
, Indians
3.
Gavin Floyd
, White Sox
4.
Francisco Liriano
, Twins
5.
Jonathan Sanchez
, Royals
Yes, sign me up for the Doug Fister bandwagon club. Jimenez's fastball velocity was down a couple miles per hour last season but the positives are that his strikeout and walk rates were identical to 2010; he'll be better. Floyd isn't flashy but he's now made 30-plus starts four years in a row, and he'll become a very rich man when he becomes a free agent after this season. Sanchez won't have the luxury of pitching in San Francisco (and to eight-man NL lineups).
No. 3 starter
1.
Max Scherzer
, Tigers
2.
Scott Baker
, Twins
3.
Philip Humber
, White Sox
4.
Bruce Chen
, Royals
5.
Josh Tomlin
, Indians
I could be underrating Baker, who was excellent last season, but only once in his career has he made 30 starts in a season. Tomlin's fans will disagree with this ranking, but he's a finesse guy who relies on the best control in baseball (21 walks in 26 starts). He's the kind of guy you root for, but the league seemed to figure him out as the season progressed.
No. 4 starter
1.
Felipe Paulino
, Royals
2.
Rick Porcello
, Tigers
3.
Jake Peavy
, White Sox
4.
Derek Lowe
, Indians
5.
Nick Blackburn
, Twins
Scouts still love Porcello's arm and I know he's just 23, but he's made 89 big league starts and shown no signs of getting better. His WHIP has increased each season and his strikeout rate remains one of the lowest in baseball. Paulino has an electric arm -- he averaged 95 mph on his fastball -- and
is
getting better. How could the Rockies give up on him after just 14 innings? How could the Astros trade him for
Clint Barmes
? Anyway, kudos to the Royals for buying low on the guy who may turn into their best starter. Peavy can't stay healthy. Lowe has led his league in starts three out of the past four seasons, but I'm not sure that's a good thing anymore. Blackburn is a poor man's Lowe, and I don't mean that in a good way.
No. 5 starter
1.
Chris Sale
, White Sox
2.
Jacob Turner
, Tigers
3.
Aaron Crow
/
Danny Duffy
, Royals
4.
Fausto Carmona
/
David Huff
/
Jeanmar Gomez
, Indians
5.
Brian Duensing
/
Jason Marquis
, Twins
Welcome to the AL Central crapshoot. Turner and Sale have the most upside, but one is a rookie and the other is converting from relief. Crow will also be given a shot at the rotation, but his difficulties against left-handed batters (.311 average allowed) don't bode well for that transition. Even if the artist formerly known as Carmona gets a visa, what do you have? A guy with a 5.01 ERA over the past four seasons. Duensing is another typical Twins pitcher, which means he at least throws strikes. His first full season in the rotation didn't go well, so of course the Twins brought in Marquis, yet another guy who doesn't strike anybody out.
Closer
1.
Jose Valverde
, Tigers
2.
Joakim Soria
, Royals
3.
Matt Thornton
, White Sox
4.
Chris Perez
, Indians
5.
Matt Capps
, Twins
Four good relievers plus Matt Capps. I do admit I'm a little perplexed by Perez, however. In 2009, he struck out 10.7 batters per nine innings. In 2010, that figure fell to 8.7 but he posted a pretty 1.71 ERA. In 2011, it was all the way down to 5.9, but without much improvement in his control. Perez blew only four saves but he did lose seven games. He survived thanks to a low .240 average on balls in play. He's an extreme fly-ball pitcher but didn't serve up many home runs. Bottom line: I'd be nervous.
Bullpen
1. Indians --
Vinnie Pestano
,
Rafael Perez
,
Tony Sipp
,
Joe Smith
,
Nick Hagadone
2. Royals --
Jonathan Broxton
,
Greg Holland
,
Louis Coleman
,
Tim Collins
,
Jose Mijares
3. Tigers --
Joaquin Benoit
,
Octavio Dotel
,
Phil Coke
,
Daniel Schlereth
,
Al Alburquerque
4. White Sox --
Jesse Crain
,
Jason Frasor
,
Will Ohman
,
Addison Reed
,
Dylan Axelrod
5. Twins --
Glen Perkins
,
Alex Burnett
,
Anthony Swarzak
,
Kyle Waldrop
,
Lester Oliveros
If you're starting to think I'm not high on the Twins for this season, you would be correct.
Intangibles
1. Royals
2. Indians
3. Tigers
4. White Sox
5. Twins
I like the youthful exuberance of the Royals, plus the likelihood of improvement from the young players and the possibility of some midseason reinforcements from the minors. The depth of the bullpen will help bolster a shaky rotation, and this just feels like an organization that is finally starting to believe in itself. The Indians are riding last year's positive results and enter the season knowing they might get better production from Choo and Sizemore and full seasons from Kipnis and Chisenhall. I'm not knocking the Tigers here, but they do lack depth in the pitching staff and the pressure is on them.
The final tally
1. Tigers, 65 points
2. Royals, 55 points
3. Indians, 54 points
4. White Sox, 46 points
5. Twins, 35 points
No surprise here: The Tigers will be heavy favorites to win the division with a lineup that should score a ton of runs. I don't think it's a lock that they'll win -- Verlander, Avila, Peralta and Valverde will all be hard-pressed to repeat their 2011 campaigns, for example. But the Royals and Indians appear to have too many questions in the rotations, the White Sox have serious lineup issues, and the Twins have a beautiful ballpark to play their games in.
November, 10, 2011
11/10/11
8:30
PM ET
By
Christina Kahrl
| ESPN.com
Next week, the GM and owners' meetings in Milwaukee will have a number of issues to address, but one of the ones I'm most intrigued by is the sale of the
Houston Astros
to Jim Crane. The deal is hung up on a few things, but perhaps the most interesting sticking point is the suggestion that the franchise is worth $50 million
less
if forced to be moved to the AL West.
The benefit of moving the Astros seems straightforward enough. It would end the unwieldy oddity of baseball's split between the two leagues, ridding us of both the AL West's short stack and Bud Selig's old six-pack in the NL Central. It would also eliminate the stagy quality of interleague play. Instead of lining up interleague for weekends to get top turnout and then calling it a success, AL vs. NL on the schedule necessarily becomes a season-round phenomenon. Don't be surprised when interleague attendance and ratings drop as these games get welcomed to cold, wet Aprils and irrelevant teams' Septembers.
[+] Enlarge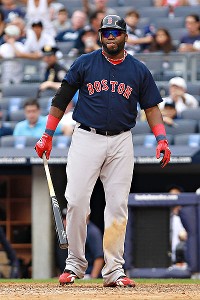 Nick Laham/Getty ImagesOutside of David Ortiz, how many truly great designated hitters are out there?
There's plenty to say about what the Astros' move to the AL would involve, but right now I'm wondering about one element of it: Whether or not moving the Astros to the DH league from the classic-recipe circuit means it's time to reopen the age-old Designated Hitter debate. If Jim Crane doesn't want to employ a DH and doesn't want to bring AL-brand baseball to Houston, maybe it's time to pop the game's hood and ask whether or not the DH is an artifact of the '70s whose time has passed.
First, there's the irony of the financial side of the proposition. At its foundation, the DH was founded as a money-maker. Across baseball's long history, runs have reliably equaled attendance, and the American League wanted paying customers. If being forced to be in the DH league is part of what might arguably make the Astros less valuable, that's a remarkable change within the industry. Admittedly, there are other factors to why Crane sees a move to the AL hurting franchise value, but work with me for a minute.
What if, instead of knocking down the Astros' sticker price by $50 million, the owners instead tried to accommodate Crane and do away with the DH altogether? The owners can't do such a thing unilaterally, of course -- they need the agreement of the union. But the new CBA is open and being negotiated at the moment, which means that this might be an item open for discussion. The 2012 season's schedule is already set with the Astros in the NL, but realignment in 2013 could make for a convenient time to phase out the DH.
The argument from the players' perspective for keeping the DH has always been about compensation -- in the abstract, they're protecting the interests of 14 jobs open to well-paid veteran players. But who are today's DHs? Not
Jorge Posada
, he just lost his gig in New York. And not
Jim Thome
-- he risked
a move back to the NL
. Are we really down to just
David Ortiz
as the lone example of a DH who lives up to the name? OK, there's also
Billy Butler
in Kansas City.
A defense of the DH as a place where great hitters reside and get duly compensated would sound a lot better if we still had
Frank Thomas
or
Edgar Martinez
or
Harold Baines
playing. But we don't get that; instead, we get the used-up husk of
Hideki Matsui
, and rest days for regulars. In the past 10 years just 10 players have accumulated more than a thousand plate appearances while DHing 50 percent or more of the time: Papi, Thome, Frank Thomas and Edgar Martinez, plus
Travis Hafner
,
Jack Cust
,
Erubiel Durazo
,
Brad Fullmer
,
Mike Sweeney
and
Josh Phelps
, or a lot of fine inheritors to
the epic legacy of Ron Blomberg
.
So other than the Indians' long-standing regret for overpaying Pronk, maybe we're back to this really being about David Ortiz's job, and Butler's, and perhaps Jesus Montero's future. And on the other side, there's a $50 million suggestion that the NL brand's more valuable, with realignment and whatever goodies the owners might want to toss onto the scales to incentivize the players to get rid of the DH all hanging in the balance.
Not that I think this is likely. Slow news days encourage idle thought. And I'll admit to a bit of sophistry here: I much prefer the DH and watching people who can hit to watching non-hitters flail away when they're not just robotically surrendering outs in automatic sac bunt situations. Some call that strategy, but how much strategy can it be when that's the default move? I like the DH because it keeps pitchers safe(r) from doing things that don't involve pitching, and because it's a handy way of letting position players take a break from the field while keeping their bat in the lineup. But I like baseball just fine either way.
The big-picture questions remain, though. If the Astros don't want to be a DH team, and if being a DH-league franchise is seen as intrinsically less valuable, maybe it's time to go over why
Charlie Finley's last good idea
is still with us for reasons beyond "it's good for Papi."
Christina Kahrl covers baseball for ESPN.com. You can follow her on Twitter.
February, 13, 2011
2/13/11
12:30
PM ET
By
Craig Brown
| ESPN.com
Tick, tick, tick …
The sound of another edition of "60 Minutes"? Hardly. How about the countdown on the deadline for the Cardinals to sign
Albert Pujols
to a contract extension. As you've undoubtedly heard by now, Pujols has set a deadline of the beginning of spring training for the sides to come to an agreement, or he will play out the 2011 season and hit the free-agent market at season's end.
[+] Enlarge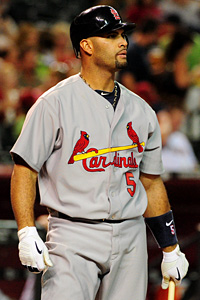 Matt Kartozian/US PresswireSt. Louis first baseman Albert Pujols can become a free agent after the coming season.
With the Cardinals pitchers and catchers reporting to Jupiter today, and Pujols due to report on Wednesday, the pressure is on both sides to reach an agreement. What's adding to the pressure is the fact
the Cardinals aren't exactly sure where the deadline falls
. Is it today? Is it Wednesday? Is it arbitrary and able to change at a moment's notice?
This is one of those negotiations where you want to grab a box of popcorn. The next couple of days should be some kind of fun.
Jason Rosenberg did an excellent job
detailing the potential suitors
should Pujols enter the market next winter, narrowing the list down to the usual suspects -- including the Red Sox, Yankees, Angels and Cubs. Of course, there could be a Mystery Team. You know the Mystery Team. They're always lurking, ready to strike when you least expect it. A team cloaked in secrecy, shrouded in inscrutability, and covered in question marks. Yet chock full of stealth, and with it's pockets lined with cold, hard cash.
According to Jeff Gordon from STLtoday,
that mystery team could be in the same state as the Cardinals
.
"But wouldn't the Royals offer the ultimate free-agency option for Pujols?

Kansas City is home for Albert and Dee Dee, to a significant degree. That is where they met. That is where Pujols played high school and college ball. It's where he worked with his hitting/training mentor to become the machine that he is.

The Royals are loaded with prospects that player development experts love. They have Tampa Bay Rays-like potential, with plenty of big arms and big bats on the way.

That team has significant money committed to just one player beyond 2011, Billy Butler. The Royals loaded up with veterans on one-year deals this season, including pitcher Jeff Francis and outfielder Jeff Francoeur.

They possess maximum payroll flexibility for 2012. More than most franchises, the Royals can afford to spend $30 million (or more) per season for one hitter."
Gordon pretty much speaks the truth. Yes, Pujols spent his formative years in the Kansas City area. Yes, the Royals system is loaded. Yes, the Royals have a number of players on one-year contracts. And yes, the Royals have payroll flexibility for 2012 and beyond.
But can the Royals afford to spend $30 million for one player?
As Jason pointed out in his post, committing more than a quarter of your payroll for one player isn't just bad business, it's potentially franchise crippling. As such, for a $30 million player to fit, the team must operate with a payroll north of $120 million.
The Royals Opening Day payroll in 2010 was a franchise record $74.9 million. Take the 25th man off the Royals roster -- say
Mitch Maier
and his $415,000 salary -- and replace him with Pujols and his $30 million, and you're looking at the first baseman gobbling up roughly 29 percent of the payroll. It's not the 25 percent that seems to be the accepted amount, but it's close. Maybe that's not a killer. Maybe that's doable.
However, that was last season. After a couple of years of escalating payroll, the Royals have sliced and diced costs in an effort to prepare for what some have termed Project 2012 -- when the majority of the team's pool of young talent is slated to reach the majors. After dealing
Zack Greinke
to the Brewers and getting the $12 million gift that was the
Gil Meche
retirement, the Royals are looking at an Opening Day payroll that will be in the neighborhood of $35 million.
To look at it another way, the Royals Opening Day payroll will be just $5 million more than Pujols is seeking for his next contract.
The Royals diminished payroll for the upcoming season is all part of The Process. With the Royals' system flush with talent in the minors, the Royals have a unique situation in which they will be able to either complement their young players with some major league free agents, or they have the flexibility to lock in those young players to club-friendly, long-term contracts. You can never say never, especially when it comes to the actions of Dayton Moore at the major-league level, but it's highly unlikely Moore will squander his flexibility with a single contract. After all, Moore has been fairly vocal about how he has gotten the Royals to this point regarding payroll, and how he plans to maintain the flexibility. Of course, he also once said he valued on-base percentage …
(Quick aside: Time for a perspective check from one Royals fan …
Pujols? Why do we need Pujols? We have Billy Butler, who can rake. Kila Ki'ahuie is a monster who is going to set the baseball universe on its axis and will undoubtedly start a streak of 10 consecutive All-Star Game appearances this summer. And then Eric Hosmer has the best looking swing in the history of whatever and will be ready for the majors in 2012.
Honestly, tell me where Pujols fits. I just don't see it.
Ummmm … Yeah. That was fun. Perspective check over.)
While the thought of Pujols driving west on I-70 might be enough to cause heartburn on the Hill in St. Louis, and while Pujols might feel the pull of his hometown should he hit the open market, Kansas City won't be a player in the Pujols Sweepstakes.
Craig Brown writes for the Royals blog, Royals Authority and about fantasy baseball for Baseball Prospectus. Follow him on Twitter.
September, 11, 2009
9/11/09
5:15
PM ET
Gritty & Clutch's J. Walter Fulbright headlines
this post
by describing
Billy Butler
as a Hall of Famer. As evidence, he presents Butler's doubles this season: 45 and counting. Which might seem like a
terribly
lot of doubles. But
Brian Roberts
(50) and
Adam Lind
(46) both have more, and Lind has also out-homered Butler (by quite a lot).
The difference is that Lind is 26 and Butler is 23. Maybe it's not a big difference, or maybe it is. Fulbright makes a list of players who were 23 or younger, and finds a bunch of guys who are in the Hall of Fame or came reasonably close. Hence, Butler's a future Hall of Famer.
One obvious problem with this analysis is that "23 or younger" includes (or might include) doubles-hitters who were actually 20, and there's at least as much difference between 20 and 23 as there is between 23 and 26. As it happens, Vada Pinson was 20 when he hit 47 doubles in 1959. A study ignoring 20-year-olds would actually knock Pinson out, which would actually make Butler look better since Pinson's not in the Hall of Fame. But you get my point. Here's the passage that really caught my eye, though:
Butler is clearly the wrong player for the wrong time. He's built almost perfectly in the mold of the 1970s and 1980s line drive, high Batting average sluggers. The Tony Gwynns. The Robin Younts. Even the George Bretts. This is the ultimate testament to a franchise stuck completely in the past, in that their best player, their pride and joy, could be a three time MVP … if he played in Fulton County Stadium or the Houston Astrodome, wearing ugly horizontal stripes and an unflattering adjustable waistband. Their other potentially developing offensive star is more of the modern mold – walks, strikeouts, and homers … and Alex Gordon just got sent back to Triple A.

--snip--

This study has convinced me that Billy, unlike the discipline and power mold (the old player skills) has an ability set that passes the test of time. Even the worst comps mostly had very long careers. The power may come and then go again, like so many players, but while muscles fade in the 30s (those of us there can testify to this), the eyesight lasts until 45 or so. And that gives a player like Billy an awful lot of time to compile 3,000 hits. And there's still going to be enough aging sentimental sportswriters around that believe in the magic number, and they're going to give Billy the nod. Viva la Billy Butler. Hall of Fame class of 2032.
As somebody who's been watching the Royals for more than 30 years, I saw quite a lot of George Brett. I saw quite a lot of
Tony Gwynn
and Robin Yount, too. And I have to say that it's practically impossible to make a meaningful group of players that includes those three
and
Butler. Statistically or otherwise.
Brett was a wonderful hitter, a daring baserunner and (eventually) a fine, occasionally acrobatic third baseman. Tony Gwynn was a left-handed hitter who won eight batting titles but never hit more than 17 home runs in a season. Robin Yount won MVP Awards while playing shortstop and center field.
Have you seen Butler? The first time I saw Butler, he reminded me of one player, and one player only: Edgar Martinez. Both right-handed hitters, both built like squat tanks, both employing line-drive swings that figure to result in more doubles than home runs.
The comparison is far from perfect. Martinez regularly played third base into his late 20s, while Butler got moved off the position while still a teenager. Butler is a doubles machine at 23. When Edgar was 23 he was still in the minors, and didn't establish himself in the majors until he was 27. But before Billy Butler, I'd never seen one player who reminded me so much of another.
So is Butler a Hall of Famer? After all, Martinez has a pretty good case for the Coop, and Butler's got (roughly) a five-year head start on him.
Probably not, if only because so many bad things can happen between a slugger's 23rd birthday and that day on which he's piled up enough doubles and homers and RBIs to merit serious Hall of Fame consideration. Martinez did get a late start, but he was also still a devastating hitter when he was 40. If Butler is still a powerful force a dozen or so years from now, we can talk again.
August, 10, 2009
8/10/09
5:13
PM ET
Hey, the link says it's
breaking news
, so who am I to argue?
Finally, a little bit of good news for the Royals. First baseman Billy Butler was picked Monday as the American League player of the week after batting .538 and posting six consecutive multi-hit games for the week ending Sunday. It is the first weekly award in Butler's career. He is the first Royals' player to win the honor since pitcher Zack Greinke shared the April 13-19 award with Texas second baseman Ian Kinsler.

The last Royals position player to win the award was shortstop Mike Aviles, who shared the July 28-Aug. 3, 2008 honor with New York outfielder Xavier Nady.

--snip--

Butler will receive a Swiss Tourneau luxury timepiece, suitably engraved, in recognition of his award.
The coolest thing about this isn't that a Royal won something. I mean, that's cool, too. But even a blind pig does find the occasional truffle, and Butler is a talented young hitter who might yet become a poor man's
Edgar Martinez
.
No, the coolest thing about this is that Billy Butler gets a watch.
Did you know that? I didn't. When I visit the National Baseball Museum in Cooperstown, some of my favorite items are the watches and rings and silver cups and whatnot that players used to receive in commemoration of various accomplishments.
So it pleases me to discover the tradition lives, and that dozens of commemorative watches are awarded every season, many of them to players who will go their entire careers without winning any of the big awards. But I'm left with a question: How many luxury timepieces does Albert Pujols have, just laying around?
(H/T: Mom)