SweetSpot:

Bob Feller dead at 92
December, 16, 2010
12/16/10
12:45
AM ET
I believe that Bob Feller signed more autographs than anyone else, ever.
I might be wrong about that. There might be an old soccer star in Italy, or some guy in Vermont who writes a
lot
of checks. But I can't imagine which American athlete would have signed more autographs than Bob Feller did, between reaching the majors when he was 17 and passing away Wednesday night, at 92.*
* According to Feller, he signed one of his first autographs near the end of his "summer vacation" with the Indians in 1936, just before beginning his senior year of high school. The recipient was a nine-year-old aspiring pitcher named Robin Roberts.
[+] Enlarge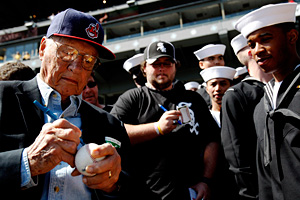 AP Photo/Nam Y. HuhFormer Cleveland Indians pitcher Bob Feller, left, signs an autograph for a fan before Opening Day this year.
I've got a signed photo, and Feller signed both of his autobiographies for me. Therein, a quick story ... Sometime in the early 1990s, Feller appeared at a baseball-card show in Kansas City, and so I showed up with a copy of "Strikeout Story," his 1947 memoir. There were no handlers or in-between men, and the line wasn't long. You just waited your turn, you handed Feller whatever you wanted him to sign, and could speak to him for a moment or two. I asked him about the Detroit Tigers' (alleged) sign-stealing in 1940, and he gave me his stock answer (which I was happy to hear directly from him; today, I'm sorry I didn't ask him about his Indians' stealing signs eight years later in another pennant race). Sitting on the table in front of Feller was a copy of his latest book, "Now Pitching: Bob Feller," along with a placard indicating one could purchase a signed copy for (as I recall) $25.
At that point, I was sort of collecting signed baseball books, and that seemed like a pretty good deal to me. I said I would like to buy one of his books, wrote a check, and expected Feller to reach under the table and retrieve a book, then sign it.
Nope. He took my check, asked me to write my name and address on a note card, tucked both into his shirt pocket, and sent me on my way. I assumed that would be the end of the matter. Hey, it was only 25 bucks and I'd just been in the presence of an Immortal. I could hardly complain.
Some months later, I was shocked when the postman delivered a package from Bob Feller.
I probably shouldn't have been shocked, because Bob Feller took his signature seriously.
During Feller's career, he made a great deal of money on the side, putting together barnstorming tours, doing big endorsement deals, and generally building the Bob Feller
business
whenever and wherever he could.
After his career, all of that just sort of went away, and the business was simply being Bob Feller. He would spend many years criss-crossing the country, driving alone from town to town, and making whatever money he could by selling his signature. For many years, if you wanted to meet Bob Feller, you could. If you had five or 10 dollars in your pocket, it was easy.
Mind you, this was before the stars of the 1950s and '60s turned baseball memorabilia into a huge business. And even with business booming, Feller just didn't excite Baby Boomers the way DiMaggio and Mantle and Mays and Williams did. My guess is that well into the '80s, Feller was still routinely selling his signature for less than 10 bucks a pop. And he sold a
lot
of them. Which is why it's easier to find a signed Bob Feller on eBay than an unsigned Bob Feller. And why, before today anyway, you could find one for an exceptionally reasonable price.
It's a funny thing, though. The fact that my Bob Feller autographs aren't "valuable" doesn't make them any less valuable to me. They are, in the only way that matters to this baseball fan, priceless.
December, 16, 2010
12/16/10
12:05
AM ET
At the conclusion of the 1941 season, Bob Feller was 22 years old and he'd won 107 games in the major leagues. At that pace ... well, if Feller had continued pitching that well until he was 42, he would have challenged Cy Young's more impressive records.
A war got in the way.
The way Feller told the story, on the 7th of December he was driving his new Buick from his home in Iowa to Chicago, for a meeting with Cy Slapnicka, Cleveland's general manager, and manager Roger Peckinpaugh. Feller expected to sign a new contract for 1942.
[+] Enlarge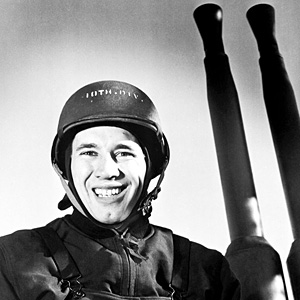 AP Photo/U.S. NavyIn this March 6, 1943 photo provided by the U.S. Navy, Bob Feller, former Cleveland Indians ace, captains a 40 mm gun crew aboard one of Uncle Sam's battleships.
Car radios were still uncommon in 1941, and expensive. But when you win 107 games before your 23rd birthday, you can afford the radio and a tinny-sounding speaker. Crossing the Mississippi River into Illinois, Feller heard the bulletin: Japan had attacked Pearl Harbor.
"I knew that the purpose of our meeting had just changed," Feller would write, nearly 50 years later. He would tell Slapnicka and Peckinpaugh that instead of signing a new contract, he would be signing enlistment papers for the U.S. Navy. Immediately.
He could have waited to be drafted, and almost certainly would have been able to continue playing baseball through 1942, at least; with his father terminally ill, Feller was his family's sole financial support. Some players weren't drafted until after the 1943 season. But Feller went right in, voluntarily. A few months into his enlistment, tired of a cushy stateside posting, he pressed for combat duty and spent much of 1943 and '44 commanding a gunnery crew on a battleship, the U.S.S. Alabama.
By the time Feller returned to baseball in 1945, he'd missed more than three-and-a-half seasons. Among the first stars to come back, Feller would be a sort of guinea pig, as nobody knew what such a long layoff would mean for professional baseball players (many of whom would miss two or three full seasons).
In the event, most (though not all) of them picked up right where they'd left off.*
* Most of the stars, anyway. Many dozens of lesser players lost their prime seasons because of the war -- not to mention all the younger men who lost their lives or their health -- and never played in the majors, or even professional baseball, at all.
Of course, eventually another question would come up. From Feller's 1990 autobiography, "Now Pitching: Bob Feller":
Then people began to wonder how we would have done if the war hadn't come along. Baseball fans filled many an hour in those days with that "what-if" question. Eventually, an analyst in Seattle, Ralph Winnie, sat down at his computer and figured out the answers.

He took our individual stats for the last three years before our military services and our first three years after the war, then averaged them out on a per-season basis and projected them across the war years...

In my case, Winnie projected that I would have 107 more games, finishing with 373 career wins instead of 266, with another 1,070 strikeouts, five no-hitters instead of three and 19 one-hitters instead of 12. He calculated that I would have finished with the sixth most wins in history instead of 28th and the seventh most shutouts instead of 29th.
In his book, Feller tempered those numbers a bit, writing, "It may not prove anything ... We could have been injured and missed a full season or slipped on a banana peel, who knows?"
In the years after Feller's book was published, he became more outspoken in his political views -- somewhat famously in these parts, during an ESPN.com chat he went off on "Hanoi Jane" Fonda -- and more willing to take credit for the statistics that might have been his, absent the war.
Realistically, I think such exercises are more instructive for hitters than pitchers, simply because hitters don't run the same injury risk that pitchers do. Feller
might
have been injured if he'd kept on pitching during the war years. From his Age 19 through Age 22 seasons, Feller averaged 309 innings per season ... though whether that means he was primed for an injury or was invulnerable to fatigue, I really can't hazard a guess.
Upon Feller's discharge from the Navy in August 1945, he returned to the Indians and pitched well in nine late-season starts. In 1946, he enjoyed one of his best seasons, leading the American League in wins (26), games pitched (48), games started (42), complete games (36), shutouts (10), innings (371) and strikeouts (348).
Feller got off to a fine start in 1947, but hurt his knee in June and was never really the same. From that point through the end of his career, nine mostly humdrum years later, he struck out just slightly more than four batters per nine innings.
People wonder how Bob Feller would have done if the war hadn't come along. I wonder how Bob Feller would have done if he hadn't lost his All-World fastball before he turned 29.
December, 15, 2010
12/15/10
11:30
PM ET
I'm sorry to hear about
Bob Feller's passing
, if not surprised. Most of us have been around long enough what it means when a 92-year-old man is transferred to hospice care. At that point, one can only hope for a peaceful end and perhaps a few more good moments with loved ones.
Bob Feller actually lasted a bit longer than some thought. Almost a week ago, the Northern Ohio Journal actually reported Feller's death, and columnist Jim Ingraham wrote a lovely tribute. That was yanked from the Journal's website a few hours later, but I think this passage is a fine introduction:
[+] Enlarge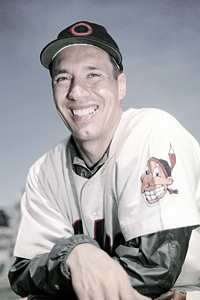 AP PhotoBob Feller won his first 100 games before the age of 23. He died Wednesday at the age of 92.
At either end of his life he mocked convention. He made his major league debut -- this is beyond outrageous -- at 17. In his first major league start he set a major league record for strikeouts in a game, and then after that season went back to high school for his senior year. Think about that.

He lived to be 92. How many 92-year-olds do you know?

The year he was born, Alexander Graham Bell was still alive. So were Wyatt Earp and Orville Wright.

When Feller debuted in Van Meter, Iowa, Christy Mathewson was still alive. So were Honus Wagner, Napoleon Lajoie, and Cy Young.

Ty Cobb? Not only was he still alive, he was STILL PLAYING!

As a 17-year-old rookie with the Indians in 1936, Feller needed a place to live. Cy Slapnicka, the scout who signed him, found a room for him in a boarding house in Cleveland. One of Feller's fellow-boarders in the house had fought in the war -- the Civil War.
As amazing all of those things are, the one thing that always sticks in my head is this: Bob Feller pitched against Lou Gehrig. All the other big stars in the American League in the late 1930s, too. Joe DiMaggio. Jimmie Foxx. Hank Greenberg. Ted Williams.
Of course they're all gone, now. Nearly all of them, anyhow. Hall of Famer
Bobby Doerr
was actually born a few months before Feller, and debuted in the majors roughly a year after Feller. Hall of Famer
Monte Irvin
was born just a few months after Feller, though thanks to baseball's segregation he wouldn't reach the (previously all-white) major leagues until he was 30.
Even with Feller's passing, they're still around. It just gets a little harder to find them, all the time.
Almost to the end, though, it was rarely hard to find Bob Feller. Just a few years ago, I saw him give a rousing talk at the SABR Convention in Cleveland. Last summer he was still regularly showing up at the ballpark, one of the few men on earth who had seen Babe Ruth hit, and pitched to Lou Gehrig. And he was still crusty, unimpressed by young players who haven't won a lot of games or enlisted in the Navy during a war or been elected to the Hall of Fame.
Too crusty, maybe, by just a little. Upon seeing Stephen Strasburg in the flesh, Feller said, "Call me when he wins his first 100."
Granted, I've probably said something similar a few times. But when Bob Feller said it, people actually paid attention. He wasn't nasty (well, not often). He was opinionated, and the older he got the more willing he was to express his opinions.
Of course, he won his first 100 games before he turned 23, and did enlist to fight in a war, and was elected to the Hall of Fame. If anyone ever earned the right to the occasional bout of crustiness, it was probably Rapid Robert Feller.