June, 11, 2011
6/11/11
10:00
AM ET
By
Christina Kahrl
| ESPN.com
It's reliably repeated that managers are hired to be fired, so perhaps it's just as well that Billy Beane and company had to get around to whacking Bob Geren. There's little joy to be taken from this development, wherever you come in on the subject of Geren's tactical acumen or lack of it. Consider the previous pair of skippers Beane has worked with. Art Howe was the inherited caretaker with a good handle on working with young players. Ken Macha was supposed to be the technician who would achieve the postseason success that Howe's teams had not. The A's won a postseason series, and then lost one, at which point they were done with Macha.
[+] Enlarge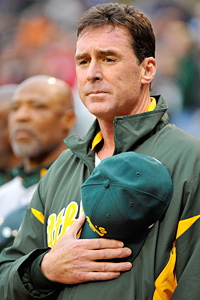 Rob Grabowski/US PresswireOakland GM Billy Beane hopes former Arizona manager Bob Melvin, above, can get the A's playing well this season.
Fundamentally, Geren's firing -- like Macha's -- is a public admission of failure, and a reflection upon the organization no different than a deal that doesn't pan out or a prospect who flopped. In a sense, a prospect is exactly what Geren was. Geren was supposed to be the organization's answer in the dugout, this after years of seeking
the
manager who would finally fit neatly within the Oakland smart-guy
kaffeeklatsch
, perhaps even to the extent that he might banter about World Cup soccer with Beane -- who was not just his boss, but a friend and former rival from a few long-forgotten San Diego high school diamonds. Geren was groomed to be the A's manager after they had already cultivated and then decided to not turn over the job to Ron Washington.
The recurring problem is that much of the same vituperation that followed Macha out the door after the A's lost in the 2006 ALCS seems to have been repeated with the closing of the much less successful Geren era. Geren and Macha both had players unload full broadsides into their former managers as they were dragged out the door, with complaints about what might broadly be referred to as "communication issues."
In a day when a manager's role is less dugout wizard than it is one part workload logistics manager, one part clubhouse ego masseuse and one part public spokesperson, it's hard to identify how Geren or Macha were effective in these roles. Relievers were complaining about Geren's usage patterns long before Brian Fuentes' gripes got aired a couple of weeks ago. Lowlights of a track record peppered with tactical indifference include a blind eye to Daric Barton's willful (and willfully ill-considered) bunting last year, on his own recognizance. Reporters haven't exactly been thrilled by years of working with the close-mouthed Geren or Macha, men who could make Calvin Coolidge seem an engaging conversationalist.
These don't have to be seen as the signal virtues of a manager. Just as he can motivate and inspire loyalty in his players, a good communicator can help a team's marketing effort and even influence how it gets covered by the media. But a manager also doesn't answer to either players or media -- he's responsible to his general manager. To wind up at this denouement, where Beane and company have had to create Geren, only to discard him, reflects the extent to which he had become dispensable to a front office with responsibilities of its own to observe. Team Beane has once again soft-pedaled an offseason effort to build a contender, only to find that they're even further back of the pack in the age of parity. But Geren didn't trade for
Kevin Kouzmanoff
, nor did he sign
Hideki Matsui
. Blaming Geren for five starting pitchers on the DL isn't quite the same thing as blaming Billy Martin for it. In an organization that has been beset by controversies and questions about how it handles player injuries for years, you can't really single out Geren in what might be another issue that has to be resolved above his pay grade.
Is Bob Melvin going to be Mr. Fix-It? His track record managing the Diamondbacks is mixed, but has its positives. He's infamous for juggling his lineups and constantly tinkering with his orders, but if you've read Chris Jaffe's indispensable
Evaluating Baseball's Managers
, you already know it didn't accrue him any additional runs, as the Snakes' lineup underperformed. Maybe that's inherently tied to the youngsters he managed, by turns promising and exasperating when it came to delivering on expectations, players like
Stephen Drew
or Chris Young or
Mark Reynolds
. The 2007 Snakes squad that won 90 games despite allowing more runs than it scored might represent some bit of cleverness on his part -- Melvin used his good relievers to good effect in the games his club could win, and his (very bad) bad relievers in the games out of reach, which tended to make blowouts worse considering the former BOB's run-inflating environment. He has a better relief crew in Oakland and a park that's much more pitching-friendly, but we'll see if his experiences with a young lineup in Arizona will help him as the A's break in
Jemile Weeks
and the like. Expectations are set low, because as a number of analysts have already noted, the track record of in-season replacements isn't replete with historic turnarounds.
[+] Enlarge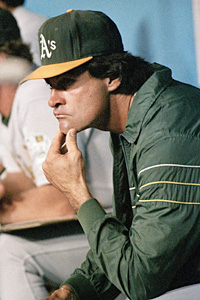 AP Photo/Lenny IgnelziTony La Russa set a high standard as Oakland's manager when he took over in the mid-1980s.
However, Oakland's history on this score is different, and deserves to inspire different expectations. After all, aren't the Beaniacs the smartest guys in the room? From the organization's earliest days of stat-headed insight, it's worth remembering the last skipper who took over an A's ballclub at midseason, back in 1986: Tony La Russa, who just notched his 5000th game as a big-league manager. Next year, La Russa should pass John McGraw for the all-time record for wins by real managers -- Connie Mack's all-time mark being a product of two additional decades of senescent inattention permitted by an indulgent league indifferent to little things like competitive balance.
La Russa was and remains a great example of the kind of the manager who
did
make a huge difference. After being fired by the White Sox during Hawk Harrelson's reign of error as GM, hiring La Russa was the easy in-season choice for an A's franchise under Sandy Alderson's sensible direction, one that had endured more than three years employing mediocrities Steve Boros and Jackie Moore. La Russa presided over a quick in-season turnaround, running up a 45-34 record with a team that was 20 games under .500. That rally presaged finishing just four games out in '87 and three pennants in '88-'90. It helped that the A's had a good farm system, Alderson, stathead Eric Walker and a good eye for talent. However, a huge element of that team's success was its ability to get mileage out of discarded players, and La Russa deserves a big share of credit for delivering on that.
In the end, La Russa fit within a well-run operation to deliver Oakland from years of frustration. It's the example of that legacy -- both Alderson's and La Russa's -- that Beane and Melvin have to deliver on.
Christina Kahrl covers baseball for ESPN.com. You can follow her on Twitter.
June, 10, 2011
6/10/11
3:20
PM ET
Here are some of the many reasons why you should listen to
Friday's Baseball Today

, hosted by me and Mark Simon:
1. We start with the biggest series of the week, and it wasn't Nats-Pads. The Yankees relief corps is a mess, and it's not so easy to get help, while the Red Sox are ... well, just terrific.
2. Speaking of a mess, the Oakland Athletics haven't won in a while, and we follow up with Mark about the change of managers and how sad it is that players he didn't bring in haven't worked out.
3. We discuss the best show on television in "Baseball Tonight" ("Glee" comes in a close second place) as Mark describes in detail the cool new feature on the show and its applications.
4. How soon do you forgive a player on your favorite team when he historically messes up? We talk Kenny Rogers, Mitch Williams, Bill Buckner ... and tweet us your feedback at @msimonespn and @karabellespn!
5. Every weekend is an important one, and we each identify the series we think have some extra meaning. For me, a certain AL Central team really needs to start playing better.
Plus: Excellent emails, talkin' food at certain ballparks, some really cool stats that Mark had to look up and hey, Eduardo, we'll miss you and wish you well. All this and more as we head to the weekend on Friday's Baseball Today. Be safe!
June, 24, 2010
6/24/10
5:31
PM ET
With the Athletics in free fall (and
Daric Barton
bunting like it's 1899), there have naturally been a few calls in Oakland for Bob Geren's head. Billy Beane is
having none of it
:

"I think under difficult circumstances he's done a good job," Beane told FanHouse. "Having the youngest team with the lowest payroll in the league is a difficult challenge for any manager, and given the amount of injuries that makes it that much more difficult. I think you have to be realistic with what you are given to start and ultimately what you have to work with, and quite frankly, he hasn't had a whole lot to work with."

--snip--

The A's 3-6 hitters have a combined OPS of .701, which is second-worst in the American League. (Not surprisingly, the only team worse, Seattle, is the only team below the A's in the AL West standings.) The 21 homers the A's have gotten out of those spots are the fewest in the league.

"We are getting some hits, but the Achilles' heel, even coming in for us, was the lack of power and slugging," Beane said. "In this league it's very difficult to compete day in and day out when you don't hit more homers. That's not something we were unaware of, but there's not a whole lot we can do about it."

Chris Carter, the A's top power-hitting prospect, has 15 homers at Triple-A Sacramento, but he's also hitting .238 and he's struck out 82 times in 260 at-bats.

"He's doing some good things down there, but he still needs some time," Beane said.

On a related note, this recently showed up in
the mailbag
:

Yesterday, you mentioned Billy Beane's error regarding Andre Ethier. What you failed to mention is that Beane apparently cannot evaluate young power hitters like Ryan Ludwick, Carlos Gonzalez, Carlos Pena, and Nelson Cruz, each of whom (like Ethier) would be leading the A's in home runs today if they were still A's.

Let's see who the A's got in exchange for all those guys:
Ethier:
Milton Bradley
Ludwick (and
Gerald Laird
):
Carlos Pena
and
Mike Venafro
Carlos Gonzalez
(and
Huston Street
):
Matt Holliday
Carlos Pena (and
Jeremy Bonderman
):
Ted Lilly
Cruz:
Keith Ginter
Continuing the chains, the A's traded Matt Holliday for
Brett Wallace
, who was traded for
Michael Taylor
(Wallace is younger than Taylor, and has played better this season); they traded Ted Lilly for
Bobby Kielty
.
I've left out some details -- payroll considerations, pennant-race machinations, minor leaguers who never made it, etc. -- but I think you get the general gist of the thing: Beane
has
had his hands on some talented hitters with power, and he's let practically all of them get away without much in return. Does this mean Beane "cannot evaluate young power hitters"?
I wouldn't go that far. This is a selective grouping; how many young power hitters has Beane traded, who never reached the heights of these fellows? Still, this will probably mark the fifth straight season in which the A's don't rank in the upper half of the American League in run production. And it's mostly because they continue to people their lineups with hitters who are both power-starved and injury-prone. And with Taylor and Carter both struggling in Triple-A, this doesn't seem likely to change anytime soon.