March, 19, 2013
3/19/13
10:30
AM ET
From the World Of I Can't Believe You Spent The Time Doing This, what would the NCAA tournament bracket look like if we picked the best major leaguer from each school? Well, something like this (* denotes Hall of Famer) ...
REGION 1
Round of 64
Liberty (Sid Bream) over Louisville (Sean Green)
Missouri (Ian Kinsler) over Colorado State (Tippy Martinez)
Oregon (Joe Gordon*) over Oklahoma State (Robin Ventura)
Saint Louis (Gene Robertson) over New Mexico State (Mark Acre)
Saint Mary's (Harry Hooper*) over Memphis (Dan Uggla)
Michigan State (Robin Roberts*) over Valparaiso (Lloyd McClendon)
Creighton (Bob Gibson*) over Cincinnati (Sandy Koufax*)
Duke (Dick Groat) over Albanay (none)
Round of 32
Missouri (Ian Kinsler) over Liberty (Sid Bream)
Oregon (Joe Gordon) over Saint Louis (Gene Robertson)
Michigan State (Robin Roberts) over Saint Mary's (Harry Hooper)
Creighton (Bob Gibson) over Duke (Dick Groat)
Round of 16
Oregon (Joe Gordon) over Missouri (Ian Kinsler)
Creighton (Bob Gibson) over Michigan State (Robin Roberts)
Regional Final
Creighton (Bob Gibson) over Oregon (Joe Gordon)
REGION 2
Round of 64
Southern (Lou Brock*) over Gonzaga (Jason Bay)
Wichita State (Joe Carter) over Pittsburgh (Doc Medich)
Wisconsin (Addie Joss*) over Mississippi (Don Kessinger)
Boise State (Larry Jackson) over Kansas State (Elden Auker)
Arizona (Kenny Lofton) over Belmont (Jerry Bell)
Harvard (Eddie Grant) over New Mexico (Scott Stickland)
Notre Dame (Ed Reulbach) over Iowa State (Bob Locker)
Ohio State (Frank Howard) over Iona (Dennis Leonard)
Round of 32
Southern (Lou Brock*) over Wichita State (Joe Carter)
Wisconsin (Addie Joss*) over Boise State (Larry Jackson)
Arizona (Kenny Lofton) over Harvard (Eddie Grant)
Ohio State (Frank Howard) over Notre Dame (Ed Reulbach)
Round of 16
Southern (Lou Brock*) over Wisconsin (Addie Joss*)
Arizona (Kenny Lofton) over Ohio State (Frank Howard)
Regional Final
Arizona (Kenny Lofton) over Southern (Lou Brock*)
REGION 3
Round of 64
Kansas (Bob Allison) over Western Kentucky (Duane Kuiper)
North Carolina (B.J. Surhoff) over Villanova (Mickey Vernon)
VCU (Brandon Inge) over Akron (Mike Birkbeck)
Michigan (Barry Larkin*) over South Dakota State (Vean Gregg)
UCLA (Jackie Robinson*) over Minnesota (Dave Winfield*)
Florida (David Eckstein) over Northwestern State (Brian Lawrence)
San Diego State (Tony Gwynn*) over Oklahoma (Lindy McDaniel)
Georgetown (Doc White) over Florida Gulf (Chris Sale)
Round of 32
Kansas (Bob Allison) over North Carolina (B.J. Surhoff)
Michigan (Barry Larkin*) over VCU (Brandon Inge)
UCLA (Jackie Robinson*) over Florida (David Eckstein)
San Diego State (Tony Gwynn*) over Georgetown (Doc White)
Round of 16
Michigan (Barry Larkin*) over Kansas (Bob Allison)
UCLA (Jackie Robinson*) over San Diego State (Tony Gwynn*)
Regional Final
UCLA (Jackie Robinson*) over Michigan (Barry Larkin*)
REGION 4
Round of 64
Indiana (Ted Kluszewski) over LIU-Brooklyn (Sid Gordon)
North Carolina State (Dan Plesac) over Temple (Bobby Higginson)
California (Jeff Kent) over UNLV (Matt Williams)
Syracuse (Dave Giusti) over Montana (none)
Bucknell (Christy Mathewson*) over Butler (Doug Jones)
Davidson (Fred Anderson) over Marquette (Ralph Shinners)
Illinois (Lou Boudreau*) over Colorado (John Stearns)
Miami (Ryan Braun) over Pacific (Chase Headley)
Round of 32
Indiana (Ted Kluszewski) over North Carolina State (Dan Plesac)
California (Jeff Kent) over Syracuse (Dave Giusti)
Bucknell (Christy Mathewson*) over Davidson (Fred Anderson)
Illinois (Lou Boudreau*) over Miami (Ryan Braun)
Round of 16
California (Jeff Kent) over Indiana (Ted Kluszewski)
Bucknell (Christy Mathewson*) over Illinois (Lou Boudreau*)
Regional Final
Bucknell (Christy Mathewson*) over California (Jeff Kent)
NATIONAL SEMIFINALS
Creighton (Bob Gibson) over Arizona (Kenny Lofton)
UCLA (Jackie Robinson) over Bucknell (Christy Mathewson)
CHAMPIONSHIP
Creighton over UCLA
* * * *
Anyone want to place a big bet on Creighton to win it all?
Wait a minute ... you can't leave it there! Explain some of your picks, pal.
OK, quickly here. Yes, Kenny Lofton was better than Hall of Famer Lou Brock (and Lofton was a point guard at Arizona, so it makes sense to give him a little extra credit as tie-breaker). And I'm taking Jackie Robinson over Christy Mathewson in the semifinals. Why? It's Jackie Robinson! He happened to play basketball as well at UCLA. And Bob Gibson was good enough at hoops to play for a time with the Harlem Globetrotters. Pretty cool that three of the final four guys played college basketball. Maybe Mathewson did as well, back when they still used peach baskets. As for Gibson over Robinson ... well, he was known as one of the greatest big-game pitchers of all time, so I have to take him in a one-game showdown. Plus, this thing isn't real anyway. I'm just making it up as I go along.
Hey, Gibson versus Koufax in the first round? Tough one!
Yeah, tough one. I was going to give the edge to Koufax (he was at Cincinnati for one year, which he attended on a basketball scholarship) since he beat Gibson four of the five times they started against each other (including two 1-0 shutouts), but in the end I went with Gibson since his career was longer. And he played for the Globetrotters.
Didn't Cap Anson and Carl Yastrzemski attend Notre Dame? Why didn't you pick one of them?
To my knowledge, neither actually played baseball there. In fact, Anson actually only attended the prep school boarding school at Notre Dame when he was about 14 or 15. And Yaz did receive a basketball scholarship to Notre Dame but left after a short time to pursue a professional baseball career.
You went with Robinson over Dave Winfield?
Difficult, but at his peak Jackie was more valuable. I could have gone with Paul Molitor to represent Minnesota, but gave the edge to Winfield since he was a basketball star as well, helping lead the Gophers to the 1972 Big Ten Title.
Any other big names you considered?
Hall of Famer Larry Doby briefly attended LIU-Brooklyn to play basketball for legendary coach Clair Bee, but I couldn't find any evidence he played baseball there. I chose Barry Larkin over Charlie Gehringer at Michigan. Gehringer said he never lettered in baseball at Michigan, although I'm not sure if he played at all. Anyway, it's choosing between Hall of Famers, so I went with the guy I know played baseball there.
Robinson over Tony Gwynn? You sure on that one?
Another tough one. Gwynn was an outstanding point guard at San Diego State, getting drafted by the Clippers in the 10th round the same day the Padres drafted him in the third round. Love all the basketball tie-wins here! Anyway, Gwynn chose wisely. You can make the argument for Gywnn, but Robinson's peak value was impressive, with seasons of 9.3, 9.3, 8.1, 7.1, 6.7 and 5.0 WAR. In 10 seasons in the majors, he averaged 5.9 WAR per season. Gwynn's best seasons were 8.3, 6.4, 6.1 and 5.3. Have to give it Robinson.
More hoops tie-ins!
Dick Groat was a two-time basketball All-American at Duke (he played one season in the NBA). ... Frank Howard was two-time All-Big Ten at Ohio State. ... Lou Boudreau was captain of the basketball team at Illinois. ... Robin Roberts attended Michigan State to play basketball and lettered three seasons and only tried out for baseball after his second year of hoops. Legend has it the coach put him at pitcher only because that's where the team needed help. I'm guessing the 95-mph fastball may have helped with that decision.
March, 1, 2013
3/01/13
12:15
PM ET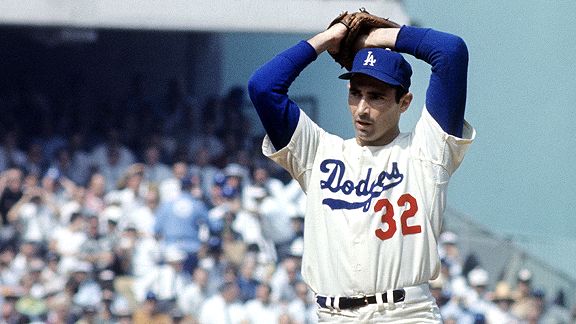 Focus on Sport/Getty ImagesOver his final five seasons, Sandy Koufax went 111-34 with a 1.95 ERA and three Cy Young Awards.
This is another follow-up to a debate that arose in a recent chat session: Which pitcher had the best five-year peak?
With
Sandy Koufax having spent time at Dodgers camp this spring
it seems like a perfect time for a list, doesn't it?
Well, I can never make things easy, so this will be a long list. I started with pitchers since 1950, primarily because I'm not as interested in comparing the peak of dead-ball era pitchers to the more modern game. Plus, we had to make this somewhat manageable. I'm going to use Baseball-Reference Wins Above Replacement to rank the pitchers and we'll have a vote at the end of the story.
The rules: It has to be a five-year consecutive peak -- not necessarily the best five seasons of a pitcher's career, but the best five years in a row. A pitcher can appear only once. That's it. I didn't include postseason results, but maybe should have. I looked at all the Hall of Fame starting pitchers from this era, some current guys and some others I wanted to include. The list is 41 pitchers, but this is
not
the best 41 peaks. I left out some good pitchers, such as Orel Hershiser, Dwight Gooden,
Roy Oswalt
and others. I do think I got all the guys who accumulated at least 30 WAR, however.
Jack Morris, 1983-1987: 20.2 WAR
We have to start somewhere.
Don Sutton, 1971-1975: 21.1
Despite winning 324 games, Sutton was a controversial selection to the Hall of Fame when he made it on his fifth year on the ballot. He was viewed as a compiler -- and, well, he sort of was, as his career-high WAR was 6.3 and he topped 5.0 just three times. From '71 to '75 he went 89-53 with a 2.63 ERA and 25 shutouts. Not bad for a compiler.
Early Wynn, 1952-1956: 22.3
In 1948, Wynn went 8-19 with a 5.82 ERA for the Senators, walking 94 and striking out 49. Bill Veeck of the Indians coveted Wynn anyway because of his good fastball, they got him along with Mickey Vernon in a trade, pitching coach Mel Harder taught Wynn a curve and slider, and he went on to average 18 wins per season in his nine years in Cleveland.
Whitey Ford, 1961-1965: 22.5
Here's a fair question: Is Whitey Ford overrated? Think about it: He pitched in the old Yankee Stadium, with its mammoth left-center power alley, certainly helpful to a left-handed pitcher; he didn't have to face the best team in the league, back when there were only eight teams in the league for much of his career; he won "only" 236 games. Of course, he was the ace of many World Series winners and was certainly clutch in the postseason. Ford's best five years came after Casey Stengel was fired after the Yankees lost the 1960 World Series. Stengel was always cautious with Ford's workload, using him for more than 230 innings only once. But from '61 to '65 Ford averaged 260 innings and went 99-38, a .723 winning percentage.
John Smoltz, 1995-1999: 22.9
When Smoltz shows up on the Hall of Fame ballot, it will be interesting to see how he fares compared to Curt Schilling, two guys with similar career records (Smoltz: 213-155, 3.33; Schilling: 216-146, 3.46) and similar excellence in the postseason. The big difference between the two is Smoltz never had the string of dominant seasons like Schilling did.
Catfish Hunter, 1971-1975: 23.4
Made his mark by winning seven games in the postseason as the A's won three consecutive World Series from 1972 to 1974, but vastly overrated as a pitcher. This five-year peak accounts for two-thirds of his career WAR of 32.1
Tom Glavine, 1995-1999: 24.0
What were the odds that a 22-year-old pitcher who led the league with 17 losses and struck out only 84 batters in 195 innings would turn into a 300-game winner and future Hall of Famer? Lower than slim and none? Glavine's best season via WAR was his breakout campaign in 1991 (8.2) when he won his first Cy Young Award, but in many ways he was similar to Sutton, an amazingly durable pitcher who was very good for a long time.
Felix Hernandez, 2008-2012: 24.1
Working on four straight years of 230-plus innings and doesn't turn 27 until April. With his new contract, the Mariners are banking on many more of those 230-inning seasons in the future.
Nolan Ryan, 1973-1977: 26.0
His first big year came after the Mets traded him to the Angels in 1972 and he won 19 games with a 2.28 ERA, worth 5.8 WAR. Twenty years later he was 44 and posted a 5.0 WAR season for the Rangers. In between, he was a dynamic, often wild, always amazing, and certainly one-of-a-kind. His mid-'70s peak was dragged down by a couple mediocre seasons in '75 and '76 when he posted a 3.40 ERA, only league average for the time once you adjust for his home park.
Mike Mussina, 1999-2003: 26.7
His career WAR of 78.1 is higher than many Hall of Fame pitchers of this era. Best season came in 1992 (7.9 WAR), but he had seven seasons of 5.0 or higher, five of those coming with the Orioles.
Justin Verlander, 2008-2012: 26.7
This stretch includes Verlander's 2008 when he went 11-17 with a 4.84 ERA, worth 1.5 WAR, so the total will jump up with a big 2013. Verlander led the league in losses that year, which prompts the question: How many Hall of Fame pitchers led their league in losses? Well, Phil Niekro managed to do it four straight seasons. Bert Blyleven did it at the end of his career in 1988, and future Hall of Famer Glavine did it the same season at the beginning of his career. Steve Carlton and Robin Roberts each did it twice. Early Wynn and Hal Newhouser. A couple of others. Not necessarily that unusual.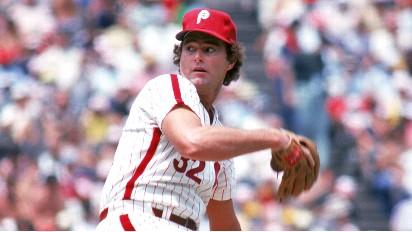 Rich Pilling/Getty ImagesSteve Carlton won four Cy Young Awards, but only one came during his best five-year WAR peak.
Steve Carlton, 1969-1973: 27.9
Maybe the most inconsistent great pitcher ever, this period includes Carlton's all-timer season in 1972 when he went 27-10 with a 1.97 ERA for a Phillies team that won only 59 games. No other pitcher won more than seven games, and he was a reliever. But Carlton followed that up with a 13-20, 3.90 year in 1973 and had some less-than-stellar years. His best stretch of consistent excellence actually came later in his career from 1980-1983, but his 11.7 WAR in '72 helps make this his best five-year stretch.
Don Drysdale, 1960-1964: 28.0
Dodger Stadium: 65-43, 2.19 ERA
L.A. Coliseum: 36-25, 3.14 ERA
Road games: 95-92, 3.41 ERA
Cliff Lee, 2008-2012: 28.9
Sort of the anti-Nolan Ryan. Whereas Ryan would
never
give in to a hitter, preferring to walk a batter rather than just throw something over the middle of the plate, Lee
never
wants to give up a free pass. Over this five-year stretch he has walked 165 batters; Ryan walked that many in a season three times.
Bret Saberhagen, 1985-1989: 29.1
Includes his Cy Young seasons in 1985 (6.9 WAR) and 1989 (9.2 WAR), but he couldn't stay healthy after that. Remember when Dave Stewart whined about not winning the Cy Young in 1989? Yeah, let's not get into that.
Jim Palmer, 1975-1979: 29.2
Palmer won 20 games eight times in nine seasons, but went 7-12 in 1974 right in the middle of that stretch to drag down his five-year peak (we ended up using a mediocre 10-6, 3.30 partial season in 1979 to round out our five years).
Frank Tanana, 1974-1978: 29.3
One of the best young pitchers ever, but hurt his arm in 1978. Returned as a finesse guy to have a long career.
David Cone, 1993-1997: 29.4
Only averaged 184 innings per season over this span thanks to the two strike-shortened seasons and an injury in 1996 that limited him to 11 starts, but went 64-35 with a 3.17 ERA during a high-scoring era and won the Cy Young Award in 1994.
CC Sabathia, 2007-2011: 29.7
Finished in the top five of the Cy Young voting all five seasons.
Rick Reuschel, 1976-1980: 29.8
A favorite of sabermetricians because of a career WAR of 64.6 that ranks 32nd
all time
among pitchers -- just ahead of Palmer, Sutton and Smoltz. Hmm. Reuschel's career record of 214-191 with a 3.37 ERA doesn't blow you away, but he spent his best years with mediocre Cubs teams in a hitter's park with bad defenses behind him. In these five years, he went 77-62 with a 3.33 ERA, topped by a 1977 season (20-10, 2.79 ERA) in which Baseball-Reference rates him not only as the best pitcher in the National League (9.2 WAR), but as the most valuable
player
. In comparing to Palmer, Baseball-Reference estimates Palmer's defense saved him 0.33 runs per nine innings over his career but cost Reuschel 0.18 runs per nine innings (a difference of about 14 runs over 250 innings). Maybe Reuschel would have won three Cy Young Awards if he had Mark Belanger and Paul Blair behind him.
Jim Bunning, 1963-1967: 30.2
After going 12-13 with a 3.88 ERA in 1963, the Tigers traded Bunning to the Phillies (for Don Demeter and Jack Hamilton), figuring at 32 he was past his prime. He wasn't. Instead, Bunning reeled off four magnificent seasons with the Phillies, going 74-46 with a 2.48 ERA while averaging 298 innings per season.
Kevin Appier, 1992-1996: 30.9
Surprise! Went 69-43 with a 3.22 ERA, including a spectacular 9.0-WAR 1993 when he led the AL with a 2.56 ERA and allowed only eight home runs. Should have won the Cy Young Award that year.
Warren Spahn, 1949-1953: 32.2
This stretch includes four of his five highest WAR seasons, the other being his best one -- 9.1 in 1947. Two awesome Spahn stats: (1) From 1947 to 1963, the
fewest
innings he pitched was 245.2; (2) Led the NL in complete games seven consecutive seasons, from ages 36 to 42. Here's a third one: Led or tied for the NL lead in wins eight times.
[+] Enlarge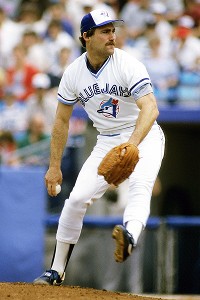 Ronald C. Modra/Getty ImagesToronto ace Dave Stieb should have won a Cy Young Award or two in the early '80s.
Dave Stieb, 1981-1985: 32.4
Underrated in his own time, Baseball-Reference rates Stieb as the first- or second-best pitcher in the AL all five seasons in this stretch, but he never finished higher than fourth in the Cy Young voting because they were giving the awards to guys like Pete Vuckovich and LaMarr Hoyt.
Roy Halladay, 2007-2011: 32.5
Went 93-44 with a 2.80 ERA.
Bert Blyleven, 1971-1975: 33.5
Blyleven's run came from ages 20 to 24 and included a 325-inning season in 1973 when he was 22. Somehow his ligaments and tendons remained attached and didn't turn into soba noodles. You'll notice that Blyleven is the third pitcher with the exact same five-year dates; to a large extent this is because innings totals increased during this period. With more innings comes a higher WAR. In the 1960s, for example, there were 25 300-inning seasons; in the first five years of the '70s, there were 27. Or, really, innings started ramping up in the late '60s, when offense declined, leading to the lowering of the mound after 1968 and the advent of the designated hitter in the American League. To put a more dramatic spin on the increase in workload, from 1955 to 1964, there were seven 300-inning seasons (three by Drysdale); in the next 10 years, there 47 300-inning seasons.
Johan Santana, 2004-2008: 34.2
Won three ERA titles and two Cy Young Awards (and probably should have won a third) in this period.
Ferguson Jenkins, 1968-1972: 34.9
Went 107-71 with a 3.02 ERA, averaging 309 innings and winning the 1971 Cy Young Award. The Cubs were still pretty good in this era, finishing over .500 all five years, so this wasn't just a pitcher excelling despite a bad team behind him.
Curt Schilling, 2000-2004: 35.0
This run includes half a season in Philly, three and a half in Arizona and his first year in Boston, a year that culminated with a bloody sock and the lifting of a curse. Five-year totals: 85-40, 3.24, three Cy Young runner-up finishes, three 20-win seasons, a 300-strikeout season (he had two more in 1997 and 1998) and two World Series championships. Schilling pounded the strike zone -- he averaged only 1.5 walks per nine innings -- and had a remarkable 316/33 strikeout/walk ratio in 2002.
Kevin Brown, 1996-2000: 35.4
Deserved to hang out on the Hall of Fame ballot longer than one year and have his case at least discussed. For a time, Brown was impressive as any pitcher of his generation, throwing that hard, mid-90s sinker. In this stretch he went 82-41 with a 2.51 ERA in the heart of the steroids era, averaging 242 innings, twice leading in ERA and pitching in two World Series. His seasonal WAR totals: 7.7, 6.7, 8.3, 5.9, 6.8.
Juan Marichal, 1962-1966: 35.4
Starting in 1963, he went 25-8, 21-8, 22-13, 25-6, 14-10, 26-9 and 21-11. You know how many Cy Young votes he received those seasons? None. His best five-year peak would be better if not for that 1967 season where he missed some time and made 26 starts. As is, he went 107-45 with a 2.37 ERA.
Wilbur Wood, 1970-1974: 36.7
Another early '70s guy, Wood's knuckleball allowed him to post some of the more freakishly awesome seasons in modern history, including 1971 when he had a 1.91 ERA in 334 innings, and 1972 when he started 49 games and pitched 376.2 innings. Those two seasons were worth 11.5 and 10.3 WAR. (He slacked off in 1973 and started only 48 games and threw 359.1 innings.)
10. Gaylord Perry, 1972-1976: 37.0
OK, we're into the top 10, so we'll start numbering the countdown. If you're getting the idea that the early '70s were to pitching what the late '90s and early aughts were to hitting, then give yourself a gold star. Perry's 1972 with Cleveland was an amazing season: 24-16, 1.92 ERA, 29 complete games, 342 innings, worth 10.4 WAR. From May 6 to Aug. 5 he started 22 games and completed 19, posting a 1.55 ERA. Here's the kicker: He averaged
more than
nine innings per start in that stretch (one of his non-complete games was a
13-inning scoreless effort
).
Five-year totals: 97-79, 2.83 ERA, 313 innings per season.
9. Tom Seaver, 1969-1973: 37.4
Went 103-51 with a 2.35 ERA. Followed this up with another five-year stretch valued at 30.2 WAR.
8. Bob Gibson, 1966-1970: 38.0
This period includes his memorable 1968 season when he went 22-8 with a 1.12 ERA, a year that included a 47-inning scoreless streak and one period where he allowed two earned runs in 92 innings. No wonder baseball lowered the height of the mound from 15 to 10 inches for 1969. That season was worth 11.1 WAR, and he followed that up with two more pretty good ones: 10.3 WAR in 1969 and 8.4 in 1970, when he won another Cy Young Award. If not for a broken leg that forced him to miss two months in 1967, he'd be even higher on the list. (Or if we included hitting; he accumulated 3.3 WAR at the plate as well, and had 19 RBIs in 1970.) Five-year totals: 99-48, 2.30, 27 shutouts.
7. Phil Niekro, 1974-1978: 38.6
This is never mentioned as a great peak since Niekro's record was just 87-77 (pitching for bad Braves teams in the post-Aaron era) and his ERA was 3.16. He even led the league in losses in 1977 and 1978 (and would do so again in 1979 and 1980, joining Pedro Ramos as the only pitchers to do that four consecutive years). His ERA+ of 127, for example, was much lower than Gibson' five-year mark of 153. What Niekro did was throw a lot of innings -- 302.1, 275.2, 270.2, 330.1 and 334.1 -- and that workload led to WAR totals of 7.5, 6.5, 6.4, 8.6 and 9.6.
6. Sandy Koufax, 1962-1966: 39.1
Only sixth? For a pitcher who went 111-34 with a 1.95 ERA, won the NL ERA crown all five years and had seasons of 25-5, 26-8 and 27-9? He won an MVP Award and finished second in the voting two other years, while winning three Cy Young Awards (when they gave it to just one pitcher in all of baseball). So why only sixth? Well, there's no doubting Koufax's domination -- he, Gibson and Wood are the only two pitchers with two seasons of 10+ WAR during their peak runs. But a couple of things: (1) Dodger Stadium was a huge pitcher's park in those days, with a notoriously high mound (Koufax had a 1.37 ERA at home and 2.57 on the road, not that there's anything wrong with 2.57), so his numbers are knocked down a bit to adjust for that; (2) He missed time in 1962 (184 innings) and 1964 (223 innings), so that cuts into his value, at least compared to the other three seasons.
5. Greg Maddux, 1992-1996: 39.2
This is when he won his four consecutive Cy Young Awards. Five-year math: 90-40, 2.13 ERA, 191 ERA+, single-season WAR of 8.9, 5.5, 8.3, 9.5, 7.0 (followed by seasons of 7.6 and 6.3). And remember, his value was held down by the shortened seasons of 1994 and '95, when he had ERAs of 1.56 and 1.63.
[+] Enlarge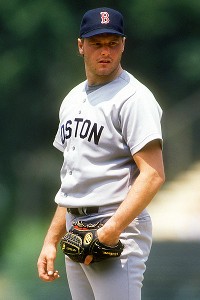 Mitchell Layton/Getty ImagesThe young Roger Clemens wasn't too shabby.
4. Roger Clemens, 1986-1990: 40.1
The numbers: 100-42, 2.71 ERA, 156 ERA+, 256 innings per season, 57 complete games, 23 shutouts, two Cy Young Awards (and was robbed in 1990). Also had 33.7 WAR from 1996 to 2000 and six other seasons of 5+ WAR not included in either of those two stretches.
3. Robin Roberts, 1950-1954: 40.5
Now this is what you call a peak: 115-64, 2.87 ERA, 138 ERA+, 135 complete games, 327 innings per season, seasons of 7.0, 7.6, 7.9, 9.4 and 8.6 WAR. By the 1950s, innings pitched totals had to started to decline, especially compared to the dead-ball guys, but not for Roberts. There were 10 300-inning seasons in the decade and Roberts had six of them. From his autobiography (tip of the cap to the "Neyer/James Guide to Pitchers"): "I was mainly a one-pitch pitcher, although sometimes I mixed in a curveball when I was ahead in the count. I could put my fastball where I wanted it, but I was sometimes criticized for not pitching inside more. ... I just went after people with my best stuff and let the batters hit it if they could."
Roberts threw very hard -- Bill James says he threw about as hard or possibly harder than Bob Feller or Bob Gibson or any of those big guys. Because his control was so good, he relied primarily on that one pitch. (He did give up a lot of home runs.) Outside of this stretch, Roberts had only one more season rated above 5.0 WAR, and one other above 4.0.
2. Pedro Martinez, 1997-2001: 41.4
Let's take these seasons one-by-one:
--1997: 17-8, 1.90 ERA, 8.7 WAR, 241.1 IP, 158 H, 305 SO, won Cy Young Award. Led NL in ERA and complete games (13).
--1998: 19-7, 2.89 ERA, 6.9 WAR, second in Cy Young voting in first year with Red Sox, struck out 251 in 233.2 innings.
--1999: 23-4, 2.07 ERA, 9.5 WAR, won Cy Young, second in MVP voting, 313 SO in 213.1 innings (13.2 per nine).
--2000: 18-6, 1.74 ERA, 11.4 WAR, won Cy Young, somehow only fifth in MVP voting, 284 SO in 217 IP, opponents hit .167 off him --
.167!
This isn't a closer we're talking about here. .167.
--2001: 7-3, 2.39 ERA. Injured, made only 18 starts.
It's too bad we couldn't sub in his 2002 (20-4, 2.26) or 2003 (14-4, 2.22). Great fastball, the best changeup of all time, command, varied his arm angles, mixed in a cut fastball, slider and curveball, and wasn't afraid to deliver some chin music every now and then. Only thing he lacked was the durability to rack up a lot of innings.
Five-year totals: 84-28, 2.18 ERA, 215 ERA+, 1,316 SO in 1,022 innings.
1. Randy Johnson, 1998-2002: 42.2
As awesome as Pedro was, the Unit rates even higher, which tells us something about how good
he
was. Five-year totals: 100-38, 2.63 ERA, 174 ERA+, four Cy Young Awards, three ERA titles, 41 complete games, 17 shutouts, five 300-strikeout seasons, 1,746 SO in 1,274 innings.

Individual seasons: 5.4, 8.8, 7.8, 9.8, 10.4. In fact, his five-year peak could have been higher had he not sulked his way through the first half of 1998 with the Mariners before finally getting traded to the Astros (where he went 10-1 with a 1.28 ERA in 11 starts).
On a rate basis, Pedro was a little better, as reflected in his better ERA+. He also had to face DH lineups for four of his five seasons. But Johnson was dominant
and
durable -- he pitched 252 more innings than Pedro in his five-year peak and that puts him at No. 1.
* * * *
Of course, you don't have to rely on WAR for your own personal rankings. My top five would probably go Johnson, Martinez, Koufax, Maddux, Clemens, with apologies to Bob Gibson.
In the poll, we can only include five names. I apologize to Robin Roberts fans for leaving him out despite his No. 3 ranking above. Like Phil Niekro, his value comes as much from a huge workload as being a great pitcher. But he wasn't dominant in the same sense as some of these other pitchers -- he never led his league in ERA, for example, and his ERA+ during his five-year peak was 138, well below the others. So he got the boot from the poll.
Who do you have?
June, 19, 2012
6/19/12
12:21
AM ET
In spring training of 2010, the Mets made their first cuts in mid-March. A 35-year-old pitcher who was trying to make the team as the last man out of the bullpen was one of those sent to minor league camp.
Give up? Retire? Are you kidding? The pitcher threw a knuckleball.
R.A. Dickey
began that season at Triple-A Buffalo. He'd spent a lot of time in Triple-A, racking up 148 career starts and 42 relief appearances among Oklahoma City, Nashville, Tacoma and Rochester. That's a lot of Holiday Inns and a lot of minor league roommates.
It's two years later, and Dickey has perfected that knuckleball, like
Mariano Rivera
perfected the cutter or
Pedro Martinez
perfected the changeup or
Greg Maddux
perfected the outside corner. Dickey just threw his second straight one-hitter in the
Mets' 5-0 win Monday over the Orioles
, the first pitcher to do that since Toronto's Dave Stieb did so in his final two starts of the 1988 season.
(Stieb, for those who remember, lost both of those near no-hitters with two outs in the ninth inning. He also pitched a shutout in the start before those two games.)
But Dickey has gone to another level, becoming the first pitcher to allow no earned runs and strike out at least eight batters in five consecutive starts. He joined Stieb as
one of 10 pitchers since 1900 to allow one hit or fewer in consecutive starts
. Over his past six starts, Dickey is 6-0 with a 0.18 ERA (one earned run in 48 2/3 innings), 63 strikeouts, five walks and a .131 average allowed.
It is a beautiful thing, when a pitcher gets on a roll like this, when he shuts down the opposition inning after inning, batters helpless to do anything but take their awkward swings and slump back to the bench. Even in this season, in which it seems somebody flirts with a no-hit bid on a nightly basis, it's an amazing string of games. At some point, you'd think Dickey would hang a knuckler or a batter would accidentally run into one or a bleeder would be followed by a bloop.
That's not happening. Dickey himself is almost having trouble explaining his dominance. When asked about his favorite moment during this run, he laughed, saying, "Probably the base hit," referring to his leadoff single in the sixth inning Monday, starting a rally that led to
Ike Davis
' grand slam. "In reality, I have a good feel for [the knuckleball] right now, making it do a couple different things."
Watching him mow down the Orioles reminded me of something Roger Angell once wrote about Sandy Koufax in the 1965 World Series, when he pitched shutouts in Game 5 and, on two days' rest, Game 7:
"It is almost painful to watch, for Koufax, instead of merely overpowering hitters, as some fastball throwers do, appears to dismantle them, taking away first one and then another of their carefully developed offensive weapons and judgments, and leaving them only with the conviction that they are victims of a total mismatch."
That's what it was at Citi Field against the Orioles: a mismatch, the game's hottest pitcher facing the team that has struck out more than any other. Dickey, of course, has been commanding and locating the knuckleball with precision. He walked two against the Orioles and has just seven walks in his past eight starts. Seven walks by a knuckleballer? Phil Niekro walked at least seven batters in a game 12 times; Nolan Ryan, who didn't throw a knuckleball, walked that many in a game 71 times.
So we're left wondering: Where does Dickey's run of excellence rank? Orel Hershiser, of course, spun six consecutive shutouts in September 1988. Hershiser wasn't quite as dominant as Dickey, as he allowed a .160 average over those 55 innings but had just 30 strikeouts. In 1994, Greg Maddux posted a 1.56 ERA; he was mostly a model of consistency that season, allowing two earned runs or fewer in 21 of his 25 starts. From July 2 until the strike hit in August, he had an eight-start stretch in which he allowed seven earned runs (but 11 runs) and allowed a .182 average with 50 strikeouts and five walks. In 1995, when he posted a 1.63 ERA, he had a 58-inning stretch over eight starts, during which he allowed five runs.
Maybe the most dominant run I've ever was seen was Pedro Martinez at the end of the 1999 season. Over his final seven starts, he allowed seven runs (five earned) with eight walks and 96 strikeouts in 55 innings. In consecutive starts, he struck out 15, 11, 15, 17, 14, 12 and 12. Against Seattle on Sept. 4, he pitched eight scoreless innings, allowing two hits. In his next start, he was nearly perfect against the Yankees, allowing only a Chili Davis home run as he struck out 17. Every start at Fenway was a raucous party, fans standing and cheering with every two-strike count from the first inning onward.
In the postseason, he threw 17 more scoreless innings, allowing just five hits, a string that included his memorable six-inning hitless relief appearance in Game 5 of the American League Division Series against Cleveland. Add all that up -- including a one-inning relief appearance at the end of the season -- and Pedro allowed five earned runs over 73 innings (0.62 ERA) with 120 strikeouts.
There have been other memorable runs, of course. Fernando Valenzuela at the start of the 1981 season, when he threw five shutouts in seven starts and allowed two runs in 63 innings. Bob Gibson, in 1968, had an 11-start stretch in which he threw 11 complete games and allowed three runs. Hey, it was 1968 and all, but
still
, that's just sick.
We could go on. But this is what it feels like watching Dickey right now, that we're seeing the stuff of legends -- Maddux's control, Pedro's arsenal, Fernando's screwball, Gibson's fastball/slider combo ... R.A. Dickey's knuckleball. For the past six starts, it's been as dominant as any pitch, for a short period of time, as we've ever seen.
Maybe he'll lose the feel of it one of these starts. Maybe he'll crack a fingernail. All I know is this: I'll be watching his next start. It's the best story of the season.
PHOTO OF THE DAY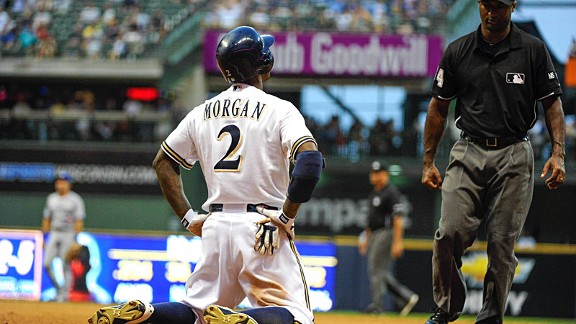 Benny Sieu-US PresswireGiven recent headlines, maybe Nyjer Morgan shouldn't make a federal case out of a call.
May, 24, 2012
5/24/12
6:00
PM ET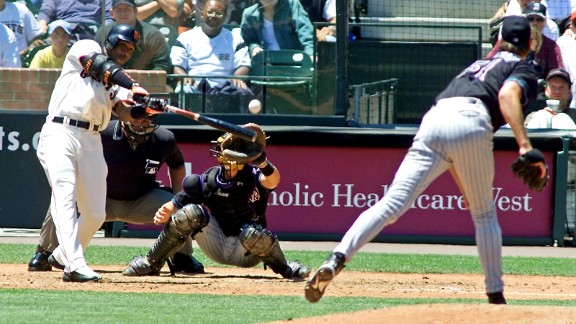 AP Photo/Eric RisbergBarry Bonds hit three home runs in 49 at-bats against left-handed power thrower Randy Johnson.
The other night I tweeted something like, "Would love to see
Aroldis Chapman
face 2001 Barry Bonds." On the Baseball Today podcast, we had a reader ask us about best pitcher-hitter matchups to watch for over the next few years.
With that prompt, I'd thought it would be fun to list 10 of my all-time favorite matchups I would have wanted to see ... although a few of them are recent enough that some of us did see them. With help from Baseball-Reference.com and Retrosheet.org, we can even find results of the matchups.
Ty Cobb versus Walter Johnson (.366, 1 HR)
According to researcher Terry Cullen, Cobb hit .366 in his career off Johnson (120-for-328) -- pretty amazing considering Cobb's average against
all
pitchers was ... .366. While Cobb reportedly said Johnson's fastball "looked about the size of a watermelon seed and it hissed at you as it passed," he certainly didn't have issues hitting it. Cobb knew Johnson was too nice to pitch inside, so he'd crowd the plate. "I saw him wince when he fired one close to somebody's head, and he used to tell me that he was afraid someday that he would kill a man with that fireball," Cobb once said. "So I used to cheat. I'd crowd that plate so far that I was actually sticking my toes on it when I was facing Johnson. I knew he was timid about hitting a batter, and when he saw me crowding the plate he'd steer his pitches a little bit wide. Then with two balls and no strikes, he'd ease up a bit to get it over. That's the Johnson pitch I hit. I was depending on him to be scared of hitting me." Now, that's what Cobb said; seems a little too simple though, doesn't it? Why didn't every hitter do that? There's no doubt the approach helped Cobb, but unlike most hitters, he could hit Johnson's fastball. (By the way, his only home run off Johnson was an inside-the-parker.)
Babe Ruth versus Lefty Grove (incomplete)
Some say Grove was the best pitcher of all time -- 300 wins with a .680 winning percentage, nine ERA titles, seven consecutive strikeout titles. Wouldn't you love to see Ruth taking a big cut against Grove's legendary fastball? I couldn't find Ruth career's numbers against Grove, but he did hit nine home runs off him, tied with Lou Gehrig and Hank Greenberg for the most against Grove. In the data Retrosheet has available, Ruth hit .300/.349/.438 with three home runs in 80 at-bats, six walks and 27 K's.
Ted Williams versus Bob Feller (.347/.467/.677, 9 HR in 124 ABs)
Those numbers are from Retrosheet, but are incomplete. From 1948 to 1956, Williams crushed Feller -- .389/.511/.833, with eight home runs in 72 at-bats. So, at least initially, Feller fared better before Williams started dominating. Williams did call Feller the best pitcher he ever faced.
Willie Mays versus Bob Gibson (.196/.315/.304, 3 HR in 92 ABs)
With his fastball/slider combo, you might expect that Gibson was tough on right-handed batters and you'd be correct: right-handers hit .204 against him, left-handers .257. Basically, he owned Mays, who struck out 30 times in 108 plate appearances and had just four extra-base hits. In James Hirsch's biography of Mays he tells the story of Gibson once visiting Mays' home wearing glasses. Gibson didn't wear them when he pitched. "You wear glasses? Man, you're going to kill somebody one of those days," Mays said. Hirsch writes that later in his career Mays started conveniently scheduling off days against hard-throwers like Gibson and Tom Seaver, and that he always preferred off-speed pitches to fastballs.
Hank Aaron versus Bob Gibson (.215/.278/.423, 8 HR in 163 ABs)
Aaron had a little more success than Mays. So
who
did hit well against Gibson? Billy Williams hit .259 but with 10 home runs in 174 at-bats and 24 walks against 14 strikeouts. Richie Hebner had a 1.127 OPS against Gibson in 74 PAs, batting .387. Darrell Evans, facing mostly the late-career Gibson, never struck out against him in 35 PAs, drawing 11 walks and and hitting three home runs.
Willie Mays versus Sandy Koufax (.278/.426/.536, 5 HR in 97 ABs)
Of course, Mays faced the young Koufax, and then the unhittable Koufax. During Koufax's 1962-1966 run, when he led the National League each season in ERA, Mays still hit a respectable .242/.373/.484, with more walks than strikeouts.
Hank Aaron versus Sandy Koufax (.362/.431/.647, 7 HR in 116 ABs)
Of 73 players with at least 40 career plate appearances against Koufax, only five hit .300. Most of that damage was against pre-'62 Koufax, as Aaron hit .259 from '62 to '66.
Mike Schmidt versus Nolan Ryan (.179/.405/.482, 5 HR in 56 ABs)
Ryan came over to the Astros in 1980, the year Schmidt won the first of his three MVP trophies. In the ultimate battle of power hitter versus power pitcher, the results were perhaps what you would expect: Schmidt hit for a low average, but got on base and popped home runs at a pretty good ratio.
Barry Bonds versus Greg Maddux (.265/.376/.508, 9 HR in 132 ABs)
The two came up in 1986, so it's not surprising that Maddux faced Bonds more than any hitter in his career. How good was Bonds? Even the pitcher with pinpoint control walked him 24 times in 157 PAs with just 16 strikeouts. Bonds' nine home runs off Maddux are the most he hit off one pitcher, tied with John Smoltz. Bonds had an .883 OPS against Maddux, but 1.138 against Smoltz and .992 against Tom Glavine. Who
did
own Bonds? He went 3-for-33 off Chuck McElroy, with just one walk (although two home runs).
Barry Bonds versus Randy Johnson (.306/.452/.551, 3 HR in 49 ABs)
Johnson had 37 intentional walks in his career; 34 were to right-handed batters. Two were to Barry Bonds. The other? Jeremy Hermida. Go figure. The first walk to Bonds came in 2003, runner on second, no outs, sixth inning, Diamondbacks down 2-0. The second one came in 2004 and is more interesting: 2004, game tied in the fifth, runners on first and second. Edgardo Alfonzo hit a fly ball to deep left-center that Luis Gonzalez dropped; Steve Finley was then credited with an error on the throw in as all three runners scored. The walk to Hermida came in 2008, in a game Hermida was batting eighth. Maybe that's when Johnson knew he was nearing the end.
What are some of your favorite matchups?
Follow David Schoenfield on Twitter @dschoenfield.
January, 10, 2012
1/10/12
1:30
AM ET
By
Mark Simon, ESPN Stats & Information
| ESPN.com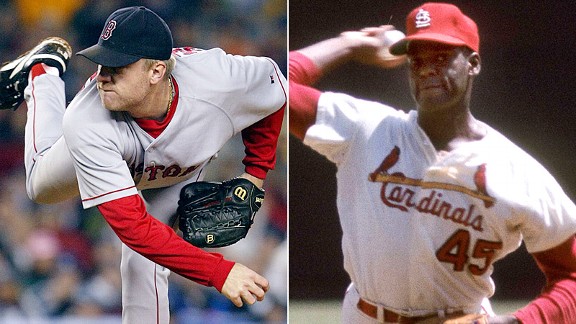 AP Photo/Getty ImagesThere are many ways by which Curt Schilling's best statistical match is Bob Gibson.
Fill in the blank:
Curt Schilling
was to his era what _____ was to his era.
The answer that best supports Schilling's Hall of Fame candidacy is to say "Bob Gibson." Take a look at the chart on the right. That runs through the basic statistical gamut, when it comes to looking at the two side by side. The key stat is their ERA+.
ERA+ is a stat found on Baseball-Reference.com, designed for cross-era comparison. I feel comfortable in using these stats because I know they're the kind that Schilling likes. He devised one
similar to ERA+ on his blog
and used it on
Baseball Tonight
.
ERA+ rates a pitcher's ERA relative to his peers at the time, making slight adjustments based on the difficulty of pitching in the various ballparks of the era. It allows us to compare Gibson's 2.91 to Schilling's 3.46 on an even playing field, since Schilling pitched in an era that was more offensively friendly. Gibson is a 128 ERA+. That's elite. It's tied for 13th-best among those who threw at least 2,000 innings since 1920 (or, the Live Ball Era).
It's the same ERA+ as Tom Seaver. It's better than that of Jim Palmer, Juan Marichal, Warren Spahn. Bert Blyleven, and plenty of other Hall of Famers. And it's the same ERA+ as Schilling.
In fairness, Gibson put together his ERA+ by averaging 258 innings per season over a 15-year period. Schilling reached that number of innings only three times in his career. But for those who say that Schilling was not quite the workhorse that Gibson was, consider that each was a product of the baseball environment of the times.
Again, relative to their peers, the two were virtually equal. Gibson finished in the top 10 in his league in innings pitched eight times. Schilling finished in the top 10 in his league in innings pitched seven times. There's a similarity when it comes to awards voting as well. Each of them got Cy Young votes in four different seasons. Gibson won it twice (and won an MVP award in 1968); Schilling finished second three times.
Where the Gibson-Schilling comparison best comes across is in the postseason. In my father's era, Gibson and Sandy Koufax were the standard-setters for postseason pitchers. In my era (the last 30 years), with apologies to
John Smoltz
, Schilling is the standard-setter.
Gibson was 7-2, all in the World Series, with a 1.89 ERA in nine starts. Schilling played in an era with a different postseason format, but he was 11-2 with a 2.23 postseason ERA in 19 starts. As noted in that chart, he was 4-1 with a 2.06 ERA in seven World Series starts.
Again it's a neat comparison to look across the eras. In the stretch in which Gibson pitched in the postseason (1964 to 1968), all of the other pitchers to pitch in the World Series had an ERA of 3.43. Schilling's World Series ERA is a little higher than Gibson's, but again, consider the time period. From 1993 to 2007 (Schilling pitched in the World Series in 1993, 2001, 2004, and 2007), all pitchers other than Schilling combined for a World Series ERA of 4.04.
That's not to say that Schilling was the better postseason pitcher, statistically speaking. Gibson won a pair of Game 7s and had six out of nine World Series starts that tallied an 80 or better by Bill James Game Score, including an epic 17-strikeout start in Game 1 of the 1968 World Series. Schilling has three of his seven World Series starts that rate a 74 or better, with his "epic" being the 147-pitch shutout in Game 5 of the 1993 World Series.
The point isn't that Schilling is better than Gibson. By this standard, he isn't. The point is that Schilling
was
the Gibson of his time. Since 1969 (the year after Gibson made his last World Series starts), Schilling has those three World Series starts of 74 or better. No one else has as many (for the record, Tom Glavine is the only pitcher since then with a pair of 80s or better, but this piece isn't about him).
I'm not going to pretend that this is the perfect comparison. As my father pointed out, Gibson won with a combination of power and intimidation. Hitters feared facing him. But what Gibson had in fear factor, Schilling had in another area -- precision. He had the second-best strikeout-to walk rate in major league history.
This is not meant to be an advertisement for Schilling's Hall of Fame candidacy. Nor is it meant to establish who was the better pitcher. We go back to the original fill-in-the-blank, and it will be interesting to see what happens when the Hall of Fame ballots are cast in 2013. Gibson was elected on the first ballot. Schilling … we'll have to wait and see.
October, 21, 2011
10/21/11
10:12
PM ET
ST. LOUIS -- I hopped in the cab this morning and immediately the driver started talking about Thursday night's game.

He didn't even bother asking if I was a baseball fan. In St. Louis, they just assume you are.

"That's the kind of game I like to see. A close game. Of course I want to see my team win, but that was a good one," offered Lundy the cabbie. "I'm not a big fan of those 10-1 games."

Lundy was in a good mood, even though his Cardinals had lost in heartbreaking fashion. He said he'd be watching as the World Series shifts to Texas for the next three contests. I didn't ask how old Lundy was; he could have been 60, could have been 75. He started talking about a game from long ago.

"I remember Bob Gibson one time. I think the score was 1-0, but I'm not sure exactly," he began. "He struck out Jim Ray Hart, Willie Mays and Willie McCovey with the bases loaded in the ninth inning. That was something."

I complemented him on his Jim Ray Hart reference.

"You know," Lundy said, "all three of those guys could really mash the ball. But Gibson got all three of 'em."

When I landed in Dallas, I checked out Lundy's story. Turns out Gibson never did strike out all three of those guys in the same inning, let alone in the ninth inning of a tight game. Maybe he was remembering a game from July of 1965, tied 1-1 in the ninth; Mays had singled and Jim Davenport had walked, but Gibson got Hart to ground out and struck out McCovey to escape the jam. Maybe he was remembering a game from April of 1967; in the fourth inning, Gibson got Mays to fly out and struck out McCovey and Hart. Gibson pitched a shutout that day and got Mays and McCovey to end it. Close enough.

The point here: It doesn't really matter if Lundy got the facts right. In his mind, clear as day, he remembers the time Bob Gibson struck out Jim Ray Hart, Willie Mays and Willie McCovey, can picture Gibby falling wildly off the mound, Mays swinging helplessly at a nasty slider (Mays never could hit Gibson: .196 career batting average).

I don't know if St. Louis is the best baseball city in America, although it would certainly be hard to beat. I'm not sure how we would go about making that definition anyway, but I know this: How many other cities have cabbies who can remember Jim Ray Hart?

And by the way, Hart could mash: He twice hit more than 30 home runs and from 1964 to 1968 averaged .285 with 28 home runs per season.

Follow David Schoenfield on Twitter @dschoenfield.
July, 1, 2011
7/01/11
3:44
PM ET
On Thursday, I wrote a post on my list of the
15-best pitching seasons since 1960
, topped by
Pedro Martinez
's superlative 2000 campaign.
I wanted to post this quick follow-up chart, which lists each pitcher's runs allowed per nine innings, innings pitched per start, hits and strikeouts per nine and strikeout-to-walk ratio, all rated as to how much better they were than the league average for that season. (Totals are not park adjusted.)
A few notes. Gaylord Perry and
Zack Greinke
probably have the shakiest ground to be on the list. Depending on the importance you want to place on the various numbers, Greinke's relative lack of stamina and Perry's relative lack of dominance in strikeout rate and strikeout/walk ratio hurt them. Perry was amazingly durable that season, throwing 342 innings, so his WAR (wins above replacement) was very high. But it was a low-scoring era and a lot of starters pitched deep into games that year, so Perry's innings per start, while still high, didn't necessarily tower over the league.
Greg Maddux
probably deserved to be ranked higher. I didn't put him as high since he only made 28 starts in the strike-shortened season, but I rated Pedro's two 29-start seasons higher. Maddux didn't dominate like Pedro did with the killer strikeout rates, but he did dominate in his own way. I think you could also make the case the
Roger Clemens
' 1997 and Dwight Gooden's 1985 seasons were incrementally more impressive than Bob Gibson's 1968.
Anyway, that's the fun thing on a list like this. I don't think there a
right
answer, but it's fun defending your choices.
Follow David on Twitter @dschoenfield.
June, 30, 2011
6/30/11
11:00
AM ET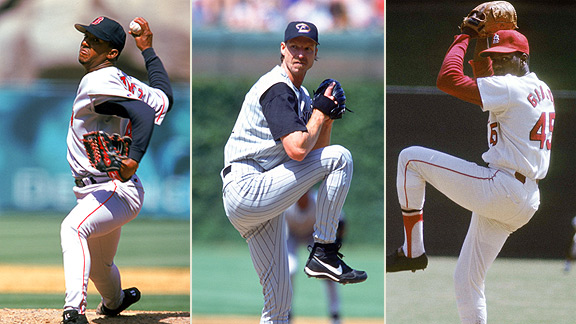 Getty ImagesWho had the best season since 1960? Pedro, Randy and Bob Gibson are in the running.
Last week on his blog, Curt Schilling wrote an interesting post on
what he called Pitcher Dominance Factor
-- a way to evaluate the best starting pitchers. His formula basically rates a pitcher by comparing his ERA to the league average ERA for starters, and comparing his baserunners allowed per nine innings to the league average.
In many ways the formula works perfectly -- it rewards pitchers with low ERAs and those who don't allow many baserunners. It has a couple primary flaws in assessing overall value: There are no park effects and it doesn't factor in innings pitched, so a 170-inning season can have the same "dominance factor" as a 250-inning season.
There's another flaw: All of Schilling's highest-rated seasons since 1960 came during the so-called steroid era. His top 13 seasons included five from
Pedro Martinez
; two apiece from
Randy Johnson
,
Greg Maddux
and
Kevin Brown
; and one each from
Roger Clemens
and
Johan Santana
. Now, maybe those
are
the best seasons since 1960, as those guys dominated in a high-scoring era.
Of course, there are other metrics out there as well to measure the best pitcher seasons.
Wins:
I think we all agree by now that wins aren't the best way to measure a pitcher. By this method, in 1990 Bob Welch had the second-best season since 1960 with 27 wins -- despite ranking just sixth in his own league in ERA and posting a mediocre 127/77 SO/BB ratio.
ERA:
Better than wins, but doesn't adjust for home ballpark, era (a 2.05 ERA in 1968, when the American League ERA was 2.98 is not as valuable as a 2.05 ERA in 1996, when the AL ERA was 5.00) or innings pitched.
ERA+:
The Baseball-Reference stat adjusts a pitcher's ERA for his park and era to a scale where 100 is average. Much better than regular ERA, although it still doesn't factor in innings pitched, unearned runs, or the quality of a pitcher's defense. It actually ends up generating a list similar to Schilling's as 15 of the top 25 ERA+ seasons since 1960 occurred between 1994 and 2005. ERA+ also doesn't factor in "dominance" in the sense of what Schilling was looking for, as it's possible to post a low ERA without dominating peripherals.
WAR (wins above replacement):
WAR establishes a value to a pitcher's season. FanGraphs and Baseball-Reference have different versions of WAR, and both arguably have a problem in generating a list of the best pitching seasons since 1960.
Under the Baseball-Reference formula, the more innings you pitch, the more value you accumulate. While completely logical (you're more valuable if you pitch more innings), its list ends up skewed towards the late '60s and early '70s, when starters routinely racked up 300-plus innings. Fourteen of its top 25 seasons reached 300 innings (and only four have fewer than 275), so modern pitchers struggle to make the top of the list since they don't pitch as many innings.
FanGraphs' version of WAR doesn't factor a pitcher's ERA or runs allowed. Instead, it extrapolates a pitcher's innings, strikeouts, walks allowed and home runs allowed (adjusted for park and era). It also only has pitcher WAR dating back to 1974. As it turns out, nine of its
top 10 seasons
occurred between 1995 and 2004, and you also end up with seasons like Schilling's 2002 in the top 10, when he had a great strikeout-to-walk ratio, but finished just 10th in the NL in ERA.
Both the B-R and FanGraphs lists are a terrific guide to greatness. I'm not knocking their lists. I'm just not sure either should be considered the definitive list of the "best" seasons. So here's my subjective 15 best since 1960, trying to account for the changing patterns of the game ... with apologies to the many great pitchers who finished 16th in my personal tally.
15. Steve Carlton, 1980 Phillies
24-9, 2.34 ERA, 304 IP, 243 H, 90 BB, 286 SO, 15 HR
The last pitcher to throw 300 innings, Carlton led the NL in wins, innings, strikeouts and SO/BB ratio. He held opponents to a .218 average -- and this despite Greg Luzinski usually behind him in left field.
14. Gaylord Perry, 1972 Indians
24-16, 1.92 ERA, 342.2 IP, 253 H, 82 BB, 234 SO, 17 HR
A great season that nobody remembers, although Perry did win the Cy Young Award. While 1972 didn't see much hitting -- there was a reason the AL instituted the DH rule for the 1973 -- Perry's workload was amazing as he had 29 complete games and averaged 8.5 innings per start. That's a lot of spit. From May 6 through Aug. 5, he started 22 games and averaged more than nine innings per start, all while compiling a 1.55 ERA.
13. Randy Johnson 2002 Diamondbacks
24-5, 2.32 ERA, 260 IP, 197 H, 71 BB, 334 SO, 26 HR
Johnson captured his fourth straight Cy Young Award with one of his many dominant seasons. He allowed two runs or fewer in 22 of his 35 starts and struck out 15 or more four times. He also tightened up when it most counted, holding batters to a .174 average in "high-leverage" situations, with just one home run allowed in 154 at-bats.
12. Zack Greinke, 2009 Royals
16-8, 2.16 ERA, 229.1 IP, 195 H, 51 BB, 242 SO, 11 HR
Greinke hasn't been able to replicate the consistency, focus or, yes, the little bit of magic he had in 2009. He allowed one run or less in more than half of his starts -- 18 of 33 -- but due to lack of run support won just 12 of those 18 games. (Thank you, Royals teammates.) His relative lack of stamina prevents him from ranking higher as he pitched fewer than seven innings in 13 of his starts.
11. Greg Maddux, 1995 Braves
19-2, 1.63 ERA, 209.2 IP, 147 H, 23 BB, 181 SO, 8 HR
The shortened season cost Maddux a few starts, otherwise he'd rank even higher with the additional innings pitched. He allowed 39 runs (38 earned) in 28 starts and had a remarkable 0.81 WHIP. His .224 OBP allowed is the second-best since 1960 and his ERA+ is third-best (he ranked even better in 1994, although he did allow nine unearned runs that year.) Maddux allowed more than two runs just four times and more than three runs just twice. He painted the corners, got grounders, didn't give up home runs and dominated without just blowing batters away. Some say he also had a few extra innings off the plate to work with thanks to the kindness of the umpires.
10. Tom Seaver, 1971 Mets
20-10, 1.76 ERA, 286.1 IP, 210 H, 61 BB, 289 SO, 18 HR
The only season on our list not to result in a Cy Young trophy, as Seaver lost out to Fergie Jenkins, who went 24-13 with a 2.77 ERA for the Cubs. The vote actually wasn't a travesty; once you adjust for Shea Stadium and Jenkins' 39 more innings pitched, the seasons are close in value. However, Seaver did outpitch Jenkins by quite a bit on the road: 1.63 ERA versus 2.70 ERA, so I rate Seaver's season as better. Seaver's 9.1 K's per nine led the league, at a time when the league average was 5.4, a ratio of +69 percent. In 2011, the NL average is 7.2 K's per nine; a rate of +69 percent would equate to 12.2 K's per nine.
9. Ron Guidry, 1978 Yankees
25-3, 1.74 ERA, 273.2 IP, 187 H, 72 BB, 248 SO, 13 HR
My buddy Bish is going to punish me for not ranking Louisiana Lightning her, but this is a tough field. Guidry, all 160 pounds of him, threw 16 complete games and tossed nine shutouts. Guidry didn't lose until July, and in September, with the Yankees battling the Red Sox for the AL East title, he went 6-1 with a 1.19 ERA. He went 3-0 in four starts against the Red Sox. Can we have a re-do on that AL MVP vote?
8. Pedro Martinez, 1999 Red Sox
23-4, 2.07 ERA, 213.1 IP, 160 H, 37 BB, 313 SO, 9 HR
Pedro's second of three Cy Young reasons resulted in an opponents' batting line of .205/.248/.288, as he allowed just nine home runs while fanning 13.2 per nine, the second-highest total ever for a starter. He fanned 15 batters four times, 16 once and 17 once. He allowed more than four runs just once, a nine-run disaster after his All-Star start that landed him on the DL. In fact, that's the only strike against this season: He made just 29 starts. Well, that and
these gloves he wore during the playoffs
.
7. Randy Johnson, 2001 Diamondbacks
21-6, 2.49 ERA, 249.2 IP, 181 H, 71 BB, 372 SO, 19 HR
And if you want to give him extra credit for winning three games in the World Series, please do so. Johnson struck out 10 or more in 23 starts, including a record-tying 20 on May 8 against the Reds. His 13.4 K's per nine is the best ever for a starter, left-handed batters hit one home run off him all season and you didn't dare dig him against him: he also hit 18 batters. Yes
6. Sandy Koufax, 1966 Dodgers
27-9, 1.73 ERA, 323 IP, 241 H, 77 BB, 317 SO, 19 HR
You could flip a coin between any of Koufax's three Cy Young seasons (1963, '64, '66). His strikeout and hit rates were better in 1965 than 1966, but he also allowed 14 more runs in the same number of starts. He threw 11 shutouts in 1963, but had a big home park advantage that year. In 1966, he had 1.52 ERA at home and 1.96 on the road, his most even split, so I give '66 the nod. This was his final season, as he pitched in so much pain doctors were injecting steroids directly into the elbow joint, according to Jane Leavy's "Sandy Koufax: A Lefty's Legacy." Down the stretch, with the Dodgers battling for the pennant, he started seven times over the final 26 days, posting a 1.20 ERA.
5. Steve Carlton, 1972 Phillies
27-10, 1.97 ERA, 346.1 IP, 257 H, 87 BB, 310 SO, 17 HR
If you want to argue that Carlton's season was the best ever, I won't mount much of a disagreement. Carlton famously won nearly half of his team's 59 wins as he completed 30 of his 41 starts and threw eight shutouts. He held batters to a .207/.257/.291 line while making 31 starts on three days' rest. He allowed one home run to a cleanup hitter all season. And did you check the innings pitched total? The National League OPS that year was .680, not far below the .704 so far this season. Carlton's 12.2 WAR ranks No. 1 on Baseball-Reference's list since 1960.
4. Roger Clemens, 1997 Blue Jays
21-7, 2.05 ERA, 264 IP, 204 H, 68 BB, 292 SO, 9 HR
While the AL was batting .271/.340/.428 in 1997, Clemens dominated with a .213/.273/.290 line. He won the pitching Triple Crown, leading the league in wins, ERA and strikeouts while allowing zero runs or one run in 20 of his 33 starts. Clemens had many great seasons -- seven Cy Young Awards, seven ERA titles -- but 1997 stands out as his best. Red Sox fans just punched the wall in disgust.
3. Dwight Gooden, 1985 Mets
24-4, 1.53 ERA, 276.2 IP, 198 H, 69 BB, 268 SO, 13 HR
He allowed just a .201 average and .270 slugging percentage. Left-handed batters had a lower OPS off him than right-handers. In September, with the Mets fighting the Cardinals for a division title, he went 4-0 in six starts with a 0.34 ERA. His strikeout rate of 8.7 per nine may not appear to stand out now, but that's 58 percent better than the NL average. He even hit .226. And he did all this at 20 years of age while partying with Darryl Strawberry.
2. Bob Gibson, 1968 Cardinals
22-9, 1.12 ERA, 304.2 IP, 198 H, 62 BB, 268 SO, 11 HR
Yes, 1968 was the Year of the Pitcher, but even in a league where the league ERA was 2.99, Gibson's 1.12 ERA ranks as fourth-best ERA+ since 1968. He threw 13 shutouts (meaning he was just 9-9 if he didn't throw up a zero). You can find areas to nitpick: He allowed nine unearned runs, he averaged just 7.9 K's per nine (although that was second-best mark in the NL). But this is what stands out most to me: He pitched seven innings his first two starts of the season ... and then at least eight every start after that. The man literally didn't have a bad game all season.
1. Pedro Martinez, 2000 Red Sox
18-6, 1.74 ERA, 217 IP, 128 H, 32 BB, 284 SO, 17 HR
Can a guy who pitched 87 fewer innings than Gibson have had a better season? (Vote in the poll!) Pedro's opponent batting line is just sick: .167/.213/.259. Absolutely incredible. He was throwing 95-mph Wiffle balls that year, unhittable heaters and changeups and curveballs with precise location. The AL ERA in 2000 was 4.92, giving Pedro the best adjusted ERA since 1960. I think I answer it this way: If I wanted one of these guys pitching at his peak in a game to save the future of mankind, I'd take 2000 Pedro Martinez.
(Statistics from Baseball-Reference.com and FanGraphs.com.)
Follow David on Twitter @dschoenfield and the SweetSpot blog on Facebook.
April, 4, 2011
4/04/11
1:31
PM ET
By
Christina Kahrl
| ESPN.com
Beyond having to see his effort go for naught thanks to
Carlos Marmol
's blown save,
Matt Garza
's 12-hit, 12-strikeout game against the Pirates put him in fairly exclusive company historically. As Rob Bradford of Baseball Prospectus notes, such a double-dozen combo had previously been achieved just 22 times from 1919 to the present, and just seven times since the lowering of the mound after 1968, most recently by
Curt Schilling
a decade ago.

Garza
Even among the most recent efforts, not all are the same sort of thing as Garza's seven-inning quality start. Bob Gibson's game in 1970 was a 14-inning victory over the recently invented Padres, while Bert Blyleven's contribution to the list in 1975 involved the first 10 innings of a 12-inning loss for the Twins. And Blyleven allowed his sixth run in the top of the 10th, after having already faced 37 batters through nine. If you think that's a horrifying feat, it pales next to Red Ruffing's 1927 spin, facing 73 batters by pitching the first 15 frames against the Red Sox in the first game of a doubleheader against the Yankees;
the Yankees lost the game in 18
, but they came back to win a 55-minute, five-inning shutout in the second.
Blyleven's game was the only one of the seven before Garza's where the dude dealing a double dozen didn't get a win -- and the only time before which puts Garza in even more exclusive company. Nobody has lost a double-dozen since "Blue Moon" Odom did in the bottom of the 13th on July 29, 1968.
The more basic point is that you have to be a pretty good pitcher to achieve this sort of statistical oddity. Schilling and Todd Stottlemyre are the two non-Hall of Famers among the most recent seven, with Gibson, Nolan Ryan, Gaylord Perry, Steve Carlton, and the newly elected Blyleven rounding out the field. Garza has a long road ahead of him before he might ever enter that kind of conversation, but there are those who will argue for Schilling's eventual election, of course.