July, 20, 2013
Jul 20
5:48
PM ET
Throughout July we're going to present 30 deals in 30 days: the best trade deadline deal ever made by each team. We've covered the AL East, NL East and AL Central so far, and are now on the NL Central.
THE TEAM:
Pittsburgh Pirates
THE YEAR:
1986

THE SITUATION:
A once-proud franchise that had won six division titles in the 1970s (and two World Series), the Pirates had fallen on bad times by the mid-'80s -- the cocaine scandal that rocked baseball had been centered around Pittsburgh, with the Pirates' mascot serving as a dealer to the players. The team lost 104 games in 1985, leading to the firing of longtime skipper Chuck Tanner and the hiring of rookie skipper Jim Leyland. On July 22, the Pirates were 39-52, in last place in the NL East. The Chicago White Sox weren't much better at 42-50, but they were just 6.5 games behind the Angels in the AL West and looking for pitching help.
THE TRADE:
The Pirates had originally signed Bobby Bonilla as an undrafted free agent in 1981. He reached Double-A in 1984 but then broke his leg in spring training of 1985 and missed most of the season. The Pirates left him off their 40-man roster in the offseason and the White Sox selected him in the Rule 5 draft. Bonilla was hitting .269/.371/.355 for the White Sox, but had just two home runs in 234 at-bats and didn't really have a regular position in the field. Unimpressed, the White Sox sent Bonilla back to the Pirates for pitcher Jose DeLeon, who had pitched well in 1983 and 1984 but went 2-19 in 1985 with a 4.70 ERA and had spent most of 1986 pitching in Triple-A.
THE AFTERMATH:
DeLeon pitched well down the stretch for the White Sox, going 4-5 with a 2.96 ERA, but they finished 72-90. He went 11-12 the next season with a solid 4.02 ERA (115 ERA+) and was then traded to the Cardinals for Lance Johnson, who produced 21.2 WAR in eight seasons with the White Sox. Meanwhile, Bonilla's power began developing in 1987 (15 home runs) and from 1988 to 1991 would average 24 home runs and 102 RBIs, finishing second in the 1990 NL MVP vote and third in 1991 as the Pirates won the first two of three straight division titles.
July, 4, 2013
Jul 4
11:05
AM ET
Over the next month, we're going to present 30 deals in 30 days: the best trade deadline deal ever made by each team.
THE TEAM:
Baltimore Orioles
THE YEAR:
1996

THE SITUATION:
After getting swept in a four-game series at home by the Yankees in mid-July, the Orioles remained in second place in the AL East, but were 10 games out of first and seven behind the wild-card leading White Sox. Sources reported that new general manager Pat Gillick wanted to cash in veterans Bobby Bonilla and David Wells for prospects. Supposedly, the Padres were targeting Bonilla and Seattle wanted to add Wells to its rotation. However, the alleged deals had to pass through owner Peter Angelos' desk.
THE TRADE:
As reported in The Baltimore Sun back in 1996, the nixed deal for Wells would have netted the Orioles catcher Chris Widger and highly regarded shortstop prospect Desi Relaford, while the deal for Bonilla was supposed to have brought in reliever Bryce Florie and another top shortstop prospect, Juan Melo. Angelos reportedly vetoed both deals.
THE AFTERMATH:
It can be argued the best deadline deal the Orioles have been a part of were these two that Angelos supposedly nixed. For one, the Orioles managed to climb into the wild card spot and make the playoffs. Bonilla became a major part of that second-half surge, improving his OPS from .782 in the first half to .930. Second, Gillick's attempt to find Cal Ripken Jr.'s heir at shortstop would not have been found in either Relaford (-0.4 WAR over 11 years) or Melo (13 MLB plate appearances). The downside of this successful non-deal was that it likely informed Gillick that he would not have a free hand in Baltimore. That is what eventually pushed him out the door after another postseason appearance in 1997 and to the Mariners, where he oversaw one of the most successful seasons in baseball history.
-- Jon Shepherd, Camden Depot
April, 13, 2012
4/13/12
10:30
PM ET
By
Matthew Philip
| Special to ESPN.com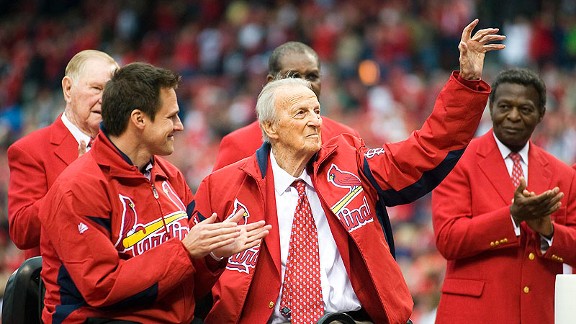 Jeff Curry/US PresswireMaybe Albert Pujols wasn't at the Cardinals home opener, but Stan Musial was.
ST. LOUIS -- The Clydesdales weren't the only traditional attraction missing from the Cardinals' rain-delayed home opener Friday afternoon.
For the first time in 11 years,
Albert Pujols
didn't take his place on the first-base line when fans welcomed the team to their season debut in St. Louis. After backing into a starting role when Bobby Bonilla got injured in 2001, Pujols has started every home opener, playing third in 2001, left field in 2002 and 2003 and first base ever since.
The home opener in St. Louis is a sacred event, a religious rite. The gods of its pantheon, mononymously known as Stan, Red, Whitey, Lou, Gibby, Ozzie and Bruce, descend to the field in red blazers. The pregame ritual has an established form: The Clydesdales lead the procession (weather permitting), the gods stride in and the current players are introduced as they pay homage to the greats in a gesture of pope-like reverence today. (Example:
Chris Carpenter
doffed his cap as he shook Stan Musial's hand.)
Pujols long professed a love for those saints of Cardinals Nation, saying of Musial: "There is one man that gets that respect [of being called The Man], and that's Stan Musial. He's the Man. He's the Man in St. Louis. " Even as an Angel, he has rejected the nickname "El Hombre," which the Angels tried using in a preseason ad campaign, saying "I feel the same way" about not wanting to equate himself with Musial.
Still, if Stan was the Man, Pujols was a close second. But when Pujols left to sign with the Angels last winter, his deal ensured that, even if he and his former team were to thaw their relationship, he won't be joining those Cardinals legends on opening day for a long time: In addition to a 10-year playing contract, the deal includes a 10-year, personal-services agreement following the playing contract's expiration or Pujols' retirement, whichever is later. If you thought that the ice took a long time to melt in the team's relationships with Keith Hernandez and Ozzie Smith, any possible return of Pujols will be at a glacial pace.
Not that it mattered to Cardinals fans today. After a moment of silence for former Cardinal Bob Forsch, who died Nov. 3., the faithful weren't about to mourn the loss of Pujols. After all, they were celebrating the club's 11th World Series title, so they had plenty to cheer about.
And after extending the contract of fan favorite
Yadier Molina
, re-signing
Rafael Furcal
and bringing in
Carlos Beltran
, the Cardinals lead the National League Central and are scoring runs like they did last year, when they led the league in runs and on-base percentage. To hear the crowd laud World Series hero
David Freese
as he unloaded from his parade truck, Cardinal fans already have a new object of their affection.
As much as Pujols meant in St. Louis, the name on the front of the jersey still matters more than the one on the back, as unknown reliever
Victor Marte
, who doesn't even have an MLB profile photo yet, would attest. Heck, Shannon Magrane, "American Idol" daughter of former Cardinal pitcher Joe Magrane (who started on Opening Day from 1988 to 1991) received a louder ovation than most players (including those earning their paychecks in Anaheim) hear on opening day.
The Cardinals, who
lost 9-5
to the
Chicago Cubs
, could've used Pujols this afternoon. But today, Pujols seemed as distant as the memory of him hitting into three double plays on Opening Day last year. Like the Clydesdales, who remain part of the Cardinal opening-day celebration long after Augie Busch sold the team, the Cardinals are bigger than any one tradition. It takes more than rain and a departed icon to dampen a home opener in St. Louis.
January, 29, 2012
1/29/12
6:30
PM ET
By
Christina Kahrl
| ESPN.com
Across the country and the globe, Saturday was
SABR Day
, an opportunity for fans of the game to get together and talk about baseball in anticipation of pitchers and catchers reporting soon.
One of the common misconceptions about the Society for American Baseball Research is that it's all about sabermetrics and nothing else. While statistical analysis is perhaps the best-known component of the outfit's organizing ethic, that's just one element in a group that loves every aspect of the game: history, literature, re-enacting 19th century baseball, memorabilia, majors, minors, foreign leagues and foreign players, scouting, popular culture, trivia, even baseball music and poetry. You name it, if there's a baseball-related aspect, there are people in SABR who celebrate it and love to share what they know.
Here in Chicago, our local chapter planned a SABR Day get-together with the Wisconsin chapter up in Kenosha. A few of us who live in the city elected to hold a casual get-together at a coffee shop in the Edgewater neighborhood. Fourteen folks showed up, not all of them SABR members. This wasn't a big deal so much as it was an exercise in a shared source of joy. After four hours of chatter, we could all count it time well spent.
Predictably enough, the
Detroit Tigers
were a main topic of conversation, helped along by the fact that it seemed like every other person there was a Tigers fan. We gabbed about how
Miguel Cabrera
's defense at third base might be survivable -- or less so. I noted that Jim Leyland has been willing to punt defense in the corners now and again during his long career as a manager --
Bobby Bonilla
at third base with the Pirates and the world champion 1997
Miami Marlins
, anyone? This isn't new territory for the Tigers skipper.
Former SABR president Claudia Perry popped in as well, while author Stu Shea talked about his future plans for a new edition of
Wrigley Field: The Unauthorized Biography
-- full disclosure, I published this book as Shea's editor back in the day -- while also looking forward to SABR's coming release of his new history of baseball announcers.
Coffee and conversation was one way to go, but each chapter makes its own way. As noted before, a group of Chicagoland residents trekked up to the Brat Stop in Kenosha. Brats, baseball ... even in January, what do you need, a roadmap? Well, to Kenosha, sure, but could it get better than that? Hudson Belinsky of
Halos Daily
went to
SABR Day in New York City
, and got to see a scouts panel moderated by Lee Lowenfish (author of an incomparable biography on Branch Rickey), as well as a panel on the Mets featuring former shortstop and manager Bud Harrelson and Mets statistical analyst Ben Baumer. I'm looking forward to hearing more about how that went. And it isn't like SABR Day is a national holiday, set on one date: Stephanie Liscio of
It's Pronounced "Lajaway"
is the president of the Cleveland chapter, and has news on how her gang's getting together a week later than everyone else. As long as there's baseball chatter involved, you can bet it'll wind up being a good time.
With 34 different events scheduled, there was plenty of opportunity to get together. Could it get much better? Well, of course it could -- we could have actual ballgames to go to. Happily, we'll soon get those in Florida and Arizona, and not a moment too soon. In the meantime staying warm with the last embers of the Hot Stove league in the company of other folks who love baseball is one of the benefits of basic fandom, and something that on this occasion we can thank SABR for.
Christina Kahrl covers baseball for ESPN.com. You can follow her on Twitter.
July, 29, 2011
7/29/11
4:00
PM ET
By
Christina Kahrl
| ESPN.com
We're sporadically writing about the 1986 season, the year famous for Buckner's bow-legged bumble and for what might still be the most desperately contested NLCS game of all time -- the win-or-die Game Six. It's also famous for
Roger Clemens
' breakout as a superstar -- and perhaps subsequently infamous as
Jose Canseco
's rookie season. One of the bigger controversies was over whether the Blue Jays' Mark Eichhorn might win the AL ERA title.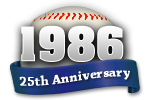 But one thing the 1986 season
wasn't
famous for was its deadline drama, because quite simply, there really wasn't any. That's despite the fact that
1986 was baseball's first to have the July 31 non-waivers deadline
as we know it. As SABR's
Cliff Blau reminds us
, the thicket of rules and schedules regulating trades between leagues versus within leagues made matters needlessly complicated.
Maybe it was the newness of the thing or the fact that teams were used to the old, earlier mid-June deadline, but this first July 31 deadline fizzled in the drama department. The biggest trade pulled off at the end of the month was between the Yankees and White Sox, and was consummated on July 30. Four games behind the Red Sox in the old seven-team AL East, the Bombers dealt catcher Ron Hassey, corner infielder
Carlos Martinez
, and a PTBNL (who would be catcher Bill Lindsey) to the White Sox to get DH Ron Kittle, catcher Joel Skinner, and infielder Wayne Tolleson.
It was the sort of trade that did very little good for either team. Beyond the silliness of this deal being the
fourth
time in 19 months that the Yankees had either traded Hassey or traded for him, Tolleson was supposed to be the quick fix to the Yanks' gaping hole at shortstop, but there was just one small problem: Tolleson couldn't really play short. Skinner was a fine receiver, but he couldn't hit (and didn't), while Kittle was employed as a platoon DH.
The Sox were already done, and Hassey left as a free agent after the season, while Lindsey was nothing more than ballast. Martinez was one of the strangest sights on the diamond in his day -- listed at 6-foot-5, it seemed as if five and a half of those feet were all leg. With perhaps the biggest wickets at the hot corner in big-league history, it wasn't really surprising that he couldn't handle third, and he lacked the power for first base, leaving him nothing more than a bit player on several bad Sox ballclubs to come -- but he was the "prospect" in this deal. In one of the other strange, coincidental misfortunes of Hawk Harrelson's terrible year as the White Sox GM, just a week earlier the Sox had traded a well-regarded Rule 5 pick by the name of
Bobby Bonilla
to the Pirates for Jose DeLeon -- a decent-looking deal at the time, but one that history ultimately wouldn't smile on.
And that was it for major deals at the end of July in 1986. It wasn't like there weren't races to be run. The first-place teams subsequently helped themselves a wee bit. On Aug. 19, the first-place Red Sox addressed their problems up the middle by dumping a package of young-ish junk on the Mariners to get center fielder Dave Henderson and shortstop Spike Owen. The first-place Astros had added Davey Lopes from the Cubs on July 21, but Lopes was just a utilityman at this point; two weeks into August, the 'Stros snagged swingman Danny Darwin from the Brewers for the interchangeably forgettable Don August and Mark Knudson.
But as for those teams chasing the leaders, what did they do at the end of July? Nothing. Indeed, the Yankees were the
only
second-place team that did anything of note as far as mixing things up. In the AL East, the third-place Orioles stood pat, although they were just a half-game behind the Yankees and 4.5 behind the Red Sox. Bobby Valentine's Rangers, just 3.5 games behind the Angels in the AL West, did nothing to better their lot, and they never did catch the Halos. The Giants had been in first place in the NL West just a week earlier, but had fallen just four games behind the Astros; GM Al Rosen let it ride. Everybody in first place on Aug. 1 wound up winning their divisions.
Twenty-five years later, the end of July is one of the baseball season's most important stretches. It isn't just potentially significant in terms of what teams can add or should shop for, it's a spectacle unto itself, something that sucks attention toward the game and generates excitement among fans, and not just among those rooting for the winners. That's because in some small way hope and faith can be renewed among the fans of teams already too far gone to do much more than play out the string -- new prospects, new possibilities and wait 'til next year all get their due among those doomed or dumping at the deadline.
Why is it so? To some extent you can credit the creation of the wild card -- especially in the National League. Perhaps there's also a broader industry-wide understanding of how much money's to be gained if you win your way into October action, although this year's attendance drop in Tampa Bay challenges some of our expectations of year-after attendance spikes for playoff teams. Perhaps general managers, team presidents, and assorted front office muckety-mucks might be a lot less frightened of dealing away free agents-to-be now that there's a broader recognition that the best prospects are usually out of reach and getting draft picks via arbitration offers is far from automatic. You can consider that a sensible market correction, as organizations place a premium on their initial six years of contractual control of home-grown talent.
Now, obviously the deadline doesn't close the door on subsequent deals. But it focuses everybody's attention, inside the game and out. Beyond the economic issues or giving everyone from Bud Selig on down another reason to feel good about the changes achieved in the last 18 years, on a more basic level it's worth remembering that, from such a lackluster start 25 years ago, the game has added something wonderful. The deadline has become it's own fun season-within-a-season. In a game supposedly fearful of change, it has become a premium event that has changed the dynamics of the six-month marathon of the regular season. Whatever the next 48 hours or so bring, it's a brand of entertainment we all indulge in.
Christina Kahrl covers baseball for ESPN.com. You can follow her on Twitter.
May, 24, 2011
5/24/11
9:30
AM ET
Blue Jays third baseman
Edwin Encarnacion
had two balls hit to him Monday night. He caught a pop fly and booted a groundball ... his 11th error of the season. After Toronto scored five runs in the top of the sixth to take a 6-1 lead,
John McDonald
replaced E squared in the field.
What caught my attention is I didn't remember Encarnacion playing that much third base for Toronto. Sure enough, he's only started 16 games there and committed eight errors (he's also been tagged with three errors at first base in just 60 innings). His fielding percentage at third: .784. That's bad enough for a high school kid, let alone a major leaguer.
It reminded me of some other famous brick-leathered cornermen:
[+] Enlarge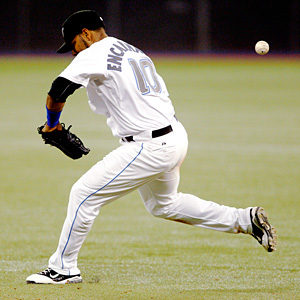 Abelimages/Getty ImagesToronto's Edwin Encarnacion has 11 errors this seaon: eight at third base and three at first base.
Butch Hobson, 1978 Red Sox:
Red Sox fans still like to blame Hobson for throwing away (literally) the '78 division title, as he committed 43 errors for an .899 fielding percentage. Hobson played much of the year with a bad elbow, but Don Zimmer kept in the lineup. Those 43 errors are the most by a third baseman since 1938.
Pedro Guerrero, 1984 Dodgers:
Guerrero was one of the most devastating hitters of the '80s, but a third baseman he was not. He did OK in '83 (.934 fielding percentage) but not so OK in '84 (.917, 16 errors in 72 games).
Joel Youngblood, 1984 Giants:
Youngblood was a utility infielder/outfielder who ended up playing 117 games for the Giants at third base. He wasn't good. He made 36 errors, turned just 11 double plays and fielded .887.
Howard Johnson, 1989 Mets:
HoJo was a great athlete, but not gifted with a pair of soft hands. He fielded .910 for the '89 Mets, a team that also played Gregg Jefferies at second base and Juan Samuel in center field.
Gary Sheffield, 1993 Padres/Marlins:
Fielded .899 as he committed 34 errors in 133 games. He actually did decently at third in 1992, making just 16 errors and showing adequate range, but his disastrous '93 season led to a move to the outfield.
Bobby Bonilla, 1995 Mets/Orioles:
Bobby Bo battled third base to a draw at various times in his career. At other times, the hot corner delivered a knockout, such as in '95, when Bonilla fielded .908 there in 70 games. Bonilla also led the league in errors three other times at third, with a career high of 35.
Russ Davis, 1998 Mariners:
If I remember correctly, Davis developed a throwing problem in '98, leading to 32 errors and a .906 fielding percentage. He didn't exactly compensate with great range.
Ryan Braun, 2007 Brewers:
Braun's rookie season was a rousing success at the plate but a rousing disaster in the field, as he fielded .895, with 26 errors in 112 games. He fielding runs below average from Baseball-Reference rates as -35, the worst of any third baseman in 30 years.
Man ... Russ Davis still irritates me after all these years.