July, 10, 2013
7/10/13
4:40
PM ET
From
Buster Olney's blog today
, talking about why the Twins and Mets should trade
Glen Perkins
and
Bobby Parnell
:
Do you know how many teams have the same closer in 2013 that they did two years ago, in 2011? Try three: Mariano Rivera of the Yankees, Chris Perez of the Indians and Craig Kimbrel of the Braves.

Closers are like kickers in the NFL. Yes, there is the occasional Morten Andersen, the guy who is really good for a long time. Rivera is that guy.

But if baseball history holds in the cases of Parnell and Perkins, then by 2015 the odds are they'll either have lost their jobs or gotten hurt.
The point isn't that a closer isn't important; of course he is. The point is that a lot of guys can do that job -- and that the job is extremely volatile. As Buster suggests, the idea of a Proven Closer doesn't really exist, so when you hear things like "The Tigers need a closer" it's really a bunch of nonsense. What people will really mean is "The Tigers need Mariano Rivera." Unfortunately, he's taken.
Look at the major league save leaders from 2011:
Jose Valverde
, Kimbrel,
John Axford
,
J.J. Putz
, Rivera,
Heath Bell
,
Drew Storen
,
Joel Hanrahan
,
Francisco Cordero
,
Brandon League
,
Juan Carlos Oviedo
, Perez,
Brian Wilson
,
Carlos Marmol
,
Jordan Walden
,
Neftali Feliz
,
Ryan Madson
,
Jonathan Papelbon
,
Sergio Santos
.
That's 19 closers who all saved at least 30 games. Only four are still doing the job -- the three guys Buster mentioned, plus Papelbon, who switched teams (or five if you count Bell in Arizona, although his hold on the role is tenuous).
Joe Nathan
missed part of 2011 with an injury, so count him as well if you want, although he too has changed teams. By the way, most of those 19 guys were pretty good in 2011; 14 had an ERA under 3.00.
If you accept that any closer is a short-term job you then start to realize that you just go with the hot reliever on your staff -- in the Tigers' case,
Joaquin Benoit
should be fine.
Drew Smyly
would have been fine.
What's more important than worrying about acquiring a Proven Closer is acquiring bullpen depth. So the Twins and Mets shouldn't hang on to Perkins and Parnell simply because they worried about trading their closer. They'll find another one easily enough.
April, 9, 2013
4/09/13
12:06
AM ET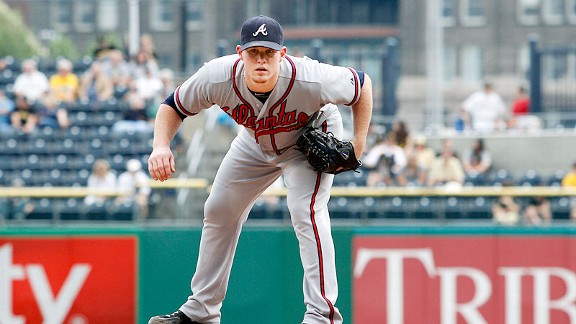 Justin K. Aller/Getty ImagesCraig Kimbrel led the NL in saves last season and is considered the most dominant closer in baseball.
The Tigers need one. The Brewers thought they had one. The Cubs already have a new one. Some teams probably wish they had a different one. Closers are already melting down in rapid fashion.
On Monday afternoon, with closer
Jason Motte
sidelined with a sore elbow (he'll get a new MRI on Tuesday), the Cardinals' bullpen imploded in a
13-4 loss
to the Reds, led by
Mitchell Boggs
giving up seven runs in the ninth inning. Now they might have closer issues as well. Rookie
Trevor Rosenthal
blew a 4-3 lead in the eighth, his second blown "save" of the young season, so he's not necessarily the answer if manager Mike Matheny has lost faith in Boggs.
The Tigers will apparently give
Joaquin Benoit
their next save opportunity, but many think they need to make a trade for a Proven Closer (tm). The problem ... well, there aren't really that many Proven Closers out there. And the truth is, most closers weren't preordained to be closers anyway, many arriving at the role only after failing as starters or finally getting the opportunity in their late 20s. Let's rank all 30 closers and you'll see what I mean.
Proven Closers
These are guys who have done the job for more than one season, thus earning the coveted title of Proven Closer.
1. Craig Kimbrel, Braves
The best ninth-inning guy in the business, coming off maybe the most dominant relief season ever -- he fanned over half the batters he faced -- in the modern era, or what Goose Gossage likes to refer to as "After I retired."
Before becoming a closer:
Groomed as a closer, he's never started a game in pro ball and became Atlanta's closer as a rookie in 2011.
2. Aroldis Chapman, Reds
I'm actually breaking my own rule here since Chapman has only been a closer for less than one season. But unless his control suddenly abandons him, he's obviously the real deal after striking out 122 in 71.2 innings last season.
Before becoming a closer:
Lacked the secondary pitches and stamina to make it as a starter.
3. Mariano Rivera, Yankees
He's old, he basically has one pitch and he's coming off a torn anterior cruciate ligament. Anyone want to bet against him?
Before becoming a closer:
Failed starting pitcher prospect.
4. Jonathan Papelbon, Phillies
Starting his eighth year as a closer, which is entering elevated territory. (Hall of Famer Bruce Sutter, for example, only had seven dominant seasons as a closer.) Papelbon had some not-so-clutch moments last season, however, finishing with four blown saves and six losses.
Before becoming a closer:
Forty-eight of his 58 appearances in the minors and his first three major league appearances came as a starter, but Red Sox converted him to relief.
5. Joe Nathan, Rangers
Not quite the Rivera-like force he was during his Twins days, but still pretty good. Picked up his 300th career save Monday, becoming the 23rd reliever to hit that mark.
Before becoming a closer:
Had a 4.70 ERA in two seasons as a part-time starter for the Giants in 1999-2000, had a 7.29 ERA in the minors in 2001 (5.60 in 2002), made it back, traded to the Twins, then became a closer at age 29.
6. Rafael Soriano, Nationals
Has three seasons as a closer with three different teams, so this will be his fourth year as a closer with his fourth different teams, making him the best example of Proven Closer, Will Travel.
Before becoming a closer:
Spent parts of seven seasons in the majors (starting as a rookie with Seattle), many parts of which were spent on the disabled list.
7. Huston Street, Padres
Now entering his ninth season as a closer, Street has recorded 30-plus saves just twice, as he's often hurt and hasn't pitched 60 innings since 2009.
Before becoming a closer:
Groomed as a closer since Oakland made him the 40th pick in the 2004 draft out of Texas.
8. Chris Perez, Indians
Now entering his fourth season as Cleveland's closer, he's been an All-Star the past two seasons despite a less-than-awe-inspiring 3.45 ERA and 4-11 record.
Before becoming a closer:
Mediocre middle reliever with St. Louis and Cleveland for two years. Fell into the closer role in 2010 because
Kerry Wood
was injured at the start of the season.
9. J.J. Putz, Diamondbacks
He's had four seasons of 30-plus saves, although he spent three years in between closer jobs. He's another guy who isn't the most durable pitcher around and hasn't pitched 60 innings since 2007.
Before becoming a closer:
Started for three years in the minors for Seattle, moved to the bullpen, spent two years as a mediocre middle guy, but learned the splitter and became a closer at age 29 after Proven Closer
Eddie Guardado
imploded early in 2006.
10. Joel Hanrahan, Red Sox
All-Star closer with the Pirates the past two seasons, but he walked 36 and allowed eight home runs in 59.2 innings last year. Could easily lose the job to former Proven Closer
Andrew Bailey
.
Before becoming a closer:
Didn't make it as a starter with the Dodgers, traded to the Nationals and then to the Pirates. Spent three years as a middle reliever.
One-year wonders
These guys became closers last year, and several of them had dominant seasons. But beware the
John Axford
lesson: One season does not make you a Proven Closer. Do it again and we'll start believing.
11. Fernando Rodney, Rays
After years as basically a bad reliever (22-38 career record., 4.29 ERA), he signed with Tampa Bay and lucked into getting a save in the season's second game as the fourth reliever of the ninth inning in a game against the Yankees. Went on to have one of the greatest relief seasons ever, with a 0.60 ERA and five earned runs allowed. He's already allowed three earned runs in 2013. Was last year a fluke?
Before becoming a closer:
See above. Did save 37 games (with a 4.40 ERA) for the Tigers in 2009.
[+] Enlarge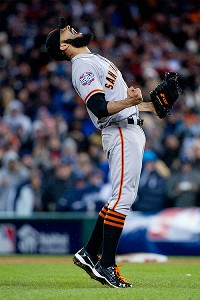 Ron Vesely/MLB Photos/Getty Images)After many seasons as a middle reliever, Sergio Romo finally got the chance to close and got the last out in the 2012 World Series.
12. Sergio Romo, Giants
The slider specialist replaced
Santiago Casilla
, who had replaced the injured
Brian Wilson
. Saved 14 games and then allowed one run in 10.2 postseason innings.
Before becoming a closer:
Not much of a prospect as a 28th-round pick who didn't throw hard, but Romo was an excellent middle guy for four seasons.
13. Ernesto Frieri, Angels
The hard-throwing righty came over after an early-season trade with the Padres, got the closer job after
Jordan Walden
struggled and had a terrific season. Might lose his job anyway if former Journeyman Made Good
Ryan Madson
gets healthy.
Before becoming a closer:
Moved to the bullpen after posting a 3.59 ERA in Double-A in 2009.
14. Jason Motte, Cardinals
Took over the closer role late in 2011 and helped the Cards win the World Series. Saved 42 games with 2.75 ERA last year. Currently injured.
Before becoming a closer:
Spent first three pro seasons as a catcher.
15. Jim Johnson, Orioles
In his first full year as closer he saved 51 games. Rare among closers, he's a ground ball specialist who doesn't register many whiffs (41 in 68.2 innings in 2012).
Before becoming a closer:
A not-very-good minor league starter.
16. Tom Wilhelmsen, Mariners
In his first full year in the majors, he replaced a struggling
Brandon League
. Did just fine with his mid-90s fastball and hammer curve.
Before becoming a closer:
Was bartending.
No, seriously
.
17. Addison Reed, White Sox
Saved 29 games as a rookie, although his 4.75 ERA wasn't exactly Rivera-ish.
Before becoming a closer:
Drafted in the third round out of San Diego State in 2010, he had a dominant relief season in the minors in 2011 (1.26 ERA) that pushed him quickly to the majors.
18. Greg Holland, Royals
Had 16 saves last season, but his job could be in jeopardy after four walks in his first two innings of 2013. Aaron Crow saved Monday's win for the Royals.
Before becoming a closer:
Came out of nowhere to post a 1.80 ERA with the Royals in 2011.
19. Steve Cishek, Marlins
Saved 15 games after expensive Proven Closer
Heath Bell
gakked up several memorable save opportunities.
Before becoming a closer:
The sidearmer was never on prospect radar lists because sidearmers are never on prospect radar lists.
20. Brandon League, Dodgers
Saved 37 games for Seattle in 2011, but lost his job early last season due to general lack of impressiveness. Throws a hard sinker so he gets ground balls but not many K's. Pitched better in 27 innings for the Dodgers last season so they gave him a bunch of money. Control was fine in 2011, not so fine last year.
Before becoming a closer:
Didn't make it as a starter in the minors despite high-90s fastball.
Journeymen Made Good
These guys became closers essentially because their teams didn't have anyone else. Perseverance pays off!
21. Grant Balfour, A's
Hard-throwing Aussie became a closer last year for the first time at age 34.
Before becoming a closer:
Played Australian rules football. OK, not really. Went from Twins to Reds to Brewers before finally having some good years with Tampa Bay.
22. Glen Perkins, Twins
The rare lefty closer had 16 saves a year ago.
Before becoming a closer:
Career 5.06 ERA as a starter in 44 games before moving to the bullpen.
23. Rafael Betancourt, Rockies
At 37 years old, he became a closer for the first time and saved 31 games for Rockies in 2012.
Before becoming a closer:
Has a career 3.13 ERA, so he'd been a good reliever for a lot of years.
24. Jason Grilli, Pirates
The veteran reliever had a career year last year at age 35 with 90 K's in 58.2 innings and took over the closer role when Hanrahan was traded.
Before becoming a closer:
Played for five major league teams before Pittsburgh.
25. Casey Janssen, Blue Jays
Another late bloomer, he got the ninth-inning job after
Sergio Santos
was injured last year.
Before becoming a closer:
The former starter didn't really have a wipeout pitch so he got pushed to the pen.
26. Bobby Parnell, Mets
He's long been heralded as a closer candidate due to his high-octane fastball. Now he'll finally get the opportunity.
Before becoming a closer:
One-time minor league starter has spent past four seasons in the Mets' bullpen.
The Import
27. Kyuji Fujikawa, Cubs
The new Cubs' closer could be good, bad or something in-between. I think he'll be pretty good.
Looking for help
28. Tigers.
The problem with
Phil Coke
as a closer is that Phil Coke just isn't a very good reliever.
Al Alburquerque
and
Brayan Villarreal
have better stuff but not much experience.
29. Brewers.
Axford was signed out of independent ball and had a monster 46-save season for the Brewers in 2011. He's allowed four home runs in 2.2 innings this season and the Brewers may sign Rollie Fingers.
Might not get a save opportunity until May
30. Jose Veras, Astros.
Now 32, he's pitched for the Yankees, Indians, Marlins, Pirates and Brewers and has five career saves.
Before becoming a closer:
The Brewers had the worst bullpen in the majors last year and even they didn't want him back.
June, 11, 2012
6/11/12
3:55
PM ET
Another week, another set of interesting Power Rankings to get us going! Mark Simon joined me for Monday's
Baseball Today podcast

and a good time was had by all!
1. We separately supply our top-10 teams, with one major difference, and also point out the worst of the worst.
2. Good for Dusty Baker in how he used
Aroldis Chapman
Sunday night, but the end result was a Detroit win. Is this the start of a Tigers' turnaround?
3. The Diamondbacks haven't lost since a few of their players were ripped by the team's managing general partner. Coincidence? Plus,
Stephen Drew
answers back.
4. Emails normal, ridiculous and a new one -- ludicrous -- are dissected, concerning the Pirates, Mariners organization pitching and more!
5. Light schedule on Monday, but all four games involve potential playoff teams. And no, we're not Joshing ya.
So download and listen to Monday's fine Baseball Today podcast, or else you'll be as unlucky as
Bobby Parnell
. You don't want to be as unlucky as Bobby Parnell.
February, 23, 2012
2/23/12
5:18
PM ET
From around the SweetSpot network ...
December, 6, 2011
12/06/11
11:23
PM ET
DALLAS -- Unable to secure
Jose Reyes
, lacking the money to pursue a big name free agent, perhaps unwilling to trade
David Wright
and commit fully to a rebuilding project, the
New York Mets
instead turned to Plan D, or maybe Plan E or F, at the winter meetings:
Collect a bunch of right-handed relievers for the bullpen
.
In a flurry of moves over an hour or so, the Mets signed relievers
Frank Francisco
(2 years, $12 million) and
Jon Rauch
(1 year, $3.5 million), and reportedly traded center fielder
Angel Pagan
to the
San Francisco Giants
for reliever
Ramon Ramirez
and outfielder
Andres Torres
.
[+] Enlarge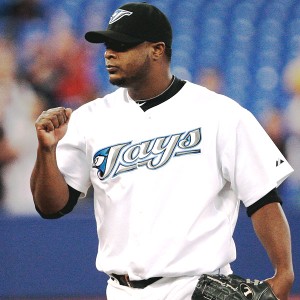 Abelimages/Getty ImagesFrank Francisco got a two-year, $12-million deal to be the Mets' new closer, one of several New York moves.
Certainly, bolstering the bullpen without blowing K-Rod money makes sense: In 2011, Mets' relievers posted a 4.33 ERA, 28th in the majors. Their .267 batting average allowed ranked 28th, their 24 blown saves ranked tied for 23rd (18 more than NL East rival Philadelphia) and their .344 on-base percentage allowed ranked 28th. They fared a little better in categories like strikeout rate and strikeout-to-walk ratio, but no matter how you slice it the pen wasn't good.
A quick capsule of the players they acquired:
Francisco: He'll assume the closer duties, relying on his 93- to 96-mph fastball and split-finger. He's solid if unspectacular and earned the coveted "closer" label primarily by lucking into the job with the 2009 Rangers. He was a flyball pitcher early in his career, but has increased his ground-ball percentage the past two seasons. The biggest concern is that he usually lands on the disabled list once or twice a season and hasn't pitched more than 52 innings in any of the past three years. So even if you make him the closer, you'll likely need a backup closer for 15-20 innings or so.

Rauch: Once named Baseball America's top prospect in the minor leagues (ahead of Albert Pujols), Rauch will be joining his fifth team in five seasons. He's a serviceable middle guy who has closed at times (58 career saves), but has been pretty hittable in recent seasons: 256 hits in 251 innings since 2008, with just 197 strikeouts. He's also been prone to the long ball at various times in his career, including allowing 11 with the Blue Jays in just 52 innings last season. Frankly, I don't see Rauch as any improvement over currents Mets relievers Bobby Parnell, Pedro Beato, Tim Byrdak or Manny Acosta. He's mediocre depth, which I guess isn't the worst thing but doesn't exactly have Mets forgetting Jose Reyes.

Ramirez and Torres: Pagan and Torres is an exchange of center fielders who played well in 2010, but poorly in 2011. Both were in danger of being non-tendered, although on Monday Mets manager Terry Collins had been talking about using Pagan as his leadoff hitter. The biggest issue with Pagan was that his defense notably slipped from 2010. Torres' bat is a question mark, but he'll draw walks and is a more consistent defender. Still, in the end he's nearly 34 with a career .244/.318/.403 line. He's not going to get better. Ramirez is a fastball/slider/changeup type with a career ERA of 3.16 over five-plus seasons. He was terrific in his year-plus with the Giants and there's no reason to necessarily assume it was home-park effect -- he dominated on the road in 2011, with a .157 average allowed.
So, yes, the Mets now have eight or nine relievers to choose from. The Mets were 67-6 when leading after eight innings and 60-10 when leading after seven innings. Those don't seem like high totals, but actually are worse than the league average, so even though there's nothing flashy in these three relievers, the bullpen should be a few wins better in 2012. Sorry, Mets fans: We mean 4-5 wins or so, not 10 or 12. That's an important improvement, sure, but only a small step if the Mets wish to contend in an NL East that could end up being much tougher in 2012.
While blowing fewer late-innings leads will certainly be less frustrating, the big question remains: How many late-inning leads will they have?
April, 7, 2011
4/07/11
12:05
AM ET
A few days before the season began I was out running with Matt, one of my editors. Matt is a Mets fan and I was having a good time threatening to write a "Why the Mets could be the worst team in the National League" post.
I never got around to writing it; I guess I didn't really believe in the premise. But we all know nobody thinks the Mets will do anything in 2011, except maybe Bernie Madoff; not one ESPN insider predicted the Mets to make the playoffs. Baseball Prospectus projected the Mets to win 80 games. The Vegas over/under was 77 wins.
So even though they lost Wednesday night to the Phillies to fall to 3-2, they showed some energy by rallying from a 7-0 deficit to tie it. I liked what I saw (other than
Mike Pelfrey
). In fact, I have 10 reasons the Mets may be better than we believe.
1.
David Wright
is still a really good player. He fell out of the "SportsCenter" highlights during that 10-homer season in 2009, but hit 29 last season. If he gets his OBP back in the .390 range, he's one of baseball's best third baseman, a step below the
Ryan Zimmerman
/
Evan Longoria
duo.
2.
Jose Reyes
in a contract year. All the skills are still there. He still has the speed and the rocket arm. He doesn't turn 28 until June. I feel a big year, back among the NL runs leaders … and a big contract in the offseason.
3.
Angel Pagan
is for real. He's a solid center fielder, a switch-hitter with speed and just enough extra-base power to be dangerous. You can win a division title with Pagan out there. For example, is
Shane Victorino
really any better than Pagan?
4. Depth in the lineup. As Baseball Prospectus pointed out in its annual, the Mets gave 40 percent of their plate appearances to hitters worse than league average. Among the culprits with at least 100 plate appearances:
Luis Castillo
,
Rod Barajas
,
Alex Cora
,
Henry Blanco
and somebody named
Jesus Feliciano
. This year, the Mets go eight deep in the lineup, with catcher
Josh Thole
hitting eighth. And Thole isn't that bad. Not much power, but a decent .357 OBP as a rookie in 2010.
5.
Brad Emaus
. My colleague Eric Karabell loves Emaus. Trust in Eric. Hey, he's gotta be better than Luis Castillo. Of course, my couch is better than Luis Castillo.
6. The bench.
Lucas Duda
has some good minor league hitting numbers,
Scott Hairston
can hit lefties,
Daniel Murphy
is back after being injured last season and he's a nice utility guy.
7. Potential in the rotation. I am worried about Mike Pelfrey after two bad starts, but the rotation could be solid with
R.A. Dickey
, a step forward from
Jonathon Niese
, a comeback from
Chris Young
and
Chris Capuano
. Yes, they lack an ace unless
Johan Santana
returns healthy, but all these guys could at least be decent. And if you have five decent starters, you have a chance.
8. The bullpen is sneaky good. Hard-throwing
Bobby Parnell
is ready to emerge in the setup role,
D.J. Carrasco
is a ground ball specialist with a rubber arm who won't give up many homers,
Taylor Buchholz
was really good with the Rockies before getting injured. I'm no fan of K-Rod, but he's better than a lot of closers. (But can we dump the nickname please? He really hasn't been K-Rod since about 2007.)
9. Terry Collins. Let's put it this way: BP reminded me of the incident last season when Jerry Manuel had Castillo bunt in extra innings against Cardinals
outfielder
Joe Mather
. Collins is worth a win or two from a strategic/lineup viewpoint. Or maybe three or four.
10.
Carlos Beltran
's knees. I've avoided mentioning them until now. The Mets are due a little luck in the health department, right?
Add it all up and the Mets could win 86-87 games, and in the National League that could make them wild-card contenders.
Photo Of The Day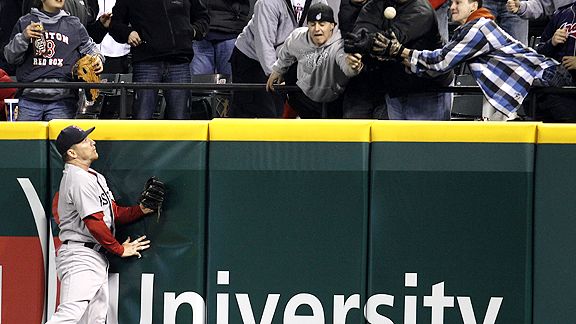 AP Photo/Tony DejakAs the Sox drop to 0-5, could Boston's J.D. Drew be singing "Come Sail Away" already?