September, 23, 2014
9/23/14
11:42
PM ET
It's the postseason. Maybe it's the wild-card game. Maybe it's the Division Series or the ALCS or even the World Series. The
Detroit Tigers
are leading 3-2. It's the ninth inning. Say
Max Scherzer
or
David Price
has gone the first eight innings, but either of them are right at 100 pitches or so.
What do you if you're Brad Ausmus?
That's the question I'm left wondering about after watching the end of
Tuesday's game
in Detroit. Price, bouncing back from a poor outing his previous start, took a three-hit shutout into the ninth against the White Sox, having thrown 95 pitches and holding a 3-0 lead.
You can't really blame Ausmus for leaving Price in at that point. He's a workhorse with 21 starts of at least 110 pitches on the season. He's thrown the most pitches in the majors. The White Sox hadn't touched him. The Tigers needed the win to maintain their one-game lead over the Royals, who had already defeated the Indians, and Price looked strong.
So, sure, leave him in. Plus, you know, that Detroit bullpen doesn't actually have Mariano Rivera sitting down there.
On the other hand, there's this argument:
1. Price has thrown the most pitches in the majors. I just said that, which is both a positive and a concern. (Scherzer, by the way, has thrown the second-most). You're going to need a strong Price for five or maybe six postseason starts, so why not save a few pitches for October?
2. Considering some of his bad starts with the Tigers, get him out of there after a dominant outing, with something positive sitting on his brain before the playoff begin.
3. You don't trust your bullpen with a 3-0 lead?
4. You're going to need to trust your bullpen at some point in the postseason.
Adam Eaton
hit a slow grounder up the middle as
Joe Nathan
warmed up in the Detroit bullpen.
Alexei Ramirez
hit a line-drive double into the corner. With
Jose Abreu
up the Tigers broadcast crew asks, "Now what do you if you're Brad Ausmus?" Ausmus' answer: This is David Price's game. Abreu fans on three pitches, Price spitting and chewing on his yellow mouthguard and shaking off
Alex Avila
before getting Abreu on an 0-2 cutter.
Avisail Garcia
singles up the middle to score two runs. Ausmus comes out of the dugout and the fans boo, assuming he's going to bring in Nathan.
Price stays in. The fans cheer.
Dayan Viciedo
flies out. But then
Paul Konerko
bloops a single to left, and then
Marcus Semien
hits a soft liner to right-center on Price's 19th pitch of the inning and 114th of the game and suddenly the game is tied.
Finally, Price is removed. Nathan walks a batter to load the bases but escapes the jam. Then the Tigers win it in the bottom of the ninth,
Miguel Cabrera
knocking in the winning run.
So the question has to be asked again: What does Ausmus do now? The fans' reaction tells you all you need to know about the confidence they have in Nathan. I think the way Ausmus managed that inning tells us all we need to know about
his
confidence in Nathan. And it's not like the set-up crew with
Joba Chamberlain
and company inspires much confidence either. Maybe
Anibal Sanchez
will be able to help out out of the bullpen, but let's see him pitch before saying he's ready.
The Tigers have been here before. In 2012,
Jose Valverde
had a mediocre season closing, with a 3.78 ERA and poor strikeout rate. He imploded in the Division Series against the A's and then again in Game 1 of the ALCS, so Jim Leyland patched together the bullpen the rest of the way, with
Phil Coke
getting two saves as the Tigers reached the World Series. The 2013 season is remembered for
Joaquin Benoit
serving up that grand slam to
David Ortiz
, but Benoit and
Drew Smyly
had actually been terrific, with ERAs of 2.01 and 2.37 in the regular season, so the late innings didn't seem like a huge issue heading into October.
At some point, Ausmus will need his bullpen. Scherzer has one complete game in his career.
Justin Verlander
has pitched eight innings once since April. Price was given this game and couldn't finish it off.
The Tigers may win the division. The Royals may catch them. Either way, the ninth inning looms large in Detroit's future.
September, 7, 2011
9/07/11
2:43
PM ET
It wasn't raining in the bucolic Bristol studios as Keith Law and I talked about the greatest sport in Wednesday's
Baseball Today podcast
. Here are a few of the highlighted topics:
1. OK, so I guess that
Stephen Strasburg
guy is pretty good, eh?
2. The
New York Yankees
and
Baltimore Orioles
played a baseball game on Wednesday morning. We discuss.
3. Do catchers make for good future managers? Or is it just catchers that didn't hit well?
4. Who is the next
Rick Ankiel
… and does someone want to be the next Rick Ankiel?
5.
You
are
Kansas City Royals
GM Dayton Moore. What do you do with the Royals?
Plus: Excellent emails, conjunction junction,
Mariano Rivera
and the saves record, appreciating
Livan Hernandez
and a look at Wednesday's schedule, all on Baseball Today!
February, 8, 2011
2/08/11
3:50
PM ET
My
recent interview with Dodgers general manager Ned Colletti
prompted me to reflect on a little-discussed aspect of his tenure.
Colletti has held the management reigns for more than five years now, and some clear patterns have emerged. He values depth. He values veteran leadership. He wants young players to succeed, but he'd much rather do it on his own timetable. One of the funnier revelations I've had is that while Dodger fans think Colletti took too long to commit to then-kids like
Andre Ethier
or
Matt Kemp
, Colletti would tell you that he wishes they could have had more time in the minor leagues to develop. You can imagine that there would be some fun arguments at the imaginary Dodgers dinner table.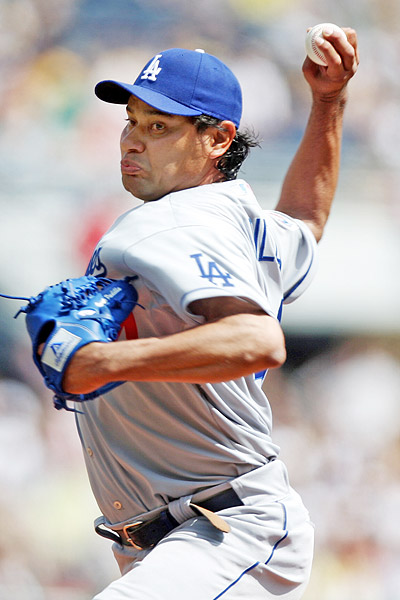 Jason Bridge/US PresswireNed Colletti has signed Vicente Padilla twice after picking him up midway through the 2009 season.
I've long been suspicious of the value placed on so-called clubhouse leaders, for a number of reasons. For one thing, these clubhouse leaders, at times, seemed not all they were cracked up to be. Players like
Nomar Garciaparra
,
Luis Gonzalez
and
Jeff Kent
were supposed to show how this game was played, but often they seemed more concerned with turning up their noses and looking out for themselves.
Then there were the players who would seem to have no other function other than to be clubhouse gents and gems. The Dodgers would give money to players staring retirement right in the face -- last year, it was
Garret Anderson
and
Brad Ausmus
-- and justify it in large part by the examples they set as professionals. Nothing against these guys personally, but there's a word for baseball men who can teach but can no longer play. They're called coaches -- or at least they should be.
All this might be enough to conjure up an image of Colletti's Dodger clubhouse as a local branch of the VFW -- guys hanging out, sharing war stories while hazing the rebellious small-fry. But that wouldn't tell the whole story.
It doesn't get discussed much in a broader context, but Colletti has also taken in guys who have worn problems on their sleeves.
Vicente Padilla
was practically chased out of Texas, but not only did Colletti pick him up from the midseason junkyard in 2009, he has signed him as a free agent twice since, including once shortly after Padilla shot himself in the leg.
In his first year as Dodger GM, Colletti traded away catcher
Dioner Navarro
when he was a 22-year-old with promise, in order to clear the path for
Russell Martin
. This winter, Colletti signed Navarro to a $1 million contract when he was a 26-year-old who packed his bags and left the
Tampa Bay Rays
after they didn't include him on the active postseason roster, rather than stay and support the team.
Ronald Belisario
will be back, visas willing, despite being late to the past two spring trainings and having a DUI arrest and rehab stint on his ledger.
Meanwhile,
Blake DeWitt
, who wowed even the irascible Larry Bowa with his work ethic, and
Juan Pierre
, who was considered the clubhouse MVP at one point, are among the good citizens who have been traded away in the past year.
In other words, the pattern to Colletti's attitude toward the clubhouse is that there isn't exactly a pattern. He's wants a good mix off the field, but he's not afraid to take a chance on a player that would upset that mix if he thinks he can help. Colletti asks the question, "Can they succeed in Los Angeles?" and comes up with an answer. That answer might sometimes perplex fans, but it isn't dependent on the players being angels.
Jon Weisman writes about the Dodgers at Dodger Thoughts for ESPNLosAngeles.com.
January, 26, 2010
1/26/10
6:35
PM ET
A couple of hours ago, from the L.A. Times'
Dylan Hernandez
: "The Dodgers have agreed to a new deal with backup catcher
Brad Ausmus
, according to a source who spoke on the condition of anonymity."
Next, our own
Buster Olney
: "Heard this: Brad Ausmus got $1 million on a 1-year deal from the Dodgers."
And finally, Hernandez
chimed in again
: "Ausmus' deal with the Dodgers includes a mutual option for 2011. He will earn a base salary of $850k this year."
Supposedly it's $850,000 this year, plus another $150,000 if anyone doesn't want to continue the relationship next year
or
another $1 million if everyone does.
Obviously, a million bucks to the Dodgers is almost the same as nothing. Jamie McCourt used to spend that much on shoes every month (and probably still does, though it's no longer in the budget under the heading of "whatnot"). What's more precious than the dollars are the (granted, probably negligible) plate appearances.
Ausmus turns 41 shortly into the new season. Over the last four years he's got a .235/.313/.307 line; essentially he's an automatic out by the standards of his competition. You can't use him as a pinch-hitter, and if you're suddenly forced to use him every day -- one of these years,
Russell Martin
might actually get hurt -- you're giving away runs with alarming regularity. And because he and Martin both bat right-handed, there's never even a logical time to use him.
I know, I know. Everybody needs a backup catcher, otherwise a lot of balls bounce back to the screen. I'd rather take my chances with
A.J. Ellis
, who also bats right-handed but has a .437 on-base percentage in nearly 700 Triple-A plate appearances.
Yeah: .437.
I suppose Ellis returns to Albuquerque and waits for someone to pull a muscle. Whatever. It's not like this is going to make or break the Dodgers either way. I just keep thinking about Earl Weaver ...