April, 22, 2011
4/22/11
1:56
PM ET
Top five reasons why you should listen to
Friday's Baseball Today podcast,

with myself and researcher/writer/Mets fan extraordinaire Mark Simon:

1. The commish wouldn't discuss baseball's newest-owned franchise, but he did drop a bomb about more teams entering the playoff party in future seasons. What is the perfect number of qualifiers, and could this be a poor precedent?


2. What did Mets outfielder Jason Bay do on Thursday that was so rare? Mark and I each have answers, one about what he did on the field, the other the fact he was actually on the field at all!


3. More ace discussion: Should there be official criteria for "ace-hood" or not? And, have we essentially milked more than humanly possible from this poor topic already?


4. Big weekend ahead, with Reds-Cardinals featured on ESPN's Sunday night baseball, but does this matchup actually need buildup, or is it already there?


5. A certain pitcher-umpire matchup could create history on Sunday, and which unknown NL outfielder is finally getting a shot to play, and should impact himself and others?


Plus: Excellent emails discussing the excellent Kyle Farnsworth, a bold statement comparing future Hall of Famers Scott Kazmir and Brad Emaus and a comprehensive weekend preview with an NL postseason rematch. Enjoy and have a safe weekend, and we'll be back with myself and Mr. Simon to recap it all Monday!

April, 20, 2011
4/20/11
11:09
AM ET
Eric and Keith discuss some big issues on Wednesday's
Baseball Today podcast

, including:
Joe Mauer's value as a catcher and whether the Twins should move him to a new position.
Is Josh Johnson the most dominant pitcher right now? Would you take Johnson or Roy Halladay?
Keith says the Indians aren't making the playoffs and aren't the Padres of last season.
Who should close for the Cardinals?
Ian Stewart sent to the minors and thoughts on Jonathan Herrera hitting well.
Eric is upset with the Mets designating Brad Emaus for assignment.
Plus: Wrapping up the Carl Crawford debate, the 20-80 scale for scouts, Jason Varitek and a preview of Wednesday's game.
April, 17, 2011
4/17/11
1:43
AM ET
The more things change for the Mets, the more they stay the same. After a complete overhaul of their front office, the hiring of a new manager and coaching staff, a rebuilt bullpen, two new additions to the starting rotation, and an Opening Day lineup that carried over only one player from the 2010 opener, the Mets continue to struggle.
Making sure things stayed familiar, on Saturday an old foe applied the damage to their dreams:
Chipper Jones
. Jones had 44 home runs and a .973 OPS in 215 career games versus the Mets coming into the game. He went 3-for-6 with two walks, two runs, and two RBIs, including his 45th career homer against the Mets, as the Braves took both games of Saturday's doubleheader.
It was only the latest development in a storyline that gets worse every day for the Flushing faithful. After losing seven straight games including two consecutive doubleheaders, the
New York Mets
have sunk to 4-11 overall. Do Mets fans have reason to be optimistic? Consider this: that 4-11 record is only one game ahead of the pace of the 1962 Mets, who began their year 3-12 en route to a 40-120 season. Losing two doubleheaders in a week was also historic. It has only happened five times since 2000 -- although the Mets did it once before, in June 2003.
To add injury to insult,
Jason Bay
lingers in Port St. Lucie with a ribcage strain, and their most effective starting pitcher --
Chris Young
-- has been placed on the DL with biceps tendonitis after only two starts. Opening Day starter
Mike Pelfrey
, the pitcher who is supposed to be their de facto ace, has completed only 16 innings in four starts, and sports a whopping 2.34 WHIP and 9.72 ERA. The bullpen has been similarly ineffective, with three blown saves, a 1.70 WHIP and 4.79 ERA through 47 innings.
Now the bad news: Pitching may be the Mets' strength.
Offensively, the Mets have scored 63 runs, which isn't awful -- it's good enough for sixth in the NL. But their .237 average and .661 OPS with runners in scoring position suggests they could have scored many more, and that they just aren't getting the big hits when they have the opposition on the ropes. Mets hitters managed only two hits in seven innings on Saturday against
Jair Jurrjens
, then struck out five times against the Braves bullpen. Their lone baserunner came with two outs in the ninth, when
Jose Reyes
struck out on a wild pitch and reached first base safely as the ball trickled away from catcher
David Ross
.
On defense, Mets outfielders have lost balls both in the sun and the lights, and haven't yet figured out the quirky confines of Citi Field. Second baseman
Brad Emaus
misplayed an easy double-play ball during a key moment in Thursday's loss against the Rockies, and has looked tentative -- which more or less describes the Mets defense in general. The catchers have allowed 16 stolen bases and have credit for only one caught stealing, which came on Saturday afternoon when the Braves'
Nate McLouth
beat the throw by a few feet, but was tagged out when his foot slipped off the base.
Perhaps most disappointing has been the Mets inability to execute "the little things" -- especially annoying since new manager Terry Collins made fundamentals a focus from the day he came on board. Failed sacrifice-bunt attempts, mysterious pitch selections, and bone-headed baserunning has marked the club's ineptitude. The players look nervous and confused, except when they try to do too much -- such as when
Daniel Murphy
channeled Marv Throneberry and inexplicably attempted to steal third base in the sixth inning of their most recent loss, with none out and down by three. Murphy was thrown out by 15 feet, killing the Mets' only potential of a rally in the ballgame. Collins subsequently described it as "an error of enthusiasm." Casey Stengel, manager of the original edition of the Mets back in 1962, might have a more scathing description of what's happening with the Mets right now by asking again, "Can't anybody here play this game?"
Despite his club's recent woes, Collins remains upbeat. Immediately after getting swept in the Atlanta doubleheader, he said, "We're gonna go get 'em tomorrow and then we're gonna go home and win six straight and this will all be forgotten."
Though Collins remains positive, his words fall on increasingly deaf ears among Mets fans. After all, when the Mets began the season 4-7, Collins' response was, "We're one pitch away, and we're one swing away, from being 9-2, and we're not. But the next 11, we need to be 9-2."
Collins is correct in the broad strokes: If the Mets rip off a six- or seven-game winning streak, this 4-11 start is likely to be forgotten. But that's a big "if," particularly when a team is struggling to pitch, hit, field,
and
run. What's more concerning is that if the Mets don't turn things around dramatically, and right away, the season likely will get even worse before it gets better. Why? Because if you put any stock into strength of schedule analysis, the Mets are currently in their easiest month, with two of their toughest two coming in May and June. In July, they play 13 games against 2010 playoff teams.
The best chance for optimism is the hope that maybe the Mets will play up to their competition as the schedule gets tougher. But if the first fifteen games are any indication, it's going to be a long, long, long season for Mets fans.
PHOTO OF THE DAY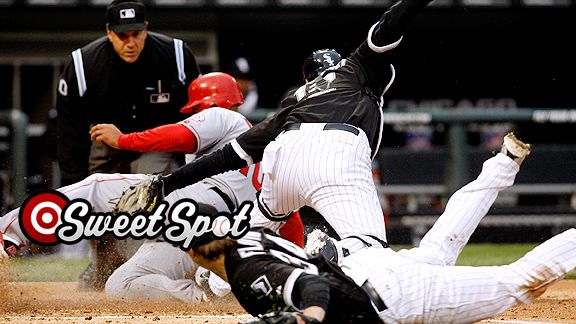 Jerry Lai/US PresswireA.J. Pierzynski's missed tag was just the beginning of a seven-run night for the Angels.
April, 7, 2011
4/07/11
12:05
AM ET
A few days before the season began I was out running with Matt, one of my editors. Matt is a Mets fan and I was having a good time threatening to write a "Why the Mets could be the worst team in the National League" post.
I never got around to writing it; I guess I didn't really believe in the premise. But we all know nobody thinks the Mets will do anything in 2011, except maybe Bernie Madoff; not one ESPN insider predicted the Mets to make the playoffs. Baseball Prospectus projected the Mets to win 80 games. The Vegas over/under was 77 wins.
So even though they lost Wednesday night to the Phillies to fall to 3-2, they showed some energy by rallying from a 7-0 deficit to tie it. I liked what I saw (other than
Mike Pelfrey
). In fact, I have 10 reasons the Mets may be better than we believe.
1.
David Wright
is still a really good player. He fell out of the "SportsCenter" highlights during that 10-homer season in 2009, but hit 29 last season. If he gets his OBP back in the .390 range, he's one of baseball's best third baseman, a step below the
Ryan Zimmerman
/
Evan Longoria
duo.
2.
Jose Reyes
in a contract year. All the skills are still there. He still has the speed and the rocket arm. He doesn't turn 28 until June. I feel a big year, back among the NL runs leaders … and a big contract in the offseason.
3.
Angel Pagan
is for real. He's a solid center fielder, a switch-hitter with speed and just enough extra-base power to be dangerous. You can win a division title with Pagan out there. For example, is
Shane Victorino
really any better than Pagan?
4. Depth in the lineup. As Baseball Prospectus pointed out in its annual, the Mets gave 40 percent of their plate appearances to hitters worse than league average. Among the culprits with at least 100 plate appearances:
Luis Castillo
,
Rod Barajas
,
Alex Cora
,
Henry Blanco
and somebody named
Jesus Feliciano
. This year, the Mets go eight deep in the lineup, with catcher
Josh Thole
hitting eighth. And Thole isn't that bad. Not much power, but a decent .357 OBP as a rookie in 2010.
5.
Brad Emaus
. My colleague Eric Karabell loves Emaus. Trust in Eric. Hey, he's gotta be better than Luis Castillo. Of course, my couch is better than Luis Castillo.
6. The bench.
Lucas Duda
has some good minor league hitting numbers,
Scott Hairston
can hit lefties,
Daniel Murphy
is back after being injured last season and he's a nice utility guy.
7. Potential in the rotation. I am worried about Mike Pelfrey after two bad starts, but the rotation could be solid with
R.A. Dickey
, a step forward from
Jonathon Niese
, a comeback from
Chris Young
and
Chris Capuano
. Yes, they lack an ace unless
Johan Santana
returns healthy, but all these guys could at least be decent. And if you have five decent starters, you have a chance.
8. The bullpen is sneaky good. Hard-throwing
Bobby Parnell
is ready to emerge in the setup role,
D.J. Carrasco
is a ground ball specialist with a rubber arm who won't give up many homers,
Taylor Buchholz
was really good with the Rockies before getting injured. I'm no fan of K-Rod, but he's better than a lot of closers. (But can we dump the nickname please? He really hasn't been K-Rod since about 2007.)
9. Terry Collins. Let's put it this way: BP reminded me of the incident last season when Jerry Manuel had Castillo bunt in extra innings against Cardinals
outfielder
Joe Mather
. Collins is worth a win or two from a strategic/lineup viewpoint. Or maybe three or four.
10.
Carlos Beltran
's knees. I've avoided mentioning them until now. The Mets are due a little luck in the health department, right?
Add it all up and the Mets could win 86-87 games, and in the National League that could make them wild-card contenders.
Photo Of The Day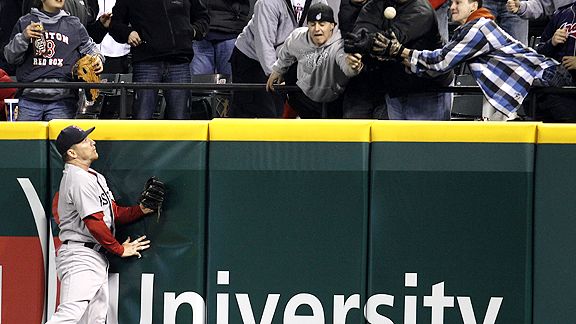 AP Photo/Tony DejakAs the Sox drop to 0-5, could Boston's J.D. Drew be singing "Come Sail Away" already?