June, 2, 2014
6/02/14
11:54
PM ET
By
Christina Kahrl
| ESPN.com
We're a little more than a third of the way through the season, but let's relish this tidbit as we head into the season's middle months, when moves get made and buyers and sellers are supposed to start sorting themselves out: After beating the Yankees in a mismatch between
Felix Hernandez
and
David Phelps
, the Mariners are just a half-game back in the AL wild-card race. And a game over .500. Which means while there's a whole lot of sorting left to be done, there's no reason to take the Mariners any less seriously than they no doubt take themselves.

It shouldn't come as a surprise that the Mariners are getting the most value out of King Felix and Robinson Cano and a very few others -- Kyle Seager and Michael Saunders in the lineup, Chris Young in the rotation. Use WAR as a quick cheat, and that's the extent of the guys who've been worth a win so far, several fewer than the A's or Angels have to talk about. Not that WAR is the ultimate answer to anything, but it does give you the suggestion that there are more than a few people playing for the Mariners whose value is harder to define than what statistical words of praise might provide.

That's in large part because the core of young talent in the Mariners lineup, which was supposed to have been ready to shine by now, has provided the statistical equivalent of dark matter: We know they're there, we know they're supposed to be important. But defining what Justin Smoak or Dustin Ackley or the shortstop tandem of Brad Miller and Nick Franklin or the center fielder du jour -- it's James Jones this month -- have added challenges easy explanation.



[+] Enlarge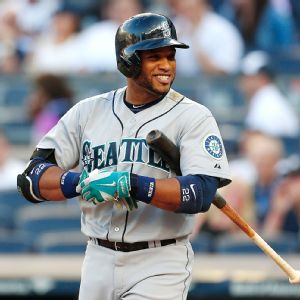 Mike Stobe/Getty ImagesEven without getting much help from the Mariners' lineup, Robinson Cano has reason to smile: They're contenders!

The Mariners are getting less than a .700 OPS not just from defense-first positions such as short and center, where they've been testing their prospects, but also at power positions such as first base, left field and DH. That's no way to back up a bid to contend, and it will be on Ackley and Smoak -- and also veterans Logan Morrison and Corey Hart when they come back from the DL -- to improve upon it.

But the time for excusing youth should be over. Smoak is in his fifth season and Ackley his fourth. They aren't kids -- they're long since young veterans. What you see is what you get. You can at least credit Smoak for hitting away from Safeco this season, with a .765 OPS on the road so far. That's almost exactly the average production for an AL first baseman this season (.764). Average is the new up, at least where Mariners prospects are concerned.

Now, it might seem a bit unfair to pile on the Mariners' bevvy of prospects for what they haven't been and might never be. The only teams running younger lineups than the Mariners' 27.3-year-old average are the Astros and Cubs, both of whom have unapologetically touched bottom in their comprehensive rebuilds. On the other hand, that same average age ties with the homegrown talent-laden Braves, who labor under all sorts of expectations of right-now contention -- and seem to be doing just fine. Guys such as Smoak and Ackley were mentioned in the same breath as prospects such as Freddie Freeman (a consensus top-20 prospect) or Jason Heyward (a consensus top 10). And while we're on the subject of young and disappointing, keep in mind that Ackley is only a few months younger than Justin Upton and was the second overall pick in 2009 to Upton's first overall selection in 2005. As frustrating as Upton has been for those expecting reliable greatness from one of baseball's best streak hitters, you won't confuse that for Ackley's exasperating inability to come close to his rookie season .766 OPS in any of the past three seasons.

Which is why, for as young as these Mariners might seem to be right now, their time is now. Everything can be forgiven, if not forgotten, if the Mariners make this season's September meaningful. That would be a first for a franchise that has yet to top the 85 wins they got in Jack Zduriencik's first season as GM back in 2009. This is essentially his team, a compilation of players he inherited and chose to keep (such as Erasmo Ramirez), guys he drafted (such as Ackley, both shortstops and James Paxton) or guys he signed (Cano, Young and Fernando Rodney). If it's going to add up to anything, ever, there's no time like now to find out.

For the Mariners to deliver on the opportunity of their present, their best hopes might rest on what Paxton and Taijuan Walker can add on the mound behind Hernandez and Hisashi Iwakuma. It makes for that much more of a pitching-and-defense formula, while praying for Cano and Seager to plate enough runs, for Zunino to develop unlike all the other top touts of prospect lists past. Not to mention hoping against hope that Ackley or Smoak or Franklin or Miller finally turn into something. Realistically, what alternative is there? Trade them away to surround Cano with better goodies? No matter how much club control a team might have left over Ackley or Smoak or Franklin, whatever dollar figure you assign doesn't amount to any value in trade if it doesn't amount to anything on the field now. Guys who can't play at 26 or 27 aren't likely to play ever.

It's easy to mock Zduriencik's zipping from one master plan to another with all the hyperactive schemes for world domination of a Bond villain: He's tried building a winner just about every way imaginable in his six seasons in Seattle, flitting from pitching and defense to a lineup overstuffed with veteran DHs, to trusting in his farm system, to finally, in that classic sign of late-stage, go-for-broke desperation, throwing boatloads of cash at somebody with star power when he inked Cano. In short, there is no tack he hasn't tried. The irony is the Mariners might contend for at least a wild-card slot this season, after the former player-development guy made the big-market move and signed the superstar for a budget-busting $240 million. If it works, and if the kids contribute anything, you can bet he'll be congratulated for it.

Christina Kahrl writes about MLB for ESPN. You can follow her on Twitter.
May, 11, 2014
5/11/14
10:03
PM ET
Whenever people say baseball is in trouble I point them to a game like Sunday's Yankees-Brewers contest in Milwaukee, a fun back-and-forth game played before a loud, soldout crowd of over 43,000 fans at Miller Park.
Yes, it was the Yankees and it was Mother's Day, but Milwaukee is the smallest market in the majors and all three games in the series drew 40,000-plus fans. If you put an exciting, quality product on the field you have the potential to bring in baseball-loving fans like the Brewers are doing.
The game came down to the ninth inning and
Mark Teixeira
tied it with a dramatic, two-out home run off
Francisco Rodriguez
, the first run K-Rod has allowed in 20 appearances this season. Against
Adam Warren
in the bottom of the ninth, however,
Rickie Weeks
doubled with one out. It looks like a line drive in the box score but it was actually a
broken-bat chopper down
the first-base line that skipped past Teixeira, who was playing off the line against the right-handed Weeks.
After a wild pitch, it appeared Warren might escape the inning when he struck out
Lyle Overbay
on a nice changeup, but
Mark Reynolds
grounded an 0-2 slider past a diving
Yangervis Solarte
at third base for the walk-off hit. Reynolds got the obligatory mob celebration at first base and Brewers fans went home happy.
It was the second straight one-run victory for the Brewers after Saturday's 6-5 win in which they scored off
Alfredo Aceves
in the seventh inning. They were two nice wins for Milwaukee, which had dropped seven of nine before the victories. If there's a baseball question off those games, it's this: Is the Yankees' middle relief a strength or a weakness?
The retirement of
Mariano Rivera
and promotion of
David Robertson
to closer left the rest of the Yankees bullpen a major unknown. So far, I'd give the pen a B-minus grade so far. It's 4-6 with a 3.91 ERA (19th in the majors), although it lost three games this week. The biggest positive is the pen ranks fourth in the majors in strikeout rate, behind only the Braves, Brewers and Diamondbacks. The Yankees have received solid work so far from Warren (0.926 WHIP), one-time prospect
Dellin Betances
, who has 33 strikeouts in 20 innings, and Mariners cast-off
Shawn Kelley
, who picked up four saves when Robertson was injured and is now the primary setup guy.
It's kind of a no-name group other than Robertson, but it has the chance to be a surprising part of the Yankees' 2014 success. The pen will be tested a little more in the next two weeks with
CC Sabathia
landing on the DL
with inflammation in his knee. Aceves will likely move into Sabathia's spot in a rotation that is without
Ivan Nova
for the year,
Michael Pineda
for another month and now Sabathia. With the rotation suddenly thin, the bullpen
has
to be good.
Here are five other issues to think about as we approach the quarter pole:
1. Can the Colorado Rockies hit -- and win -- on the road?
The Rockies lost twice in Cincinnati over the weekend, including 4-1 on Sunday as
Homer Bailey
shut them down. They did score 11 runs on Saturday but they're now 13-5 at home, 10-12 on the road. They're hitting .355/.401/.600 at home (!) and .258/.306/.426 on the road. That's the 12th-best
wOBA
on the road, a big improvement from last season when the Rockies ranked 25th in road wOBA.
You'll hear people talk about the Rockies' pitchers needing to come through, but I think their key will be scoring runs on the road. Over the past 10 seasons (2004-13), the Rockies have the biggest difference between home wins and road wins in the majors (113 more wins at home). Their problem hasn't been winning at Coors Field but winning on the road, and the statistics show their offense declines more away from Coors than their pitchers improve away from Coors.
2. How is Don Mattingly going to sort out this Dodgers outfield situation?
The presumption with that question, I suppose, is that the Dodgers' outfield has been a problem. Guess what? The Dodgers' outfield ranks third in the majors with a .352 wOBA, behind only the Rockies and Blue Jays.
Yasiel Puig
has been great,
Matt Kemp
has been OK and
Scott Van Slyke
has been terrific in limited action.
Andre Ethier
and
Carl Crawford
, however, both have an OPS under .700 and have combined for just three home runs, leading Dodgers fans to wonder if and when prospect Joc Pederson will eventually be given a chance.
Pederson is hitting .373/.481/.679 at Triple-A Alburquerque, with 11 home runs and 10 stolen bases entering Sunday. However, that is Alburquerque, which is a hitters' haven, and Pederson has 41 strikeouts in 35 games, so more time in the minors won't hurt. The other issue is that Kemp appears to be a major liability defensively in center, both by the defensive metrics (-5
defensive runs saved
entering Sunday) and the eye test. Come September, it's possible the best Dodgers outfield will be Kemp in left, Pederson in center and Puig in right, with Van Slyke possibly platooning with Pederson (moving Kemp to center). I don't know where that leaves Ethier and Crawford, but GM Ned Colletti may eventually face the difficult dilemma of sitting two veterans (good luck trading either one) for a rookie who may be the better player.
3. Is there anything positive to say about the Rays right now?
Well, let's see: The rotation is 12th in the AL in ERA, the bullpen is 11th, the offense is seventh in wOBA, the defense is at -6 DRS entering Sunday, and
Wil Myers
and
Evan Longoria
haven't teed off yet. Oh, and the team's record is 16-22. I'm searching ... OK,
Desmond Jennings
is playing well. There have been some injuries in the rotation, but still some stuff I can't figure out. Take
Chris Archer
, Sunday's starter and loser after he allowed eight hits and four walks in five innings. Last year, his slider was one of the nastiest pitches in the game, as right-handers hit .195 with one extra-base hit against. This year, they're hitting .464 against the slider and already have three doubles and three home runs off it. Without that slider, Archer is mostly a two-pitch guy and his changeup isn't good enough yet.
I guess the point in all this: I'm very concerned about the Rays. They always put together a great run at some point during the season, but you have to wonder if the pitching is good enough to do that this season.
4. Which five position players should lose playing time?
OK, let's try these guys:
1. Dan Uggla, Braves (.184/.248/.272):
Of course. Over a year of bad baseball now.
2. Pablo Sandoval, Giants (.189/.262/.295):
The Giants are doing fine without Pablo producing, but this a team that now relies on its offense more than its rotation.
3. Brad Miller, Mariners (.165/.223/.281):
I liked his bat coming into the season but he's been terrible at the plate and made some crucial errors in the field.
Nick Franklin
may not have the range to play shortstop but he's pounding the ball at Tacoma (.376/.459/.677 entering Sunday), and teammate Chris Taylor, more of a legitimate shortstop, is also hitting at Tacoma (.353/.395/.579). The Mariners are a game over .500 and need some offense.
4. Carlos Santana, Indians (.148/.319/.281):
Surprisingly, his defense at third base has been OK, but what's happened to his batting? He's second in the majors in walks so he's still getting on base, but maybe he's taken the whole plate discipline thing a little too far.
5. Josh Reddick, A's (.214/.279/.286):
He plays a mean right field but the bat has gone south since his 32-homer season in 2012. The A's are third in the AL in runs even though they're getting nothing from Reddick, their second basemen or part-time first baseman
Daric Barton
. Expect
Craig Gentry
to continue to get more time in right field if Reddick continues to struggle.
5. OK, how about five pitchers on the hot seat?
1. Clay Buchholz, Red Sox (2-3, 6.44 ERA):
His average fastball velocity is down 1 mph, but does that explain why his batting average allowed is .329? Maybe, as his fastball is getting tattooed at a .413 clip and he's averaging barely five innings per start.
2. Francisco Liriano, Pirates (0-3, 4.64 ERA):
He's never been known for his consistency. It all came together last year, but wild Liriano is back with 21 walks in 42⅔ innings, part of the reason the Pirates' rotation is last in the majors in WAR.
3. Homer Bailey, Reds (3-2, 4.72 ERA):
I'm not that worried about him and he rebounded with a strong effort against the Rockies on Sunday. Still, added pressure comes with that big contract and he'll be expected to get that ERA into the low-to-mid 3s sooner rather than later.
4. Tim Lincecum, Giants (2-2, 5.55 ERA):
Fifty hits and six home runs in 35⅔ innings. Those who questioned the two-year, $35 million contract appear to be correct so far.
5. CC Sabathia, Yankees (3-4, 5.28):
As mentioned, he just landed on the DL for at least two weeks. Can he still win with diminished velocity? We'll see.
April, 4, 2014
4/04/14
12:41
AM ET
Overreact after one series?
Of course
we're going to overreact! We're baseball fans. It's no fun if we just spout things like "small sample size" and "check back in two months." So, what have we learned after one series? Here are a few trends and things to watch, starting with Evan Longoria.
The Rays third baseman went 2-for-4 in Tampa's 7-2 win over Toronto, slugging a three-run homer for his first home run of 2014. So here's the deal with Longoria: If anyone is going to crack the Miguel Cabrera-Mike Trout stranglehold on the AL MVP Award, Longoria is the most likely candidate. Consider his merits:
[+] Enlarge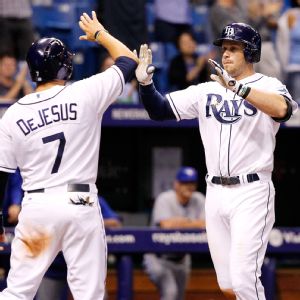 Kim Klement/USA TODAY SportsIs this the year Evan Longoria puts it all together for the Rays?
1. He's off to a hot start! Our guy is hitting .400.
2. He's good. Not including 2012, when he played just 74 games, he's finished fifth, sixth, third and fourth in WAR among AL position players and has three top-10 MVP finishes.
3. The Rays are a good bet to make the postseason. MVP voters love that.
4. Longoria is an RBI guy, averaging 110 RBIs per 162 games over his career. MVP voters love themselves some RBIs.
5. He should knock in more than the 88 runs he did last year, when he hit .265 with just four home runs with runners in scoring position (22 of his 32 home runs came with the bases empty).
In truth, as good as Longoria has been, we've kind of been waiting for that monster season, haven't we? Maybe that's unfair to say about one of the best all-around players in the league (did you see
the play
he made the other night?), but Longoria hit .294 in 2010 and just .269 last season, when his strikeout rate increased to 23.4 percent, easily his highest rate since his rookie season. If he cuts down on the strikeouts, I can see that average climbing over .300 for the first time in his career and the RBIs climbing well over 100.
Other thoughts from many hours of baseball viewing over the past few days:
If they stay healthy, the Giants are going to have the best offense in the National League. On Thursday, they scored five runs in the eighth inning to beat the Diamondbacks 8-5. Angel Pagan is a solid leadoff hitter, and Brandon Belt, Buster Posey, Pablo Sandoval and Hunter Pence provide a juicy meat of the order. I've mentioned Belt as a guy I like to have a big breakout season, and he hit his third home run. Pence seems to get better the higher he wears his pants legs. Posey won't slump like he did in the second half last year. Sandoval hits and eats and hits some more.
The Angels' and Phillies' bullpens look like disasters. The Mariners pounded every reliever the Angels tried in their series and the Angels are suddenly staring at another bad April start: 9-17 last year, 8-15 in 2012. Jonathan Papelbon looked like a shell of his former shelf in getting roughed up the other day.

[+] Enlarge

Thearon W. Henderson/Getty ImagesStruggling Jim Johnson might get hooked from his role as the A's closer.

How long do the A's stick with closer Jim Johnson? OK, he led the AL in saves the past two seasons. He also led the AL last season in blown saves and was second in relief losses. He has two losses already, he's not a strikeout pitcher and the A's have other good relievers. It's never too early to panic about your closer!
How many closers do you have complete confidence in right now anyway? With low-scoring games and tight pennant races, late-inning relief work is going to decide a division title or two. We had six blown saves on Wednesday. The D-Backs coughed up that game on Thursday. The Rockies blew an eighth-inning lead to the Marlins. And so on. Rough few days for the bullpens (in contrast to starters, who generally dominated).
A young pitcher who hasn't yet made his mark to watch: Seattle's James Paxton showcased electrifying stuff in his first start, striking out nine in seven and throwing 97 mph in his final inning.
With Clayton Kershaw missing a few starts, the new Cy Young favorite in the National League: Jose Fernandez. He's must-watch TV, Pedro-in-his-prime eye candy. His run support will be an issue, but the stuff, poise and confidence are that of a wise veteran, not a 21-year-old kid.
In case you had doubts, Michael Wacha is most assuredly the real deal. His changeup is Pedro-in-his-prime nasty. The Reds went 0-for-10 with four strikeouts against it.
Veteran Alex Gonzalez is not going to last as the Tigers' shortstop. He simply doesn't have the range to play there. Stephen Drew, come on down?
Manager on the hot seat: Kirk Gibson. The Diamondbacks are off to 1-5 start, and nine of their next 15 games are against the Dodgers (six) and Giants (three). If the D-backs can avoid digging a big hole over that stretch, the schedule does get a little easier starting April 21, when they play 19 consecutive games against teams that finished under .500 in 2013.
Tyro Zack Wheeler is not Matt Harvey. Hold down your expectations, Mets fans.
We're going to see a lot more shifts this year. I haven't checked the numbers, but anecdotal evidence suggests infield shifts are way up. Expect batting averages to continue to plummet as a result.
Free-agent-to-be Max Scherzer is going to make a lot of money this offseason.
I hope B.J. Upton gets fixed, but I have my doubts. Six strikeouts in his first 12 plate appearances.
Braves first baseman Freddie Freeman is going to have a high BABIP again. Great stroke to all fields, great balance between attacking fastballs early in the count and waiting for his pitch later in the count. He'll be an MVP candidate again.
Clearly, Emilio Bonifacio (11 hits in three games!) is the best player in the NL. OK, seriously: The Royals couldn't find a spot for this guy on their roster? Ned Yost, everyone!
Rookie Xander Bogaerts is ready NOW. He's hitting .556 with three walks and one strikeout in three games. Maybe the power takes a year or two to fully develop, but his mature, disciplined approach at the plate is going make a star right away.
Dave Cameron of FanGraphs suggested this and it's not outrageous: With Jose Reyes injured, Brad Miller might be the best shortstop in the AL. Or maybe Bogaerts. Could have been Bonifacio, if only the Royals had kept him!
Best team in baseball: The Mariners ... too early?
April, 2, 2014
4/02/14
1:05
PM ET
Here's the deal: It's distinctly possible I am inherently biased. After all, as most of you know, I am a Mariners fan since the days of Ruppert Jones and Danny Meyer and as this
recent article
at Baseball Prospectus argued, we all tend to overrate our favorite teams heading into the season, even those of us who study all the statistics and projections.
But if you're looking for a surprise team for 2014 -- this year's Pirates or Indians -- the Mariners may very well be your best bet. By surprise team, I mean a team that finished below .500 the year before; I'd suggest expanding that to all that finished under .500 in each of the past two seasons. That eliminates teams such as the Giants or Angels who were pretty good in 2012 (the Giants won the World Series, of course) and wouldn't exactly be a surprise if they contended.
That leaves the Cubs (nope), White Sox (don't actually fit our criteria but don't see them contending), Rockies (maybe), Astros (not yet), Marlins (unlikely), Mets (less likely), Twins (bad team), Phillies (don't meet our criteria but they're awful), Padres (possible) or Blue Jays (tough division).
So, that leaves the Mariners. Here's why:
1. The AL West could be ripe for the taking. The Rangers have more injuries than a Civil War regiment, the A's lost their top two starters from last year, the Angels have pitching questions and the Astros are three years away. Even if the Mariners don't win the division, if the AL West isn't as strong as it has been the past couple of years that would bode well in the wild-card race.
2. They have a superstar pitcher in
Felix Hernandez
and now have a superstar hitter in
Robinson Cano
. The Cano upgrade will be huge -- Mariners second basemen hit .214/.289/.330 last season. He gives the Mariners their first legit middle-of-the-order bat in years and helps extend the lineup one spot deeper than a season ago.
[+] Enlarge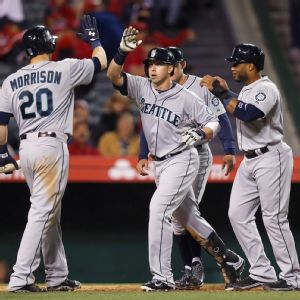 Jeff Gross/Getty ImagesJustin Smoak's six RBIs have helped the Mariners to a 2-0 start.
3. Their core hitters are all at the ages when players generally peak.
Justin Smoak
and
Michael Saunders
are in their age-27 seasons while
Kyle Seager
,
Dustin Ackley
and
Logan Morrison
are 26. It's not that those guys are great players, but considering their ages and experience there's a good chance they improve collectively as a group and a good chance one of those guys breaks out with a big season.
4.
Brad Miller
can hit. I like this kid. His defense at shortstop is an issue but he had a solid rookie season (.265/.318/.418), a huge spring, can run (although he's not necessarily a big base stealer) and looks as if he'll enjoy hitting in front of Cano. I can see him hitting .285 with 15 home runs and a bunch of doubles and triples.
5. The defense will be better. It's still a concern -- Miller booted a routine grounder Tuesday, Ackley failed to run down a catchable fly ball in left Monday -- but the defense was so bad last year (minus-99
defensive runs saved
, 29th in the majors), it has nowhere to go but up.
Raul Ibanez
,
Jason Bay
and
Michael Morse
are no longer around with their statuesque efforts in the outfield, so it's more addition by subtraction as much as anything.
There is the scary possibility that we'll see Morrison and
Corey Hart
too much in the corners, although hopefully they'll just ending up sharing time at designated hitter. It's not a good defense, but shaving even 40 runs would be worth an extra four wins.
6. There is potential improvement in the rotation. Yes,
Hisashi Iwakuma
and
Taijuan Walker
began the season on the disabled list, but they hopefully should be ready in a few weeks. The Mariners will have to weather April -- and 22 of their first 25 games are against division opponents -- but if Iwakuma comes back strong (remember, he was third in the Cy Young voting last season), the Mariners will have one of the best one-two punches in the league.
They just need the rest of the guys to step up --
Erasmo Ramirez
looked good in his debut,
James Paxton
starts Wednesday night, veteran
Chris Young
will try to stay healthy for more than three weeks and rookie
Roenis Elias
will start the year in the rotation. Again, it's addition by subtraction as
Joe Saunders
,
Aaron Harang
and
Brandon Maurer
combined for 68 starts and a 5.60 ERA in 2013. Shaving even a run off that ERA would be worth about 40 runs with room for even more gains.
7. The bullpen will be better. The Mariners ranked 29th in the majors with a 4.58 bullpen ERA -- but they ranked fourth in strikeout percentage, a sign that there are some good arms down there. They signed
Fernando Rodney
to be the closer and while he has to prove he can succeed away from Tampa Bay, the Mariners should be better in the late innings (they lost six games they led heading into the ninth and were 6-15 in extra innings).
8.
Nick Franklin
is good trade bait. If they wish to upgrade center field or find a starter down the road, Franklin could bring some help.
9. The projection systems see a close AL West race. Baseball Prospectus'
PECOTA projection
has the top four teams between 87 and 80 wins. FanGraphs now has the top four teams all
between 85 and 83 wins
.
10. You never know.
March, 24, 2014
3/24/14
11:24
AM ET
Let's catch up on a few things ...