July, 6, 2013
7/06/13
10:30
AM ET
Over the next month, we're going to present 30 deals in 30 days: The best trade deadline deal ever made by each team.
THE TEAM:
Miami Marlins
THE YEAR:
1999

THE SITUATION:
The Marlins were on their way to 98 losses, just two seasons after their 1997 World Series triumph. In their rebuilding mode, they were still looking to dump assets for future value and they had hard-throwing 25-year-old reliever
Matt Mantei
, who had racked up 50 strikeouts in 36.2 innings. On July 8, the
Arizona Diamondbacks
were 1.5 games out of first place, but veteran closer
Gregg Olson
had been struggling with 11 saves and six blown saves. They needed an upgrade in the pen.
THE TRADE:
The Marlins traded Mantei for minor league pitcher
Brad Penny
, reliever
Vladimir Nunez
and a player to be named, minor league outfielder
Abraham Nunez
. The trade was questioned at the time from the Diamondbacks' perspective, as Penny was viewed as one of the top pitching prospects in the minors (Baseball America had rated him the No. 5 prospect in baseball before the season). Mantei had also missed most of the 1997 with an injury. Abraham Nunez was also a highly regarded prospect and would be ranked No. 30 overall by Baseball America before the 2000 season.
THE AFTERMATH:
Mantei assumed the closer role for the Diamondbacks and saved 22 games with a 2.79 ERA the rest of the season as Arizona went on to win the National League West. In Game 4 of the Division Series against the
New York Mets
, however, Mantei served up the series-losing home run to
Todd Pratt
. He never was able to remain healthy and missed most of the 2001 season, when Arizona won the World Series. For the Marlins, Nunez never developed, but Penny would win 48 games for them, including two in the 2003 World Series triumph over the
New York Yankees
. Penny would later be traded to the
Los Angeles Dodgers
; part of the deal returned reliever
Guillermo Mota
, who would be part of the
Josh Beckett
trade with Boston that brought
Hanley Ramirez
and
Anibal Sanchez
to the Marlins.
July, 6, 2011
7/06/11
12:00
PM ET
By
Christina Kahrl
| ESPN.com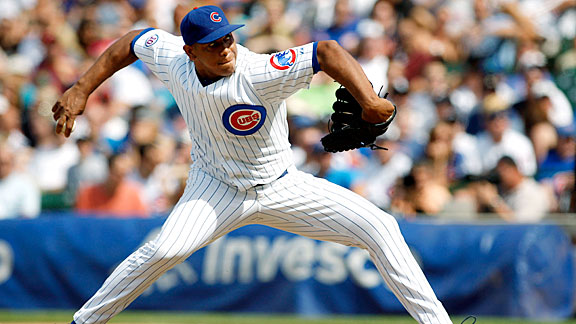 Jerry Lai/US PresswireRelievers like the Cubs' Carlos Marmol have contributed to this era's high strikeout totals.
To add some perspective to the overall rise of the strikeout, let's make a quick switch to the conversation and move from K/9 to the total percentage of plays that end with a strikeout.
That done, this year pitchers are striking out batters 18.4 percent of the time, slightly lower than last year's 18.6 percent, but in the same vicinity, and that's consistent with the steady increase in strikeouts we've seen over the past 30 years. For the sake of comparison, in 1980 batters were being struck out 12.7 percent of the time, which represents an inflation rate for strikeouts of a little more than 46 percent over three decades.
Just in case you've got
the
Year of the Pitcher, 1968, up on a pedestal (or a higher mound), for the sake of comparison you'll find that was when batters were striking out 16 percent of the time. Not shabby, but that's a clip major league hitters shot past in the early '90s without looking back. Of course, not even lowering the mound had a critical impact on MLB's overall strikeout rates -- it took adopting the DH in 1973 to really bring it down to where it was in 1980.
Heck, thanks to the power of Baseball-Reference.com, let's run this as a little quick and dirty table, moving through five-year increments starting in 1980 on up to last year, with 1968 and 2011 tacked on for good measure.
K%
is self-explanatory, while
BIP%
is the rate of balls in play;
Mr. Average
is an example of an ERA title qualifier whose K% was around MLB-average that year.
The result: Strikeouts? Up, up, up. Balls in play? Not too coincidentally, down, down, down.
I won't pretend to claim exactitude in my selections of "Mr. Average," since I went for people with name recognition close to the MLB-average strikeout rate. That said, I don't think I'd be hazarding all that shocking a guess if I suggested that the guys at the end of this table throw harder than the guys at the beginning.
Having thrown all this out there, there are three additional areas worth touching on: The changes in how often you'll see pitcher's counts and how often then wind up a strikeout, the changing use of bullpens and relievers, and the impact of what all these strikeouts mean in terms of balls in play and particularly in terms of defense.
The count:
It shouldn't surprise you at all that in comparing data from 1990 and 2011, symptomatic of the rise of strikeouts, we're seeing more at-bats reach pitcher's counts (0-2, 1-2, but also 2-2 and 3-2), and hitters are striking out more frequently once they get into these counts (generally about 2-3 percent more often). Call that a reflection in the change of approach, or of better pitchers, or umpires reading those memos about speeding up games, or perhaps all of these things and more, but it's a day-to-day fact of life for big league hitters that they're more likely to get behind, and more likely to whiff once they get there.
Relievers:
This goes back to
something I wrote a couple of weeks ago
about how, in today's lower-scoring environment, starters are pitching later into their ballgames, which in turn creates fewer possible plate appearances and outs for relievers. With teams nevertheless still carrying seven relievers per pen on average, one way of looking at it is that this means fewer things for them to do, but the other is that it becomes that much easier for a manager to secure the platoon advantage on defense, or get an advantageous batter/pitcher matchup in general.
As a result, it really shouldn't be all that surprising that relievers these days are striking out batters 20 percent of the time
on average
, or about as often as Nolan Ryan was striking people out when he pitched in 1980. But it's every day for every team, for roughly a third of every ballgame, and that's before we get to today's truly spectacular nothing-in-play people like the Cubs'
Carlos Marmol
.
One interesting thing to note: In 1968, the reliever strikeout rate was
lower
than that of starting pitchers, something you just don't see any more, and won't.
Defense:
After the Rays put their Devil in his hell in 2008 and flipped from baseball's worst defense to one of its best, it became fashionable in sabermetric circles to talk a lot about the new importance of defense. Now, in the broad strokes, sure, you didn't want to field what very well might have been baseball's worst defense ever, as the 2007 D-Rays had been while enduring a modern-record worst Defensive Efficiency (.652).
However, nowadays balls in play per game are happening a lot less often, and Defensive Efficiency marks these days are still worse overall than they were in 1980, when a higher volume of plays
had
to be made in the field, because people weren't being struck out. Thirty years ago, 76 percent of all plate appearances ended with a ball in play; that dropped to 70 percent in the '90s, and it's below that at 69 percent today. To put it another way, thirty years ago the teams you'd see in a game were fielding almost six more balls in play per game than you'll see from your seats today. Where did those plays go? You already know -- they're happening at home plate.
So where does defense come in? Well, think about it: More strikeouts means more time spent with guys standing around in the field watching all the whiffery. It means that not only is there less chance that a ball in play is going to happen in the first place, there's that much less possibility that ball is going to get hit in the general direction of one of the lowest-percentage spots on the field, like the outfield corners -- or where guys like
Lance Berkman
happen to be parked these days.
Christina Kahrl covers baseball for ESPN.com. You can follow her on Twitter.
May, 16, 2011
5/16/11
10:40
AM ET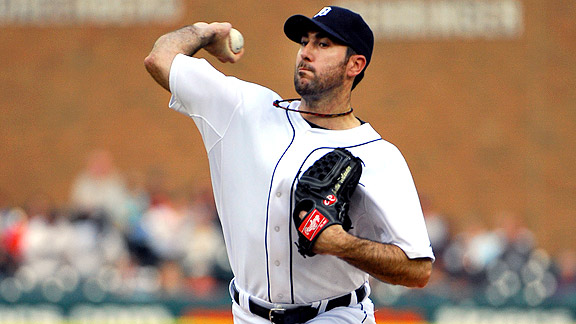 Steven King/Icon SMITigers pitcher Justin Verlander is leading a streaking Detroit team.
The Indians started 20-8. Royals phenom Eric Hosmer, the first tangible sign of the promised franchise revival in Kansas City, has two homers and five RBIs in his first eight major league games. Ozzie Guillen was tweeting from the White Sox locker room only moments after being ejected. The Twins are the traffic accident at which gawkers slow down and stare as they drive by. Through all of this, the
Detroit Tigers
have been merely the AL Central's back story. But that's changing.
On May 2, Detroit was overlooked and ignored as it sputtered to a seventh straight loss and a 12-17 start. The Tigers have lost just once since. Detroit has won seven straight and 10 of its past 11. A win tonight at Comerica Park in the first of a two-game visit from Toronto would be eight straight wins and match the Tigers' longest winning streak since 1984. Yes, THAT 1984. Detroit's year of Gibson, Morris, Trammell, Whitaker and Barbaro Garbey (couldn't resist.)
Clearly, the explanation for this Tigers' wake- up call begins with
Justin Verlander
. Then again, we should have seen this coming. Here from ESPN Stats & Info are Verlander's numbers in May over the past three seasons:
Starts: 15
W-L: 11-2
ERA: 1.99
SO-BB: 116-31
Opp. Avg: .170
In his past two starts, Verlander has allowed just two hits over 17 innings, but what makes Detroit's ace even more interesting is the different ways he's beating his opponents. In his no-hitter at Toronto, Verlander blew away the Blue Jays, coming just one walk away from a perfect game. He was untouchable, with an average fastball velocity of 97.3 mph. Verlander threw five pitches over 100 mph and all five came in either the seventh or eighth inning. Even his non-fastballs were power pitches: 23 sliders, the second-most he's thrown in a game over the past three seasons.
Last Friday, in his 3-1 win over the Royals at Detroit, Verlander changed his game plan: freezing Kansas City hitters waiting on those fastballs with kneebuckling curves. According to ESPN S&I, Verlander threw 24 curveballs among his 105 pitches, his highest percentage of curveballs in a start this season. Kansas City hitters were 0-for-8 on at-bats ending with a curveball, including four strikeouts.
Brad Penny
used to be a power pitcher. No more. Penny signed a bargain free agent deal with Detroit: 1 year for $3 million with another $3 million in incentives. Through his first four starts, Penny was as far away from a performance bonus as a player could be, posting an 8.44 ERA and 1.69 WHIP. Over his last five starts, however, he's 4-1 with a 1.51 ERA and 0.93 WHIP.
Penny is now getting batters to hit pitches for outs. Over the course of the last few weeks, Penny has featured a new sinking two-seamer and it's working. FanGraphs lists Penny's O-Contact Percentage, which is the percentage of times a batter makes contact with the ball when swinging at pitches thrown outside the strike zone, at 82.8 percent, by far the highest of his career and a huge increase over the MLB average of 67.2 percent. Penny's percentage of strikes that were swung at and missed is only 4.4 percent, by far the lowest of his career and barely half the 8.4 percent average. Penny's K/9 ratio is down to 3.63, a significant drop from his 5.66 mark each of the previous two seasons. He's not missing any bats but he's creating pitch-to-contact outs.
Penny's contact percentage is 90.1 percent, by far the highest of his career and well above the league's 80.8 percent average but he's effectively letting his fielders behind him record the outs. Penny's BABIP (batting average on balls in play) is down to .251 this season, a huge improvement from his .326, .300 and .312 marks over the previous three seasons. He threw 15 groundball outs in Saturday's 3-0 win over the Royals. Opponents are hitting only .245 against Penny, a vast improvement over his .293 mark last year and his .267 career average.
Today,
Max Scherzer
faces the Blue Jays and attempts to improve his record to 7-0. Scherzer's 3.20 ERA is second among Tigers' starters only to Verlander and he's struck out 51 batters in 50 2/3 innings. Tuesday,
Rick Porcello
tries to match Verlander and Penny with his fourth win. No, it's not as sexy as the Phillies' Phab Four rotation but then again, those 1984 Tigers did not have a 20-game winner on their staff. This might be a modern-day version of Jack Morris, Dan Petry and Milt Wilcox.
The hitting has been there to support it as well. The Tigers have two of baseball's hottest bats.
Victor Martinez
is batting .468 over a 13-game hitting streak that includes two homers and 15 RBIs.
Jhonny Peralta
is batting .441 over a 10-game hitting streak with four homers and 11 RBIs.
Miguel Cabrera
's spring training alcohol issue has been a non-factor with Cabrera producing at a .309/.440/.540 clip with seven homers and 27 RBIs while
Alex Avila
is developing, both offensively and defensively, into one of the American League's best catchers.
Cleveland started 20-8 but has gone just 4-5 since. Detroit is 10-1 since May 2. While they're not the '84 Tigers, they still seem to have a little bit of Barbaro Garbey in them.
Follow Steve Berthiaume on Twitter: @SBerthiaumeESPN.
August, 6, 2010
8/06/10
6:22
PM ET
By Jack Moore, Disciples of Uecker | ESPN.com
Why will the Brewers contend in 2011?
1. The Brewers have already patched up their bullpen.
On opening day, the Brewers' bullpen contained (among others)
Trevor Hoffman
and
Claudio Vargas
. After two awful starts,
Jeff Suppan
joined this awful duo. Those three all had ERAs above 6.90 in April and May, and they combined for a stunning minus-2.96 WPA – mostly via Hoffman and his five blown saves, but also from the general incompetence of the trio. That means that this group was three wins worse than merely average relievers.
Since then, Hoffman has been replaced as closer by
John Axford
, Suppan has been replaced in the rotation by
Chris Narveson
and in the bullpen by
Kameron Loe
.
Zach Braddock
has taken the role of top lefty from
Mitch Stetter
(a middling-at-best LOOGY who was utterly incompetent against RHB). Vargas's low-leverage innings have been split between players like
Chris Capuano
, who is an interesting project if nothing else, and
David Riske
, who is merely biding the time until his contract expires.
Axford, Braddock, and Loe have been fantastic since joining the Brewers, combining for plus-2.22 WPA in their time on the team, largely coming after Jeff Suppan's June 7 release. All three will be under team control next year, making them near locks to be important bullpen pieces next season, added to relievers
Carlos Villanueva
and
Todd Coffey
.
2. The Brewers have a favorable payroll situation.
With the toxic contracts of Jeff Suppan,
Bill Hall
, and others coming off the books, the Brewers will shed roughly $45 million in contracts after this season. After arbitration raises, I estimate that the Brewers will be about $25 million below the 2010 opening day payroll, even if
Prince Fielder
remains a Brewer. That means they'll have some money to play with.
The Brewers aren't losing much, either. The only important player from 2010 who's on his way out is
Jim Edmonds
, but he can be replaced in-house by either
Carlos Gomez
or
Lorenzo Cain
. At every other position, the Brewers are solid. CHONE's August update projects the Brewers with one above-average player (+2.0 WAR per 150 games) at each position.
That means the Brewers can spend most, if not all, of that "extra" $25 million on their weakness: starting pitching. The market this winter isn't great, but
Javier Vazquez
,
Brandon Webb
,
Ted Lilly
,
Jon Garland
(likely to decline his mutual option),
Jake Westbrook
, and
Kevin Millwood
, among others, are all interesting options. Perhaps a better move would be to use some of that cash to deal with a team like the Marlins, who might attempt to move
Ricky Nolasco
's high arbitration award in the offseason. They could also trade Prince Fielder for pitching, as
Mat Gamel
could step in and likely be an average first baseman. For the right pitcher, trading Fielder could actually make the Brewers better in 2011.
The roster certainly isn't perfect, but much of it is returning and there's money to fix the holes.
3. The NL Central is weak.
St. Louis has a good team this year, certainly, but it's not without its holes. Perennial All-Stars
Albert Pujols
,
Adam Wainwright
,
Chris Carpenter
, and
Matt Holliday
form an excellent core, but there are question marks after those four players. The back of the rotation has struggled mightily, as the Cardinals have attempted patches with
Blake Hawksworth
and Jeff Suppan, eventually trading
Ryan Ludwick
away for Jake Westbrook. Losing Ludwick, one of the better right fielders in the NL, will hurt next year, and Westbrook will be a free agent. They also lose
Brad Penny
, who has been injured much of the year, and
Felipe Lopez
, who was an absolute steal in last year's free-agent market. The Cardinals have played like an 89-win team this season according to
Beyond the Box Score's power rankings
(looking at cW%). They have a modest amount of money to spend this year, but they are losing enough to the point where I wouldn't feel comfortable projecting any sort of major increase, especially given that St. Louis's top financial priority will be locking up Albert Pujols past 2011, the last year of his current contract.
The
Cincinnati Reds
have played about as well as the Cardinals so far this year, but there's really only one word to describe why I'm not super high on this team heading into next year:
regression
. Will
Scott Rolen
continue to be a power threat in his mid 30s? Is
Mike Leake
a sub-4.00 ERA pitcher despite skipping the minor leagues? Is
Arthur Rhodes
really one of the best left-handed relief pitchers in baseball? I'm inclined to say "no" to all of these questions. There's enough young talent on this Reds team to still be solid next season, and they might add Aroldis Chapman to the mix as well, and they won't have
Edinson Volquez
recovering from Tommy John surgery for half a season. That said, there's no reason to believe that the Reds are anything more than an 89-win team themselves, and simple regression says that we should expect something closer to 86 or 87.
4. "Contending" doesn't mean favorites.
The favorites to win the division next year will be, barring the unforeseen, Cincinnati and St. Louis, in some order and for good reason. However, they're not elite teams, and given the crazy things that can happen during the course of the season, they could each just as easily end up as .500 squads as 95-win teams. The Brewers look like a true talent 81-win team right now. They've played .519 baseball since releasing Suppan, and that's just above what the Beyond the Boxscore rankings expect (a .505 cW percent). I would feel pretty confident calling the roster on hand an 81-win team for next season.
The Brewers had a similar projection opening the season last year, and were given playoff odds of about 17 percent by
Baseball Prospectus
prior to the season. With the money available to plug holes in the rotation, the Brewers can definitely make themselves a preseason contender (say, 30-40 percent playoff odds) prior to the season, even if they're not favorites.
Jack Moore writes about the Brewers at Disciples of Uecker, a member of ESPN.com's SweetSpot Network
.
May, 27, 2010
5/27/10
3:54
PM ET
Remember when the Cardinals were overwhelming favorites to win another division title? Well, they're not so overwhelming anymore. Not with
Brad Penny
down for a few weeks and
Kyle Lohse
down for ... well, nobody seems to know but
this doesn't sound good
. Joe Strauss:

Cardinals starting pitcher Kyle Lohse is suffering from a rare condition that either requires surgery or necessitates a permanent role change, say sources familiar with the diagnosis given Lohse on Wednesday by an Anaheim, Calif., specialist.

Hand and wrist specialist Dr. Steven S. Shin met with Lohse for less than an hour at the Kerlan-Jobe Orthopedic Clinic about 90 minutes north of San Diego. Shin found Lohse to be suffering from exertional compartment syndrome, a condition in which the sheath covering a muscle in the pitcher's forearm fails to allow it to expand.

--snip--

The Cardinals appear increasingly likely to examine trade and free agent options should Lohse indeed be lost for a significant portion of the season. Rookie P.J. Walters is scheduled to make this afternoon's start against the Padres in place of Brad Penny, who is on the disabled list with a strained muscle in his upper back.

Manager Tony La Russa insisted before Wednesday night's game that no decision had been made on who will inherit Saturday's start against the Chicago Cubs. Adam Ottavino could be promoted from Class AAA Memphis to make his major-league debut, or Blake Hawksworth or Kyle McClellan could be assigned a spot start.

None of these guys are jokes. Before this season, Hawksworth, Ottavino and Walters were ranked by Baseball America as the Cardinals' 8th-, 11th-, and 23rd-best prospects. But Hawksworth doesn't have a reliable third pitch, Ottavino's got a 4.62 ERA in 35 Triple-A starts, and Walters hits 90 on the speed gun only after a couple of bowls of Wheaties.*
* One thing I don't know: Why isn't Lance Lynn a candidate, too? He entered this season just behind Jaime Garcia on the prospects list, and has a 3.31 ERA in nine starts with Memphis.)
Which isn't to suggest they can't pitch. But it's hard to win with two Triple-A starters in your rotation. One, sure; lots of teams have a questionable No. 5 starter. But if Brad Penny doesn't come back strong in June, the Cardinals are likely to get into the
Roy Oswalt
/
Cliff Lee
sweepstakes, and hard. Unfortunately, the Cardinals don't have a great deal of talent in their farm system, so putting together an attractive package might be problematic. They probably just have to hope Penny's healthy and cobble together starts as necessary.
December, 11, 2009
12/11/09
6:07
PM ET
As Larry Stone writes, all those free-agent bargains that everyone was expecting
might not actually be there
:

I got a hint of that before the winter meetings when a couple of GMs complained privately about the Phillies' signing of third baseman Placido Polanco to a three-year, $18 million deal. They were dismayed that Polanco, who hadn't played third-base regularly since 2002, got three years.

Then the winter meetings started, producing more deals that were groaners for teams hoping to sneak in a bargain or two. The one that seems to be getting the most grief is Houston's three-year, $15 million contract for reliever Brandon Lyon. There were eyebrows raised over other deals given to non-closing relievers, who once upon time were a breed that teams could pick up cheaply on the free-agent market. But LaTroy Hawkins (two years, $7.5 million), Billy Wagner ($7 million guaranteed) and Lyon are making teams wonder about that. And when Brad Penny, coming off two lousy years, gets $7.5 million, and Rich Harden, who can never stay healthy, gets $6.5 million plus incentives, and Randy Wolf gets $29.75 over three, then it's looking like a definite seller's market.

I'm not so sure about that. There was some crazy stuff last year. Especially
Bobby Abreu
signing for $5 million guaranteed.
I mean, sure: the relievers have been getting too much. If there's one thing that GMs still haven't figured out well enough, it's that relief pitchers are highly fungible. That said, only the Lyon contract is patently ridiculous. Hawkins is solid, and Wagner isn't far removed from being one of the game's better relievers. Penny was hurt in 2008 and terribly unlucky in 2009 (until he joined the Giants, for whom he was incredibly lucky), but he's been a good pitcher for a long time.
Polanco? He's been worth about $40 million over the last three years; does $18 million over the next three years really seem out of line? No, he hasn't played third base lately. But he has played third base, and played it well.
Wolf? He's been worth $22 million over the last two years; does $30 million over the next three seem out of line? Yeah, a little bit. It's not crazy, though.
I'm not ready to draw any conclusions yet, except that baseball guys still overvalue relievers who throw hard. And we're not talking gigantic amounts of money here. There hasn't been a single contract given out this winter that ranks among the 20 worst free-agent deals of the last five years. Maybe we'll see one, still. But we haven't, yet. In the old days -- I mean, like two or three years ago -- the baseball teams wildly overspent. Last year, maybe they overcompensated a bit because of the economy. Now, everyone seems to discovered a natural balance. It's strange, all this sanity.
August, 27, 2009
8/27/09
1:48
PM ET
It's a tough business, this baseball. From the
Boston Herald
:
Veteran right-hander Brad Penny requested and received his release tonight in a move that clears a roster spot for reliever Billy Wagner and gives Penny time to join a new team before postseason rosters are set.

"I asked for my release and I got it," Penny said.

Speaking after last night's 3-2 victory over the White Sox, Penny thanked the Red Sox for taking a chance on him.

"I enjoyed playing with all of the guys," he said. "I played for a great manager on a great team. I had a great time. I enjoyed it. I wish things had worked out better, but that happens."

"I had some bad breaks and made some bad pitches," he said. "But I'm healthy, and that's what I'm happy about. This isn't last year, when I was hurt. If that had been the case, I'd be upset. "All in all I had a great time here. My shoulder is healthy and I'm glad I came here. It was a blessing."
I don't suppose Red Sox fans really care, but Penny
did
catch some bad breaks. At this moment, Penny's career ERA is 4.18. This season, his strikeout and walk rates are dead even with his career numbers, which is particularly impressive considering that he'd always pitched in the National League before this season.
As the linked piece notes, the Red Sox took a low-cost ($5 million) flyer on Penny, and in every respect but one the flyer paid off handsomely. Unfortunately, that one respect is the bottom-line result: 7 wins, 8 losses, and a 5.61 ERA. Penny's been particularly bad since the All-Star break, going 1-5 with a 7.82 ERA.
Even then, though, his underlying performance hasn't been disastrous. He's still throwing hard, and he says he's healthy. As for making "some bad pitches," sure: he has. They all do. But Penny's given up 17 home runs in 132 innings, hardly anything worth obsessing over.
Brad Penny entered this season having allowed a .303 batting average on batted balls in play. This year, despite throwing plenty of strong and well-aimed pitches, he's given up a .327 batting average on those same balls.
It seems the Red Sox can't use him because they can't afford to be patient and they have the luxury of addressing their impatience. But if the Red Sox can't, I can think of about a dozen contending teams that can. And the rumors are already flying.
June, 12, 2009
6/12/09
2:13
PM ET
Ben Nicholson-Smith posts
a mini-Link-O-Rama
about the Red Sox and -- with
Brad Penny
pitching well last night and
John Smoltz
supposedly starting next week -- their rotational surplus.
What do you do with six starters? Well, you can make one of them a reliever. But Penny doesn't want to be a reliever, and I'm guessing that Smoltz doesn't, either (even though he's performed brilliantly as a reliever before).
Also, the Red Sox don't really need another reliever. Have you seen their bullpen lately? Aside from swingman Justin Masterson, Takashi Saito's 2.53 ERA is the highest among Boston bullpenners with at least 20 innings. Granted, Manny Delcarmen (2.08) and Ramon Ramirez (1.86) haven't pitched as well as their ERA's suggest. Nobody's moving them, though.
Bottom line: Red Sox relievers have the lowest (2.88) ERA in the majors, and so it's not likely that they'll shift one of their valuable starting pitchers to another role.
Penny's got a 5.32 ERA, so it might seem like an easy choice: trade Penny for whatever you can get.
Most of the damage to Penny's ERA was done in April, though, when he was absolutely horrible in four starts, with an 8.66 ERA and more walks (11) than strikeouts (6?). In Penny's eight starts since April, he's got a 4.10 ERA with nine walks and 38 strikeouts in 48 innings. Those aren't great numbers, but they're certainly good enough for any other team in the majors. Is Smoltz likely to do better?
At $5 million for the season, Penny's a bit cheaper than Smoltz, whose base salary is $5.5 million, but will earn (roughly) another $3 million if he's on the 25-man roster from next week through the end of the season. And he picks up another $500,000 if he's traded. Which I mention only because ... Why not trade Smoltz instead of Penny? The Red Sox (and Smoltz) have been teasing us all spring with the prospect of seeing the future Hall of Famer pitching for the Sox, and it's an attractive prospect indeed ... But does it make sense, now?
Maybe. Maybe not. But the Red Sox probably can't get much for Smoltz before he actually shows something in the majors, which means that for the moment at least, Penny's the one with some real trade value. Oh, and dare I again mention Clay Buchholz, who's one of only three Triple-A starters with an ERA below 2 ... and is now the only one of the three still wasting away down there?
The Red Sox have seven starting pitchers without even counting Masterson and Michael Bowden, both of whom would be starting for a lot of clubs. Usually that's a good problem to have, and probably will be in this case, too. But I suspect that some feelings will be hurt, some feathers ruffled in the process of sorting everything out.
May, 27, 2009
5/27/09
10:15
AM ET
Remember
John Smoltz
? Well,
he's on a schedule
...
If Smoltz continues at his current progression, he'll wait four days, and then move up to Triple A Pawtucket. Another four days off, another start with Pawtucket. If Smoltz sticks with his schedule, his first Red Sox start would be June 16, a home game against the Florida Marlins. (His second would be five days later against the Atlanta Braves, with whom Smoltz spent the first 20 years of his career.)

"This, amongst anything else that I've ever done in my career, is going to take a lot of mental toughness to be patient," Smoltz said. "I want to come out and set the world on fire, but it's going to be patience that's going to allow me to get to that point."

--snip--

The night began with a "hiccup," Smoltz said. He had thrown with major league baseballs, which have higher seams than minor league balls. "There's a big difference," Smoltz said.

The umpires presented Smoltz Eastern League balls. "But I wasn't going to throw the Eastern League balls," Smoltz said. He apologized to the umpires and ultimately got the balls he wanted to throw.

--snip--

"Everywhere I've gone around here, it's been unbelievable," Smoltz said. "They keep asking the same old question: 'When you going to be there?' I have to temper what I'm doing. Because I can't wait, either."
OK, two things here:
1. They let the pitcher throw whichever balls he chooses? I suppose there might be some rule about major leaguers on rehab assignments, but this is certainly the first I've heard of such a thing.
2. In addition to asking Smoltz, "When you going to be there?" someone might ask the Red Sox, "Where does he fit into the rotation?"
Right now, the Red Sox are set in three spots with Tim Wakefield, Josh Beckett, and Jon Lester. They're paying Daisuke Matsuzaka $8 million this season, and he looked pretty good last Friday in his first start since coming off the DL. And Brad Penny's 5-1 despite a 5.96 ERA (and a nondescript strikeout rate).
Obviously, Penny's the first to go. But should Smoltz be the first to come? Monday, Clay Buchholz very nearly threw a perfect game in the International League. In 25 career Triple-A starts, he's got a 2.49 ERA and 147 strikeouts in 130 innings. I'm not sure it's a stretch to suggest that he might be the third-best starter in the entire organization (behind only Beckett and Lester).
The Red Sox knew during spring training that they might wind up with six or seven good starters. They figured they might need six or seven, at some point. And so they have. But what happens if all six or seven are healthy and available at the same time? It's quite possible that we'll find out in a few weeks.
May, 14, 2009
5/14/09
12:31
PM ET
So, is it time to start a Free
Clay Buchholz!
campaign? Because he certainly
doesn't have anything left to prove
in the bush leagues. Amalie Benjamin:
How much more can he do? Clay Buchholz has been out of control on the mound lately, in a good way. Buchholz struck out 11 batters over eight scoreless innings in this morning's start against Toledo. He allowed just four hits in his outing, and walked no one.

Buchholz now has a 1.03 ERA in six starts over 35 innings. He's allowed just 16 hits and four earned runs with 37 strikeouts and 10 walks. Batters are hitting .130 against him. Over his last 20 1/3 innings, Buchholz hasn't allowed a run, and has struck out 25 batters.

But there's also no spot for him in the rotation at the moment, despite the fact that the Sox starters are at the bottom of the American League in ERA.

"There's an aspect of this that he has no control over," Sox director of player development Mike Hazen said this afternoon. "He's upholding his end of the deal. He's putting the pressure on and forcing his way. It's a long baseball season. Something's going to happen. He's doing well."

--snip--

"He's been at Triple A before. He's been sent down before. He's been up-and-down. The opportunity thing is not new. I think this can be probably a frustrating aspect of the game, when sort of the opportunity -- when you believe you're ready and when the opportunity matches up. Sometimes those can be a little frustrating. But he's done a great job. He has worked his butt off. It's good to see."
Something
is going to happen? Let's see ... How about
Brad Penny
giving up 27 runs in 30 innings and walking nearly as many hitters as he strikes out? Might that count as
something
?
Apparently not, because that something has happened, precisely.
But Buchholz's problem isn't Brad Penny. His problem is Daisuke Matsuzaka, who apparently will be rejoining the rotation soon. His problem is also Justin Masterson, who's pitched well enough in five starts to deserve more of them. And perhaps his biggest problem is that the Red Sox quite obviously don't trust him. If they did, they wouldn't have picked up Penny and John Smoltz (another problem) last winter. They don't trust him because he went 2-9 with a 6.75 ERA last season in the majors (in the minors, he was his usual dominant self).
It's time to do something, though. Buchholz's value can only go down. If the Red Sox aren't going to trust him, they should trade him. If they are going to trust him, they should get him into the big club's rotation -- or for that matter the bullpen, except that's yet another problem because the bullpen has been lights-out this spring -- soon, before he starts to wonder what he's doing wrong.
It's one thing for the Red Sox to not trust Buchholz. It's another thing entirely if he stops trusting himself.