SweetSpot:

Brandon League
April, 9, 2013
4/09/13
12:06
AM ET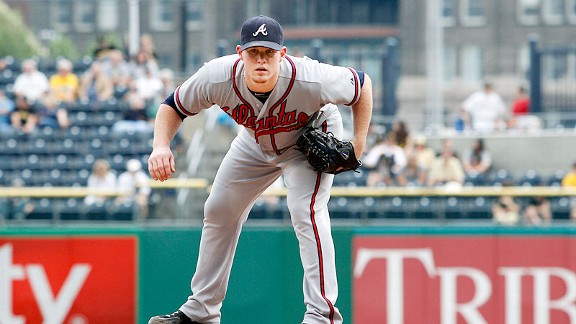 Justin K. Aller/Getty ImagesCraig Kimbrel led the NL in saves last season and is considered the most dominant closer in baseball.
The Tigers need one. The Brewers thought they had one. The Cubs already have a new one. Some teams probably wish they had a different one. Closers are already melting down in rapid fashion.
On Monday afternoon, with closer
Jason Motte
sidelined with a sore elbow (he'll get a new MRI on Tuesday), the Cardinals' bullpen imploded in a
13-4 loss
to the Reds, led by
Mitchell Boggs
giving up seven runs in the ninth inning. Now they might have closer issues as well. Rookie
Trevor Rosenthal
blew a 4-3 lead in the eighth, his second blown "save" of the young season, so he's not necessarily the answer if manager Mike Matheny has lost faith in Boggs.
The Tigers will apparently give
Joaquin Benoit
their next save opportunity, but many think they need to make a trade for a Proven Closer (tm). The problem ... well, there aren't really that many Proven Closers out there. And the truth is, most closers weren't preordained to be closers anyway, many arriving at the role only after failing as starters or finally getting the opportunity in their late 20s. Let's rank all 30 closers and you'll see what I mean.
Proven Closers
These are guys who have done the job for more than one season, thus earning the coveted title of Proven Closer.
1. Craig Kimbrel, Braves
The best ninth-inning guy in the business, coming off maybe the most dominant relief season ever -- he fanned over half the batters he faced -- in the modern era, or what Goose Gossage likes to refer to as "After I retired."
Before becoming a closer:
Groomed as a closer, he's never started a game in pro ball and became Atlanta's closer as a rookie in 2011.
2. Aroldis Chapman, Reds
I'm actually breaking my own rule here since Chapman has only been a closer for less than one season. But unless his control suddenly abandons him, he's obviously the real deal after striking out 122 in 71.2 innings last season.
Before becoming a closer:
Lacked the secondary pitches and stamina to make it as a starter.
3. Mariano Rivera, Yankees
He's old, he basically has one pitch and he's coming off a torn anterior cruciate ligament. Anyone want to bet against him?
Before becoming a closer:
Failed starting pitcher prospect.
4. Jonathan Papelbon, Phillies
Starting his eighth year as a closer, which is entering elevated territory. (Hall of Famer Bruce Sutter, for example, only had seven dominant seasons as a closer.) Papelbon had some not-so-clutch moments last season, however, finishing with four blown saves and six losses.
Before becoming a closer:
Forty-eight of his 58 appearances in the minors and his first three major league appearances came as a starter, but Red Sox converted him to relief.
5. Joe Nathan, Rangers
Not quite the Rivera-like force he was during his Twins days, but still pretty good. Picked up his 300th career save Monday, becoming the 23rd reliever to hit that mark.
Before becoming a closer:
Had a 4.70 ERA in two seasons as a part-time starter for the Giants in 1999-2000, had a 7.29 ERA in the minors in 2001 (5.60 in 2002), made it back, traded to the Twins, then became a closer at age 29.
6. Rafael Soriano, Nationals
Has three seasons as a closer with three different teams, so this will be his fourth year as a closer with his fourth different teams, making him the best example of Proven Closer, Will Travel.
Before becoming a closer:
Spent parts of seven seasons in the majors (starting as a rookie with Seattle), many parts of which were spent on the disabled list.
7. Huston Street, Padres
Now entering his ninth season as a closer, Street has recorded 30-plus saves just twice, as he's often hurt and hasn't pitched 60 innings since 2009.
Before becoming a closer:
Groomed as a closer since Oakland made him the 40th pick in the 2004 draft out of Texas.
8. Chris Perez, Indians
Now entering his fourth season as Cleveland's closer, he's been an All-Star the past two seasons despite a less-than-awe-inspiring 3.45 ERA and 4-11 record.
Before becoming a closer:
Mediocre middle reliever with St. Louis and Cleveland for two years. Fell into the closer role in 2010 because
Kerry Wood
was injured at the start of the season.
9. J.J. Putz, Diamondbacks
He's had four seasons of 30-plus saves, although he spent three years in between closer jobs. He's another guy who isn't the most durable pitcher around and hasn't pitched 60 innings since 2007.
Before becoming a closer:
Started for three years in the minors for Seattle, moved to the bullpen, spent two years as a mediocre middle guy, but learned the splitter and became a closer at age 29 after Proven Closer
Eddie Guardado
imploded early in 2006.
10. Joel Hanrahan, Red Sox
All-Star closer with the Pirates the past two seasons, but he walked 36 and allowed eight home runs in 59.2 innings last year. Could easily lose the job to former Proven Closer
Andrew Bailey
.
Before becoming a closer:
Didn't make it as a starter with the Dodgers, traded to the Nationals and then to the Pirates. Spent three years as a middle reliever.
One-year wonders
These guys became closers last year, and several of them had dominant seasons. But beware the
John Axford
lesson: One season does not make you a Proven Closer. Do it again and we'll start believing.
11. Fernando Rodney, Rays
After years as basically a bad reliever (22-38 career record., 4.29 ERA), he signed with Tampa Bay and lucked into getting a save in the season's second game as the fourth reliever of the ninth inning in a game against the Yankees. Went on to have one of the greatest relief seasons ever, with a 0.60 ERA and five earned runs allowed. He's already allowed three earned runs in 2013. Was last year a fluke?
Before becoming a closer:
See above. Did save 37 games (with a 4.40 ERA) for the Tigers in 2009.
[+] Enlarge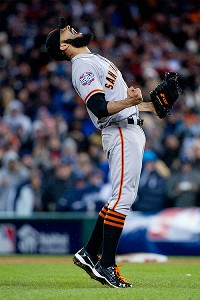 Ron Vesely/MLB Photos/Getty Images)After many seasons as a middle reliever, Sergio Romo finally got the chance to close and got the last out in the 2012 World Series.
12. Sergio Romo, Giants
The slider specialist replaced
Santiago Casilla
, who had replaced the injured
Brian Wilson
. Saved 14 games and then allowed one run in 10.2 postseason innings.
Before becoming a closer:
Not much of a prospect as a 28th-round pick who didn't throw hard, but Romo was an excellent middle guy for four seasons.
13. Ernesto Frieri, Angels
The hard-throwing righty came over after an early-season trade with the Padres, got the closer job after
Jordan Walden
struggled and had a terrific season. Might lose his job anyway if former Journeyman Made Good
Ryan Madson
gets healthy.
Before becoming a closer:
Moved to the bullpen after posting a 3.59 ERA in Double-A in 2009.
14. Jason Motte, Cardinals
Took over the closer role late in 2011 and helped the Cards win the World Series. Saved 42 games with 2.75 ERA last year. Currently injured.
Before becoming a closer:
Spent first three pro seasons as a catcher.
15. Jim Johnson, Orioles
In his first full year as closer he saved 51 games. Rare among closers, he's a ground ball specialist who doesn't register many whiffs (41 in 68.2 innings in 2012).
Before becoming a closer:
A not-very-good minor league starter.
16. Tom Wilhelmsen, Mariners
In his first full year in the majors, he replaced a struggling
Brandon League
. Did just fine with his mid-90s fastball and hammer curve.
Before becoming a closer:
Was bartending.
No, seriously
.
17. Addison Reed, White Sox
Saved 29 games as a rookie, although his 4.75 ERA wasn't exactly Rivera-ish.
Before becoming a closer:
Drafted in the third round out of San Diego State in 2010, he had a dominant relief season in the minors in 2011 (1.26 ERA) that pushed him quickly to the majors.
18. Greg Holland, Royals
Had 16 saves last season, but his job could be in jeopardy after four walks in his first two innings of 2013. Aaron Crow saved Monday's win for the Royals.
Before becoming a closer:
Came out of nowhere to post a 1.80 ERA with the Royals in 2011.
19. Steve Cishek, Marlins
Saved 15 games after expensive Proven Closer
Heath Bell
gakked up several memorable save opportunities.
Before becoming a closer:
The sidearmer was never on prospect radar lists because sidearmers are never on prospect radar lists.
20. Brandon League, Dodgers
Saved 37 games for Seattle in 2011, but lost his job early last season due to general lack of impressiveness. Throws a hard sinker so he gets ground balls but not many K's. Pitched better in 27 innings for the Dodgers last season so they gave him a bunch of money. Control was fine in 2011, not so fine last year.
Before becoming a closer:
Didn't make it as a starter in the minors despite high-90s fastball.
Journeymen Made Good
These guys became closers essentially because their teams didn't have anyone else. Perseverance pays off!
21. Grant Balfour, A's
Hard-throwing Aussie became a closer last year for the first time at age 34.
Before becoming a closer:
Played Australian rules football. OK, not really. Went from Twins to Reds to Brewers before finally having some good years with Tampa Bay.
22. Glen Perkins, Twins
The rare lefty closer had 16 saves a year ago.
Before becoming a closer:
Career 5.06 ERA as a starter in 44 games before moving to the bullpen.
23. Rafael Betancourt, Rockies
At 37 years old, he became a closer for the first time and saved 31 games for Rockies in 2012.
Before becoming a closer:
Has a career 3.13 ERA, so he'd been a good reliever for a lot of years.
24. Jason Grilli, Pirates
The veteran reliever had a career year last year at age 35 with 90 K's in 58.2 innings and took over the closer role when Hanrahan was traded.
Before becoming a closer:
Played for five major league teams before Pittsburgh.
25. Casey Janssen, Blue Jays
Another late bloomer, he got the ninth-inning job after
Sergio Santos
was injured last year.
Before becoming a closer:
The former starter didn't really have a wipeout pitch so he got pushed to the pen.
26. Bobby Parnell, Mets
He's long been heralded as a closer candidate due to his high-octane fastball. Now he'll finally get the opportunity.
Before becoming a closer:
One-time minor league starter has spent past four seasons in the Mets' bullpen.
The Import
27. Kyuji Fujikawa, Cubs
The new Cubs' closer could be good, bad or something in-between. I think he'll be pretty good.
Looking for help
28. Tigers.
The problem with
Phil Coke
as a closer is that Phil Coke just isn't a very good reliever.
Al Alburquerque
and
Brayan Villarreal
have better stuff but not much experience.
29. Brewers.
Axford was signed out of independent ball and had a monster 46-save season for the Brewers in 2011. He's allowed four home runs in 2.2 innings this season and the Brewers may sign Rollie Fingers.
Might not get a save opportunity until May
30. Jose Veras, Astros.
Now 32, he's pitched for the Yankees, Indians, Marlins, Pirates and Brewers and has five career saves.
Before becoming a closer:
The Brewers had the worst bullpen in the majors last year and even they didn't want him back.
September, 20, 2012
9/20/12
1:23
AM ET

"I mean, guys, I know how to hit. I promise you, I know how to hit. It's just right now, it's been pretty tough."
-- Matt Kemp to reporters a few days ago
Kemp has not had a good September. He's been mired in such a terrible slump that Cardinals manager Mike Matheny intentionally walked
Andre Ethier
the other day with runners at second and third and two out in the bottom of the 10th inning. And it worked. Kemp flied out, and the Cardinals eventually won the game in 12 innings.
The 2011 MVP runner-up entered Wednesday's doubleheader in Washington hitting .122 in September, with one walk and 14 strikeouts, an approach conjuring up memories of Kemp's lackluster 2010 season. Going back to Aug. 10, he had one home run and 12 RBIs in 31 games. "The Bison"? This was more like "T-Bone" Shelby.
Kemp went 1-for-4 in the first game as the
Nationals won 3-1
, dropping the Dodgers to 9-17 since an Aug. 19 victory had left them a half-game up on the Giants in the National League West. They were now two games behind the Cardinals in the crawl to the second wild-card spot. I wouldn't quite label the nightcap a must-win game, but there was at least a certain urgency.
How did this happen? How did the Dodgers get here? On Aug. 20, they lost to the Giants, when
Madison Bumgarner
outdueled
Clayton Kershaw
2-1 (both starters went eight innings, and combined for 20 strikeouts and no walks). The Giants won the next day and the next. A sweep at Dodger Stadium. The Dodgers then had an off day, and general manager Ned Colletti spent it finalizing the blockbuster deal to acquire
Adrian Gonzalez
and
Josh Beckett
. This would right the ship. It would be a battle to the end against their hated rivals, and in a perfect alignment of the schedule, the teams would finish the season against each other at Dodger Stadium.
Instead, the blockbuster became blockbusted. Gonzalez has been awful since joining the Dodgers, and his batting line stood at .233/.286/.378 (BA/OBP/SLG). Those would be described in the greater L.A. area as "
James Loney
numbers." Beckett had been inconsistent in four starts with the Dodgers, posting a 3.38 ERA but allowing 27 hits in 24 innings. He'd start the second game.
* * * *
The Dodgers scored three runs in the third inning. Kemp and Gonzalez drew key walks, and
Hanley Ramirez
and Ethier knocked in runs. They scored three more in the fourth. Kemp had an RBI single. He later scored a controversial run (replays showed he hadn't crossed the plate before a tag was made on Gonzalez). It was just the second time the Dodgers had scored at least six runs in 18 games. They'd scored two or fewer in nine of those games.
* * * *
The Nationals scored six runs in the bottom of the eighth. The home crowd went crazy.
* * * *
The Dodgers were staring down the barrel of one of the season's most bitter defeats that any team had suffered, an absolutely crushing blow considering the timing and circumstances.
Kemp led off the ninth against Nationals closer
Tyler Clippard
, and fell behind on a called strike for a cutter and two foul balls on a changeup and fastball. Kemp had entered the day hitting .200 on 0-2 counts, with 32 strikeouts in 63 plate appearances. Over the past three seasons, batters were hitting .128 off Clippard when he reached an 0-2 count.
Clippard wanted to elevate a fastball; he didn't elevate enough. Kemp belted a towering fly ball to center field that reached the third row of bleachers.
Brandon League
had an easy, 12-pitch bottom of the ninth, and the Dodgers had the win
7-6
. If the Dodgers somehow find a way to gather up some steam and catch the Cardinals to make the postseason, this will be the game Dodgers fans remember. From nearly falling off the edge of the cliff to catching a branch on the way down. Still hanging in there.
* * * *
This isn't a good team right now, not with Kemp and Gonzalez struggling at the plate. Not with Kershaw indefinitely sidelined -- maybe for the rest of the season -- with his sore hip. The Dodgers haven't been good since that amazing 30-13 start. In truth, the Dodgers' season peaked May 22, when
Ivan DeJesus Jr.
doubled in two runs in the ninth inning to give the Dodgers an 8-7 victory over the Diamondbacks. They seemed unstoppable at that time, a miracle season in the works. Cue highlights of Orel Hershiser and Kirk Gibson on the big screen.
The Gonzalez trade was a sign of desperation, a sign of a new ownership group with deep pockets being played the fool. Take on our fading stars! Take on these mammoth contracts! Win back your fans! It will work out for you, trust us!
You know, the funny thing about the Frank McCourt era is that the Dodgers made the playoffs four times in his eight seasons as owner. They even won their first two playoff series since 1988.
I have a feeling they will be 0-for-1 in the Magic Johnson era.
PHOTO OF THE DAY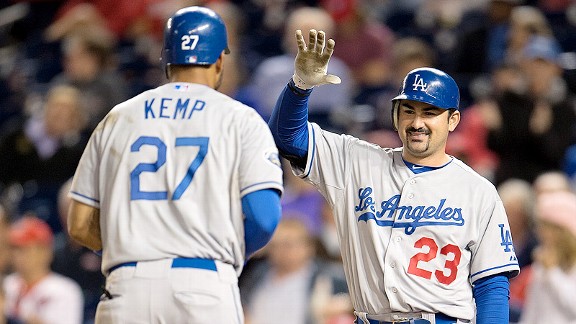 Harry E. Walker/Getty ImagesMatt Kemp gets his due for taking the pressure off everyone else with his winning homer in the nightcap.
March, 28, 2012
3/28/12
9:26
AM ET
Welcome to Opening Day! Not the official Opening Day, mind you, but the fake one from Japan, where the
Mariners and A's will be playing two games
in a stadium the Japanese lovingly call the Big Egg. It's fake Opening Day, but the games are real, although for some reason the MLB Network is showing a spring training report on the Mets (
Jonathon Niese
just showed Al Leiter his grip for a changeup!) rather than a game that actually matters.
But it's available on MLB.TV so I set the alarm for 6 a.m., turned on the computer and sat down to follow along.
First inning
Brandon McCarthy
starts for the A's. McCarthy set a record for most offseason publicity ever for a pitcher who won nine games for a third-place team from a small-market West Coast team. He appeared on the cover of ESPN The Magazine. He wrote a guest column for SI.com. He tweeted clever strings of 140 characters all winter and appeared at a sabermetrics conference during spring training.
McCarthy is a great story, a pitcher who used sabermetric analysis to become a better pitcher as he returned from injuries. ("
I didn't want to suck at baseball anymore
," he said.) And he is funny on Twitter. And he married a model. So you have to like the guy. He's facing
Felix Hernandez
, so there's a good chance this game could be 0-0 through nine innings.
Chone Figgins
makes the first out of the 2012 season. Let's just leave it at that. He's too easy of a punching bag and it's 6 o'clock in the morning. But an out later, Ichiro reaches on an infield single. His infield hits dropped from 59 in to 2010 to 38 in 2011, so this is a good sign. Unfortunately, I'm pretty sure he's the only No. 3 hitter in the majors for whom we'll be breaking down the number of infield hits. The
Seattle Mariners
, everyone!
Second inning
[+] Enlarge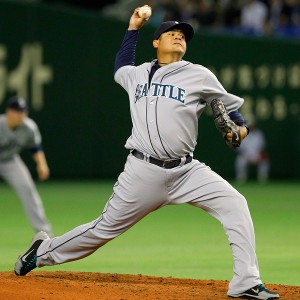 AP Photo/Shizuo KambayashiThere is hope ahead for Felix Hernandez after shaking off some recent injury woes.
Jesus Montero
steps to the plate wearing No. 63. I'm not sure this is a good sign. Has there ever been a great player to wear No. 63? Of course not! Apparently Montero wanted No. 21 but that belongs to
Franklin Gutierrez
. I suggest the Mariners trade Gutierrez. Montero bounces the first pitch to third base. If there's something that will prevent Montero from reaching his potential as a hitter, it will be his over-aggressiveness at the plate. He drew just 36 walks in 463 plate appearances in Triple-A in 2011.
Mariners announcer Mike Blowers on catcher
Miguel Olivo
: "They're going to give him a few more days off this year."
Every Mariners fan everywhere: "God, we hope so."
In the bottom of the inning,
Yoenis Cespedes
steps in for his first major league at-bat: Fastball inside, curveball for a called strike, a big 12-to-6 curve that he pulls off and a 58-foot sinker in the dirt that he misses by about 2 feet. Welcome to the big leagues.
Third inning
Michael Saunders
singles to lead off the inning and steals second.
Brendan Ryan
grounds a curveball into the hole at shortstop, but Saunders unwisely dashes for third and is thrown out. Ryan is then caught stealing. Thank goodness the Mariners just spent five weeks in spring training working on fundamentals.
The A's have a third baseman who wears glasses. What, are they so poor their players can't even afford Lasik surgery?
Fourth inning
Dustin Ackley
crushes a 1-1 fastball over the center-field fence. Our first run of the season! Ichiro follows with another infield single. He may hit .400 this year. The Mariners broadcast just mentioned Ichiro's batting average on balls in play in 2010 compared to 2011 (.353 versus .295). I'm telling you, this sabermetric stuff just may catch on.
Oakland counters in the bottom of the inning as
Cliff Pennington
doubles to lead off and then
Kurt Suzuki
doubles with two outs, a liner just past the diving
Mike Carp
in left field. Minus-one on the defensive runs saved chart for Carp.
Fifth inning
Jemile Weeks
strikes out looking, unhappy with both the two-strike pitch and third-strike calls and slams his bat down on the turf. The Japanese fans yelp in shock, as in Japan players wouldn't dishonor the umpire with such a display.
Sixth inning
Figgins and Ichiro single but the rally dies when
Justin Smoak
and Montero fail to come through. Is this the right time to mention that the Mariners lost two exhibition games to Japanese teams by a combined score of 14-4 while getting outhit 25-13? Outside of Ackley's homer, they haven't hit the ball hard. Their other five hits include two infield hits and two ground balls up the middle.
Pennington singles to start the bottom of the frame and steals second, Oakland's second steal of the game. A little thing to watch for Hernandez: He used to do an OK job of containing the running game, allowing an average of 16 steals per year from 2006 through 2010. In 2011, that shot up to 31 steals allowed, and it's not all because of Olivo. Frankly, I think he stopped paying attention and I think most Mariners fans will agree that Felix's concentration lagged at times last year. It's not easy to pitch when you know giving up one run may lose you the game. Pennington moves to third on a long fly out but Hernandez works out of the jam with an infield popout (as Ryan makes the catch, the graphic shows that he led all major league shortstops with 17 runs saved) and
Josh Reddick
's hard liner that goes right to Carp.
Seventh inning
McCarthy cruises through another easy inning. Cespedes pokes a 1-1 curveball over Saunders' head in center field for a double, a good piece of hitting off a good low-and-away pitch from Hernandez. Considering how bad Cespedes looked earlier against off-speed stuff, a nice adjustment.
Bob Melvin then asks
Brandon Allen
to bunt. Allen's last sacrifice bunt came in ... 2006. He pops it up. Bob Melvin, everyone! (Why not send up a pinch-hitter to bunt there?)
Eric Sogard
, the third baseman with the glasses, lines out to Hernandez and Weeks grounds out. Hernandez escapes another jam.
Eighth inning
[+] Enlarge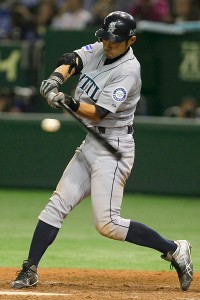 AP Photo/Shizuo KambayashiIchiro Suzuki had four hits, including an RBI single in the 11th inning.
McCarthy comes out after just 82 pitches. He threw a nice game -- no walks, three strikeouts, really just the one belt-high fastball mistake that Ackley didn't miss.
Ryan Cook
comes in, a guy acquired in the
Trevor Cahill
trade with Arizona, a rookie with a big fastball. 1-2-3. Eight Mariners in a row retired. Hernandez also retires the side in order in what is probably his last inning after 104 pitches.
Ninth inning
The Mariners have their 3-4-5 guys up. A's closer
Grant Balfour
comes on. Advantage: Oakland. Sorry, I hate to be cynical after just eight innings of the first game of the season, but it's been two years of games like this for Mariners fans. Hernandez has 27 wins over the past two seasons. In 17 of those wins, he allowed no runs or one run, so he has just 10 wins in games in which he allowed more than one run. Compare that to, say,
Justin Verlander
; he has 19 wins over the past two seasons in games in which he allowed two runs or more. Both pitchers had 23 starts in which they allowed zero runs or one -- Verlander won all 23.
The Mariners go down in order.
Tom Wilhelmsen
enters for the Mariners. So there's a chance they could lose without their best reliever entering the game. Because, you know, you have to save your closer for when you have a lead, even if it means he doesn't get into a tie game in the ninth inning. What, too early in the season to be complaining about bullpen usage? Wilhelmsen does the job, striking out Cespedes on a big breaker for the third out. Looks like the scouting reports are already out on him: He's going to see a steady diet of off-speed stuff, that's for sure.
10th inning
Bonus baseball! Side-arming lefty
Brian Fuentes
on for the A's. He once pitched 55 innings and recorded 48 saves! Three up, three down. Fourteen in a row for A's pitchers. Mariners tally of hard-hit balls for the game: one. Seattle Times columnist Larry Stone on Twitter: Mariners in midseason form.
Ackley bobbles a hard-hit one-hopper and throws it way.
Collin Cowgill
runs for Allen. With Sogard up, let's see if the A's bunt, hit-and-run or swing away. Sogard takes ball one, fouls off a pitch with Cowgill running. Hit-and-run backfires when Sogard swing through a 2-1 outside fastball. If you don't run, that pitch is outside and the count is 3-1. Sogard flies out. Weeks strikes out looking again ... and gently places his bat and helmet down on the turf. Only 17 more Mariners-A's games to go!
11th inning
After new Oakland pitcher
Andrew Carignan
fires three fastballs to Ryan, Blowers makes an astute comment: "Carignan looks like he's pretty proud of his fastball." He throws and Ryan pounces on it for a leadoff double. Figgins bunts him over. Ackley lines a single -- off another fastball -- into center for the go-ahead run. Melvin brings in lefty
Jerry Blevins
. Not sure why he didn't bring in Blevins to face Ackley. Maybe he figured Carignan had the better shot at a strikeout. Ackley steals second and Ichiro follows with a soft liner to center to score Ackley, his fourth hit of the game. I'm telling you ... Ichiro is back! (Wait, it's only one game? I don't care. We have to get excited about something. The Mariners just had a two-run outburst.)
Brandon League
is on for the save. I told you Eric Wedge should have waited to bring in League until the Mariners got the lead. Pennington flies out.
Coco Crisp
strikes out looking on a 3-2 fastball.
Seth Smith
nearly kills League with a line drive that somehow goes between League's glove and face. A's still alive. The other Suzuki digs in. League puts him away with a nasty two-strike splitter.
And the first game of 2,430 is in the books. In the end, the big key was the Mariners using just two relievers while the A's lost once Melvin went to his fourth and fifth guys out of the bullpen. Give Wedge credit for using Wilhelmsen for 25 pitches and two innings while Melvin removed Balfour after 11 pitches and Fuentes after 12. Why managers remove relievers after just one inning when their pitch count is still so low is something I still don't understand. It's rote managing without thinking critically about the situation.
Mariners fans are happy. The fans in Japan are happy, as their national hero gets four hits in his homecoming. And we should all be happy: Baseball is back.
March, 5, 2012
3/05/12
2:35
PM ET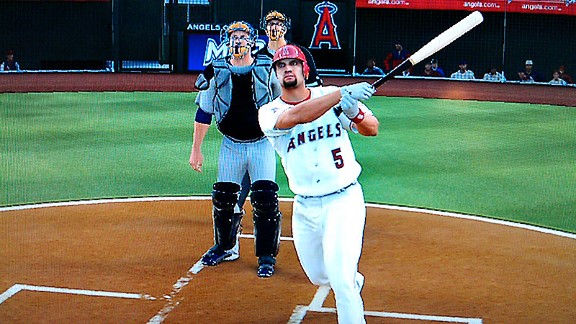 MLB 12 The Show MLB 12 The Show contains even more realistic ball action -- like the spin off Albert Pujols' bat.
Each year, Sony Computer Entertainment America and San Diego Studio produces the best sports video game available and each year those developers find a way to make their game better. Tuesday's release of MLB 12 The Show will demonstrate this but even this franchise's most dedicated followers will immediately recognize they are seeing a game they've never seen before. Put away your previous versions of the MLB The Show series: For 2012, the bar has again been raised, and this time with vigor.
The game's programmers have completely replaced last year's code and thus changed the way the baseball behaves with what they call True Ball Physics, which uses actual math for a spinning baseball that ricochets off bases, the pitching rubber and other field surfaces. The spin of the baseball off the bat is now accurate with realistic RPMs and the ball gains or loses energy like a real baseball, resulting in more hit type varieties. Line drives rise or sink and infield chops quickly become difficult to handle. My friend John Totten and I have played countless The Show games over the years, so I asked him for his '12 version impressions after a day of heated, head-to-head competition.
"Hitting a hooking line drive just inside the left-field line was something I had never seen before, and introduced an element of the unknown that I do not recall experiencing often in previous games," he said. "The overspin/underspin of a groundball based on the level of contact was an excellent added subtlety. I was surprised when a groundball did not make it through the infield, especially up the middle. Those balls simply lost pace due to underspin, as they should have. Line drives to the outfield showed tail and hook. In the past, every line drive to the outfield stayed on the same trajectory."
Trust me when I say this; Given the way the ball now spins in MLB 12 The Show, you will value the defensive abilities of your fielders as never before. Outfield defense was especially adventurous and fielding line drives or chasing balls in the gaps and down the lines is more challenging.
[+] Enlarge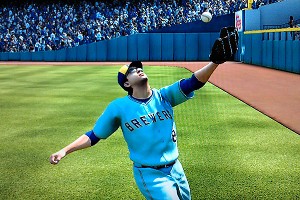 MLB 12 The Show Defense is more difficult in MLB 12 The Show, but that doesn't mean you can't get Ryan Braun to make catches like this.
The game acts, looks and sounds unlike the series has before; from completely different bat, ball and glove sounds to the TruBroadcast Presentations, which are available only on the game's PS3 version. The line between watching the video game and watching an actual baseball game has been blurred using new camera angles and audio that realistically simulate a television broadcast. You'll see more reaction shots after pitches and hear a new "buzz" of the ball and "pop" of a catcher's mitt while a bouncing, spinning baseball hitting green grass sounds just as it should.
Among MLB 12 The Show's many other changes I liked was the Swing/Pitch info box, which now pops up automatically after each pitch and remains onscreen until the next pitch, no more pressing L3 every time you want feedback. Baserunners have new situational awareness and react differently when near a batted ball or another player. Bullpen management continues its brilliant evolution. You can now warm up a relief pitcher or simply select Stretch and Toss, which has the pitcher stretch and play catch without getting warm enough to enter the game. You can also save a reliever's energy once he does begin to warm up by selecting Ready and Waiting, which has the pitcher throw a pitch in the bullpen for every game pitch thrown to maintain readiness. No more overheating relievers before they get into the game.
As always, there are new systems with which to pitch and hit the ball. Let me go on record: I hate them. I'm a button man; always have been and always will be. Last year The Show introduced analog batting featuring a stride and swing method. MLB 12 The Show has advanced to Zone Analog Batting, which allows you to control where you swing in the zone with the left analog stick as you step into the pitch and swing with the right analog stick. Sound hard? It is. I hit like a blindfolded Mario Mendoza and gave up. However, if you were a fan of analog hitting in last year's version you'll enjoy it all the more this year.
New as well is Pulse Pitching, an interactive timing mechanic with an interface that consists of a pulsating circle that flashes around the baseball as you are adjusting the desired location of your pitch. With this method you try and hit the X button when the meter shrinks to the smallest possible size around the baseball. This controls the accuracy of your pitches; the smaller the cursor the more accurate the pitch will be, with the speed of the meter's pulsating depending on the game difficulty setting and the pitcher's attributes and performance.
This feature fails for two reasons: First, it gives you a throbbing headache after about two innings of staring at it, but more importantly your opponent can see exactly how close each pitch came to its ideal location as both players see the size of the pulsating meter around the ball. The player who is batting, seeing a wide meter around the baseball as the pitch is being delivered, instantly knows that the command of the pitch will be poor and is therefore given a clear sign that he doesn't need to swing. This is not a factor with the traditional pitching meter but in the case of Pulse Pitching, when both players are focused on the strike zone, it seems the video equivalent of the guy in the white T-shirt in Toronto's center-field bleachers: a giveaway.
MLB 12 The Show has a complete set of visual tutorials for all new methods of hitting, pitching and throwing and it speaks to what has always been The Show series' greatest strength: It never FORCES you to change the way you play the game. Every year, new controls are added or enhanced while always leaving you the option of staying with the buttons and systems that you've always enjoyed, a practice that other sports video franchises, like EA's Madden or NCAA Football has not always followed. My friend Gus Ramsey's annual review of Madden on Bill Simmons' podcast has become one of The Sports Guy's biggest hits.
"Since around 2004 the look of the Madden franchise has been almost the same, but the game play has changed in an effort to make the game more realistic," Gus says. "Sometimes to great success, other times, not so much. In '04 they added the ability to direct the lead blocker on runs, a true challenge of digital dexterity to be sure. In '06 they added the Truck Stick, a departure from the popular R1 juke button. '06 also brought on the hideous Passing Cone, the New Coke of video game experiments. We've also seen the elimination of the sprint button, which left players instinctually pressing the R2 button with no results."
I don't recall MLB The Show developers ever demanding you change your button options or patterns, always offering new variations but never abandoning preferred methods enjoyed over time. A great lesson for all developers of sports video games: You can offer all the new ideas you want but don't force me to switch my buttons or I'll be forced to stop buying your game.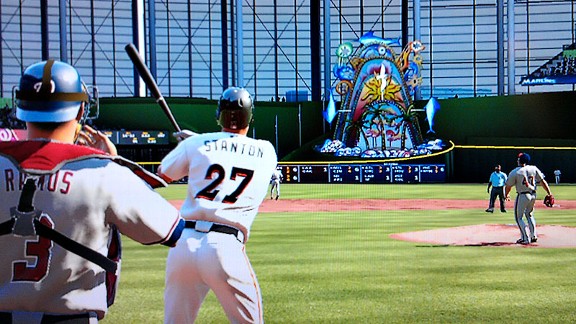 MLB 12 The Show You won't want to miss seeing Giancarlo Stanton mashing home runs in his new home ballpark.
The Show is a series that strives for authenticity yet pitcher repertoires is one area the developers consistently seem to miss their mark. In 2011 Boston's
Daniel Bard
threw 68.7 percent fastballs, 24.8 percent sliders and 6.5 percent changeups. Bard's weapons were essentially a four-seam fastball, a two-seam fastball and a slider. As the numbers prove, he rarely threw a changeup and often limited himself to just the four-seamer or slider in a game's most crucial points. In MLB 12 The Show, however, Bard has FIVE pitches: four-seam fastball, slider, cutter, two-seam fastball and a circle change. Bard admits he'll have to mix in more two-seam fastballs and changeups as he moves from the Red Sox bullpen to the rotation but five pitches for a guy who essentially has relied on two is a swing and a miss at realism. It gets worse.
In 2011, Mariners closer
Brandon League
threw 67.4 percent sinkers, 21.3 percent split-finger fastballs and 11.3 percent sliders. With two strikes, League went to his splitter a whopping 40 percent of the time. It is his big "out pitch" and one of the effective splitters in baseball; except in MLB 12 The Show, where both League's splitter and sinker don't exist. Nor does the cut fastball of Diamondbacks reliever
Bryan Shaw
, which earlier this spring Arizona closer
J.J. Putz
compared to
Mariano Rivera
's. Last season, 58.3 percent of all pitches thrown by Shaw were cut fastballs. MLB 12 The Show does not include a cutter among Shaw's three pitches, unfortunate for a pitcher who in last season's NLDS spotlight appeared in four games and faced 13 batters without giving up a base hit.
[+] Enlarge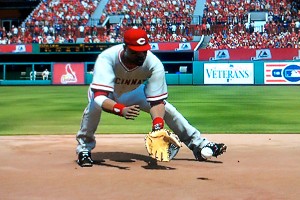 MLB 12 The Show Watch those tricky hops!
This is not just a pitch selection issue. Cleveland's
Vinnie Pestano
last season had an immensely effective combination of 79.9 percent fastballs and 20.1 percent sliders. Pestano's fastball, which is actually a cutter, averaged 92.6 miles per hour and maxed at 95.5 mph. In MLB 12 The Show, not only does Pestano not possess a cutter, his four-seam fastball is just 88 mph. Pestano joked during our Twitter conversation, "Don't know whats more upsetting ... that my 2 seamer is harder than my 4 or my pitching clutch is only 54. #pickitupdigitalme." Pestano's fellow Indians reliever
Joe Smith
joked, "That's what you get for being a righty specialist."
Smith enjoys The Show series but is used to seeing his digital repertoire miss the mark. In 2011, the real Smith threw 69 percent sinkers and 31 percent sliders. In MLB 12 The Show, Smith's video game version doesn't possess a sinker. He's instead been given a four-seam fastball and a changeup, two pitches he doesn't throw. "With guys who have been around for a few years and the big names in the game they are pretty accurate," said Smith. "Young guys seem to have to 'pay their dues' so to speak before they give them really high ratings. But I would say all in all they do an excellent job."
Agreed. Pitch selection nitpicking aside, MLB 12 The Show is not just a step forward for the series but a broad jump. This year in Road to The Show, your player will begin as a touted Double-A prospect. As of this weekend, the servers were still being tuned so I was not able to sample the game's new Diamond Dynasty mode, but based on advance publicity if you're a fan of EA's FIFA Soccer Franchise's Ultimate Team mode you'll be thrilled with Diamond Dynasty, which allows gamers to create personalized team names, colors, uniforms and fully customizable logos with up to 1000 layers of detail. As for baseball's new 10-team playoff format, the developers tell me they're not ready to make a public comment yet and will address the issue when they feel the time is right, choosing instead to let the game's new features "have their day in the sun."
There may be occasions in which you'd be rightfully content to continue playing a previous year's version of a sports video game rather than committing the cash to buy the new edition. With MLB 12 The Show, this is not one of those years. This is a different game than the series has ever seen and is beyond a doubt its best yet.
Steve Berthiaume hosts "Baseball Tonight" and you can follow him on Twitter @sberthiaumeespn.
May, 16, 2011
5/16/11
2:08
PM ET
Here are the top five reasons why Monday's
Baseball Today podcast

with Keith Law and me is a must-listen:
1. Posada-gate is hopefully over, but who was right, who was wrong and why will it be so much worse when one of Jorge's teammates keeps declining?
2.
Cleveland Indians
fans still don't like it, but the best team in baseball record-wise gets dubious respect in our Power Rankings. We explain, while showing the AL East love.
3. Can a team with
Joe Mauer
,
Justin Morneau
and
Joe Nathan
really be the
worst
in baseball? If that trio isn't contributing at a high level, you betcha.
4. We react to the SweetSpot blog about the new best rivalry in baseball with some skepticism, but then again, it's an interesting issue, especially defining the word rivalry.
5. We talk about the best hitter in baseball -- you did see all the home runs this weekend, right? -- and check back with our feelings on the noteworthy offseason contract.
Plus: Excellent emails, how I love the old 1970s uniforms, the Braves' outlook with Chipper's knee tear, analyzing the percentages on catchers throwing out basestealers.
David Price
is dealing with his fastball and poor
Brandon League
had a week to forget ... all this on Monday's Baseball Today!
May, 14, 2011
5/14/11
12:28
AM ET
On Sunday afternoon in Seattle, Mariners closer
Brandon League
entered in the top of the ninth of a tie game. He pitched a 1-2-3 ninth but gave up RBI doubles to
Alexei Ramirez
and
Adam Dunn
in the 10th, and the Mariners lost 5-2. He'd been pretty much perfect before that game: no record, and a perfect nine-for-nine in save chances.
League
Tuesday in Baltimore, the Mariners scored a run in the 13th inning to take a 6-5 lead. League gave up four singles and lost 7-6.
Thursday night was a thrilling 0-0 game (note sarcasm in "thrilling") until the 12th, when Seattle broke through with a run. League came on, gave up a single, hit two batters, got a line drive out and then surrendered a two-run single to
J.J. Hardy
and the Mariners lost 2-1.
Friday night, Eric Wedge again called upon League, to protect a 4-2 lead in the bottom of the ninth in Cleveland.
Michael Brantley
doubled.
Carlos Peguero
misplayed
Asdrubal Cabrera
's fly ball into a double. League should have been out of the inning after getting the next two batters, but instead had to face
Travis Hafner
. Boom. Home run. Indians win 5-4.
Brandon League appeared in four games this week and lost them all. Has a major league pitcher ever had a worse week?
Anthony Young, who holds the major league record with 27 consecutive defeats, had 13 of those occur in relief. But that happened over two seasons, and he never lost four appearances in a row, let alone in one week. The reliever with the most consecutive losing decisions is another Met -- Skip Lockwood, who lost his final 10 decisions of 1978 and his first four of 1979. Hall of Famer Dennis Eckersley once lost 12 straight decisions from 1995 to 1997 (he was 0-6 in 1996). The Mariners are used to this kind of thing:
David Aardsma
, last year's closer, went 0-6 and is currently on a nine-game losing streak. (Twenty-four relievers, including Lockwood, Young and Eck have lost at least 10 decisions in a row in relief.)
But four losses in one calendar week? Four in a five-game span?
A week ago the Mariners were 16-17 and M's fans actually started believing, just a little bit. Now Seattle is 16-23 and it looks like a long summer ahead.
May, 13, 2011
5/13/11
1:45
PM ET
Despite it being Friday the 13th, Mark Simon and I were able to enjoy Friday's
Baseball Today podcast

with nothing going wrong and no disasters ... we think you'll even enjoy the show, for the following reasons:
1.
Carlos Beltran
and
James Shields
each shined Thursday for Mark's favorite teams, and we discuss their interesting progress and futures.
2. An emailer asks us how great Beltran could have been if healthy, leading us to discuss players hampered by injury, from Ken Griffey Jr. to a few 1970s
Houston Astros
. Sounds like a future SweetSpot blog to me, eh Schoenfield!
3. Why offense is really down this season, and a look at the hitters currently under the Mendoza line.
David Wright
isn't one of them, but we discuss him anyway.
4. Mark gives a terrific explanation of the different eras in baseball history, though the actual start of a recent troublesome era isn't so clear cut.
5. Every weekend is a big weekend in baseball, but we do our best to highlight the most important series to keep an eye on, the interesting pitching matchups, and it's not all about Red Sox-Yankees.
Plus: Excellent emails, ballpark clothing etiquette for rooting for a team that isn't playing, why
Jason Vargas
of the
Seattle Mariners
could have gone 10 innings Thursday, the awesome Eric Hosmer and his weekend challenge, plus a story that rivals the one told by Steve Berthiaume a week ago. All this on Friday's Baseball Today podcast!