April, 4, 2011
4/04/11
1:08
PM ET
By
Christina Kahrl
| ESPN.com
It's a mantra this time of year: Early-season action can lead to early-season overreactions, producing hastily conjured trends. Consider the lot of NL Central closers after their teams' first series:
March 31
Up 6-3, Brewer John Axford blows the ninth-inning save against the Reds by allowing four to score.

The Cards' Ryan Franklin blows his ninth-inning save opp up 3-2 against the Padres by giving up a tying homer to Cameron Maybin.
April 1
Astro Brandon Lyon blows a 4-2 lead over the Phillies by surrendering three runs and allowing hits to six of the seven batters he faced.

Joel Hanrahan of the Pirates notches a clean save to lock up a 6-3 win over the Cubs, making him the division's first closer to come through.
April 2
Although not a ninth-inning save opportunity, Bucs set-up man Evan Meek gives up five runs in the bottom of the eighth against the Cubs -- not a classic save opp, since all he'd get for his efforts if he did well is a hold, but it winds up being a bit of BS action nonetheless.

Carlos Marmol closes out the Cubs' 5-3 victory by striking out the side.

Francisco Cordero logs a save up 4-1 against the Brewers, but gives up a run.
April 3
Marmol blows a 4-3 lead in his ninth-inning save opportunity against the Pirates.

Hanrahan notches his glory stat in the bottom half of the inning, making him the division's picture of perfection as the only unscored-upon closer in the Central.
That's a total of four saves in eight classic "closer" opportunities in the ninth inning, and two of those were by Hanrahan, a man who had to pitch his way into the job over Meek's rival claim in front of new manager Clint Hurdle. Hanrahan's far from what you'd call an established closer, having never finished with a double-digit save season. Interpretive metrics like any of the flavors of Wins Above Replacement (whether FanGraphs' WAR or Baseball Prospectus' WARP) say nice things about Hanrahan's 2010, but the balance of his career suggests that, as with many relievers, what you get from him year to year is far from a sure thing.
[+] Enlarge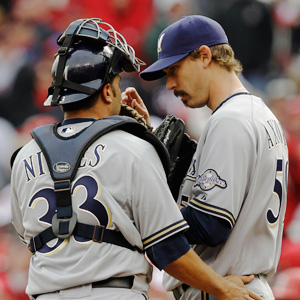 AP Photo/Al BehrmanCatcher Wil Nieves talks things over with John Axford before Axford gave up the three-run homer to Ramon Hernandez.
Evaluating relief performance is easier than projecting it, of course, but because relievers face so few batters over a season, let alone in April, the results aren't nearly as cut and dried as you might wish. Take leverage-minded relief metrics and their potential problems: Referring to Win Probability Added, Axford's four-run disaster on Opening Day took a 91 percent shot at a win and converted it into 100 percent of a loss, but that goes far toward noting that leverage metrics only go so far to document value -- Axford was just a batter away from notching his glory stat, after all, and
Ramon Hernandez
's homer matters very little if
Joey Votto
doesn't work his way aboard for a walk, or if the umps rule that
Brandon Phillips
was out of the basepath while avoiding
Casey McGehee
's tag on
Scott Rolen
's grounder to third. That play created a bases-loaded situation that Axford had to pitch out of.
The full sequence of events, not all of which Axford had control over, define the value of the subsequent homer. But Axford's giving it up and Hernandez's hitting it winds up being the one play that accrues the most value, despite it's absolute dependence on everything that happened before to become possible. So Axford gets that big -0.96 WPA hit on Day 1 of the season.
Concern over overreacting to early-season performance, however, is merited in part, especially when we're talking about new managers or newly elevated or recently acquired closers. If Axford keeps getting lit up into April, that's not going to represent a statistically significant sample of what he's capable of, but it would also go pretty far toward Ron Roenicke subsequently deciding that enough's enough, and maybe it's time to hand save opportunities to
Takashi Saito
or somebody else.
The other thing to think about is that poor performance from a pen early in the season can change how a manager chooses to manage his bullpen, and that's what is at stake now, for the managers and for their relievers. For example, when Eric Wedge was managing the Indians in 2006, an early-season series of bad ballgames from his middle-relief crew led to a decision to favor letting his starters finish their own innings. As an adaptive strategy, it led to a league-leading tally of blown quality starts -- games when his starters had gone six innings and allowed three runs or less (I'm going with runs, not earned runs here), all because he'd acquired a strong distrust of the bullpen he had on hand.
In light of this "trend," you can sort of understand why Tony La Russa looked at Sunday's 2-0 lead over the Padres, with
Jaime Garcia
's pitch count at 95 through eight innings, and decided to leave well enough alone rather than risk another ninth-inning conflagration. We can't say which of these late-game disasters will herald a real trend in terms of how managers run their staffs, but just as a late-game blown save isn't always the product of a single independent event, these kinds of decisions will be the product of cumulative, mounting frustrations with bullpen performance, and these decisions, no matter how little evidence exists to support them either way, will get made just the same.
Christina Kahrl covers baseball for ESPN.com. She helped found Baseball Prospectus in 1996 and was voted into the Baseball Writers' Association of America in 2008 as one of its first four Internet columnists. You can find her ESPN archives here, and follow her on Twitter here
.
April, 1, 2011
4/01/11
4:12
PM ET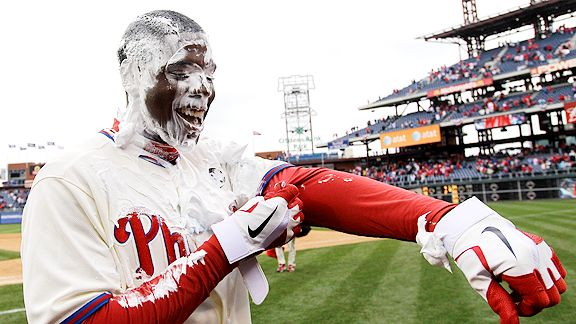 Rob Carr/Getty ImagesJohn Mayberry Jr. receives the proverbial shaving cream pie after his game-winning hit.
Sorry,
Brandon Lyon
, but that was absolutely brutal.
And Brad Mills: I don't care if he's your "closer," when you give up five consecutive line drives ... maybe you don't leave him in to give up a sixth.
Final suggestion: Maybe your closer shouldn't throw 89 mph.
(Joe Sheehan made a great point on Twitter
before
the fury was unleashed: Why not use a lefty to face
Jimmy Rollins
and
Ryan Howard
at the start of the inning? Instead, Mills let Howard hit against a righty, which should never happen in the late innings of a close game. The Astros have only one lefty in the bullpen,
Fernando Abad
, but he should have been used for Howard.
Anyway, terrific comeback by the Phillies. Nothing better than a rally like that on Opening Day.
And we certainly have a theme developing after seven games: Closer continues to be the most overrated position in the game. C'mon, managers, start using your pens in the most efficient way possible, as opposed to assigning predetermined roles that you'll stick to even if your guy is serving up batting practice.
All for now. We'll check back in later.
Follow David Schoenfield on Twitter at @dschoenfield. Follow the SweetSpot blog at @espn_sweet_spot.
December, 11, 2009
12/11/09
6:07
PM ET
As Larry Stone writes, all those free-agent bargains that everyone was expecting
might not actually be there
:

I got a hint of that before the winter meetings when a couple of GMs complained privately about the Phillies' signing of third baseman Placido Polanco to a three-year, $18 million deal. They were dismayed that Polanco, who hadn't played third-base regularly since 2002, got three years.

Then the winter meetings started, producing more deals that were groaners for teams hoping to sneak in a bargain or two. The one that seems to be getting the most grief is Houston's three-year, $15 million contract for reliever Brandon Lyon. There were eyebrows raised over other deals given to non-closing relievers, who once upon time were a breed that teams could pick up cheaply on the free-agent market. But LaTroy Hawkins (two years, $7.5 million), Billy Wagner ($7 million guaranteed) and Lyon are making teams wonder about that. And when Brad Penny, coming off two lousy years, gets $7.5 million, and Rich Harden, who can never stay healthy, gets $6.5 million plus incentives, and Randy Wolf gets $29.75 over three, then it's looking like a definite seller's market.

I'm not so sure about that. There was some crazy stuff last year. Especially
Bobby Abreu
signing for $5 million guaranteed.
I mean, sure: the relievers have been getting too much. If there's one thing that GMs still haven't figured out well enough, it's that relief pitchers are highly fungible. That said, only the Lyon contract is patently ridiculous. Hawkins is solid, and Wagner isn't far removed from being one of the game's better relievers. Penny was hurt in 2008 and terribly unlucky in 2009 (until he joined the Giants, for whom he was incredibly lucky), but he's been a good pitcher for a long time.
Polanco? He's been worth about $40 million over the last three years; does $18 million over the next three years really seem out of line? No, he hasn't played third base lately. But he has played third base, and played it well.
Wolf? He's been worth $22 million over the last two years; does $30 million over the next three seem out of line? Yeah, a little bit. It's not crazy, though.
I'm not ready to draw any conclusions yet, except that baseball guys still overvalue relievers who throw hard. And we're not talking gigantic amounts of money here. There hasn't been a single contract given out this winter that ranks among the 20 worst free-agent deals of the last five years. Maybe we'll see one, still. But we haven't, yet. In the old days -- I mean, like two or three years ago -- the baseball teams wildly overspent. Last year, maybe they overcompensated a bit because of the economy. Now, everyone seems to discovered a natural balance. It's strange, all this sanity.
December, 10, 2009
12/10/09
11:50
AM ET
As a friend suggests, this is the winter's
best takedown of a signing
so far:
Ed Wade is the GM equivalent of a bad SNL sketch. The first time he overpaid a middle reliever, we figured out that he didn't really know how to build a roster. Now, when he gives Brandon Lyon a 3 year, $15 million deal, we just shrug our shoulders and say, "Yeah, that's Ed Wade for ya."


Lyon


Seriously, $5 million a year for the next three years for Brandon Lyon. We're not talking about overpaying for a premium bullpen guy. Lyon is a generic middle reliever, the kind of guy who could be replaced by a minor league free agent or a Rule 5 draftee. His career FIP is 4.23, which is below average for a relief pitcher. He doesn't even have magical FIP-beating properties – his career ERA is 4.20.

But, hey, he got hit lucky last year (.229 BABIP) and that allowed him to strand a bunch of runners (80.8% LOB%), so his 2009 ERA is a sparkly 2.86. To Wade, that matters, because he's still analyzing like it's 1999. Don't worry about the fact that his career BABIP is .305 or that his career LOB% is 71.4%, and that the entirety of his low ERA in 2009 was luck – pay him like the best reliever on the market anyway.
I'm glad Dave Cameron said it instead of me ... but, yeah.
The Astros actually play in a pretty solid market, in the top dozen or so anyway. They've got a relatively new ballpark. Owner Drayton McLane did finance roughly a third of the stadium's construction, for which he deserves credit. But the bottom line is that the Astros play in a bigger market, and are presumably wealthier, than the Cardinals, the Brewers, the Pirates, and the Reds. In fact, the Astros should enjoy
huge
financial edges over all or most of those clubs.
The No. 1 argument against Ed Wade's competence is not this ridiculous contract. The Astros should be able to blow $5 million per season on freely available talent like Brandon Lyon and
still
win. The No. 1 argument against Wade's competence is that the Astros have been outscored by 232 over the last four seasons, and there's no reason for optimism about 2010 or beyond.