SweetSpot:

Brandon Maurer
August, 24, 2014
Aug 24
10:19
PM ET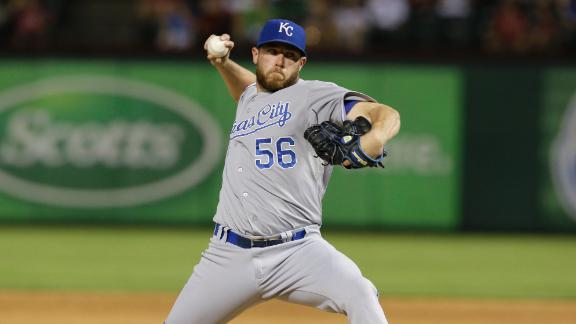 In Game 1 of the
Seattle Mariners
-
Boston Red Sox
series at Fenway Park on Friday,
Felix Hernandez
allowed three runs in 5.2 innings -- the first time he'd allowed three runs in 18 starts.
In Game 2,
Chris Young
pitched just 3.2 innings.
In Game 3,
Hisashi Iwakuma
lasted just 2.1 innings, the shortest outing of his Mariners career.
What arguably has been the league's best trio of starting pitchers had a terrible weekend ... and yet the Mariners swept the Red Sox at Fenway for the first time in franchise history in a series of three games or longer.
Yes, you can credit the reeling Red Sox, now losers of eight straight, for helping out. You can credit the much-maligned Mariners offense that had a dramatic five-run ninth inning on Friday, a seven-run inning on Saturday and 13 hits on Sunday.
Mostly, you can credit the best bullpen in the league. Mariners relievers pitched 15.1 innings in the three games and allowed one run while punching out 21 Red Sox hitters as the Mariners rallied from deficits in all three games. Seattle's bullpen now owns a major league-best 2.38 ERA, which would be the lowest since the 1990 A's had a 2.35 mark. The average major league bullpen has allowed 3.86 runs per nine innings; the Mariners have allowed 2.63. Other bullpens may have better win-loss records -- Seattle's is 19-18, but you have to factor in the Mariners' lack of offensive punch -- but the pen has been a major reason the Mariners currently hold a tenuous grip on the second wild card over the Tigers.
A few keys to the pen's success: good health; expert handling by manager Lloyd McClendon and pitching coach Rick Waits; and a group that currently runs eight deep, most of whom can crank it up into the mid-90s -- the Mariners' average fastball velocity from their relievers is fourth highest in the majors. Leading the way there is converted starter
Brandon Maurer
, who bombed out of the rotation early in the year, but has averaged 96.1 mph with his fastball as a reliever while posting a 1.80 ERA.
I'm not a fan of having eight relievers on your roster, but these days, when complete games are few and far between (the Mariners have just one, from
Roenis Elias
), that depth has allowed McClendon to do some unusual things with his relievers. For starters, he's not afraid of a quick hook with his starters. Mariners starters have gone five or fewer innings in 40 games, the ninth-lowest figure in the majors -- even though Mariners starters have the third-best ERA in the majors. (The Braves have the fewest "quick hooks" with 22.) Obviously, Felix and Iwakuma usually go deep into the game, but knowing his offense doesn't score many runs, McClendon has been careful about not letting the game get away early when the other three starters are out there.
Despite the quick hooks -- which means using multiple relievers in the same game -- McClendon hasn't abused his relievers. According to Baseball-Reference.com, entering Sunday the Mariners had used the same reliever in back-to-back games just 64 times; only the Rangers, Blue Jays and Nationals had done so fewer times. And because he's rarely using his relievers in consecutive games, McClendon often lets his guys go more than one inning.
Tom Wilhelmsen
has 21 outings of more than one inning, fifth most among relievers, and has compiled a 2.03 ERA in those games, totaling 44.1 innings. Rookie
Dominic Leone
, who escaped a one-out, bases-loaded jam in the third inning on Sunday with an infield pop-out and strikeout, has 19 such appearances totaling 34.2 innings with an ERA under 2.00. With his philosophy of not using guys on back-to-back days, McClendon hasn't settled on just one eighth-inning guy, with
Yoervis Medina
and
Danny Farquhar
primarily sharing those duties.
McClendon has been conventional in his use of closer
Fernando Rodney
-- just two outings of more than one inning -- and lefties
Charlie Furbush
and
Joe Beimel
as LOOGYs, but that's not necessarily a bad thing. Rodney gets the glory with the saves and the arrows, but maybe that's a good thing since he gets to enter without runners on base; he's only fifth among the current Mariners relievers in OPS allowed (and just barely ahead of Farquhar).
Counting blown saves from the middle relievers, the Mariners have just 10 -- tied with the Royals for second fewest in the majors behind the Padres -- an impressive figure considering how many close games the Mariners play.

The Mariners are one game up on Detroit and you can point directly to the two bullpens as a reason why. Here are four other dominant bullpens that have helped contenders get where they are:
2.
Kansas City Royals
The Royals don't have the Mariners' depth with a 3.40 ERA, but they do have the best late-inning trio in the majors in
Kelvin Herrera
(1.51 ERA),
Wade Davis
(0.80 ERA) and
Greg Holland
(1.79 ERA).
Jason Frasor
was acquired to add a strong fourth guy. The Royals haven't needed the depth -- their bullpen has pitched the second-fewest innings in the majors -- but it will be interesting to see if manager Ned Yost tries to get more out of this group down the stretch as the Royals battle the Tigers for the division crown.
3.
Atlanta Braves
No surprise that the Braves would rank high with closer
Craig Kimbrel
once again crushing in the ninth inning. Like the Mariners, they don't usually have any margin for error considering their lack of runs. Manager Fredi Gonzalez has had to mix and match more than McClendon as
David Carpenter
and
Luis Avilan
haven't repeated their outstanding 2013 campaigns, but
Jordan Walden
and
Anthony Varvaro
have been solid in supporting roles and
James Russell
recently came over from the Cubs to give the Braves a lefty presence.
4.
Los Angeles Angels
For the season, the Angels are just 14th in the majors with a 3.45 bullpen ERA (before their Sunday night game), but the bullpen you see now isn't the one that was there in April. General manager Jerry Dipoto has rebuilt much of the pen, with the likes of
Huston Street
and
Jason Grilli
joining rubber-armed
Joe Smith
, and since June 1 it has a 2.85 ERA and since July 1 a 2.32 ERA.
5.
Baltimore Orioles
You can consider the A's here, except closer
Sean Doolittle
just went on the DL, or the Yankees, who have a strong back-end duo with
Dellin Betances
and
David Robertson
, but I'd go with the Orioles. Buck Showalter's pen didn't have a set closer back in April, but
Zach Britton
has run with the role (2.04 ERA, 27 saves in 30 chances) and the pen has picked up momentum as the season has progressed. It's no coincidence that the O's began pulling away in the AL East as the bullpen started dominating -- it has the fourth-best bullpen ERA in the majors since June 1.
April, 10, 2013
4/10/13
9:00
AM ET
Quick thoughts on Tuesday's games …
March, 30, 2013
3/30/13
1:00
PM ET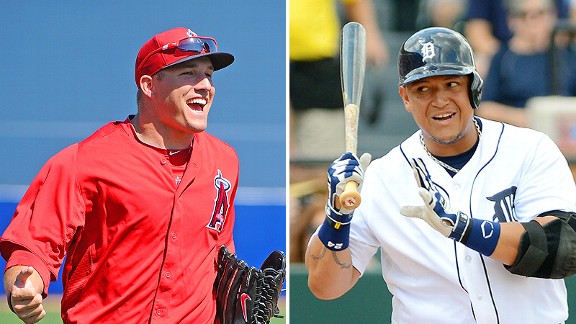 Getty ImagesThe SweetSpot bloggers predict another 1-2 MVP finish for Mike Trout and Miguel Cabrera in 2013.
Yes, it's the time of the year ... awards predictions! Here are the collective thoughts of the writers from across the SweetSpot network.
MOST VALUABLE PLAYER
Last year, the SweetSpot bloggers correctly picked
Miguel Cabrera
as the AL MVP winner. How quickly we fall in love with the new kid on the block! I'm not surprised that
Mike Trout
is the MVP favorite by the SweetSpot bloggers -- but I am surprised by his runaway vote total, as he collected 33 of the 47 first-place votes (including mine). If wisdom of the crowds proves true, it should be a landslide MVP result for Trout.
Amazingly, Cabrera only received two first-place votes (remember, he ranked ahead of Trout in our recent BBTN500 voting). This probably reflects the difference in the mind-set between the bloggers -- who are going to pay more attention to advanced metrics like WAR -- and the more conventional group of analysts (writers, announcers, former players) who voted in the BBTN500.
The network bloggers must have high hopes for the Rays since
Evan Longoria
ranked third in the balloting. And maybe the Yankees won't collapse just yet:
Robinson Cano
finished fourth in the balloting.
Points on a 14-9-8-7-6 basis.
1. Mike Trout, 574 points (33 first-place votes)
2. Miguel Cabrera, 374 points (2)
3. Evan Longoria, 268 points (3)
4. Robinson Cano, 238 points (4)
5.
Adrian Beltre
, 101 points (1)
6.
Yoenis Cespedes
, 92 points (0)
7.
Jose Bautista
, 85 points (2)
8.
Prince Fielder
, 70 points (1)
9.
Albert Pujols
, 62 points (1)
10.
Jose Reyes
, 43 points (0)
Others --
Josh Hamilton
(41 points),
Dustin Pedroia
(34),
Joe Mauer
(21),
Alex Gordon
(18),
Matt Wieters
(9),
Adam Jones
(7),
Curtis Granderson
(7),
Edwin Encarnacion
(6),
Carlos Santana
(6),
Ian Kinsler
(6),
Jacoby Ellsbury
(6)
CY YOUNG
No surprise here:
Justin Verlander
collected 28 first-place votes to easily outdistance last season's Cy Young winner,
David Price
. Keep an eye on
Yu Darvish
: He finished ahead of
Felix Hernandez
in the voting. Reigning NL CY Young winner
R.A. Dickey
is now with Toronto and he collected just one first-place vote.
Points on a 7-4-3 basis.
1. Justin Verlander, 258 points (28 first-place votes)
2. David Price, 129 points (4)
3. Yu Darvish, 81 points (5)
4. Felix Hernandez, 70 points (5)
5.
Jered Weaver
, 34 points (3)
6. R.A. Dickey, 15 points (1)
Others --
Chris Sale
(9 points),
CC Sabathia
(8),
Max Scherzer
(6),
Josh Johnson
(6),
Jarrod Parker
(6),
Jon Lester
(6),
Doug Fister
(3),
Matt Moore
(3),
Jake Peavy
(3)
ROOKIE OF THE YEAR
The rookie race is even more wide open, since most of the top rookie prospects will begin the year in the minors, including Tampa Bay outfielder
Wil Myers
, who led our balloting with 17 first-place votes. Outfielders
Aaron Hicks
of the Twins and
Jackie Bradley
of the Red Sox will break camp with their big league teams, and that helped them finish second and third in the voting.
Points on a 5-3-1 basis.
1. Wil Myers, 111 points (17 first-place votes)
2. Aaron Hicks, 71 points (8)
3. Jackie Bradley, 65 points (8)
4.
Jurickson Profar
, 46 points (4)
5.
Dylan Bundy
, 29 points (4)
6.
Brandon Maurer
, 24 points (2)
7.
Trevor Bauer
, 21 points (1)
8.
Dan Straily
, 12 points (1)
Others -- Bruce Rondon (6 points),
Mike Olt
(5), Mike Zunino (4),
Chris Archer
(3),
Avisail Garcia
(1),
Conor Gillaspie
(1), Nick Tepesch (1), Kevin Gausman (1)