June, 4, 2014
Jun 4
12:29
AM ET
Pete Rozelle would have loved this baseball season.
The former longtime NFL commissioner loved parity in his league. He once publicly admitted dissatisfaction with the Pittsburgh Steelers winning three Super Bowls in five years, leading Steelers coach Chuck Noll to seethe after one overtime victory that "Pete doesn't want us to win." Rozelle created an unbalanced schedule in which the stronger teams would play more games against the stronger teams. NFL teams had long shared TV money, a decision made in the 1960s that allowed franchises like the Green Bay Packers to more equitably compete with big-market teams.
While baseball still lacks that kind of total revenue equality, we are nonetheless in the midst of a season that is shaping up as a Pete Rozelle -- and Bud Selig -- dream season: Just about every team is in the playoff chase a third of the way into the season. In the American League, more than half the teams are bunched within two games of .500; really, only the Astros are probably out of it, but even they are 14-8 since May 11. In the National League, only the Cubs and Diamondbacks are out of it (although the Phillies are getting there).
Now, some of this parity is misleading, a product of the wild-card race more than tight division races: Only the NL East, with the Marlins 1.5 games behind the Braves, is closer than a four-game spread. But even the division leaders appear to have some warts or uncertainty, although the A's and Giants are starting to look like solid playoff bets.
[+] Enlarge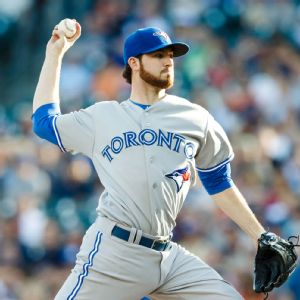 Rick Osentoski/USA TODAY SportsDrew Hutchison went toe-to-toe with Anibal Sanchez, further proof of MLB's growing parity.
Take the Blue Jays-Tigers game on Tuesday night, a battle of two division leaders. For seven innings, the game was a tense pitching duel between
Drew Hutchison
and
Anibal Sanchez
, as both spun zeroes while allowing a combined five hits and no walks. Those results didn't so much point out flaws on the Jays and Tigers as to reaffirm a couple beliefs: That Hutchison is developing into a solid No. 3 starter behind
Mark Buehrle
and that Sanchez has clearly surpassed the struggling
Justin Verlander
on the Tigers' rotation depth chart.
The other thing I like as we get into June and the weather warms in the north is that games like this one start getting a little different feel to them. How good are the Jays? Who is going to break out of the early-seasons slumps? Which hot starts are for real? And which problem areas will be exposed?
In this game, I'm looking at the Tigers' bullpen. Tied 0-0 entering the ninth, closer
Joe Nathan
entered and promptly gave up a walk, base hit and an RBI single to
Jose Bautista
. After a walk to
Edwin Encarnacion
, manager
Brad Ausmus
yanked him in the middle of the inning, with Nathan leaving to a chorus of boos from the home fans. ("They can boo me all they want," Nathan said after the game. "I'm way tougher on myself.") Still, after
Ian Krol
gave up a sacrifice fly and
Al Alburquerque
a three-run homer to
Brett Lawrie
, Nathan was charged with four earned runs for the first time in five years. His ERA is 6.86 -- higher than
Phil Coke
's! -- and he has four blown saves and two losses.
Still, a struggling closer is a minor flaw when compared to some other teams. Just about every team has some major holes. Just consider some stuff from Tuesday's games:
The Marlins beat the Rays 1-0 as Henderson Alvarez threw an 88-pitch shutout, his third of the season. His beauty doesn't sit in the dominating stuff of a Jose Fernandez but in his efficiency when he's on. Alvarez isn't the issue but the Marlins are 30-28 with their best pitcher sidelined for the season. Can Alvarez and Nathan Eovaldi step up and become rotation anchors?

Casey McGehee has been the cleanup hitter behind all-universe Giancarlo Stanton, and while he's driven in 36 runs he also has one home run. The Marlins are trying to compete with a cleanup hitter who has one home run. In 2014, that doesn't even sound that silly, but it's also a warning: He's not going to keep hitting .426 with runners in scoring position.

The Mariners beat the Braves 7-5 as the bullpen tossed six scoreless innings against the hitting-impaired Braves (that's the first-place Braves). The Mariners are 30-28, essentially tied with the 29-27 Orioles for the second wild card. This is a team whose DHs are hitting .189 and its first basemen .218. And they have a better run differential than the Tigers. It's that kind of season.

A week ago, every Mets fan was fed up and wanted manager Terry Collins and GM Sandy Alderson fired. The Mets were a win away from reaching .500 on Tuesday before suffering a walk-off loss to the Cubs. Now Mets fans are asking who they should be going after at the trade deadline instead of who they should be trading away. It is that kind of seasons, where one good week makes a team interesting again.

Like the Indians. A little five-game winning streak has pushed them up to 29-30. That means they're in the playoff race. They beat the World Series champion Red Sox, who featured a lineup with first baseman Brock Holt, right fielder Alex Hassan and shortstop Jonathan Herrera. The Red Sox are 27-30 and happy to be there after that 10-game losing streak.

And so on. The Royals have two home runs combined from their first basemen and DHs (mostly Eric Hosmer and Billy Butler) and yet they're 28-30 after beating the Cardinals 8-7. That's the 30-29 Cardinals, a team barely better than a team that has two home runs from first base and DH. Yes, that kind of season.
Parity or mediocrity? Do you like it? In some ways, isn't this what the sabermetric revolution has wrought? As front offices match each other on multiple fronts -- evaluating players correctly, spending money in an efficient manner -- and Selig has chipped away at some of the financial advantages of the bigger markets, isn't this the inevitable result? That playoff berths will be determined by whether Casey McGehee hits well all season with runners in scoring position?
I'm reminded of what a friend told me about the Mets-Phillies games this weekend, when they played consecutive games of 14, 14 and 11 innings. I asked him if it was exciting baseball. "It was terrible baseball," he said.
In the midst of all this are the Oakland A's. The A's just creamed the second-place Angels in three straight games and Tuesday night they played a good game at Yankee Stadium, scoring a run in the eighth off nearly untouchable
Dellin Betances
to tie it and then three more in the 10th.
Brandon Moss
led off the 10th with a home run, his second of the game and the A's would tack on two more runs.
To me, the A's -- even more than the Giants -- are the one team in baseball without an obvious weakness. Moss is a legit masher in the middle of the lineup, with 15 home runs and a .598 slugging percentage. Third baseman
Josh Donaldson
is an MVP candidate.
Scott Kazmir
, who pitched well in this game, has been great in the rotation behind
Sonny Gray
. The defense is solid, the bullpen is good (other than deposed closer
Jim Johnson
) and the manager doesn't do ridiculous things like bat
Endy Chavez
leadoff or
Wil Nieves
second.
In this season of parity, we may have just one great team.
May, 19, 2014
May 19
12:13
PM ET
Over their past 10 games, the Oakland A's have won nine and outscored their opponents by a staggering 71-18. They pitched three shutouts, scored double-digit runs three times and hit 18 home runs while giving up eight. They are 28-16 with a run differential of plus-95 and lead the American League in most runs scored per game and fewest runs allowed per game. They just destroyed the Indians in Cleveland over the weekend by a combined tally of 30-6.
Josh Donaldson
leads the AL in WAR.
Sonny Gray
,
Scott Kazmir
and
Jesse Chavez
all rank in the top 10 in the AL in ERA.
Brandon Moss
is tied for third in the majors in RBIs. The A's lead the AL in walks and on-base percentage. Their catchers are hitting a combined .318/.403/.484.
And somehow, the A's are only No. 2 in this week's Power Rankings.
OK, they don't have the best record -- that belongs to the Tigers, the No. 1 team in the Power Rankings, at 27-12 -- but no team has dominated like the A's. Since the wild-card era began in 1995, only two teams have a bigger run differential through 44 games than the A's: the 2010 Rays (plus-102) and the 1998 Yankees (plus-101).
Does this run differential early on mean anything? After all, you could argue that a few blowout wins can skew the numbers. Well, two points there:
1. Good teams have more blowout wins. Yes, winning close games is important, but mediocre teams can have good records in one-run games.
2. Oakland has a 40-run spread over Detroit, the team with the second-largest run differential.
But here's a more interesting factoid. I checked the past 10 seasons to see which team had the biggest run differential in the majors after 44 games. Nine of those 10 teams won at least 92 games and made the playoffs, the lone exception being the 2011 Indians, who were 29-15 with a plus-66 differential after 44 games but finished 80-82.
Are the A's the 2011 Indians? No. This team has a playoff pedigree with division titles the past two seasons, while that Cleveland team had come out of nowhere. That team had a rotation that was largely smoke and mirrors early on, and the offense couldn't sustain its hot start. These A's don't look just like a possible playoff team but a possible powerhouse, one that is capable of winning 100 games in a division that features the Astros, Mariners and beat-up Rangers.

How can that happen? A few reasons:
1. Josh Donaldson wins the AL MVP Award.
Donaldson is hitting .280/.362/.520 with 10 home runs and 35 RBIs and leads
Mike Trout
in WAR, 3.5 to 2.8. It's time to acknowledge that 2013 wasn't a fluke, that Donaldson plays a terrific third base and that he is one of the best all-around players in the game. He has a wingman this year, however, in Moss, who continues to improve. Moss has cut his strikeout rate from 27.7 percent to 18.3 percent, helping him hit for a .301 average to go with his power. He's also been hitting left-handers, meaning manager Bob Melvin is starting to erase the "platoon player" tag next to Moss' name.
2. The rotation holds up.
This is perhaps the biggest question. Gray, Kazmir and Chavez have been great, but they also combined for just 279 1/3 innings in the majors last year. Can they hold up late in the season as they get past 150 or 175 innings? Oakland's rotation depth was thinned out by the season-ending injuries to
Jarrod Parker
and
A.J. Griffin
, but they just added
Drew Pomeranz
, another Billy Beane reclamation project of sorts. The fifth overall pick in 2010, Pomeranz was traded by Cleveland to Colorado in the
Ubaldo Jimenez
trade, and the A's got him in December for
Brett Anderson
. After starting in the bullpen, Pomeranz has made two starts, going five innings both times without allowing a run. He's a fastball/curveball guy, relying on good movement and low 90s velocity, essentially ditching an ineffective changeup he used with the Rockies. It's a simpler approach, but he's locating the fastball and it's working.
3. Yoenis Cespedes is a threat again.
A more disciplined approach at the plate -- more walks, fewer strikeouts -- has helped Cespedes improve his triple-slash numbers. Maybe he's sacrificing some home runs, but he's already hit 13 doubles (hit 21 all of last season) and this Cespedes is a more valuable middle-of-the-order hitter.
4. They haven't gotten much from Josh Reddick or second base.
Reddick had a two-homer, six-RBI game Friday and two more hits Sunday. He's still hitting just .237 with a .299 OBP and four home runs, but he's showing signs of breaking out. It could be that his 32-homer season in 2012 was a fluke. Still, the potential is there. The other area that could improve is second base, where the A's are hitting a collective .212/.281/.258. What this means is possible regression from the likes of
Derek Norris
(hitting .354) or even Moss may be balanced out by better results from right field and second. Really, though, outside of Norris, nobody on the offense is that much over his head.
5. The bullpen is fine.
The A's are 20-5 when leading after seven innings, which isn't anything special. The major league average is a .900 winning percentage, so an average team would be 22-3 or 23-2 in 25 decisions when leading after seven. But the A's are fifth in the majors in bullpen ERA and
first
in runs per nine innings. Their weaknesses have been inherited runners (33 percent have scored, worse than the MLB average of 28 percent) and
Jim Johnson
. But if
Sean Doolittle
ends up with the closer job -- getting the lone save last week after Johnson gave up two hits -- he'll be fine: He hasn't walked a batter since August.
Will the A's win 100? FanGraphs projects them to win 92 -- in part because its projections view the Angels, Mariners and Rangers as .500 or better teams, meaning the AL West won't be a cakewalk. Maybe 100 is optimistic in a year where parity may reign supreme, but the A's look like a 92-win lock to me -- and I'd say 95 wins is very realistic. And that will be enough to print their postseason ticket.
August, 29, 2013
8/29/13
12:25
AM ET
Major League Baseball began handing out the Manager of the Year award in 1983, and Bobby Cox of the 2004-05
Atlanta Braves
is the only man to win it in consecutive seasons. If the lineup the
Oakland Athletics
fielded Wednesday night is a snapshot of the tools at Bob Melvin's disposal, he should be a strong candidate to replicate that feat.
Yes, John Farrell has changed the mindset in Boston a year after that 69-win Bobby Valentine-led debacle. Joe Maddon of the
Tampa Bay Rays
deserves to win the award every year, and Terry Francona has done a wonderful job keeping the
Cleveland Indians
in postseason contention despite the team's flaws. But have any of them done a noticeably better job than Melvin, who has taken a star-free team with the 26th-highest payroll in baseball and put it in the mix for a wild-card spot and possibly a second straight American League West title?
[+] Enlarge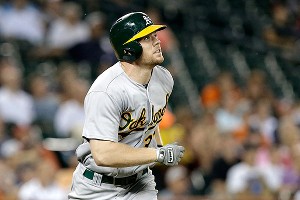 AP Photo/Paul SancyaBrandon Moss is the perfect Oakland A: Discarded by others, but he comes to play.
With a 14-4 laugher in Detroit on Wednesday that featured six RBIs from
Brandon Moss
, the A's raised their record to 75-57. They're 2 ½ games behind Texas in the division and four games ahead of Cleveland in the race for the second wild-card spot, and they're starting to get some important pitching reinforcements.
Bartolo Colon
returns from the disabled list to face
Max Scherzer
in a Thursday matinee at Comerica Park, and
Brett Anderson
is back and pitching in the bullpen for now after missing four months with a foot injury.
The lineup requires some cobbling together on a lot of nights.
Coco Crisp
has contributed some monster moments this season, but he brings a .330 career on-base percentage in the leadoff spot.
Eric Sogard
, the second baseman, looks like the kid selling you an iPad at Best Buy.
Daric Barton
continues to hang around at first base despite being on the
Russ Canzler
-
Eli Whiteside
designated-for-assignment plan. And the A's recently had to scramble to reacquire old friend
Kurt Suzuki
from Washington when injuries to
Derek Norris
and
John Jaso
put a serious crimp in their catching contingent.
When the season began, the outfield looked like Oakland's strong suit. But it hasn't turned out that way.
Chris Young
and
Seth Smith
are both having disappointing seasons. Worse yet,
Josh Reddick
and
Yoenis Cespedes
haven't come close to their performances in 2012, when they combined for 55 home runs in the three and four spots in the order. Reddick has a .658 OPS and just went on the DL with a wrist injury. Cespedes has been too pull-happy and prone to chasing breaking balls out of the strike zone, and it's reflected in his .289 OBP and increased strikeout total.
As Athletics beat writer John Hickey pointed out earlier this week,
Jason Kubel
might be a good fit in Oakland after getting designated for assignment by Arizona. For late-August trade buffs,
Justin Morneau
is also still out there and readily available.
Only three Oakland hitters --
Josh Donaldson
,
Jed Lowrie
and Moss -- have performed to or beyond expectations this season, and they all project a certain dirtbag quality befitting the team persona. So why are the A's so good? They grind out at-bats (they lead the majors with 476 walks and average a lofty 3.96 pitches per plate appearance). They're 24-16 in one-run games, and they're tied with Pittsburgh for the major league lead with 13 victories when trailing after six innings.
The A's also pitch.
A.J. Griffin
,
Jarrod Parker
and the other starters have gone deep into games consistently enough that the bullpen has logged only the 11th-heaviest workload in the league. That means closer
Grant Balfour
and his relief-mates won't be running on fumes in September.
Oddly enough, a few hours before Oakland took the field and banged out a season-high 21 hits against
Doug Fister
and the Detroit bullpen Wednesday, Donaldson was candid in his assessment of what the A's have to do to survive the final month.
[+] Enlarge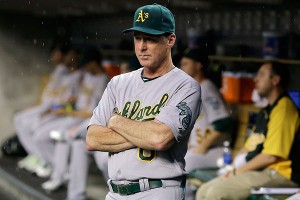 AP Photo/Paul SancyaHas Bob Melvin earned his second straight manager of the year award?
"We know how we're built, and we're built to pitch and play defense," he said. "Anytime one of those gets out of whack is when we start faltering a little bit. I don't feel like we're going to bang with teams like the Tigers and Rangers every day."
Even the departure of
Jonny Gomes
to Boston through free agency hasn't put a crimp in the
esprit de corps
in Oakland. That's largely a tribute to Melvin, a manager whose approach wears well over six months and 162 games. Players love him because of his even temperament, fairness and attention to detail -- but he can be tough when the situation warrants. After the A's failed to show much spark against Houston and Seattle during their last homestand, Melvin let the players know things had to change in a hurry. It appears he got their attention.
When the Detroit series concludes, the A's will head home for six games against Tampa Bay and Texas, at which point the schedule gets less taxing. Of Oakland's final 23 games, 20 are against Houston, Minnesota, the
Los Angeles Angels
and Seattle.
The young A's learned a lot about perseverance last year when they went on a 51-25 roll after the All-Star break to overtake Texas for the division title. Expectations were higher this year, but that doesn't minimize the job that Melvin and his coaching staff have done squeezing the most out of the roster.
Melvin's name should be in the middle of the Manager of the Year conversation again in November. But as long as he has the chance to keep making out lineup cards in October, the rest is gravy.
April, 30, 2013
4/30/13
10:20
AM ET
You cannot lose a game like this if you're the
Los Angeles Angels
, not when leading 6-2 in the eighth inning, not while coming off losing three of four to Seattle, not when your team is struggling and staring at a second straight disastrous April.
The Angels did lose to the Oakland A's, when
Brandon Moss
' two-run walk-off homer in the 19th inning gave the
A's the dramatic 10-8 victory
in a game that lasted 392 minutes and required 597 pitches to compete. It might end up being the game of the year. The painful defeat dropped the Angels to 9-16. They're already 7 games behind the Rangers and 5 games behind the A's in the AL West, and you have to wonder if long-time manager Mike Scioscia will survive much longer.
[+] Enlarge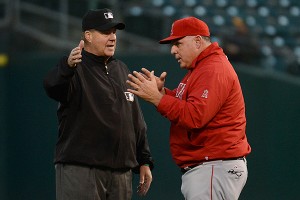 Kyle Terada/USA TODAY SportsAngels manager Mike Scioscia might be running out of time to save his job after another slow start.
I made it into the 17th inning before calling it a night (hey, it was 4 a.m. on the East Coast!). Some thoughts on a game that began with A's fans chanting "Thank you, Josh! Thank you, Josh!" in regards to the fly ball that
Josh Hamilton
dropped last year in the final game of the regular season, helping the A's beat the Rangers to win the division title, and ended with Moss swatting a
Barry Enright
changeup over the wall in right:
The thing to remember about Scioscia is that GM Jerry DiPoto didn't hire him; he inherited him. After a second straight slow start, maybe the Angels will make a change just to shake things up. The Angels have missed the postseason the past three seasons, and are now looking at a fourth straight October on the bench if they don't turn things around in a hurry. That doesn't mean there's an obvious replacement available (how about Joe Torre on an interim basis?) and maybe the Angels don't want to signal panic, but I would say it is time to panic. The Angels might also have to consider that Don Mattingly isn't exactly on firm ground with the Dodgers, who might happily scoop up their popular former catcher, a turn of events that could be a PR disaster for the Angels.

Look, everybody knows this team was built around Mike Trout, Albert Pujols and Josh Hamilton. Trout is off to a slow start, Pujols hit two home runs on Monday but is hitting a mediocre .265/.359/.439 and Hamilton is hitting .202/.246/.298. He looked terrible in going 0-for-8, with several ugly swings, especially against left-handers. He looks pretty helpless against lefties, getting tied up inside and is hitting .172 off them with 15 strikeouts and one walk in 32 plate appearances.

Kudos to relievers Jerome Williams and Brett Anderson (who was scheduled to start for Oakland but scratched because of a sore ankle) for soaking up innings. Williams deserved to earn the win after the Angels took the lead in the top of the 15th on a bases-loaded walk to J.B. Shuck that left Anderson barking at home-plate ump Kerwin Danley as he walked off the mound. (He did retire Trout to escape the jam). Josh Donaldson began the bottom of the 15th with a routine grounder that second baseman Howie Kendrick bobbled, but Pujols simply dropped the throw. Derek Norris walked but Williams got a double play before Adam Rosales' two-out single tied it up.

Anderson finally left after 5.1 innings, but Jerry Blevins threw 1.2 scoreless innings for the win. Williams went six. While Anderson's outing was a unique situation, Williams showed the value in having a good long relief option in the pen. A guy who can pitch multiple in extra innings is more valuable than having a third LOOGY in your pen.

The A's delivered with two outs all night. In the eighth, Melvin hit Chris Young for Josh Reddick when Scioscia brought in lefty Scott Downs, and Young singled to make the score 7-6. Scioscia ended up bringing in closer Ernesto Frieri for a four-out save anyway, but why not bring him in to face the struggling Reddick? He should have anticipated that Melvin would go to Young there. In the ninth, Yoenis Cespedes (who hit a big game-tying home run on Sunday) came through with a two-out blast off the left-center fence to score Coco Crisp.

Mark Trumbo hit a monster 475-foot moon shot in the second inning, tied with Anthony Rizzo for the longest home run this year. According to ESPN Stats & Info, it was the longest home run in Oakland since the ESPN Home Run Tracker began measuring home runs (in 2006), and the ball left Trumbo's bat at 120.1 mph, the fastest of any home run this season (by 3 mph).

The few fans left at the end of the game were chanting the names of A's announcers Ray Fosse and Ken Korach.

Moss gave himself the shaving cream pie during the postgame interview. Gotta love the A's.
February, 8, 2013
2/08/13
8:00
AM ET
2012 in review
Record: 94-68 (92-70 Pythagorean)
713 runs scored (8th in American League)
614 runs allowed (2nd in AL)
Big Offseason Moves
Traded
Cliff Pennington
and Yordy Cabrera to Arizona for
Chris Young
. Re-signed free agent
Bartolo Colon
. Signed Japanese shortstop
Hiroyuki Nakajima
. Acquired
John Jaso
in three-way deal that sent A.J. Cole to Washington. Traded
Chris Carter
,
Brad Peacock
and Max Stassi to Houston for
Jed Lowrie
and
Fernando Rodriguez
. Lost free agents
Brandon McCarthy
,
Stephen Drew
and
Jonny Gomes
.
More than anything, Billy Beane improved Oakland's athleticism and versatility. He lost two designated-hitter types in Carter and Gomes, but acquired an elite defensive center fielder in Young and picked up two infielders to go along with the return of
Scott Sizemore
(the team's best hitter in 2011 who missed all of 2012). Nakajima was a star player in Japan and since Lowrie's range at short is limited, the A's are counting on Nakajima to live up to his defensive reputation. The loss of McCarthy will hurt, but re-signing Colon helps maintain their rotation depth. For the tight-budgeted A's, a solid offseason that gives manager Bob Melvin multiple options around the diamond.
Position Players
As you can see from the projected lineup, there is a lot of unsettled aspect to Oakland's starting nine, but in a good way. Melvin will be able to mix and match and the depth gives the A's injury insurance.
But how
good
is the lineup? The A's set an all-time strikeout record last season and hit just .238. They did hit better with runners in scoring position -- .265 -- which is one reason they ranked eighth in runs despite finishing 12th in on-base percentage and ninth in slugging percentage. Three reasons to like Oakland's chances to score more runs this year, however: The second basemen hit .228 with five home runs; the third basemen had a .280 OBP, lowest in the AL; and the shortstops had a .272 OBP, again lowest in the AL.
And a fourth reason:
Yoenis Cespedes
surprised everyone by hitting .292/.356/.505. Very nice numbers. Those could be big numbers this year.
Pitching Staff
Either you believe in Oakland's young starters or you don't. I'm a believer. Remember that the best of the group might be
Brett Anderson
, and he made just seven starts in 2012 after returning from Tommy John surgery.
Jarrod Parker
,
Tom Milone
and
A.J. Griffin
enter their second seasons with playoff experience under their belts and Colon returns after his suspension for using performance-enhancing drugs.
Dan Straily
and
Travis Blackley
provide depth.
If we're going to nitpick, it's that it's not a big strikeout rotation. The A's ranked 10th in the AL strikeout rate among starting pitchers at 16.6 percent -- more than 5 percent less than Tampa Bay's 21.9 mark. But guess which staff tied for the lowest walk rate? The A's won't beat themselves and they pitch to their big home ballpark -- where Young,
Coco Crisp
and
Josh Reddick
have the speed to run down a lot of flyballs.
If you watched the A's down the stretch, you saw the hard-throwing trio of
Grant Balfour
,
Ryan Cook
and
Sean Doolittle
dominate the late innings. Those three combined for a 2.49 ERA over 195 innings; not bad for a minor free-agent signing, a throw-in in the
Trevor Cahill
trade and a guy playing first base in the minors in 2011. All told, opponents hit .206 off the Oakland pen, second-lowest in the league to the Rays' .205 mark. There's depth behind those three guys as well.
Good rotation. Good pen. Some will predict regression from this group, but I expect another solid season in which the A's once again rank among the AL leaders in fewest runs allowed.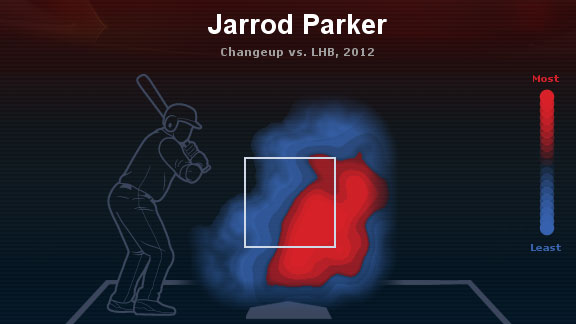 ESPN Stats & InformationJarrod Parker's 3.8 WAR ranked 10th among AL pitchers in 2012.
Heat Map to Watch
Beane acquired Parker from the Diamondbacks and the rookie right-hander showed why he was highly rated coming up through the Arizona system. His changeup made many left-handed hitters look foolish at the plate -- in 140 plate appearances ending with that pitch, they hit .163/.216/.194, with just three extra-base hits (two doubles, one triple). It's one of the best pitches in the game and the reason I expect Parker to have another solid season.
Overall Grade

Many won't believe in the A's simply because they were such a big surprise a year ago. But I'm trying to find reasons to expect a decline and am having trouble identifying them. OK, the offense was sort of one-dimensional last season; but the A's basically received nothing from three positions and they have likely upgrades at all three spots. I didn't even mention Jaso above; if he hits like he did with Seattle, he's another plus at the plate (though the Mariners clearly didn't like his defense behind the plate).
OK, maybe you don't believe in Reddick and Cespedes and
Brandon Moss
. I do. I think they return to the playoffs.
October, 11, 2012
10/11/12
2:00
AM ET
More baseball!
On a day that featured a quadruple-header of baseball playoff action, a game in which a starting pitcher who didn't win a game all season gets a W, a game with a demoted former two-time Cy Young winner coming out of the bullpen for a clutch relief outing, an once-in-a-lifetime performance by
Raul Ibanez
(and I mean all of our lifetimes), the Oakland A's completed the night with a bottom-of-the-ninth three-run rally to beat the
Detroit Tigers
4-3
to keep their American League Division Series alive and force a fifth game.
It also gives us a fourth game on Thursday.
More baseball? Yes, please.
Justin Verlander
in a decisive game? The frenzied A's crowd with one more game to cheer on their heroes?
Miguel Cabrera
and
Prince Fielder
?
Coco Crisp
doing Coco Crisp stuff? The A's swinging from their heels? I can't wait.
Where did this rally come from? It appeared that
Joaquin Benoit
had snuffed out the last-gasp Oakland rally in the bottom of the eighth when he struck out
Brandon Moss
on a lovely, low-and-away changeup with two runners on.
In the bottom of the ninth, Jim Leyland turned to his closer,
Jose Valverde
. We remember his perfect season a year ago, when he seemingly walked the tightrope in every save situation but always managed to escape. Well, he fell off a few times this year.
The A's had led the majors with 14 walk-off wins during the regular season, so even though Benoit had just pitched through
Yoenis Cespedes
and Moss in the order, you know the A's believed. Why wouldn't they? It's a magical season in Oakland.
[+] Enlarge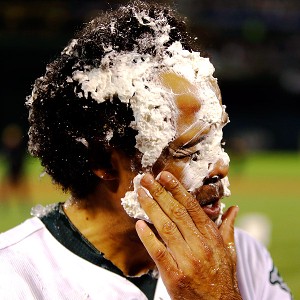 AP Photo/Marcio Jose SanchezPlating the winning run got Coco Crisp a face full -- to say nothing of another game Thursday.
Josh Reddick
pulled a base hit into right field past a diving
Omar Infante
.
Josh Donaldson
crushed a first-pitch, four-seam fastball off the wall in left-center for a double. When he's on, Valverde throws 92-95 mpg and then goes to his splitter to put hitters away. That fastball registered 90. The four pitches to Reddick clocked 90, 91, 91 and 92.
Seth Smith
stepped in and took a ball, swung through a high-and-away fastball, then drilled another fastball away into right-center. The game was tied and, even though
Austin Jackson
cut the ball off before it got to the wall, Smith beat the throw for a double.
The three pitches to Smith: 92, 92, 92. Valverde didn't have his good heat on this night and he had to throw an off-speed pitch. Valverde throwing 95 is a major league reliever. Valverde throwing 90-92 without a wrinkle is batting practice.
George Kottaras
then pinch-hit and Bob Melvin eschewed the sacrifice bunt and let Kottaras swing away. According to conventional wisdom, the situation called for a bunt -- heck, I'm pretty sure even Earl Weaver would have bunted there -- but given the A's propensity to strike out, I understand Melvin's strategy: Give the A's three chances to get the hit.
Kottaras popped out to Cabrera on the first pitch, a 93-mph fastball.
Cliff Pennington
struck out on four pitches, taking a splitter for a called strike on a pitch that registered a bit outside.
Up came Crisp. Game 2 goat. Game 3 hero. Valverde throws a first-pitch splitter. Hard ground ball pulled past Infante into right field, and when
Avisail Garcia
couldn't pick up the ball (with his strong arm, he might have had a shot to get Smith if he comes up with it cleanly), the A's had the win.
More baseball.
Leyland, after the game: "This is baseball. This is why this is the greatest game of all. ... You get tested all the time in this game and this is a good test."
Before the ninth inning, the A's had been hitting .185 in the series (22-for-119). They went 4-for-6 in the ninth. Valverde had not allowed four hits in an appearance all season. He had allowed three runs just twice.
Before the series, I suspected the key element in the series might end up being the Tigers' bullpen. When Benoit blew a lead in Game 2 -- only to see the A's bullpen lose the lead when Detroit scored runs in the eighth and ninth -- I figured the A's had lost their chance to steal a win. You may get one late-inning comeback in a short series, but it's hard to get two.
But the A's got this one. A fifth game. They'll get Verlander and you have to suspect the over/under on his pitch count might be 150. If you're Leyland, do you want to give the ball to Valverde again with a one-run lead in the bottom of the ninth? Next time you think you can manage a major league team, put yourself in that possible situation.
The A's will send rookie
Jarrod Parker
to the mound. On paper, the edge still goes to the Tigers, with the best pitcher in baseball on the mound.
In the postseason, paper means nothing.
October, 4, 2012
10/04/12
9:07
PM ET
With help from the blog network writers, here are reasons each team can win the World Series.
St. Louis Cardinals

1. A potent, balanced lineup. The Cardinals had the best on-base percentage in baseball, including four starters --
Matt Holliday
,
Jon Jay
,
David Freese
and
Yadier Molina
-- with a .370 OBP or better, and that doesn't even include two of their most dangerous sluggers,
Carlos Beltran
and
Allen Craig
.
2. Deep and solid starting rotation. Cardinals starters featured the second-best fielding-independent pitching in the majors, and
Chris Carpenter
has rejoined the staff just in time for the playoffs.
3. Playoff experience. If there's an advantage to be gained from experience, the Cardinals have it, with nearly three-quarters of their championship team returning to the tournament.
4. "The postseason is a crapshoot." As a wild-card team, the Cardinals proved this last year by beating a dominant regular-season team in the Phillies in a short series, then the powerful Rangers in the World Series.
5. They're saving their best ball for last -- again. As with the 2011 squad, the Cardinals are coming together at the right time. They won their last two series of the season against potential playoff foes Washington and Cincinnati and their regulars are generally healthy.
--Matt Philip, Fungoes.net
Atlanta Braves

The biggest thing the Braves need to do this postseason is hit left-handed pitching. For the year, they have an 85 wRC+ compared to the league average of 100 against left-handed pitching, the lowest of any of the playoff teams. If they win the play-in game against the Cardinals on Friday, they could face three left-handed starting pitchers in the first round in
Gio Gonzalez
,
Ross Detwiler
and
John Lannan
.
On the pitching front,
Kris Medlen
has taken the ace role of the staff, but the Braves will specifically need
Mike Minor
and
Tim Hudson
to perform at a high level to compete with the other National League teams. Defensively the Braves have been stellar, so the key for all of their starters will be to avoid free passes and long balls. They do not have an overpowering or star-filled staff as other rotations do, meaning their starters will need to rely on command and pitch sequencing to perform well against upper-tier offenses.
If the Braves get solid pitching performances from Medlen and Minor, and manage to scrape enough runs across against left-handed starters and relievers, they should be able to advance through the playoffs and potentially win their first World Series since 1995.
--Ben Duronio, Capitol Avenue Club
Cincinnati Reds

Here are five reasons that there will be a celebration in Fountain Square the first weekend in November:
1. The bullpen. This is the Reds' most obvious advantage. Their bullpen ERA ranks first in baseball at 2.65. How deep is this bullpen? One of these pitchers probably isn't going to make the postseason roster:
Logan Ondrusek
(3.46 ERA),
Alfredo Simon
(2.66) or
J.J. Hoover
(2.05).
2.
Jay Bruce
. The Reds' right fielder is one of the streakiest hitters in the game. If he gets hot, the Reds will be tough to beat. Bruce was twice named National League Player of the Week this year. In those two weeks, Bruce hit .488 AVG/.542 OBP/1.186 SLG (1.728 OPS). If Bruce gets on a hot streak like that, he could carry the Reds to the 11 wins they need.
3. The defense. Defensive metrics are flaky, but when you look at all of them, you start to learn something. The Reds rank near the top of almost every leaderboard. Seven of their eight starters are plus defenders, and three-quarters of the infielders have Gold Gloves on their shelves.
4.
Ryan Hanigan
. One of the things I'm most excited about this postseason is the broader baseball world discovering Ryan Hanigan. He does a lot well. His .365 OBP is better than any Red but
Joey Votto
. He walked more than he struck out. He threw out 48.5 percent of would-be base stealers -- the best in baseball -- and his handling of the pitching staff has the Reds' coaching staff speaking about him in hushed tones.
5. Luck, or something like it. The Reds outperformed their Pythagorean W-L by 7 games. Since Sept. 1, they have an 8-3 record in one-run games. This could mean they're due for a reversion to the mean. I like to think it means they're destined to win the Series.
--Chris Garber, Redleg Nation
Washington Nationals

1. The one-two punch of Gio Gonzalez and
Jordan Zimmermann
. Few teams could lose a starter like
Stephen Strasburg
and still claim that starting pitching is a strength, but the Nats can. Cy Young candidate Gonzalez leads the NL in strikeouts per 9 innings and is second in hits per 9. Zimmermann rarely allows a walk, and has an ERA under 3.00. I'd match Gonzalez and him up with any team's one-two.
2. The infield defense. Each position is manned by someone you could argue is one of the majors' top 10 fielders at his spot. The staff throws a lot of ground balls. Put them together and you get a lot of outs.
3. The re-emergence of
Drew Storen
.
Tyler Clippard
had been manning the closer role effectively but has recently looked very shaky. No matter. Storen returned to the 'pen and has been dominant, allowing just one run in his past 16 appearances. He'll be closing games going forward.
4. The offense with no holes. While there is no individual superstar, six of the Nats' eight regulars had an OPS+ between 112 and 128 for the season. A seventh,
Danny Espinosa
, would have been right there as well if not for a hideous April. The weak link is
Kurt Suzuki
-- and he hit over .300 in September.
5. Davey Johnson. Outside of
Jayson Werth
, this team has little postseason experience, but this is the fourth team Davey has led to the playoffs, and he's won five postseason series. You have to expect that he can guide this team through the highs and lows of October baseball.
--Harper Gordek, Nats Baseball
San Francisco Giants

1.
Buster Posey
. His second half was off-the-charts awesome, hitting .385/.456/.646. He was the best hitter in the majors after the All-Star break -- even better than
Miguel Cabrera
.
2. The rest of the Giants' offense. Even though they ranked last in the NL in home runs in the second half, they still managed to rank second in runs per game.
Marco Scutaro
proved to be a huge acquisition, hitting .362 with the Giants.
3.
Matt Cain
. Remember his dominant postseason performance in 2010? In three starts, he allowed just one unearned run. This time around he's the Giants' No. 1 guy.
4.
Sergio Romo
. The Giants rode
Brian Wilson
a lot in 2010, but this time they'll have Romo, who could be just as dominant closing games. He allowed just 37 hits and 10 walks in 55.1 innings while striking out 63. He was equally crushing against lefties (.491 OPS allowed) and righties (.537).
5. Bruce Bochy. He's considered by many to be the best manager in the game. If a series comes down to in-game tactics, most evaluators would rate Bochy superior to Dusty Baker, Fredi Gonzalez and Mike Matheny.
--David Schoenfield
Baltimore Orioles

1. No. 1 -- and, you could certainly argue Nos. 2-5 as well -- is the bullpen. The O's went 73-0 when leading after the seventh inning. As relievers,
Tommy Hunter
is touching 100 mph and
Brian Matusz
has struck out 19 batters in 13 innings. Then there's
Troy Patton
(2.43 ERA),
Pedro Strop
(2.44),
Darren O'Day
(2.28) and
Jim Johnson
(2.49, 51 saves) to finish things out. While it might not be the best bullpen ever -- or even the best bullpen in the league this year -- it may have been the most "effective" 'pen in history, as noted by its record-setting (record-obliterating, really) +14 win probability added. Maybe 16 consecutive extra-inning wins and a 29-9 record in one-run games (the best since the 1800s) is partially a fluke, but having a quality bullpen certainly doesn't hurt in keeping that going.
2. Buck Showalter. Aside from bullpen management that's been so effective, Buck seems to just make all the right moves, putting guys in positions to succeed and making in-game decisions that seem to work even when they probably shouldn't. Sac bunt? You get the run you need. Hit and run? Batted ball goes right to where the second baseman was. Bring in
Chris Davis
to pitch? Two shutout innings, a pair of strikeouts (including
Adrian Gonzalez
!), and a win. Judging managers is tricky, but it would be mighty hard to argue that Buck isn't a net plus.
3. A surging offense. Overall, the O's were a little below average, but since the beginning of September they've actually been one of the league's better hitting teams (with an AL-best 50 home runs). It's mostly been the Davis show recently (.320/.397/.660, 10 home runs), but
Matt Wieters
(.296/.389/.541),
Adam Jones
(.295/.343/.504) and
Nate McLouth
(!) (.280/.355/.456) haven't been slouches either.
4. An improved defense. The glove work was often sloppy early in the year, all around the diamond, but not so much lately (largely since
Manny Machado
was called up). Machado is a shortstop (with the range that implies) playing third base, and adjusting both well and quickly to it.
J.J. Hardy
is one of the game's better shortstops. Whoever is playing second is decent (
Robert Andino
or
Ryan Flaherty
).
Mark Reynolds
may have found a home at first base, even if he's not a Gold Glover there (yet). The O's fielding (via FanGraphs) for the first four months: -20 runs. Fielding since: +0.
5. Orioles magic. Even if you count the O's as underdogs in each playoff series -- and really, you probably should -- they still have a 3-5 percent chance of winning it all (those chances double if they knock off Texas, by the way).
--Daniel Moroz, Camden Depot
Texas Rangers

1. An obvious on-paper advantage in the wild-card game.
Yu Darvish
has been dominant down the stretch with a 2.13 ERA and just 10 walks over his final seven starts. He's a strikeout pitcher against a lineup that strikes out a lot. Meanwhile,
Joe Saunders
is 0-6 with a 9.38 ERA in six career starts in Arlington.
2. Big-game experience.
Matt Harrison
had a terrific season, and having started a Game 7 of the World Series won't be fazed by the postseason.
Derek Holland
has had an inconsistent season but, as he showed in the World Series last year, is certainly capable of huge performances.
Ryan Dempster
also has playoff experience with the Cubs.
3. Defense. The infield defense with
Adrian Beltre
,
Elvis Andrus
and
Ian Kinsler
is arguably the best in baseball and was a key component to the Rangers' World Series run a year ago.
4.
Josh Hamilton
. If these are his final days with the Rangers, you get the feeling he'll be focused to go out with a bang, especially after his disastrous game in the regular-season finale. After his hot start, Hamilton recovered from his slump in June and July to hit 14 home runs over the final two months.
5. One game equals momentum. OK, the series sweep in Oakland was a disaster, but all it takes is one win over Baltimore and the Rangers can forget what happened down the stretch. Do that and this team is still the scary opponent everyone figured it was a few days ago.
--David Schoenfield
Oakland Athletics

1. Sometimes a very good overall team matches up poorly against a playoff opponent. As far as lefty-righty goes, the A's won't have that issue. General manager Billy Beane gave manager Bob Melvin the pieces to construct platoons, including at first base (
Brandon Moss
/
Chris Carter
), designated hitter (
Seth Smith
/
Jonny Gomes
) and catcher (
Derek Norris
/
George Kottaras
). Further, the top two everyday hitters,
Josh Reddick
and
Yoenis Cespedes
, bat from opposite sides of the plate, and leadoff man
Coco Crisp
, a switch-hitter, has very similar career splits from both sides of the plate.
2. The top three relievers,
Grant Balfour
,
Ryan Cook
and
Sean Doolittle
, have pitched remarkably well. All three bring gas. Cook can struggle with his command and Doolittle might hit a rookie wall any minute, but Balfour's 3.01 FIP is the highest of the group.
3. The A's are third in baseball in runs scored after the All-Star break. Ahead of the Yankees. Ahead of the Rangers. Well ahead of the Tigers. The current roster has been legitimately excellent on offense.
4. Defensive efficiency is a very simple metric: It is the rate at which a team turns balls in play into outs. It doesn't account for everything, but it does measure the core skill of a team's run-prevention unit. The A's are third in baseball in this number. Either the pitching staff doesn't give up hard-hit balls, the defense catches everything in sight, or both. Regardless of the why, the what is indisputable: Hits don't happen against the A's.
5. By record, the Tigers are the worst squad in the playoffs, yet the A's, the No. 2 AL team, play them in the first round because of the structure of playoff seeding. It likely isn't a huge advantage (the A's did just sweep Texas, after all), but every little bit counts on the way to a trophy.
--Jason Wojciechowski, Beaneball
Detroit Tigers

1. Miguel Cabrera. MVP or not, the Triple Crown speaks for itself. He is the best pure hitter in baseball and, unlike last year, is healthy heading into the postseason.
2.
Prince Fielder
was the American League's only .300/.400/.500 hitter, and he's not even the best player on his own team. He isn't completely helpless against LOOGYs either, posting an OPS of .808 against left-handed pitchers this season.
3.
Justin Verlander
, who has been just as good as he was in 2011. If Mother Nature cooperates this year, he will put a serious dent in that career 5.57 postseason ERA.
4. The rest of the rotation. With
Doug Fister
finally healthy,
Max Scherzer
's breakout second half, and the acquisition of
Anibal Sanchez
, the Tigers have the best playoff rotation in the big leagues. The four starters (Verlander included) combined for a 2.27 ERA in September and October.
5. Jim Leyland. The Tigers' skipper has been ridiculed by the fan base for most of the year for the team's lackluster performance, most of which was a mirage created by its early struggles. He has had his finger on this team's pulse all season and deserves credit for managing the outrageous expectations for a team with more flaws than people realized. Now he has the Tigers playing their best baseball heading into October and is the biggest reason why they could be parading down Woodward Avenue in early November.
--Rob Rogacki, Walkoff Woodward
New York Yankees

1. The rotation. This looks like the strongest playoff rotation the Yankees have had in years, even better than 2009, when Joe Girardi rode three starters (
CC Sabathia
,
Andy Pettitte
,
A.J. Burnett
) to the World Series title. Sabathia has battled a sore elbow but looked good down the stretch, including eight-inning efforts in his final two starts. Pettitte is 40 years old but still looks like Andy Pettitte.
Hiroki Kuroda
had a quietly excellent season, finishing eighth in the AL in ERA and 10th in OBP allowed among starters.
Phil Hughes
is a solid No. 4.
2. Home-field advantage. While this generally isn't a big factor in baseball, the Yankees' power comes into play with the short porch at Yankee Stadium. Earning the No. 1 seed was probably more important to the Yankees than any other team.
3.
Robinson Cano
. He's locked in right now, going 24-for-39 in his final nine games, all multihit games. Don't be surprised if he has a monster postseason.
4. Lineup depth and versatility. In this age of bullpen matchups, the Yankees are difficult to match up with. They can run out a lineup that goes right-left-right-left-switch-switch-left-left/right-right. You'd better have a deep bullpen to beat this team in the late innings.
5. Health. While
Mark Teixeira
may not be 100 percent, at least he's back in the lineup, meaning the Yankees finally have all their position players available (even
Brett Gardner
may make the postseason roster as a pinch runner/defensive replacement). They've been dinged up all season, but Sabathia and Pettitte should be strong. The only question: The Yankees haven't won a World Series without
Mariano Rivera
since 1978.
--David Schoenfield
September, 25, 2012
9/25/12
11:59
PM ET
One year ago -- 368 days to be exact --
Freddie Freeman
batted in the bottom of the 13th inning with one out and grounded a 3-2 pitch from the Phillies'
David Herndon
to first base.
John Mayberry Jr.
started a 3-6-3 double play and the Braves' season was over in a 4-3 defeat, the final gut-punch in a horrific final month that saw Atlanta go 9-18 in September and lose its final five games to miss the playoffs by one win.
So maybe it was fitting that Freeman was the player who launched the Braves into the 2012 postseason, hitting a dramatic game-winning two-run home run in the bottom of the ninth on Tuesday night, an arching blast over the 400-foot sign in dead center that gave Atlanta a
4-3 win
over Miami.
Maybe it was fitting that
Craig Kimbrel
, the closer who blew a ninth-inning lead in that 162nd game a year ago, pitched a scoreless ninth to pick up the win.
It certainly was fitting that
Chipper Jones
, who went 0-for-5 with three strikeouts in the 2011 finale, started the rally with a leadoff double. Old man Chipper, still stinging line drives all over the place.
And needless to say, it was no surprise that
Kris Medlen
, the Braves' good-luck charm, started the game. He didn't get the decision and even proved human -- allowing three runs! -- but the Braves have now won 22 consecutive games he's started, going back to 2010, tying the all-time mark with Whitey Ford's Yankees and Carl Hubbell's Giants.
"We are shooting for the stars," Jones said after the game. "It makes it all worth it. I'm happier for these guys because they worked hard."
What did we learn on this evening? That maybe the Braves should start Medlen in the wild-card game ... and Game 1 of the Division Series ... and Game 2 ... and ... OK, we learned that Braves fan can finally breathe. No collapse this year. And we learned that Medlen is still the hottest pitcher in the game -- 7 innings, 5 hits, no walks, 8 strikeouts -- and continues to give Atlanta ace-level performance.
Here are a few other things we learned:
Anibal Sanchez puts the pressure on the White Sox
Sanchez delivered one of the dominant outings of the season with his fifth career shutout, a
10-strikeout, 3-hit, 105-pitch
gem. His Game Score of 90 was just the fourth of 90-plus by a Tigers starter since 2010 (some guy named Verlander had the other three) and just the 17th such start in the majors in 2012. More importantly, it moved the Tigers into a first-place tie with the White Sox, who
had lost earlier
in the day, their sixth loss in seven games.
Is it panic time in Chicago? Robin Ventura announced that he'll start
Hector Santiago
on Wednesday, pushing
Jake Peavy
back to start the series opener against the Rays on Thursday. Peavy hasn't been the dominant pitcher in the second half (4.20 ERA) that he was the first three months, so maybe an extra day of rest is a smart move, especially since he got roughed up in his previous start. Still, the sinking Sox turn to a rookie making just his third major league start. Things are starting to look gloomy in ChiTown.
David Price might have locked up the Cy Young Award
Umm, remember the
Tampa Bay Rays
? The Little Team That Could before the Orioles and A's became the Little Teams That Could. They were declared dead after getting swept in Baltimore, losing two of three to the Yankees and then two to the Red Sox, but here are they are, winners of six in a row after Price struck out a season-high 13 in a
5-2 complete-game win
over Boston. Price improved to 19-5 and leads the American League with his 2.56 ERA.
The Rays are hitting .346 over this six-game stretch and trimmed another game off their deficit to the wild-card-leading Orioles after they were
blanked by the Blue Jays
. Is this right time to remind Orioles fans that the Rays and O's finish the season with a three-game series in Tampa? Not that right time? I mean, the Orioles -- after all this, after finally earning respect -- they're not going to blow it, are they?
Johnny Cueto had an important outing for the Reds
You don't want to read
too
much into mini-slumps this time of year, but the Reds' ace had been a little shaky his past few outings. Cueto quelled concerns with seven terrific innings (7 IP, 5 H, 2 R, 0 BB, 5 SO) to
beat the Brewers
for his 19th win -- the first Reds pitcher to win that many since Danny Jackson in 1988 and first right-hander since Jack Billingham in 1974. More good news for the Reds:
Aroldis Chapman
also pitched his second game since his 12-day layoff and threw 10 fastballs in a 1-2-3 inning -- 100, 100, 99, 98, 98, 98, 97, 97, 96 and 95.
Don't be alarmed by another Nationals loss
The Nationals are now 4-7 over their past 11 games. Davey Johnson has said he's more concerned with resting players than beating out the Reds for the top seed in the National League. Should Nationals fans be worried about this little slump? Not really. Late-season hot streaks or cold streaks are overrated. I looked at the World Series champs since 1996 and looked at how they played during the entire season, over the final month (September or September/October) and over the final 10 games.
Season: .586 winning percentage
Final month: .575 winning percentage
Final 10 games: .587 winning percentage
This is why you shouldn't pay much attention to what happens down the stretch. World Series winners haven't been any "hotter" down the stretch than they've played all season. Mixed in those World Series winners are the 2006 Cardinals (12-17 the final month, 3-7 in their final 10 games); the 2002 Angels (4-6 their final 10); the 2000 Yankees (13-18 and 2-8); and the 1997 Marlins (12-15 and 3-7). Yes, the past four World Series winners went a combined .667 the final month, but that doesn't tell which other "hot" teams didn't win the World Series. Plus, the Nationals are still 13-10 in September. They're fine.
Brandon Moss might have saved the A's season with a spectacular catch
The situation: bottom of the seventh, bases loaded, two out,
Sean Doolittle
versus
Elvis Andrus
.
Then Moss does this
.
Jorge Coutares is Dominican, right?
No? What, he's Greek? His name is spelled
George Kottaras
?
He just won a big game for the A's?
Have they even invented sticks and balls in Greece yet?
Angels tie record with 20 strikeouts in nine-inning game
Zack Greinke
fanned 13 in five innings against the Mariners but had to leave after throwing 110 pitches.
Ernesto Frieri
struck out
John Jaso
for the final out in a
5-4 victory
. Amazingly, the Mariners tied only their own club record. The Angels remain just two games behind the A's. If Oakland goes 3-5 over its final eight games, the Angels have to go 6-2 to pass them. Good news for the A's: The Mariners send King Felix to the mound on Wednesday ... which means he won't start against the A's over the weekend, making his final start Monday against the Angels.
PHOTO OF THE DAY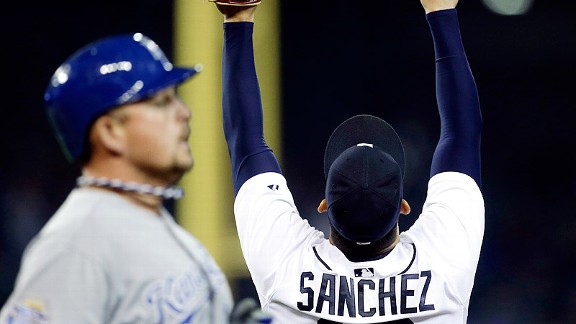 AP Photo/Paul SancyaJust ask Anibal Sanchez: 'Tis the season for more than a little
rational
exuberance.
September, 2, 2012
9/02/12
11:15
PM ET
I don't yet know if 2012 will be considered a baseball season to remember. We tend to appreciate the great teams and memorable moments -- last year's dramatic final day of the regular season or the World Series Game 6 for the ages -- more than the beautiful, long grind of surprises and melodrama that is played out over 180 days and 162 games per team.
But I'll say this: 2012 has a chance to be one of those years, doesn't it? You can't start wherever you want -- the perfect games and no-hitters,
Mike Trout
and
Bryce Harper
,
Josh Hamilton
's four-homer game or
Derek Jeter
's continued excellence,
R.A. Dickey
's knuckleball,
Aroldis Chapman
's fastball and
Felix Hernandez
's changeup -- and the list goes on and on. At the top of that list right now: The Oakland A's, everybody's spring training joke, now co-owners of the second-best record in the American League.
The other day I wrote that the
Baltimore Orioles
are starting to look like a team of destiny, and they didn't disappoint over the weekend, taking two of three at Yankee Stadium to claw to two games behind the Bronx Bombers. The same can be said of the A's. Like the Orioles, we waited through June and July and August for the fall to come. Well, fall is right around the corner and the A's are not only still here, they're getting better and breathing down the necks of the
Texas Rangers
, three games out of first place after winning their ninth game in a row on Sunday.
The A's absolutely destroyed the remnants of the
Boston Red Sox
over the weekend -- 20-2, 7-1 and 6-2 -- and have outscored their opponents by the dominating total of 72-22 during the winning streak. Here's a fun stat: Ten days ago the A's ranked 13th in the AL in runs scored, just 10 runs ahead of the Mariners. Now they rank ninth, after hitting .307 during this streak with 20 home runs and 29 doubles. OK, a 20-run game will inflate those numbers (thanks for showing up, Red Sox), but Oakland's lineup has steadily been improving all season:
April: .209/.280/.330
May: .210/.295/.334
June: .250/.327/.425
July: .249/.312/.437
August: .258/.322/.454
How do you explain something like this? We can start with
Chris Carter
and
Brandon Moss
, who have turned into a powerful platoon at first base. A season ago, A's first basemen hit .219 with seven home runs. Led by Carter (.272/.375/.580 after his June 29 recall from Triple-A), A's first basemen are hitting .232 but with 26 home runs. You can start with
Josh Reddick
(28 home runs) and
Yoenis Cespedes
(.297/.356/.493) or
Coco Crisp
(.288/.354/.550 since the All-Star break) and
Jonny Gomes
(.942 OPS since the break).
A team that was hitting .208 on June 1 is now contending for the league's best record. A season for the ages? Maybe.
Brett Anderson
was the winning pitcher in
Sunday's 6-2 win
, his third win in three starts since returning from last year's Tommy John surgery. I think his quote says it all about this club from nowhere: "It's crazy. Who would have predicted that [on Sept. 2] we'd be tied with the Yankees for the same record? Everything's working right now -- offense, defense, pitching. When that's happening, special things are going to happen."
Most amazing is the complete transformation from last year's squad that won 74 games.
Executive of the year? Beane basically lost all his best players from 2011, rebuilt an entire team and on Sept. 2 the A's and their $55.3 million Opening Day payroll (29th in baseball) have the same record as the mighty Yankees and their $198 million payroll.
The A's of a decade ago -- the "Moneyball" A's of book and movie fame -- were a different sort of team. In reality, that was a team of stars, not a patched-together roster of youngsters, castoffs, reclamation projects and one-more-chance guys. When I think of surprise teams and great seasons, I think back to 1991, when we saw the
Atlanta Braves
and
Minnesota Twins
both go from last place to the World Series. But in retrospect, those teams were in a far different position than these A's. The Braves were a young team that came together all at once --
Tom Glavine
,
John Smoltz
,
Steve Avery
,
David Justice
,
Ron Gant
and so on -- while the Twins were more of a veteran team (Kirby Puckett, Kent Hrbek, Greg Gagne) that added reinforcements in free agents Jack Morris and Chili Davis plus rookies
Chuck Knoblauch
and
Scott Erickson
.
There was absolutely no way to predict this team would be in the pennant race as we head into September. Maybe the carpet ride will stop short of the postseason -- of Oakland's 29 remaining games, 23 are against teams with winning records and the other six are against Seattle, which is tied with Baltimore for the second-best record in the AL since the All-Star break.
"We're not looking too far ahead," Reddick said. "I don't think we're going to worry about who we're tied with right now. All that matters is when that last game of the year comes along, where we're at at that point."
We'll get to that last game of the year ... but I already can't wait. I have a pretty good feeling we're in for something special.
PHOTO OF THE DAY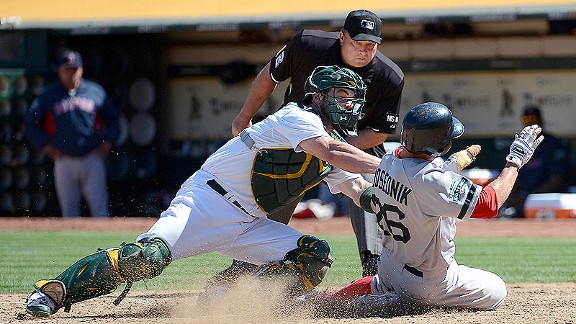 Kyle Terada/US PresswireDerek Norris applies the tag to Podzilla, but the Red Sox are no longer the 'it' team.
July, 18, 2012
7/18/12
8:42
PM ET
By
Christina Kahrl
| ESPN.com
The Oakland A's beat the Texas Rangers Wednesday in the ninth on
Brandon Hicks
' first big league home run. A former Atlanta Braves' shortstop prospect, Hicks was claimed off waivers this spring and is just the latest refugee from someplace else to wash up in Oakland, and potentially provide a solution in a long-shot bid for contention.
In a season that has seen its share of improbable runs -- the Los Angeles Dodgers and Baltimore Orioles being the poster children for surprise starts -- the A's might be more surprising still. In their first full season after the release of the movie
Moneyball
, they're winning despite ranking next-to-last in the league in OBP (bettering only the Seattle Mariners) and last in scoring. And while the movie didn't get into the other really big reason those old A's teams won, this club lacks the strong rotation that made Oakland a contender a decade ago.
[+] Enlarge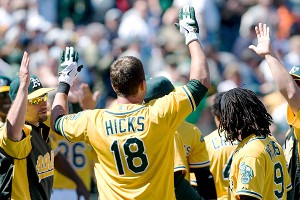 Ed Szczepanski/US PresswireBehind a patchwork offense, the Athletics are surprisingly in contention nearing the trade deadline.
The rotation's been a surprise thanks to the contributions of trade pick-ups
Jarrod Parker
and
Tommy Milone
; two completely different prospects. Parker was the highly touted teen phenom in the D-backs' system, while Milone is a finesse lefty with burglar's guts and precise command. They're not alone, though, as the A's rank third in the league in quality starts thanks also to the contributions from the well-traveled
Bartolo Colon
and the discard duo of
Brandon McCarthy
(when healthy) and
Travis Blackley
. The only brag-worthy home-grown hurler starting games for the A's has been
A.J. Griffin
. If there were questions about the A's front office losing its touch in trades and scraping up talent, this is a group doing plenty to redeem that reputation.
To look at the offense, the problem isn't the absence of walks or power, so they're not really an anti-Moneyball offense. They're fourth in the league in walk rate, after all. While key sluggers such as
Yoenis Cespedes
and
Josh Reddick
don't contribute much OBP, they're generating plenty of power. This is why the A's Isolated Power (slugging minus batting average) rates ninth in the AL, directly behind the much-vaunted Tigers' attack.
What's killing the A's is a dearth of help from their up-the-middle quartet: catcher
Kurt Suzuki
, second baseman
Jemile Weeks
, shortstop
Cliff Pennington
and center fielder
Coco Crisp
. At .620, Weeks has the highest OPS in the group. Add third base to the problem list with
Brandon Inge
providing nothing better than slack-batted temp work (.616 OPS). Unlike the luckless Mariners, the A's home park isn't really hurting them -- with a .659/.689 home/road OPS split.
They're just bad at getting base hits. Because they're one of the most free-swinging teams in baseball (striking out 21.4 percent of the time), their shortage of singles isn't going to get that much better. Fewer balls in play means fewer chances to see that number "regress" up to league average.
So they need to be a bit aggressive about fixes, and to their credit, they have been. Five weeks ago, the A's lineup had a problem at first base problem. They had cycled through bunting fool
Daric Barton
. What other term is there for a first baseman who bunts on his own, and sets the highest single-season mark for players at that power position since bunt-happy Gene Mauch ordered Rod Carew to lay down 16 sac bunts in 1982? They'd also looked at and laughed off the Kila Monster.
Kila Ka'aihue
proved to be another somebody who wasn't going to be the next Ken Phelps -- the minor league slugger immortalized by Bill James in the '80s and by the Mariners by their belated recognition that the guy had a hammer.
Instead, the A's have once again turned to something as anti-Moneyball as it gets.
Brandon Moss
, former Boston Red Sox prospect before he became a Pittsburgh Pirates washout, got sucked into the first-base job simply because nature abhors a vacuum. His unintentional walk rate in the minor leagues is below 9 percent. So what does he do? Rip 11 homers in less than a month. Of course, because that's exactly what you expect from a guy who put a .667 OPS with the Pirates.
Rather than let that ride, they finally brought up
Chris Carter
, something A's fans have been waiting for at least three years, if not longer. Ever since Carter was picked up in the deal that sent
Dan Haren
to the D-backs, their fans have wondered what the payoff was supposed to be. With four of the six players the A's got in that deal (including
Carlos Gonzalez
) long since in other uniforms, it's down to Carter and the occasionally healthy
Brett Anderson
.
So, after making Carter spend parts of four seasons in Sacramento, enough time to get streets named for him, what did he do? Not let himself be outshone by the likes of Moss: He has clouted five homers in little more than a week's worth of games.
Now sure, in a month we won't be talking about how this quick-fix platoon is slugging more than .600. Moss might outperform his Pirates seasons, but he's still just Moss. But Carter ought to start absorbing more of the job. At a high-offense position it's a fix akin to what the A's success did with their DH platoon of
Seth Smith
and
Jonny Gomes
this season. You can hope or wonder whether they'll be similarly creative in addressing their other lineup issues, because if even a shot at the one-and-done wild card is going to last, they'll need to be.
It's a reflection of this season's mayhem that the A's -- the A's! -- might very well be buyers at the deadline. Given the presumably parlous state of their finances, they may be shopping with little more than pennies and good intentions, but for a franchise some people were pegging for 100 or more losses back in February, it's a surprisingly happy state of affairs.
PHOTO OF THE DAY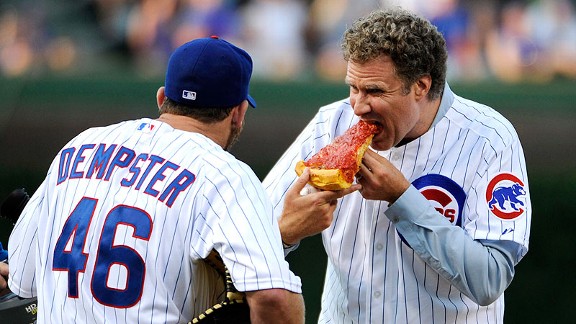 David Banks/US PresswireWhat's a first-pitch hurler like Will Ferrell to do, if not eat the world's best pizza in Chicago too?
Christina Kahrl covers baseball for ESPN.com. You can follow her on Twitter.
July, 3, 2012
7/03/12
11:08
AM ET
First base: Romero rocked again.
Considering all the injuries to the Blue Jays' rotation, another issue of concern is the struggles of ace
Ricky Romero
, who allowed eight runs in six-plus innings -- including a grand slam to
Mike Moustakas
-- in Monday's
11-3 loss to the Royals
. Romero is 8-3 thanks to great run support, but his ERA is 5.35. He's allowed four runs or more in 11 of 17 starts, a figure topped only by
Jake Arrieta
's 12 such starts. But he's allowed four-plus runs in his last eight starts and 17 over his past two. The Jays are now 40-40 and without Romero at the top of his game, their playoff chances are dimming.
Second base: Maybin's monster mash.
After a breakout season in 2011 for the Padres,
Cameron Maybin
has been a big disappointment, with a .206/.287/.307 line, but he did belt the
season's longest home run on Monday
, a 485-foot bash off
Trevor Cahill
. According to ESPN Stats & Info, that tops
Nelson Cruz
's 484-foot blast on June 3.
Yasmani Grandal
also homered for the Padres, making his first three career hits all home runs. That would seem like like a first-player-to-do-it type of feat, but he's the seventh player to do so since 1900, joining
Keith McDonald
(2000),
Alfonso Soriano
(1999-2000), Mike Greenwell (1985), Billy Conigliaro (1969), Ed Sanicki (1949) and Chick Fullis (1929). The amazing thing about McDonald: Those were the only three hits of his career.
Third base: Weaving zeroes.
Jered Weaver
improved to 9-1 with a 2.13 ERA with
seven scoreless innings
against the Indians and could be in line to start the All-Star Game for the second straight season. According to ESPN Stats & Info, Weaver threw a season-high 20 curveballs, 14 for strikes. Since 2009, Weaver now has 23 scoreless starts, second in the majors to
Clayton Kershaw
's 28. I still expect
Justin Verlander
to get the start, but Weaver could be the first to start consecutive All-Star Games since
Randy Johnson
started for the NL in 2000 and 2001.
Home plate: Tweet of the day.
The
A's beat the Red Sox 6-1
as they scored five runs in two innings off
Daisuke Matsuzaka
.
Josh Reddick
didn't make the All-Star team, but he hit his 19th home run, and former Red Sox prospect
Brandon Moss
hit his ninth to raise his slugging percentage to .658. Leading to this tweet from Peter Gammons:
Josh Reddick and Brandon Moss 28 HR. Red Sox OFs 20 HR



Josh Reddick and Brandon Moss 28 HR. Red Sox OFs 20 HR

— Peter Gammons (@pgammo) July 3, 2012