February, 4, 2013
2/04/13
6:12
PM ET
The other day, Jim Bowden wrote about the
monster free agent class

following the 2014 season that right now includes
Justin Verlander
,
Felix Hernandez
and
Clayton Kershaw
.
However, while Verlander ($20 million each of the next two seasons) and Hernandez ($39.5 million over the next two seasons) have already cashed in, Kershaw is playing on the second year of a $19 million contract. Yes, not exactly pocket change, although more than enough to have Bob Feller suggest Kershaw may have been good enough to pitch for the '54 Indians -- out of the bullpen, of course.
If there's a reason to suspect that Kershaw will never reach free agency, however, it's the announcement that former Cy Young winner
Brandon Webb
has retired
at the age of 33. Like Kershaw, Webb was once one of the elite pitchers in the game, leading the majors in wins from 2005 to 2008 and winning the 2006 NL Cy Young Award and finishing second in the voting the next two seasons. Webb pitched just one game in 2009 but hurt his shoulder and despite repeated rehab and comeback attempts, never returned to the majors.
It's easy to forget how good Webb was, since he pitched those years in relative obscurity in Arizona. Despite the respect in the Cy Young voting, he always seemed underrated. An eighth-round pick in 2000 out of Kentucky, Webb walked 119 batters his first full season, but learned to command his hard sinker. In his Cy Young season he walked just 50 batters.
He pitched long enough to make $31 million in the majors and hopefully the Webb family is set for generations to come, but his injury shows how quickly the end can come for pitchers. Kershaw told the Los Angeles Times in late January that
no long-term talks have taken place
. "We'll see," Kershaw said. "I don't have any expectations."
Kershaw's hip started bothering him late last season, although he said he felt fine his final two starts. Still, it's at least a small warning sign, maybe just another reason to cash in now. Considering the Dodgers signed
Zack Greinke
to a six-year, $147 million and Kershaw is the better pitcher, you can imagine a talks starting at the $150 million. Sure, Kershaw would gain a few more dollars on the open market -- if he gets there injury-free.
As for Webb, he's just one of seven pitchers since 2000 to record at least three seasons of 6+ Baseball-Reference Wins Above Replacement.
June, 6, 2011
6/06/11
8:42
PM ET
Tim Lincecum
starts Monday night for the Giants. In his fifth season, he already has 995 strikeouts and can become just the eighth pitcher since 1900 to record 1,000 strikeouts in his first five seasons. (
UPDATE: He struck out five Nationals to reach 1,000
.) The list:
Tom Seaver, 1155
Bert Blyleven, 1094
Dwight Gooden, 1067
Kerry Wood
, 1065
Pete Alexander, 1036
Hideo Nomo
, 1031
Mark Langston, 1018
Tim Lincecum, 995
Pretty good company: Three Hall of Famers, a 194-game winner (Gooden), a 179-game winner (Langston) and a 123-game winner (Nomo). Only Wood failed to win 100 games. Four of the next five guys on the list are Hall of Famers as well:
Roger Clemens
, Bob Feller, Don Sutton, Frank Tanana and Fergie Jenkins.
You probably can't read too much into this, but for all those who worry that Lincecum will get injured ... well, all these guys except Wood had long careers as starting pitchers. Tanana did suffer a major arm injury but managed to hang on as a soft-tosser for a long time and he won 240 games. Gooden did later develop some shoulder problems. Basically, if Lincecum hasn't been hurt by now, there's a pretty good chance he'll be around for a long time.
Now, strikeouts are just one statistic, and Lincecum has the advantage of playing in a high-strikeout era and in a good pitcher's park. Has he been one of the
best
pitchers through five seasons? (Obviously, he has four months left in the season.) From
Baseball-Reference
, here is the list of top-10 pitchers by WAR (wins above replacement level) through their first five seasons:
1. Pete Alexander, 36.8
2. Tom Seaver, 36.7
3. Bert Blyleven, 29.3
4. Dwight Gooden, 28.6
5. Nap Rucker, 28.3
6. Bob Feller, 28.1
7. Frank Tanana, 28.1
8. Eddie Plank, 28.0
9. Robin Roberts, 27.9
10. Teddy Higuera, 27.3
Not surprisingly, some of the same names. It's a reminder of how of good Tanana was from 1973 to 1977: 66-49, 2.69 ERA, 73 complete games and 19 shutouts. (And, really, it was only four seasons, as he made just four starts in '73.) Teddy Higuera is the surprise name on the list. If you don't know about him, maybe he is a precautionary tale for Lincecum: He was a little 5-10 lefty for the Brewers and went 78-44 with a 3.28 ERA from 1985 to 1989. But he began suffering back problems in 1989 and later tore his rotator cuff.
As for Lincecum, his Baseball-Reference career WAR is 20.8, which currently puts him at 44th. If we extrapolate his 2011 numbers (2.0 WAR so far) we get four additional WAR, which pushes him up to 24.8 and into the top 20.
How does Lincecum fare among active pitchers? Only four actives are currently ahead of him on the WAR chart for their first five seasons:
Tim Hudson
(24.9),
Brandon Webb
(24.4),
Roy Oswalt
(22.4) and
Barry Zito
(21.0). Let's see what happened to those
after
their first five seasons.
Tim Hudson
First five (1999-2003): 80-33, 1052 IP, 3.26 ERA, 137 ERA+, 796 SO, 338 BB, 24.9 WAR
Next five: (2004-2008): 66-44, 965 IP, 3.73 ERA, 117 ERA+, 576 SO, 281 BB, 15.2 WAR
Like Lincecum, Hudson is a small right-hander. He never threw as hard as Lincecum although he had lows 90s heat when he first came up. He's never had the strikeout rates of The Freak, but turned into a supreme ground-ball pitcher and has overcome Tommy John surgery in the 2008 season.
Brandon Webb
First five (2003-2007): 65-55, 1089 IP, 3.22 ERA, 144 ERA+, 880 SO, 368 BB, 24.4 WAR
Next five: (2008-): 22-7, 230 IP, 3.47 ERA, 134 ERA+, 185 SO, 67 BB, 4.8 WAR
Webb went 22-7 in 2008 and finished second to Lincecum in the Cy Young voting, but hurt his shoulder in his first start of 2009 and has yet to make it back to the majors.
Roy Oswalt
First five (2001-2005): 83-39, 980 IP, 3.07 ERA, 142 ERA+, 850 SO, 225 BB, 22.4 WAR
Next five (2006-2010): 67-44, 1034 IP, 3.29 ERA, 129 ERA+, 816 SO, 242 BB, 17.1 WAR
Oswalt hasn't suffered much of a decline through the years. His strikeout rate has dipped a bit, but some of his decline could be attributable to a bad team behind him in Houston in his latter years. By the way, take note of all the big, hulking right-handers just selected in the draft: Lincecum, Hudson and Oswalt are all 6-foot or shorter.
Barry Zito
First five (2000-2004): 72-40, 981 IP, 3.41 ERA, 130 ERA+, 774 SO, 332 BB, 21.0 WAR
Next five (2005-2009): 61-66, 1018 IP, 4.24 ERA, 104 ERA+, 727 SO, 454 BB, 10.7 WAR
Zito always lived a fine line, walking 80-plus guys a year without having a monster strikeout rate. It worked for several seasons, including a Cy Young season, but he was just a slightly better than league average pitcher his second five seasons (although at least a durable one, making 32-plus starts every season).
One final list. Leaders in Baseball-Reference WAR since 2007:
1.
Roy Halladay
, 27.6
2.
CC Sabathia
, 25.4
3.
Felix Hernandez
, 21.9
4.
Dan Haren
, 21.6
5. Tim Lincecum, 20.8
Because he had just a partial season in 2007, Lincecum has fewer starts than the other guys. Lincecum's ERA+ is better than Haren's and Hernandez's, the same as Sabathia's, and a bit lower than Halladay's.
So the question: Which pitcher would you most want for the NEXT five seasons? Discuss below or on our
SweetSpot Facebook page
.
PHOTO OF THE DAY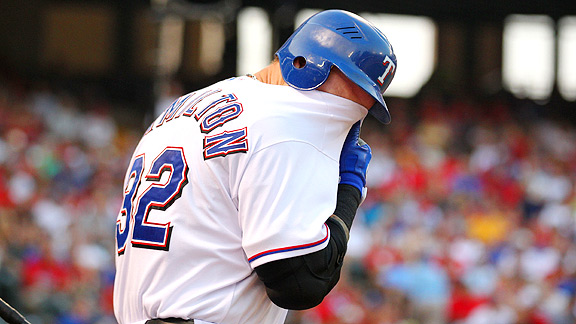 Matthew Emmons/US PresswireListen, Josh, it's OK, you can look. It's over. The Rangers lost 13-7 against the Tigers. It's one game.
May, 3, 2011
5/03/11
10:35
AM ET
In 2007, just three seasons after losing 111 games, the
Arizona Diamondbacks
won 90 games and the NL West title and reached the NLCS. They were swept by red-hot division rival Colorado, but it was a terrific season for a young ballclub. The future looked bright for a team that started just one regular position player over 30 and had the youngest lineup in the National League.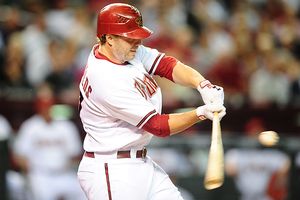 Mark J. Rebilas/US PresswireAfter striking out 638 times during the 2008-10 seasons, Mark Reynolds was traded to the Orioles.
Among the promising hitters: Rookie center fielder
Chris Young
hit 32 home runs and stole 27 bases; shortstop
Stephen Drew
, in his first full season, hit just .238 but played solid defense and had 44 extra-base hits; rookie third baseman
Mark Reynolds
hit .279 with 17 home runs in 111 games; second-year right fielder
Carlos Quentin
had struggled (.214/.298/.349), but the team had called
Justin Upton
, who was just 19 when he made his major league debut. Backup catcher
Miguel Montero
showed promise in his rookie season. Sitting in the farm system:
Carlos Gonzalez
,
Brett Anderson
,
Max Scherzer
and Jarrod Parker. With that base, the D-backs followed their 90-win season by winning 82, 70 and 65 games and the 2011 team is 12-15 with four starters owning ERAs on the wrong side of 5.00.
So, what went wrong?
1. The 2007 team wasn't that good. Despite winning 90 games it was actually outscored 732 to 712 and despite playing in a great hitter's park, ranked just 14th in the NL in runs and 16th in batting average and on-base percentage. In truth the Diamondbacks had a
bad
offense -- granted, one that could be expected to improve due to the young hitters ... but how much?
2. The
Eric Byrnes
contract. Late in the 2007, the team signed the scrappy Byrnes to a three-year, $30 million extension. Byrnes had a nice 2007, hitting 21 home runs and stealing 50 bases. But he was 31 years old and the contract proved a disaster as Byrnes hit .218 over two seasons before getting released.
3. Thinking they need to improve upon a rotation of
Brandon Webb
,
Livan Hernandez
,
Doug Davis
and
Micah Owings
, the team traded Gonzalez and Anderson to the A's for Dan Haren. Haren was traded last season to the Angels for a mediocre
Joe Saunders
and prospect Tyler Skaggs, who is several years from the majors. So, for Gonzalez and Anderson the team basically received two-plus years of Haren and a bottom-of-the-rotation starter.
4. Brandon Webb's injury. The team's ace and 2006 Cy Young winner, Webb won 22 games in 2008 before hurting his shoulder.
5. A related note has been Arizona's complete inability to develop starting pitchers. Once you get past Webb, the starting pitcher developed from within with the most victories in a D-backs uniform is Owings, who won just 14.
6. Strikeouts, strikeouts, strikeouts. The homer-happy approach of the lineup went too far. After striking out the 10th and 11th most times in history in 2008 and 2009, the team set the all-time record in 2010, whiffing an amazing 1,529 times, with five players striking out at least 145 times. The strikeouts became a major hindrance to the young hitters becoming bigger stars, most notably Upton, who followed an excellent 2009 with a disappointing 2010. Young has been inconsistent and the team finally gave up on 200-strikeout man Reynolds, trading him to the Orioles.
7. Too much lost talent: Quentin,
Alberto Callaspo
and
Jose Valverde
were all traded and
Orlando Hudson
left as a free agent. The Diamondbacks have nothing on the current roster to show for those guys.
8. Bullpen blues. The pen -- led by closer Valverde -- was excellent in 2007, but slowly deteriorated to the point that Baseball Prospectus analyzed the 2010 pen as the fourth-worst since 1950.
This much is clear: The days of
Randy Johnson
and
Curt Schilling
heating up the desert seem long ago.
Follow David Schoenfield on Twitter at @dschoenfield. Follow the SweetSpot blog at @espn_sweet_spot.
March, 29, 2011
3/29/11
1:41
PM ET
I never know what to make of spring training injuries. It
seems
like there have been a lot of injuries this spring (
listen to Orel Hershiser talk about all the pitching injuries

) but unless we went back and checked previous seasons, it's difficult to say if that's really the case. It's also easy to overreact, since teams are going to be cautious with any sore arms or tight hamstrings at the start of the season -- especially for clubs heading north, where temperatures are still hovering in the 30s and 40s.
With that, here's a scroll through the American League with some of the latest injury updates:
Curtis Granderson and Pedro Feliciano, Yankees:
Granderson has a strained oblique but
thinks he'll be ready for the first series
. Feliciano, who hasn't pitched since March 9, sounds less promising, as he'll remain behind in camp. Steve Garrison might win his spot on the roster.
Brian Matusz and Justin Duchscherer, Orioles:
The lefty had to leave a minor league game on Monday after getting struck on the biceps with a line drive, but
should be fine
to make his first start on Saturday. Duchscherer will start the season on the DL with a strained hip that sidelined him most of last season, opening up rotation slots for Chris Tillman and Brad Bergesen.
J.P. Howell, Rays:
He's still on track
to start pitching in the minor leagues in mid-April and hopefully reach the majors by early May.
Dayan Viciedo, White Sox:
He fractured his thumb on March 10 after getting hit by a pitch. He'll stay behind in Arizona until he's ready.
Jake Peavy, White Sox:
He is to pitch three innings in a minor league intrasquad game today and then stay behind in Arizona. Phil Humber will be the team's fifth starter until Peavy is ready.
Grady Sizemore, Indians:
He'll start the season on the DL, making
Michael Brantley
the starting center fielder with
Austin Kearns
in left. The Indians
have no timetable
for Sizemore's return from knee surgery.
Justin Morneau, Twins:
As of Monday, Morneau still hadn't been officially cleared by doctors to play Opening Day, but
Morneau is hopeful he'll be ready
.
Joe Nathan Twins:
He hasn't pitched great this spring as he comes back from Tommy John surgery, but he passed a test by going two innings in one outing and pitching on back-to-back days. Still, Ron Gardenhire as indicated
Matt Capps
might be used in some save situations early on.
Kendrys Morales, Angels:
He took batting practice Monday and will begin agility work on Tuesday.
Mark Trumbo
will begin the season as the team's first baseman.
Joel Pineiro, Angels:
He might head to the DL with muscle soreness in his back, pushing his first start to April 8.
Andrew Bailey, A's:
A strained right foreman has landed Bailey on the DL. He's also recovering from elbow surgery. No timetable on his return.
Brian Fuentes
and
Grant Balfour
will share closer duties, according to manager Bob Geren.
Franklin Gutierrez, Mariners:
He's likely to begin on the DL with a stomach ailment the team is still trying to diagnose. That leaves
Michael Saunders
and
Ryan Langerhans
as center field options.
Tommy Hunter and Brandon Webb, Rangers:
The Rangers are having all kinds of issues with their pitching staff. Hunter is out at least six weeks with a strained groin while Webb is still in the midst of rehabbing his shoulder. A May return is the optimistic outlook. Meanwhile,
C.J. Wilson
left his last start with a tight hamstring and
Arthur Rhodes
has tendinitis in his wrist.
Alexi Ogando
appears to be the guy stepping in for Hunter.
Follow David Schoenfield on Twitter at @dschoenfield. Follow the SweetSpot blog at @espn_sweet_spot.
March, 24, 2011
3/24/11
3:33
PM ET
Eric Karabell and Mark Simon tackle the issues of the day in Thursday's Baseball Today podcast

, including:
Buck Showalter's comments: Much ado about nothing?
Brian Wilson and the Giants' bullpen.
Brandon Webb's injury status and what the Rangers should do with Neftali Feliz.
Brandon Morrow to start the season on the DL.
Players who've never received an MVP vote: Who will get one this year?
Greatest active pitcher: Halladay or Rivera?
I'm going to weigh in on that last question: The answer is not
Mariano Rivera
. Look, Rivera has been unbelievable, a dominating closer, a class act, clutch in the postseason (although also the possessor of a few vital postseason blown saves that nobody likes to mention) ... but he's a closer. He's thrown 1150 innings in his career, most of them in one-inning stints.
Roy Halladay
has thrown 2297 innings in his career.
How many starters would become dominant closers? Random example:
Justin Verlander
, very good, top-shelf starter. Imagine him throwing 100-mph heat for ONE inning at a time. You don't think he'd be as dominant as Rivera? This isn't meant to belittle Rivera's accomplishments, but to point out that the best closers aren't closers: they're starting pitchers.
March, 9, 2011
3/09/11
11:51
AM ET
By
Charlie Saponara
| ESPN.com
There was a buzz heading into spring training that reigning AL Rookie of the Year
Neftali Feliz
would be stretched out and given a chance to make the Rangers' starting rotation. After only a couple weeks of "stretching out" his arm, Feliz is ready to go back to the bullpen where he feels more comfortable. This is both good and bad for the Rangers. Good because Feliz is more likely to be effective in a short role and bad because their rotation has some major question marks.
Feliz showed us last season just how dominant he could be out of the pen. He posted a 2.73 ERA and a 2.96 FIP while striking out 71 batters in 69.1 innings and walking only 18. He held opposing hitters to a very low 15 percent line drive rate while inducing the opposition to pop-up weakly to the infield on almost 17 percent of his balls in play (seventh best IFFB percent by a reliever in baseball, minimum 50 innings pitched).
[+] Enlarge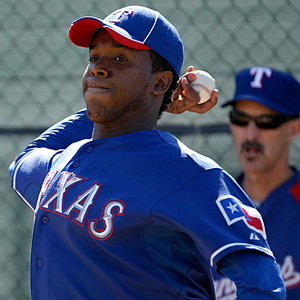 AP Photo/Charlie RiedelIt appears Neftali Feliz is going to stay in the Rangers' bullpen for the time being.
However, despite the 40 saves, the low ERA and the 71 strikeouts to 18 walks, Feliz produced only 1.7 fWAR. That fWAR was lower than those of
Sean Marshall
and
Matt Thornton
, who racked up nine saves between them in 2010. As you can see, saves themselves are really not that valuable. As a matter of fact, Feliz's own teammate,
Darren Oliver
, produced 1.5 fWAR in 7.2 fewer innings.
Clearly, if Feliz could translate his bullpen success into the starting rotation, his value would be much higher. That, however, was going to be a tall order.
We've already established that Feliz was dominant in a one (sometimes two) inning(s) role, but what would happen if he had to throw more innings and go through an entire lineup several times?
In 2009, Feliz was at Triple-A being groomed as a starting pitcher, but the need arose for some help in the Texas bullpen. Feliz was converted to a reliever, and by August he was in the big leagues. Feliz has always had electric stuff, however -- just as many see
Aroldis Chapman
now -- Feliz lacked the command and control of an ace-level starter. As he reached the upper levels of minor league ball, that lack of refinement began to show as he posted a combined 3.9 BB/9 in Double- and Triple-A between 2008 and 2009. His control improved in 2009, but in large part due to his move to the bullpen after 13 Triple-A starts.
As a starter, Feliz would likely see a rise in walk rate, but the real issue is how his changeup would play in that role.
Feliz threw 1,072 pitches last season, 34 of which were changeups (this varies a bit based on what pitch f/x you chose, but the point remains). His change was also the least effective of his pitches, generating swings and misses only 8 percent of the time compared to his fastball and slider/curve, which produced whiff rates of around or more than 13 percent. If Feliz cannot develop his change, he may struggle as he tries to go deeper into games. A two-pitch pitcher can work in one-inning efforts, but as pitchers tend to lose their velocity and bite in extended innings, their effectiveness wears off -- not to mention that opposing hitters will have many more looks at all of his pitches.
This is not to say that Neftali Feliz can't become a very valuable starting pitcher someday, but he clearly needs more work in that role before taking such a big step. The Rangers, however, want to contend once again in 2011 and feel that the pieces to their rotation are more than solid. I may have some disagreements there.
C.J. Wilson
, the Rangers' opening day starter, posted the 20th worst K/BB rate in baseball last season (minimum 150 IP) and his BABIP against was the 14th lowest in baseball. With a little less randomness (luck) in 2011, his results could very easily be a lot worse. And is no one concerned with the fact that he threw 131.1 more innings than his previous big-league career high (which was out of the pen in 2009)?
While I do like
Colby Lewis
to put up another solid season, it is going to be hard to count on
Tommy Hunter
and his K/9 of around five to win 13 games and post a sub 4.00 ERA again. Also, counting on a pitcher (
Brandon Webb
) who has missed almost two full seasons to come back and be his former self is hopeful at best. Derrek Holland has a chance to step up and be a big piece of the rotation, but overall there isn't as much depth as fans might think based on what happened in 2010.
Neftali Feliz has the stuff to be a shut-down pitcher in short-inning situations; there is little doubt about that. But apparently he doubts his role as a starter and rightfully so. However, by not at least trying to pitch in the rotation, he is ultimately less valuable to the Rangers in the long run. Bullpen arms come and go, but starting pitching can carry a team to glory. Just ask the Rangers themselves, who lost to the Giants and their shut-down starting rotation in the 2010 World Series.
Charlie Saponara writes for the SweetSpot Red Sox blog at Fire Brand of the American League as well as FantasyBaseball365.com and ProjectProspect.com. You can follow him on Twitter.
August, 6, 2010
8/06/10
6:22
PM ET
By Jack Moore, Disciples of Uecker | ESPN.com
Why will the Brewers contend in 2011?
1. The Brewers have already patched up their bullpen.
On opening day, the Brewers' bullpen contained (among others)
Trevor Hoffman
and
Claudio Vargas
. After two awful starts,
Jeff Suppan
joined this awful duo. Those three all had ERAs above 6.90 in April and May, and they combined for a stunning minus-2.96 WPA – mostly via Hoffman and his five blown saves, but also from the general incompetence of the trio. That means that this group was three wins worse than merely average relievers.
Since then, Hoffman has been replaced as closer by
John Axford
, Suppan has been replaced in the rotation by
Chris Narveson
and in the bullpen by
Kameron Loe
.
Zach Braddock
has taken the role of top lefty from
Mitch Stetter
(a middling-at-best LOOGY who was utterly incompetent against RHB). Vargas's low-leverage innings have been split between players like
Chris Capuano
, who is an interesting project if nothing else, and
David Riske
, who is merely biding the time until his contract expires.
Axford, Braddock, and Loe have been fantastic since joining the Brewers, combining for plus-2.22 WPA in their time on the team, largely coming after Jeff Suppan's June 7 release. All three will be under team control next year, making them near locks to be important bullpen pieces next season, added to relievers
Carlos Villanueva
and
Todd Coffey
.
2. The Brewers have a favorable payroll situation.
With the toxic contracts of Jeff Suppan,
Bill Hall
, and others coming off the books, the Brewers will shed roughly $45 million in contracts after this season. After arbitration raises, I estimate that the Brewers will be about $25 million below the 2010 opening day payroll, even if
Prince Fielder
remains a Brewer. That means they'll have some money to play with.
The Brewers aren't losing much, either. The only important player from 2010 who's on his way out is
Jim Edmonds
, but he can be replaced in-house by either
Carlos Gomez
or
Lorenzo Cain
. At every other position, the Brewers are solid. CHONE's August update projects the Brewers with one above-average player (+2.0 WAR per 150 games) at each position.
That means the Brewers can spend most, if not all, of that "extra" $25 million on their weakness: starting pitching. The market this winter isn't great, but
Javier Vazquez
,
Brandon Webb
,
Ted Lilly
,
Jon Garland
(likely to decline his mutual option),
Jake Westbrook
, and
Kevin Millwood
, among others, are all interesting options. Perhaps a better move would be to use some of that cash to deal with a team like the Marlins, who might attempt to move
Ricky Nolasco
's high arbitration award in the offseason. They could also trade Prince Fielder for pitching, as
Mat Gamel
could step in and likely be an average first baseman. For the right pitcher, trading Fielder could actually make the Brewers better in 2011.
The roster certainly isn't perfect, but much of it is returning and there's money to fix the holes.
3. The NL Central is weak.
St. Louis has a good team this year, certainly, but it's not without its holes. Perennial All-Stars
Albert Pujols
,
Adam Wainwright
,
Chris Carpenter
, and
Matt Holliday
form an excellent core, but there are question marks after those four players. The back of the rotation has struggled mightily, as the Cardinals have attempted patches with
Blake Hawksworth
and Jeff Suppan, eventually trading
Ryan Ludwick
away for Jake Westbrook. Losing Ludwick, one of the better right fielders in the NL, will hurt next year, and Westbrook will be a free agent. They also lose
Brad Penny
, who has been injured much of the year, and
Felipe Lopez
, who was an absolute steal in last year's free-agent market. The Cardinals have played like an 89-win team this season according to
Beyond the Box Score's power rankings
(looking at cW%). They have a modest amount of money to spend this year, but they are losing enough to the point where I wouldn't feel comfortable projecting any sort of major increase, especially given that St. Louis's top financial priority will be locking up Albert Pujols past 2011, the last year of his current contract.
The
Cincinnati Reds
have played about as well as the Cardinals so far this year, but there's really only one word to describe why I'm not super high on this team heading into next year:
regression
. Will
Scott Rolen
continue to be a power threat in his mid 30s? Is
Mike Leake
a sub-4.00 ERA pitcher despite skipping the minor leagues? Is
Arthur Rhodes
really one of the best left-handed relief pitchers in baseball? I'm inclined to say "no" to all of these questions. There's enough young talent on this Reds team to still be solid next season, and they might add Aroldis Chapman to the mix as well, and they won't have
Edinson Volquez
recovering from Tommy John surgery for half a season. That said, there's no reason to believe that the Reds are anything more than an 89-win team themselves, and simple regression says that we should expect something closer to 86 or 87.
4. "Contending" doesn't mean favorites.
The favorites to win the division next year will be, barring the unforeseen, Cincinnati and St. Louis, in some order and for good reason. However, they're not elite teams, and given the crazy things that can happen during the course of the season, they could each just as easily end up as .500 squads as 95-win teams. The Brewers look like a true talent 81-win team right now. They've played .519 baseball since releasing Suppan, and that's just above what the Beyond the Boxscore rankings expect (a .505 cW percent). I would feel pretty confident calling the roster on hand an 81-win team for next season.
The Brewers had a similar projection opening the season last year, and were given playoff odds of about 17 percent by
Baseball Prospectus
prior to the season. With the money available to plug holes in the rotation, the Brewers can definitely make themselves a preseason contender (say, 30-40 percent playoff odds) prior to the season, even if they're not favorites.
Jack Moore writes about the Brewers at Disciples of Uecker, a member of ESPN.com's SweetSpot Network
.
April, 9, 2009
4/09/09
10:32
AM ET
In the wake of the
news about Brandon Webb's shoulder
, Robothal's follow-up report is
at least a little bit scary
:
| | |
| --- | --- |
| | |
| | Mark J. Rebilas/US Presswire |
| | The Diamondbacks have said that Brandon Webb will miss his next start because of shoulder stiffness. |
Concerns raised by insurance companies over Brandon Webb's arm caused the Diamondbacks to withdraw their offer of a three-year, $54 million contract extension to the right-hander last June, according to major-league sources.

Webb passed a team physical, sources say, but insurance companies use a higher standard when assessing risk. Multiple companies raised concerns, creating a "red flag" for the Diamondbacks, sources say. The contract was contingent on the club securing an appropriate insurance policy for the pitcher.

The condition of Webb's arm became an issue on Wednesday when the Diamondbacks said that he would miss his next start due to shoulder stiffness. But Webb, who turns 30 on May 9, has been extremely durable for most his career.

Webb's only career trip to the disabled list, for elbow tendinitis, was from May 24 to June 8, 2003. No major-league pitcher threw more innings from 2005 to '08.

All veteran pitchers experience wear and tear on their arms; Webb, despite the insurance companies' concerns, might pitch 10 more seasons without injury, one source said.

--snip--

Webb is under contract for $6.5 million this season. The Diamondbacks hold an $8.5 million option on him for 2010. The proposed extension, which was for $2 million more than the Padres awarded right-handed Jake Peavy in a similar deal, would have tied Webb to the club through '13.

Webb disclosed last August that the team had pulled its offer, but neither the pitcher nor club gave a reason for the failed negotiations.
Webb was drafted and signed in 2000, and pitched just briefly in the minors.
In 2001, his first full professional season, he started 28 games, which is about as many as you can start in a minor-league season.
In 2002, he started 26 games.
In 2003 -- including that stint on the DL and a couple of weeks in the minors -- he started 31 games.
And from Opening Day in 2004 through today, Webb's No. 1 on the list with 170 starts in the majors, one start ahead of Derek Lowe and Johan Santana. He's No. 2 on the list with 1,139 innings (13 behind Santana).
So, yeah: He's been extremely durable.
He's also been extremely effective, and consistently so; Webb's strikeout and walk ratios have been essentially the same for four years running. Add it all up and what do you get? As one fantasy forecaster wrote this winter, "As close to a lock as you can get at SP."
The words "shoulder stiffness" are scary. So are the words "red flag." I'm a little scared, and I'm not even a Diamondbacks fan or a Brandon Webb fantasy owner.
But just a little scared. So far.