August, 19, 2012
8/19/12
10:42
PM ET
By
Jack Moore, SweetSpot network
| ESPN.com
The
Pittsburgh Pirates
can be forgiven for lingering bad memories of 19th innings past. It was the 2011 season that looked like the breakthrough that Pittsburgh has been waiting for since 1992 … until it
all came crashing down on July 26
, as an apparent blown call at the plate gave the
Atlanta Braves
a victory in the 19th frame.
The Pirates entered that game last year at 53-47, tied with the Cardinals for the National League Central lead. Much as they were entering Sunday's game, the Pirates were no lock for the playoffs, but they were right in the thick of things. Fast-forward to October and the Pirates were 24 games out of first. It wasn't a collapse, it was an implosion -- the Pirates were an NL-worst 19-42 after that infamous extra-inning contest.
On Sunday, the Pirates and Cardinals -- along with San Francisco the Pirates' closest rivals for the second NL wild-card slot -- slogged through 18 innings knotted up in an increasingly epic 3-3 tie. Who in Pittsburgh could help but recall the moment that turned last season's seemingly magical campaign on its head?
But then with one out in the Pirates' half of the 19th,
Pedro Alvarez
launched a ball deep into the St. Louis evening. Pittsburgh tacked on two more via an
Andrew McCutchen
single, and then
Wandy Rodriguez
held the lead with a 1-2-3 inning for his
first victory as a Pirate
.
Should the Pirates manage to hold their still-slim lead on the NL's last playoff slot, it will be easy to point at July 26, 2011, and Aug. 19, 2012, as key points in Pirates history. Some will wax poetic about the Pirates breaking free, or of a reversal of franchise fortune. What Aug. 19, 2012, really proves is the quality of this 2012 squad -- far above anything Pittsburgh baseball has seen in recent memory.
Let's not forget the mirage created by the 2011 Pirates' first four months. The lineup featured just four starters with an OPS+ of 82 or lower. The club managed a 3.46 first-half ERA despite a strikeout-to-walk ratio below 2.0 and just 6.2 strikeouts per nine innings. The Pirates' 116 FIP- wound up as the worst mark in the National League. It was, simply put, not a good team.
The differences with the team they're fielding in 2012 begin with Sunday's hero, third baseman Alvarez. Alvarez was easily the worst hitter on the 2011 Pirates, a team featuring 99 games of
Brandon Wood
, 128 games of
Ronny Cedeno
, 100 games of
Matt Diaz
and 121 games of
Xavier Paul
. Alvarez managed just four home runs in 74 games, limping to a 58 OPS+ and an early demotion to Triple-A. Alvarez still strikes out nearly once every three at-bats, but his prodigious power is back -- Sunday's game-winner marked Alvarez's 23rd home run of the season, raising his slugging percentage to .467, nearly 200 points above last year's disastrous clip.
Alvarez is just one component behind the improved lineup --
Garrett Jones
(131 OPS+),
Neil Walker
(123),
Michael McKenry
(140) and obviously McCutchen (180) have all had their say in raising the Pirates' offensive output from 3.8 runs per game in 2011 to 4.2 runs per game this season.
But the biggest improvement for the Pirates has come in run prevention, not run production. The Pirates created their 2011 mirage on pitching and defense. Their 383 runs allowed through the debacle in Atlanta was fourth best in the National League; they nearly doubled that mark in 40 fewer games, allowing a league-worst 329 runs down the stretch.
Adding
A.J. Burnett
to the rotation was key. The bullpen has featured more than just
Joel Hanrahan
this season -- after all, the Pirates' closer and six others combined for 12 innings of nine-hit, one-run baseball in St. Louis on Sunday, with setup men like
Jason Grilli
and
Jared Hughes
lowering their ERAs to 2.38 and 2.51 respectively.
But the real key has been defense. McCutchen could be in the running for a Gold Glove. If
Starling Marte
and
Travis Snider
can return quickly from injuries, they will give the Pirates one of the speediest outfields in baseball.
Clint Barmes
hasn't hit, but his glove has stabilized the always-difficult shortstop position. McKenry saved the game several times Sunday with clutch stops behind the plate.
Overall, the Pirates own a .720 defensive efficiency, meaning they turn 72 percent of batted balls in play into outs. Only Washington, Seattle, Oakland and Anaheim own better marks, with Washington's .723 leading the league. Last year, the Pirates' squad finished 25th in baseball at .700, roughly 10 points below the league average.
Sunday's 19-inning victory against St. Louis showed plenty of things -- heart, perseverance and even some good fortune. But it also showed the one thing that really separates the 2012 Pirates from the 2011 version that faltered down the stretch: Talent. The Pirates still have a long way to go, but this year's team is infinitely better equipped to walk the path and carry Pittsburgh into the postseason for the first time since 1992.
PHOTO OF THE DAY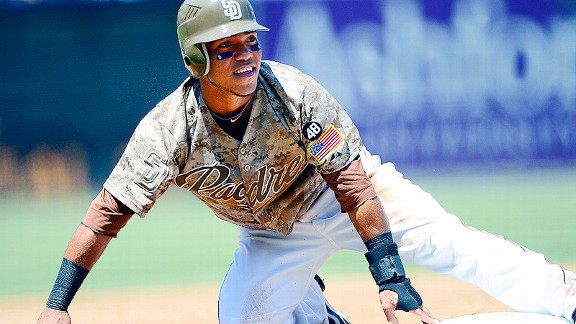 Christopher Hanewinckel/US PresswireThat's Alexi Amarista of the Padres sliding into third base, not G.I. Joe.
Jack Moore's work can be seen at FanGraphs and Disciples of Uecker (a SweetSpot affiliate devoted to the Brewers). Follow him on Twitter @jh_moore.
January, 26, 2012
1/26/12
8:30
AM ET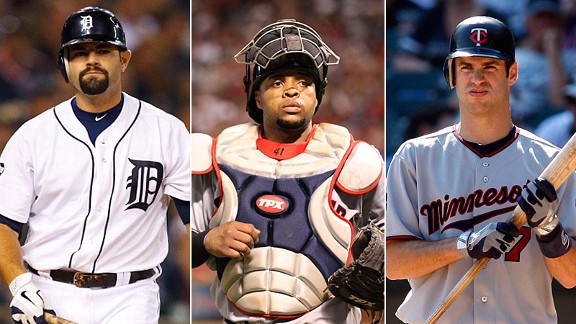 US PresswireWith Alex Avila, Carlos Santana and Joe Mauer, the AL Central is loaded at catcher.
We're back with more divisional position rankings for 2012. You can scream, you can holler, you can protest and call me names. But just because I rated your player lower than you think he deserves doesn't mean I hate your team.
(Here are the
NL East
and
NL West
rankings.)
Catcher
1.
Alex Avila
, Tigers
2.
Joe Mauer
, Twins
3.
Carlos Santana
, Indians
4.
Salvador Perez
, Royals
5.
A.J. Pierzynski
, White Sox
The AL Central might not be baseball's glamor division, but it may have three of the top five catchers in the game if Mauer bounces back from his injury-plagued campaign. Since we're not certain of his health, I'm going to give top billing to Avila, who had the best hitting numbers of any catcher outside of
Mike Napoli
and plays solid defense. I wouldn't be surprised if Santana explodes; with his power-and-walks combo, all he has to do is raise his average 30 points and he'll be one of the most valuable players in the game. Considering that his average on balls in play was .263, there is a good chance of that happening. Perez hit .331 in 39 games; OK, he won't do that again, but he doesn't turn 22 until May and puts the ball in play. There's no shame in being fifth in this group but that's where I have to place Pierzynski, who keeps rolling along and is now 36th on the all-time list for games caught.
First base
1.
Prince Fielder
, Tigers
2.
Paul Konerko
, White Sox
3.
Eric Hosmer
, Royals
4.
Justin Morneau
, Twins
5.
Matt LaPorta
, Indians
In 2009, when Morneau played 135 games, he hit .274 AVG/.363 OBP/.516 SLG. Even if he replicates that line, he may rank only fourth. Konerko has hit a combined .306 with 70 home runs the past two seasons. He's 104 home runs from 500 but turns 36 in March, so he's probably four seasons away; not sure he'll hang on that long, but who knew he'd be this good at this age. If Hosmer improves his walk rate and defense and Konerko declines, Hosmer could climb past him. If it doesn't happen this year, it will happen next. The most similar batter to him at age 21: Eddie Murray.
Second base
1.
Jason Kipnis
, Indians
2.
Gordon Beckham
, White Sox
3.
Johnny Giavotella
, Royals
4.
Alexi Casilla
, Twins
5.
Ramon Santiago
, Tigers
Well, this isn't exactly a
Robinson Cano
/
Dustin Pedroia
/
Ben Zobrist
debate, is it? Kipnis' bat is a sure thing, as evidenced by his excellent play after his call-up (.272 average and .507 slugging in 36 games). His glove was once a question mark but now appears solid enough that he looks like a future All-Star to me. Can anybody explain what has happened to Beckham? He's second mostly by default; he's gone downhill since his superb rookie season in 2009 but is only 25, so there's hope that he'll find those skills again. Giavotella has some potential with the bat (.338/.390/.481 at Triple-A), which is more than you can say for Casilla and Santiago.
Third base
1.
Miguel Cabrera
, Tigers
2.
Mike Moustakas
, Royals
3.
Lonnie Chisenhall
, Indians
4.
Danny Valencia
, Twins
5.
Brent Morel
, White Sox
We'll go with the idea that Cabrera is Detroit's starting third baseman, although I predict he'll end up starting more games at designated hitter. Manager Jim Leyland will end up doing a lot of mixing of his lineups, but for this little exercise we have to choose a starter. Moustakas didn't tear up the league as a rookie and I worry about his ability to hit lefties (.191, homerless in 89 at-bats), but he showed more than fellow rookies Chisenhall and Morel. Valencia doesn't get on base enough and he rated poorly on defense in 2011. I hope he's at least good in the clubhouse. Morel was terrible all season and then exploded for eight of his 10 home runs in September and drew 15 walks after drawing just seven the previous five months. Maybe something clicked.
Shortstop
1.
Asdrubal Cabrera
, Indians
2.
Alexei Ramirez
, White Sox
3.
Jhonny Peralta
, Tigers
4.
Alcides Escobar
, Royals
5.
Jamey Carroll
, Twins
Peralta had the best 2011 season, but he's a difficult guy to project. He had an .804 OPS in 2008 but dropped to .691 in 2009. He had a .703 OPS in 2010 and then .823 in 2011. I just don't see a repeat season, at the plate or in the field. Cabrera didn't rate well on the defensive metrics, and after a strong start he wore down in the second half. Ramirez has turned into a nice player, with a good glove and some power, and he even draws a few walks now. Escobar is a true magician with the glove. Carroll is actually a useful player who gets on base (.356 career OBP), but he's pushed as an everyday shortstop and he'll be 38. He'll be issued the honorary
Nick Punto
locker in the Twins' clubhouse.
Left field
1.
Alex Gordon
, Royals
2.
Alejandro De Aza
, White Sox
3.
Ben Revere
, Twins
4.
Michael Brantley
/
Shelley Duncan
, Indians
5.
Ryan Raburn
/
Don Kelly
, Tigers
I'm not sure what to do here. After Gordon, I just get a headache. We'll pretend to believe in De Aza after his impressive stint in the majors (171 plate appearances, .329/.400/.920). He's hit in Triple-A for three seasons now, and while he's not going to post a .400 OBP again, he should be adequate. Revere is one of the fastest players in the majors, but he's all speed and defense; he hopes to grow up to be
Brett Gardner
, which isn't a bad thing, but he'll have to learn to get on base at a better clip. Brantley doesn't have one outstanding skill so he'll have to hit better than .266 to be anything more than a fourth outfielder; Duncan provides some right-handed pop as a platoon guy. The Tigers have
Delmon Young
, but I'll slot him at DH. That leaves supposed lefty masher Raburn and utility man Kelly to soak up at-bats; both had an OBP below .300 in 2011, although Raburn has hit better in the past.
Center field
1.
Austin Jackson
, Tigers
2.
Denard Span
, Twins
3.
Grady Sizemore
, Indians
4.
Lorenzo Cain
, Royals
5.
Alex Rios
, White Sox
I can't rate Sizemore any higher since he's played just 104 games over the past two seasons, and he hasn't had a big year since 2008. Rios was terrible in '09, OK in '10 and worse than terrible in '11. I'm not betting on him.
Right field
1.
Shin-Soo Choo
, Indians
2.
Brennan Boesch
, Tigers
3.
Jeff Francoeur
, Royals
4.
Josh Willingham
, Twins
5.
Dayan Viciedo
, White Sox
Choo would like to forget 2011, but there's no reason he shouldn't bounce back and play like he did in 2009 and 2010, when he was one of the 10 best position players in the AL. I don't expect Francoeur to deliver 71 extra-base hits again, but maybe he'll surprise us. Viciedo is apparently nicknamed "The Tank," which makes me wonder how much ground he can cover. He did improve his walk rate last season in the minors and turns 23 in March, so there's still room for more growth.
Designated hitter
1.
Billy Butler
, Royals
2.
Travis Hafner
, Indians
3.
Ryan Doumit
, Twins
4. Delmon Young, Tigers
5.
Adam Dunn
, White Sox
Has there been a bigger prospect disappointment than Young in the past decade? I mean, yes, there were complete busts like
Brandon Wood
and
Andy Marte
, but those guys had obvious holes in their games, while Young was viewed as a
sure thing
, a consensus No. 1 overall prospect. But his bat has never lived up to its billing. Other than one decent year in Minnesota, he has low OBPs and he clearly lacked range in the outfield. His career WAR on Baseball-Reference is minus-0.2 (1.6 on FanGraphs), meaning he's been worse than replacement level. He's just not that good, Tigers fans.
No. 1 starter
1.
Justin Verlander
, Tigers
2.
John Danks
, White Sox
3.
Justin Masterson
, Indians
4.
Luke Hochevar
, Royals
5.
Carl Pavano
, Twins
Masterson was better than Danks in 2011, and I do believe his improvement was real. He absolutely crushes right-handers -- they slugged an anemic .259 off him. Danks had two bad months but has the longer track record of success. Even in his "off year" he had a higher strikeout rate and lower walk rate than Masterson. If you want to argue about Hochevar versus Pavano, be my guest.
No. 2 starter
1.
Doug Fister
, Tigers
2.
Ubaldo Jimenez
, Indians
3.
Gavin Floyd
, White Sox
4.
Francisco Liriano
, Twins
5.
Jonathan Sanchez
, Royals
Yes, sign me up for the Doug Fister bandwagon club. Jimenez's fastball velocity was down a couple miles per hour last season but the positives are that his strikeout and walk rates were identical to 2010; he'll be better. Floyd isn't flashy but he's now made 30-plus starts four years in a row, and he'll become a very rich man when he becomes a free agent after this season. Sanchez won't have the luxury of pitching in San Francisco (and to eight-man NL lineups).
No. 3 starter
1.
Max Scherzer
, Tigers
2.
Scott Baker
, Twins
3.
Philip Humber
, White Sox
4.
Bruce Chen
, Royals
5.
Josh Tomlin
, Indians
I could be underrating Baker, who was excellent last season, but only once in his career has he made 30 starts in a season. Tomlin's fans will disagree with this ranking, but he's a finesse guy who relies on the best control in baseball (21 walks in 26 starts). He's the kind of guy you root for, but the league seemed to figure him out as the season progressed.
No. 4 starter
1.
Felipe Paulino
, Royals
2.
Rick Porcello
, Tigers
3.
Jake Peavy
, White Sox
4.
Derek Lowe
, Indians
5.
Nick Blackburn
, Twins
Scouts still love Porcello's arm and I know he's just 23, but he's made 89 big league starts and shown no signs of getting better. His WHIP has increased each season and his strikeout rate remains one of the lowest in baseball. Paulino has an electric arm -- he averaged 95 mph on his fastball -- and
is
getting better. How could the Rockies give up on him after just 14 innings? How could the Astros trade him for
Clint Barmes
? Anyway, kudos to the Royals for buying low on the guy who may turn into their best starter. Peavy can't stay healthy. Lowe has led his league in starts three out of the past four seasons, but I'm not sure that's a good thing anymore. Blackburn is a poor man's Lowe, and I don't mean that in a good way.
No. 5 starter
1.
Chris Sale
, White Sox
2.
Jacob Turner
, Tigers
3.
Aaron Crow
/
Danny Duffy
, Royals
4.
Fausto Carmona
/
David Huff
/
Jeanmar Gomez
, Indians
5.
Brian Duensing
/
Jason Marquis
, Twins
Welcome to the AL Central crapshoot. Turner and Sale have the most upside, but one is a rookie and the other is converting from relief. Crow will also be given a shot at the rotation, but his difficulties against left-handed batters (.311 average allowed) don't bode well for that transition. Even if the artist formerly known as Carmona gets a visa, what do you have? A guy with a 5.01 ERA over the past four seasons. Duensing is another typical Twins pitcher, which means he at least throws strikes. His first full season in the rotation didn't go well, so of course the Twins brought in Marquis, yet another guy who doesn't strike anybody out.
Closer
1.
Jose Valverde
, Tigers
2.
Joakim Soria
, Royals
3.
Matt Thornton
, White Sox
4.
Chris Perez
, Indians
5.
Matt Capps
, Twins
Four good relievers plus Matt Capps. I do admit I'm a little perplexed by Perez, however. In 2009, he struck out 10.7 batters per nine innings. In 2010, that figure fell to 8.7 but he posted a pretty 1.71 ERA. In 2011, it was all the way down to 5.9, but without much improvement in his control. Perez blew only four saves but he did lose seven games. He survived thanks to a low .240 average on balls in play. He's an extreme fly-ball pitcher but didn't serve up many home runs. Bottom line: I'd be nervous.
Bullpen
1. Indians --
Vinnie Pestano
,
Rafael Perez
,
Tony Sipp
,
Joe Smith
,
Nick Hagadone
2. Royals --
Jonathan Broxton
,
Greg Holland
,
Louis Coleman
,
Tim Collins
,
Jose Mijares
3. Tigers --
Joaquin Benoit
,
Octavio Dotel
,
Phil Coke
,
Daniel Schlereth
,
Al Alburquerque
4. White Sox --
Jesse Crain
,
Jason Frasor
,
Will Ohman
,
Addison Reed
,
Dylan Axelrod
5. Twins --
Glen Perkins
,
Alex Burnett
,
Anthony Swarzak
,
Kyle Waldrop
,
Lester Oliveros
If you're starting to think I'm not high on the Twins for this season, you would be correct.
Intangibles
1. Royals
2. Indians
3. Tigers
4. White Sox
5. Twins
I like the youthful exuberance of the Royals, plus the likelihood of improvement from the young players and the possibility of some midseason reinforcements from the minors. The depth of the bullpen will help bolster a shaky rotation, and this just feels like an organization that is finally starting to believe in itself. The Indians are riding last year's positive results and enter the season knowing they might get better production from Choo and Sizemore and full seasons from Kipnis and Chisenhall. I'm not knocking the Tigers here, but they do lack depth in the pitching staff and the pressure is on them.
The final tally
1. Tigers, 65 points
2. Royals, 55 points
3. Indians, 54 points
4. White Sox, 46 points
5. Twins, 35 points
No surprise here: The Tigers will be heavy favorites to win the division with a lineup that should score a ton of runs. I don't think it's a lock that they'll win -- Verlander, Avila, Peralta and Valverde will all be hard-pressed to repeat their 2011 campaigns, for example. But the Royals and Indians appear to have too many questions in the rotations, the White Sox have serious lineup issues, and the Twins have a beautiful ballpark to play their games in.
June, 4, 2011
6/04/11
12:00
PM ET
By
Christina Kahrl
| ESPN.com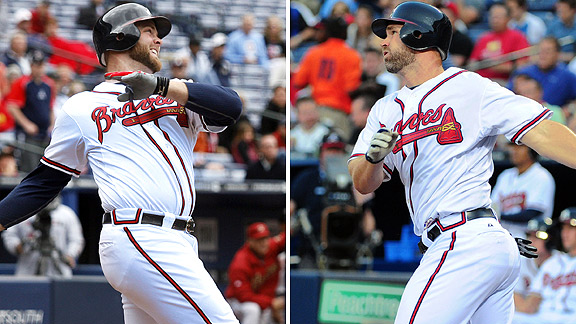 US Presswire/Getty ImagesThe lefty/righty catching platoon of Brian McCann and David Ross has been the NL's best this season.
If the American League has very few stable platoons but a few identifiable platoon players getting work, is the National League any better off? Even with today's bigger bullpens, the absence of a DH gives NL skippers and GMs a little more freedom to carry a player whose primary value is to platoon, since they have five reserves, so even if one is a catcher and another is someone who can play short, that still leaves space for the odd guy. Say, that journeyman who can knock a situational lefty right out of the box, or who can help put up a crooked number against that tiring right-handed starter in the fifth or sixth inning. And it doesn't hurt that these kinds of guys are handy for double-switches.
As in the American League, you find a few catching platoons of convenience, in which the backup backstop bats from the other side and conveniently gets his starts on the days the starter needs a rest. The Braves' setup with
Brian McCann
and
David Ross
is the best of the lot, but when Atlanta afforded itself Ross, it did so knowing it was getting more than a platoon player. The Mets' young/old and lefty/righty combo of
Josh Thole
and
Ronny Paulino
has its virtues. Charlie Manuel has the benefit of a slight inversion of the paradigm when
Brian Schneider
is healthy -- a lefty-batting backup is a lot easier to spot when
Carlos Ruiz
really does need a rest, since most pitching is right-handed -- but he's on the DL.
Stable platoons beyond those behind home plate are surprisingly limited in the Senior Circuit. I'd divide the current group of platoons in the league into three groups: committed, accidental and diffident, reflecting the level of planning and commitment that went into constructing them, and whether or not they're going to last more than a couple weeks.
Among the few we'd call committed, Clint Hurdle's stolidly running out his right-field combo of
Garrett Jones
and
Matt Diaz
. It isn't hitting all that well, but that was the plan, and so far, they're sticking with it. The Phillies anticipated a right-field platoon before the season, but
Domonic Brown
's injury kept that from becoming a reliable feature of Manuel's lineup cards until recently, pressing
Ben Francisco
back into an everyday role he handed back.
[+] Enlarge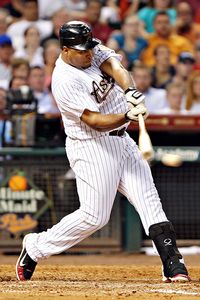 Troy Taormina/US PresswireThe Astros are 10-8 against lefties this season, which could be partly because that matchup allows them to move Carlos Lee out of left field.
In the infield, San Diego manager Bud Black has been reliably sticking with
Brad Hawpe
and
Jorge Cantu
as his first-base arrangement, but there's only so much Can'tu at the plate that even the Padres can endure. The rare multi-position platoon that's a matter of design, but also a certain diffidence is found in Houston, where Brad Mills is moving
Carlos Lee
between left and first base, but not every time out.
Brett Wallace
sits against a few lefties,
Jason Michaels
plays left and Lee moves to first and keeps getting to play every day. The 'Stros might have a 10-8 record vs. lefties, but getting Michaels into the lineup isn't the reason why. But re-potting the increasingly immobile Lee someplace other than left field might be a contributing factor.
Alone among their NL brethren, the Marlins have stuck with an infield platoon someplace other than first base, and they platoon at third without actually finding a set right-handed half of the platoon. Edwin Rodriguez has damned the defensive torpedoes to run
Greg Dobbs
out there every day against right-handers, while leaving his partner du jour as a matter of mystery -- sometimes it's
Wes Helms
, sometimes it was
Donnie Murphy
, and now sometimes it's the roving
Emilio Bonifacio
. Those happy few who root for the Teal Deal are no doubt on their seat's edge when their Fish face a lefty.
Among the accidental platoons, three NL West teams have setups they didn't necessarily expect. To the credit of both Bruce Bochy and Black, they've proven reliably willing to platoon, and they're assembling new ones on the fly after their initial designs broke down. Black got plenty of mileage out of his outfield platooning last year, but
Will Venable
flopped this spring, handing back his half of the right-field job. In his desperation, Black is pairing
Eric Patterson
with
Chris Denorfia
, which isn't helping matters.
While Bochy isn't trying anything quite as inspired as last year's mid-season lineup platoon between
Travis Ishikawa
and
Aaron Rowand
-- with
Aubrey Huff
moving to the outfield against righties and returning to first base against lefties -- he has been aggressive in getting
Nate Schierholtz
into the lineup against right-handers while playing
Cody Ross
daily. Rowand is getting platoon time with
Andres Torres
in center, but
Pat Burrell
hasn't been entirely reduced to Schierholtz's platoon partner.
Then their is the Dodgers' Don Mattingly. Some combination involving
Jay Gibbons
in left field was probably going to be part of the program at the outset, but Gibbons' spotty health, a passing interest in
Tony Gwynn
's speed, and
Marcus Thames
' breakdown opened up an opportunity for first baseman
Jerry Sands
to win the job. But like so many other thundersticks from Albuquerque in Dodgers history, his stick fell still in Chavez Ravine, and now Sands is in an accidental platoon with Gibbons until they decide there's a better alternative.
Injury created the Braves' temporary replacement platoon setup for
Jason Heyward
, as the
Eric Hinske
/
Joe Mather
platoon is working out nicely -- but it's also clear that pair will head back to pine time as soon as Heyward's healthy. In contrast, some managers look like they'd like to platoon more, but injuries have gotten in the way. The Brewers' Ron Roenicke appears committed to a
Nyjer Morgan
/
Carlos Gomez
platoon in center because of the speed 'n defense combo it provides, but Morgan's injury got in the way at the outset. If it sticks, that's the circuit's lone platoon arrangement up the middle someplace other than catcher.
The Pirates' loose platoon at the infield corners reflect what I mean by "diffident platooning." In contrast with his greater faith in his right field platoon, at the infield corners Clint Hurdle's sort of futzing around with
Steven Pearce
at both first and third vs. lefties to give him something to do, and sometimes
Brandon Wood
gets time at third. But it isn't an everyday sort of devotion, and has as much to do with
Pedro Alvarez
's career-stunting slow start and
Lyle Overbay
's offensive indifference than any abiding faith in Pearce or Wood.
I'd also chuck Kirk Gibson's first-base set-up into this category as well --
Xavier Nady
and
Juan Miranda
are platooning, sort of, but Gibson isn't exactly being a stickler about it. Since neither are hitting the people they're supposed to, and since neither plays first base all that well, it's more first base by coin toss at gunpoint than a straight platoon.
Platooning isn't automatically a good idea, after all, and if as Casey Stengel put it, "I could'na dunnit widdout the players," that's just as true today -- skippers can only use what they've got, no matter how clever they might be in how they employ it.
Christina Kahrl covers baseball for ESPN.com. You can follow her on Twitter.
April, 26, 2011
4/26/11
2:25
PM ET
Top five reasons why you really must listen to Tuesday's
Baseball Today podcast

with myself and Keith Law:
1. Interesting night in the Bronx for Phil H ... well, for both of these pitchers! Can the White Sox and Yankees count on either of these right-handed arms?
2. It's a new era for
Brandon Wood
in Pittsburgh, and Mr. Law shares his take on the once-top prospect, as well as a discussion on Pacific Coast League stadiums.
3. OK,
Jose Bautista
is obviously good, but have we changed our stance on whether his contract was wise or not?
4. The words
Kyle Lohse
and sample size are uttered ... but will you be surprised at our optimism of this
St. Louis Cardinals
right-hander?
5. Who is Anthony Rizzo and why might he matter really, really soon? We "hop" on the Rizzo bandwagon.
Plus: Excellent emails, where is Wade Townsend, that
Jered Weaver
guy is
really
good and so much more on Tuesday's Snarky ... um, I mean Baseball Today!
April, 22, 2011
4/22/11
5:27
PM ET
By
Christina Kahrl
| ESPN.com
The Pirates claimed
Brandon Wood
on waivers today. While it isn't every day you'd wish Pittsburgh's 18-year run of futility on anyone, his need for a change of scenery seemed obvious enough after a .167/.198/.259 line scattered across parts of five different seasons with the Angels. David Schoenfield already delved into
what went wrong with Wood earlier this week
, and this is what subsequently happens to prospects with warts too big to ignore -- they get to head towards the bottom of the standings, ideally punch up their credentials and perhaps get their careers under way.
The challenge is going to be if Wood's fortunes will improve at all on Clint Hurdle's watch, because the Pirates' past acquisitions of other people's top prospects haven't worked out reliably well.
Andy LaRoche
and
Lastings Milledge
had both lauded among the best young hitters in baseball before resorting to Piracy, but both failed to turn any corners at the plate after their acquisitions, and both are already ex-Pirates.
Happily enough, ex-Yankee prospect
Jose Tabata
is already helping change this particular story, and Hurdle's track record with young hitters when he was managing the Rockies wasn't too shabby, as he presided over the establishment and breakthroughs of superstars like
Matt Holliday
and
Troy Tulowitzki
, as well as solid runs from
Brad Hawpe
and
Garrett Atkins
. You can fidget over the impact of altitude, but Hurdle's long work as a hitting coach might be useful in trying to get Wood ironed out at the plate. If not, practically speaking, it cost the Pirates nothing to find out if he just needed to get away from a parent organization that was never wild about his hack-happy approach.
The thing with Wood now is that he might be challenged to do something that may be out of his range, which is play shortstop as a regular for the first time since 2008. Skip "might," let's say he
should
be challenged to play short. As far as they go for interpretive purposes, his defensive numbers in the minors as a shortstop weren't good, reflecting scouts' concerns over his limited range. That said, he got good marks for his hands and he's always had the arm to make the play from the hole. The Pirates have nothing to lose by taking a look -- it isn't like they'd be risking
Ronny Cedeno
's shot at the Hall of Fame. If Wood pans out, they'll have reaped the benefit of the absence of expectations, and turned their weakness into a strength when it comes to player acquisition: when you're a bottom-feeder, you get to collect other people's junk, or in this case, recycling other people's prospects.
Christina Kahrl helped found Baseball Prospectus in 1996, is a member of the BBWAA and covers baseball for ESPN.com. You can follow her on Twitter.
April, 20, 2011
4/20/11
5:26
PM ET
It's not like the Angels didn't give
Brandon Wood
a chance. Some might argue that 494 plate appearances of sporadic playing time isn't enough for somebody to prove their abilities as a major league hitter, but in the case of Brandon Wood, I think the answer is clear, as proven by a .168 career average and an abysmal 153/13 strikeout/walk ratio.
[+] Enlarge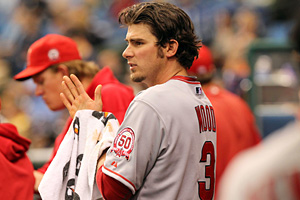 Kim Klement/US PresswireAngels third baseman Brandon Wood has a .168 career batting average.
There's no doubt Wood had talent; in 2006, after hitting 43 home runs in the minors in 2005, Baseball America rated Wood the No. 3 prospect in baseball, ahead of guys like
Chad Billingsley
,
Justin Verlander
,
Matt Cain
,
Prince Fielder
and
Ryan Zimmerman
. There were some red flags: His 43 home runs came with help from his Class A home park at Rancho Cucamonga, a notorious hitter's haven. He struck out 128 times and walked just 48 times, but he was only 20, so talent evaluators figured he was young enough to learn and improve.
He never did. He struck out 149 times the next season at Double-A. After that season, Baseball Prospectus, while still high on him, wrote, "The team's star of the future, Wood generates tremendous power with his bat, but it all comes out of his forearms and quick wrists; he's not a hulking slugger. Critics might note that he could stand to shorten his swing, but that's not his game." After struggling in his first exposure to big league pitching in 2008, the Angels gave him a chance to win the third-base job in 2010, but he hit .146 in 226 at-bats. "It was tough," manager Mike Scioscia said about the decision to
designate Wood for assignment
. "He's one of our guys. We just have no way out of this right now. There's no roster flexibility. Brandon needs to go and play and get an opportunity to establish his career. And we'll be proud of him when it happens."
I wrote a few weeks ago about
top hitting prospects who didn't make it
because they never learned to cut down on their minor league strikeout rates. The top prospect lists are littered with hitters who never made it because of strikeout issues (and sometimes corresponding low walk rates), from Melvin Nieves to
Ruben Rivera
to
Joe Borchard
to
Dallas McPherson
. And now to Wood.
Baseball is a hard sport. Talent doesn't always translate to production. Wood is only 26, and I'm sure another team will pick him up and add him to their 40-man roster, hoping he'll learn to hit those pitches that bend. I hope he does.
Follow David Schoenfield on Twitter at @dschoenfield. Follow the SweetSpot blog at @espn_sweet_spot.
September, 1, 2010
9/01/10
1:33
PM ET
Gleeman on the news that the Angels are
sending Brandon Wood
to the Arizona Fall League:
Wood has clearly fallen out of the Angels' plans after hitting .180 with a brutal 128/11 K/BB ratio through 431 career plate appearances and in theory the AFL is a place to showcase him in front of the maximum number of scouts, but even if he thrives there I'm not sure how impressed other teams will be with a 25-year-old beating up on Single-A and Double-A pitchers.
I'm not sure, either.
Wait. I am sure. I'm sure that other teams won't be impressed at all. I'm sure that if other teams were going to be impressed by Brandon Wood, they already would have been impressed and the Angels would have already traded him.
This is charity, plain and simple. Brandon Wood's been in the Angels' organization for more than seven years and he's been a good soldier. He just hasn't been a good hitter. Not in the majors, anyway. In 330 Triple-A games he's triple-slashed .283/.350/.536, and you would think that a guy with those numbers might eventually find his stroke with the big club.
But that just hasn't happened, and it's hard to figure how a few weeks of beating up kid pitchers in the desert is going to change anything. For the Angels' sake, let's just hope they're doing this because they love Brandon Wood, and not because they don't have enough promising young players to fill their AFL quota.
April, 20, 2010
4/20/10
3:59
PM ET
Brandon Wood
is struggling. Mike Scioscia's not ready to pull the plug, and (for obvious reasons)
isn't going to tell us
when he
might
pull the plug. Aaron Gleeman with
a quick summary
:
Wood has been a well-known and generally highly touted prospect since 2005, but his gaudy minor-league numbers are inflated by hitter-friendly environments and there were always questions about how his high strikeout rate combined with mediocre plate discipline would translate to the big leagues. So far the answer is "not well."

He has tons of power, but Wood has continued to swing at everything while making poor contact, and unlike against Double-A and Triple-A pitchers he hasn't been able to punish as many mistakes. He's certainly much better than he's shown thus far and the Angels are right to give him a longer leash, but even if Wood had adjusted quickly to the majors most projections pegged him as a Joe Crede-type player rather than a star.
I'm sure I've been a supporter over the years, maybe even a (non-dues-paying) member of the Free Brandon Wood Club. But Wood's MLEs -- his major league equivalencies -- have not been terribly impressive. Here are his MLEs for just the last three seasons, all with Triple-A Salt Lake:
.210/.263/.370
.235/.299/.446
.235/.283/.432
(Source:
Minor League Splits dot com
)
To some degree, I knew that once you factored in the generally hitter-friendly Pacific Coast League and Salt Lake's hitter-friendly ballpark, Wood's numbers down there weren't real good. But a third baseman with a sub-.300 on-base percentage every year? The only thing he's got going for him is youth, which must be what led to his (slightly better) .239/.305/.435 PECOTA projection for this season.
Bottom line, Wood's MLEs and projections are impressive only compared to his .178/.210/.280 career line in the majors.
The other day I was looking at Wood's stats and I thought, "But
Glenallen Hill
struck out a ton in the minors and he made it!" True. But Glenallen Hill had a breakthrough in Triple-A when he was 24. Wood's been able to cut down the strikeouts some, but he's now 25 and still hasn't put it all together, even in Triple-A. I won't be surprised if he eventually has some decent seasons. I'll be surprised if one of them is 2010.
March, 16, 2010
3/16/10
3:02
PM ET
Is
Brandon Wood
finally going to play every day for the big club? According to Mike Scioscia,
yes
. Here's Craig:
Mike Scioscia more or less confirmed what folks who think a lot about baseball had been hoping for: Brandon Wood will break Angels' camp as the starting third baseman. There had been concerns that the three-year, $10-million deal the club gave to Maicer Izturis this winter would serve to block Wood. Again. Scioscia says, however, that he's "looking for [Wood] to get the first opportunity there, with Izzy helping out with the versatility he brings to play second, third and shortstop."

Wood hasn't been consistent in his multiple cups of coffee over the past three years, but he has simply raked down on the farm. He has power. He has nothing left to prove at AAA. The Angels need to play him now or lose him forever. I'm high on him, so I'm happy to see that he's getting a shot at regular playing time. The only question now is, if Wood struggles early, how short a leash Scioscia will have with him.
A fairly short leash, I would guess. It's not just Izturis who's lurking about; anyway, he's best cast as a super-utility guy and isn't likely to repeat last year's numbers. The Angels also have
Freddy Sandoval
, who isn't much of a third baseman and doesn't have Wood's power, but strikes out roughly half as often as Wood and isn't likely to suffer long stretches of sub-.200 batting averages. (Those tend to have a powerful impact on managers.)
Not that Sandoval's guaranteed a job in the majors. Like Izturis, he's a switch-hitter and a player of many positions, and it's not clear that Scioscia needs (or wants) two players like that on his roster. But with both those guys, if Wood's not hitting in May he's probably going to lose his every-day job.
June, 15, 2009
6/15/09
6:17
PM ET
Steve Bisheff is wondering why the Angels
don't get more power in the lineup
...
Mike Scioscia's loyalty knows no bounds. At least when it comes to Maicer Izturis.

You've heard of guys having a man crush? Well, Scioscia has a manager's crush when it comes to the little man he calls "Izzy."

How else can you explain his insistence that Izturis, with no home runs on a team that ranks 13th in the 14-club American League in homers, will continue to play second base, despite the presence of just-called-up Sean Rodriguez, who was leading the Pacific Coast League with 21 home runs?

--snip--

Except for Torii Hunter, with occasional help from Kendry Morales and Juan Rivera, there aren't any candidates in this lineup right now.

That's why Rodriguez would be so welcome. Sure, he struck out a lot in the PCL (67 times in 202 at-bats, compared to 36 in 160-plus at-bats for Brandon Wood). But his ability to hit the ball out of the park could elevate the punchless bottom part of the Angels' lineup to a new level.

Izturis can't do that.

Do I still wish Wood were in the big league lineup? Absolutely. But I understand not wanting to change the whole defense, especially with Figgins playing at an All-Star caliber at third. When Howie Kendrick was sent down to rediscover his batting stroke, there was no question Rodriguez was the right one to replace him, not just on the roster, but in the starting lineup as well.

It seemed like such an obvious move. Obvious to everyone, apparently, but Scioscia and the Angels' brain trust.
Sean Rodriguez and Brandon Wood are almost exactly the same age; Wood turned 24 in March, Rodriguez in April, and both probably have real careers ahead of them. Also, both have struggled terribly in the majors. Rodriguez has hit .208/.280/.321 in 188 plate appearances; Wood, .198/.221/.318 in 200 plate appearances.
You can understand just a little bit, can't you, Scioscia's reluctance to play either of them regularly? It's easy for us, standing well apart from the action, to recommend playing the kids who have hit in the minors instead of the veterans who just sort of hit in the majors. But Scioscia's been there for every single game of Wood's and Rodriguez's struggles with the big club, and we really can't ask him to forget what he's seen.
Maicer Izturis and Gary Matthews and Vlad Guerrero have all played quite a bit this season, and the Angels would probably be better off if they played less often, with Wood and Rodriguez played more. But the difference isn't huge -- particularly if you're wearing Scioscia's shoes -- and either way there's a pretty good chance the Angels will be fine either way.
Despite getting only two wins and a 7.04 ERA so far from John Lackey and Ervin Santana, the Angels are only two-and-a-half games out of first place. According to this version of Baseball Prospectus' Postseason Odds, the Angels remain the favorites to win the AL West. Yes, Lackey and Santana will have to improve to balance the near-certain regressions of Jered Weaver and Joe Saunders. And yes, the Angels probably aren't getting the best use of the talent they've got. But they're still probably going to win.
April, 22, 2009
4/22/09
4:06
AM ET
The Angels have made a great roster move ... so
why isn't Steve Bisheff happy?
So the Angels finally come to their senses and start calling around, finding out what free agent pitchers might be available. Better yet, they recall Brandon Wood from Salt Lake.

Except, in Wood's case, they don't plan to play him. They plan to sit him.

"Right now he's a reserve player for us," Manager Mike Scisocia says. "Other guys can give us nice chemistry in the offense. Wood's time will come."

It will? Somebody please explain this one to me. It makes no sense at all. Wood is the top power hitting prospect on a team desperate for more power. He hit like crazy in spring training, he delivered four home runs in his first six games at triple A. He is as ready as he is ever going to be to play in the majors.

And you call him up to sit on the bench?

This might be the most baffling decision Scioscia has made since he's been in Orange County. He defends it by saying he wants more "table setters." He has fallen in love with Maicer Izturis for some reason, making him his No. 3 hitter. Some of his scouts should tell him "Izzy," as Mike calls him, would be a fill-in utility man, at best, on any other team that considers itself a real pennant contender.

--snip--

I've covered baseball for a long time, and I can't remember a more obvious time to stick your top prospect in there and let him play. I can see it. Most of you can see it. Why in the name of Tommy Lasorda can't Scioscia see it?

Come on, Mike. As natural decisions go, this is as easy as deciding what toppings you want on your next pizza.

So don't be stubborn. Just do it.
Last night, Izturis batted third and DH'd.
And, yes, in case you're wondering, this is the exact same Izturis who turned 28 last fall and has, in his illustrious career, posted a .270/.334/.377 line in the major leagues. Those numbers aren't bad for a shortstop batting eighth or ninth. Not bad at all. But if you've got him DH'ing and batting third, then you're simply doing something wrong. Something terribly wrong.
At least if you've got him doing those things for more than a snapshot in time. And my guess is that last night's lineup was just a snapshot. Funny thing about these affairs ... they almost always resolve themselves logically, and usually with some haste. I don't know if Mike Scioscia really believes that Izturis is better and more valuable than Wood. He might. Some managers have an inordinate fondness for the Proven Veteran™, and Scioscia might be one of them. But events have a way of trumping inordinate fondnesses, especially if you give the events a few weeks to work their necessary magic.
I might be wrong. But I suspect that if you look at an Angels box score in a month or two, you'll be significantly more likely to find Wood's name than Izturis'.