SweetSpot:

Brent Lillibridge
September, 6, 2012
9/06/12
1:35
AM ET
By
Christina Kahrl
| ESPN.com
"That really pops" is usually a phrase you're more likely to see on Bravo than ESPN. But these days, it's what you can say about the Nationals' lineup, because for a second consecutive night, it put up another power display that might have made you wonder whether they'd really put away the batting cages.
There were six home runs hit off Nats bats Tuesday and then the six more they hit Wednesday. Checking with Baseball-Reference.com can tell you that a team has done that just twice before since 1918. The Dodgers did it June 29 and 30, 1996, in Denver, in Coors Field, pre-humidor -- although even that is not doing the trick at altitude so much anymore, a story for another night. And the other time? That was in 2003, by the Angels against the Expos in rinky-dink Hiram Bithorn Stadium in Puerto Rico. Two crazy parks where crazy stuff was supposed to happen.
The Nats have been their own kind of crazy, but it has had nothing to do with the dimensions of Nationals Park. Starting with the "now you see him, but soon you won't" saga of
Stephen Strasburg
, they've been nothing but fun from Opening Day on, to
Bryce Harper
's lauded arrival and beyond. Want some sour grapes? You can keep sniping about
Jayson Werth
's paydays, although with an on-base percentage better than .400, he's a 6-foot-6 leadoff man who delivers what's needed instead of being a tower of power. A pitching staff whiffing 22 percent of opposing hitters, third best in the league? A lineup that ranks third in homers hit?
Gio Gonzalez
notches his 18th win Wednesday to keep pace with
R.A. Dickey
for the league lead? Gotta squeeze that in there somewhere, too.
Put all of that together, and the Nats have been as action-packed as any team in the league. And if you need off-field drama, how about a war of words between general manager Mike Rizzo and manager Davey Johnson? That's the sort of thing that might make you wonder whether chemistry is just something you talk about when all the other stuff isn't happening.
But it's the power that deserves the headline right now. Perhaps the signature slugging feat in Wednesday's cornucopia of clouts was Harper's pair of home runs. Maybe that can help end worries that his second-half slump will be something he'll have to carry into October. After a low-wattage July (during which he powered just one homer and had a .313 slugging percentage), followed by a fading walk rate in August but better bopping (six homers), Harper seems to be slowly asserting his ability to dominate at the plate. Before Wednesday, he'd been OPS'ing at a .999 clip since Aug. 17. You can parse any hot streak to make a man a statistical hero, of course, but ESPN Stats & Information provides a peek at where he's been doing damage lately.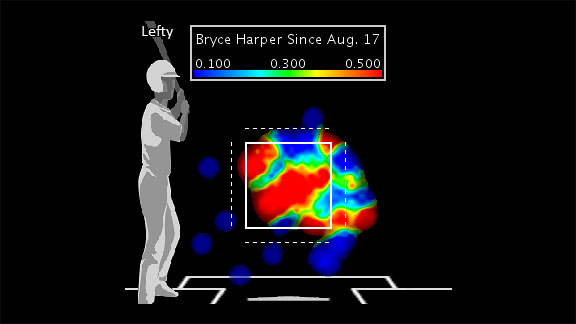 ESPN Stats & InformationBryce Harper's heat map during his recent hot streak.
That's a lot of red, of course, but it's also interesting that he's clobbering stuff on the outside corner as well. For more on that, check out
Stats & Info's blog post
from Wednesday night's action.
Harper hasn't been the only hero, however. First baseman
Adam LaRoche
, so long the target of derisive "he's so average" catcalls from the stathead community, combined for three across Tuesday and Wednesday nights. In a day and age when he was dismissed for not being
Albert Pujols
, he's leading National League first basemen in home runs with 28, his highest single-season tally since 2006, when he belted 32 bombs and slugged .561. That helped him catch the eye of the Pirates, who dealt him for
Mike Gonzalez
and
Brent Lillibridge
, a lose-lose move that might turn up only in a never-to-be-released Braves documentary, "John Schuerholz: The Blunder Years." As a Pirate, Red Sox, Brave and Diamondback through 2010, LaRoche slugged .478, with a mediocre isolated slugging number of .208. But this year, he's the resident steady Eddie in the Nats' lineup while coming back from an injury-ruined 2011. Even now, he's managing to be a background hero on a power-laden lineup, but that's a nice problem to have.
Now, admittedly, a good chunk of the Nats' feat is just the genuine pleasure big league hitters will get stepping in against these Cubs these days. They're on an 8-26 tumble since July 31, and this isn't Wrigleyville's midseason staff with
Ryan Dempster
and
Matt Garza
or even
Paul Maholm
out there. Instead, it's the legacy of former GM Jim Hendry's player development program on display, as Theo Epstein's management crew riffles through the farm system's upper-level options in a pitch-or-ditch test to see what the team has to work with. The Nats aren't going to be stepping in against
Blake Parker
or
Chris Rusin
or
Rafael Dolis
in October, after all.
Even so, the Nationals have a lineup packed with top-to-bottom power, and guess what? They get to face the Cubs again Thursday. Could a team hit six or more homers three nights in a row? As with so much else about this club, you can ask, "Why
not
the Nationals?" Look around and then look back, because on the baseball landscape, face it, the Nats just pop.
PHOTO OF THE DAY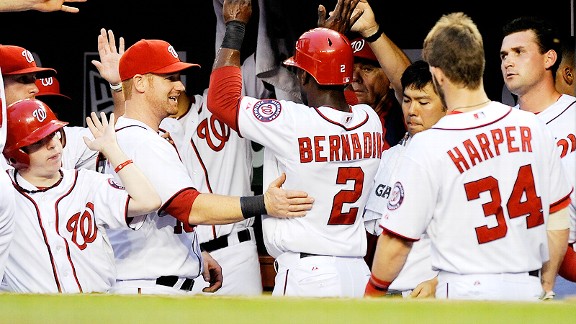 Patrick McDermott/Getty ImagesRoger Bernadina may well be coming back to the dugout asking who hasn't hit a home run lately.
Christina Kahrl covers baseball for ESPN.com. You can follow her on Twitter.
April, 24, 2012
4/24/12
8:00
AM ET
First base: Nate the great.
Giants outfielder
Nate Schierholtz
had a day to remember as the Giants swept a doubleheader from the Mets. In the opener, he went 3-for-5 with a triple and home run. In the nightcap (do they call it a nightcap?), he went 3-for-5 with another triple. His six hits is as many (or more) as the Pirates have gotten in eight of their 15 games.
Tim Lincecum
won his first game, but he scuffled through five innings, throwing 108 pitches and walking five batters. He escaped with just one run allowed, but it was hardly the effort to suggest he's back on track. By the way,
Pablo Sandoval
's home run in the nightcap (sticking with it) was a mammoth blast high into the second deck at Citi Field.
Second base: A's are Peaved.
Fact I did not know until tonight:
Jake Peavy
did not throw a complete game when he won the National League Cy Young Award in 2007. He threw just the 10th one of his career on Monday night, beating the A's
4-0
with a 107-pitch, three-hit gem. He's now 3-0 with a 1.88 ERA and all his peripherals are outstanding: .172 average allowed, 26/4 strikeout/walk ratio, one home run in 28.2 innings. His other three starts came against Texas, Detroit and Baltimore, so this all positive for Peavy. He hasn't made 20 starts in a season since 2008 but if he stays healthy, suddenly the White Sox look five-deep in their rotation -- and never count out a team with a deep rotation. The Sox are tied with the Tigers at 10-6 and have a +18 run differential compared to Detroit's +5. As White Sox utilityman
Brent Lillibridge
tweeted after the game, "Hop on #WhiteSox fans. It's starting to get fun around here. @JakePeavy_44 outstanding tonight, commanded from the 1st pitch."
Third base: Thanks, Pudge.
Ivan Rodriguez
officially retired on Monday and threw out the first pitch at the Rangers' game.
But he added a cool twist
to the usual ceremonial throw.
Home plate: Tweet of the day.
ESPN play-by-play announcer Dan Shulman with a novel suggestion that we should all rally behind ...
I vote that this year they decide home field in the World Series by having Matt Kemp and Josh Hamilton square off in a home run derby #mlb

— Dan Shulman (@DShulman_ESPN) April 24, 2012
December, 26, 2011
12/26/11
12:00
PM ET
By
Mark Simon, ESPN Stats & Information
| ESPN.com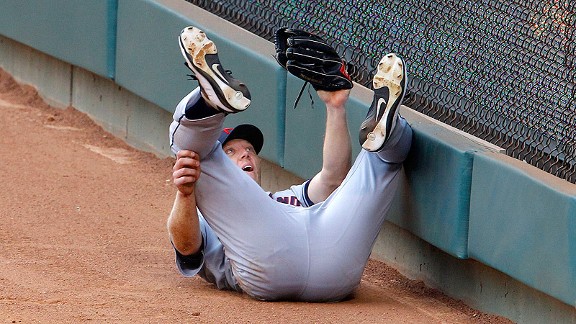 Jim Cowsert/US Presswire
Shelley Duncan made a season's worth of incredible catches in one day, but was it enough to earn him the Defensive Game of the Year honor for 2011?
Context or quantity, what's your preference? That's the question that requires answering when trying to select which player had the Defensive Game of the Year in 2011.
It struck me that it would be an interesting project to try to determine the game in which a player did the most with the glove. Baseball Info Solutions charts every play of every game, tagging the best plays into 30 categories of Good Fielding Plays (GFPs). They denote the plays for which you'd likely put a star on your scorecard and keep a running count throughout the season.
Using a combination of their lists and anecdotal recall, I was able to come up with about 30 nominees. These were either players who made at least three out-producing GFPs in a game or made multiple plays of great significance to the ultimate outcome of the game.
After reviewing video for each candidate, it came down to two choices, and that's where the context versus quantity debate comes into play.
My pick for the Defensive Game of the Year by a player goes to
Brent Lillibridge
of the White Sox. This selection is one that will be worthy of debate. Consider this: Lillibridge only played two innings in his game and handled two chances, but he made the biggest impact of anyone on the field.
On April 26 against the Yankees, Lillibridge's team was down 2-1 in the eighth inning when Lillibridge was inserted as a pinch-runner for
Carlos Quentin
.
Paul Konerko
, and then homered off
Rafael Soriano
to put the White Sox up, 3-2.
Lillibridge wouldn't get any action as Quentin's replacement in right field in the eighth, but he became the game's focal point in the ninth inning. The Yankees put two men on with one out for
Alex Rodriguez
. On a 2-1 count, Rodriguez hit a line drive towards the right-field fence.
Lillibridge, who was playing deep, sprinted back, reached out and
made the catch
, his glove parallel to the ground, his left leg up in the air as he leaned into the wall. That play got a "Mercy!" from Ken Harrelson, a hands-on-helmet gasp from Rodriguez and a smile from the runner retreating to second,
Derek Jeter
.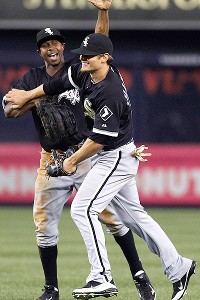 Kathy Willens/AP Photo
Brent Lillibridge got plenty of kudos for his glovework vs the Yankees
The
second catch
came two pitches later on Robinson Cano's sinking line drive to right. This one required a quick sprint toward the line and a full-length dive.
Lillibridge's glove hit the ground with the baseball with his body fully extended in the air. Cano's helmet went flying in frustration as Lillibridge slammed the grass with his right hand and let out a yell in celebration.
We wrote about the difficulty of these plays earlier in the season
. The second play had a 95 percent chance of being a hit, according to the research done by Baseball Info Solutions. That, combined with the win probability value of the two plays, which took the White Sox chances of winning from 65 percent to 100 percent, made this the choice to be the top honor.
Lillibridge had 12 GFPs in his 339 2/3 innings in the outfield, a pretty good innings-to-play rate. Lillibridge had six Good Plays in just over 200 innings in right field, the most by anyone who didn't get charged with any Defensive Misplays & Errors (the opposite of GFPs). He had a penchant for great late-game glovework, preserving a 1-0 shutout for
Jake Peavy
with a
tough catch in left-center in the eighth inning of one win
, and
robbing
Coco Crisp
of a go-ahead two-run home run in the eighth inning of another.
There is a worthy runner-up for Game of the Year from an unlikely source. In a 9-1 loss to the Rangers on September 14,
Cleveland Indians
left fielder
Shelley Duncan
made
four fabulous plays
on would-be base hits. The amazing thing was that three of them came in a row, for the last two outs of the first inning and the first out of the second inning, each by the 19-foot-high fence in left field.
On the first, Duncan tracked the ball off Elvis Andrus' bat a little oddly, twisting his body to left center, before stopping and turning back to leap and make the catch right by the wall. The next two looked a little more natural. Both were similar in nature, requiring a full extension in the air with his glove hand, and in the same location, just in front of the last set of games listed on the out-of-town scoreboard.
The image atop this article shows the catch that ended the first inning, against
Josh Hamilton
, and has a little bit of a "look what I've got" quality to it.
The fourth catch came in the fourth inning and required Duncan to come toward the line, come in, and backhand the ball as he slid on the grass. It ended up being overshadowed because the Rangers ended up scoring eight times in the inning. Baseball Info Solutions didn't award Duncan a GFP for the first catch, but did give him one for each of those last three.
This was about as unlikely a combination of Web Gem-worthiness as you could imagine. In 248 other innings in left field over the rest of the season, Duncan only had one other GFP.
In the end, I selected Lillibridge over Duncan because I wanted to reward the game-saving nature of his plays. Lillibridge's plays were the difference between winning and losing, and their value trumped any others that came along the rest of the season. But before you have at debating this selection and the idea of "clutch defense" in the comments section, here's a list of some of the other notable contenders, with links to the video so you can check them out for yourself.
Honorable Mentions
Sam Fuld, Tampa Bay Rays
The Rays' version of Superman had a pair of games that merit mention. On May 7 against the
Baltimore Orioles
, Fuld made a
diving catch
in the fourth inning, then went to the left-field fence to
rob
Matt Wieters
of a home run with a leaping catch in the eighth inning.

Fuld
Then, on June 19 against the Florida Marlins, Fuld took away a pair of hits, one a
line drive in the corner
by
Omar Infante
that likely would have been a double, then came in to shallow left to dive and
pick a ball off just before it hit dirt
. That preserved a 1-1 eighth-inning tie in a game in which the Rays would score in the home half to win, 2-1.
Also among the best performances by an outfielder were Diamondbacks centerfielder
Chris Young
(
three tough catches
in Wrigley Field on April 6), and Astros right fielder
Jason Michaels
(three catches
against
the
Braves
on June 12).
Cody Ransom, Arizona Diamondbacks
Ransom, a Mesa, Arizona native, hit only .152 in 12 games and 33 at-bats for his hometown team but made one of his nine starts count on both the offensive and defensive end.
Ransom's seventh-inning two-run home run off
Clayton Kershaw
made the difference in a 4-3 win that kept the Diamondbacks a half-game back of the Giants in the NL West, but that's not why he's on this list.

Ransom
Ransom made three fine defensive plays, twice going to
his
right
to make difficult plays, then making a nice long throw on Juan Rivera's ground ball for the final out of the game.
Other infielders worthy of notice were Orioles first baseman
Chris Davis
(three
terrific
plays
on August 12), Phillies second baseman
Chase Utley
(four
hit robberies
vs the Cardinals on June 23), Rays second baseman
Ben Zobrist
(six GFPs
against the Mariners
on August 21), Cardinals shortstop
Rafael Furcal
(six GFPs
against the Brewers
on August 31), and Rockies third baseman
Chris Nelson
(three fine plays
against the Cardinals
on August 12).
December, 26, 2011
12/26/11
9:00
AM ET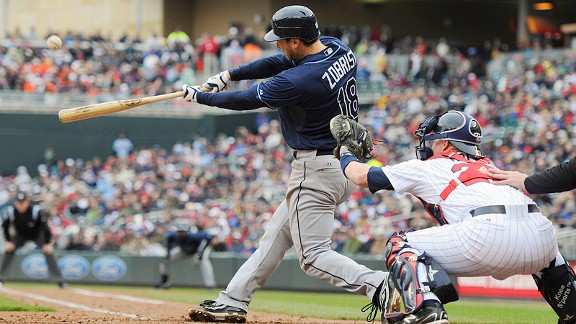 Hannah Foslien/Getty ImagesBen Zobrist had one of the biggest days in baseball history on April 28 with seven hits and 10 RBIs.
On April 22,
Ben Zobrist
went 0-for-5 in Tampa Bay's 11-inning loss to the Blue Jays, dropping his average to .183. The Rays were struggling at 9-11,
Evan Longoria
was out with an injury,
Manny Ramirez
had been suspended for a positive drug test and
Felipe Lopez
was hitting cleanup. The little team that could was looking more like the team that couldn't hit.
On April 23, Zobrist batted in the cleanup spot and hit a big three-run homer in Tampa's 6-4 victory in Toronto. The next night, Zobrist's two-run homer off
Ricky Romero
accounted for the only two runs in a 2-0 victory. On April 27, after a day off and a rainout in Minnesota, Zobrist tripled in two runs and added a sac fly in an 8-2 victory over the Twins.
That set the stage for my selection of the top single-game performance of the 2011 season. OK, I admit ... I cheated slightly, as you'll see.
On April 28, in the top of the first inning, Zobrist singled in two runs off Minnesota's
Nick Blackburn
. In the sixth inning, he blasted a three-run home run to right field off
Jim Hoey
. In the seventh, Zobrist moved over to the right-side of the plate and drilled a two-run double to deep left field. In the ninth, he hit another two-run double, capping an eight-RBI game.
But Zobrist wasn't done. In the second game of the doubleheader, he went 3-for-4 with a double and a two-run home run. All told, he went 7-for-10 with three doubles, two home runs and 10 RBIs in the doubleheader, joining Jim Bottomley (1929 Cardinals), Pete Fox (1935 Tigers) and Nate Colbert (1972 Padres) as the only players with at least seven hits and 10 RBIs in a single day.
"I really had no idea what was happening," Zobrist said after the second game. "I just was kind of in the zone. Just trying not to think about it too much. I just felt real comfortable, obviously, in the box. The ball was big. I saw the ball big today and put good swings on it. I felt like when I swung the bat, good things were going to happen every time."
The outburst capped an amazing five-game stretch for Zobrist in which he hit four home runs and drove in 18 runs. The Rays won all five games, a key point in their season as they climbed over .500 after starting the season with six consecutive losses.
Zobrist has been one of baseball's underrated stars the past three seasons, a versatile player who excels defensively at second base or right field. He was one of only 16 players in the majors in 2011 with at least 90 RBIs and 90 runs scored. He ranked tied for 10th in the majors in extra-base hits. He might not be widely recognized as a star, but one day he shined brightest.
Honorable mention
April, 28, 2011
4/28/11
1:41
PM ET
If you didn't see
Brent Lillibridge's game-saving catches
in right field in the bottom of the ninth against the Yankees on Tuesday, you missed two gems by the White Sox's utility player. The second catch -- and final out of the game to preserve Chicago's 3-2 victory -- was a diving catch of a low screaming liner by Robinson Cano. When it was hit, I thought there was
no chance
the ball would be caught. And, in fact, that was assumption was basically true. Mark Simon has a
great post on our Stats & Info blog
that reports Cano's liner stayed in the air for 2.5 seconds. Of the 61 balls with that hang time and hit to the area where Cano hit his liner, Lillibridge was one of only three to make the catch.
Other links to check out
April, 27, 2011
4/27/11
4:06
PM ET
Top five reasons why Wednesday's
Baseball Today podcast

with myself and master chef Keith Law really is a must-listen:
1. Ozzie Guillen must be a genius to insert
Brent Lillibridge
into right field for defense! He saved the game! Ozzie for Prez! As for "closer"
Sergio Santos
, on the other hand ... what's the fascination managers have with naming closers?
2.
Miguel Olivo
"homered" Tuesday night with a rather large assist from
Ryan Raburn
. Simply put, Olivo couldn't have done it without Raburn. So why is it scored a home run? And how would the defensive metrics deal with it?
3. Is
Jered Weaver
simply on a path like last season's
Ubaldo Jimenez
?
4. Terminator
Andre Ethier
can't be stopped, unless his lofty batting average on balls in play evens out, of course. But can we compare Ethier to others who had excellent April hitting streaks? I say ... well, download and hear it for yourself!
5. Law doesn't like the potential new playoff format or the All-Star Game, as currently constructed? OK, you expected that, but his reasons on each might surprise.
Plus: Excellent emails about Kent Tekulve, a comprehensive look at
Oakland Athletics
right-hander
Tyson Ross
, who is scheduled to pitch on ESPN tonight and why didn't the Blue Jays hit lefties last season but then
Adam Lind
and pals obliterated
Matt Harrison
on Tuesday? All this and more on Wednesday's Baseball Today.