April, 10, 2013
4/10/13
9:00
AM ET
Quick thoughts on Tuesday's games …
December, 3, 2012
12/03/12
4:07
PM ET
NASHVILLE, Tenn. -- The
Minnesota Twins
made a splash last week when they traded center fielder
Denard Span
to the
Washington Nationals
for pitcher Alex Meyer, a 6-foot-9 former first-round draft pick with a 100 mph fastball. Meyer has the potential to be a front-of-the-rotation starter or, in an alternate scenario, a dominant closer. But he might not be ready to contribute to the big league club for a couple of years.
[+] Enlarge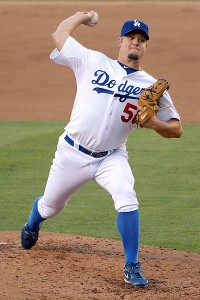 Kirby Lee/Image of Sport/USA TODAY SportsJoe Blanton was 10-13 with a 4.71 ERA in 30 starts combined for the Phillies and Dodgers last season.
With that deal complete, the Twins now turn their attention to acquiring some immediate help for a rotation that went 39-75 with a 5.40 ERA in 2012. It's not a reach to say they're pitching-obsessed.
Free agents
Zack Greinke
,
Anibal Sanchez
,
Ryan Dempster
and (maybe)
Edwin Jackson
might be beyond Minnesota's price range. But when you talk to people at the Gaylord Opryland hotel, they'll tell you the Twins are in on just about every other free agent with a résumé and pulse.
Joe Blanton
, a veteran innings-eater who spent last season with the Phillies and Dodgers, is a prime target for the Twins, sources said. Midrange starters
Kevin Correia
and
Brett Myers
are on general manager Terry Ryan's radar, and the Twins are taking a serious look at the group of non-tendered pitchers who recently became free agents. That list includes former Washington Nationals starter
John Lannan
and erstwhile New York Met
Mike Pelfrey
, who underwent Tommy John surgery in March.
The Twins are also kicking the tires on veteran
Vicente Padilla
. Although some people in the Minnesota organization have concerns about Padilla's makeup, the Twins are intrigued by his ability to both start and relieve.
Minnesota also has been more active than expected in trade talks. Other clubs with excess pitching have approached the Twins to talk about center fielder
Ben Revere
and left fielder
Josh Willingham
, who is a particularly attractive commodity because of his reasonable contract and excellent production.
Willingham hit 35 homers and ranked eighth in the American League with a .524 slugging percentage last season, and he's signed for two more years at a total of $14 million. But unless Ryan is blown away, it's tough to envision him moving an outfielder and putting a major crimp in his offense. In the Twins' quest to bolster their pitching, they would simply be weakening one facet of the team to strengthen another.
October, 31, 2012
10/31/12
12:59
AM ET
Heading into the offseason, the top free-agent starting pitchers looked to be
Zack Greinke
,
Kyle Lohse
and
Jake Peavy
, assuming the Chicago White Sox didn't pick up a $22 million option on Peavy.
Peavy
The White Sox didn't exercise that option, as they made a different move: They
signed Peavy to a two-year, $29 million extension
, making the already-sparse starting pitching market a little more sparse. It looks like one of those win-win moves: The White Sox get Peavy for a more cost-effective $33 million (including the $4 million buyout of his existing contract) and Peavy stays in a place where he wanted to play.
The White Sox also announced that they declined options on
Kevin Youkilis
and
Brett Myers
while picking up the $9.5 million option on
Gavin Floyd
, giving the White Sox a 2013 rotation of
Chris Sale
, Peavy, Floyd,
John Danks
and
Jose Quintana
or
Philip Humber
. Even with Danks making just nine starts due to surgery to repair a tendon tear (he's expected to be ready for spring training), the White Sox finished with a 4.15 ERA from their rotation, seventh-best in the American League but a solid figure considering U.S. Cellular Park is one of the best hitting parks in the league.
Peavy was a big reason the White Sox battled the Detroit Tigers for the AL Central title, the right-hander going 11-12 with a 3.37 ERA that ranked ninth in the AL. He also ranked fifth in innings pitched, helping give him 5.0 WAR, sixth-best among AL pitchers. The caveat: It was the first time he topped 200 innings since 2007 and the first season since 2008 he surpassed even 112 innings. His long medical history certainly suggests this isn't a risk-free deal for the White Sox.
The surgery he had in 2010 to reattach a tendon in his shoulder was the first time the surgery
had been performed on a baseball player
, but Peavy told ESPNChicago.com during the 2012 season that he was a different pitcher than in recent seasons, "worrying about game planning, not sitting in the trainer's room the whole time in between days."
If Peavy and Danks can stay healthy, it's certainly a rotation that can contend for a division title. Next up for the White Sox: Possibly re-signing Youkilis and free-agent catcher
A.J. Pierzynski
, who hit .278 with 27 home runs in 2012.
September, 28, 2012
9/28/12
1:18
AM ET
Adam Dunn
is at the plate, looking relaxed, just another of his more than 7,000 career plate appearances in the major leagues.
Dunn may appear relaxed, but Chicago White Sox fans certainly aren't, as they stand in unison, knowing the season has come down to this: one pitch. The cameras pan to the White Sox dugout and bullpen and Dunn's teammates have that look of dead men walking -- the depressing look of a team falling apart at the wrong time of the year, not knowing or understanding how this happened.
The count is three balls, two strikes,
Fernando Rodney
on the mound for the Tampa Bay Rays, his hat askew and beard groomed in a long goatee hanging in a point off his chin. It seems more goofy than intimidating -- if that's what Rodney is going for -- but when you have an ERA of less than 1.00 and have allowed two earned runs since the All-Star break, nobody cares what you look like.
Dunn has one thing on his mind: home run. The Rays lead 3-2, there is a runner on base, the White Sox in danger of losing for the eighth time in nine games. On the previous pitch, Dunn somehow laid off a changeup that dipped just below the knees. The pitch before he was late on a 98-mph fastball.
Fastball or changeup?
Good luck.
Rodney throws the changeup, it drops at the last moment, and Dunn swings over the top of it, and the air is let out of 18,000-plus at The Cell. The White Sox,
3-2 losers
, are now two games behind the Detroit Tigers in the American League Central and their season feels over. The Rays have now won eight in a row and are two games behind the Oakland A's in the wild-card race. They've done this miracle surge thing before.
* * * *
Evan Longoria
belted the winning home run off
Brett Myers
in the ninth inning, a sloppy curveball that a player of Longoria's caliber doesn't miss. But let's write about Rodney, because of his superlative season and because we really haven't talked much about him this year.
There was a tweet I saw as Rodney came in to close it out, from a guy named Dave Hogg (@stareagle): "Guess what, Tigers fans? You are about to relive the past -- it's going to be Fernando Rodney closing out a huge game for Detroit."
That's kind of a joke. Rodney used to pitch for the Tigers but wasn't that great for them. He was the closer one year for them, saved 37 games, but with a 4.40 ERA. The Tigers let him walk and he signed with the Los Angeles Angels, where his ERA was 4.32 the past two seasons. He had more walks than strikeouts for them last season. Of course they let him walk. Why wouldn't they?
And now he's put together one of the great relief seasons in history. How do you explain this?
You can't. The Rays have said it's all about improved fastball command from previous years, helping set up that lethal changeup. It's not just the drop in the pitch, but the separation from his fastball; his heater averages 96.1 mph, his changeup 82.4 mph.
"I'm surprised, to tell you the truth, whenever anybody puts the bat on one of them," Rays pitching coach
Jim Hickey told Marc Tompkin
of the Tampa Bay Times back in July. "Because this is not just a changeup."
Here's one heat map example of his improved fastball command against left-handed batters, 2011 versus 2012: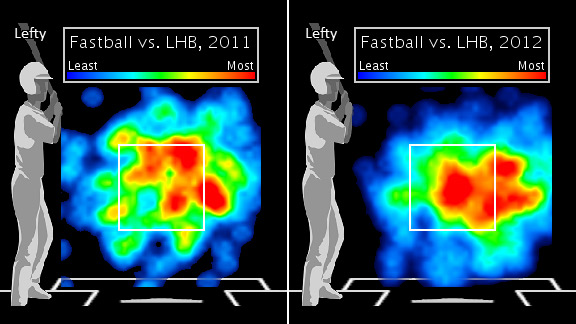 ESPN Stats & InformationRodney's fastball command has been much improved in 2012.
Before this season, Rodney had averaged 4.9 walks per nine innings in his career (and a staggering 7.9 with the Angels in 2011). In 2012, that number is less than 2 per nine.
That command sets up the change. In 64 plate appearances ending with a changeup, batters are hitting .102 against -- 6-for-59, one double, no home runs, 25 strikeouts. And because of that, Rodney's ERA is now 0.62. Talk about staggering. The lowest ever for a pitcher with at least 50 innings: Dennis Eckersely, 0.61 in 1990. With more scoreless inning, Rodney will match exactly Eck's totals: 73.1 innings, nine runs, five earned runs. (To be fair:
Craig Kimbrel
of the Braves has actually allowed fewer
runs
per nine innings this year.)
Not bad for a guy the Rays signed for $1.75 million and $2.5 team option (after the Angels had thrown away $11 million on him over two season). Rodney got a chance to close only when
Kyle Farnsworth
was injured in spring training.
"We thought he was ripe for a good year," Rays manager Joe Maddon had said back in July. "I think it's a combination of him feeling good about himself and liking it here, and maybe some nice physical and mental adjustments, and all of a sudden, you've got an All-Star."
Score one for the Rays. As our pal Jonah Keri said, in reference to Rodney's infamous post-save celebrations: He is an arrow-firing cyborg.
That cyborg is a reason the Rays are still alive. Very much alive.
July, 28, 2012
7/28/12
5:03
PM ET
By
Doug Kern
| ESPN Stats & Information
[+] Enlarge

AP Photo/Paul BeatyChicago's Travis Wood became the first starter ever to allow homers in each of the first five innings.

Travis Wood gave up all five of those homers, making him the fifth pitcher in Cubs history to surrender five long balls in a game (Carlos Zambrano did it last season), and according to Elias, the first starter ever -- for any team -- to allow homers in each of the first five innings.

Statistical support for this story provided by Baseball-Reference.com and the Elias Sports Bureau.
July, 23, 2012
7/23/12
2:42
PM ET
Eric Karabell got stuck in traffic (twice!) on his way from Pennsylvania to Connecticut, so I filled in at the last minute to host Monday's
Baseball Today podcast
with Keith Law. Among the topics:
1. The Oakland A's are red hot after sweeping the Yankees. Can they stay in this race? We discuss the A's,
Josh Reddick
,
Yoenis Cespedes
and their playoff chances.
2. The
Pittsburgh Pirates
are also hot! Hey, anything is possible ...
3. Keith provides an update on Cubs prospect Jorge Soler, who hit his first minor league home run over the weekend.
4. We probably talked way too long about
Brett Myers
, who is now a member of the
Chicago White Sox
. Did the Astros get anything of value for him?
5. We go to the user emails to discuss whether the Twins would or could trade
Joe Mauer
and whether the playoff system will end up being unfair to a good team.
All that, plus mentions of
Jon Lester
,
Ian Desmond
and more on Monday's show!
February, 28, 2012
2/28/12
12:45
PM ET
Another Tuesday,
another chap wrap
. Will David Price win the Cy Young? Will Albert Pujols find his groove in L.A.? Who are the favorites for Rookie of the Year? Is Ryan Zimmerman's contract a bad deal for the Nationals?
February, 28, 2012
2/28/12
12:36
PM ET
What's more difficult: pitching 200 innings or saving 30 games?
Well, consider it like this: Every team has five starting rotation slots, so that's 150 rotation slots throughout the major leagues. In 2011, 39 starters managed to pitch 200 innings, or 26 percent of all potential slots.
Each team has a closer. In 2011, 19 closers saved at least 30 games, or 63 percent of all closer slots.
Finding a guy to save 30 games is pretty easy; finding a guy who can pitch 200 innings is difficult.
Which is why I don't understand the Astros' decision to move
Brett Myers
to the bullpen
. New Astros GM Jeff Luhnow is supposed to be bringing a new mindset to the downtrodden Astros, one with a more analytical bent than the previous regime. So it's a little discouraging to see him use old-school thinking in explaining the move: "We have some candidates and depth with the rotation," he told the Houston Chronicle. "Having an experienced guy who's done it before takes some pressure off of
Brandon Lyon
and guys like
David Carpenter
and
Wilton Lopez
."
Now, Luhnow is being a little kind here, at least to Lyon, who is experienced as a closer but not very good at it. By the way, after Lyon bombed out of the closer role in 2011, the Astros eventually turned to
Mark Melancon
, an unheralded reliever with 37 career innings before the season. He was fine in the role, saving 20 of 24 opportunities after assuming the job, and was flipped to the Red Sox for
Jed Lowrie
in the offseason.
So instead of taking a similar approach in 2012, the Astros turn to Myers. Look, is he a great starter? No, but his 4.46 ERA last year on a terrible club wasn't embarrassing. He can give up too many home runs, but he had a quality strikeout-to-walk ratio of 160-to-57. He's making $10 million this year (with a $10 million club option for 2013 that becomes guaranteed based on 2012 performance). I have to think Myers' trade value is a higher as a starter than a closer if the Astros are thinking of shopping him around. As this winter proved, the market for $10 million closers isn't a big one.
The other possibility is the Astros think Myers is their sixth-best starter, and manager Brad Mills just doesn't want to say that. However, once you get past
Bud Norris
and
Wandy Rodriguez
and maybe
Jordan Lyles
(although I think a little more time in Triple-A for him would be a good thing), you're talking about ...
Henry Sosa
?
J.A. Happ
?
Aneury Rodriguez
? Non-roster invitees
Zach Duke
and
Livan Hernandez
?
And there's this obvious situation: The Astros aren't going to win many games. Whether they win 58 with Lyon or one of the youngsters closing or 60 with Myers closing is irrelevant. In fact, that gain in fewer blown saves will almost assuredly be lost in using a starter who either won't be as good as Myers or incapable of giving the 215-plus innings he's provided each of the past two seasons.
I don't get it.
December, 15, 2011
12/15/11
10:30
AM ET
By
Christina Kahrl
| ESPN.com
Hiring a general manager is a unique, defining opportunity for an organization. The AL-bound Astros may have done exactly that, defining themselves and their future by hiring minor league honcho Jeff Luhnow from the Cardinals to be their new GM. He gives them the executive they've needed for years.
It isn't really a secret that the Astros are now one of baseball's disaster franchises. They may not have the Pirates' 19 consecutive losing seasons to apologize for, but they were already a franchise headed for trouble when they fired general manager Tim Purpura in 2007. Four years under Ed Wade in the front office did not immediately put them on a rebuilding track, delaying the inevitable collapse while costing the Astros time they didn't have.
As the Cardinals' vice president of scouting and player development, Luhnow was simultaneously successful and unconventional, reflecting the benefits of a man who doesn't come purely from either side of the overdrawn divide between scouts and analysts. Instead, Luhnow's background was in business, with an MBA from Northwestern and fluency in Spanish after growing up in Mexico City.
Rational management techniques helped make him a successful consultant and business executive, a broader tool kit than just an appreciation for stats and analysis. His training, experience and success provided Luhnow with the insight to reorganize the Cardinals' scouting department in entirely new ways. Evaluators were assigned to specific conferences, or sub-specialized in pitchers or position players. The wider net his farm system cast didn't just score early-round successes like
Chris Perez
or
Colby Rasmus
, it also produced later-round successes like
Jaime Garcia
and
Luke Gregerson
.
Every team's trying to pursue and achieve competitive advantages over the others, and every team already has some level of awareness of statistical analysis. "Moneyball" may have reached theaters, but its message had long since been received throughout the game. The stats vs. scouts divide has long since gone from concern to overdrawn cartoon. Teams understand the need to utilize both methods, and Luhnow's an effective representative of a generation of leadership who understands that, but also does more than work with scouts
and
stats.
Luhnow's unusual background perhaps also contributed to his popularity with Cardinals owner Bill DeWitt, another MBA holder. DeWitt promoted Luhnow against the wishes of then-GM Walt Jocketty, and deserves his own share of the credit in recognizing the value Luhnow brought to the table. If owners are almost always successful businessmen, you can see how being a man from a similar background would be helpful. Luhnow's track record for solving problems and achieving results in player development in unconventional ways would have already suggested him to new owner Jim Crane. So you can also credit Crane — another businessman — with having the sense to include Luhnow, and then quickly take to him.
The last time around, in 2007, the Astros had the opportunity to make this kind of high-impact hire. They certainly needed it. The roster that had helped propel the team to a pennant in 2005 was already one of the league's oldest. The farm system was undisputedly baseball's worst. Things have not gotten that much better since. In the last 13 years, the organization has drafted exactly nine players who have generated a career WAR value of 1.0 or more. Not just for the Astros, for anybody, anywhere. The top two sound nice enough:
Hunter Pence
and
Ben Zobrist
in 2004, but things go south in a hurry.
Bud Norris
and
Brian Bogusevic
are the only players on this list likely to do the Astros much good in the future.
It gets worse: Two of these players, Sampson and Bogusevic, acquired their value after moving to or from the mound (respectively) -- in both cases, career hail marys to salvage something from a draft pick gone wrong. Also keep in mind that Zobrist didn't produce any of that value for the Astros -- he was traded away to Tampa Bay for
Aubrey Huff
in 2006, in part because he was being defined by what he couldn't do well -- play shortstop every day -- instead of what he can (just about everything else a player can possibly do).
Unfortunately, the draft will take years to yield measurable results, so there's no reason to rush to judgment about Luhnow. It's not like there's a lot of low-hanging fruit in the world of player development left to be easily picked. In the '80s and '90s the Astros were industry leaders in scouting Venezuela, but that advantage disappeared more than a decade ago as every team invested in scouting and acquiring Venezuelan talent. You may have noticed there were no Latin players on the Astros' list of nine farmhands who have produced more than one win above replacement.
Achieving better results in player development isn't the only thing Luhnow will have to address. Part of being a GM is being able to make the sale on a vision for the organization: First to the people who have to hire you, then almost immediately to the fans and media folk who are going to judge everything you do for the team forever after, and then finally -- critically -- he has to be able to get buy-in from the people who report to the GM. That doesn't just mean the players or the manager, it also means to the people who work in player development and baseball operations.
Inevitably, there's going to be some turnover — an ability to select good subordinates is a critical criterion for an effective GM. There will be some defections from the Cardinals in the months to come. But even on the Astros, Luhnow has inherited some front-office talent. What will be critical in the time to come for Luhnow will be not just identifying the talent on the field for the Astros, but people associated with the organization off the field.
So Luhnow will have to sort out who and what he needs to bring in off the field as well as on, working with what he's got to work with. Bobby Heck has been credited with an improved player development program since he became scouting director in 2008 on Wade's watch, but expectations are high with a new owner's investment and relying on Luhnow's track record. Some of Heck's most recent products -- notably
J.D. Martinez
,
Jordan Lyles
and
Jason Castro
-- provide reason for hope.
On some level, the moves to come on the major league team are easy by comparison, because the hand that Luhnow's been dealt is extraordinarily weak. He'll make of it what he can, but
the return from his first trade
, getting infielder
Jed Lowrie
and pitcher
Kyle Weiland
from the Red Sox for reliever
Mark Melancon
, was a great start. His best bargaining chips are veteran rotation workhorses
Wandy Rodriguez
and
Brett Myers
; whether they get dealt now, soon or at the trade deadline, they will not be sold cheaply. Like Melancon, they're the best chances Luhnow has to add young talent to an organization so short of it. Given time, it won't be his last.
Christina Kahrl covers baseball for ESPN.com. You can follow her on Twitter.
May, 27, 2011
5/27/11
4:40
PM ET
Brett Myers
' career has been a tumultuous ride. In his first three years in the majors with the Phillies, Myers -- who starts Friday night for the Astros -- posted a 4.84 ERA and appeared to be a bust, having been chosen in the first round of the 1999 draft. In 2005 and '06, he appeared to figure himself out, compiling a 3.81 ERA, and he'd become a quality, reliable arm in the Phillies' rotation.
In 2007, the Philadelphia bullpen was in shambles.
Tom Gordon
succumbed to injury and the Phillies had no experienced closer to take his place. Myers, after two disastrous starts to begin the season, agreed to move from the rotation to the closer's role to help his team. However, after some initial success, he landed on the disabled list when he strained his right shoulder in Florida on May 23. He did not return until July 28. As a reliever that year, he yielded a 2.87 ERA and converted 21 of 24 save opportunities, providing stability in the bullpen.
[+] Enlarge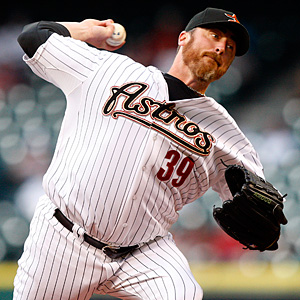 Bob Levey/Getty ImagesBrett Myers takes a 1-4 record into Friday's matchup against the Diamondbacks.
Myers was on the mound on the last day of the '07 season, as he struck out
Wily Mo Pena
of the Nationals to clinch the NL East division title. In celebration, Myers threw his glove up in the air and waited to embrace catcher Chris Coste. It was an iconic moment in Philadelphia sports history as it ended the Phillies' 13-year playoff drought. He even celebrated with the fans who stayed to congratulate their heroic baseball team, spraying champagne into the stands.
Myers returned to the rotation in 2008, but was not his usual self. He was healthy the entire season, but finished with a 4.55 ERA and posted the lowest strikeout rate of any full season in his career.
The following season was not any easier, as Myers' season appeared to be finished when he needed hip surgery after his May 27 start against the Marlins. Always the diligent worker, Myers worked hard and vowed to return to help the team clinch another postseason berth. He did return, much to everyone's surprise, on Sept. 5 and pitched out of the bullpen. Unfortunately, he was not effective. In the postseason, he had one disappointing outing in the NLDS against the Rockies when he walked two in two-thirds of an inning. That prompted the Phillies to leave him off the NLCS roster entirely. His last stint with the Phillies came in Game 3 of the World Series against the
New York Yankees
, when he struck out
Melky Cabrera
and
Derek Jeter
, but allowed a home run to
Hideki Matsui
.
A free agent going into the 2010 season, the Phillies and Myers decided to part ways. Interest in Myers was muted; he eventually signed with the Astros on a one-year, $5.1 million deal. In a shocking turn of events that is on par for his career, Myers emerged as one of the best starters in baseball, pitching 223 2/3 innings with a 3.14 ERA and his best K/BB ratio as a starter since 2006. The performance earned him a two-year extension with the Astros worth $23 million.
Do you feel like you've been on a rollercoaster reading about Myers' baseball career? I did not even mention his domestic abuse incident in Boston during the '06 season or his confrontation with journalist Sam Carchidi in '07.
That brings us to today. Myers currently sits with a 5.00 ERA, a vast change from last year. Last weekend, he was victimized for two home runs by the amazing
Jose Bautista
, the 11th and 12th home runs he has allowed in 63 innings. Going forward, Astros fans should expect Myers to be more like the starter he was with the Phillies, as opposed to the one they saw last year. His strikeout rate (7.0 K/9) is similar to last year's, but the walks have come much more frequently (3.1 BB/9). Furthermore, he is inducing more fly balls (up about 7 percent) and fewer groundballs (down more than 5 percent).
There is reason to believe he has been unlucky thus far, as he has a .329 BABIP (batting average on balls in play). Pitcher BABIP tends to hover around .300, as pitchers have little control on the conversion of batted balls into outs. Looking at BABIP for various batted ball types, it appears Myers has been unfortunate on all three variables:
Groundballs: Myers .291 (NL average: .234)
Fly balls: Myers .159 (NL average: .136)
Line drives: .808 (NL average: .715)
If we use the 2010 National League average on Myers' current batted ball distribution, we come up with five fewer groundball hits, nine fewer fly ball hits, and three fewer line drive hits. The difference of 17 total hits represents over 25 percent of his total hits allowed thus far. The bad BABIP fortune could mean the difference between Myers with a 3.50 ERA and Myers with a 5.00 ERA.
Unfortunately, Myers also plays with one of baseball's worst defenses. The Astros enter Friday
ranked 29th in defensive efficiency at .687
, per Baseball Prospectus. Their park-adjusted defensive efficiency (PADE) is also the worst mark in baseball. PADE tells us the Astros converted 5 percent fewer balls in play into outs than we would expect after adjusting for the relative ease or difficulty given the ballparks in which they have played.
While Myers' fastball and slider have each slowed by more than 1 mph from last season, it is the defense that will dictate his future success more than anything or anyone else. It is just one more chapter in the always interesting career of Brett Myers.
Bill Baer runs the Crashburn Alley blog on the Phillies. Follow him on Twitter: @CrashburnAlley.
February, 27, 2011
2/27/11
3:36
PM ET
In 2010, the NL Central finished the season with only six of the top 40 starting pitchers based on ERA. Three of those pitchers belonged to one team, the
St. Louis Cardinals
(
Adam Wainwright
,
Chris Carpenter
,
Jaime Garcia
.) The other three were
Brett Myers
,
Wandy Rodriguez
(
Houston Astros
) and
Johnny Cueto
(Reds). This means the Cubs, Pirates and Brewers were without a starter in the top 40 ERA's in the league by the end of 2010. The potential was there, but it was never realized. Fast forward to 2011 …
[+] Enlarge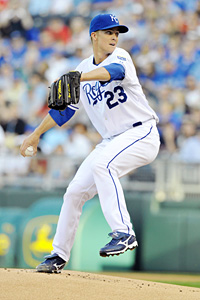 John Rieger/US PresswireThe Brewers added former Kansas City ace Zack Greinke to the top of their rotation in the offseason.
The Brewers made the first move this offseason when they picked up
Zack Greinke
in a trade with the Royals. They gave up little for what will be their staff ace.
FanGraphs
projects Greinke's 2011 stats to be about 14-15 wins and an ERA in the mid 3.00's. The Brew Crew did not stop there, acquiring Shawn Marcum, who cobbled together a nice 2010 for Toronto in the tough AL East after missing all of 2009. These two additions, along with future Cy Young candidate
Yovani Gallardo
make the Brewers a contender for the NL Central crown in 2011.
The Cubs' offseason answer to their pitching staff questions came in a trade with Tampa Bay.
Matt Garza
was acquired in exchange for a slew of prospects. While the big question is how Garza will fair in Wrigley, it goes without saying he is an upgrade, and makes a fine middle-of-the-rotation addition. FanGraphs projects something like 11 wins and a high 3.00 to low 4.00 ERA. He gives the Cubs a very solid top three along with
Ryan Dempster
and a "newly cured"
Carlos Zambrano
. What if
Randy Wells
can get his 2009 form back? Any Cubs fan can tell you that 2010's failure came from a lack of offense. If this staff gets even a hint of support, the NL Central is well within reach.
We can't discuss the Cubs without touching on the Cardinals. Year in and year out the Cardinals seem to have pitching, or at least starting pitching. Yes, Wainwright is gone for the 2011 season, and while this is a big blow, I don't see it being the end of their 2011 season. Tony La Russa and Dave Duncan are unbelievable at squeezing water from a stone. Duncan got production from
Todd Wellemeyer
for crying out loud. Every year the duo of La Russa and Duncan seems to pull a starting pitcher out of a hat. I am sure somebody will fall in place to pick up at least some of the wreckage left behind by Wainwright's injury. They still have Carpenter and Garcia to lean on. Let's also not forget the sinkerball pitcher,
Jake Westbrook
, who I am sure Duncan will turn into a Cy Young candidate before long. Oh yes, the Cardinals are still in the hunt … even when they lose their best pitcher.
The sneakiest staff might be Houston's. Rodriguez and Myers will once again anchor this staff. Don't count out
J.A. Happ
, as he fit in nicely coming over from the Phillies in a trade last season. While I don't see the Astros contending this year, mostly because of their offensive woes and bullpen, these three guys make for a nice base to a starting staff. Rodriguez and Myers were both in the top 40 ERA's for starting pitchers last year, and Happ has the stuff to be included in that conversation someday, too.
Alongside these teams sit the
Cincinnati Reds
. Youth would be the operative word here. The potential in this starting rotation is enormous for 2011 and beyond. Yes,
Bronson Arroyo
is 33, but after that you have Edison Volquez (28), Cueto (25) ,
Homer Bailey
(25) and a fifth starter in
Travis Wood
(24) or
Mike Leake
(23). There is also the tease that Cuban fireballer
Aroldis Chapman
(22) might one day become a starter. With the exception of Chapman and possibly Wood, all of these pitchers have seen significant success at the major league level in a starting role. The only thing keeping the Reds from a return to the playoffs is the fact that every team in the division upgraded with exception to the
Pittsburgh Pirates
.
The NL Central has always had a few good pitchers sprinkled about its rosters. What's new to the past decade is the depth of each team's starting staff, not to mention the potential for more in the future. While the Astros, and more so the Pirates, have some ground to make up in this category, the remaining four teams are finding strength and depth from their starters.
Chet West writes for The View From the Bleachers blog, which is part of the SweetSpot network.
February, 10, 2011
2/10/11
12:42
PM ET
By
Austin Swafford
| ESPN.com
The Astros went into the offseason looking like they had their rotation for 2011 mostly in place. They have a solid front three with
Brett Myers
,
Wandy Rodriguez
and
J.A. Happ
. And that's assuming Myers' resurgent year in 2010 wasn't a fluke. The threesome of Myers, Rodriguez and Happ might not strike fear in the heart of the common reader, but it is worth pointing out that the Astros had
as many quality starts as the Giants
last year. It's safe to say, however, that Myers and Rodriguez won't be confused with
Tim Lincecum
and
Matt Cain
any time soon. But the trio of Myers, Rodriguez and Happ was a combined 18-7 with a 2.87 ERA after the break last year. If they duplicate that production in 2011, the Astros will have a front three that's as good as any in the league.
But the question mark was with the fifth spot in the rotation. Although that spot is generally discarded as virtually irrelevant,
Fernando Abad
's winter has the Astros looking like they could have one of the deepest rotations in the National League.
[+] Enlarge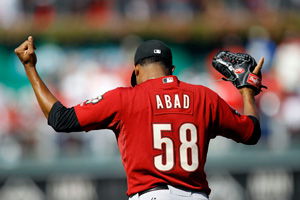 AP Photo/Matt RourkeFernando Abad compiled a 2.84 ERA and 1.00 WHIP in 19 major league innings last season.
The lefty made his major league debut last year, compiling a 2.84 ERA and 1.00 WHIP in 19 innings. It's an extremely small sample size that provides very little insight into the kind of pitcher he could be, and he was originally expected to do little more than compete for a prominent bullpen role. His winter numbers, however, have given the Astros reason to re-evaluate. In 10 regular-season games (six starts) in the Dominican Winter League, Abad went 3-0 with a 2.38 ERA. He was also dominant in the playoffs, including one game in which he allowed
no hits through six innings
, retiring the first 16 batters he faced before an error broke up his perfect game.
Originally, the front-runners for the fifth spot in the Astros' rotation were
Nelson Figueroa
and Jordan Lyles. Figueroa put up surprisingly good numbers last year, but a 36-year-old journeyman who has started only 27 major league games since 2004 isn't quite ideal. And Lyles, the Astros' great prospect, is only 20 years old and needs some more work in the minors. Abad could provide the just-right-in-the-middle solution to those two extremes on the age spectrum, and actually could provide some talent to boot.
The tougher decision will be what to do with free-agent signee
Ryan Rowland-Smith
, who may end up with the job as fifth starter just so the Astros don't risk losing him. He's another lefty who is a couple of years older than Abad, but has done more to prove himself at the major league level. He took a big step backward in 2010, but he did enough in '08 and '09 that the Astros will want to give him a real look. Abad will certainly give the Astros something to think about, however, and when placed in a rotation with Myers, Rodriguez, Happ and
Bud Norris
, he could help the Astros have one of the most difficult and surprising rotations in the NL.
Austin Swafford runs the SweetSpot Astros blog at Austin's Astros 290 Blog.
October, 15, 2009
10/15/09
5:45
PM ET
Crashburn Alley's Bill Baer on
the Phillies' roster
and an awfully odd decision:
The Phillies set their NLCS roster and starting rotation, and just about everything is the same, except:

" Chan Ho Park is in
" Brett Myers is out
" Eric Bruntlett is in
" Kyle Kendrick is out

I can understand adding Chan Ho Park to the roster, and I can understand taking Kyle Kendrick off, but why — why?! — is Bruntlett on the roster and Myers is off?

Considering that Miguel Cairo is still on the roster — a spot he earned with his performance at the end of the regular season — there is no need for Eric Bruntlett, a lite-version of Cairo, if you will. The Dodgers are also lefty-heavy with Clayton Kershaw, Randy Wolf, Hong-Chih Kuo, and George Sherrill. Bruntlett has hit for a .648 OPS this season and .738 over his career.

John Mayberry, meanwhile, had an .831 OPS in limited playing time this season and .849 over his Minor League career ... There is absolutely no reason why Eric Bruntlett should be on the NLCS roster.
Eric Bruntlett's line, 2007-2009: .215/.295/.279.
Frankly, it's very difficult to imagine that a hitter like Bruntlett deserves a spot on anyone's roster in October, ever. Perhaps if the Phillies needed a utility infielder ... but of course they don't, because they've got Cairo and anyway it's not like they'll ever pinch-hit for their second baseman or their shortstop.
This move isn't nearly as significant as the Dodgers giving two starts to
Vicente Padilla
instead of Randy Wolf. But it sure does seem like the Phillies are throwing away a roster spot.