March, 4, 2013
Mar 4
8:30
PM ET
Earlier, I wrote about
10 players facing the most pressure
in 2013. The following five players have a different kind of pressure (if pressure does actually exist), one perhaps even more intense: This may be their last chance to prove themselves as major league regulars and get on track to receive that multi-million dollar payday that will allow them to buy a large house in a gated community. A slow April and May and they could find themselves sitting on the bench.
Domonic Brown, LF, Phillies (age 25)
[+] Enlarge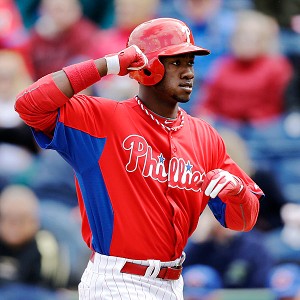 AP Photo/Matt SlocumDomonic Brown is only 25 and has had less than 500 plate appearances in the majors.
MLB career: 492 PAs, .236/.315/.396
Top prospect ranking: No. 4 Baseball America, 2011
Supposed to be: Power/speed threat
ZiPS projection: .265/.335/.461
After hitting .327/.391/.589 between Double-A and Triple-A in 2010, Brown looked like he would be a key to the Phillies' continued run of NL East dominance. Instead, he's been injured at times, hasn't hit when he has played and there have been reports about the Phillies allegedly not being too pleased with his hustle or work ethic. Aside from that final question, there are three issues here: (1) He's never played more than 116 games in any season; (2) He hasn't received consistent playing time with the Phillies; (3) Maybe he's just not as good as advertised.
So what is he now? His defense is suspect, he was probably never going to be a big basestealer (17-of-24 in the minors and 2010) and his power hasn't played up since fracturing his hamate bone at the base of his right wrist in spring training 2011. Still, he has fewer than 500 plate appearances in the big leagues and is just 25.
Justin Smoak, 1B, Mariners (26 years old)
MLB career: 1421 PAs, .223/.306/.377
Top prospect ranking: Baseball America No. 13 (2010)
Supposed to be: Patient switch-hitter, good glove, moderate power
ZiPS projection: .230/.318/.383
The Mariners acquired a bunch of DH-types in the offseason, but for now the plan appears to have Smoak opening at first base, with
Mike Morse
in left field,
Kendrys Morales
DH-ing and
Raul Ibanez
filling in (with
Jason Bay
potentially in the mix if he has a big spring training). At 26 and with nearly 1500 plate appearances under his belt, Smoak is getting too old to project much growth; he probably has three months to prove he's a starting first baseman.
The questions here: Can he improve against offspeed pitches? (He hit .194 against "slow" stuff in 2012.) Will moving in the fences at Safeco improve his production and confidence? (He's hit .210 with a .343 slugging percentage there in his career.) After getting sent down to Tacoma last year, he returned in September with a
shorter swing
from the left side and hit .341/.426/.580 with five home runs in 26 games. An adjustment that will stick? We'll see.
Brett Wallace, 1B, Astros (age 26)
MLB career: 792 PAs, .250/.323/.424
Top prospect ranking: Baseball America No. 27 (2010)
Supposed to be: Hitting machine
ZiPS projection: .242/.313/.387
The 13th pick in the 2008 draft -- two slots after Smoak -- Wallace entered pro ball with doubts about his body type and fielding, but everyone believed in the bat. He was traded three times before reaching the majors, but he's certainly with the one team where he has a chance of some guaranteed playing time.
Wallace showed some signs last year, hitting .253/.324/.424, but a strikeout rate of 28.7 percent is way too high for a guy who was supposed to hit for average. Couple that with a poor walk rate and he's not going to make it as a starter unless his approach improves.

Travis Snider, OF, Pirates (25 years old)
MLB career: 1062 PAs, .248/.309/.415
Top prospect ranking: Baseball America No. 6 (2009)
Supposed to be: Big-time run producer
ZiPS projection: .253/.312/.403
Snider was just 20 when he first reached the majors with Toronto, but he's been back and forth between Triple-A and the bigs ever since. The Jays finally gave up on him last summer, trading him to Pittsburgh, so the Pirates will see if he can finally tap into his power potential. Snider has hit .333/.412/.565 in various stints in Triple-A -- but that was in Las Vegas, where everyone puts up monster numbers.
Snider may not have the bat speed to excel at the major league level. Since 2010 in 346 plate appearances ending in fastballs, he's hit just .234 with nine home runs. That's well below the major league average of .280 against fastballs. If you can't hit the fastball, you're not going to make it.
Brian Matusz, P, Orioles (26 years old)
MLB career: 368 innings, 5.36 ERA
Top prospect ranking: Baseball America No. 5 (2010)
Supposed to be: Top-of-the-rotation starter
ZiPS projection: 8-11, 144 innings, 5.16 ERA
The fourth pick in the 2008 draft, Matusz's strong finish to his 2010 rookie campaign (7-1, 2.60 ERA over the final two months) had him on track to develop into the Orioles' ace. Instead, everything fell apart in 2011, beginning with a painful intercostal strain in spring training. In 12 starts, he went 1-9 with a 10.69 ERA and other ugly numbers. Given another shot at the rotation in 2012, he was 5-10 with a 5.42 ERA in July when he was sent down to the minors.
He returned as a reliever and excelled -- two runs in 13.1 innings with 19 strikeouts. While many guys end up throwing hard in relief, Matusz's average fastball velocity wasn't actually much different out of the bullpen -- 91.4 mph versus 91.0 -- so the Orioles will give him another chance in a potentially crowded rotation (he'll battle
Jake Arrieta
, another guy running out of chances, among others). Matusz has a spot in the bullpen if he's not starting, but that would be a disappointing scenario for a young pitcher who looked as good as he did in 2010.
Which of these guys is the best bet to prove himself? I'll go with Dan Szymborski's ZiPS projection and go with Brown. He's the youngest of the five and has the least amount of major league experience.
February, 14, 2013
Feb 14
11:30
AM ET
By
Christina Kahrl
| ESPN.com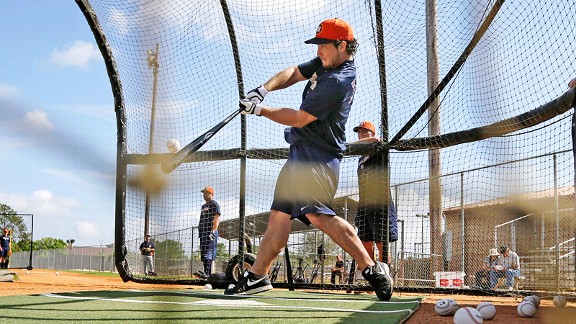 AP Photo/David J. PhillipBrett Wallace will likely see some at-bats as the designated hitter this season.
The Astros are already in the business of doing things their own way. They've made that clear from the outset, going back to 2011 when they
tabbed talent guru Jeff Luhnow
from the Cardinals' front office to be their new general manager. They made the move knowing their franchise would eventually have to move from the NL Central to the AL West in the latest bit of embroidery to Bud Selig's grand design for Major League Baseball.
And not to put too fine a point on it, the leap means moving to the designated hitter league and all that goes with the territory: mainly, employing another hitter. An extra expense? Maybe, but with a budget under $30 million, that's no big deal. More importantly, it means more playing time to develop their younger hitters. It's just like these Astros to see it as an opportunity for a franchise on the rebound.
Luhnow is very upfront about the benefits having the designated hitter affords the Astros. "I like it," he said. "It's an opportunity to find a particular kind of player, a hitter who may be more limited defensively. In the National League, you can get such a pileup at first base or left field."
Looking ahead, Luhnow also sees this as an opportunity to take a few chances on bats. "While I don't think it'll change how we develop our hitters or our approach to how you teach hitting as an organization, in the AL -- with the DH -- you might go out and draft somebody you might not without it."
With four first-base types on hand in
Brett Wallace
, veteran
Carlos Pena
, and now
Chris Carter
from the Athletics and Rule 5 pick
Nate Freiman
from the Padres, it might seem like they already have those players on hand.
So who is going to be the Astros' inaugural DH? It reflects the organization's adaptability that the answer will be "nobody." Because, like many teams these days, the Astros aren't going to give the majority of their DH starts to one player. Having the DH to spread at-bats around gives the Astros the opportunity to take a few chances on defense and play matchup games that keep their best and most promising hitters active.
[+] Enlarge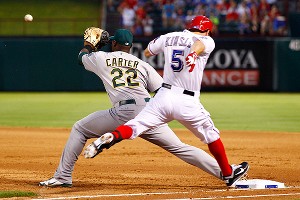 Jim Cowsert/US PresswireFirst baseman Chris Carter may also spend some time in left field for the Astros.
"We're fortunate -- Carlos Pena is a very good first baseman. We're going to see if Chris Carter can play some left field. And while [trading for]
Matt Dominguez
changed things at third base, Brett Wallace is going to get some more looks at third," Luhnow said. "And [Rule 5 pick] Nate Freiman, he'll get some at-bats; we'll see if he hits."
That might sound daring when you consider that neither Wallace or Carter has been seen as anything other than a first base/DH in the big picture. Carter's playing experience in the outfield amounts to 85 games across eight seasons as a pro, and none in the majors since 2010, when he was fairly brutal in left for the A's. And the bulky Wallace's best position ever since he was drafted in 2008 -- by Luhnow and the Cardinals -- was always "hitter." Although Luhnow cited last year's five-start experiment with Wallace at the hot corner as an indication he will be able to handle the position in 2013.
Speaking about that flexibility and the likelihood that manager Bo Porter will be free to play daily matchups across several positions, Luhnow said, "Bo would consider using
Jose Altuve
at DH to give him a day off [from second base]. We have seen teams that use the slot more creatively, not just to get a lumbering power hitter into the lineup, but to spread playing time around and give some of those at-bats to a speed guy."
One of the reasons Luhnow appears confident about spreading around those at-bats is because of the challenge that DH'ing represents for young players. Where someone like Eddie Murray could win rookie of the year as a 21-year-old DH in 1977, the more recent example of "can't-miss" offensive prospect
Jesus Montero
flopping badly as a 22-year-old DH in 2012 demonstrates that it might take a special player to make the adjustment.
As Luhnow notes, "It's not an easy transition. As an organization, you have to be extremely cautious with that. And as a hitter, you need to be more involved, more disciplined. It's definitely a change for a player used to going back out on the field every half-inning."
Does that challenge rise to the level of a mental block? One major league scout who evaluates the AL West recalled one wrinkle to the previous winter's hot stove: "Remember when
Prince Fielder
was a free agent, and he was adamant that he wasn't going to sign anywhere as a DH? That might be fine for now, but at some point it's a bridge he's probably going to have to cross, and I wonder if that statement, given how mental hitting is, puts a pre-emptive mental block in his head."
In short, the mental challenge of DH'ing is something that affects different players differently, and can make an impact on personnel decisions. As the scout notes, "Making it even more odd, it seems to happen with the greatest of great hitters.
Albert Pujols
had an OPS 164 points lower at DH than at first base last year. Granted, it was his first year with any extensive time doing it, but if it happens again, it really could affect how a club values him towards the end of that contract."
Regardless, for 2013 and for the time being, Luhnow stresses that "Giving somebody 120 starts at DH doesn't make sense for our club. We're going to have a lot of people going up and down from [Triple-A affiliate] Oklahoma City this year. For example, take our rotation -- we'll choose our best five to start, but I expect we'll see some of our next-best five at some point during the season."
In short, guys will be challenged to earn their keep or their walking papers. After years of unglovely work in the field toiling in the minors, Carter might be a defensive disaster in left field. But thanks to the playing time available with the DH slot, he'll get regular at-bats spread out between left, first and DH. If Wallace picks up all of the starts at third that Dominguez doesn't draw when he isn't in the first base/DH mix, so much the better to see what he can do.
If they're bad, is there really that much difference if the Astros lose 105 games or 110? Not really; not compared to what they'll get to learn about the talent they have on hand.
If Carter
can
play an acceptable left and Wallace an adequate third 30-40 times a season, the flexibility will give Porter options a lineup-card maestro like Rays skipper Joe Maddon might admire. It also assures Carter, Wallace, Dominguez and left fielder
J.D. Martinez
the at-bats to show the organization whether they get to stay -- or go.
Of course, there is one other downside of employing a DH: taking the bat out of your pitchers' hands when they might actually enjoy hitting. From where he sits, Luhnow doesn't seem to mind that much, noting that it will help prevent injuries to his pitchers while batting or running the bases.
But he also recalls, "When I was with the Cardinals, we had some pitchers who really loved to hit." Pausing to chuckle, "And
Lucas Harrell
and
Bud Norris
do fancy themselves hitters."
Which, even after the Astros have moved to the DH league, sounds a lot like Selig's other big fiat as czar -- interleague play -- will always have a built-in constituency.
Christina Kahrl covers baseball for ESPN.com. You can follow her on Twitter.
February, 22, 2012
2/22/12
12:45
PM ET
By
Christina Kahrl
| ESPN.com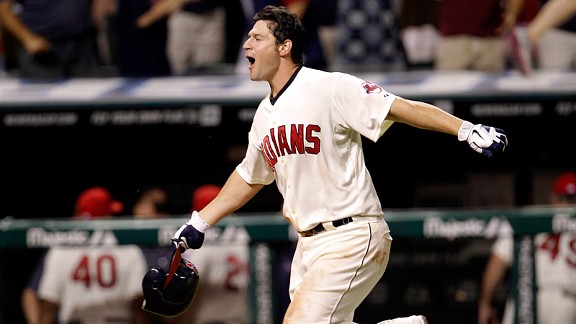 AP Photo/Tony DejakCleveland's Matt Laporta hasn't had much to celebrate in the majors. Will 2012 be different?
On Tuesday I ran through Freddie Freeman's
projections and reasons to feel good and bad about his 2012
, but there's a larger point to make about young first basemen these days, starting with this: Freeman's one of the success stories.
Look around the rest of the game, you'll find a surprisingly large number of first-base disappointments with major questions to answer over whether or not they're ever going to break through:
Chris Davis
, Orioles: MLB career line of .252/.301/.448.
After mashing 36 homers as a 21-year-old in his full-season debut in the minors, Davis was ranked 65th on Baseball America's 2008 list of baseball's top 100 prospects. In fairness, Davis has had to deal with getting shuttled between the infield corners and from Texas to Baltimore, but he's struck out more than 31 percent of the time in 1082 big-league plate appearances, and an OBP around .300 isn't going to fly, even with his tremendous power. In his age-26 season, he needs to break through.
Lars Anderson
, Red Sox: .175/.292/.200 (in 48 PAs)
Before 2009, Anderson ranked as the 17th-best prospect in baseball. It was all about projection, of course: He'd already reached Double-A and hit there before his 21st birthday. But the expectation that doubles would turn into homers as he matured hasn't happened, and he hadn't hit that many doubles in the first place -- a career minor-league ISO of .162 is nice, not excellent, not at first base. He's not done, but he's also not pushing his way into Boston's plans.
Matt LaPorta
, Indians: .238/.304/.397 in 1008 MLB PAs
The days when LaPorta was considered a top prospect and worthy payment for a couple of months of
CC Sabathia
's time seem long gone now. He ranked 23rd on Baseball America's top-100 list before 2008, "fell" to 27th as Indians property going into 2009, but after several clean shots as the Indians' starter, he now looks like the guy who will lose his job to…
Casey Kotchman
, Indians: .268/.336/.398
Seeing Kotchman on this list after his nice little season with the
Tampa Bay Rays
might seem harsh, but after already bouncing from Anaheim to Atlanta to Boston to Seattle, he's already been a non-answer for a number of teams before his 30th birthday. But you can sort of understand why so many have taken a look: He had a four-year run on BA's top-100 list where he never rated as
low
as LaPorta's best, rising from the 22nd-best prospect in the land in 2002 to sixth (!) in 2005. Even allowing for the initial stumble at the outset of his big-league career with mono, Kotchman's produced little power at a power position. He's a slick fielder and a nice place-holder of last/cheap resort -- perhaps especially if you've already endured LaPorta-induced heartbreak -- but if he's supposed to be an OBP guy, just remember that his career walk rate (8.3 percent) is lower than the MLB average over that time (8.5). Is that really what you're supposed to have gotten from the sixth-best prospect in baseball?
Brett Wallace
, Astros: .248/.323/.354
Back when Wallace was the 13th overall selection by the Cardinals in the 2008 draft, he was considered a pure hitting machine, but somebody whose thick build probably wouldn't work out at third base. Even as a hit tool-only prospect, BA rated him as the world's 27th-best prospect before the 2010 season. But in four years as a pro he's flitted through four different organizations, hasn't hit, and now the Astros are talking about giving him a shot -- back at third base, perhaps in part because he hasn't hit anywhere close to well enough to be an adequate answer at first.
James Loney
, Dodgers: .288/.348/.436
Including Loney on this list might seem unfair. He's been durable, and like Kotchman he gets credited with good glovework. He bounced around the 30s and 40s on BA's top-100 lists in the early Aughties, and that career rate might make it seem as if he's delivered. Unfortunately, he hasn't matched his career OPS since his rookie season back in 2007, when he wowed folks with a .919 clip. Back then, you could talk about
Matt Kemp
and Loney and think the Dodgers were set with two MVP candidates, but nothing Loney has done since has kept him in that conversation.
Chris Carter
, Athletics: .167/.226/.254 in 124 MLB PAs
Carter hasn't had a clean shot at a job yet, so he hasn't accrued much playing time. But at this rate you have to wonder if the A's will ever clear the path for him considering how many equally frustrating rivals they've collected to put in his way. Carter topped out as the 28th-ranked prospect by BA before 2010, and he's also moved around a lot (three organizations). Heading into his age-25 season with a career .540 SLG in the minors, you might figure he's due for a look, but the A's also have
Brandon Allen
, sabermetric favorite
Kila Ka'aihue
(long live the Kila Monster), and…
Daric Barton
, Athletics: .252/.362/.378
Barton might be the perfect example about of how "Moneyball" was a nice movie, but if there was even an organizing philosophy, you have to wonder if it hopped off the tracks at some point. When the A's acquired Barton (with
Kiko Calero
) for
Mark Mulder
, it seemed like a perfect match. Barton topped out at 28th on BA's top-100 list, but his patience at the plate made him seem like the organization's idiosyncratic answer at first base. But in the middle of what seemed like a breakthrough season in 2010, he got fascinated with bunting at will (worse yet, manager Bob Geren indulged him), and he lost most of 2011 after tearing up his shoulder. Where the modern walking man fits in on the team that's supposed to love walks more than anybody is up in the air.
Justin Smoak
, Mariners: .227/.316/.385
There's no joy to be had in putting Smoak on this list, and there are certainly special circumstances: He played with injuries to first one thumb and then the other and saw that sap his early season production. He then suffered a broken nose that placed him on the DL, and he lost his Dad -- all really tough things to work through. There was enough good stuff before he got hurt and after he healed to make you think he'll be fine this year. But set against that you've got a first baseman who rated 13th on Baseball America's top-100 prospects list heading into 2010, and he's barely topping a .700 OPS.
Now, 'tis the season for hope and faith, new beginnings and redemption, and all the rest of the warm fuzzies you're supposed to get this time of year.
Carlos Pena
's career got off on the wrong foot (several wrong feet, actually), to the point that the Tigers simply released the former top-five prospect at the end of spring training in 2006. But after five organizations Pena finally stuck as a 29-year-old journeyman with the Rays. How many of these guys' stories are going to have similarly happy endings? Touted as they've been, they've got plenty of questions to answer over whether or not they'll be flat-out useful.
Christina Kahrl covers baseball for ESPN.com. You can follow her on Twitter.
December, 15, 2011
12/15/11
12:42
PM ET
December, 1, 2011
12/01/11
9:35
AM ET

The American League Central may have a reputation as baseball's skinflint division, but such is not the case: The White Sox, Twins and Tigers each had payrolls over $100 million in 2011 and ranked in the top 10 of highest-salaried ballclubs.
The problem was that two of those three teams didn't get much for their money. Considering the issues in Chicago and Minnesota, and the youth and unwillingness to spend big in Cleveland and Kansas City, Detroit will enter 2012 as the heavy favorite to win the division -- no matter what happens in the offseason. But even the Tigers are far from a sure thing and if the Indians can get good health from
Shin-Soo Choo
and
Grady Sizemore
in 2012, plus strong seasons from youngsters
Jason Kipnis
and
Lonnie Chisenhall
, their offense could be dramatically improved.
But that's getting ahead of ourselves. Here's a quick look at some action plans and items of interest for the five teams.
Detroit Tigers
1. Third base (
Brandon Inge
)
With Inge plummeting to a .197 average, Detroit's third-base production was among the worst in the majors. The team has already been linked to free agent
Aramis Ramirez
and trade discussions with Angels on
Maicer Izturis
. Both would be big upgrades over Inge, who still has one year remaining on his contract. The dark horse possibility: With
Carlos Guillen
($13 million) and
Magglio Ordonez
($10 million) off the books, the Tigers pursue
Jose Reyes
to fill their leadoff void, moving
Jhonny Peralta
to third base.
Likely solution: As much I love the Reyes idea, Ramirez to Detroit seems like a logical fit. The negatives are Ramirez's lack of range and Detroit's need for a little more athleticism in the lineup.

2. Middle relief
By the postseason, Jim Leyland was down to two relievers he trusted:
Jose Valverde
and
Joaquin Benoit
.
Al Alburquerque
had a strong rookie season out of nowhere and
Phil Coke
and
Daniel Schlereth
provide rare power lefty arms, but Albuquerque and Schlereth still have trouble throwing strikes. The Tigers could go after a low-cost veteran like
LaTroy Hawkins
,
Mike Gonzalez
or
Darren Oliver
, or maybe make a trade pitch for White Sox lefty
Matt Thornton
, although it seems unlikely Chicago would trade Thornton to a division rival.
Likely solution: A veteran righty-hander, with the Tigers counting on improvement from Coke and Schlereth.
3. A left-handed bat.
The Tigers missed
Brennan Boesch
's stick in the playoffs, as
Victor Martinez
and the hobbled
Alex Avila
were the only threats from the left side (granted,
Don Kelly
hit a big home run). Boesch's return will help, but Detroit could use a lefty bat to help balance out the lineup.
Likely solution:
Andy Dirks
may given another shot at that third/fourth outfielder job after hitting .251/.296/.406 as a rookie. But what about Rockies left fielder
Seth Smith
, who is on the trade block? His career .518 slugging percentage against righties has been bolstered a bit by Coors Field, but he's a solid hitter who could platoon with
Ryan Raburn
in left, or allow Raburn to play some at second base.
Cleveland Indians

1. Find a left fielder who can hit.
Michael Brantley
is a decent asset -- but as a center fielder. The plan to use Brantley as an everyday left fielder was never a great one to begin with, as he's never going to pop many balls over the fence. Brantley,
Austin Kearns
,
Shelley Duncan
and
Travis Buck
all started at least 20 games in left; Jared Head started six games there. As a group, Cleveland's left fielders hit a miserable .233 with seven home runs; only Baltimore and Minnesota received a lower OPS from their left fielders.
Likely solution: Signing
Grady Sizemore
doesn't necessarily push Brantley back to a starting role in left field. He's best used as a fourth outfielder and Sizemore insurance.
Michael Cuddyer
may end up getting priced out of Cleveland's range, so how former Twins teammate
Jason Kubel
? He can play left and step in as designated hitter when
Travis Hafner
suffers his inevitable breakdown.
2. Find at least one more starter.
Right now, the Indians can only count on
Justin Masterson
and
Ubaldo Jimenez
for their rotation.
Carlos Carrasco
is out for the season following Tommy John surgery,
Fausto Carmona
was terrible and even
Josh Tomlin
is a question mark after the league caught up to him in the second half (5.26 ERA).
Likely solution:
Jeanmar Gomez
has been roughed up in two stints in the majors (146 hits in 116 innings), but his Triple-A numbers were solid, if unspectacular. He'll be given another chance in spring training to battle
David Huff
for a rotation spot.
3. If not
Matt LaPorta
, who plays first base?
The big prospect acquired in the
CC Sabathia
deal, LaPorta just hasn't hit as expected, posting a .299 on-base percentage in 2011. The Indians seem ready to punt on LaPorta, who turns 27 in January so isn't even that young.
Carlos Santana
ended up playing a lot of first base down the stretch, but let's hope he's kept behind the plate, where his hitting value would be maximized.
Likely solution: If free agent
Carlos Pena
lowers his price, he's a possibility, and the Indians reportedly talked with Houston about
Brett Wallace
. I'm not sure Wallace is much of an upgrade over LaPorta, but at least he's younger.
Casey Kotchman
could fit nicely here as lower-cost alternative after posting a .378 OBP with Tampa. And hey, he's only two years older than LaPorta.
Chicago White Sox

1. What do you do with
Adam Dunn
and
Alex Rios
?
Dunn hit .159 with a .569 OPS. Rios hit .227 with a .613 OPS. Dunn was the least-valuable position player in baseball, according to Baseball-Reference.com, while Rios was seventh-worst. They made $24 million in 2011 and will make a combined $26 million in 2012. Both are signed through 2014.
Likely solution: General manager Kenny Williams will be busy during the winter meetings, perhaps shopping around guys like
Gavin Floyd
,
John Danks
and Matt Thornton, looking for some sort of backup plan to these two pieces of junk. The 40-man roster currently includes
Alejandro De Aza
, who probably deserves a chance to play somewhere after a nice run (if over his head) last season. Let's put it this way: he can produce an OPS higher than .613.
2. Third base (
Brent Morel
)
After struggling all season, hitting .250 with just two home runs and seven walks in 328 at-bats through August, Morel suddenly changed his approach in September, got more patient and swung for the fences. He hit just .224 the final month, but with eight home runs and 15 walks. Was it a legitimate improvement, or merely feasting off September tired arms and rookie call-ups?
Likely solution: Morel's hot September earns him another shot.
3. The new manager
This isn't so much an action plan, as a big question mark. Robin Ventura has no previous managerial experience, but the good sign for the White Sox is that respected pitching coach Don Cooper is still around to handle the pitching staff.
Likely solution: If Dunn and Rios stink it up again, it won't matter how well Ventura transitions into the job -- he'll be doomed.
Kansas City Royals

1. Fix the rotation
The Royals had a 4.82 ERA from their starters; only Baltimore was worse in the American League.
Likely solution: The Royals already made a move here, trading
Melky Cabrera
to the Giants for
Jonathan Sanchez
. The club also re-signed
Bruce Chen
. With the signing of
Jonathan Broxton
, and the emergence of rookie relievers
Greg Holland
,
Louis Coleman
and
Tim Collins
in 2011, fellow 2011 rookie
Aaron Crow
will be given a shot at the rotation. I have my doubts it will work: Crow walked 31 in 62 innings out of the bullpen and left-handed hitters tagged him for a .311 average and .538 slugging percentage. There's a reason he struggled in the minors as a starter in 2010 (5.73 ERA). He has a great arm, but won't be able to rely on his fastball/slider combo as a starter.
2. Second base (
Chris Getz
)
Royals second basemen posted a .301 OBP and .636 OPS (26th in the majors) in 2011.
Likely solution: Rookie
Johnny Giavotella
played the final two months there and hit .247 with a .649 OPS. He'll head into spring training as the favorite to win the job. He hit .338/.390/.481 at Triple-A, so the batting potential is there: Bill James projects him to hit .295/.342/.419.
3. Center field (empty -- Cabrera traded)
The Royals were smart to deal Cabrera after his career season.
Likely solution:
Lorenzo Cain
, acquired from Milwaukee in the
Zack Greinke
trade, will finally get a chance to play after spending 2011 in Triple-A. Cain is old for a guy still considered a prospect -- he turns 26 in April -- so he should be a polished product by now. He showed some power for the first time in his career, hitting 16 home runs for Omaha while batting .312. He doesn't walk much, so won't be a star, but should come closing to matching Cabrera's 2011 production.
Minnesota Twins

1. The M & M boys
After 2011's train wreck -- the club's first 90-loss season since 2000 (and at 99 losses, the most the 1982 Twins lost 102) -- it seems pretty clear this team will be dead in the water again unless
Joe Mauer
and
Justin Morneau
get healthy and regain their All-Star status. But they also can't assume these guys are going to play 140-plus games.
Likely solution: Obviously, the Twins need a better backup plan for Mauer than giving .167-hitting
Drew Butera
250 plate appearances. They already accomplished with the smart signing of
Ryan Doumit
to a one-year deal for $3 million. Doumit can catch or play right field, but his bat is good enough to warrant a regular place in the lineup even when he's not behind the plate. Of course, he's also been injury-prone throughout his career. Prospect Chris Parmalee, who impressed in a September call-up, gives the team a potentially decent backup option for Morneau as well.
2. Right field: Empty (Michael Cuddyer, free agent)
For all the attention Cuddyer is getting, let's remember that he's really just a complementary bat on a good team. Unfortunately, considering some of the other outfielders the Twins tried last season --
Rene Tosoni
,
Jason Repko
,
Trevor Plouffe
-- you realize they had nobody in the upper levels of the system.
Likely solution: Doumit may factor into their plans here, but regardless, the Twins need another bat to play a corner or DH. Smith is a trade option and free agent
Josh Willingham
is another possibility.
3. Closer: Empty (
Matt Capps
and
Joe Nathan
, free agents)
Nathan signed with Texas while GM Terry Ryan recently told the St. Paul Pioneer Press that it's likely Capps could return.
Likely solution: Capps was terrible last year, allowing 10 home runs in 65.2 innings while striking out just 4.7 hitters per nine innings. Two years ago, he had a 5.80 ERA. I can't fathom why any team would want to make Capps its closer. Sadly, however, the rest of the Minnesota bullpen is nearly as uninspiring (as is the rotation, but I don't have room to get to them here), but Capps throws strikes and there's nothing the Twins love more than a pitcher who throws strikes (velocity are ability to miss bats don't seem to be a factor). There's no reason for this team to spend big money on one of the remaining free-agent closers, so it probably will be Capps or lefty
Glen Perkins
.
May, 2, 2011
5/02/11
1:40
PM ET
April is in the books
. May is here ... and so is our weekly stroll through the stats.
Ike Davis had a solid rookie season, but I wasn't completely sold on his star potential. But the Mets first baseman is hitting .317/.398/.564 (batting average/on-base percentage/slugging percentage), including .318 with three of his five home runs at home.
Justin Smoak did not have a solid rookie season despite his prospect pedigree, but he's living up to the hype in 2011, hitting .273/.387/.506. As Seattle's lone power threat, he's going to start seeing a lot of pitchers out of the strike zone that he'll need to show the discipline to lay off.
Nice to see Brett Wallace hitting .382 for the Astros. Wallace was the 13th pick of the 2008 draft by the Cardinals, traded to the A's in the Matt Holliday deal, flipped to Toronto for Michael Taylor, then shipped to Houston for Anthony Gose. His 2010 debut with Houston was beyond bad, as he hit .222 with 50 strikeouts and eight walks in 159 PAs. Astros fans don't have much to cheer about these days, but Wallace is looking more like the hitter he was projected to be coming out of Arizona State. The home run power isn't there (one so far), but he's hit nine doubles.
Since moving into the No. 2 spot in the Reds' lineup, ahead of Joey Votto, Jay Bruce has three home runs in six games.
Brooks Conrad's flare to right field in the bottom of the ninth gave the Braves a 6-5 victory over the Cardinals on Sunday -- the fifth walk-off loss for St. Louis and its seventh loss after leading in the seventh inning or later. No other team has more than four such defeats.
The Twins are hitting .230/.292/.324 and rank last in the AL in runs, batting average and slugging percentage. Nick Nelson breaks down some of the Twins' struggles. My favorite Twins line comes from catcher Drew Butera, who's hitting .106 in 50 PAs. Since 1980, the lowest average for a non-pitcher with at least 50 PAs is actually another Twins catcher: Tom Nieto hit .067 (4-for-60) for the 1988 Twins.
The Vlad Watch: 108 PAs, no walks.
Joaquin Benoit had a 1.34 ERA for the Rays in 2010, prompting the Tigers to sign him to a three-year, $16.5 million contract -- one of the biggest ever for a middle reliever, one with a 4.47 career ERA. After giving up three runs on Sunday, Benoit has allowed 11 runs already -- one more than all of 2010. Moral of the story: Never read too much into 60 fluke-ish innings.
Jered Weaver looks to go 7-0 for the second time in his career in Monday's start against the Red Sox. According to Elias, only two other pitchers have won their first seven starts of a season -- Sadie McMahon, who did it in 1891 and 1895 for the Orioles, and Hall of Famer Mickey Welch, for the New York Giants in 1884 and '85. So, yes, it's been a while.
Pitchers with at least five starts who have had a quality start each time: Weaver, Dan Haren, Justin Verlander and Josh Johnson (six each); and Michael Pineda, Jason Marquis and Josh Tomlin (five each).
April, 29, 2011
4/29/11
12:05
PM ET
The SweetSpot blog network weighs in with April's best surprises ...

Beachy
Atlanta Braves
Simply put, the Braves' most pleasant surprise has been
Brandon Beachy
. At this time last year, Beachy was a virtually unknown prospect at Double-A Mississippi. Now he's leading the Atlanta starting staff in strikeout per nine innings (9.51) and is a prime candidate for the NL Rookie of the Month award for April. At this pace, it's going to be impossible for
Mike Minor
to unseat him for the fifth-starter role, regardless of his dominance in Triple-A.
--Kevin Orris. Capitol Avenue Club
Florida Marlins
It is absolutely amazing that the Marlins are just a half-game out of first place, especially considering the rough start of
Hanley Ramirez
(.197/.299/.250). In another amazing twist, given the shaky outfield defense that was expected of them, the Fish have the best defensive efficiency in the National League, turning almost 73 percent of balls in play into outs, and understandably have given up the fewest runs in the Senior Circuit.
--The Common Man, The Platoon Advantage
New York Mets
Though the hot starts of
Ike Davis
and
Jose Reyes
have been greatly appreciated by Mets fans, they are not necessarily surprises -- at least, not compared to
Pedro Beato
. A Rule 5 pick, the hard-throwing Beato began the season as the last man out of the bullpen but has quickly emerged as arguably the Mets' most reliable reliever. Through 12 innings, Beato has yet to allow an earned run, has struck out eight and boasts a 0.75 WHIP. Perhaps most impressive, the youngster is now being called upon in high-leverage, late-inning situations.
--Joe Janish,
Mets Today

Bastardo
Philadelphia Phillies
The Phillies' most pleasant surprise has been
Antonio Bastardo
. As
Brad Lidge
,
J.C. Romero
and
Jose Contreras
succumbed to injury, Bastardo emerged as a legitimate late-innings option, striking out 15 and allowing just one run in 10 1/3 innings.
--Bill Baer, Crashburn Alley
Washington Nationals
Wilson Ramos
has been the Nats' pleasant (yet probably unsustainable) surprise. He is hitting a cool .375/.426/.563, while playing acceptably behind the plate, gunning down three of eight attempted base stealers. Given that he has a batting average on balls in play of around .450, he's sure to cool off a lot, but we're grateful for each additional day he keeps the corpse of Pudge Rodriguez from getting up to bat.
--Harper Gordek, Nationals Baseball
Chicago Cubs
Darwin Barney
came into spring training fighting to make the roster. One month into the season, he's a viable No. 2 hitter in the lineup and deserving of the spot on the All-Star ballot
Blake DeWitt
is hoarding.
--Joe Aiello, View from the Bleachers

Gomes
Cincinnati Reds
The plate discipline shown by
Jonny Gomes
has been the most pleasant surprise, by far. Gomes has drawn 19 walks in the first month (second in the league, behind teammate
Joey Votto
), after walking only 39 times in the entire 2010 season. Because of Gomes' patience, his OPS remains over .900, despite a batting average hovering around the Mendoza line.
--Chad Dotson, Redleg Nation
Houston Astros
As the last-place team in the NL Central, there's been very little for the Astros to be pleasantly surprised about. But for the team that won one series in April (a distinction the Mets would rather forget), its lone pleasant surprise is
Brett Wallace
, who is hitting great despite having the unfortunate situation of being sandwiched between
Carlos Lee
and
Bill Hall
. He leads the team in batting average (.373), on-base percentage (.441) and slugging (.518).
--Austin Swafford, Austin's Astros 290 Blog
Milwaukee Brewers
The best surprise for the Brewers is they're 12-12 despite
Zack Greinke
not making a start,
Corey Hart
missing nearly the entire month and the bullpen leading the majors with seven losses. They can thank the hot starts of
Ryan Braun
(.356/.454/.689),
Prince Fielder
(leading the NL with 23 RBIs) and
Rickie Weeks
(21 runs scored).
--David Schoenfield

Morton
Pittsburgh Pirates
In five starts,
Charlie Morton
already has as many wins as he did in 2010, and his ERA is 60 percent lower. Don't buy into it, though. His 18:18 strikeout-to-walk ratio is highly troubling, and his .253 BABIP is completely unsustainable, even though he's getting 2.25 grounders for every fly ball so far. The Pirates will have to hope the coming regression is accompanied by a return to form for
James McDonald
, who has been terrible.
--The Common Man, The Platoon Advantage
St. Louis Cardinals
When the Cardinals lost ace
Adam Wainwright
for the season, the pressure suddenly shifted to their starting rotation. In particular, to
Kyle Lohse
, the righty who made only 40 starts in the two seasons since signing a hefty 4-year, $41 million contract extension. Given that from 2009-10 his ERA was indistinguishable from his strikeout rate (though, to be fair, his expected Fielding Independent Pitching was much lower), expectations were tempered. So his 2011 campaign thus far -- five Wainwright-like starts with an ERA of 1.64 -- has been the most pleasant surprise for the Cardinals. He is inducing ground balls like never before (48.6 percent) and limiting self-inflicted damage with a walk rate (1.17 walks per nine innings) that
Cliff Lee
would be proud of. And he's tied for fourth among NL pitchers in Wins Above Replacement.
--Matt Philip, Fungoes.net
Arizona Diamondbacks
Bright spots are fairly few and far between for the D-backs. The starting pitching has been atrocious, but the hitters have proven solid. The most shocking performance has been from
Ryan Roberts
, a minor league lifer who has seemingly taken over the third-base job by hitting .311/.408/.607 through 20 games. It's not a mirage. Roberts is a legitimate hitter, and as long as his defense holds up, he'll be a very productive and cheap option for the near future.
--The Common Man, The Platoon Advantage
Colorado Rockies
Where in the world did
Jonathan Herrera
(.317/.442/.429) come from? The 26-year-old has never really done anything like this before and is a good bet to regress. Still, he's done a terrific job of making up for the disappointing, but totally predictable, performances of
Ty Wigginton
(.233/.309/.383) and
Jose Lopez
(.143/.169/.254).
--The Common Man, The Platoon Advantage

Kemp
Los Angeles Dodgers
The return -- and then some -- of
Matt Kemp
has been the biggest surprise. Even though he has tapered off in his past 10 games, going 10-for-41 with 15 strikeouts, he still has walked six times in that stretch and has had a superb start overall (1.072 OPS). One question is whether his walks reflect better plate discipline or the horrors of the Dodgers lineup after his spot in the order.
--Jon Weisman, Dodger Thoughts
San Diego Padres
In a month of unpleasant surprises, one exception for San Diego has been the performance of catcher
Nick Hundley
. After splitting duties with veterans
Henry Blanco
and
Yorvit Torrealba
the past two seasons, Hundley has assumed a larger role this year and responded. He is hitting .286/.356/.481 and providing the bulk of what little offense the Padres have been able to muster.
--Geoff Young, Ducksnorts
San Francisco Giants
The Giants' most pleasant surprise is this: They're still around .500 despite going through a month bereft of actual pleasant surprises. That's not to say the Giants haven't had good performances, but what's been good hasn't been surprising and what's been surprising hasn't been good.
Pablo Sandoval
shouldn't surprise anyone when he hits .330 in a month; he'll do that.
Buster Posey
and
Tim Lincecum
have played well, yes. They're good, you know. The bad surprises on the other hand: a bushel of injuries, month-long slumps from key regulars and defense that has had fans saying to each other, "You know, I don't think that fellow can really play that position."
--Otis Anderson, Bay City Ball
February, 22, 2011
2/22/11
10:55
AM ET
By
Austin Swafford
| ESPN.com
Joe Janish over at Red Leg Nation did a good job compiling the ZiPS Projections by Dan Szymborski to figure out the
projected NL Central standings for 2011
. I'm not going to give you a homerific projection of the Astros' season. I've got a pretty good record of being excessively critical of the Astros, and I'm certainly not turning around on that to say they're going to the World Series or anything absurd like that.
But don't you have to question the methodology of anything that places pretty much any team behind the Pirates?
The pessimist in me is perfectly willing to buy
Szymborski's breakdown
that compares the Astros to the Orioles in the way they keep getting just enough wins to convince management that the team doesn't need to go in a drastic new position. He's right that it's a slow downward spiral and I've been saying as much for years.
[+] Enlarge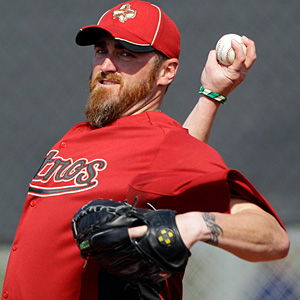 AP Photo/David J. PhillipBrett Myers was 14-8 in 2010 with 180 strikeouts.
But, even granting that it is true, there are a number of reasons to think the Astros will not finish behind the Pirates.
First of all, the Astros have history on their side. In 17 years of sharing the division, the Astros have never finished behind the Pirates. They have had some scares in recent years, but the Astros never finished last in the division and have never finished behind the Pirates. History can change at any moment and that's the beauty of sports, but I'm looking at a Pirates team whose best full-time starter (
Ross Ohlendorf
) posted a 4.01 ERA last year, and I'm not seeing any reason to think the pattern of the Astros beating out the Pirates is going to change this year.
Secondly, the Astros' offense should get better this year. Nobody's going to confuse them with the 1927 Yankees or even the 2004 Astros, but there's plenty of reason to think the Astros will be better with the bats in 2011. They added
Bill Hall
and
Clint Barmes
.
Chris Johnson
will probably take a step back from his surprising rookie campaign, but there's no reason to think that
Brett Wallace
and
Jason Castro
won't see improvement, and no reason to think that
Carlos Lee
and
Michael Bourn
can't rebound and hit more like they did in 2009. They were a team in flux last year, and even with their complete offensive futility, I'll let you take a stab at one of the two teams that finished behind the Astros in virtually every offensive category. Did you guess? Yeah … it was the Pirates.
Thirdly, the Astros have pitching. You can knock their offense from here to October, and maybe their pitching even overperformed a little bit last year with a resurgent season from
Brett Myers
. But Myers,
Wandy Rodriguez
and
J.A. Happ
lead a solid rotation (3.30 ERA last year for those three) and the bullpen is coming together with great young guys like
Fernando Abad
,
Wilton Lopez
and
Mark Melancon
, with
Brandon Lyon
anchoring the closer's spot. Again, nothing that will compete for the World Series, but certainly good enough to finish ahead of the Pirates and maybe even enough to surprise other NL opponents.
I don't write this to proclaim the virtues of a team that might be just this much better than the lowly Pirates. I write it to say that this statistical finding doesn't pass the smell test. I'm sure that Dan Szymborski has put a lot of thought and work into his equations, but when those equations come out with the standings shown by Red Leg Nation, it might be an invitation back to the drawing board. Or, at the very least, a reminder that all the stats in the world will never tell us what we often know just by looking at what's in front of us.
Austin Swafford writes Austin's Astros 290 Blog, a blog about the Houston Astros. You can follow him on Twitter.
July, 29, 2010
7/29/10
7:47
PM ET
Well, that was quick: Immediately after getting
Anthony Goss
in
the Roy Oswalt deal
, the Astros flipped Goss to the Blue Jays for young first baseman
Brett Wallace
. From the
Toronto Star
:
Jays general manager Alex Anthopoulos knows giving up Wallace was a steep price, especially since he had been penciled in as the club's first baseman of the future, but says top-flight centre fielders are next to impossible to trade for at the big-league level. To acquire one, he says, you need to gamble.

In this case it means betting that Gose, who was hitting .263 with four home runs at Class-A Clearwater, will give the Jays more in the long run than Wallace, who hit .301 with 18 home runs and Triple-A Las Vegas.

--snip--

The GM says Gose has Gold Glove potential and that the Jays originally tried to acquire him last December in the Roy Halladay trade. When that didn't work out they tried again earlier this season.

While Wallace's departure means the Jays have no full-time first basemen under contract beyond this season, Anthopoulos isn't ready to panic. He acknowledges that Adam Lind is an option, but points out the club has until next spring to develop a first baseman or acquire one.
Gose has
tools
, no question. As Baseball America noted last winter, "Gose earns 70 grades on the 20-80 scouting scale for three tools: his arm, his center-field defense and his speed."
They also said, "He led the minor leagues with 76 steals in 96 attempts, and he'll be even more dangerous as he gets on base more often and refines his base stealing instincts."
Really? More dangerous than 76 steals in 96 attempts, in 131 games?
In the event, Gose has stolen only 36 bases in 103 games this season ... and been caught 26 times. My guess is that he's grown out of his base stealing body, and the Jays should forget about getting a guy who steals bases like
Carl Crawford
and plays center field like
Michael Bourn
. My guess is that while Gose will still be fast, two or three years from now, he'll have to hit to justify an everyday job in the majors. You know, because the most important
tool
-- or if you prefer,
skill
-- is hitting.
And whether he'll hit is a wide-open question. Again, Baseball America: "He gives away too many at-bats and lacks a two-strike approach ... he may need 2,000 minor league at-bats."
Here's John Sickels (also last winter): "Like many of the raw tools players collected by the Phillies in recent years, Gose has trouble with the hitting. His plate discipline is poor, and for a guy who hit just two homers last year, he takes big cuts at the plate and is prone to strikeouts."
Has Gose made any progress this season? His power's up a notch, but so are his strikeouts. He's only 19 and maybe he'll figure it out. But at this point, he's little more than a gleam in the scout's eye.
Wallace is different. He's almost 24 and has played nearly a season's worth of Triple-A games, with a .299/.357./484 line. Also, he was the 13th pick in the June draft just two years ago. So the pedigree is there, and the performance isn't bad. Presumably he'll take over at first base next spring, upon the departure of (free-agent-this-November)
Lance Berkman
.
We shouldn't expect the next
Jeff Bagwell
(or Berkman), though. Wallace doesn't draw many walks and his power is just decent for a first baseman; his Triple-A numbers aren't brilliant, considering his home ballparks and his league. But this does make the Oswalt trade look a little better, as it now seems the Astros got a guy with a decent shot at becoming a solid major league hitter.
December, 17, 2009
12/17/09
8:36
AM ET
I couldn't figure out why the A's would so eagerly trade
Brett Wallace
, an outstanding young hitter who they just got from the Cardinals last summer. Well, to the rescue rides Susan Slusser. It was
all about defense
:
Oakland obtained Wallace in the high-profile Matt Holliday deal with St. Louis in July, and though the team has no reservations about his bat, Wallace's defense was another matter. The A's apparently came to doubt the stocky Wallace's ability to play third at the big-league level, and the team already has plenty of young first basemen, including Daric Barton, Chris Carter and Sean Doolittle.

In addition, the team recently acquired third baseman Jake Fox from the Cubs, and he is not considered a top-notch defensive player, either. Therefore, Oakland is planning to move second-base prospect Adrian Cardenas to third base full time, especially with Jemile Weeks, the team's top pick in the 2008 draft, performing well at second.
Until now, I wasn't even "on" Doolittle, but he's impressive, too. Oddly impressive. The 41st pick in the 2007 draft, Doolittle opened last season in Double-A and struggled. Nothing to worry about, really; he was only 21. But the A's didn't just not worry ... they pushed him to Triple-A, where he thrived.
Which isn't to say he's ready for the Big Show. That was only 28 games in Sacramento. But Doolittle does belong squarely in the group of young players who might well be good enough to play first base for the Athletics in 2011.
Cardenas is like Doolittle, but different. Like Doolittle, Cardenas is still quite young. Like Doolittle, Cardenas split last season between Double- and Triple-A. The difference is that Cardenas was impressive in Double-A before struggling in Triple-A. Still, he's just as much a prospect (if not more, since he's a year younger than Doolittle).
Essentially, the A's had too many young infielders and not enough young outfielders. So they traded a young infielder (or DH, eventually) for young outfielder
Michael Taylor
, who's not quite as young but has been far more impressive in the minors.
Meanwhile, the Blue Jays already had plenty of young outfielders; and maybe this means that
Randy Ruiz
will finally get a real chance in the majors. Unfortunately, the Blue Jays really are piling up a lot of guys at the wrong end of the defensive spectrum. In addition to Wallace and Ruiz, third basemen
Edwin Encarnacion
can't field a lick at third base, and corner outfielders
Travis Snider
and
Adam Lind
are little better.
Wallace might become a good first baseman. But keep an eye on the Blue Jays' defense. As they try to get back into contention, it's going to be an issue.
December, 13, 2009
12/13/09
7:31
AM ET
An era is over
:

Cust
Jack Cust became a free agent Saturday when the Oakland Athletics failed to offer him a 2010 contract.

Cust hit .240 with 25 homers and 70 RBIs last season but struck out 195 times, becoming the first player to lead in the AL in three straight seasons since Minnesota's Bobby Darwin from 1972-74. Cust whiffed 164 times in 2007 and 197 times in 2008.

--snip--

General manager Billy Beane has been determined to add more power to the lineup. The A's last week acquired third baseman Jake Fox from the Chicago Cubs largely because they like Fox's bat.
I like Cust as much as the next guy -- more, probably -- but this is exactly what you're supposed to do with marginal major leaguers like Cust: get the most out of them when they're young and cheap, and then dump them.
That's harsh, I know. If someone asks Billy Beane, he'll couch Cust's non-tendering in far friendlier terms. But he might also talk about Cust's "trendline" -- I haven't talked to him lately, but that used to be one of his favorite words -- and Cust's trendline is heading in the wrong direction.
In 2007, when Cust's services were essentially free, he hit .256/.408/.504.
In 2008, when he still was basically free ($410,000), he hit .231/.375/.476.
And in 2009, when he cost $2.8 million, he hit .240/.356/.417.
That's a steeper decline than we would have guessed, and so we might expect a bit of a comeback in 2010. Is it worth spending more than $4 million to find out, though? Probably not. This probably ends soon, and not prettily.
It's funny; I thought Fox and Cust would be
perfect
platoon partners. Was sort of looking forward to it, in fact. But with prospect
Brett Wallace
on the fast track, non-prospect
Daric Barton
might soon find himself in a limited role ... say, platoon with Fox?
Hey, a guy can dream a little, right?