June, 7, 2014
Jun 7
4:47
PM ET
By
Christina Kahrl
| ESPN.com
Kendrys Morales
reportedly signed with the
Minnesota Twins
, which can lead to a few quick takeaways. First, of course, it's just further proof that not everybody wants to put on pinstripes, and that's a glorious thing. But why, after so many months, does a guy pick the Twins?
Keeping in mind that terms have not yet been disclosed, so we don't know how long he's signed to be a Twin -- four months, or for 2015, too? We'll see, but the better question is why
not
the Twins? They may be just below .500, but they're just 2.5 games out in the pack of ballclubs crowding the AL wild-card field. They're also just five games behind the
Detroit Tigers
in the AL Central, who are in the middle of a 7-13 tumble that puts the division title back in play. So yes, as midseason moves go, suffice to say the Twins are taking themselves seriously -- and they should.
And why not? Morales is almost exactly what the Twins need. This is a lineup that is already proving effective at creating baserunners, ranking third in the AL in walk rate (9.6 percent) and tied for third in the AL in walks drawn. That's not all
Joe Mauer
, who you might have expected -- Mauer has walked 27 times before Saturday's action, but burgeoning second-base star
Brian Dozier
led the team with 35 freebies before action started. Heck, even struggling part-time center fielder
Aaron Hicks
has at least walked 27 times. The Twins are walking despite their not having reliable walker
Josh Willingham
active for most of the early going; now that he's back in action and back in left field, they could already anticipate those good team-wide numbers to get even better.
Getting Morales helps them that much more, though, because he helps address what has been a weak spot: Slugging, where the Twins rank just 10th in the league in Isolated Power (or ISO). The Twins were already plating a league-average 14 percent of their baserunners, but with Willingham as well as
Oswaldo Arcia
both back in action to provide corner outfielder-grade offense and Morales joining the party at the DH slot, that number should improve. Morales comes in with a career ISO of .200, as well as greater effectiveness against right-handed pitching (.286/.340/.499) as a switch-hitter, making him a superb fit for the middle of the order, where he can start cashing in all those Twins baserunners. At the very least, they can dispense with
Jason Kubel
's slugless comeback.
The other thing this probably helps address is what Joe Mauer has not been this season, the franchise-grade force on offense the Twins signed him to be. Plating just 9 percent of baserunners while slugging 50 points below league average (.395), this is rapidly turning into the worst season of Mauer's career. Maybe Morales helps with that, and maybe this lets Mauer just focus on contributing OBP from the second slot for the rest of the season.
So far, so good, but can the Twins
really
win, when this shored-up lineup still has to outscore a rotation struggling to generate quality starts whenever
Phil Hughes
isn't on the mound? Hughes has thrown eight in his 12 turns, while the rest of the starters have combined for just 17 in 47 starts, a 36 percent clip that's hard to sustain win streaks with if you're going to keep up in the hunt for a playoff slot. As much as signing Kendrys Morales is a good thing, the shored-up Twins lineup is going to have to seriously crank to beat that sort of near-daily handicap. And there, there may not be a good answer, beyond the expectation that former first-rounder
Kyle Gibson
is supposed to get better, and that the same expectations that led to signing
Ricky Nolasco
and
Kevin Correia
as free agents should fuel the expectation they'll be better in the second half. If they're not, the Twins won't go anywhere, even if they manage to hang around .500.
Which brings us to why signing with the Twins might especially make sense for Morales, without knowing about how much money was in play. Say the Twins fall entirely out of the race -- if that happens, they're an obvious seller at the deadline, and Morales could look forward to being dealt to a team in a stronger position in the standings. Rather than pick a contender and hope for the best, signing with the longshot team provides him with a chance there, and potentially a chance to be dealt to an even better opportunity to return to the postseason in two months. Considering Morales hasn't played any October baseball since 2009, it's not the worst gambit for a guy who has already lost so much of this season to taking a bad risk on his value on the open market as a free agent.
Christina Kahrl writes about MLB for ESPN. You can follow her on Twitter.
May, 7, 2014
May 7
5:24
PM ET
Some stuff to check out ...
May, 7, 2014
May 7
12:17
PM ET
Take a look at the list on the right and a pattern emerges.
Of the top 11 teams in Defensive Runs Saved this season, 10 are from the National League.
The
Los Angeles Angels
of Anaheim are the only AL team in the bunch. The next-highest AL team is the Kansas City Royals, with 1 Defensive Run Saved. Twelve of the 15 AL teams rate negatively in that stat (the Athletics are at zero).
Granted, it's early in the season and defensive numbers fluctuate plenty over the course of a calendar year. In each of the last three seasons, at least seven AL teams posted a positive Runs Saved total, so this probably will change in the near future.
But it certainly is possible we have an imbalance here. With regards to individual players, there are 30 with at least four Defensive Runs Saved this season. Twenty are on National League teams.
Of the 33 players with -4 Runs Saved or worse, 21 are in the American League.
We wanted to get some type of answer on this, so we turned to former manager and current "Baseball Tonight" analyst Manny Acta.
"Overall, the middle infielders currently playing in the NL are younger and more athletic than those in the AL," Acta said. "Plus most of the best defensive center fielders are there too -- (Andrew) McCutchen, (Carlos) Gomez, (Juan) Lagares, (Peter) Bourjos. I also think that the weaker contact by the pitchers at bat can help that rating some."
Acta's point about the NL teams and their younger middle infields was right on. Of the 35 players (minimum 50 at-bats) whose primary position is middle infield and are in their age 28 or younger season, 21 of them are in the National League.
We're not sure that this necessarily means anything. Perhaps it's just a fluke. But it struck us another of those stats to keep an eye on as the season continues.
Who's improving?
We asked a couple of members of the "Baseball Tonight" crew to give us a player whose defense has improved noticeably from last year.
Both
Chris Singleton
and Acta gave us the same name -- Dodgers second baseman
Dee Gordon
, who has made the smooth transition from shortstop, where he often struggled.
"He seems to be learning the angles, making better throws to (Adrian) Gonzalez at first, and (using good) footwork around the second-base bag," Singleton said. "He told me the first weekend of the season that he had to forget about all of the technical things they were telling him about turning the double play, like using the bag for protection or taking the ball on one side or the other. He said he told himself to just be athletic around second base and once he started doing that, he really started to find his own rhythm."
Acta also cited Marlins shortstop
Adeiny Hechavarria
.
"He looks more under control and his footwork is better," Acta said. "It also helps to have Perry Hill as the infield (coach)."
Spotlighting: Brian Dozier (and Kyle Gibson)
Last week, we gave Orioles outfielder
David Lough
props
for his penchant for leaping catches
.
This week, we wanted to offer a salute to
Minnesota Twins
second baseman Brian Dozier for his ability to make the diving play, with a little bit of help from his friends.
The most recent was one in the Twins' 1-0 win over the Indians on Monday, which required an equally good (and rather unusual) dive by pitcher Kyle Gibson to complete the putout. It currently ranks as "Baseball Tonight"'s
"Best of the Best"
for 2014.
[+] Enlarge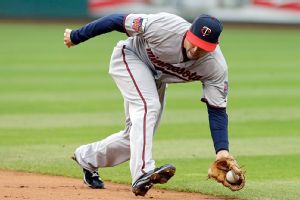 AP Photo/Mark DuncanBrian Dozier can cover a lot of ground.
Dozier was rather modest about his contribution.
"Those are plays where you've gotta get rid of it quickly," Dozier said. "That's basically Kyle's play. He made a tremendous scoop and slide to the bag. I said to him in the dugout afterwards, heck of a scoop. He said, no, I caught it on the air. I saw it on ESPN and he definitely scooped it. I don't think even he knew where he was at at the moment (of the play). But a great play by him."
This was the second straight Gibson start in which he and Dozier combined on a special play. They also teamed for
this one
, an
Adrian Gonzalez
deflection off Joe Mauer's glove, on which Dozier flipped the ball with his glove to Gibson for the out.
Dozier makes this sort of play a lot.
To this point in the season, UZR likes Dozier a little bit more than Defensive Runs Saved. He rates first at second base in the former (with a value of 3.4 runs). His 14 out-of-zone plays (plays outside the area in which second baseman turn more than half of batted balls into outs) ranks first at that position.
Dozier is similar to Rockies third baseman Nolan Arenado in that there is a high-risk, high-reward component to his play. He leads second basemen in both Good Fielding Plays (think "Web Gem nominee") with 22 and Defensive Misplays & Errors with 11 this season.
"Great instincts," said one scout we talked to about Dozier. "He anticipates very well, plays from the ground up, and is trustworthy. And he continues to improve."
September, 13, 2013
9/13/13
11:00
AM ET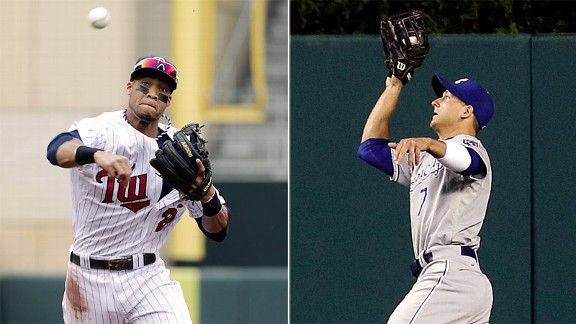 AP PhotoPedro Florimon and David Lough don't get a lot of press, but they have stellar defensive stats.
We've written frequently about the outstanding defense of
Andrelton Simmons
,
Nolan Arenado
and
Carlos Gomez
this season, but it should be noted that they;re not the only ones who have been terrific with the glove.
You may have read Buster Olney's blog today in which I made a statistical assessment of the clubhouse leaders for Gold Glove Awards. That hooks into something I've been wanting to do for awhile -- take a closer look at nine players having good defensive seasons that you may not have been aware. (Note that all data is entering Thursday).
Infielders
Mike Napoli, Red Sox 1B
Napoli was the most surprising name among the Defensive Runs Saved and UZR leaders. His 10 Runs Saved are most among AL first basemen.
What is he doing that those stats are rewarding?
It's fairly simple. Napoli doesn't go beyond the basic area he covers to make plays (his rate of out of zone plays per inning ranks in the bottom third among first basemen), but what he can get to, particularly on balls hit near the first-base line, he turns into outs.
Napoli entered Thursday with the best Revised Zone Rating among AL first basemen, though remember that group doesn't include
Mark Teixeira
,
Adrian Gonzalez
or a healthy
Albert Pujols
.
Brian Dozier, Twins 2B
Pedro Florimon, Twins SS
Dozier has handled the move from shortstop to second base with aplomb, netting 11 Defensive Runs Saved in 2013, second-most in the AL (
Dustin Pedroia
leads with 16).
He leads AL second basemen in range factor (plays per game) and is one of those players who
passes the eye test too
.
Dozier's 83 Good Fielding Plays (think: Web Gem nominees) are only two fewer than the leader at the position, Pedroia (in 177 fewer innings). What's separating Dozier from being as good as Pedroia are the defensive misplays and errors. He has 31, 10 more than Pedroia.
Florimon has shown himself to be adept, particularly at getting to balls in the shortstop-third base hole (which helps, because Dozier covers a lot of ground up the middle). His 14 Defensive Runs Saved rank second-best among shortstops this season, dwarfed by Simmons' major-league leading 39.
Juan Uribe, Dodgers 3B
Like Napoli, this one may merit an eye roll, but the numbers show that Uribe has been good. His 11 Defensive Runs Saved are second-most in the NL and the same as
Evan Longoria
(in nearly 450 fewer innings). Like Napoli, Uribe gets to balls and doesn't make a lot of mistakes.
Let me show you what I mean: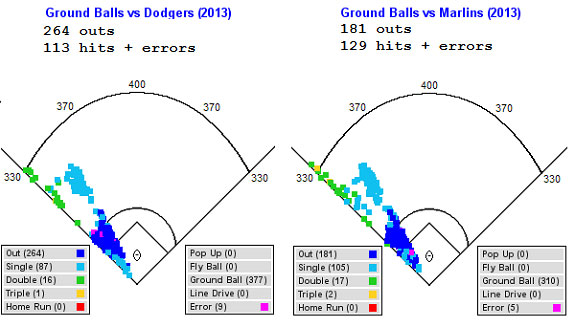 The two images show approximate batted ball locations for ground balls hit to a swath of the field that I think we can all agree are balls that are fielded (or missed) mostly by third basemen.
The image on the left shows how a team that ranks among the best in the majors in out conversion -- the Dodgers -- has fared against those balls. The image on the right shows how a team that ranks among the worst -- the Marlins -- fares against balls hit to that same swath.
The two players making most of those plays for the Dodgers are Uribe and
Nick Punto
, who has five Runs Saved in limited time at the position.
Uribe's performance is the bigger surprise. The last time he had a season with at least a dozen Defensive Runs Saved was 2004.
Outfielders
David Lough, Royals OF
The inspiration to include Lough came from seeing him crash into the right-field fence to make a catch for his third No. 1 Web Gem in Tuesday's win over the Indians. Lough has 17 Defensive Runs Saved in 666 innings and has done his best work getting to balls hit to the deepest parts of the park. His runs saved per inning rate ranks fifth-best among outfielders with at least 500 innings played.
Lough has a near 2-to-1 rate of good fielding plays to defensive misplays and errors in right field based on video review by Baseball Info Solutions. His rate ranks fifth-best among the 21 right fielders with at least 15 good plays this season.
Shane Victorino, Red Sox RF
Victorino has the most Runs Saved of anyone who hasn't been nominated for Defensive Player of the Month this year with 22, the best year of any in his 10-year career.
Victorino has had a good year with his arm (see the chart), but even at age 32, he's shown that he can go into the gap and get the ball. The Red Sox defense has improved considerably from a statistical perspective at getting to balls in the deepest parts of right-center.
Victorino has been a key to that
.
As we did for Uribe, we cut the field into a swath, one meant to show the charting (by hand and eye) of balls hit to the deepest parts of right-center that stayed in play at Fenway Park, and looked at the data.
In 2012, the Red Sox turned 16 of those 25 into outs. In 2013, they've turned 22 of 25 into outs. Six would-be doubles and triples (just at Fenway) may not sound like a lot, but it's the sort of thing that can help enhance the defensive value of someone like Victorino.
Chris Denorfia, Padres OF
Denorfia has played three outfield positions and played them solidly, combining for 15 Defensive Runs Saved. He has five Defensive Runs Saved at each of the three outfield positions.
If that holds to the end of the season, he'd be the first player in the 11-season history of Defensive Runs Saved to have at least that many Runs Saved in all three of those spots.
Catchers
Welington Castillo, Cubs C
Castillo's season doesn't look great on paper, particularly the 10 errors, but he ranks second in the National League in runners caught stealing with 26 and has five pickoffs.
Castillo's stats also have gotten a spike from one area that BIS charts that might be hard to recognize -- the ability of a catcher to block pitches in the dirt.
Castillo entered Thursday having blocked 613 pitches in the dirt (without a baserunner advancing) this season, second-most in the majors to
Salvador Perez
's 622.
That's helped him accumulate a major-league high 17 Defensive Runs Saved at catcher.
Russell Martin, Pirates C
Martin has done more than his share of good things behind the plate for the Pirates. His 15 Defensive Runs Saved are his best total since he netted 18 in 2007.
The two reasons for that are:
(A) The Pirates' ERA is about half-a-run better when he's behind the plate compared to when he isn't.
(B) He's thrown out 28 of 75 of would-be basestealers, compared to only three of 35 by the rest of the team's backstops.
Martin probably won't win a Gold Glove, with Yadier Molina in his way, but his value has been as noteworthy as Molina's on the defensive side this season.
Scott Spratt of Baseball Info Solutions contributed research to this article.
September, 6, 2013
9/06/13
12:30
PM ET
We haven't done this in a while. If you haven't been paying close attention to the numbers, you may be surprised by some of these comparisons:
Player A: .265/.342/.496, 28 HR, 72 RBI, 132 OPS+
Player B: .283/.352/.468, 22 HR, 64 RBI, 134 OPS+
Player A is
Evan Longoria
, Player B is
Kyle Seager
. Longoria does hold the WAR advantage, 5.2 to 4.1, thanks to better defense, but Seager is quietly have another solid season at the plate.
Player A: .271/.359/.448, 22 HR, 117 OPS+, 1.0 WAR
Player B: .260/.370/.446, 17 HR, 131 OPS+, 3.1 WAR
Player A is
Prince Fielder
, Player B is
Carlos Santana
. Of course, I left out RBIs, and Fielder has 95 of those compared to 60 for Santana (Fielder has 81 more plate appearances). Has Fielder had a great RBI season? According to Baseball-Reference, the average major leaguer drives in 65 runs in 622 plate appearances, so Fielder is +30. Sounds good. But ... he's also had 98 more runners on base than the average hitter. In WAR, Santana moves ahead thanks to Fielder's poor defense and a positional adjustment for Santana, because he's played a lot behind the plate.
Player A: .233/.291/.448, 29 HR, 84 RBI, 1.5 WAR
Player B: .238/.299/.422, 19 HR, 62 RBI, 1.0 WAR
Player A is
Mark Trumbo
and Player B is Angels teammate
Josh Hamilton
. Trumbo has escaped criticism because he has more home runs and RBIs, but he's also another sub-.300 OBP guy in the middle of the Angels' lineup.
Player A: .243/.311/.433, 17 HR, 102 OPS+
Player B: .267/.316/.420, 18 HR, 98 OPS+
Looks pretty close, right? What if I told you one of these guys has 101 RBIs and has been touted as an MVP candidate by some (OK, at least one prominent national broadcaster), and the other guy has 60 RBIs.
Player A is Twins second baseman
Brian Dozier
and Player B is Reds second baseman
Brandon Phillips
. In terms of WAR, Dozier has the bigger advantage, 3.8 to 1.7. Look, Phillips
is
hitting .354 with runners in scoring position. He's also hitting .211 with a .249 OBP with the bases empty; those at-bats count, too. Phillips has made the fourth-most outs in the NL.
Player A: 209 IP, 145 H, 47 BB, 201 SO, 6.6 WAR
Player B: 187.2 IP, 158 H, 40 BB, 199 SO, 6.2 WAR
Pretty similar. Both are left-handed. One stat I left out: Player A has a 1.89 ERA, while Player B's is 2.97. Player A, of course, is
Clayton Kershaw
while Player B is
Chris Sale
. How can Sale be close despite an ERA a run higher? A few things. We're talking an NL pitcher versus an AL one, so Kershaw's run-scoring environment is a little lower. Home park: Kershaw pitches in Dodger Stadium, a good park for pitchers, while Sale pitches at The Cell, a hitter's park. Quality of opponents: Kershaw's opponents have averaged 4.20 runs per game compared to 4.51 for Sale's. Defense: Kershaw's is good, Sale's isn't. So why has nobody noticed Sale's season? He's 10-12. Put him on the Tigers and he'd be competing with
Max Scherzer
for Cy Young Award honors.
Player A: 193 IP, 180 H, 43 BB, 174 SO, 3.50 ERA, 4.1 WAR
Player B: 184 IP, 169 H, 50 BB, 172 SO, 2.98 ERA, 4.0 WAR
Cole Hamels
is A, and
Mat Latos
is B. Of course, Hamels is 6-13 and Latos is 14-5, obscuring the fact that Hamels has been outstanding. Hamels was 1-9 with an ERA approaching 5 through May, and those bad starts (or good starts) stick in our memories. But since July, he's made 12 starts and posted a 2.17 ERA, allowing more than two runs just twice (though he has just four wins). He's still one of the best left-handers in the league.
One more:
Player A: 5-2, 1.48 ERA, 38 saves, 2 blown saves
Player B: 4-2, 2.19 ERA, 41 saves, 6 blown saves
Joe Nathan
(A) and
Mariano Rivera
(B). By the way, Nathan's career save percentage since becoming a closer: 91 percent. Rivera's since becoming a closer: 90 percent, not including the postseason.
September, 2, 2013
9/02/13
11:12
AM ET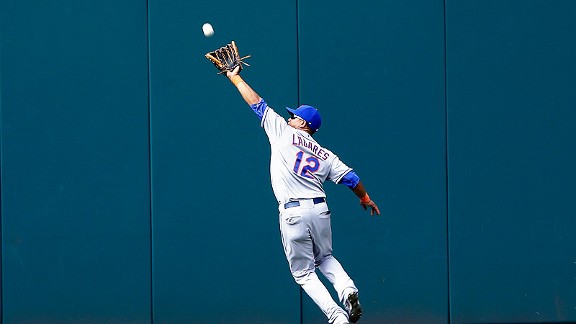 AP Photo/Alex Brandon
Juan Lagares has made tough catches look routine since being recalled by the Mets.
New York Mets
rookie outfielder
Juan Lagares
had to beat out the best of the best to win the Defensive Player of the Month award for August.
Lagares topped two-time 2013 winner
Andrelton Simmons
and impressive
Colorado Rockies
rookie
Nolan Arenado
to take the award this month.
It was well-earned. Lagares led the majors with 12 defensive runs saved in August (one more than Simmons, three more than Arenado). That value came both from his ability to range far outside his position to catch balls and from a throwing arm that has ranked among the best in the sport since his arrival.
Lagares was credited with 22 "Out of Zone" putouts by Baseball Info Solutions in August, with an Out of Zone catch defined as one made in an area in which center fielders turn batted balls into outs less than 50 percent of the time.
Lagares had 67 Out of Zone plays in 663 2/3 innings in center field through the end of August. His rate of one Out of Zone catch for every 9.9 innings (basically one per game) played ranks best in the majors at that position.
Good examples of his glove work include these two plays,
one in which he came in
to rob
Jedd Gyorko
of the
San Diego Padres
and this one in which he went all the way back to the fence to
steal a hit
from Twins outfielder
Josh Willingham
.
Lagares, a converted infielder, didn't even figure to be the team's top defender coming through their farm system. That honor belonged to recent call-up
Matt den Dekker
, who made ESPN's Top 10 plays a couple of times before even making the majors. But when den Dekker got hurt this spring, and the Mets needed a lift from their outfield reserves after
Collin Cowgill
fizzled in an initial tryout, Lagares took advantage of his opportunity.
"His confidence is sky high as far as going to get balls," Mets outfield coach
Tom Goodwin
told ESPNNewYork.com's Adam Rubin prior to Sunday night's game against the
Washington Nationals
. "You lose that instant excitement when you first get here, and the jitters, and he doesn't have that anymore. He just goes out there and plays the game. That's the biggest compliment I can give him. He's really matured beyond his years."
Lagares leads the National League and ranks second in the majors in outfield assists with 12, trailing only
Kansas City Royals
left fielder
Alex Gordon
. He's become a deterrent to baserunners both due to his positioning (he likes to play shallow) and his instincts (he gets to balls quickly).
"You'll see him get to some balls where they're line drives and he's getting to them on the first hop, instead of two or three hops later," Goodwin said. "His routes are outstanding. His reads are outstanding. And when he comes in, he makes good, strong, accurate throws."
Simmons had what has become a typical Simmons month with his 11 defensive runs saved. He has 39 defensive runs saved and will break the record for most defensive runs saved in a season, which was set by
New York Yankees
outfielder
Brett Gardner
with 35 in 2010. Arenado (30 defensive runs saved) and Manny Machado (31) are neck-and-neck for the lead for third basemen.
Also impressive this month were
Minnesota Twins
second baseman
Brian Dozier
, who led the majors with 25 "good fielding plays" (think plays that would be Web Gem nominees), and
Los Angeles Angels
outfielder
Mike Trout
, who despite
the struggles we noted last week
had seven defensive runs saved.