September, 2, 2013
9/02/13
10:52
PM ET
When the Oakland A's acquired
Chris Young
in the offseason from the Arizona Diamondbacks, it appeared
Coco Crisp
would be the odd man out in the Oakland outfield, or at least see his playing substantially reduced. While it was billed as a "four guys for three positions" type of arrangement along with
Yoenis Cespedes
and
Josh Reddick
, Young was viewed as the better defender in center field, and Cespedes and Reddick, Oakland's two best position players a year ago, weren't likely to sit too often.
It's not that Crisp was going to sit on the bench; after all, he put up a solid .259/.325/.418 line last year with 39 steals in 43 attempts. As a switch-hitter, he would help give Bob Melvin the platoon advantage no matter who would be pitching. But Crisp's crucial misplay against the Detroit Tigers in the American League Division Series cost the A's a victory, forcing a Game 5 confrontation against
Justin Verlander
that proved to be all Verlander, and Young's power potential would be intriguing to a club that relied on heavily on the home run in 2012.
Whatever the plan, it has worked out that Crisp has been the A's best outfielder, and their second-most valuable position player behind third baseman
Josh Donaldson
. With Cespedes, Reddick and Young all struggling at the plate, where would the A's be without Crisp? Not tied with the Rangers for the AL West lead. Just over a week ago, the A's looked like a team on the fall, at risk of losing its hold on the second wild card to the Indians or the Orioles or maybe the Yankees. Now they've won seven of eight and caught the Rangers in the standings for the first time since Aug. 9.
[+] Enlarge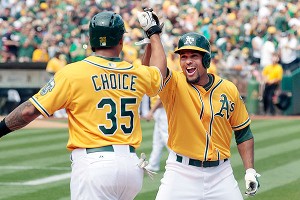 Cary Edmondson/USA TODAY SportsCoco Crisp has reason to celebrate, and so do the A's.
In the opener of a crucial three-game series in Oakland against the Texas Rangers, Crisp hit the go-ahead two-run homer in the fifth, hitting the left-field foul pole and upheld upon review, and the A's bullpen held on for the
4-2 victory
. It was Crisp's career-high 17th home run, but maybe his power shouldn't be that big a surprise: He hit .281/.349/.511 in the second half last year with eight home runs. He has been hitting like this since last July.
Crisp was just one of Monday's surprise heroes -- players who usually fly under the radar but provide the contributions that push teams into the playoffs. Here are a few others:
May, 31, 2013
5/31/13
1:00
PM ET
The
Baltimore Orioles
have played 54 games and
Manny Machado
has played in all 54. The amazing Machado fact, however, isn't that he hasn't missed a game but that he's hit 25 doubles -- he hit another one Thursday night, a
grounder down the third-base line
. That puts him on pace for 75; the all-time record was set by the not-legendary Earl Webb for the Red Sox in 1931.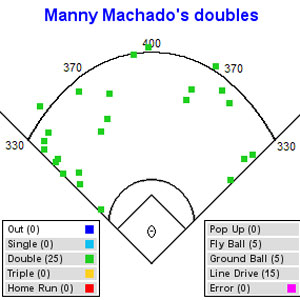 ESPN Stats & InformationIn his first full season, Manny Machado has been lacing doubles all over the field.
We can get carried away with early season "on pace" totals --
Jason Grilli
is on pace for 66 saves!
Patrick Corbin
is on pace to go 24-0! -- but Machado's pace is pretty fun, in part because it seems possible, however slim, that he could challenge Webb's record. Machado's Orioles teammate
Brian Roberts
hit 56 just four years ago, proving you can hit a lot of doubles in Camden Yards and it's easy to jump to the conclusion that Machado could hit 11 more doubles than Roberts.
Still, the odds are he won't do it. Just last year
Joey Votto
had 22 doubles through the Reds' first 54 games, which put him on a pace for 66. He got hurt but had fallen off by then anyway. Roberts had only 16 through 54 games in 2009.
Craig Biggio
had a couple seasons where it appeared he could make a run at 67 -- he had 38 doubles in 87 games at the All-Star break in 1999 and 35 in 87 games in 1994. He finished with 56 in '99 and the strike hit in '94, but he'd fallen off pace by then.
Lyle Overbay
had 37 at the break in 2004 (finished with 53) and
John Olerud
had 37 in 1993 (finished with 54).
Todd Helton
hit 59 in 2000, the highest total since 1936, but was never on serious Webb pace.
The guy who appeared most likely to chase down Webb was
Edgar Martinez
in 1996. Through the Mariners' first 54 games -- Martinez played in all of them -- he had 29 doubles. At the All-Star break he had played in all 85 of Seattle's games and belted out 42 doubles, which put him on pace for 80 (!). Even if he slowed down just a bit it appeared that he would do it. ESPN.com started running an Edgar Martinez Doubles Watch (hey, we were based in Seattle then).
Then, on July 20, Lou Piniella had the brilliant idea to start Martinez at third base for the first time that season. He collided with catcher John Marzano on a foul pop up and bruised his ribs, landing on the disabled list and ending a streak of 293 consecutive games played. Martinez missed 22 games. Upon returning he wasn't the same hitter, batting .309 but with just eight doubles in 44 games. He finished with 52 in 139 games.

Machado has one huge advantage over Martinez -- he can run, so has the ability to stretch singles into doubles that may generate a few extra two-baggers. Besides that, he has another advantage: He doesn't walk much. Martinez had 123 walks that year but Machado has just 12 so far, so he's putting a lot more balls in play.
Also, he has power but not
too
much power (yet), as with five home runs he's on pace for 15. That matches the Roberts mold as he had 16 home runs in '09. Plus, pitchers are still trying to figure out the best way to get Machado out. He's hit nine doubles off fastballs and those are the ones he lines into the gaps -- seven of the nine to left- and right-center. He yanks "soft" stuff down the line. Only five of his 25 doubles have been groundballs, meaning he's hitting line drives or deep flies for most of his two-base hits.
Odds are that Machado falls short, of course, that pitchers find a small hole in his swing or learn to take advantage of his aggressiveness. Still, this has become one of the intriguing little sub-stories of 2013, the breakout performance of another young star. Can he do it? What do you think?
December, 27, 2012
12/27/12
10:00
AM ET
By
Christina Kahrl
| ESPN.com
Say you're a team that has a problem, like losing an everyday player to free agency. Market solutions tend to be expensive, whether in cash spent or prospects dealt. But some teams already have potential solutions for their seeming offseason needs on hand, thanks to the return of players who missed most or all of 2012. As a result, they haven't had to lift a finger to fix what might have appeared to be a problem.
Consider the Cardinals' lot with
Kyle Lohse
headed to parts unknown for whatever the market will bear. Their rotation isn't simply going to be fine, it could be better because former Cy Young winner
Chris Carpenter
should be firing on all cylinders this season. If the Cardinals decide to hold onto fellow Cy-worthy ace
Adam Wainwright
, they'll have that tandem together again for the first time since 2010, a daunting prospect for any NL Central challenger.
So, with a hat-tip to Simple Minds' song, "Don't You Forget About Me," here's a non-comprehensive list of guys who missed most of 2012 who you shouldn't forget will be back in 2013.
[+] Enlarge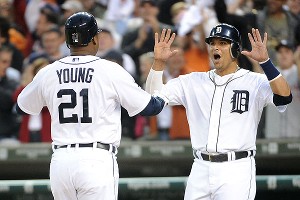 Harry How/Getty ImagesIn 2013, the Tigers will swap the at-bats of Delmon Young for those of Victor Martinez.
It wasn't that long ago that
Victor Martinez
ranked as a premium producer as a catcher, first baseman and DH for the Indians and Red Sox. Certainly, that's what the Tigers signed him up for when they gave him a four-year, $50 million deal after 2010. But after just one season (and an .850 OPS), Martinez missed all of 2012 with a torn ACL in his knee.
Torii Hunter
's addition might have commanded the early-winter headlines, but V-Mart may be the biggest (re)addition to the lineup, filling the at-bat gap left by the unlamented departure of
Delmon Young
while providing an upgrade on offense. If V-Mart and Prince split the playing time across first base and the DH slot, the Tigers would also spare themselves' Prince's leaden glovework as an everyday disaster. Dan Szymborski of ESPN Insider projects Victor Martinez to produce a .770 OPS; not great, but a big improvement on Young's .707 in 2012.
Carl Crawford
is a bit of a gimme for that name outfielder you don't want to forget about. (As if.) Having injured and reinjured himself in Boston trying to make up for an ugly first season with the Red Sox, he was dealt to the Dodgers after already getting shut down. He's expecting to be ready in time for Opening Day. Could he yet prove to be worth the $20 million per year so many sabermetricians confidently accepted as his value when he signed his monster deal with the Red Sox? Well, that's a bit much, especially if he lives up -- or more appropriately down -- to his ZiPS-projected .746 OPS.
Behind the plate, the guy I'm most interested in seeing back in action after a too-long absence is
Wilson Ramos
of the Nationals. His .779 OPS in 2011 makes a great basis for projecting him to be an All-Star catcher. The Nats are publicly going through the rigmarole of saying Ramos will have to come back from his torn ACL and fight
Kurt Suzuki
for playing time, but that's one of those low-threshold challenges -- Ramos should win, and soon thereafter, he'll be a star.
Top prospects on the mend also deserve some mention here, because their absence in 2012 doesn't mean their teams forgot about them for 2013.
Joe Benson
missed most of the season with injuries to his wrist and knee, but he'll head into spring training with a shot at winning the Twins' center-field job outright in head-to-head competition with
Aaron Hicks
. The Rays'
Brandon Guyer
missed most of 2012 with a shoulder injury, but the rose-colored view of his power and contact-hitting skills might make you think he could hit upwards towards .300 and slug in the high .400s from an outfield corner or the DH slot, making it that much easier to leave Wil Myers in Durham to keep the service-time clock of the former top Royals prospect acquired for
James Shields
at zero.
[+] Enlarge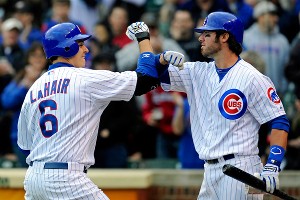 David Banks/US PresswireEven an average season from Ian Stewart, right, would give the Cubs a slash-line bump at third.
Among relievers,
Mariano Rivera
gets pride of place, but there's been plenty said about him already; it isn't like the future Hall of Famer slipped off anyone's radar after a season spent on the shelf. Instead, I'm thinking we shouldn't forget
Sergio Santos
and his importance to the Blue Jays. Santos is expected to be 100 percent by Opening Day in his recovery from surgery on his labrum, and that's a big part of the reason why the hyperactive Jays have yet to make any major moves to repair their 'pen this winter.
I'm also curious about
Nick Masset
of the Reds, and if he can return to be a solid set-up man. Worth a win per year out of the pen in 2009 and 2010, Masset started to melt down in 2011 before getting his torn right shoulder capsule repaired after missing all of 2012. If he's back at full strength, he might be the perfect right-handed foil to
Sean Marshall
for handing off save opportunities to
Jonathan Broxton
. It certainly wouldn't hurt their latest attempt at keeping
Aroldis Chapman
in the rotation.
As I touched on last year
when Theo Epstein signed him
,
Ian Stewart
wasn't necessarily a great bet to thrive at the plate by moving closer to sea level as an ex-Rockie. That said, Stewart's wrist surgery ended his season more than three months early, contributing to the Cubs' woeful .201/.289/.322 cumulative line from their third basemen. Even a dead-cat bounce from Stewart would be better than that. What was good enough to try in 2012 seems worth dialing up a do-over for 2013.
At second base,
Brian Roberts
of the Orioles might seem the name to know: A premium leadoff hitter with career .356 OBP in the top slot, and someone playing at an up-the-middle position? This sounds
exactly
like the guy the O's need considering the .293 OBP they got from the top two slots in 2012. Unfortunately, Roberts hasn't played a full season since 2009, and between his 2011 concussion and his 2012 surgery to repair the labrum in his hip, he's going to be tough to count on. So instead, let's peg
Scott Sizemore
of the Athletics as the second baseman you shouldn't forget about. He's coming back from a torn ACL, once he escaped the Tigers his combination of power and patience produced at .778 OPS for Oakland in 2011, and he's reportedly moving back to the keystone this spring.
Honorable mentions are legion, especially among pitchers: Japan's
Tsuyoshi Wada
might finally make his Orioles debut and win a rotation slot after missing his rookie season with Tommy John surgery;
John Lackey
will have plenty to prove after an ugly 2011 intro to Red Sox Nation (6.41 ERA), but if more closely resembles the mid-rotation workhorse he was with the Angels, their shot at keeping up in the AL East looks much more realistic. And from among the arms expected back for the second half,
Michael Pineda
for the Yankees,
Colby Lewis
and
Neftali Feliz
for the Rangers,
Daniel Hudson
for the D-backs and the Braves'
Brandon Beachy
should all make an impact on the postseason picture.
Christina Kahrl covers baseball for ESPN.com. You can follow her on Twitter.
June, 13, 2012
6/13/12
1:10
PM ET
First base: A grand slam.
Alex Rodriguez
tied Lou Gehrig's all-time record with his 23rd career grand slam. His slam off
Jonny Venters
came with the Yankees down 4-0, the first of his 23 slams in which the Yankees trailed by three or four runs when he hit it. Three of his slams have been walk-offs and the 23 homers have come off 23 different pitchers. In his career with the bases loaded, A-Rod has hit .345/.391/.703 for a 1.094 OPS. His career OPS is .949. Unfortunately, we don't have Gehrig's career splits to know what he hit with the bases juiced, although we do know he hit two of his 23 slams off a pitcher named Lloyd Brown, a 5-foot-9 lefty nicknamed "Gimpy."
Second base: Mad pitching.
My colleagues Eric Karabell and Mark Simon picked
Madison Bumgarner
to win the NL Cy Young before the season. After winning last night while striking out 12 Astros, Bumgarner is 8-4 with a 3.08 ERA, which at least puts him in place to make a run over the season's final 100 games. He's been delivering more K's lately. After averaging less than four strikeouts per start through his first eight games, he's whiffed 10 or more in three of his past five -- the only starter with at least three 10-K games so far. He's also tied for second in the NL in innings pitched. With
Tim Lincecum
continuing to struggle, the Giants will need Bumgarner to continue handling that workload. (Not that he's been asked to throw a lot of pitches; with his ability to throw strikes, his season high is 117 pitches.)
Third base: Roberts returns.
Good to see
Brian Roberts
back in uniform with the Orioles. Roberts went 3-for-4 with a sac fly in Baltimore's 8-6 win over Pittsburgh (who would have thought in March that this would be a big series?). Roberts was a terrific player from 2004 to 2009 when he hit .290/.365/.438 and averaged 46 doubles and 35 steals per season. He's now 34 and it would seem unlikely he can return to that level of play after years of injuries, but even if he's close to that he'll provide a nice lift for the Orioles in the leadoff spot. Baltimore leadoff hitters have posted a .259 OBP, second-worst in the majors to the Reds' .231.
Home plate: Tweet of the day.
Teammate
Adam Jones
was glad to have Roberts back:
So damn happy @1brianroberts was back in the lineup. The man is a spark plug like no other

— Adam Jones (@SimplyAJ10) June 13, 2012
May, 21, 2011
5/21/11
12:00
PM ET
By
Christina Kahrl
| ESPN.com
Yes, this is another article about the sorry state of offense in 2011. Scoring is down a fifth of a run per team from 2010, a "year of the pitcher." It's down four-tenths of a run from 2009, six-tenths of a run if you want to reach back to 2006. We've also heard about how power is a big part of this "problem," as MLB-wide isolated power is down 20-25 points from 2006. But we're not talking about something else that seems to have gone missing: leadoff hitters who are quality table-setters.
[+] Enlarge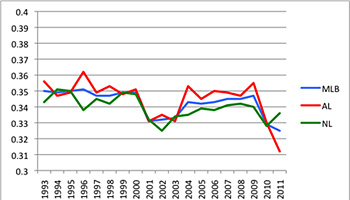 Courtesy of Baseball-Reference.comOn-base percentages for leadoff men.
We'll get into the data up front and then start seeing if we can parse what it might mean. First, there's the simple fact that OBPs for leadoff hitters are down. Last year's MLB-wide leadoff man OBP of .329 was the lowest we've seen in a full season since 1982, when it was also .329. It hadn't been lower than .329 since 1978, when the leadoff OBP was .323. From 1993-2010, the American League's leadoff OBP of .330 was its worst, the NL's .328 its second-worst. Keep in mind, leadoff OBP didn't disappear in a puff of PED ban enforcement. As the first chart reflects, leadoff OBPs weren't just stable after 2006,
they went up
. The AL's 2009 leadoff OBP of .355 was its highest since 1996. On-base percentage for leadoff men was back up where it had been in the offensive onslaught of the late '90s… until last year.
So, a low-water mark was set in 2010, the worst leadoff OBP in 32 seasons … until this spring's action. In 2011, leadoff hitters have managed to get on base at a .325 clip. It's especially bad in the American League, where leadoff men were eking out a .312 OBP through Thursday's action. More than a quarter of the way in, we're still waiting for both leagues to flip the ignition, but without any ignitors, let alone the original Paul Molitor, how is that supposed to happen?
[+] Enlarge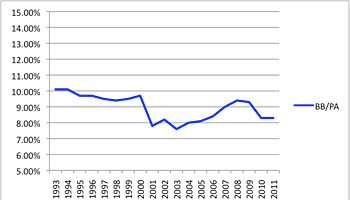 Courtesy of Baseball-Reference.comBase on balls percentages for leadoff men.
Naturally, the first question to ask is
why?
Looking at walk rates for leadoff hitters in the second table, we've obviously lost some of what we took for granted -- hitters aren't managing that walk once every 10 times up, a pace you might once have accepted as the basic standard. We're not at the bottom of a trough, but the rate is back down where things were earlier in the Aughties, and that's sub-good.
Some of that is a matter of the selection of leadoff likelies available to their teams:
Jacoby Ellsbury
is not a big-time walking man, for example, and wishing he was won't make it so, but it doesn't make him ineffective. However, in a league and time where Rickey Henderson is still retired, finding people who can draw ball four hasn't exactly been easy, which is probably why
Juan Pierre
or even
Scott Podsednik
keep getting opportunities. Some of it can also be institutional -- last year, the Rays came up with a perfectly functional creative adaptation, moving
John Jaso
and
B.J. Upton
into and out of the role as Joe Maddon played matchups. But this year they got carried away with the
Sam Fuld
phenomenon, only to learn what they already knew from his projections, which is that for a leadoff hitter he makes a heck of a defensive replacement.
Admittedly, when we think about leadoff hitters, it's easy to stick with happier memories, of the guys who are or were truly great at it: Rickey and Tim Raines in the '80s for example, or Ichiro for the past decade. You can take things down a notch and think fondly of
Ray Durham
or Tony Phillips, or from the current generation of players get sentimental about guys like
Brian Roberts
and
Chone Figgins
. And from any of these guys, you generally knew what to expect: OBPs that were .350 or higher, plenty of walks, and stolen-base totals in the 20-50 range.
But even then, there were always the other guys, the way the other half lived with their leadoff options, which pulled leadoff OBPs down around .333 year after year. If you were around in 1981, you had a rare opportunity to see one of the worst leadoff hitters of all time in action, achieving what would be, even by his standards, a career lowlight. Alfredo Griffin posted a .236 OBP leading off for the Blue Jays for the bulk of a season that was blighted by a strike. It's a mark for single-season leadoff putrescence that hasn't been underwhelmed in the 30 years since.
We can get into origin myths if you like, and ask where the great leadoff men came from and now, where they went, and whether or not we're bereft of truly elite leadoff men in this particular generation of players -- beyond admirable dinosaurs like Ichiro, of course. I wonder if we aren't just stuck in the
Michael Bourn
generation. That might not seem entirely fair to Bourn, because he's one of the better leadoff hitters by today's standards. He has posted OBPs better than league average in 2009 and 2010, after all. He's off to a slow start this season, but at least he's reliably within spitting distance of walking once every ten times and he runs well. That might represent a new, lower standard of what will do, but perhaps this isn't a burden to be Bourn, but a reflection of a changed game. Bourn makes an appropriate symbol for a time when teams are getting used to living with less offense.
Christina Kahrl covers baseball for ESPN.com. You can follow her on Twitter.
March, 11, 2011
3/11/11
9:48
AM ET
By
Dan Hennessey
| ESPN.com
In the past week, I've been writing at Baseballin' on a Budget about the
A's recent history with compensation picks
lost or gained through free agency. The A's added players such as
Huston Street
,
Nick Swisher
and
Joe Blanton
with draft picks that weren't originally their own. I thought it would be interesting to see what other steals have been found with "free" draft picks. (Note: I only looked at first-round and sandwich picks that a team got for losing a player).
After the 1984 season, the Padres signed former Cubs pitcher Tim Stoddard to a three-year, $1.9 million contract. Stoddard threw 105 innings for the Padres in a season and a half, going 2-9 with an ERA+ of 85. He had one more good season in 1987 with the Yankees. The Cubs selected
Rafael Palmeiro
with the Padres' pick the following June; Palmeiro didn't blossom until he was traded to the Rangers, but the Cubs made the right decision not signing Stoddard and found a gem late in the first round. Later, the Orioles would draft
Brian Roberts
with a sandwich pick after the Rangers signed Palmeiro for his second tour of duty in Arlington.
[+] Enlarge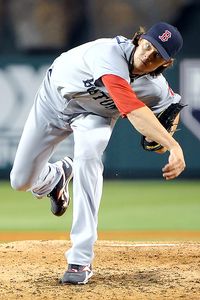 Lisa Blumenfeld/Getty ImagesBoston used a compensatory pick to draft Clay Buchholz.
After the 1990 season, the Giants signed Bud Black from Toronto to a four-year, $10 million contract. Black had ups and downs the previous five years, but was coming off a good year. For San Francisco's trouble, Black was worth 1.0 WAR over the four years. With the pick, the Blue Jays took
Shawn Green
; Green, along with
Carlos Delgado
, anchored Toronto's lineup for a four–year stretch from 1996 to 1999, before being traded to the Dodgers.
Kansas City shortstop Kurt Stillwell signed with the Padres after the 1991 season; he played only 193 games the next two seasons, posting an OPS+ of 61. For the low, low price of $3.5 million over the two years, Stillwell posted minus-3.3 WAR (yeah, that's negative). Adding insult to wallet-injury, the Royals took
Johnny Damon
with their sandwich pick.
Other tales include Toronto drafting
Chris Carpenter
(for aging but still-effective Tom Henke), Minnesota drafting
Torii Hunter
(for John Smiley), and the Mets drafting
David Wright
with a sandwich pick after letting
Mike Hampton
sign one of the worst contracts in baseball history with the Rockies.
Two teams in particular had drafts that could have been classified as great hauls with just compensatory picks. The Braves took
Adam Wainwright
in 2000 with Arizona's first-round pick for letting
Russ Springer
go and later added
Kelly Johnson
with a sandwich pick for "losing"
Jose Hernandez
.
But the kings, as they are wont to do lately, are the
Boston Red Sox
. After 2004, the Red Sox played shortstop roulette, signing
Edgar Renteria
from St. Louis (losing their own first-round pick that became
Colby Rasmus
) and letting
Orlando Cabrera
go to Anaheim (picking up a first). The Red Sox also lost
Derek Lowe
to the Dodgers and
Pedro Martinez
to the Mets, giving them two firsts and three sandwich picks. With the picks for Cabrera, the Red Sox drafted
Jacoby Ellsbury
and
Jed Lowrie
; with the picks for Lowe, they drafted
Craig Hansen
and
Michael Bowden
, and with the pick for Martinez, the Red Sox took
Clay Buchholz
. That's a pretty good haul for any team, much less one that had just won the World Series.
Almost all of these teams did well letting their free agent sign elsewhere, which is the same conclusion that I came to looking at just the A's. That some of the compensatory picks pan out is just a bonus.
One more interesting note: In 1983, the Mets drafted Calvin Schiraldi with their sandwich pick, setting him on a course in which he would play a vital role in their 1986 World Series win. Traded to Boston in 1985 in an eight-player deal, Schiraldi blew a save in Game 6, the famous "it gets through Buckner" game, and lost Game 7, giving up three runs in the seventh after entering with the game tied.
Dan Hennessey writes Baseballin' on a Budget, a blog about the Oakland Athletics. Follow him on Twitter @DanHennessey31.
February, 7, 2011
2/07/11
3:15
PM ET
By
Dan Hennessey
| ESPN.com
The Orioles officially
added Vladimir Guerrero on Friday
, continuing the turnover of their roster. And for the scant sum of eight million dollars!
Guerrero joins
Derrek Lee
,
J.J. Hardy
, and
Mark Reynolds
as new right-handed bats in the Baltimore lineup. Add center fielder
Adam Jones
, and the new-look Orioles are right-handed heavy. A potential lineup (with 2010 OPS against right-handed pitchers):
2B
Brian Roberts
(.726)
CF Jones (.804)
RF
Nick Markakis
(.762)
LF
Luke Scott
(.935)
DH Guerrero (.810)
1B Lee (.773)
C
Matt Wieters
(.741)
3B Reynolds(.694)
SS Hardy (.759)
The Orioles have definitely improved, but not quite as much as the names might suggest. Decent right-handed pitching will be able to handle this lineup. Guerrero fell apart at the end of last season, Reynolds and Lee are coming over from the weaker National League, and Scott having his first huge season at age 32 screams "fluke" more than "breakout."
According to
Cot's Contracts
, the four new players will cost Baltimore $26 million in 2011, which leads to the bigger question: When will the Orioles actually be able to contend for a playoff berth?
It's not 2011. The pitching's not close to ready;
Brian Matusz
had a good rookie season,
Chris Tillman
is fun to watch, and … that's the extent of nice things I can say about the pitching staff.
Additionally, by handing the DH job to Guerrero, Scott shifts to left field, denying
Nolan Reimold
regular playing time. In what will be just his third big-league season, Reimold might still be around when Baltimore could compete. By signing Guerrero, the Orioles won't find out if Reimold can hack it in the bigs until 2012.
Guerrero and Lee are rentals, used (if Baltimore management is wise) as trade bait come July, and Hardy will become a free agent after the season. While the Orioles might be hoping for draft picks if Hardy leaves town, the compensation system is in danger of being either replaced or eliminated after this season.
Not to mention that the Red Sox, Yankees, and Rays all figure to win 90-ish games, and the Blue Jays keep getting better.
And that money didn't have to be spent on free agents, if at all. Keith Law recently
ranked the farm system 24th
, citing recent graduations and a "lack of international talent."
Baltimore's offseason moves have made them a better fifth-place team in 2011, which counts for nothing. The cost: delaying respectability in the form of contention. The kids in the system need to play, if only to figure out that they can't get the job the done.
There's no value in moving from 66 wins to 72, or from 74 or 77, when those same guys won't help a team get to 85 or 90 wins.
Dan Hennessey writes Baseballin' on a Budget, a blog about the Oakland Athletics. Follow him on Twitter @DanHennessey31.