May, 15, 2013
5/15/13
11:57
PM ET
The
San Francisco Giants
are built around their starting rotation.
That would seem more a statement of fact than an assertion of opinion.
After all, conventional wisdom tells us the rotation carried the Giants to a World Series title in 2010 and then another in 2012.
But if that is a statement of fact, then here's an opinion: The Giants, despite their current half-game lead over Arizona in the National League West, are in trouble. Because this is not a championship-caliber rotation right now.
The past two games in Toronto exposed an issue that has plagued the Giants the past two seasons: The Giants don't pitch nearly as well on the road. Facing a Blue Jays lineup that batted
Mark DeRosa
, who has a .302 slugging percentage since 2010, cleanup on Tuesday and
J.P. Arencibia
and his .252 on-base percentage cleanup on Wednesday,
Barry Zito
and then
Ryan Vogelsong
got battered around as the Blue Jays put up 21 runs in the two games. Zito allowed 12 hits and eight runs Tuesday; Vogelsong allowed eight runs in just two innings in Wednesday's
11-3 loss
.
Vogelsong's bad outing was the latest in a string of bad outings for him. Among 110 qualified starters, Vogelsong's 8.06 ERA ranks 110th. Vogelsong gave up two more home runs to the Blue Jays, running his season total to 11 in just 41.1 innings. Chris Quick looked at
Vogelsong's home-run problems
before this start and found, not surprisingly, that several of them came on pitches up in the strike zone.
This long blast
by Arencibia wasn't off a pitch up in the zone, but it was left out over the middle of the plate;
Adam Lind
's
two-run homer
in the first also came off a pitch down the middle.
As Chris wrote,
And that, to me, is the biggest knock on Vogelsong so far this season. His command has been un-Vogelsong-like. We're used to seeing Vogelsong surgically dissect hitters like this. Not so much the guy that's chucking neck-high fastballs above. ... Like most pitchers, Vogelsong needs to locate in order to succeed. And only time will tell if his current dingeritis is a sign of cracks in the facade, or if he'll eventually find his release point or arm-slot or whatever and start throwing the ball where he wants to.
It's possible Vogelsong's next start is in jeopardy:
Bochy not ready to say one way or the other who will start Monday on Vogelsong's day. Will be discussed on flight.

— Andrew Baggarly (@CSNBaggs) May 16, 2013
But Vogelsong isn't the only culprit in the rotation.
Madison Bumgarner
has been outstanding but the rotation still ranks just 20th in the majors with a 4.41 ERA. Heck, the Marlins' starters have pitched just 13 fewer innings but allowed 23 fewer runs.
It's when you dig even deeper, however, that the problems become more severe. Giants starters have a 5.01 ERA on the road, 23rd in the majors. Here, a comparison to 2012:
Home
2012: 3.09 ERA, 3rd in majors
2013: 3.98 ERA, 17th in majors
Road
2012: 4.45, 18th in majors
2013: 5.01, 23rd in majors
As you can see, the Giants weren't that great on the road last season, either. But this season, they're not dominating at home. And that's where we get back to that first sentence: The Giants have transformed into an
offensive
team, a fact obscured somewhat by playing in a park that favors pitchers to a large degree.
San Francisco general manager Brian Sabean loves to add veterans during midseason. Instead of making a big splash in the winter, he evaluates the team's weaknesses and then makes his move. In 2010, he added outfielders Pat Burrell and
Cody Ross
. In 2011, he traded for
Carlos Beltran
. Last year, he picked up
Hunter Pence
and
Marco Scutaro
.
But if he properly assesses things this year, I believe Sabean should be on the search for a starting pitcher. Certainly, I expect
Matt Cain
to turn things around. Vogelsong will be given a fairly long leash, I suspect, given his track record of the past two seasons, but is certainly the guy on the hot seat right now. The Giants are likely to keep Zito and
Tim Lincecum
, even given their superficially OK ERAs, but those two are hardly strengths right now.
The Giants can certainly still win the West. But right now it will have to be the hitters and the bullpen that will have to carry the load.
October, 29, 2012
10/29/12
2:48
AM ET
DETROIT -- A year ago,
Gregor Blanco
was playing winter ball. He was looking for a job after spending all of 2011 in Triple-A and became a minor league free agent after the Washington Nationals let him go.
A year later, he stood next to a large bin half-full of champagne bottles with "Giants World Series Champions" labels on them, soaked in the sweet scent of victory.
"I was just waiting on an opportunity to see if somebody can pick me up," he said after the San Francisco Giants swept the Detroit Tigers to win their second World Series in three years. "I was playing amazing, amazing winter ball. The Giants offered [a contract], saw all my games. I talked to my agent, 'What do you think?' ... I said to myself you have to be with a winning team. They were the 2010 World Series champions and that's where you want to be."
[+] Enlarge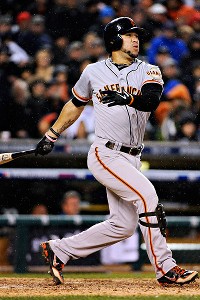 H. Darr Beiser/USA TODAY SportsGregor Blanco fit the mold the Giants were seeking: an athlete who could play defense.
Late in the season the Giants made the decision to leave
Melky Cabrera
, suspended for a positive PED test, off their playoff roster, even though the outfielder who hit .346 would have been eligible to return in the National League Championship Series. It was a controversial decision, especially given that the roster included the twice-suspended
Guillermo Mota
, a decision that would conceivably hurt the Giants' chances to win the World Series.
Instead, they put their faith in Blanco, the speedy 28-year-old outfielder most noted for his spectacular catch earlier in the season to help preserve
Matt Cain
's perfect game.
"I always believe in myself," Blanco said about replacing Cabrera. "Always, always. They said just play your game, you're a good player. I was able to fill that spot. Play defense. And the opportunity took care of itself."
Signing Blanco was just one of several moves Giants general manager Brian Sabean made heading back to last offseason that shaped this club into the World Series champion. Blanco was certainly an under-the-radar move, but he fit a mold the Giants had sought in recent years: An athletic player who could play defense. He had struggled in Triple-A in 2011, hitting .201, but the Giants knew he'd at least bring speed and a good glove.
Manager Bruce Bochy addressed this mindset prior to Sunday's Game 4, talking about when he first took the Giants job in 2007. "They were more of a power club, slugging club," Bochy said. "In our division with the bigger ballparks, that we would be better off going with pitching and defense and try to get more athletic. So that was the plan, and Brian has done a great job with it. As you well know, our outfield, we're faster, more athletic out there."
Sabean's big heist of the offseason was swapping outfielder
Andres Torres
and reliever
Ramon Ramirez
to the Mets for center fielder
Angel Pagan
. Torres had been a big part of the 2010 title team, a guy Sabean had once picked up off the scrap heap, but had hit .221 in 2011. Pagan was three years younger and the Mets had soured on him after some nagging injuries slowed him in 2011. Sabean threw in Ramirez, dealing from the team's bullpen depth, to upgrade center field.
The team also trusted second-year shortstop
Brandon Crawford
with the starting job, even though Crawford had hit just .204 in 66 games as a rookie. Again, a defense-first decision, but in watching Crawford every day during the playoffs, you saw why the Giants were willing to live with his offense (which proved to be much better than his rookie campaign).
Sabean made his final touches during the season, acquiring
Hunter Pence
from the Phillies and
Marco Scutaro
from the Rockies. Pence was deemed the bigger acquisition at the time, but it was Scutaro who ended up paying the big dividends. He hit .362 after coming over from Colorado, giving the team a terrific No. 2 hitter in front of
Pablo Sandoval
and
Buster Posey
in the absence of Cabrera. His terrific postseason was capped off by the game-winning RBI in Game 4.
In a crowded tunnel outside the Giants' clubhouse after the game, Sabean quietly deflected the attention away from himself, giving credit to the entire organization and to "all the great players who have played here through the years." He mentioned how many former players remain close to the organization. Pitching coach Dave Righetti is a former Giants player. Former All-Star first baseman Will Clark was in uniform, holding court after playoff games.
Sabean is a guy who sabermetric analysts have never given his full due, saying he rode
Barry Bonds
to a lot of success in his early years as the Giants' general manager. Maybe so, but you can't deny two World Series titles in three seasons. He's one of the few GMs out there who will trade for sort-of-expensive veterans such as Pence and Scutaro to help provide upgrades; these guys aren't stars (although Scutaro played like one), but they are good role players, similar to the
Cody Ross
and
Pat Burrell
pickups in 2010.
In the end, the players have to produce, of course. It's a team built around its starting rotation and catcher Buster Posey. But Bochy and Sabean believed in Blanco, and the left fielder came through. He hit .286 against the Reds, including a home run in Game 4 of that series. He hit just .182 against the Cardinals, but drew six walks and scored six runs. In the World Series, he made two key diving catches in Game 1, and tripled in a run and scored and made another big catch in Game 3.
A year ago, he didn't have a job. Now he's a World Series champion.
August, 21, 2012
8/21/12
1:49
AM ET
By
Christina Kahrl
| ESPN.com
Yes, you can never have enough pitching. You win with it, you lose to it, you can't live without it and, if the margins are narrow enough, you live and die with every pitch. Welcome to Bruce Bochy's world in a Melky-free world. And welcome to the reason why he can thank his lucky stars that he's the man managing a rotation with
Matt Cain
,
Ryan Vogelsong
and Monday night's starter against the Dodgers,
Madison Bumgarner
.
Bumgarner was in perfect command against the evil SoCal boys in blue, mowing them down through eight scoreless frames while whiffing 10
in San Francisco's 2-1 victory
. Just another day at the office for one of the Giants' rotation horses, his 18th quality start on the season, and a reminder that this club is far from done where the National League West race is concerned.
But there's more to it than that. This summer, with all the talk of extending or overextending young superstar prospects on the mound during a pennant race, Bumgarner is a great example of the wisdom of not letting expectations set your timetable where young pitching is concerned. Coming into 2010, Bumgarner was supposed to be all that, flame-throwing southpaw'd greatness in cleats at the tender age of 20. And then he wasn't -- he wasn't throwing hard, having lost five miles per hour off his heat from his minor league days. He wasn't mowing people down. He wasn't greatness in cleats, or street shoes or flip-flops.
He also wasn't hurt, although preseason conditioning turned out to be an issue. But from that seeming disappointment, Bumgarner has significantly changed his repertoire from what he was when he was a top prospect. His velocity has remained in low-90s territory, but he has come to rely more and more on a devastating slider that has helped him boost his swings-and-misses to a 16 percent clip despite whatever it was he lost on his fastball. He's arguably a better pitcher as a result. He's also only just turned 23, and more than a year younger than
Stephen Strasburg
.
That deafening silence you hear over Bumgarner's birth certificate is the concern over his workload. Because without starting pitching, the Giants could be done. But if
Tim Lincecum
really does get his kinks ironed out, they may have four horses to ride all the way to the end.
If we can credit Bochy for helping keep Bumgarner saddled up and delivering, we might also credit Bochy for always being willing to wangle some extra way to score to make good on the slender margins his pitchers provide. Whatever the talent Bochy is working with, and even whatever the defensive sacrifices he might have to make behind that starting staff.
Picking between
Justin Christian
and
Gregor Blanco
to start in
Melky Cabrera
's place in the outfield is sure to make you ask where
Nate Schierholtz
got to (Philadelphia), and what's behind Door No. 3, but we'll see what Bochy's willing to risk in the weeks to come. If general manager Brian Sabean swings a waiver deal for a veteran bat, don't be surprised -- it's the sort of move he has been able to pull off in the past, and again, with this kind of pitching, a little bit of offense goes a long way.
Bochy is so hungry for runs, he's even platooning at shortstop lately, spotting
Joaquin Arias
' single-riffic plinky-ness for
Brandon Crawford
against the league's lefties. Platooning at a key up-the-middle position like short? That might work considering Arias' .818 OPS against lefties in about 200 big-league plate appearances, but it's also slightly more risky this season than in years past, because the Giants are no longer leading the league in strikeout rate, instead whiffing opponents a very league-average 20 percent of the time. That means more balls in play, and more chances the defense could cost you. The Giants are a little above-average in defensive efficiency (.696, vs. the NL-standard .690), but it's still a risk.
Then again, this is the manager who helped the Giants win it all in 2010 by coming up with one of the craziest platoons of recent memory: Splitting at-bats between first baseman
Travis Ishikawa
and center fielder
Aaron Rowand
in the lineup across first base and the outfield in July through Aug. 14, while moving
Andres Torres
and
Aubrey Huff
around to accommodate them. Rotating in Ishikawa helped launch a 27-13 Giants run that preceded their deals for
Jose Guillen
and
Cody Ross
. It had less to do with Ishikawa's greatness than it did with working with what Bochy had at his disposal and getting enough runs to win with an incredible pitching staff.
In short, Bochy has got a well-earned rep as a lineup MacGyver: Give the man some used gum, a pencil and a Topps card to be named later, and he might just give you an edge, part of the reason why Chris Jaffe's excellent book "Evaluating Baseball's Managers" described him as one of the most underrated skippers in baseball history.
One of the things Jaffe suggested in his book was the Achilles' heel that Bochy's teams had back in San Diego when he managed the Padres was that they tended to be short on pitching. Happily for him and for the Giants, thanks to Madison Bumgarner & Co. that's one problem this year's Giants don't have.
PHOTO OF THE DAY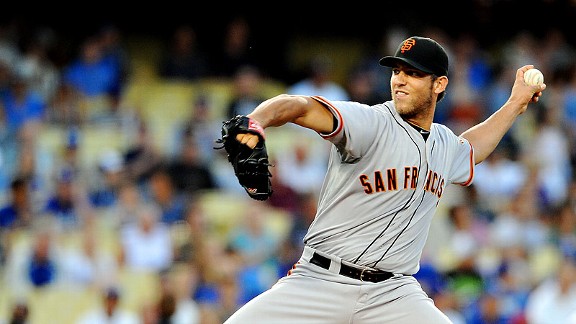 Jayne Kamin-Oncea/US PresswireOn nights like Madison Bumgarner had on Monday against the Dodgers, two runs will do.
Christina Kahrl covers baseball for ESPN.com. You can follow her on Twitter.
July, 29, 2012
7/29/12
1:14
AM ET
Kenny Williams never seems to get a lot of respect.
During his tenure as
Chicago White Sox
general manager, which began after the 2000 season, he's built two division winners, including the 2005 World Series champions. Maybe the most impressive aspect of his reign is that the White Sox are always competitive. They've been under .500 just three times, but two of those were 79-83. He's done this despite lacking the monster payrolls of teams such as the Yankees, Red Sox and Phillies; despite only once having a pick better than 12th in the first round of the draft; despite never having a franchise superstar like Barry Bonds to build around or pitchers like
Tim Lincecum
and
Matt Cain
, like Brian Sabean has had with the Giants; despite a farm system -- in part because of ownership's unwillingness to spend in the draft and because of that lack of high picks -- that usually ranks near the bottom (Keith Law and Baseball America both ranked the White Sox system 30th heading into the season).
What I like about Williams is he never gives up. He's always trying to win, to build the best team he can given his resources. He never craters, never commits to a complete teardown and embarrassing on-field product, such as the one you're seeing from the Astros, Williams' 2005 World Series opponents.
This is why trading for
Francisco Liriano
is a typical Kenny Williams move -- high risk, perhaps mocked, but one with a potential nice payoff. Liriano's season numbers with the Twins look terrible -- 3-10, 5.31 ERA -- and his last start (against the White Sox, of all teams) was a rough, seven-run blowup. But after an awful April and temporary trip to the bullpen, Liriano pitched very well in a 10-start stint from May 30 though July 18, posting a 2.84 ERA with 77 strikeouts, 28 walks and 38 hits in 63.1 innings (a .171 average allowed). That stretch included back-to-back starts of 15 strikeouts and 10 strikeouts against the A's and Orioles on July 13 and 18, respectively.
In other words, there's a good chance Liriano will outpitch
Zack Greinke
the rest of the way, even though
this trade
will receive much less fanfare and required much less in prospect value: light-hitting infielder
Eduardo Escobar
and left-handed pitcher
Pedro Hernandez
.
In fact, despite the much-maligned farm system, the White Sox have received contributions from several rookies, most notably on the pitching staff with
Jose Quintana
, closer
Addison Reed
, and relievers
Nate Jones
and
Hector Santiago
. With Quintana still the big surprise in the rotation, Liriano presumably takes the place of
Philip Humber
, who did pitch well in a
5-2 victory over the Rangers
on Saturday, but that strong start barely got his ERA under 6.00. With the hope that
John Danks
might return from his shoulder issues, the White Sox now have rotation depth and options in case of injury or if they want to conserve
Chris Sale
's innings.
The White Sox also have a lot to gain from a deal such as this; with a 2.5-game lead over the Tigers, winning the division title is obviously huge. There is a reason you're seeing teams contending for a division title making moves, while teams further back in the playoff chase -- such as the American League East wild-card contenders -- are more conservative. The reward for winning one of the two wild cards is essentially half as valuable as last season, with the one-game playoff plus the possibility that you've burned your best pitcher. But the payoff for the White Sox winning the division is worth taking a chance on Liriano.
As for the Rangers, they don't need to be as desperate as their division rival Angels, who gave up three good prospects to acquire Greinke. Yes, acquiring Greinke would have helped, but the Rangers have to ask: Do any of the other available pitchers make the team that much better? I agree with Jim Bowden:
Probably not

.
The top three starters in a playoff series right now probably would be
Matt Harrison
,
Yu Darvish
and
Derek Holland
(who has had a disappointing season but lately has
looked more like the pitcher
who threw so well in the second half and postseason a year ago). The fourth spot might be open as
Neftali Feliz
rehabs, but among Feliz,
Scott Feldman
,
Roy Oswalt
and maybe even
Alexi Ogando
, the Rangers have options. Do you want to give up Mike Olt or another top prospect for what might be just a minor upgrade in
Josh Johnson
(having his worst statistical season and would be expensive to acquire) or
Ryan Dempster
(who is unlikely to approve a trade to Texas anyway)?
Plus,
Josh Hamilton
and
Mike Napoli
are impending free agents, and there's no guarantee they'll be back, even though the Rangers have entered the upper echelon of payrolls. Maybe the Rangers will let one of those guys walk, spend some of that money elsewhere and give a starting position next season to Olt (with super prospect Jurickson Profar waiting in the wings).
The Rangers have options, but their best chance at holding off the Angels and surging A's might lie within: Namely, Hamilton and
Michael Young
finding their strokes. Hamilton was given a mental day off Saturday to clear his head. Since June 1, he's been one of the worst hitters in the league, batting .190 with a .274 on-base percentage. He's hitting .145 in July with 21 strikeouts in 19 games. Young is eating up at-bats at designated hitter and first base despite an empty .270 batting average. His OBP is less than .300, and he hasn't homered since May 7.
For all the talk of needing a starter, Young is a gigantic hole in the lineup right now. Kenny Williams filled one of his holes. We'll see whether Rangers GM Jon Daniels plugs his.
PHOTO OF THE DAY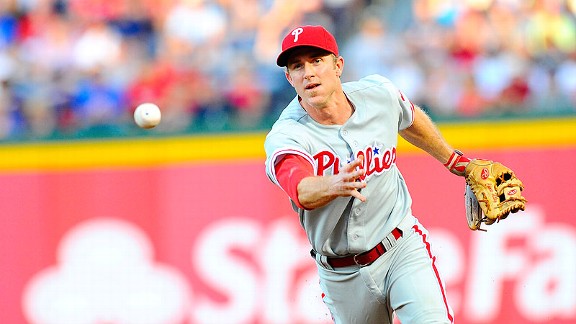 Dale Zanine/US PresswireAs quick as Chase Utley is to the ball, he's not so quick he'll beat the ball to first base.
June, 9, 2012
6/09/12
8:01
PM ET
By
Christina Kahrl
| ESPN.com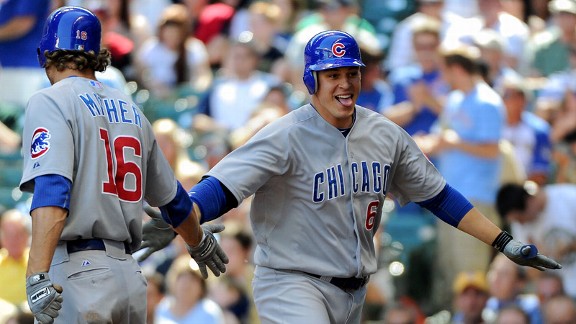 Benny Sieu/US PresswireBryan LaHair, 29, is in the top five in the National League in slugging, OBP and OPS.
At 28 years old and after spending much of the previous five seasons in Triple-A,
Bryan LaHair
was a purportedly "known" quantity -- Quadruple-A bat, perhaps a fill-in first baseman. In his one brief shot at The Show in Seattle in 2008, he split time at first base with utilityman
Miguel Cairo
and
Jose Lopez
. He didn't shine, and it was back to Tacoma the next year. In short, he seemed a man doomed to a dim star on an obscure walk of fame to be named later, perhaps in Tacoma, maybe in Iowa.
He changed that in his sixth campaign in the Pacific Coast League, changing the minds of scouts and analysts alike with 28 homers and a 1.070 OPS. And this year, taken seriously for the first time, he's a 29-year-old getting his first real shot at everyday play in the major leagues ... and blowing the league away. He's third in the National League in slugging, fourth in OBP, and fourth in OPS. And all it took to bring him to Wrigleyville was a minor-league contract, after the Mariners let him slip away as a minor league free agent.
By simultaneously shredding expectations and opposing pitchers, LaHair is providing a fine example that players' career paths aren't simply a matter of forecasting off past performance. That works on the macro level, for most players. But whether as a matter of changing their game or finally getting opportunities they'd long deserved, a few past-prime players are making the most of their opportunities this season.
You can't quite come up with a full lineup's worth of these guys, but beyond LaHair, here's my off-the-cuff list of this season's other "surprise stars," some of whom will belong in Kansas City as full-fledged All-Stars in a month's time.
C A.J. Ellis, Dodgers:
Say what you will about catching always being in short supply -- and it isn't -- Ellis had to wait until this year to get a clean shot at a catching job. Now 31, he's pretty much the perfect example of an organizational soldier: He spent his first two full seasons after getting picked in the 18th round out of Austin Peay as a backup at High-A, caddying for
Russell Martin
and then
Edwin Bellorin
(once upon a time a well-regarded Venezuelan prospect).
Ellis finally became a regular in Double-A in 2006. From the start, he showed tremendous ability to get on base, but the Dodgers kept him at the same slow pace, as he spent two years in the Southern League and two years in the PCL before graduating to two years as a big-league backup. That sort of long-form apprenticeship that seemed certain to lock him into little more than membership in the International Brotherhood of Backup Backstops.
Perhaps only taken seriously as a starter as a matter of grudging last resort this past winter, when the market offered slim pickings as far as catching help, Ellis is second only to
Yadier Molina
among NL catchers in his production at the plate while throwing out 41 percent of opponents' steal attempts. Ellis might be this group's best bet beyond LaHair to be headed to Kansas City for the All-Star Game.
SS Mike Aviles, Red Sox:
It has been a bumpy road for Aviles since his old-rookie debut as a 27-year-old with the Royals in 2008. In K.C., he had to contend with injuries and the idea that he wasn't really a shortstop. This year, shortstops are putting up the collectively lowest OPS (.678) or OPS+ (88), so Aviles' .711 OPS/90 OPS+ clip is just a wee bit above average, not shabby considering he's also doing fine at short, according to advanced fielding metrics. Beyond buying time for
Jose Iglesias
, this has proven a relatively high-yield, low-expense gamble for the Sox: League-average shortstops usually cost millions on the market, but Boston got him for an organizational arm (Kendal Volz) and
Yamaico Navarro
, a utility player so interesting that K.C. flipped him to the Pirates, who have already ditched him in Indianapolis.
[+] Enlarge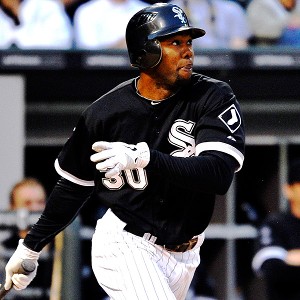 AP Photo/Brian KerseyCenter fielder Alejandro De Aza is making the most of his chance to play every day at age 28.
CF Alejandro De Aza, White Sox:
If LaHair is the slugging surprise of the season, De Aza is the out-of-nowhere leadoff solution most teams need. Back in 2007, he got an opportunity with the Marlins, leading off on Opening Day, but injuries to first one ankle and then the other derailed that season and the next. In 2009, he gave the first indication that he wasn't just going to be a speed guy, slugging .506 for New Orleans; the Marlins were so impressed they let him slip away on a waiver claim by the White Sox. Finally getting a shot at everyday play as a 28-year-old in the one-hole, he's hitting .299/.381/.425 and he's holding his own in center.
Juan Pierre
never looked this good, but a crowd of quality center fielders in the American League will keep De Aza from All-Star status.
OF Gregor Blanco, Giants:
Melky Cabrera
isn't the only Giants outfielder having a season well beyond anything he's done before. A Braves prospect they lost interest in, he was dealt to the Royals, who dealt him to D.C. before the Nationals ditched him. All he's ever done is get on base; he just needed an opportunity. He got one when general manager Brian Sabean fished him off the discard pile this past winter. Pushing his way past
Nate Schierholtz
, Blanco has hit his way into everyday play in right field and the leadoff job with a .387 OBP as a 28-year-old journeyman. Blanco may rival Sabean's "discovery" of
Andres Torres
in 2009 before all's said and done.
RF Justin Maxwell, Astros:
Nobody has doubted Maxwell's power or talent, but his ability to stay healthy has been an annual concern. The Nats decided they had better uses for his spot on the 40-man and traded him to the Yankees, but he spent more time on the disabled list in 2011 with a bum shoulder than he did in pinstripes. The talent-hungry Astros snagged the 28-year-old off waivers this spring, and he's been a free-talent find as a fourth outfielder, providing power against lefties and strong-armed defense.
SP Jerome Williams, Angels:
Back in the day, Williams was a top prospect in the Giants' organization, ranking in Baseball America's top 20 for all baseball. That all seemed merited after a fine 2003 rookie season in which he drew an NL Division Series start for them against the Marlins. It was almost unrelentingly downhill from there; he needed elbow surgery in 2004, got dealt to the Cubs in 2005, and then bouncing through the Nationals, Twins, A's (twice) and Dodgers organizations, as well as a stint in the independent leagues. After making a nice impression on the Angels down the stretch last season, the 30-year-old Williams is getting regular rotation work in the majors for the first time in seven years as their fifth starter. More of a finesse righty these days, he's been an exceptional salvage-project success, putting up eight quality starts in 10 turns, far better work than most teams reasonably expect from a No. 5.
Quite simply, what these guys reflect is that not all replacements are "replacement level." Just when you think you know what a player is capable of, a happy few beyond their expected peak age of 27 have demonstrated the delightful capacity to surprise and exceed the modest expectations even their fans harbored for them. I don't know about you, but I like these kinds of surprises -- here's hoping we see more of the same from all of them.
Christina Kahrl covers baseball for ESPN.com. You can follow her on Twitter.
June, 3, 2011
6/03/11
1:46
PM ET
We finish the week as we do every Friday, with a packed
Baseball Today podcast

hosted by myself and Mark Simon dealing with many factors and looking ahead to a fun weekend. Here are a few highlights from Friday:
1.
San Francisco Giants
GM Brian Sabean goes off on the man who ended his catcher's season, and Mark and I agree it doesn't seem like the wisest course of action.
2. So much for matchup of star pitchers in Seattle Thursday, as
Felix Hernandez
was terrific but
James Shields
must have missed the memo. How should we view Shields' outing?
3. We debate stars versus superstars, trying to define what these words mean and which players fall into which categories. You might be surprised!
4. Seems like the three-homer games are in vogue now, as
Aubrey Huff
was the latest to pull off the accomplishment. Who's next? And no, taking Joey Bats or
Joey Votto
is too easy. Mark and I go off the grid for unlikely names.
5. There are a few series this weekend matching winning teams (in terms of record), so we analyze the ones you shouldn't be missing ... and of course the Mets play the Braves on Sunday night. That was for you, Mark!
Plus: Excellent emails discussing sabermetricians, more on our franchise draft picks, snobs versus dorks, reaching base after "fowling" a ball off yourself, and so much more we could barely get it all in before we lost our voices. Check out Friday's Baseball Today!