SweetSpot:

Brooks Robinson
October, 25, 2013
10/25/13
1:00
AM ET
By
Christina Kahrl
| ESPN.com
There's something ironic about talking about some of the best plays in World Series history when the key feature of the first two games of this year's Fall Classic have been the defensive miscues that decided the outcome. But as quickly as we've judged Pete Kozma's Game 1 or Craig Breslow's Game 2, we've also seen Carlos Beltran's slam-saving wall-banger in the opener and Kozma's slick, bare-handed pickup in Game 2. At this level, it's in almost anybody's power to deliver an indelible moment to add to October's gem-spackled history.
Baseball's multicentury scope almost automatically defies you to shave any such list to a top 10. There are plays with their place in legend: Willie Mays' Game 1 snag for the Giants in 1954, or Bill Wambsganss' unassisted triple play in the Tribe's backbreaking Game 5 win over the Brooklyn Robins (or Dodgers) in 1920 to help untie a series they'd ultimately win. If you're going to peg an all-time best World Series, Mays would be the huge favorite to top any poll or list, because as grainy as the footage might be, it's more than we have on Wambsganss. How fair a choice is that, really?
So let's put those two incomparable moments in their corner of baseball Valhalla and talk about the best from the past 50 years. It's a good, round number that incorporates the full spread of divisional-era play. Running them down in chronological order:
(To cast your vote for the best World Series Web Gem of the last 50 years,
click here.
)
Game 4, 1969: Right fielder Ron Swoboda, Mets (Watch

)
You'd think Swoboda might be best remembered for driving in the winning run in Game 5. Not so, because that was made possible by his ninth-inning, full-extension leap the day before to rob Brooks Robinson of extra bases with two men on. That prevented the Orioles from taking the lead and potentially tying the series; instead, the Mets won in extras.
Game 1, 1970: Third baseman Brooks Robinson, Orioles (Watch

)
Robinson's snag of a hard grounder down the line by Lee May was perhaps just the best of several slick-fielding plays he made, in part because he picked up the ball in foul ground heading away from first but nevertheless managed to pivot and get off a one-hop throw that bounced true off Cincinnati's artificial turf to retire May.
Game 2, 1972: Left fielder Joe Rudi, Athletics (Watch

)
Denis Menke's smash looked like it would be at least a ninth-inning double off the wall for the Reds trailing 2-0 with a man on, but Rudi raced back, found the wall with his right hand and leaped to spear the ball with his left to help preserve Oakland's win in a series that proved the Big Green bragging rights over Big Red in the battle between the Machines.
Game 6, 1975: Right fielder Dwight Evans, Red Sox (Watch

)
Peter Gammons has said this was the best catch in World Series history -- Joe Morgan's smash to right field went over Evans' head, but Dewey made an over-the-head catch going up against the wall
and
fired to first base to complete the double play. Carlton Fisk's home run in extras never would've happened if not for this catch.
Game 3, 1978: Third baseman Graig Nettles, Yankees (Watch

)
Much like Robinson, you could pick from among several great plays in the Fall Classic. Nettles' D was decisive in helping the Yankees rally from a 2-0 deficit in the series.
Game 3, 1982: Center fielder Willie McGee, Cardinals (Watch

)
McGee's running leap at the wall in the ninth inning robbed Gorman Thomas of a two-run home run that would have brought the Brewers back to within two runs.
Game 6, 1991: Center fielder Kirby Puckett, Twins (Watch

)
Puckett's perfectly timed running leap against the fence in left-center robbed
Ron Gant
of extra bases with a man on. The run saved would prove huge when the Braves rallied to tie, only to lose in the bottom of the 11th -- on Puckett's walk-off homer, which set up …
Game 7, 1991: Second baseman Chuck Knoblauch, Twins (Watch

)
It's 0-0 in the eighth, Jack Morris' biggest game, dueling with
John Smoltz
. Lonnie Smith's leadoff single looked like trouble, and Terry Pendleton's double should have provided a lead ... except the rookie Knoblauch deked Smith into thinking he was fielding a double-play grounder, limiting him to reaching third base, where he'd be stranded. If most great plays on defense are a testament to physical gifts, Knoblauch's moment is a bit of incomparable situational awareness that made sure Morris' shutout held -- and that the Twins won the Series.
Game 3, 1992: Center fielder Devon White, Blue Jays (Watch

)
There are a couple of amazing things about this play, first that Devo nearly started a triple play on his catch in center against the wall, but also that he made it look easy. But there's nothing easy about making a catch heading into the wall yet coming off the wall firing the ball to first base for the DP, and perhaps winding up just a replay shy of starting a triple play.
Game 5, 2008: Second baseman Chase Utley, Phillies (Watch

)
Much like Knoblauch's play, this was just pure reactive genius, and that should be considered as important as a throwing arm or a great set of wheels. The Rays had already tied the score and had the lead run at second in
Jason Bartlett
. Aki Iwamura's sharp grounder up the middle looked like it would be an infield single as Utley threw to first -- except he didn't. Utley sold that pump fake to
everybody
, including Bartlett, who tried to score but was dead to rights when Utley threw home to preserve the tie in an eventual Phillies win.
There were some tough cuts that we had to kick around before the start of this year's Series. Swoboda wasn't the only Met making a major difference with leather in '69: Tommie Agee also made a pair of plays that merit mention.
Juan Uribe
going into the stands down the left-field line to run down a popup for the White Sox in 2005 was a pretty rangy feat. And removing Hall of Famer Roberto Alomar's diving stab to rob Lenny Dykstra of a hit in 1993? Perhaps the toughest cut of all.
So that's our 10 -- which one tops your list? And if not one of these, if there's a different play from the Fall Classic that you think was even better, pipe up and tell us: What was it?
Christina Kahrl covers baseball for ESPN.com. You can follow her on Twitter.
August, 28, 2012
8/28/12
12:40
AM ET
ESPN analyst Tim Kurkjian, with perfect timing, raised the question as
Adrian Beltre
dug in against
David Price
to lead off the bottom off the second inning: "It's time to start thinking of Beltre in a Hall of Fame terms ..." BOOM! Beltre turned on a 1-1 inside fastball, lining it over the left-field fence for his 25th home run.
In the third inning, Price threw a 1-2 cut fastball on the outside corner. Nothing wrong with the pitch, maybe a little up in the zone from where Price wanted. Beltre lined it into the right-center gap for a two-run double.
In the fifth, Beltre came up with runners on the corners. For the third straight time, Price got ahead in the count. He threw an 0-1 97-mph heater off the inside corner of the plate. Beltre fought it off and dumped a little flair down the left-field line for an RBI single, giving the Rangers a 6-5 lead and knocking Price from the game.
"I didn't feel like I was throwing the ball any different than I was during the stretch where I've been successful," Price said. "It's Texas, they're a good-hitting team, and they're feeling it right now."
In the seventh inning, the Rays just gave in. With two outs and the bases empty,
Kyle Farnsworth
threw four straight balls, the intentional unintentional walk.
But the damage had been done. Baseball's hottest hitter beat baseball's hottest pitcher. Price entered the game with an 8-0 record and 1.45 ERA over his past 12 starts, having thrown 12 consecutive games where he pitched at least seven innings and allowed three earned runs or fewer, the first lefty to do that since
Randy Johnson
in 1999. Since Aug. 16, Beltre is now hitting .447 with six home runs, five doubles and 16 RBIs in 12 games. The Rangers held on for
that 6-5 victory
as the Rays missed a chance to gain a game on the New York Yankees after the Bronx Bombers blew a ninth-inning lead to the Toronto Blue Jays.
Before the game, ESPN's Aaron Boone opined that Beltre, and not major league RBI leader
Josh Hamilton
, has been the Rangers' MVP, citing Beltre's excellent defense at third base as one reason. It's that defense that makes Kurkjian's statement more legitimate than you may think: Does Beltre have a chance at the Hall of Fame?
I agree with Kurkjian that Beltre's not there yet, but in a few more years the career totals will start to mount. Here, let's begin with the top third basemen since 1901, using
Baseball-Reference.com
's WAR leaders. The chart below lists each player's wins above replacement, his career value derived from his offense and defense plus his career adjusted OPS mark.
As you can see, Beltre has derived more of his career value than any of the best third basemen other than Brooks Robinson. You can also see that, other than Robinson, the great glovemen have been ignored in Hall of Fame voting, a reason third base is the most underrepresented position in Cooperstown. It's worth noting that Beltre's career OPS+ matches Graig Nettles and Buddy Bell. Neither fared well in Hall voting. Nettles peaked at 8.7 percent on the ballot and fell off after four years; Bell got 1.7 percent and dropped after one year.
Beltre has a big edge over those two, however, at least in the perception of his offensive contributions. Nettles hit just .248 in his career, as his offensive value came from power and walks; Bell hit .279 but lacked Beltre's power. Beltre has a .278 career average and has reached 20 home runs in 10 seasons.
More importantly, he's far from finished. He was just 19 when he reached the majors so has a chance to finish with some impressive career totals. He's just 33 now and is signed for four more years. If he averages 25 home runs, 80 RBIs and 140 hits per season through 2016, we're looking at 445 home runs, more than 1,500 RBIs and more than 2,700 hits. If he proves exceptionally durable and plays until he's 40, he has a shot at 500 home runs and 3,000 hits.
Beltre's career totals will also be helped by playing his home games in Arlington. As basically a dead-pull power hitter, Safeco Field was about the worst park for Beltre to play in. He still managed to reach 25 home runs in three of his five seasons in Seattle. But he has played the past three seasons in Boston and Texas -- probably the two
best
parks for him. Not surprisingly, he has posted the best numbers of his career besides his monster 2004 season with the Dodgers. (Since joining the Rangers, 38 of his 57 home runs have come at home.)
Of course, even if he remains productive, he's hardly a Hall of Fame lock. While his defensive metrics rate as outstanding, he has won only three Gold Gloves.
Scott Rolen
, his similar contemporary, has won eight Gold Gloves, so if you're thinking of reputation (which will likely influence voters more than defensive WAR), Beltre may lack the needed caché. He has also made just three All-Star appearances and finished in the top-10 of the MVP twice. Other than that .334, 48-homer season with the Dodgers (one of the best ever from a third baseman), he has never really been considered one of the game's elite players.
His reputation has certainly improved the past couple of years and his career numbers could eventually make his case a hot debate. At the very least, we can at least start appreciating the excellence of one of the game's most underrated players of the past decade.
PHOTO OF THE DAY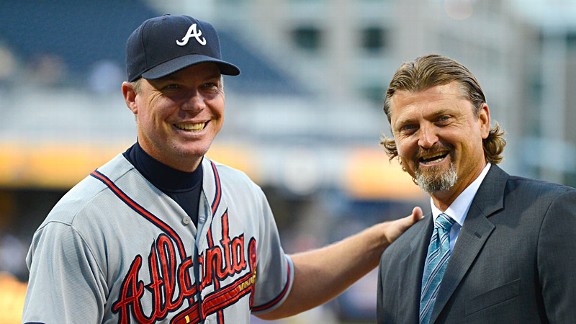 Christopher Hanewinckel/US PresswireSpeaking of all-time greats, Braves 3B Chipper Jones was hanging around with Cooperstown-bound Trevor Hoffman.
October, 5, 2011
10/05/11
3:33
PM ET
ESPN Insider Matt Meyers has a piece on
Adrian Beltre
, arguing that the labels placed on Beltre throughout his career
are unfounded and inaccurate
. I agree with Matt's general assessment that Beltre has been a tremendously underrated and underappreciated player during his career. Matt points out that Beltre is 19th on Baseball-Reference.com's all-time WAR (wins abovement replacement) for third basemen (or 21st, depending on how you do your search).
Considering Beltre is 32 and coming off an excellent season, he should have more good years left and climb up that list, maybe close to the top 10. That would certainly seem to put him in the Hall of Fame discussion ... except: Except there is probably too little perception of Beltre as a Hall of Famer. Much of Beltre's value derives from his excellent defense. B-R rates him ninth all-time in runs saved among third basemen (behind, in case you want to know: Brooks Robinson, Buddy Bell,
Robin Ventura
, Clete Boyer,
Scott Rolen
, Graig Nettles, Mike Schmidt and Gary Gaetti). But Beltre also has 310 home runs and 1,113 RBIs. It's not too much of a stretch to see him topping 400 home runs and 1,500 RBIs ... and the only third basemen to do that are Schmidt and
Chipper Jones
. George Brett is the only other third baseman with 1,500 RBIs.
Still, Beltre will be facing an uphill battle, no matter where his career totals end up. But he's been a terrific player, even if he's flown under the radar much of his career.
August, 28, 2011
8/28/11
10:00
PM ET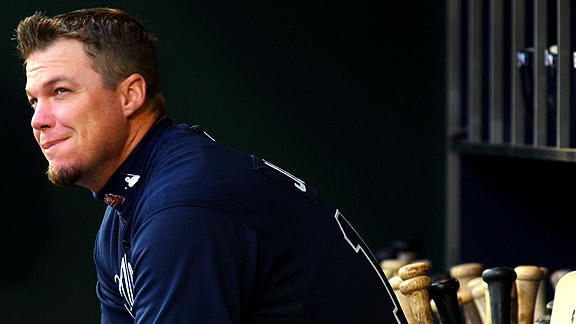 Mike Stobe/US PresswireWhere does future Hall of Famer Chipper Jones rank among the best third basemen of all time?
If you're an
Atlanta Braves
fan, maybe you remember the rookie Bobby Cox entrusted to hit third in the lineup in the 1995 World Series. Or maybe you remember September of 1999, when
Chipper Jones
hit 10 home runs, including two solo shots in a 2-1 victory over the Mets. He followed that performance with one more in each of the next two games as the Braves swept their NL East rivals to turn a one-game division lead to four. Or maybe you recall 2008, when Jones was hitting .400 as late as June 18. Or maybe you just remember that sweet, easy stroke from both sides of the plate that generated more power than you always expected.
Jones recently announced that he'll be returning for a 19th major league season in 2012. I'm sure he found the $13 million salary to his liking, but he's also returning because he's still a productive hitter. Despite undergoing arthroscopic knee surgery on July 9 and then suffering a hamstring strain, Jones is hitting a solid .279/.349/.468, including .386 in August. A line like that will lead a player to believe he has something left.
I would hope everyone recognizes by now that Jones is a first-ballot Hall of Famer. Last week, I exchanged Twitter messages with readers on where Jones ranks among the greatest third basemen of all time. Six names came up in that discussion, and with apologies to Home Run Baker and Ron Santo, here is my ranking of them.
(For the uninitiated, WAR stands for wins above replacement level, an all-encompassing stat that factors in a player's hitting, fielding and baserunning. All WAR numbers used in this story are from Baseball-Reference.com.)
6. BROOKS ROBINSON
"If his feet were slow, his reflexes were the fastest. If his arm was average, his accuracy and quick release were the best. Somehow he always seemed languid, especially as he threw overhand toward first; yet the fastest runners were out by larger margins when Robinson made his syrupy perfectos than when the most kinetic jack-in-the-box third basemen made similar plays as frantically as though they'd just sat on a cattle prod."
--Thomas Boswell
Career:
.267/.322/.401, 2896 G, 268 HR, 1357 RBI, 1232 R, 104 OPS+, 69.1 WAR
Best five seasons (1964, '68, '67, '62, '71):
33.5 WAR
Best 10 consecutive (1962-71):
51.9 WAR
Best 10 hitting seasons:
+142 runs above an average hitter
Robinson was so beloved in Baltimore that his final game with the Orioles drew the largest regular-season crowd up to that date in Memorial Stadium history. Robinson won 16 Gold Gloves and the defensive numbers back up his reputation -- Baseball-Reference rates him as the greatest defensive player ever, ahead of
Andruw Jones
, Roberto Clemente and Ozzie Smith. But I think he's pretty clearly the No. 6 guy on this list, despite his syrupy perfection at the hot corner. His bat is just too far behind the other guys. Not that he was an easy out -- he had enough power to hit 20 or more home runs six times and hit .317 in his 1964 MVP season. That was also the only year he slugged better than .500. He didn't walk much, leaving his on-base percentage nearly 100 points less than Wade Boggs', for example. But he was an amazingly durable player, a great teammate and a key member of some of the greatest teams of all time.
5. WADE BOGGS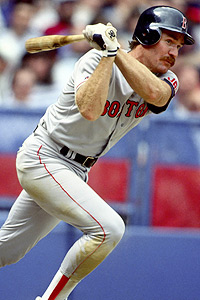 US PresswireWade Boggs may have been helped by the quirks at Fenway.
"There's no question that Boggs hits the ball farther and harder than Jim Rice or Dwight Evans or Don Baylor. He has titanic power that he hasn't shown yet. But he will. He regularly hits the ball onto the roof in Chicago and into the waterfalls in Kansas City. He'll hit 10 home runs in one round of batting practice. He'd win any home run contest he ever entered."
--Red Sox pitching coach Bill Fischer, 1987
Career:
.328/.415/.443, 2440 G, 118 HR, 1014 RBI, 1513 R, 130 OPS+, 89.0 WAR
Best five seasons (1987, '88, '86, '85, '89):
43.1 WAR
Best 10 consecutive (1982-91):
69.3 WAR
Best 10 hitting seasons:
+425 runs above average
Boggs never did hit for power, except for that one season in 1987 -- the rabbit ball season -- when he hit 24. Otherwise, his career high was 11, as he was content to slap doubles off the Green Monster, win batting titles (he won five) and collect his 200 hits per season (he did so seven straight seasons). That Boggs became a Hall of Famer and collected 3,000 hits was pretty remarkable considering his first full season didn't come until he was 25. His great eye at the plate and high batting averages produced some fantastic peak seasons. From 1983 to 1989 he hit .352 with a .446 on-base percentage, leading the AL in OBP in six of those seven years.
And yet I'm always left wondering if Boggs would have been as good anywhere else. During his Red Sox years from 1982 to1992, he hit .369 at Fenway, .307 on the road. On the one hand, Boggs deserves credit for mastering the unique dimensions of his home park; on the other hand, he never developed the power that so many said he possessed. His high on-base percentages made him an incredibly valuable offensive player and he was underrated with the glove, but would he have had a .328 career average if he'd come in a more conventional park? The best players would be stars in any era or any ballpark, and there is just enough of a question with Boggs that I put him fifth on this list.
4. GEORGE BRETT
"Sometimes I think the catcher can hear me, but I try not to let him. I'll say, 'I'm hot,' or 'I'm really swinging the bat good,' or 'I'm going to hit this pitcher.' But, hey, that's where it ends. It's not like I'm always having conversations with myself. I mean, I don't go back to my hotel room and say, 'What do you want to watch on TV, George? Oh, I don't know. Johnny Carson looks pretty good tonight.'"
--George Brett
Career:
.305/.369/.487, 2707 G, 317 HR, 1596 RBI, 1583 R, 135 OPS+, 85.0 WAR
Best five seasons (1980, '79, '76, '85, '77):
41.9 WAR
Best 10 consecutive: (1976-85):
62.2 WAR
Best 10 hitting seasons:
+392 runs above average
Baseball-Reference has a fun tool called the
MLB EloRater
, in which you're given two players and rate which one you think was better. It then converts those choices into a ranking of players. As I write this, Brett is rated 20th all time among position players, two spots ahead of Mike Schmidt, and the highest among third basemen. So the fans think Brett is the best ever. I just don't see it, and I say that as somebody who had a Brett poster on his wall as a kid. (OK, I had a Schmidt poster as well.)
It's easier to compare these two since they were contemporaries -- in fact, they were chosen with consecutive picks in the 1971 draft, the Royals drafting Brett 29th overall, the Phillies selecting Schmidt 30th. Offensively, Brett hit 38 points higher, despite which Schmidt still posted a better career on-base percentage. Schmidt placed in the top 10 in the NL 11 times in OBP, Brett seven times in the AL. Obviously, Schmidt had more power -- 231 more home runs, led his league eight times. Defensively, Brett turned himself into a good fielder after being a bit error-prone early in his career, but he was also shifted to first base at age 34 and played only 15 games at third over his final seven seasons. Schmidt, meanwhile, was a superb third baseman; he may not have deserved all 10 of his Gold Gloves, but he deserved many of them.
As pretty as Brett's swing was, as California cool as he was, as clutch as he was in the postseason (.337/.397/.627 in 43 games), I have to rank Schmidt higher.
3. EDDIE MATHEWS
[+] Enlarge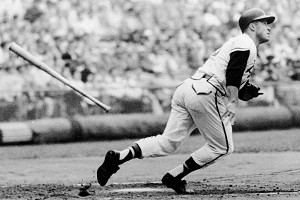 AP PhotoEddie Mathews has the second-best WAR among third baseman in the history of the game.
"He does everything well. He hits, he hits with power, he's a good fielder, he has a good arm, he's a fast runner. Maybe he won't lift a team the way a Mays or a Mantle will, but he's still one of the five or six best players in the game. You talk about Mays, Musial, Mantle, Aaron. He's in that group.
--New York Giants vice president Chub Feeney, 1958
Career:
.271/.376/.509, 2391 G, 512 HR, 1453 RBI, 1509 R, 143 OPS+, 98.3 WAR
Best five seasons (1953, '55, '63, '60, '54):
41.3 WAR
Best 10 consecutive (1953-62):
73.2 WAR
Best 10 hitting seasons:
+483 runs above average
Mathews was one of the best young players in baseball history, hitting .302 with 47 home runs and 135 RBIs at age 21. He never hit 47 again and hit .300 only two more times, and while active some viewed him as a disappointment ... not exactly fair given the numbers he put up. You can see this in the MVP voting: Mathews finished second in 1953 in that age-21 year and second in 1959, when he hit .306 with 46 home runs, but had only two other top-10 finishes (eighth and 10th). In 1954, he hit .290/.423/.603 with 40 home runs, but finished only 19th in the vote. The next season, he hit .289/.413/.601 and finished 18th. Man, those were some tough voters.
During my Twitter discussion, one reader pointed only to Mathews' WAR advantage as evidence that he was the second-greatest third baseman. My issue with using just WAR is that it was "easier" to accumulate WAR during Mathews' time. Here's what I mean: A 7.0 WAR season is an MVP-type season. Factoring in the number of teams per season, here's the ratio of "team seasons" for each 7.0-WAR season:
1950-1959: 1 for every 3.3 team seasons (49 7.0 WAR seasons in the decade, out of 160 team seasons)
1960-1969: 1 for every 2.9 team seasons
1970-1979: 1 for every 5.0 team seasons
1980-1989: 1 for every 5.1 team seasons
1990-1999: 1 for every 4.6 team seasons
2000-2009: 1 for every 4.5 team seasons
To me, this means it was more difficult to achieve a 7.0 season in the '70s and '80s than in the '50s or '60s. I would argue this is because the overall caliber of play improved. Fewer "bad" players means it's harder to excel beyond an average player or replacement player, which is what WAR measures. Now, the other interpretation could be simply that the '50s had more superstar seasons. Anyway, here is the number of 7.0 WAR seasons for the six guys on our list:
Robinson: 3
Boggs: 6
Brett: 5
Mathews: 8
Jones: 3
Schmidt: 9
2. CHIPPER JONES
"It helps that he has some ridiculous gifts. He was in a visiting clubhouse a while back, reading the crawl on a cable channel from about 30 feet away. A teammate said, 'You can read that?' Jones thought, You can't? He can remember hundreds, maybe thousands of at-bats, what he hit off whom. One night last week, after a game in which he saw two dozen pitches, he could remember in detail all but two or three of them: count, pitch, location, result. He watches game tape like a detective, and if a pitcher tends to slightly open his glove before throwing a curve, Jones knows it."
--Michael Bamberger, Sports Illustrated
Career:
.305/.403/.533, 2359 G, 449 HR, 1549 RBI, 1550 R, 142 OPS+, 82.0 WAR
Best five seasons (2007, 1998, '99, '08, '96):
34.9 WAR
Best 10 consecutive (1998-2007):
57.5 WAR
Best 10 hitting seasons:
+444 runs above average
Chipper's game was consistent excellence over a long time. His peak seasons may not quite match those of Brett or Mathews, but he's never had a bad season. He's had some injury issues later in his career, but through age 32 he averaged 153 games per season. Brett, meanwhile, battled injuries throughout his career (the turf in Kansas City didn't help); he played 140-plus games nine times, but four of those came after he moved to first base or DH. Considering Chipper's adjusted OPS is actually greater than Brett's and Brett moved to first base in his mid-30s, I give Chipper the slight edge.
The call over Mathews is a little tougher. Chipper had the weakest glove of the six, while Mathews was regarded a solid glove. (Baseball-Reference gives Mathews a five-win advantage over Chipper for defense over their careers.) Chipper's adjusted OPS is actually nearly identical to Mathews' and right now Baseball-Reference has Mathews as creating 550 runs above an average hitter of his era, Chipper at 549. Yes, Mathews has a good edge in career WAR. I think it's close, and maybe I'm succumbing to era bias here, but I'm going Chipper by the length of a Louisville Slugger.
1. MIKE SCHMIDT
"I don't think I can get into my deep inner thoughts about hitting. It's like talking about religion."
--Mike Schmidt
Career:
.267/.380/.527, 2404 G, 548 HR, 1595 RBI, 1506 R, 147 OPS+, 108.3 WAR
Best five seasons (1974, '77, '80, '76, '82):
45.6 WAR
Best 10 consecutive (1974-83):
81.5 WAR
Best 10 hitting seasons:
+449 runs above average
Schmidt was one of the first players to strike out
a lot
and not really care about it. He struck out 136 times in 132 games as a rookie (when he hit .196). He led the NL in home runs each of the next three seasons, but also led the league each year in strikeouts (138, 180, 149). At a time when batting average was still the primary way to evaluate a hitter, the fact that Schmidt struck out a lot and didn't hit .300 led, I believe, for him to be somewhat under appreciated early in his career. But if you trust the numbers at Baseball-Reference, he was a superstar from his second season: B-R ranks him as the No. 1 or No. 2 position player in the National League every year between 1974 and 1983, and first again in 1986. I believe Schmidt clearly remains the greatest third baseman of all time.
And what about
Alex Rodriguez
, you ask? We'll cross that bridge once he plays more games at third than shortstop.
Follow David Schoenfield on Twitter @dschoenfield.