July, 6, 2013
Jul 6
7:49
PM ET
The big questions for this season's All-Star selections as we headed into Saturday's selection show: Would
Yasiel Puig
make it? Who backs up
Miguel Cabrera
at third base in the American League from a strong field of candidates? Who represents the Astros?
But I'm left with this one: Could the American League have chosen a worse, more boring squad?
Remember, the All-Star squads are chosen by a four-tiered system: The fans vote in the starters, the players vote for the reserves at each position, plus the top five starting pitchers and top three relievers, the managers choose the rest of the squad (with their choices limited due to having to name a representative for each team) and then the fans vote again for the final man.
Got all that?
The player vote is the one that usually causes the biggest mistakes. Last season, for example, the players voted in Cubs first baseman
Bryan LaHair
as the backup first baseman even though he was a platoon player with 28 RBIs at the time of selection. Similarly,
Lance Lynn
, who had a big April, was voted in as one of the top five starters even though he ranked 28th in the National League in ERA. The ripple effect for selections like those end up causing more worthy All-Stars to not make it. This season, a similar thing happened, most notably with
Torii Hunter
named as an outfield reserve in the AL.
My quick reaction to this season's
American League
and
National League
squads:
Best fan selection:
Chris Davis
, Orioles. Hardly a household name before the season, his offensive numbers are just too good to ignore, and he's a deserving starter over
Prince Fielder
.
Worst fan selection:
Bryce Harper
, Nationals. The fans generally do a good job -- better than the players -- and while I don't see Harper as a glaring mistake (I'd put him on my NL roster as a reserve), he did miss significant time with the knee injury.
Andrew McCutchen
of the Pirates or
Carlos Gomez
of the Brewers would be a more deserving starter (both should be starting over
Carlos Beltran
as well).
Most controversial AL selection:
Justin Verlander
, Tigers. He's not having a terrific season, with a 9-5 record and lukewarm 3.54 ERA, but I don't have a huge problem with American League manager Jim Leyland selecting the guy who's been the best pitcher in baseball the previous two seasons.
Most controversial NL selection:
Marco Scutaro
, Giants. The NL roster is actually pretty solid, but you can nitpick Scutaro and
Allen Craig
. With
Matt Carpenter
being voted in by the players, manager Bruce Bochy didn't have to add a third second baseman, but he did select his guy and take a slot away from a deep pool of outfield candidates -- Puig and
Hunter Pence
were added to the final-vote group, but
Starling Marte
,
Jay Bruce
and
Shin-Soo Choo
all had All-Star first halves. But, hey, even All-Star teams need professional hitters.
How the Astros screwed the AL:
Salvador Perez
being voted in by the players as the backup catcher meant
Jason Castro
was named as a third catcher to represent the Astros. Actually, this is a little unfair, since Castro is having a season equal to or better than Perez's. But having three catchers on the squad takes a slot away from one of the much more deserving third basemen --
Evan Longoria
,
Josh Donaldson
or
Adrian Beltre
.
[+] Enlarge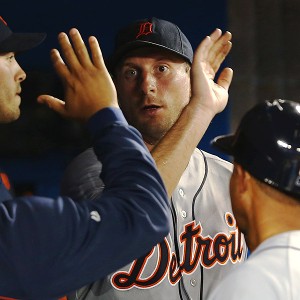 Tom Szczerbowski/USA TODAY SportsWith the American League's weak pitching staff, Max Scherzer could see a couple innings.
How the players screwed the AL:
Hunter rode a .370 April to an All-Star berth, but he's down to .307 with just five home runs. It's not a great season for AL outfielders, but Hunter is kind of a joke selection: He ranks 24th among AL outfielders in FanGraphs WAR (0.9).
Brett Gardner
or
Jacoby Ellsbury
are better options.
Weirdest selection:
Brett Cecil
, Blue Jays. The Jays already had
Jose Bautista
and
Edwin Encarnacion
, so there was no need to add Cecil. Don't get me wrong, he is having a nice season -- 1.43 ERA, 50 strikeouts in 44 innings -- but this is also a guy with a 4.79 career ERA entering the season. (Granted, mostly as a starter.) Rangers starter
Derek Holland
was the better choice here.
Team with a gripe:
The A's have a better record than the Tigers yet ended up with one All-Star to Detroit's six.
Most-deserving guy who didn't make it, AL:
Longoria. Seventy All-Stars were named today, but somehow one of the top 10 players in the game didn't make it.
Most-deserving guy who didn't make it, NL:
Not including the players eligible in the final-player vote, I'd go with Pirates outfielder Marte or Braves defensive whiz
Andrelton Simmons
.
Worst final-player vote ever:
American League. Choose from
Joaquin Benoit
,
Steve Delabar
,
David Robertson
,
Tanner Scheppers
and
Koji Uehara
. Can I go to a dentist appointment instead? Unless you have a fetish for right-handed relief pitchers, this isn't exactly the best way to get fans enthused about the All-Star final vote. Why not at least have a final-man vote with Longoria, Beltre and Donaldson?
Most predictable final-player vote ever:
National League. Is there any way Puig doesn't beat out
Ian Desmond
,
Freddie Freeman
,
Adrian Gonzalez
and Pence for the final vote?
In a perfect world, Jim Leyland does this:
The AL pitching staff is a little shaky, so he should try to ride his top starting pitchers. Assuming
Max Scherzer
starts, I'd pitch him two innings and then bring in White Sox lefty
Chris Sale
for two more innings so he can face the top of the NL lineup that would probably feature
Carlos Gonzalez
and
Joey Votto
.
Yu Darvish
and
Felix Hernandez
take over from there and hand the ball to
Mariano Rivera
, with
Glen Perkins
and Cecil used as situational lefties if needed.
Offensively, Cabrera and Davis should play the entire game, as they've clearly been the dominant offensive forces in the AL. Frankly, I'm not too thrilled with the AL bench, especially the outfield.
Mike Trout
and Bautista should also play the entire game. Use Fielder and Encarnacion to pinch hit as needed for
J.J. Hardy
or
Adam Jones
.
Manny Machado
can replace Cabrera in the late innings if the AL is ahead.
In a perfect world, Bruce Bochy does this:
The NL squad looks much better on paper. Assuming
Matt Harvey
starts, he should be followed up with
Clayton Kershaw
and
Cliff Lee
(
Adam Wainwright
is scheduled to pitch on Sunday and will be unavailable). From there, I'd match up --
Madison Bumgarner
or
Jordan Zimmermann
-- and then turn the game over to three dominant relievers:
Jason Grilli
,
Aroldis Chapman
and
Craig Kimbrel
. (Kudos to Bochy for going with all starting pitchers after the mandatory three relievers.)
Offensively,
David Wright
should play the whole game in front of the home fans, and assuming
Paul Goldschmidt
gets the nod as the designated hitter, I'd let him and Votto play the entire nine as well. Without a regular center fielder in the starting lineup (although Beltran, Gonzalez and Harper have all played there in the past), I'd get McCutchen in the game as soon as possible, with apologies to Gomez. I'd hit for
Brandon Phillips
in a key situation with a better bat like
Buster Posey
or Craig or maybe for Gonzalez against a left-hander (although he's hit very well against lefties this season).
And Puig? Yes, once he makes the team, I'd like to see him play as well.
November, 21, 2012
11/21/12
1:15
PM ET
Bryan LaHair
was one of the nice stories of the 2012 season, as the Triple-A veteran rode a .390 April to one of the more unlikely All-Star Game appearances in recent seasons.
LaHair
The
Chicago Cubs
designated LaHair for assignment
to clear space on the 40-man roster and LaHair is expected to head to Japan.
It's understandable why LaHair would make the move -- after years of Triple-A salaries and one season in the majors, he'd basically be making the major league minimum yet again, but will likely draw a larger salary in Japan. When you're 30 and not guaranteed a big league job, it makes sense.
While LaHair ended up hitting .291/.362/.503 against right-handers, the Cubs didn't have a spot for him with the emergence of
Anthony Rizzo
, and LaHair played sparingly in the second half. But LaHair
can
hit right-handers and can play left field in a pinch. You'd think there would be room for him on a big league roster, but with 13-man pitching staffs, most teams won't carry a platoon first baseman these days.
But here's a lesson: The Oakland A's bolstered their offense by platooning
Brandon Moss
and
Chris Carter
at first base, and the two combined for 37 home runs in fewer than 600 plate appearances. Oakland first basemen hit 31 home runs (
Daric Barton
was ineffective there early on, leading to the Moss/Carter platoon), which ranked sixth in the majors. Meanwhile, nine teams received 20 or fewer home runs from first base and seven posted an OPS under .700. The
Texas Rangers
-- the team the A's beat out on the final day to win the AL West -- received a pathetic .251/.301/.399 line from first base. First-base production was a huge reason the A's beat out the Rangers. The
Tampa Bay Rays
played
Carlos Pena
most of the year at first base and he hit .176 against lefties as Tampa finished with a .683 OPS from first base. That was one reason the Rays missed the playoffs.
Punting offense at first base to carry an eighth reliever is unacceptable, not when there are options like LaHair out there. More teams need to think like the A's, and quit playing guys like
James Loney
,
Casey McGehee
,
Todd Helton
and
Casey Kotchman
.
July, 1, 2012
7/01/12
2:10
PM ET
My favorite All-Star selection in the past decade was reliever
Mike Williams
of the Pirates in 2003. At the break, he had 25 saves ... but a 6.44 ERA. He was the Pirates' lone representative, of course, although the club did have other worthy options --
Jason Kendall
was hitting .308, and
Brian Giles
was hitting .306 with a .444 on-base percentage. Williams, in fact, was so bad that he never pitched in the majors after that season.
At least National League manager Dusty Baker didn't actually use Williams in the game.

Anyway, the
All-Star roster selections
are now complicated by a four-tiered system: Starters are voted in by the fans, players vote for some of the reserves, managers fill in the rest of the roster (keeping in mind that each team needs a representative) and then fans vote for the final man. Good times!
As always, things get screwed up along the way. Here's a quick reaction to this year's rostesr -- but, don't forget, there likely will be a few injury and pitcher replacements to come!
Worst National League fan selection: Pablo Sandoval, Giants.
I chided Rangers fans last week for stuffing the ballot box, but clearly I underestimated Giants fans.
David Wright
has arguably been the most valuable player in the National League in the first half, hitting .355/.449/.564 (batting average/on-base percentage/slugging percentage) while carrying a Mets offense racked by injuries. Sandoval overcome a 400,000-vote deficit over the final week to pass Wright, even though he's played only 44 games.
Worst American League fan selection: Derek Jeter, Yankees.
I don't have a huge problem with the fans voting in one of the game's all-time greats, but
Elvis Andrus
or
Asdrubal Cabrera
would have been a more deserving starter. Both have better numbers at the plate and are superior defenders to the aging Jeter. At least both made the team as reserves.
Best fan selection: Jose Bautista, Blue Jays.
Considering his slow start, .239 average and north-of-the-border status, it would have been easy for the fans to miss out on Bautista's June power surge that has lifted him to a major league-leading 26 home runs.
Best reserve: Mike Trout, Angels.
There might have been a fan mutiny if Trout (who wasn't on the All-Star ballot) hadn't made the team.
Wait, the Cubs got two players?
Bryan LaHair
is one of the nice stories of the season, but he made it only because a backup first baseman is required. The fact that a platoon player with just 28 RBIs made it speaks to the lack of depth at first base in the NL. However, LaHair's selection also shows the player voting is done too early in the season. LaHair was hitting .388 through May 3 but is hitting .236/.313/.389 since. Basically, he made the All-Star team with one hot month.
Paul Goldschmidt
or
Adam LaRoche
would have been a better choice.
$173 million payroll and one All-Star: Red Sox.
DH
David Ortiz
is Boston's lone All-Star, the first time since 2001 the Red Sox have had just one All-Star. (
Manny Ramirez
made it that year.) The Red Sox had had at least six All-Stars each year since 2007.
Weirdest selection: Huston Street, Padres.
Street has pitched well (1.35 ERA) but has pitched only 20 innings. Third baseman
Chase Headley
would have been the Padres' obvious rep, but Sandoval getting voted in as a starter meant Wright had to get the nod as the backup third baseman.
More evidence that player votes are tabulated too early: Lance Lynn, Cardinals.
Lynn got off to a terrific start but is now only 27th in the NL in ERA, pushing more deserving starters like
Johnny Cueto
,
James McDonald
,
Zack Greinke
and
Madison Bumgarner
to the sideline.
The too-many-relief-pitchers rule: Jonathan Papelbon, Phillies.
Again, it's a shame that the rules require relievers to be added. Seventeen starters have a better ERA than Papelbon, who has pitched a grand total of 30 innings. Of his 18 saves, only six came in one-run games. Only question: Will Tony La Russa use him in a tie game?
Comeback All-Star of the year: Adam Dunn, White Sox.
After hitting .159 in 2011, Dunn made his second All-Star team (and first since 2002, his first full year in the majors) by slugging 24 home runs and driving in 58 runs. Despite hitting .213, Dunn has a respectable .363 OBP thanks to a league-leading 64 walks.
Most deserving guy who didn't make it, National League: Johnny Cueto, Reds.
He has a 2.26 ERA despite pitching in The Great American Ball Park.
Most deserving guy who didn't make it, American League: Austin Jackson, Tigers.
Jackson did miss 20 games with injuries, but he's been tremendous, hitting .326/.408/.537 and playing excellent defense in center field.
AL final man vote: Jake Peavy, White Sox.
Peavy is the most deserving based on his terrific first half, but if you're trying to win the game, Angels reliever
Ernesto Frieri
may be the best choice, considering he hasn't allowed a run in 23 innings since coming to the Angels.
NL final man vote: Michael Bourn, Braves.
This may be the most intriguing final man vote ever: All-time great
Chipper Jones
or hyped newcomer
Bryce Harper
? I'll split the difference and take the guy who had the best first half and could help the NL as a pinch hitter, defensive sub or pinch runner. After all, the game counts, right?
June, 26, 2012
6/26/12
9:00
AM ET
By
Christina Kahrl
| ESPN.com
First:
One might be the loneliest number and all that, but it was enough on the scoreboard to turn rookie
Tommy Milone
into an eight-game winner, as he combined with
Grant Balfour
and
Ryan Cook
to spin a shutout.
[+] Enlarge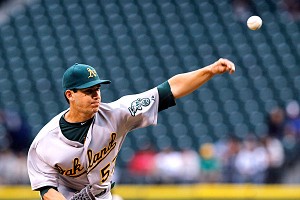 AP Photo/Elaine ThompsonTommy Milone pitched 190 innings last season, the most on the A's staff.
Now sure, you can kibitz over it being a shutout of the Mariners, or a shutout thrown in pitcher-friendly Safeco. And maybe that's because it's easy to pick on Milone because he's one from that legion of lefties who "just" throws strikes, changes speeds (averaging just 87 mph in his case), and mixes in the odd curveball. And he's a fly-ball guy. And in a world full of analysts happily harping on the virtues of power ground-ball pitchers, there's not going to be a ton of love for a soft-tossing lefty armed with little more than the proverbial guts of a burglar.
But for all that, sometimes it's worth remembering what a guy does and can do, and not treat player performance with cavalier disdain for less than perfection. Look at what Milone is, and there's a lot to like: He's bold when it comes to working inside despite his less-than-overpowering stuff; he attacks weaknesses aggressively, having learned to live low in the zone from three seasons pitching in USC's rotation in college; and with his Bugs Bunny-like slowball delivery, his low-temp heat plays up.
Most importantly, Milone has given the A's an innings-eater capable of pitching into the seventh inning or later, having done so in seven of his last nine turns. That's especially handy in an A's rotation that has lost
Bartolo Colon
to a strained oblique and
Brandon McCarthy
to his latest injury (a shoulder this time, for the second time this year, the fourth season he's had shoulder woes in his run of seven straight seasons with DL service).
So A's fans can thank their lucky stars for Tommy Milone, even if he's "just" a finesse lefty whose FIP bleats regression. He may not reliably dent bread with his fastball, but if you wanted to assemble a list of key features for any pitcher's success, Milone owns at least two: the ability to throw strikes and health. It's something lots of teams like to work with.
Second:
If you want a line score you won't see every day, check out
Alex Cobb
's
eight-inning, eight-run disasterpiece
against the Royals, the sort of game you might expect from the sports pages a century older. But the reasoning wasn't that shabby: The Rays had played a Sunday doubleheader with a pen start led off by
Cesar Ramos
in the second. He'd thrown just 53 pitches through the first three frames despite being down 6-0, so why tax your 'pen just then? It's a losing cause and just one ballgame you can't lose more than once no matter how bad it gets, so why not see if Cobb can give the relievers some rest? Cobb took a bullet for the team, but that's going to be worth something in the Rays' games to come this week.
Third:
With Tuesday marking
Anthony Rizzo
Day in Wrigleyville, one thing that might have missed your attention unless you're punishing yourself with Cubs boxscores first thing in the morning is how many platoons, strict or loose, that Dale Sveum's running these days.
Bryan LaHair
's move out to right field to platoon with
Reed Johnson
already gave them a second outfield platoon, with
David DeJesus
moving over to form the lefty half of a center-field platoon with
Joe Mather
. OK, that's semi-cool, but it was also semi-cool about the 1987 Cubs, who platooned Jerry Mumphrey and Brian Dayett in left while platooning Dave Martinez and Bob Dernier in center. (This did not lead to bigger and better things for any of them, but it was cool, even as it made for a busy scorecard.)
However, Rizzo is probably looking at the occasional day off against tough lefties so that
Jeff Baker
can fulfill the lefty-mashing role that has defined his career, so that's a loose trio of platoons in a single lineup. Heck, maybe Sveum will use
Steve Clevenger
often enough behind the plate, spotting for
Geovany Soto
to make it four platoons.
That's no easy feat in the age of seven-man bullpens. However, that's Sveum's bench in a nutshell: Everyone has his uses, even newly-minted fifth outfielder
Tony Campana
-- as a ready defensive replacement for DeJesus or LaHair.
Bringing it home:
Our own Eric Karabell has the tweet of the night, on the subject of forgiveness when it comes to closers after the Marlins' late-inning loss to the Cardinals …
To be fair to Heath Bell, he hadn't allowed a run in a month, covering 10 outings. He had 16 Ks and 2 walks in last 9.1 innings. Keep him.

— Eric Karabell (@karabellespn) June 26, 2012
June, 9, 2012
6/09/12
8:01
PM ET
By
Christina Kahrl
| ESPN.com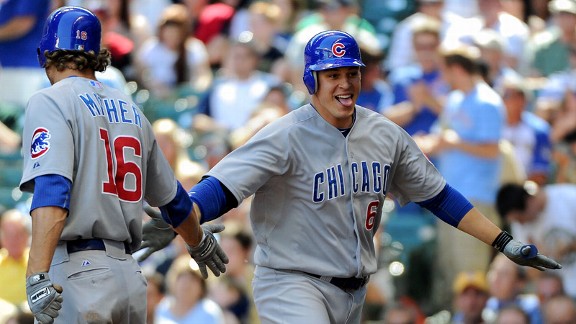 Benny Sieu/US PresswireBryan LaHair, 29, is in the top five in the National League in slugging, OBP and OPS.
At 28 years old and after spending much of the previous five seasons in Triple-A,
Bryan LaHair
was a purportedly "known" quantity -- Quadruple-A bat, perhaps a fill-in first baseman. In his one brief shot at The Show in Seattle in 2008, he split time at first base with utilityman
Miguel Cairo
and
Jose Lopez
. He didn't shine, and it was back to Tacoma the next year. In short, he seemed a man doomed to a dim star on an obscure walk of fame to be named later, perhaps in Tacoma, maybe in Iowa.
He changed that in his sixth campaign in the Pacific Coast League, changing the minds of scouts and analysts alike with 28 homers and a 1.070 OPS. And this year, taken seriously for the first time, he's a 29-year-old getting his first real shot at everyday play in the major leagues ... and blowing the league away. He's third in the National League in slugging, fourth in OBP, and fourth in OPS. And all it took to bring him to Wrigleyville was a minor-league contract, after the Mariners let him slip away as a minor league free agent.
By simultaneously shredding expectations and opposing pitchers, LaHair is providing a fine example that players' career paths aren't simply a matter of forecasting off past performance. That works on the macro level, for most players. But whether as a matter of changing their game or finally getting opportunities they'd long deserved, a few past-prime players are making the most of their opportunities this season.
You can't quite come up with a full lineup's worth of these guys, but beyond LaHair, here's my off-the-cuff list of this season's other "surprise stars," some of whom will belong in Kansas City as full-fledged All-Stars in a month's time.
C A.J. Ellis, Dodgers:
Say what you will about catching always being in short supply -- and it isn't -- Ellis had to wait until this year to get a clean shot at a catching job. Now 31, he's pretty much the perfect example of an organizational soldier: He spent his first two full seasons after getting picked in the 18th round out of Austin Peay as a backup at High-A, caddying for
Russell Martin
and then
Edwin Bellorin
(once upon a time a well-regarded Venezuelan prospect).
Ellis finally became a regular in Double-A in 2006. From the start, he showed tremendous ability to get on base, but the Dodgers kept him at the same slow pace, as he spent two years in the Southern League and two years in the PCL before graduating to two years as a big-league backup. That sort of long-form apprenticeship that seemed certain to lock him into little more than membership in the International Brotherhood of Backup Backstops.
Perhaps only taken seriously as a starter as a matter of grudging last resort this past winter, when the market offered slim pickings as far as catching help, Ellis is second only to
Yadier Molina
among NL catchers in his production at the plate while throwing out 41 percent of opponents' steal attempts. Ellis might be this group's best bet beyond LaHair to be headed to Kansas City for the All-Star Game.
SS Mike Aviles, Red Sox:
It has been a bumpy road for Aviles since his old-rookie debut as a 27-year-old with the Royals in 2008. In K.C., he had to contend with injuries and the idea that he wasn't really a shortstop. This year, shortstops are putting up the collectively lowest OPS (.678) or OPS+ (88), so Aviles' .711 OPS/90 OPS+ clip is just a wee bit above average, not shabby considering he's also doing fine at short, according to advanced fielding metrics. Beyond buying time for
Jose Iglesias
, this has proven a relatively high-yield, low-expense gamble for the Sox: League-average shortstops usually cost millions on the market, but Boston got him for an organizational arm (Kendal Volz) and
Yamaico Navarro
, a utility player so interesting that K.C. flipped him to the Pirates, who have already ditched him in Indianapolis.
[+] Enlarge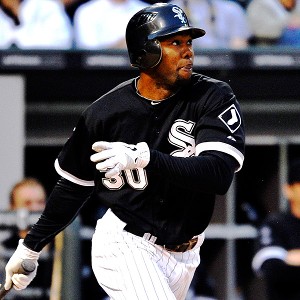 AP Photo/Brian KerseyCenter fielder Alejandro De Aza is making the most of his chance to play every day at age 28.
CF Alejandro De Aza, White Sox:
If LaHair is the slugging surprise of the season, De Aza is the out-of-nowhere leadoff solution most teams need. Back in 2007, he got an opportunity with the Marlins, leading off on Opening Day, but injuries to first one ankle and then the other derailed that season and the next. In 2009, he gave the first indication that he wasn't just going to be a speed guy, slugging .506 for New Orleans; the Marlins were so impressed they let him slip away on a waiver claim by the White Sox. Finally getting a shot at everyday play as a 28-year-old in the one-hole, he's hitting .299/.381/.425 and he's holding his own in center.
Juan Pierre
never looked this good, but a crowd of quality center fielders in the American League will keep De Aza from All-Star status.
OF Gregor Blanco, Giants:
Melky Cabrera
isn't the only Giants outfielder having a season well beyond anything he's done before. A Braves prospect they lost interest in, he was dealt to the Royals, who dealt him to D.C. before the Nationals ditched him. All he's ever done is get on base; he just needed an opportunity. He got one when general manager Brian Sabean fished him off the discard pile this past winter. Pushing his way past
Nate Schierholtz
, Blanco has hit his way into everyday play in right field and the leadoff job with a .387 OBP as a 28-year-old journeyman. Blanco may rival Sabean's "discovery" of
Andres Torres
in 2009 before all's said and done.
RF Justin Maxwell, Astros:
Nobody has doubted Maxwell's power or talent, but his ability to stay healthy has been an annual concern. The Nats decided they had better uses for his spot on the 40-man and traded him to the Yankees, but he spent more time on the disabled list in 2011 with a bum shoulder than he did in pinstripes. The talent-hungry Astros snagged the 28-year-old off waivers this spring, and he's been a free-talent find as a fourth outfielder, providing power against lefties and strong-armed defense.
SP Jerome Williams, Angels:
Back in the day, Williams was a top prospect in the Giants' organization, ranking in Baseball America's top 20 for all baseball. That all seemed merited after a fine 2003 rookie season in which he drew an NL Division Series start for them against the Marlins. It was almost unrelentingly downhill from there; he needed elbow surgery in 2004, got dealt to the Cubs in 2005, and then bouncing through the Nationals, Twins, A's (twice) and Dodgers organizations, as well as a stint in the independent leagues. After making a nice impression on the Angels down the stretch last season, the 30-year-old Williams is getting regular rotation work in the majors for the first time in seven years as their fifth starter. More of a finesse righty these days, he's been an exceptional salvage-project success, putting up eight quality starts in 10 turns, far better work than most teams reasonably expect from a No. 5.
Quite simply, what these guys reflect is that not all replacements are "replacement level." Just when you think you know what a player is capable of, a happy few beyond their expected peak age of 27 have demonstrated the delightful capacity to surprise and exceed the modest expectations even their fans harbored for them. I don't know about you, but I like these kinds of surprises -- here's hoping we see more of the same from all of them.
Christina Kahrl covers baseball for ESPN.com. You can follow her on Twitter.
May, 14, 2012
5/14/12
12:35
AM ET
The
Atlanta Braves
pulled off an impressive sweep in St. Louis over the weekend to take over the first place in the National League East. Most impressively, they did it by scoring 23 runs in the three games. While it's not a surprise the Braves are contenders early on, what is surprising is they've done it more with their bats than their arms. Here is our list of top 10 early season surprises.
1. The Atlanta Braves' offense.
As Diane Firstman wrote the other day on the SweetSpot blog, the Braves have a chance at a
historic turnaround on offense
. A year ago, they averaged 3.96 runs per game, 8 percent below the major league average of 4.28 runs per game. This year, they're averaging 5.40 runs while the major league average has fallen to 4.18. That's 29 percent better, a 37 percent increase over 2011. Only a handful of teams have shown a 30 percent improvement like that year-to-year.
Some of the improvement was expected ---
Jason Heyward
and
Martin Prado
hitting better, for example.
Michael Bourn
has been superlative in the leadoff spot, hitting .336 with a .399 on-base percentage, but the biggest surprise has perhaps been the old man,
Chipper Jones
, who is hitting .299 and slugging .506. He has 22 RBIs in 24 games. With rookie shortstop
Tyler Pastornicky
holding his own, the Braves go eight deep and the scary thing is catcher
Brian McCann
hasn't really started to hit and you get the feeling Heyward is ready to explode.
2. The Baltimore Orioles are in first place.
The Orioles bounced back from losing three of four to the
Texas Rangers
by winning their weekend series against the Rays to maintain a one-game lead over Tampa. The Orioles live and die by the home run on offense -- they lead the majors with 54; their .310 OBP, however, ranks just 17th in the majors.
Jake Arrieta
got pounded again on Sunday and has allowed 13 runs his past two starts after that eight-inning shutout performance against the Yankees. That means three-fifths of Baltimore rotation has an ERA over 5.00. So, yes, there are obvious question marks here. But for now the Orioles have
Matt Wieters
and
Adam Jones
mashing, a lights-out bullpen and
Jason Hammel
pitching like an ace.
3. The Oakland Athletics and Houston Astros aren't terrible.
I heard a lot of mocking of the A's and Astros heading into the season -- predictions of 105 losses, 110, maybe even 115. Both teams have played solid baseball. The A's are 18-17 and as always Billy Beane has constructed a pitching staff that will keep the A's respectable.
Brandon McCarthy
,
Bartolo Colon
and
Tommy Milone
throw strikes, while rookie
Jarrod Parker
has looked good in his first four starts. Set-up man
Ryan Cook
, acquired with Parker in the
Trevor Cahill
trade, hasn't allowed a run in 16.2 innings (and hardly a hit -- opponents are batting .060 against him.)
The Astros, meanwhile, are 15-19 but have actually outscored their opponents.
Jose Altuve
is as fun as any player in the game,
Jed Lowrie
has played well and veteran
Wandy Rodriguez
could be an attractive trade chip if he keeps pitching like this. The Astros aren't going to be playoff contenders, but at least they've giving their fans a reason to show up this summer.
4. Bryan LaHair and Jeff Samardzija.
The
Chicago Cubs
are bad team but have two of the season's best individual stories. Minor league vet LaHair is putting up All-Star numbers, hitting .340/.437/.670. Samardzija has been a revelation in the rotation, considering he had trouble throwing strikes as a reliever in 2011. His average fastball velocity of 94.7 mph trails only
Stephen Strasburg
among starters and his changeup has become one of the best strikeout pitches in the game. With a 4-1 record and 2.89 ERA, the former Notre Dame wide receiver has turned into must-see viewing for Cubs fans.
5. Derek Jeter.
Admit it, you saw more decline, you thought maybe he was just about done. Maybe you
wanted
him to be done. Jeter is hitting .372, has 14 extra-base hits, hasn't missed a game, and is playing like 27-year-old Jeter, not 37-year-old Jeter.
6. A.J. Ellis.
OK,
Matt Kemp
has been superhuman and
Chris Capuano
and
Ted Lilly
are both 5-0 but my favorite story on the team that owns baseball's best record is their obscure 31-year-old catcher who ranks third in the majors in OBP -- his .462 OBP higher than
Josh Hamilton
's .455. Ellis' 21 walks has been boosted by five freebies but the on-base skills are legit. Hey, Don, how about moving Ellis in front of Kemp in the lineup?
7. Bryce Harper.
The Nationals suffered a devastating injury with the loss of catcher
Wilson Ramos
this weekend, the latest in a string of injuries that includes
Michael Morse
,
Jayson Werth
and
Drew Storen
. Despite that, the Nationals are just a half-game behind the Braves in the NL East thanks to their dominant rotation. We certainly didn't expect Harper to be up so soon, but the 19-year-old has held his own. Trouble is, however, the injuries mean Harper may have to do more than hold his own. I wouldn't bet against him.
8. Parity rules the day.
The Red Sox, Angels and Phillies are in last place.
9. David Wright hitting .400.
When Wright fractured his pinkie four games into the season, Mets fans feared the worst for their franchise third baseman who has battled a string of injuries in recent season. Instead, Wright missed a few games and hasn't stopped hitting since. He's hitting .444 over his past 14 games and the Mets are 19-15 and should not be underestimated.
10. Pitchers are still throwing strikes to Hamilton.
Only
Clint Barmes
has swung at a higher percentage of pitches outside the strike zone. Hamilton swings at the first pitch over 50 percent of the time. And yet ... OK, easier said than done. As Chipper said after Hamilton swatted four home runs against the Orioles, "He's a bad man."
PHOTO OF THE DAY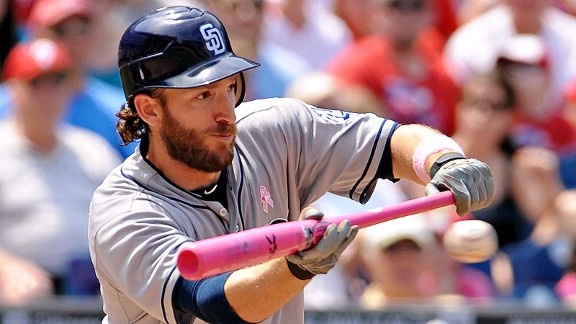 Eric Hartline/US PresswireChris Denorfia puts his Mother's Day-edition lumber to use for a first-inning sacrifice.
May, 11, 2012
5/11/12
5:56
PM ET
We ended a fine week of
Baseball Today podcasts
with Mark Simon and I talking about what happened the night before and previewing the weekend, and there was lots in between.
1.
Josh Beckett
didn't make a lot of friends -- with his performance Thursday night or his comments afterward -- but what is his future with the Red Sox?
2. Staying in the AL East, the
Toronto Blue Jays
added a designated hitter to the fold, but can
Vladimir Guerrero
really make a difference? We might surprise you.
3. Our Simon Says segment discusses the viability of
Bryan LaHair
, and focuses on the defensive leaderboard.
4. Emailers want to know about pitching the eighth inning versus the ninth, the most common game scores, and
Eduardo Nunez
's ability to play defense.
5. It's a big weekend for the Angels as they face the Rangers, but we've also got our collective eyes on the big AL East battle for first place, and why number 8,000 is significant for an NL East team.
So download and listen to Friday's Baseball Today podcast, and please have a great weekend!
May, 3, 2012
5/03/12
2:18
PM ET
Eric Karabell and I have a new segment we're calling SweetSpot Stock Watch, where we rationally discuss and occasionally argue about a few players. Today's edition: Red Sox prospect Will Middlebrooks, Cardinals starters Lance Lynn and Kyle Lohse, red-hot Bryan LaHair and Orioles pitcher Jake Arrieta, coming off his dominant effort against the Yankees on Thursday night. And don't forget to check out Eric's
fantasy baseball blog
on ESPN Insider!
May, 2, 2012
5/02/12
11:22
PM ET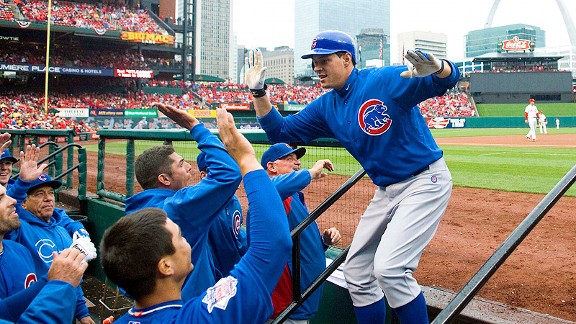 Jeff Curry/US PresswireBryan LaHair is gving Cub fans a reason to pay attention as he leads the club in home runs and RBI.
I don't know whether
Bryan LaHair
is the most surprising story of 2012 or the most intriguing or the most unlikely. You can't evaluate or analyze subjective opinions like that. His is a story that goes beyond numbers -- although those are spectacular, too -- one that reminds us of the hundreds of players who toil in Triple-A, on the cusp of playing in the major leagues, hoping to catch a break.
Most of those guys are a click short on the radar gun or a step too slow in the field or a few feet short with their power. Maybe they have a bad body or a loop in their swing that front offices believe will be exposed against better pitching. Some are one injury on the major league roster from getting an opportunity, if only for a few weeks. Many never get it, relegated to the dreaded label of Four-A player, maybe good enough to get a cup of coffee here and there, but not good enough to ever earn a consistent major league paycheck.
LaHair was a 39th-round draft pick by the
Seattle Mariners
in 2002, out of St. Petersburg College in Florida -- a school that produced former Mets third baseman Howard Johnson (and Doors frontman Jim Morrison). The 39th round is non-prospect territory, roster filler for low-level minor league squads. The deck was stacked against LaHair from the day he was drafted. He first put himself on the prospect radar by hitting .310 with 22 homers at Class A Inland Empire in 2005. But everybody hits in the California League. The next season, LaHair hit .309 with 16 home runs between Double-A and Triple-A.
Now he was a prospect. "LaHair offers
Sean Casey
-like production as a first baseman and may have even more power," wrote Baseball America, which named him Seattle's No. 16 prospect prior to 2007. "He uses the entire field and has good plate coverage. ... LaHair isn't very athletic and is limited to first base. He has below-average defensive speed and defensive skills."
[+] Enlarge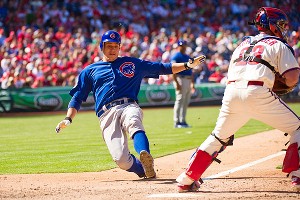 Howard Smith/US PresswireBryan LaHair is taking advantage of his playing time after toiling in the minors for almost a decade.
And then he wasn't a prospect. He spent all of 2007 at Triple-A Tacoma, hitting .275 with 46 doubles but only 12 home runs. Major league teams don't like unathletic first basemen who hit 12 home runs in Triple-A. Baseball America once again compared him to Casey, but without the power, with his struggles against left-handed pitching and with his apparent lack of slick glovework, his major league prospects were dim. He did get a call-up late in 2008, after the Mariners released
Richie Sexson
, but he hit .250 BA/.315 OBP/.346 SLG with three home runs in 45 games and struck out 40 times. That's it -- 150 plate appearances, his one chance. He didn't hit, and The Label stuck.
He spent all of 2009 in Tacoma again and hit 26 home runs but the Mariners never called him up. He signed with the Cubs as a free agent and spent all of 2010 at Iowa, now 27 years old and turning into a Triple-A lifer.
There have been other hitters with that label who got a chance. Growing up in Seattle, one of my favorite players was Ken Phelps. He was a local product who put up big numbers with Montreal's Triple-A Wichita team in 1982, hitting .333 with 46 home runs. Can't hit a major league fastball, they said. And the Expos had an aging Al Oliver at first base. The Mariners purchased Phelps from Montreal, and he showed he
could
hit, batting .249/.392/.521 over six years with Seattle, which famously then flipped him to the Yankees for
Jay Buhner
.
Matt Stairs
was a Four-A hitter, they said. Too short. Bad body. No position. The A's finally gave him a regular job when he was 29. He played until he was 43.
Kevin Millar
,
Brian Daubach
,
Jack Cust
. All had the label. Rangers outfielder
Nelson Cruz
didn't get 100 games in a major league season until he was 28.
So LaHair tore it up in Iowa in 2011, crushing away with a .331/.405/.664 line. Thirty-eight bombs. This wasn't Albuquerque or Reno or Las Vegas. The numbers had some legitimacy in them, if you're the type to believe in numbers. The Cubs called him up in September. He played winter ball. He totaled 55 home runs between the three stops. The Cubs, rebuilding from bottom up, handed him their first-base job. Temporarily, of course, since they also traded for Padres first-base prospect
Anthony Rizzo
.
"There's no sentiment involved," Cubs president
Theo Epstein told ESPN.com's Jerry Crasnick
in spring training about giving LaHair the job. "It's not a matter of whether someone deserves a chance or not. It's a matter of whether someone can help the Cubs.
"There are a lot of good players who perform all the way through the minor leagues who fail in limited opportunities in the big leagues and never get a longer look. When those players eventually do get a longer look, they have success. I think it benefits us to see what he can do. We think he'll hit big league pitching, so we're going to find out."
See what he can do.
Jerry finished his story with this line: Now it's up to him to determine how long he stays.
LaHair is insanely hot right now. He homered again Wednesday, his sixth of the season, and he's batting .381/.459/.794, giving Cubs fans one reason to keep paying attention to a bad team. Dale Sveum is platooning him, so he doesn't have enough plate appearances to qualify for the leaderboards, but his 1.253 OPS would rank second only to
Matt Kemp
.
"I think for me I just stay consistent with each at-bat," LaHair told ESPN Chicago's Doug Padilla a couple of days ago. "I don't let any one at-bat overwhelm me. I go pitch to pitch and all I try to do is to get good pitches to hit and hit them hard every at-bat. Sometimes it works and sometimes it doesn't but if I'm consistent doing that I'll be all right."
We could delve into the numbers and explain that LaHair is striking out a lot, that his average on balls in play is crazy ridiculous -- .600 entering Wednesday's game (he went 1-for-4 with a home run and no strikeouts, so 0-for-3 on balls in play) -- that there's no way he'll keep this up and so on and so on.
Sure, we could do that. But for now let's enjoy a lifer getting his chance to shine.
Follow David Schoenfield on Twitter @dschoenfield.
May, 1, 2012
5/01/12
1:13
AM ET
Yep, just another boring April of baseball where nothing exciting happened. We only had one of the
greatest April performances
of all time. We had a perfect game. We saw the Red Sox blow a 9-0 lead at home to the Yankees -- and lose by six runs. We saw one of the best hitters of all time turn into one of the worst players in the game, at least for a month. We saw pitchers dominate -- 20 starters have an ERA under 2.00. We saw a 19-year-old phenom make his major league debut. We saw a venerable veteran hit .389 with 37 hits. To cap it off, on the final day of the month we saw
Ryan Braun
hit three home runs out of the Grand Canyon -- aka, Petco Park.
Braun is the first player to hit three home runs at Petco, no mean feat considering it's something like 748 feet to the power alleys. As impressive as that achievement is, it doesn't quite land Braun on our all-April All-Star team.
C: Yadier Molina, Cardinals (.316/.369/.592, 4 HR, 15 RBIs)
Molina is proving last season's power surge was no fluke as he ripped out nine doubles and four home runs in April. He's nailed 43 percent of basestealers and the Cardinals have a 2.61 staff ERA. Terms like team leader are thrown out a bit loosely, but there's little doubt Molina is the heart and soul of the Cards. If not for
Matt Kemp
, you could make a case for Molina as April's MVP.
1B: Bryan LaHair, Cubs (.390/.470/.780, 5 HR, 14 RBIs)
One of the feel-good stories of the month, the 29-year-old minor league veteran was given the first base job only as a placeholder for prospect
Anthony Rizzo
. He may not give it up quite so easily. Thirteen of his 23 hits have been for extra bases and, incredibly, he's batting .676 when not striking out. Yeah, yeah ... that impossible to keep up, of course. Still, he could make for some interesting trade bait for a team in a pennant looking for some power at first base. (Yes, we mean you,
Los Angeles Dodgers
.)
2B: Ian Kinsler, Rangers (.298/.400/.574, 5 HR, 12 RBIs)
Most impressively: 24 runs in 23 games. Since 1950, only 11 times has a player scored 140 runs in a season. Only one of those --
Jeff Bagwell
in 2000 -- scored 150 runs. If Kinsler can maintain that .400 OBP -- 45 points higher than last season -- he may have a shot.
3B: David Wright, Mets (.389/.494/.569, 3 HR, 14 RBIs)
Last season was a rough one for third basemen, as several of the top guys landed on the DL. Things got so bad that
Scott Rolen
made the NL All-Star team. It's a different story in 2012, as six regulars are hitting over .300,
Miguel Cabrera
is hitting .298 with power and
Chase Headley
is off to a terrific start for the Padres. But Wright kept his OBP over .500 until the final day of April. Cardinals fans will point to
David Freese
's 20 RBIs, but Wright's big lead in walks (16 to four) gives him the edge.
SS: Derek Jeter, Yankees (.394/.437/.585, 4 HR, 13 RBIs)
So much for needing a rest. Jeter played every game this month (four starts at DH) and led the majors with 37 hits. His 10 extra-base hits are already nearly one-third of the 34 he punched out a year ago. The range at shortstop remains problematic, but nobody seems to care right now.
LF: Josh Hamilton, Rangers (.395/.438/.744, 9 HR, 25 RBIs
OK, maybe I cheated a little bit here: Hamilton has played twice as many innings in center in left. Sorry,
Josh Willingham
.
CF: Matt Kemp, Dodgers (.417/.490/.893, 12 HR, 25 RBIs)
We bow down to your greatness, Mr. Kemp, and can't wait to see what you do in May.
RF: Corey Hart, Brewers (.270/.360/.635, 6 HR, 13 RBIs
Not bad for a guy who had knee surgery in early March and wasn't expected to be ready for the start of the season.
DH: David Ortiz, Red Sox (.405/.457/.726, 6 HR, 20 RBIs)
Remember April and May of 2009, when Big Papi hit .185 with one home run? "Trust me, I am not finished," Ortiz said in early June of that year. Many Red Sox fans wanted the club to release him. A Boston columnist called for the club to do so. Maybe it did come close to doing so.
P: Jake Peavy, White Sox (3-1, 1.67, 37.2 IP, 21 H, 5 BB, 33 SO
My pitcher of the month for April, it's great to see Peavy healthy and slinging again. He put together a terrific first five starts, in part because had to face Boston, Texas, Detroit and Baltimore in four of those games.
P: Stephen Strasburg, Nationals (2-0, 1.13, 32 IP, 22 H, 6 BB, 34 SO
He's allowed four runs in five starts ... and has two victories. Please explain to your friends why wins are overrated. He's been absolutely dominant, hasn't allowed a home run and with the Nationals leading the NL East, the speculation has already heated about what the club will do about Strasburg's supposed innings limit if the club is in the pennant race in September. We'll worry about that then; for now, let's enjoy a master at work.
RP: Aroldis Chapman, Reds (2-0, 0.00, 12.1 IP, 5 H, 4 BB, 21 SO)
He's gotten 37 outs -- so 57 percent of his outs have come via the strikeout. It leaves one to wonder: How would he do starting? Please, Dusty, give us the chance to find out.
Guy I wanted to put on the team: Jose Altuve, Astros (.360/.404/.547)
The little guy can flat rake. Enjoy, Astros fans.
Strikeouts don't mean everything award: Derek Lowe, Indians
Lowe is 4-1 with a 2.27 ERA even though he has just nine strikeouts in five starts.
Most un-All-Star: Albert Pujols, Angels (.217/.265/.304, 0 HR, 4 RBIs)
Sorry, with $240 million comes more pressure, more scrutiny and expectations that maybe you'll hit one or two home runs per month. Pujols was arguably the worst player in baseball in April. Who would have thought we'd ever hear such words?
PHOTO OF THE DAY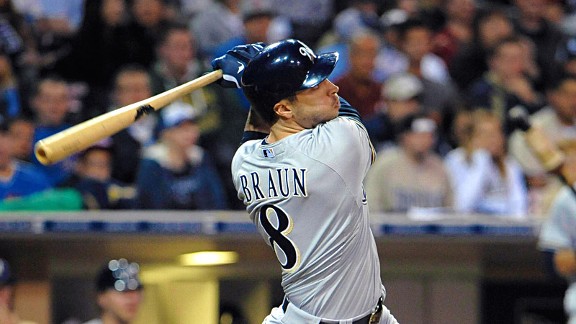 Denis Poroy/Getty ImagesRyan Braun hits his fourth-inning home run -- his first of three big blasts.
Follow David Schoenfield on Twitter
April, 30, 2012
4/30/12
10:00
AM ET
By
Christina Kahrl
| ESPN.com
First base:
Well, it was about time a slugger got off the schneid, especially at home, and especially after all the fuss made over his slow start. Naturally, we're talking about
Giancarlo Stanton
. Who else could we be talking about? But after having to hear all of the complaints about park dimensions in the Marlins' new discotheque, aquarium, entertainment complex, and less-than-ordinary baseball venue decorated in the electric boogalloo end of the color palette, the good news is that whatever its other distractions, Marlins Aquarium Park is not a venue that will forever defy Stanton's fence-busting power. As for the unfortunate detail that he jacked an Earl Weaver special for three runs in the ninth inning down by seven off "why's he here?" D-backs southpaw du jour
Mike Zagurski
, well, that's for the accountants and the bitter few in the stands waiting to see it to quibble over.
Second base:
What can you say about the toxic cleanup site found on the mound in Camden Yards after the A's went China Syndrome and totally melted down in the bottom of the ninth against the Orioles? The O's are newsworthy enough for
their "yeah, we matter too" start
, but c'mon. A's manager Bob Melvin leaving
Bartolo Colon
out there in the ninth against the heart of the Orioles order when the Beefy One is just weeks shy of his 39th birthday seemed like carelessness at best. Maybe it was a case of mistaken identity ... for the second coming of Luis Tiant? Regardless, Colon was gassed, and once the Orioles lit a match, something was bound to combust, in this case, Grant Balfour.
Third base:
Has anybody had a quieter great April than the Cubs'
Bryan LaHair
? The journeyman hasn't just gotten his first big break in the big leagues as a 29-year-old, he's delivered the best first-month OPS of any first baseman in the majors (1.197). As good a prospect as
Anthony Rizzo
is and as good a career as you can expect him to have, LaHair's making it easy for the Cubs to leave Rizzo in corn country while he makes the most of his first real opportunity. Is it really any surprise that a guy born on Guy Fawkes Day (that's Nov. 5 for all of us from everywhere else but Great Britain) would explode once he was finally given the chance?
Home plate:
The tweet of the night goes to Stephanie Liscio of
It's Pronounced 'Lajaway'
, when she noted:
Time to play "guess the subsequent roster move" with Damon joining the team Tuesday. I'll take "DFA of Jose Lopez" for $100!

— Stephanie Liscio (@stephanieliscio) April 30, 2012
March, 30, 2012
3/30/12
12:03
PM ET
Spring stats mean nothing! But they're fun to look at. A few highlights ... and lowlights (stats from major league games only):
Some people haven't bought in on Paul Goldschmidt as they worry about the strikeouts, but one reason I do like him is he'll draw some walks to go with the power: He's hitting .265 with three homers, but with 12 walks (and 13 strikeouts).
Josh Collmenter hasn't pitched well for Arizona: Five walks and just four strikeouts in 12 innings. He'll start in the rotation but you wonder how soon before we see Trevor Bauer.
Braves prospect Julio Teheran has somehow allowed nine home runs in 13 innings.
Jeff Samardzija earned a spot in the Cubs' rotation by showing good stuff but just as impressively has walked just one batter in 20 innings. This from a guy who averaged 5.1 walks per nine innings in relief in 2011.
Not good news for the Cubs: First baseman Bryan LaHair has 16 strikeouts and one walk. Is the 29-year-old Triple-A vet pressing now that he's been given a chance to start after hitting .331 at Iowa? His SO/BB ratio at Triple-A was 111/60.
Joey Votto is hitting .214 without a home run. I like how people will make a big deal when somebody does well ... but not a big deal when a star player doesn't do well. Again, spring stats ... for entertainment purposes only!
Dexter Fowler has had a miserable spring for the Rockies, hitting .118 in 51 at-bats with 16 strikeouts.
Clemens has pitched five scoreless innings for the Astros. Paul Clemens, that is.
Matt Kemp says he wants to go 50-50. He's not going to do it swinging like this: 21 strikeouts and one walk. Ouch.
Carlos Zambrano has 14 walks in 17.2 innings. But 18 strikeouts. So ... I think it's safe to say nobody knows what to expect from Big Z.
Zack Greinke has perhaps been the most impressive pitcher this spring with a 28/2 strikeout/walk ratio and no home runs allowed. That's pretty tough to do in Arizona, where the ball flies.
Sticking with the Brewers, Jonathan Lucroy is hitting .513 (20-for-39). This has nothing to do with that .513 average, but I like Lucroy as a breakout candidate.
Jason Bay hasn't homered or driven in a run for the Mets and has petitioned to move in the spring training fences.
Roy Halladay has allowed six home runs in 20 innings. He gave up 10 in 233.2 innings last season.
Is this the year Pedro Alvarez breaks out? Umm ... well, with 20 K's and one walk I guess we can be positive and make a Matt Kemp comparison.
One of my sleeper relievers of the year is Brad Brach of the Padres; he's looked good with a 14/2 K/BB ratio.
What will the Giants do with Brandon Belt? He's hitting .407 with seven doubles and three homers in 59 at-bats.
Adam Wainwright has a 1.45 ERA for the Cardinals but just nine strikeouts (and six walks) in 18.2 innings.
Davey Johnson says he wants to bat Ian Desmond leadoff. He has 18 strikeouts and two walks while hitting .299.
January, 6, 2012
1/06/12
5:00
PM ET
By
Christina Kahrl
| ESPN.com
Say good-bye to all those
Prince Fielder
rumors. The Cubs kept denying they were playing at that table, and by trading for
Anthony Rizzo
, they made it clear they were serious.
When you talk about "challenge trades" you're usually referring to a straight-up swap of players at the same position, or maybe one established veteran for another. But much of what makes Friday's trade between the Padres and Cubs so interesting is that it's a challenge trade of top prospects who haven't arrived yet. But with first baseman Rizzo eventually headed to Wrigleyville while hard-throwing
Andrew Cashner
treks to the pitching heaven that is Petco Park, this could be one double-dare that leaves both teams winners -- up to a point.
[+] Enlarge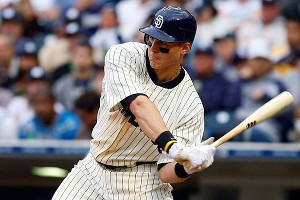 Jody Gomez/US PresswireThe Cubs expect young first baseman Anthony Rizzo to develop into a power hitter in the near future.
Obviously, Theo Epstein, Jed Hoyer and scouting and player development honcho Jason McLeod love Rizzo. They drafted him for Boston in 2007, and Hoyer and McLeod traded for him in San Diego. This reunion represents about as strong a reflection of management's conviction that Rizzo will be something special as any one player could get from any front-office cadre. Rizzo is a 22-year-old thumper with a demonstrated track record for power after hammering 51 homers in the minors the past two years; you can see how that fuels expectations of more to come.
But for the Padres, Cashner is headed into the relief role people projected as his destiny since his days starring at TCU before getting tabbed with the 19th pick in the 2008 draft. Jim Hendry's outfit invested a lot of time in seeing if Cashner could stick as a starter, but both the new Cubs' crew and Padres GM Josh Byrnes are convinced his best role is in relief. There, he can chuck the changeup and get back to dealing high-90s heat to set up a sharp power slider.
It wouldn't be at all surprising to see both Cashner and Rizzo on a National League All-Star squad in 2015. The real question isn't why everyone could come out looking good, but why you make this deal at all if you're the Padres. Isn't a top offensive prospect worth more than a pitcher whose ultimate upside might be quality closer? Maybe Byrnes is much more sold on
Yonder Alonso
than Rizzo, a defensible choice, but is Cashner really all you want to get if you're willing to part with one of the best power prospects in the minors?
It's worth noting that both prospects come with wrinkles. Cashner is coming back from a season effectively lost to shoulder trouble, never a happy thing for a pitcher, but that perhaps contributes to the expectation that he's going straight to the Pad 'pen.
The loudest warning bell on Rizzo is that he's been accused of having a slow bat. Talking up his performance at Tucson last year (.331/.404/.652) might risk losing sight of the fact that Tucson's Kino Stadium is one of the best places to hit in a hitter's league. It's impressive that he ripped the PCL as a 21-year-old, but Petco was not going to help him break through. Get too worked up over his Triple-A numbers, and you can expect to be disappointed, which his 2011 big-league cameo delivered (.523 OPS). If you're chary over Red Sox prospects, you have cause: It wasn't so very long ago people were gushing over
Lars Anderson
because he was young and people expected his power to blossom every bit as much as they do now for Rizzo.
However, perhaps what's equally important about Rizzo is that he's been seen as a good worker, a player with excellent value on defense as well as one who has worked hard to iron out kinks, like an early career problem against lefties. Rizzo's due to start 2012 in Iowa, perhaps as much a matter of service-time manipulation as putting him through finishing school, with minor-league vet
Bryan LaHair
the likely placeholder at first base in the meantime.
As for the add-ons in this four-player trade, both teams again have cause to feel good about what they received. Zach Cates comes to the Cubs as a hard-throwing arm who struggled as a starter in the Midwest League last year. When the Pads made him a third-round pick in 2010, his fastball sat in the low 90s, but touched 96, and he's credited with a good changeup. With 111 strikeouts in 118 innings last year for Fort Wayne, you can entertain some modest ambitions for his usefulness. In return, the Pads got one of the products of the Cubs' aggressive scouting of the Far East, landing 20-year-old Korean speedster Kyung-Min Na. He stole 20 bases in 30 attempts last year while hitting .268/.358/.312 across four levels; if he sticks in center he'll be worth following as he starts logging real time at more advanced levels. Neither are sure things to survive the jump to Double-A, but both are interesting in their own right.
It won't be surprising if we see both Rizzo and Cashner starring for their new teams in the years to come, which might make this seem like a win-win deal. But at a time when it's easier to find useful relievers than it is to land top-shelf power-hitting prospects, credit the Cubs with making the better bet on upside value.
Christina Kahrl covers baseball for ESPN.com. You can follow her on Twitter.