December, 15, 2014
12/15/14
3:59
PM ET
You'd have to be a hard-core baseball romantic -- or a product of the pre-Marvin Miller era -- to think
Bryce Harper
's new two-year, $7.5 million agreement with the
Washington Nationals
will make a smidge of difference when he hits free agency in 2018. There'll be no room for sentiment when agent Scott Boras holds court with reporters and hails Harper as an "iconic player" with "pristine power" and an Aaron Rodgers-caliber magnetism and work ethic. Or maybe Andrew Luck will be Boras' comparison
du jour
three or four years from now.
The only two words that never make it into Boras' lexicon are "hometown" and "discount." If Harper lives up to his billing as a 35-to-40-homer, middle-of-the order slugger, Boras will be looking to break a record on the open market.
So don't expect any feel-good, carryover impact from Monday's agreement when it comes to Harper's long-term future in Washington. But in the here and now, the Nationals, Boras and Harper did the prudent thing by coming to terms on a new deal and avoiding a grievance hearing Tuesday in New York. They skirted a fight they didn't need and a distraction no one relished.
Sometimes big problems spring from seemingly small details. When Harper signed a major league deal out of the draft in 2010, it did not include a clause that would allow him to opt out of his predetermined annual pay and go to salary arbitration. Was the resultant dispute between Harper and the Nationals the product of an oversight committed in haste or a misunderstanding between agent and team? Does it really matter? The relatively small salary hit that Harper would have incurred by not going to arbitration in 2015 could have had a compounding effect over time and affected his pay in subsequent years in a more substantial way.
The disagreement threatened to become a sideshow when Harper failed to appear at the team's NatsFest event Saturday and clearly ticked off general manager Mike Rizzo. Amid news reports of
Jayson Werth
clocking somewhere between 90 and 100 mph while driving his Porsche, the last thing the Nationals needed was Harper looking like a spoiled brat while issuing a statement that he couldn't make it because of "matters out of my control."
[+] Enlarge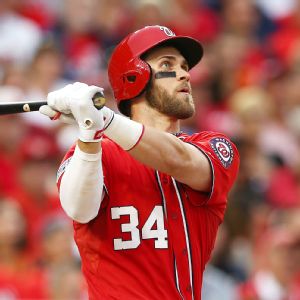 Elsa/Getty ImagesBryce Harper hit 13 home runs in 100 games for the Nationals last season.
With Harper's new contract in place, that giant pothole has been paved over and the two sides can return to their regularly scheduled programming. Harper can focus on his offseason workout program and his upcoming wedding in January, and Rizzo is free to address Washington's second base void and figure out where the team stands with
Ian Desmond
and
Jordan Zimmermann
as they enter their free-agent "walk" years. The Nationals have work to do if they plan to graduate from a team that wows everyone from April through September to a club that's capable of more than cameo appearances in October.
The big question, if you're a Nationals fan, is which Bryce Harper will take the field in 2015? Is it the former teenage prodigy who elicited Mickey Mantle comparisons or the banged-up version who spends too much time running into things and then
tweeting medical updates
from his hospital bed?
Harper remains a polarizing figure among fans who think he's overrated and scouts who roll their eyes when he antagonizes umpires with his body language. He's always going to have a target on his back, in part because of the whole "Chosen One" narrative that began during his sophomore year of high school in Nevada.
The numbers say that Harper was very good in his first two major league seasons with the Nationals, even as he suffered in comparison with fellow phenom
Mike Trout
. Last season, Harper hit a so-so .273 with a .767 OPS and 13 homers in 100 regular-season games and seemed bereft of the old swagger. Manager Matt Williams benched him for failing to run out a ground ball in April, and Harper struggled to regain his confidence and his thump after undergoing knee and thumb surgery in a span of five months.
But it's time for a little perspective here. Harper just turned 22 in October, and when the National League Division Series ended, his fellow Nationals were on the top step of the dugout hoping he could hit the ball out and save them from a dispiriting first-round loss to San Francisco. With the possible exception of
Anthony Rendon
, no Washington player seemed more capable of doing something special under pressure than Harper did.
One of Harper's most ardent fans is none other than Mike Rizzo, who has consistently defended him throughout his growing pains. I received a glimpse of that steadfast support while writing an account of
Harper's trying 2014 season in August
. While interviewing Rizzo for the story, I took note that Harper's first two years in Washington were significantly better than most people realized.
Rizzo quickly demurred.
"I would call them
historic
seasons," he said.
Harper's early ups and downs notwithstanding, Rizzo and the Nationals remain convinced that he's capable of doing some memorable things in baseball. They'd rather have him make his mark as a hitter than as a labor relations pioneer.