June, 16, 2014
Jun 16
10:58
PM ET

SEATTLE -- When third baseman Chase Headley took the field for the San Diego Padres for their game against the Seattle Mariners on Monday night he knew he would be thinking of Tony Gwynn.

"I think it would be hard not to, after losing someone who was that caliber of a person and player," Headley said. "It's just a reminder of what came before you and what he's meant to the game. And frankly, to a small extent, to the reason we're here."

Gwynn passed away at age 54 on Monday morning, a death that cast a pall over all of baseball but especially the Padres organization, with whom he played his entire Hall of Fame career. In addition to batting .338 over 20 seasons with the Padres, Gwynn led them to their only two World Series.

"He's Mr. Padre," Headley said. "He is as beloved by San Diego as any sports figure whoever came through the city -- and he felt the same way. He loved San Diego. He means as much or more to this organization as anybody."

Padres manager Bud Black called Gwynn an icon, the ballplayer and athlete most associated with the city where Ted Williams grew up. "There's no doubt about that."

"When you think of Tony Gwynn, you think of the Padres. And when you think of the Padres, you think of Tony Gwynn," agreed San Diego batting coach Phil Plantier, who played several seasons with Gwynn. "I was fortunate enough to watch him play for a couple years. I got to hit behind him a couple times. He was just the ultimate professional on and off the field. He did everything the way you hoped everybody would."

Plantier recalls how Gwynn installed the Padres first videotape system for studying opposing pitchers. "I'm pretty sure he paid for the first system out of his own pocket," he said. "Tony put it together and he made it available for everybody to use. That was part of his preparation, using the video. A lot of us, we didn't know what we should be looking for but he would talk about it with us."

Before Monday's game, the Mariners showed a highlight video of Gwynn's career on the scoreboard followed by a moment of silence. They also marked a large No. 19 on the infield dirt, right at Gwynn's famous 5.5 hole.

"I thought the Mariners were thinking what we were thinking," Black said. "They really did a nice job."

The Padres, however, lost the game 5-1, with former San Diego pitcher Chris Young holding them scoreless over six innings. Young paid tribute to Gwynn afterward.

"He is the city of San Diego," Young said. "You talk Padres baseball and Tony Gwynn is everything there. The fact that he spent his entire career there and never left. The records he put up there, what he means to that city, that franchise, and as a resident of San Diego now, I certainly understand and appreciate his greatness. It's a sad, sad day for everyone there."

The Padres are still working on plans for the tribute to their greatest and most beloved player when they return from their current road trip.

"There are no words to express what Tony means to this organization and this community," the Padres organization said in a news release. "More than just Mr. Padre, Tony was Mr. San Diego. He cared deeply about our city and had a profound impact on our community. He forever will be remembered not only for his tremendous on-field accomplishments, but also for his infectious laugh, warm, outgoing personality and huge heart."

While he was known as Mr. Padre, Gwynn's career in San Diego wasn't just about that team. He played baseball and basketball at San Diego State and managed the baseball team there after his playing career ended.

Black and Gwynn played together at San Diego State, when Bud was a senior and Tony was a sophomore (the basketball coach did not allow Gwynn to play baseball his freshman year). Black says he never beat Gwynn to the ballfield -- "He was always there, he loved the baseball field" -- and fondly recalls hearing his distinctive, contagious laugh on the team bus rides, and even from six doors away in the team motels.

He said that despite his success and the many accolades he received during his career, Gwynn never changed from the humble player and kind, always welcoming man he met at Sand Diego State.

"This is a tough one for us," Black said. "It's a tough one for the San Diego community. This is a tough one for the Padres organization, a tough one for the San Diego State family -- and for baseball in general.

"He truly loved baseball as much as anyone I've ever known."
April, 25, 2013
4/25/13
11:25
AM ET

Eric Karabell and I discuss which manager may be the first to be fired. I go with the obvious choice but Eric has a surprising answer about a manager who better keep winning.
September, 19, 2012
9/19/12
1:52
PM ET
If you missed it the other day, check out Steve Wulf's excellent
story on Nationals manager Davey Johnson
. Is he the top manager of 2012? Eric Karabell and myself each rank our top five managers ... and discuss the worst.
March, 4, 2012
3/04/12
11:00
AM ET
By
Diane Firstman
| ESPN.com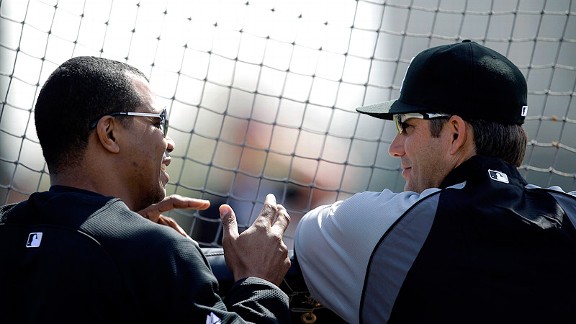 AP Photo/Jae C. HongThe team GM Kenny Williams, left, hired Robin Ventura to manage certainly has its share of holes.
Robin Ventura succeeds Ozzie Guillen as manager of the White Sox, having never managed (or coached) at any level in pro ball. Just what has he gotten himself into?
Distinguished Playing Career
Although he will be hard-pressed to make as vivid an impression as his predecessor, Ventura should be able to command the respect of his players on the basis of his own career as a player. Though he isn't a Hall of Famer, he has certainly had a career worthy of a Cooperstown exhibit. He was a three-time All-American at Oklahoma State University, where he set the NCAA consecutive game hitting streak record of 58 (he
still holds the Division I mark
). He was a first-round draft pick (10th overall) of the
Chicago White Sox
in 1988 and made his big-league debut a year later, after only 129 games in the minors.
While never a top-10 player, with few "black ink" stats on the back of his baseball cards, his career was notable for its consistency. Though he only surpassed 100 RBIs and 30 homers twice in his 16-year career, he was a six-time Gold Glover at third, and from 1991-2003 he compiled a 117 OPS+, with no season lower than 97. Whatever foot speed he had in his youth was erased in a horrific fractured/dislocated ankle injury suffered during a spring training game in 1997. He had compiled a line of .276/.367/.442 prior to 1997, but only .256/.357/.446 from 1997 onward.
Ventura had a knack for making history with the bases loaded. On September 4, 1995, he became only the eighth player to hit two grand slams in the same game. On May 20, 1999, he became the first and only player to hit a grand slam in both games of a doubleheader. During Game Five of the 1999 National League Championship Series, he hit a walkoff slam, which turned into a "Grand Slam Single" when his trip around the bases was interrupted by a celebrating teammate who hoisted Ventura up, preventing him from touching home plate. Another memorable moment came in a game against the Rangers in 1993, when he decided he didn't like getting hit by Nolan Ryan, and charged the mound, only to be "noogied to death" by the 46-year-old Texan.
Track record of neophyte managers
Of those who will be pacing a dugout in 2012, at least seven went into their first big-league stewardship like Ventura is now, a babe in the managerial woods. But unlike Ventura, they all had prior coaching experience. Let's examine how those seven did in their first two seasons:
Dusty Baker (1993 Giants): Baker inherited a team that won 72 games in 1992. Thanks in large part to the addition of free agent Barry Bonds (who compiled a 1.136 OPS), San Francisco improved to a 103-59 record in 1993, with Baker winning NL Manager of the Year. The '94 squad slumped to a 55-60 mark in the strike-curtailed season.

Bob Melvin (2003 Mariners): The 2002 squad went 93-69, only good enough for third place in the highly competitive American League West and six games out of the wild card. Melvin guided the M's to the exact same record in his first year. This time they nabbed second place in the West, but still missed the wild card by two games. Melvin's second year saw the Mariners fall from seventh to last in the AL in runs scored, and the team went 63-99. Melvin was fired after the season.

Ozzie Guillen (2004 White Sox): After the Sox went 86-76 in 2003, Guillen took over in 2004 and led the team to an 83-79 finish. His second season was when the magic happened: An AL-best 99-63 record and a 11-1 postseason record culminating in the franchise's first title since 1917.

Joe Girardi (2006 Marlins): The 2005 Florida squad went 83-79, and Girardi somehow guided the team with the lowest payroll in the majors in '06 to a very respectable 78-84 record. He was rewarded with the NL Manager-of-the-Year award, but not before getting fired by the Marlins due to some clashes with ownership.

Bud Black (2007 Padres): Black's fortunes were similar to Melvin's -- he barely changed the team's record in his first year (going from 88-74 to 89-74, with that 163rd game being a loss in the wild card tiebreaker), then saw the team totally collapse in his second season (63-99).

Kirk Gibson (2010 Diamondbacks): The D-backs had suffered through a 70-92 campaign in 2009, and were on the same path in the middle of 2010 at 31-48 when Gibson took over. He guided them to a slightly better 34-49 finish, then surprised most pundits with an NL West Division title in 2011, going 94-68 and earning the league's Manager-of-the-Year award.

John Farrell (2011 Blue Jays): After the Jays finished in fourth place in the AL East 2010 despite an 85-77 record, manager Cito Gaston retired, and Farrell was surprisingly given the reins. The Jays meandered to an 81-81 ledger in 2011, never more than four games over or five games under .500 at any point.

Don Mattingly (2011 Dodgers): Donnie Baseball took over for a retiring Joe Torre, who had gone 80-82 in 2010. Despite all the off-field distractions, and very little offense outside of Matt Kemp, Mattingly was able to guide the Dodgers to an 82-79 record in 2011.
Two of the most recent examples of managers being hired despite no prior managing
or
coaching experience have turned out poorly:
Buck Martinez (2001 Blue Jays): The 2000 season saw the Jim Fregosi-led Jays go 83-79. Martinez, who spent most of his post-playing career in the broadcast booth, led the '01 squad to a similar 80-82 record; after getting off to a 20-33 start in 2002, Martinez was fired.

A.J. Hinch (2009 Diamondbacks): The 2008 Diamondbacks went a disappointing 82-80, and when they started out 12-17 in '09, Hinch was given the job, at the tender age of 34. He led the team to a 58-75 finish to that season, and was 31-48 in the 2010 campaign when he was replaced by ... Kirk Gibson.
As you can see, most times there is little change in year one, but major upheaval (both good and bad) in year two.
The team he will manage
Since their splendid 99-63 regular season run to the 2005 World Series title, the record of the ChiSox has been neither wretched nor exemplary. With the exception of 2007 (a 72-win campaign), they've won between 79 and 90 games each year. They've compiled a .511 winning percentage and just one playoff appearance. They rank 13th in W-L percentage during that time.
[+] Enlarge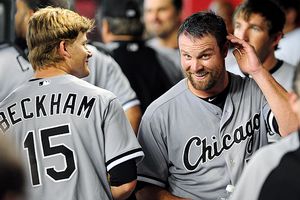 Jennifer Stewart/US PresswireHow John Danks, right, performs as No. 1 starter and whether Gordon Beckham can get his OPS back on track are key questions awaiting Ventura.
But last year's club showed some glaring weaknesses. On offense, the 2011 squad had only two regulars compile an OPS greater than .728 (the league OPS was .730) or over a 100 OPS+. There were 22 players with more than 400 plate appearances and a sub-.660 OPS during 2011, and the Sox had
five of them
. The team finished no higher than seventh in the AL in any offensive category. It were also the third-oldest offense in the league. On defense, committing the second-fewest errors in the AL couldn't mask the lack of range afield, as White Sox' Defensive Efficiency ranked third from bottom. If you reached first base against the Sox, you ran, as they threw out a league-low 22 percent of stolen-base attempts. The pitching helped keep some of the pressure off of the defense, as their 7.5 K/9 and 2.78 K/BB led the AL. But they still ended up with a league-average 4.10 ERA.
In 2012, the club will face some major hurdles if it wishes to improve on last season's performance or even just to keep pace with it. The starting rotation must replacing staff ace/workhorse
Mark Buehrle
's 200-plus innings. Buehrle's 2,425 frames since 2001 are
60 more than anyone else
.
John Danks
, who pitched better than his 4.33 ERA might suggest, assumes the No. 1 starter position, with 22-year-old
Chris Sale
stepping into the rotation.
Philip Humber
pitched more than 21 2/3 innings in the majors for the first time in 2011, by 141 innings; his BABIP was a low .276, and something may have to give in 2012. In the bullpen,
Matt Thornton
has been the ChiSox primary set-up man for six years, and had a shot to close last year but lost it; with the departure of
Sergio Santos
via trade, can the 35-year-old Thornton step up, despite a sharp drop in his K/9 rate last year (12.0 to 9.5)?
On offense, there is a growing concern over second baseman
Gordon Beckham
. The former first-round draft pick has seen his OPS slide from .807 to .695 to .633, though his defense has improved at second base. Third baseman
Brent Morel
may not be the answer at the hot corner, as his profile (a .250 doubles hitter with few walks and below-average range) is lacking for the position. Catcher
A.J. Pierzynski
is 35 and closing in on 1,500 games behind the plate. His 120 games at catcher last year were his lowest since 2004, and he threw out only 20 percent of runners attempting to steal, below his career mark of 24 percent. There have been only
30 player-seasons in the past 50 years
where a 35-or-older catcher has managed at least a .728 OPS (as Pierzynski did last year).
Then we come to the two biggest enigmas,
Adam Dunn
and
Alex Rios
. Everyone is well aware of Dunn's legendary collapse in 2011, including his .064 batting average versus lefties. With three years and $44 million to go, can new hitting coach Jeff Manto get "The Big Donkey" standing upright again? Also, while Rios will never truly be worth the $21 million he is drawing each year through 2014, the Sox hope for something closer to the .284/.334/.457 line of 2010, rather than the .227/.265/.328 slash of 2011. They're moving him to left field this season, where he has played one game his entire career.
Will Ventura exceed expectations?
So, Robin Ventura will certainly have his hands full (and tied) with a team that is, at best, in transition and, at worst, about to fall off a cliff. If he can move the White Sox in the right direction, it will be yet another extraordinary performance, as impressive as any of his grand slams. Given his history as a player, and the opportunity to establish a new atmosphere in the clubhouse, I think there is at least a chance he can pull it off.
Diane Firstman blogs about baseball at Value Over Replacement Grit, a SweetSpot network affiliate, and you can follow her on Twitter at @dianagram
November, 9, 2011
11/09/11
4:05
PM ET
By
Christina Kahrl
| ESPN.com
The Chicago Cubs' decision to interview Texas Rangers
pitching coach Mike Maddux
for the vacant manager's job provides another reminder that Theo Epstein, Jed Hoyer, and their merry crew aren't afraid to do things differently. And more power to them. If Maddux winds up being their selection, it will reflect their willingness to break with convention and perhaps accrue an additional benefit as a result.
There's a long-standing bias against former pitchers becoming managers. It's a long-standing prejudice that is a little self-reinforcing. You can blame selection bias -- so few ex-pitchers get to manage ballclubs in the first place that a few spectacular failures bias decision makers. Pitching coaches like Larry Rothschild, Ray Miller, George Bamberger and Marcel Lachemann proved to be mediocre managers.
Former pitcher Tommy Lasorda is the all-time leader in wins as a manager, and is 17th overall all-time. The only other former hurler in the top 20 for wins as a manager is Clark Griffith, who did his pitching in the 19th century, won his first and only pennant in 1901 with the Chicago White Sox.
More recent examples of success exist, though even they seem to get slighted. Former Astros ace Larry Dierker took the remarkably unconventional career path of moving from the booth to the dugout. He was a spectacular success, winning four division titles in five years from 1997 to 2001. He was nevertheless seen as unconventional and perhaps even a bit too smart for his own good.
Roger Craig led the Padres to their first winning season in franchise history as a rookie skipper in 1978, but still got canned after they regressed in 1979. After another successful spin as a pitching coach for Sparky Anderson's Tigers (with a ring in 1984) helped him earn another run with the Giants. All he did was win a pennant and two division titles while finishing above .500 in the first five of seven full seasons skippering the Giants. But Craig is perhaps better remembered for a pitch (the split-fingered fastball) and a motto ("Humm Baby!").
There is plenty of reason to believe that former pitchers can be good or even great managers. Two current active ex-pitchers are now managing, John Farrell of the Blue Jays and Bud Black of the Padres. Black is one of the best in the business, and he won the 2010 NL Manager of the Year award (full disclosure,
I voted for him
).
Coming to San Diego as a well-regarded pitching coach, Black has proven effective in the face of limited resources, crafting useful bullpens and exercising adroit staff management. But he has also proven more than capable when it comes to dealing with running an offense. He has proven adept with his lineup construction and playing time distribution, while building platoons to shore up an offense short on premium talent. If anything, he's proven to be more adaptive and creative on offense than many of his former position-playing rivals.
Whatever superstitions exist over hiring ex-pitchers and ex-pitching coaches, examples like Black, Dierker, Lasorda, and Craig, should be enough to dispose of the bias. But perhaps even more important, managing a pitching staff -- not just who you use, but the logistics of workloads, warm-ups, pitch counts, rest days and more -- is perhaps the most important area of managerial discretion in the game today, especially with the utilization of in-game offensive tactics on the wane.
If Maddux gets past the prejudice and winds up in the dugout, I wouldn't bet against him. Just as Black's resume was excellent, Maddux's track record as a pitching coach in Milwaukee and Texas is nothing short of outstanding. And as Black (and Dierker and Craig) demonstrated, there's no reason to believe that Maddux can't pick up running the offensive side of a manager's responsibilities.
Christina Kahrl covers baseball for ESPN.com. You can follow her on Twitter.
August, 25, 2011
8/25/11
6:45
PM ET
By
Christina Kahrl
| ESPN.com
One of the guilty pleasures of listening to
Chicago White Sox
broadcasts when Hawk Harrelson and Tom Paciorek were in the booth during the 1990s was their discussion of "team speed." They sometimes even nonsensically talked about individual players who possessed good team speed. I'm not quite sure how one guy could have good team speed, but you trust that Hawk and Wimpy would mull the possibilities. It was one of those things a team wanted. In the absence of hard data, speed could get reduced to a question of who was successfully stealing bases frequently.
[+] Enlarge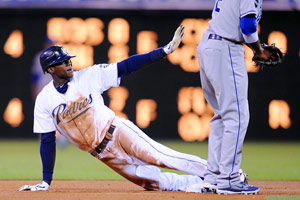 Christopher Hanewinckel/US PresswireCameron Maybin and the Padres have been rewarded for their fleet-footed ways this season.
But there's more to it than that. Happily it's also the sort of thing that Baseball-Reference.com and other outlets capture and report. So this year, we can see that no team is helping their offense more with effective basestealing than the
San Diego Padres
. This is not just because they lead the majors in attempts (185) or steals (150), but because they're also stealing bases at an MLB-best 81 percent clip.
However, that isn't the only thing that Bud Black's team is doing well on the basepaths. The Padres also
lead the majors
in equivalent baserunning runs (
EqBRR
) with 17.8. This is Baseball Prospectus' aggregate stat of runs accrued by stealing, advancing on fly balls, grounders, extra bases taken on hits -- or basically any other opportunity a player might have for getting extra bases at the risk of additional outs. EqBRR was developed by Dan Fox before he became the Pirates' director of baseball systems development, and it's a nice aggregate stat. But there's also plenty to find rooting around in
B-Ref's raw baserunning info
.
The Pads' stolen bases (an MLB-leading 5.5 runs) accounts for only a third of their baserunning runs. They are also better than almost everyone advancing on hits or outs. It's also a team effort --
Cameron Maybin
may lead the team with 6.5 baserunning runs, but eight different Padre players have chipped in 1.6 or more, while their worst menace, the lead-footed
Ryan Ludwick
(minus-2.8), has already been dealt away to a life of Piracy.
The next-best teams when it comes to boosting their offense with stolen bases are the Dodgers -- another high-percentage stealing team at 80 percent -- and the
Boston Red Sox
, but neither club runs as often or as well as the Pads. However, the teams best at stealing bases aren't automatically the best teams when it comes to helping themselves on the basepaths in other ways. Consider the
New York Yankees
, who lead the American League. They run a little more frequently than other teams, but most of their team total of 9.5 baserunning runs is due to advancing on fly balls (2.4 runs) and grounders (9.3).
The
Los Angeles Angels
are a team that doesn't execute all that well on stolen bases, despite their oft-avowed preference to push defenses. They are successfully stealing 74 percent of the time (slightly above the MLB and AL average of 72 percent) but that doesn't net them any more runs. Their opportunities lost to being caught slightly outweigh the benefit of the extra bases snagged -- a cost to the Angels of a little more than a run (minus-1.22, to be precise). The Angels' tendency to lean hurts them with a league-leading total of outs on base, Baseball-Reference's tally of plays where runners get thrown out attempting to advance on outs, wild pitches/passed balls, or balls in play.
This makes it sound like it's best for the Angels to stand pat, right? Wrong, because the Angels get a small return on their aggressive baserunning. Forty seven percent of their runners take an extra base on hits. That puts them among the leaders in equivalent runs on hit advancement (
EqHAR
) with 6.56 second only to the
Texas Rangers
at 6.6. The Angels' risks add up to a modest benefit, 5.5 runs in the black on the season, their best mark since 2007 after several seasons in the red. Mike Scioscia accepts the risks to try to make the most of the hits he does get while putting pressure on defenses.
If that sounds like a lot of work to generate a fairly modest benefit on offense, sitting still comes with penalties, even working with an experienced roster. In a lineup stocked with a few heavy-footed boppers, the aging
St. Louis Cardinals
are baseball's worst team at stealing bases with 42 taken on just 73 attempts (58 percent). They're not good at it, so they don't run very much, but that still translates to 5.7 runs lost to straight steals and busted hit-and-runs and whatnot. But that lack of speed in the lineup hurts them as well when it comes to avoiding double plays on ground-ball outs, which contributes to the loss of another 12.7 runs on grounders. That adds up to almost 18 total runs lost on baserunning, MLB's worst mark. And like the Padres, it's a team-wide feat, with nine different players chipping in marks of minus-1.6 runs below zero or worse.
June, 4, 2011
6/04/11
12:00
PM ET
By
Christina Kahrl
| ESPN.com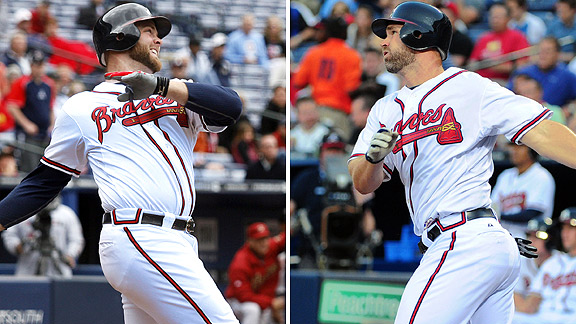 US Presswire/Getty ImagesThe lefty/righty catching platoon of Brian McCann and David Ross has been the NL's best this season.
If the American League has very few stable platoons but a few identifiable platoon players getting work, is the National League any better off? Even with today's bigger bullpens, the absence of a DH gives NL skippers and GMs a little more freedom to carry a player whose primary value is to platoon, since they have five reserves, so even if one is a catcher and another is someone who can play short, that still leaves space for the odd guy. Say, that journeyman who can knock a situational lefty right out of the box, or who can help put up a crooked number against that tiring right-handed starter in the fifth or sixth inning. And it doesn't hurt that these kinds of guys are handy for double-switches.
As in the American League, you find a few catching platoons of convenience, in which the backup backstop bats from the other side and conveniently gets his starts on the days the starter needs a rest. The Braves' setup with
Brian McCann
and
David Ross
is the best of the lot, but when Atlanta afforded itself Ross, it did so knowing it was getting more than a platoon player. The Mets' young/old and lefty/righty combo of
Josh Thole
and
Ronny Paulino
has its virtues. Charlie Manuel has the benefit of a slight inversion of the paradigm when
Brian Schneider
is healthy -- a lefty-batting backup is a lot easier to spot when
Carlos Ruiz
really does need a rest, since most pitching is right-handed -- but he's on the DL.
Stable platoons beyond those behind home plate are surprisingly limited in the Senior Circuit. I'd divide the current group of platoons in the league into three groups: committed, accidental and diffident, reflecting the level of planning and commitment that went into constructing them, and whether or not they're going to last more than a couple weeks.
Among the few we'd call committed, Clint Hurdle's stolidly running out his right-field combo of
Garrett Jones
and
Matt Diaz
. It isn't hitting all that well, but that was the plan, and so far, they're sticking with it. The Phillies anticipated a right-field platoon before the season, but
Domonic Brown
's injury kept that from becoming a reliable feature of Manuel's lineup cards until recently, pressing
Ben Francisco
back into an everyday role he handed back.
[+] Enlarge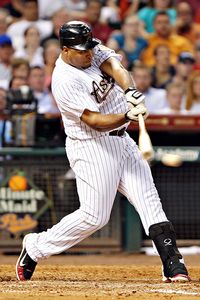 Troy Taormina/US PresswireThe Astros are 10-8 against lefties this season, which could be partly because that matchup allows them to move Carlos Lee out of left field.
In the infield, San Diego manager Bud Black has been reliably sticking with
Brad Hawpe
and
Jorge Cantu
as his first-base arrangement, but there's only so much Can'tu at the plate that even the Padres can endure. The rare multi-position platoon that's a matter of design, but also a certain diffidence is found in Houston, where Brad Mills is moving
Carlos Lee
between left and first base, but not every time out.
Brett Wallace
sits against a few lefties,
Jason Michaels
plays left and Lee moves to first and keeps getting to play every day. The 'Stros might have a 10-8 record vs. lefties, but getting Michaels into the lineup isn't the reason why. But re-potting the increasingly immobile Lee someplace other than left field might be a contributing factor.
Alone among their NL brethren, the Marlins have stuck with an infield platoon someplace other than first base, and they platoon at third without actually finding a set right-handed half of the platoon. Edwin Rodriguez has damned the defensive torpedoes to run
Greg Dobbs
out there every day against right-handers, while leaving his partner du jour as a matter of mystery -- sometimes it's
Wes Helms
, sometimes it was
Donnie Murphy
, and now sometimes it's the roving
Emilio Bonifacio
. Those happy few who root for the Teal Deal are no doubt on their seat's edge when their Fish face a lefty.
Among the accidental platoons, three NL West teams have setups they didn't necessarily expect. To the credit of both Bruce Bochy and Black, they've proven reliably willing to platoon, and they're assembling new ones on the fly after their initial designs broke down. Black got plenty of mileage out of his outfield platooning last year, but
Will Venable
flopped this spring, handing back his half of the right-field job. In his desperation, Black is pairing
Eric Patterson
with
Chris Denorfia
, which isn't helping matters.
While Bochy isn't trying anything quite as inspired as last year's mid-season lineup platoon between
Travis Ishikawa
and
Aaron Rowand
-- with
Aubrey Huff
moving to the outfield against righties and returning to first base against lefties -- he has been aggressive in getting
Nate Schierholtz
into the lineup against right-handers while playing
Cody Ross
daily. Rowand is getting platoon time with
Andres Torres
in center, but
Pat Burrell
hasn't been entirely reduced to Schierholtz's platoon partner.
Then their is the Dodgers' Don Mattingly. Some combination involving
Jay Gibbons
in left field was probably going to be part of the program at the outset, but Gibbons' spotty health, a passing interest in
Tony Gwynn
's speed, and
Marcus Thames
' breakdown opened up an opportunity for first baseman
Jerry Sands
to win the job. But like so many other thundersticks from Albuquerque in Dodgers history, his stick fell still in Chavez Ravine, and now Sands is in an accidental platoon with Gibbons until they decide there's a better alternative.
Injury created the Braves' temporary replacement platoon setup for
Jason Heyward
, as the
Eric Hinske
/
Joe Mather
platoon is working out nicely -- but it's also clear that pair will head back to pine time as soon as Heyward's healthy. In contrast, some managers look like they'd like to platoon more, but injuries have gotten in the way. The Brewers' Ron Roenicke appears committed to a
Nyjer Morgan
/
Carlos Gomez
platoon in center because of the speed 'n defense combo it provides, but Morgan's injury got in the way at the outset. If it sticks, that's the circuit's lone platoon arrangement up the middle someplace other than catcher.
The Pirates' loose platoon at the infield corners reflect what I mean by "diffident platooning." In contrast with his greater faith in his right field platoon, at the infield corners Clint Hurdle's sort of futzing around with
Steven Pearce
at both first and third vs. lefties to give him something to do, and sometimes
Brandon Wood
gets time at third. But it isn't an everyday sort of devotion, and has as much to do with
Pedro Alvarez
's career-stunting slow start and
Lyle Overbay
's offensive indifference than any abiding faith in Pearce or Wood.
I'd also chuck Kirk Gibson's first-base set-up into this category as well --
Xavier Nady
and
Juan Miranda
are platooning, sort of, but Gibson isn't exactly being a stickler about it. Since neither are hitting the people they're supposed to, and since neither plays first base all that well, it's more first base by coin toss at gunpoint than a straight platoon.
Platooning isn't automatically a good idea, after all, and if as Casey Stengel put it, "I could'na dunnit widdout the players," that's just as true today -- skippers can only use what they've got, no matter how clever they might be in how they employ it.
Christina Kahrl covers baseball for ESPN.com. You can follow her on Twitter.
October, 2, 2010
10/02/10
1:00
AM ET
SAN FRANCISCO -- I'm absolutely sure that I'm missing some key piece of information, but from where I was sitting, Bud Black did not have a particularly good bottom of the sixth inning.
His starting pitcher,
Clayton Richard
, had given up just one run but escaped a few jams, gave up a number of well-struck blows, and never seemed to have any real grip on the proceedings. From the beginning, he seemed to just be hanging on until the cavalry arrived; anything more than five innings would be a real bonus for his manager.
Leading off the sixth against Richard,
Buster Posey
hit an easy grounder to shortstop. But
Pat Burrell
ripped a double into the left-field corner.
Aaron Rowand
, a strong (if little else) right-handed hitter was dispatched as a pinch-hitter. Bud Black's bullpen is absolutely loaded with right-handed relievers who eat hitters like Aaron Rowand like they're M&Ms.
Black stuck with Richard. Rowand hit a two-run homer.
Black took out Richard, and summoned one of those right-handed relievers. Not his
best
right-handed reliever. Not his second-best right-handed reliever. Or his third-best. Black called on
Ryan Webb
, a fine pitcher who is the Padres' fourth- or fifth-best right-handed reliever.
Hey, it's still just the sixth inning and Black obviously didn't want burn his best relievers so early in the game.
No, it's what happened next that I couldn't quite figure.
Well, not exactly next. What happened next is that Webb walked
Juan Uribe
(no easy chore, by the way), struck out
Edgar Renteria
, and gave up a double to
Cody Ross
.
All the while, super-situational lefty
Joe Thatcher
was heating up in the bullpen.
Why?
I wondered.
Aubrey Huff
was still a few batters away, and Huff is essentially the Giants' only dangerous left-handed hitter.
After Ross's double (his second in two innings), Black took out Webb and brought in Thatcher to face switch-hitting
Andres Torres
, who has a huge platoon split this season -- .223/.303/.346 against lefties, .288/.360/.537 ... but essentially
no
real split in his career. Maybe Torres is simply a different hitter now, or maybe Black was seduced by a small sample size. You decide.
Either way, Thatcher -- one of the great lefty relievers in the game, at least this season -- was used for exactly one batter. Torres reached base (and drove in a run) with a swinging bunt, and Black yanked Thatcher in favor of
Luke Gregerson
, who finally nailed down the third out.
But the Giants scored three runs in the inning, and Black won't have his best lefty if a scary situation should arise.
I just wonder if he would do exactly the same things, if he have the bottom of the sixth to do over again.
October, 1, 2010
10/01/10
11:35
PM ET
SAN FRANCISCO --
Matt Stairs
' line-drive homer in the fourth inning -- it spent about 17 nanoseconds in the air before landing in the right-field stands -- must have felt especially good for both Stairs and his manager, Bud Black.
Stairs, as you might recall if you're old, is old.
Well, not
old
. By most standards (if not mine), Stairs is middle-aged. But 42-year-old baseball players who can't pitch usually can't play. Not in the National League, anyway. Especially if they can't really hit.
And as recently as a month ago, it looked like old Matt Stairs couldn't really hit. As September dawned, Stairs had a .211 batting average. He'd shown some power, but that was essentially wiped out by the batting average.
But the Padres kept him around for five months, and with the rosters expanding they might as well have kept him around for one more.
So they did. And since then, Stairs has seven hits in 23 at-bats. Even better, three of those seven hits have been home runs.
That
is why you keep Matt Stairs around, for just one more month. And that is why Bud Black, so desperate for something,
anything
from his lineup, has actually given old, slow, Matt Stairs four starts in left field in the last eight games.
Hey, if it really works? They'll rename the Manager of the Year Award after Bud Black. And 42 will be the new 30.
October, 1, 2010
10/01/10
11:16
PM ET
SAN FRANCISCO -- If
Clayton Richard settles down
the Giants dig themselves out of this four-run hole and this game turns into a battle of the bullpens, you'd probably figure the Padres have the edge.
And you might be right. But you might be wrong.
Yes, San Diego's relievers sport a 2.81 ERA, lowest in the National League. But the Giants aren't far behind, in third place with a 3.09 mark.
Let's look at their specific guys.
The Padres have
Heath Bell
(1.86 ERA, 86 strikeouts/27 walks), but the Giants have
Brian Wilson
(1.83, 92/26).
The Padres have
Luke Gregerson
(3.21, 88/18), but the Giants have
Santiago Casilla
(2.08, 53/26)
The Padres have
Mike Adams
(1.80, 71/23) , but the Giants have
Sergio Romo
(2.24, 68/14!).
Really, the Padres have just one real weapon the Giants don't: left-hander
Joe Thatcher
, who's been almost unbelievably brilliant in his 63 games -- and only 35 innings -- this season. If Bud Black needs to retire a lefty swinger in a key spot, he can bring Thatcher in and feel really confident.
As edges go, though, this one's particularly small tonight. Because the Giants have just one key left-handed hitter,
Aubrey Huff
. And I'll bet Joe Thatcher's thinking about Huff already.