May, 13, 2014
5/13/14
12:16
AM ET
Five thoughts on Monday's battle between the first-place Detroit Tigers and first-place Baltimore Orioles,
a 4-1 Tigers win
that was more interesting than the final score indicates and evidence of why they were No. 1 in this week's
Power Rankings
.
1. Bud Norris did a very dumb thing.
Norris had locked up with
Rick Porcello
in a nice pitcher's duel, the Tigers leading 2-1 in the eighth inning when
Ian Kinsler
hit a 1-1 fastball for a two-run homer. Two pitches later Norris drilled
Torii Hunter
in the ribs, angering Hunter and setting off a little benches-clearing meet-and-greet where Hunter said something along the lines of "I'm going to take that piece of equipment jockeys carry for their horses and use it on your posterior."
Norris, who was ejected, appeared to say, "It's a fastball inside."
Well, OK. Wayyyyyyy inside.
If you ask me, Norris was clearly upset after giving up the two-out homer. But what did Hunter do? I love that pitchers will get upset when a batter flips his bat but it's OK for pitchers to throw at hitters for no reason.
[+] Enlarge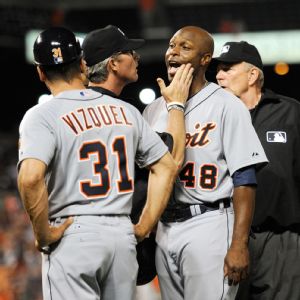 AP Photo/Nick WassTorii Hunter had a few choice words about getting hit by a pitch by the Orioles' Bud Norris.
"I understand the emotion," an understated Orioles manager Buck Showalter said after the game. "But it happens."
Well, sure. It also will be interesting to see if the Tigers attempt to retaliate on Tuesday.
The bigger question: Should Norris have still been in the game? Kinsler was up for the fourth time and studies show that pitchers get progressively worse each time through the lineup. He had thrown more than 100 pitches and had walked
Alex Avila
to start the inning. The bullpen had not been worked very hard over the weekend, so it wasn't a question of Showalter needing the starter to soak up some innings. Plus, in a 2-1 game in the eighth you're not really worried about preserving the bullpen.
2. Rick Porcello continues to impress.
Porcello allowed five hits and no walks in six innings, improving to 6-1 with a 3.22 ERA. He has never walked many but his control has taken a leap forward this year as he's walked just six in seven starts. Certainly, improved defense in the infield has helped the ground-ball specialist and maybe given him more confidence that he doesn't have to throw the perfect pitch.
But Porcello has made a major change in his approach this year, as well, throwing more sliders and fewer curveballs:
2013: 182 sliders, 467 curveballs
2014: 99 sliders, 93 curveballs
Whether it's new pitch selection or simply throwing more strikes, it's an improved Porcello and now a valuable part of the Detroit rotation instead of being the "other guy" behind
Justin Verlander
,
Max Scherzer
and
Anibal Sanchez
.
3. Victor Martinez actually struck out.
One of my favorite stat lines of the season: Martinez has eight home runs and just seven strikeouts, his seventh coming on Monday night. In this era when hitters swing for the fences no matter the count, Martinez has mastered the lost art of putting the ball in play. Martinez went 2-for-4 and is now hitting .331/.380/.583, inheriting the
Prince Fielder
role of batting behind
Miguel Cabrera
and outperforming what Prince.
How impressive is Martinez's non-strikeout start? Since 1980, only George Brett and
Barry Bonds
have had seasons with more home runs than K's. Martinez isn't going to do that -- he had 62 strikeouts and 14 home runs in 2013 -- but this is a special hitter. With two strikes he's hitting -- get this -- .343/.356/.657. Six of his eight home runs have come with two strikes and he has fanned just those seven times in 73 two-strike plate appearances. When you hear announcers talked about the "toughest out" in baseball, Martinez is at the top of that list so far in 2014.
4. Miguel Cabrera is driving in runs and he hasn't even gotten hot yet.
This is kind of a scary thing for opposing pitchers to consider: Cabrera is hitting .290/.331/.478 with five home runs -- nice numbers but nice isn't usually the word used to described Cabrera at the plate -- but he still has 30 RBIs in 34 games.
There's still something not quite right about Cabrera, however. He has just eight walks and 27 strikeouts. That's a 5.4 percent walk rate and 18.2 percent K rate, compared to walking 13.8 percent and whiffing 14.4 percent of the time last year. I'm not quite sure what's going on there because his chase rate on pitches out of the zone is barely higher than last year and his swing-and-miss percentage is actually down one percent. Pitchers aren't giving him the free passes like a year ago when he had 19 intentional walks (he has just one this year), but that could be a function of having more runners on base in front of him and thus fewer open bases or managers not fearing Cabrera as much.
My prediction: Cabrera starts heating up as the weather warms. Then we'll start seeing pitchers pitch around him more often.
Assuming they want to pitch to Martinez, that is.
5. The Tigers' defense is better.
I alluded to this in the Porcello comment, but the Detroit defense has looked much better than it did in 2013, with one notable exception. The Tigers were at minus-14 Defense Runs Saved entering Monday's game, but Hunter is at minus-10 in right field and the ill-fated
Alex Gonzalez
experiment at shortstop resulted in a minus-4 rating. A year ago, the Tigers allowed a .306 average on balls in play; this year it's at .292.
So, Tigers sitting at No. 1 in the Power Rankings? I'm not going to disagree.
March, 3, 2014
3/03/14
4:30
PM ET
By
Christina Kahrl
| ESPN.com
This is getting talked up on Twitter as very close to happening:
Johan Santana
could be an Oriole.
If so, I love it. I love it even if it subsequently turns out that he has nothing left and that his towering stack of injuries has robbed him of his ability to pitch effectively for any length of time. I love it because you won't know that for sure until you check him out. If the O's take that chance, more power to them.
For most of the last month, Santana has been promoting and throwing bullpen sessions to advertise both that he's still alive -- after missing all of 2013 and 2011, as well as a big chunk of 2012, people start to wonder -- and that his arm is sound. Since he has been touching only 80 on the gun, it's hard to say he's all the way back.
Even so, the Orioles are one of the teams that can't just
afford
to take a flyer on him. They
have
to if they want to take themselves seriously. Not because of what Santana is now, but because of what he might be if he can come back to some fraction of his former self. Think of it as a latter-day John Tudor play: If he's healthy enough to pitch, chances are he'll be good enough to help you win.

Why does that matter for the O's? Because after you get past
Ubaldo Jimenez
and
Chris Tillman
, Baltimore has lunch-bucket types, guys who might make a nice No. 4 in anybody's rotation:
Wei-Yin Chen
,
Miguel Gonzalez
and
Bud Norris
at the least, plus
Zach Britton
and
Brian Matusz
, if you're feeling generous. Top prospect
Kevin Gausman
will eventually pitch his way past that crowd of mediocrity. But over 162 games and especially early on, that mediocrity and depth will have value, keeping games in reach for
Chris Davis
& Co. while giving Buck Showalter enough talent to work with until Santana and Gausman are ready to contribute.
Why them, and why later? Because in a perfect-world, blue-sky scenario where the Orioles contend, you don't want to wind up in the postseason having to start Norris. Gausman might give the Orioles a key front-end starter down the stretch, perhaps playing as large a role for them as
Michael Wacha
,
Sonny Gray
and
Gerrit Cole
did for their teams last year. Running up some combination of Santana and Gausman, Jimenez and Tillman? Now we're talking, not just about a team that might get to the one-game wild-card play-in but a team that might have the starting pitching to win a division series.
So credit the Orioles if they're willing to roll the dice. It isn't like Peter Angelos can take all of his tobacco lawsuit money with him, and for the O's -- and their fans -- there's no time like the present.
If Santana gives us some fraction of that world-beating pitcher who won two Cy Youngs, just call me greedy, because it'll be fun to watch.
Christina Kahrl writes about MLB for ESPN. You can follow her on Twitter.
May, 9, 2013
5/09/13
10:55
AM ET
Quick thoughts on Wednesday's games ...
March, 31, 2013
3/31/13
11:52
PM ET
The best thing about Sunday night's game between the
Texas Rangers
and
Houston Astros
? Our long national nightmare known as spring training is finally over. We have real games that count in real standings, no more reports on offseason weight gains and weight losses, no more reports on players who say they're primed for a good season (nobody ever says they're going to have a bad one).
The second-best thing is that at least for one day the Astros won't be baseball's laughingstock. In their first game as an American League franchise -- following a move forced upon them after 50 years in the National League, to give 15 teams in each league -- the Astros humbled their new division rivals
with an 8-2 win
. They're in first place and Astros fans can dream of a miracle season ... at least for the next 48 hours, until they play again on Tuesday.
After seasons of 106 and 107 losses, many are expecting the Astros to lose that many games again, maybe more, as they move into the tough AL West in Year 3 of the biggest rebuilding plan any team has ever constructed. The Astros have pared every veteran player from the roster other than a few low-cost free agents like
Carlos Pena
,
Rick Ankiel
and
Erik Bedard
. The payroll is so low that the player they're actually paying the most money to,
Wandy Rodriguez
, plays for the Pirates.
Bud Norris
is the team's highest-paid player on the roster, and at $3 million he's making less than the major league average. He drew the start in front of the home fans and took a shutout into the sixth inning. The Rangers had gone 19-5 against the Astros since 2009 in interleague play, and finally rallied against a tiring Norris. New Astros manager Bo Porter may have left Norris in a batter or two too long, and the veteran Bedard -- actually slated to be the team's fifth starter -- was called in from the bullpen to record the night's biggest out, getting
A.J. Pierzynski
to fly out to center on a 1-0 fastball with the score 4-2 and two on base.
Meanwhile, Rangers manager Ron Washington -- not exactly lauded for his tactical genius over the years -- replaced
Matt Harrison
with veteran
Derek Lowe
with two runners in the bottom of the frame to face
Brandon Barnes
. Now, it's probably not Washington's fault that Lowe is on the roster following a season in which he had a 5.11 ERA and walked more batters than he struck out. If anything, using Lowe when the game was still in doubt speaks not so much to Washington's confidence in a vet who may be washed up as it does to the depth in the Texas bullpen. Anyway, Porter pinch-hit the left-handed Ankiel for Barnes, and he lofted an 82 mph breaking ball into the right-field seats for a three-run homer.
Look, it's one game. The Astros played respectably during spring training, going 15-16, but the talent here still suggests a 100-loss team. But if Norris and No. 2 starter
Lucas Harrell
can give them 60-plus starts of decent baseball, and Bedard surprises at the back end of the rotation, maybe they
can
avoid 100 losses. Porter plastered the team clubhouse during spring training with motivational quotes and predictions of the Astros' lousy season. Major leaguers don't really need motivation, but sometimes they do need confidence. Winning your opener is certainly better than losing it.
Plus, at least Astros fans have a little something to cheer this year -- they know expectations are as low as you can go, but it will be interesting to see which of the youngsters will develop. Power-hitting
Chris Carter
? Third baseman
Matt Dominguez
? Catcher
Jason Castro
? It's not a team completely devoid of talent; some of these guys will be around on the next good Astros team. Give the fans credit for the Opening Day sellout, a sign of faith and patience in their young squad. And give the Astros credit for playing a good game on national television.
First place.
Put that one on the bulletin board, Bo.
March, 29, 2013
3/29/13
1:30
PM ET
Spring Training is awesome! The weather in Arizona and Florida (usually) rocks, the next generation of stars are on display, we get to see baseball being played after snowy months without it and ... what am I saying? By the end of March I
can't wait
for the games to finally, mercifully,
eventually
count in real standings -- sorry,
Kansas City Royals
fans -- and now that day is nigh. The big Texas rivalry officially starts the 2013 season on Sunday night baseball on ESPN, so let's go! It's Friday, so here are five things you have to know for this weekend in baseball!
Bud Norris versus Matt Harrison!:
Hope springs eternal, even in Houston where the goals are to build for 2019 (hopefully sooner) and avoid losing 100 games this year, just a bit different than that of the contender-ish
Texas Rangers
. Perhaps this isn't an outstanding rivalry yet, but there's certainly room for growth! Anyway, Norris has faced only two current Rangers, but current Astros are 0-for-18 against Harrison. Anyone else smell a no-hitter watch on Opening Day? Bob Feller (1940) would welcome Harrison to the club!
We're not Joshing:
Meanwhile,
Josh Hamilton
spent five seasons as a Ranger, making five All-Star teams, hitting many home runs and burning bridges when he departed. The new center field arrangement is a likely speedster platoon of Cuban
Leonys Martin
and Arkansas native
Craig Gentry
. It won't provide power, but certainly intrigue at the bottom of a deep lineup. Hamilton's power will be replaced -- as Ron Washington crosses his fingers -- by
Lance Berkman
. Sure, last season he was an injured mess. In 2011 when nobody expected it, Berkman finished sixth in the majors in OPS. Hamilton was 10th in OPS last year.
San Antonio, here we come!:
Meanwhile, all teams are technically in action this weekend, even if their low-level Class A players will be doing the heavy pitching and hitting lifting. The Rangers host the
San Diego Padres
in Tim Duncan's lovely city Friday and Saturday. San Jose is a lovely place, too, but the
Oakland Athletics
are going to end up somewhere, someday, so remember the Alamo, or at least the attendance figures this weekend when the A's and Giants host each other. The skeleton of the
New York Yankees
-- oh wait, that's their
actual
April lineup? -- will take on Army at West Point, N.Y. An entire Army? And you thought the Yankees taking on the rest of baseball was a challenge.
Roster roulette:
Fantasy owners might be wondering why the heck
Christian Garcia
is on the disabled list -- or who he is -- or when the Yankees will officially send
Mark Teixeira
and
Curtis Granderson
as teams finagle 25 men onto their active rosters. Longer-term injured players will get their procedural asterisks for DL placement, but in some of the cases the moves will be short-term.
Baltimore Orioles
pitcher
Chris Tillman
, for example, had his DL stint performed retroactively, and could still pitch later in the week, so don't give up on the potential fantasy windfall of players like Tillman just yet. What's more interesting is ...
Unemployment line:
The healthy players who do end up with jobs -- because there are some big names on the proverbial fence. Check out SweetSpot blogger Dave Schoenfield's beloved
Seattle Mariners
, for example, where
four-time
30-100 guy
Jason Bay
should make the team, but only to sell tickets. Seriously, can he be an integral contributor after years of unfortunate injury and insult to
New York Mets
fans? Prospects like Jackie Bradley Jr. in Boston won't be out of work, but it's undecided where that work will be on display. Don't be surprised by a trade or two as well, as teams look for upgrades even at the last minute.
Casper Wells
starting in left field for Philly for their Opening Day?
Alfredo Aceves
in another team's rotation?
Jose Valverde
closing for his pal Jim Leyland in Detroit? Well, maybe not.
Regardless, enjoy your weekend and remember, the games count starting Sunday night!
February, 14, 2013
2/14/13
11:30
AM ET
2012 in review
Record: 55-107 (59-103 Pythagorean)
583 runs scored (16th in NL)
794 runs allowed (15th in NL)
Big Offseason Moves
Moved to the AL West. Named Bo Porter manager. Traded
Jed Lowrie
and
Fernando Rodriguez
to Oakland for
Chris Carter
,
Brad Peacock
and
Max Stassi
. Traded
Wilton Lopez
to the Rockies for
Alex White
. Signed free agents
Carlos Pena
,
Erik Bedard
,
Jose Veras
and
Rick Ankiel
.
You have evaluate Houston's offseason in the context of general manager Jeff Luhnow's plan: Start over. That's what the Astros have been doing over the past year and Luhnow has now traded away every player making significant money. In fact, the player receiving the highest paycheck from the Astros will be
Wandy Rodriguez
, who will receive $5 million from Houston while pitching for Pittsburgh. The payroll will be around $25 million with
Bud Norris
' $3 million salary the highest on the 25-man roster.
As for the moves, Luhnow turned an injury-prone infielder and erratic reliever into a potential middle-of-the-order bat in Carter and potential rotation guy in Peacock. He traded another reliever for White, a former first-round pick. He claimed reliever
Josh Fields
-- another former first-round pick -- off waivers. He signed a few cheap vets so he can actually field a team. Look, odds are slim that Peacock and White actually turn into anything, considering how Peacock was hit around in Triple-A and White's struggles with the Rockies. But you never know. Collect some good arms and hope you get lucky.
As for the switch to the American League,
Astros fans are still bitter
about the forced exile.
Position Players
Considering the Astros scored the fewest runs in the National League and don't get to face Cubs pitching 15 times in 2013 but will have to play road games in Seattle, Oakland and Anaheim, it could be ugly watching this team struggle to score.
Don't print that lineup on stone. Porter will be mixing, matching and trying different guys all season. It's possible
Jose Altuve
ends up as the only guy with 500 at-bats. Look for Wallace -- probably his last chance to prove himself as a major league starter -- to play some first and third, look for Carter to play some first and left field when he's not DHing, and look for
Tyler Greene
and
Marwin Gonzalez
to both get a shot at shortstop. And who knows who will be in the outfield by September.
Altuve,
Matt Dominguez
and catcher
Jason Castro
are the best bets to still be starting here a couple years down the road, but the Astros hope at least one of the others -- Wallace, Carter,
J.D. Martinez
,
Fernando Martinez
-- takes advantage of a shot to play regularly and develops into a solid big-leaguer.
Pitching Staff
Norris and
Lucas Harrell
at least give the Astros two major league starters. They're both entering their age-28 seasons. Yet Norris has yet to pitch 200 innings in a season and there's a chance that Harrell's 3.76 ERA season was a fluke, considering his relatively low K rate, a problem he had in his minor league career.
After that, things get even dicier.
Jordan Lyles
is just 22, so it's too early to make a final judgment on him, but after 40 major league starts he has a 5.20 ERA. He's never going to be a strikeout pitcher, so like Harrell he needs to limit the home runs and get help from his defense.
Philip Humber
and Bedard are the veteran gambles here. If either or both pitch well, they could be trade bait come July. Of course, both have to stay healthy to even get into the hopeful position.
The interesting arm here is White, the 15th pick of the 2009 draft and one of the guys Cleveland sent to Colorado in the
Ubaldo Jimenez
trade. His pro career has been a disappointment, including a DUI arrest last spring training. Getting out of Colorado should help give him some confidence, but some believe his stuff has declined since his college days at North Carolina.
On the horizon is
Jarred Cosart
, who should get the recall at some point if things go well at Triple-A.
The bullpen? It had a 4.46 ERA last year and allowed the highest batting average in the NL. It doesn't appear to be any better this year.
Heat Map to Watch
Norris' go-to pitch with two strikes is his slider and it's been an effective weapon against righties and lefties. Lefties hit .202 with a .612 OPS against it and righties hit .185 with a .500 OPS. The problem for Norris has been getting to the point where he can use that pitch: Batters hit .305/.406/.523 off his fastball. Unless that fastball command improves, he'll remain a middle-of-the-rotation starter.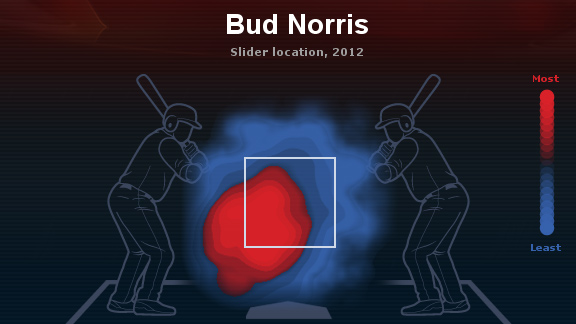 ESPN Stats & Information
Overall Grade

After the Astros lost 107 games in the NL Central, many are understandably predicting 110-plus losses in the AL West, maybe even challenge the 119 losses of the '03 Tigers for recent futility. (Poor Pena played on that team as well.)
I'll be optimistic here and take the under on 110 losses. There are enough young players here that at least
some
of them should play better than last year. If Bedard and/or Humber can give some mediocre innings, that will help as well. I mean, I'm not
that
optimistic; I still see a 100-loss club here.
What's interesting about all this is that no team has really torn its entire franchise apart to the extent Astros have, discarding every useful player they once had. The Marlins sort of did the same thing after last year's spending spree backfired and were heavily criticized for it; the Astros have received a lot of praise for their forward-thinking approach. Of course, the difference is Luhnow and owner Jim Crane inherited a franchise that had hit rock bottom due to incompetence from the previous regime; the Marlins seem to create their own messes.
Whether this plan will work, only time will tell. And it may take a lot of time.
March, 20, 2012
3/20/12
3:55
PM ET
OK, we had to do the
Houston Astros
at some point.

The Astros went 56-106 in 2011 -- and that was with
Michael Bourn
playing 105 games and
Hunter Pence
playing 100. Those two are gone and the Astros outfield regulars appear to be
J.D. Martinez
,
Jordan Schafer
and
Brian Bogusevic
.
Wandy Rodriguez
and
Bud Norris
headline the rotation, with guys like
J.A. Happ
,
Jordan Lyles
,
Henry Sosa
and
Kyle Weiland
competing for the other three spots. Veteran innings eater
Brett Myers
was moved from the rotation to the closer role, presumably to make him a more attractive trade chip come July. The Astros allowed the most runs in the National League in 2011 so there's nowhere to go but up. Moving Myers to the pen won't help that.
Bright spots?
Jose Altuve
is a young second baseman, a little guy with potential at the plate. Martinez will get the chance to prove to skeptics that he's more than a fourth outfielder. Schafer, once a top prospect with the Braves, is still only 25. Maybe this is the year he learns to make better contact.
But that may be optimistic dreaming; realistically, this team is staring at 100 losses again. The new regime in Houston knew a complete overhaul of the franchise was in order, so they'll jump at the first opportunity to trade Myers or Rodriguez or
Carlos Lee
, in the slim chance that a team will take on a portion of their remaining contracts. The over/under is 62.5. I'll take the under.
February, 18, 2012
2/18/12
11:00
AM ET
By
You Can't Predict Baseball
| ESPN.com
Last year, You Can't Predict Baseball came up with
bold predictions
for the year. We had a lot of fun coming up with them, and then laughing at how hilariously wrong they were
at the end of the year
. This year, we're bringing these predictions to SweetSpot, along with explanations for some of them. Keep in mind, these predictions are supposed to be bold, but not insane -- even we know the Orioles aren't going to the playoffs in 2012.
Los Angeles Angels:
Kendrys Morales
stays healthy all year.
Houston Astros:
Bud Norris
is top five in K/9 in the NL.
We figured something good had to happen to the Astros, right? Norris actually has a pretty nice career K/9.
Oakland Athletics:
Yoenis Cespedes is their starting center fielder by Memorial Day.
Toronto Blue Jays:
Brandon Morrow
makes the jump to elite starting pitcher.
He's struck out more than 10 batters per 9 innings two years running, though his ERAs have remained ugly. We think this is the year his results finally match the stuff, especially considering his declining walk rate.
Atlanta Braves:
Julio Teheran
has more wins than
Tim Hudson
.
[+] Enlarge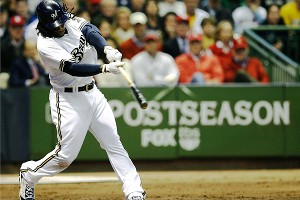 AP Photo/David J. PhillipWith Prince Fielder gone to Detroit and Ryan Braun facing possible disciplinary action, Rickie Weeks could lead the Milwaukee Brewers in home runs in 2012.
Milwaukee Brewers:
Rickie Weeks
leads the team in home runs.
He was fourth on the team last year, with 20. In front of him were Corey Hart with 26, Ryan Braun with 33, and Prince Fielder with 38. Fielder is gone, and for this prediction we'll assume Braun will miss a third of the year due to a suspension. It's not too bold to think Weeks could pass Hart in 2012.
St. Louis Cardinals:
Carlos Beltran
outproduces
Albert Pujols
from last year.
Albert Pujols was great last year, but not quite best-player-of-his-generation Albert Pujols. If healthy, it's not absurd to think of Beltran outproducing Pujols' 5.1 WAR in 2011.
Chicago Cubs:
Matt Garza
isn't their best pitcher.
It'll be Ryan Dempster, who had great peripherals but bad results last year.
Arizona Diamondbacks:
Aaron Hill
will be good again.
He was great with them in limited time, and Arizona's park is quite hitter-friendly.
Los Angeles Dodgers:
James Loney
will be a top-three first baseman in the National League.
Many thanks to Mike Scioscia's Tragic Illness for somewhat alerting us to this one. We just decided to take it semi-absurdly far.
San Francisco Giants:
Madison Bumgarner
is their best pitcher.
In terms of ERA, he already wasn't very far behind Matt Cain and Tim Lincecum, and his K/BB ratio eclipsed theirs by quite a bit.
Cleveland Indians:
They'll have the best pitching in the American League Central.
We're banking on Ubaldo Jimenez, making a major comeback to something closer to what he was in 2010, and the rest of the staff displaying the good that they did in 2011. We're also counting on the Tigers' starters not being very impressive behind Justin Verlander, which is bold but not quite insane, and the pitching of the White Sox, Twins and Royals not being able to keep up with Cleveland's.
Seattle Mariners:
Jesus Montero
catches 100-plus games.
The Mariners probably aren't going to compete, so why not try and play him where he'll accrue the most value?
Miami Marlins:
Despite all their new acquisitions and the hype, they still finish fourth in the NL East.
When you think about it, this one isn't so crazy. If Josh Johnson isn't healthy and maybe even if he is their pitching still trails that of Philadelphia, Washington, and Atlanta; even with Heath Bell, we don't think their bullpen is as good, either. Their offense might be better than some of those teams', but the Marlins were quite a bit below league average offensively last year and we're not sure how much Jose Reyes is going to make up for that.
New York Mets:
Mike Pelfrey
is the worst starter in the NL.
Pelfrey's been pretty terrible two of the past three years, and now they're moving the fences in at Citi Field. He was far better in his huge home stadium, but we're guessing with the moved-in walls he'll be significantly worse at Citi. Here at YCPB, we actually don't think the Mets are going to be quite as dire as many are saying, even if they do come in last place in the NL East - but Pelfrey won't be a bright spot.
Washington Nationals:
Stephen Strasburg
has a 17-strikeout game.
Baltimore Orioles:
Matt Wieters
is the best catcher in the AL.
A lot of people are so obsessed with Wieters not matching the hype that they didn't notice he became a plus offensive performer last year, to go along with very good defense. His taking the next step isn't that bold as predictions go, especially if Joe Mauer has to move off catcher.
San Diego Padres:
Luke Gregerson
is a top-three closer in the NL.
Philadelphia Phillies:
Cole Hamels
is their best starter.
And this isn't meant to be a slight to Roy Halladay or Cliff Lee, but considering their ages and the fact that Hamels is pretty darn good himself, plus a possible boost from a contract year...
Pittsburgh Pirates:
Charlie Morton
is their All-Star.
Texas Rangers:
Yu Darvish
isn't their best starter -- but he's still good.
And we think he'll be pretty good, we just think Derek Holland will become more consistently good, or Matt Harrison will put up numbers like his 2011.
Tampa Bay Rays:
James Shields
will have no complete games.
Predicting someone to have no complete games might not seem bold, but it is when it's a guy who was known as "Complete Game James" last season. Shields did have 11 complete games in 2011, an almost unheard-of number these days, but he had no complete games in 2009 or 2010.
[+] Enlarge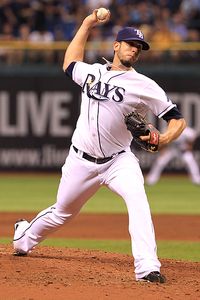 Kim Klement/US PresswireAfter none in either 2009 or 10, James Shields pitched 11 complete games for Tampa Bay in 2011.
Boston Red Sox:
No one hits 30 home runs.
This might seem crazy when you consider their great offensive numbers last year, but only one player on their team hit 30 home runs and it was Jacoby Ellsbury with 32.
Cincinnati Reds:
Brandon Phillips
is the best second baseman in the NL.
Colorado Rockies:
Jamie Moyer
will have the best HR/9 on the staff.
Kansas City Royals:
They reach .500.
While their pitching won't be great, their offense will take a big step forward this year. Combined with the rest of their division being the Tigers and some dumpster fires, it's not that difficult to see it happening.
Detroit Tigers:
They score fewer runs than they did in 2011.
Yes, that's even with Fielder. It's not improbable that Jhonny Peralta, Alex Avila and Delmon Young regress quite a bit from their numbers with Detroit last year, and that Prince Fielder's production "only" makes up for the offensive loss of Victor Martinez in 2012. They'll still have a very good offense, though.
Minnesota Twins:
Joe Mauer hits 15 home runs.
Chicago White Sox:
Robin Ventura gets ejected more times than Ozzie Guillen.
Look at the state of the White Sox. We'd get ejected too.
New York Yankees:
Hiroki Kuroda
leads the team in ERA.
You Can't Predict Baseball is an affiliate of the SweetSpot network.
December, 15, 2011
12/15/11
10:30
AM ET
By
Christina Kahrl
| ESPN.com
Hiring a general manager is a unique, defining opportunity for an organization. The AL-bound Astros may have done exactly that, defining themselves and their future by hiring minor league honcho Jeff Luhnow from the Cardinals to be their new GM. He gives them the executive they've needed for years.
It isn't really a secret that the Astros are now one of baseball's disaster franchises. They may not have the Pirates' 19 consecutive losing seasons to apologize for, but they were already a franchise headed for trouble when they fired general manager Tim Purpura in 2007. Four years under Ed Wade in the front office did not immediately put them on a rebuilding track, delaying the inevitable collapse while costing the Astros time they didn't have.
As the Cardinals' vice president of scouting and player development, Luhnow was simultaneously successful and unconventional, reflecting the benefits of a man who doesn't come purely from either side of the overdrawn divide between scouts and analysts. Instead, Luhnow's background was in business, with an MBA from Northwestern and fluency in Spanish after growing up in Mexico City.
Rational management techniques helped make him a successful consultant and business executive, a broader tool kit than just an appreciation for stats and analysis. His training, experience and success provided Luhnow with the insight to reorganize the Cardinals' scouting department in entirely new ways. Evaluators were assigned to specific conferences, or sub-specialized in pitchers or position players. The wider net his farm system cast didn't just score early-round successes like
Chris Perez
or
Colby Rasmus
, it also produced later-round successes like
Jaime Garcia
and
Luke Gregerson
.
Every team's trying to pursue and achieve competitive advantages over the others, and every team already has some level of awareness of statistical analysis. "Moneyball" may have reached theaters, but its message had long since been received throughout the game. The stats vs. scouts divide has long since gone from concern to overdrawn cartoon. Teams understand the need to utilize both methods, and Luhnow's an effective representative of a generation of leadership who understands that, but also does more than work with scouts
and
stats.
Luhnow's unusual background perhaps also contributed to his popularity with Cardinals owner Bill DeWitt, another MBA holder. DeWitt promoted Luhnow against the wishes of then-GM Walt Jocketty, and deserves his own share of the credit in recognizing the value Luhnow brought to the table. If owners are almost always successful businessmen, you can see how being a man from a similar background would be helpful. Luhnow's track record for solving problems and achieving results in player development in unconventional ways would have already suggested him to new owner Jim Crane. So you can also credit Crane — another businessman — with having the sense to include Luhnow, and then quickly take to him.
The last time around, in 2007, the Astros had the opportunity to make this kind of high-impact hire. They certainly needed it. The roster that had helped propel the team to a pennant in 2005 was already one of the league's oldest. The farm system was undisputedly baseball's worst. Things have not gotten that much better since. In the last 13 years, the organization has drafted exactly nine players who have generated a career WAR value of 1.0 or more. Not just for the Astros, for anybody, anywhere. The top two sound nice enough:
Hunter Pence
and
Ben Zobrist
in 2004, but things go south in a hurry.
Bud Norris
and
Brian Bogusevic
are the only players on this list likely to do the Astros much good in the future.
It gets worse: Two of these players, Sampson and Bogusevic, acquired their value after moving to or from the mound (respectively) -- in both cases, career hail marys to salvage something from a draft pick gone wrong. Also keep in mind that Zobrist didn't produce any of that value for the Astros -- he was traded away to Tampa Bay for
Aubrey Huff
in 2006, in part because he was being defined by what he couldn't do well -- play shortstop every day -- instead of what he can (just about everything else a player can possibly do).
Unfortunately, the draft will take years to yield measurable results, so there's no reason to rush to judgment about Luhnow. It's not like there's a lot of low-hanging fruit in the world of player development left to be easily picked. In the '80s and '90s the Astros were industry leaders in scouting Venezuela, but that advantage disappeared more than a decade ago as every team invested in scouting and acquiring Venezuelan talent. You may have noticed there were no Latin players on the Astros' list of nine farmhands who have produced more than one win above replacement.
Achieving better results in player development isn't the only thing Luhnow will have to address. Part of being a GM is being able to make the sale on a vision for the organization: First to the people who have to hire you, then almost immediately to the fans and media folk who are going to judge everything you do for the team forever after, and then finally -- critically -- he has to be able to get buy-in from the people who report to the GM. That doesn't just mean the players or the manager, it also means to the people who work in player development and baseball operations.
Inevitably, there's going to be some turnover — an ability to select good subordinates is a critical criterion for an effective GM. There will be some defections from the Cardinals in the months to come. But even on the Astros, Luhnow has inherited some front-office talent. What will be critical in the time to come for Luhnow will be not just identifying the talent on the field for the Astros, but people associated with the organization off the field.
So Luhnow will have to sort out who and what he needs to bring in off the field as well as on, working with what he's got to work with. Bobby Heck has been credited with an improved player development program since he became scouting director in 2008 on Wade's watch, but expectations are high with a new owner's investment and relying on Luhnow's track record. Some of Heck's most recent products -- notably
J.D. Martinez
,
Jordan Lyles
and
Jason Castro
-- provide reason for hope.
On some level, the moves to come on the major league team are easy by comparison, because the hand that Luhnow's been dealt is extraordinarily weak. He'll make of it what he can, but
the return from his first trade
, getting infielder
Jed Lowrie
and pitcher
Kyle Weiland
from the Red Sox for reliever
Mark Melancon
, was a great start. His best bargaining chips are veteran rotation workhorses
Wandy Rodriguez
and
Brett Myers
; whether they get dealt now, soon or at the trade deadline, they will not be sold cheaply. Like Melancon, they're the best chances Luhnow has to add young talent to an organization so short of it. Given time, it won't be his last.
Christina Kahrl covers baseball for ESPN.com. You can follow her on Twitter.
June, 9, 2011
6/09/11
3:13
PM ET
Here are the top five reasons why everyone should be listening to
Thursday's Baseball Today podcast

with Keith Law, as we unveil a new show page
that you can see right here
!
1. Breaking news during the show, as the
Oakland Athletics
change managers! We discuss!
2. Two teams changed hitting coaches on Wednesday night, and one of the newbies was our colleague at ESPN. How much can a hitting coach really do, especially to proven players like
Josh Hamilton
and
Chris Coghlan
?
3. The Pirates are 30-30 in June! Should there be celebration? Mr. Law actually might surprise you on this one.
4. Red Sox-Yankees, Yankees-Red Sox ... we explore the
David Ortiz
bat-flipping angle, the Yankees bullpen, what
CC Sabathia
might do and a lot more.
5. The key to the
Adrian Gonzalez
deal with the Padres and Red Sox is scheduled to debut Thursday, and Keith shares his thoughts.
Plus: Excellent emails, wrapping up the amateur draft as well as angles on tools, paying for slot and going to junior college, plus a look at Thursday's pitchers to watch, all on Baseball Today!