February, 22, 2013
2/22/13
9:00
AM ET
By
Mark Simon, ESPN Stats
and
Information
| ESPN.com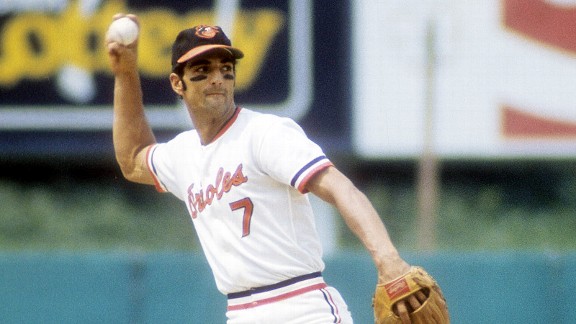 Focus on Sport/Getty ImagesMark Belanger was an eight-time Gold Glove winner with the Orioles.
Everyone has things they like to do to kill time during the baseball offseason, particularly on days in which massive snowstorms blanket the East Coast. Our editor, Dave Schoenfield, likes to make lists of things like the best one-season wonders.
In my case, I like to fiddle with and look more closely at advanced defensive numbers.
That got me to thinking of a little project, albeit an obscure one: What was the best individual defensive season in each team's history, strictly from a statistical perspective?
This can be done, thanks to the wonder that is
Baseball-Reference.com
.
Through 2002, B-R's metric of choice is Sean Smith's Total Zone runs, a statistic that can be tracked throughout baseball history (a full explanation on which
can be found here
.) It's one that checks out reasonably well from our initial examination.
From 2003 to 2012, Baseball-Reference uses the metric we use -- Defensive Runs Saved. Both those stats have the same goal: To estimate the value of a player's defense in runs as opposed to something such as fielding percentage.
It is a painstaking process to go through all 30 teams. So I picked out my 10 favorites and thought I'd share them.
Baltimore Orioles: SS Mark Belanger, 1975 (35 Defensive Runs)
One of the reasons to feel good about the Total Zone metric is that it often (though not always) passes the smell test.
It does so, perhaps no better, than with the Orioles. Of the top 11 stat-based defensive seasons in Orioles history, all belong to either Belanger, Brooks Robinson, Paul Blair or Bobby Grich, each of whom was regarded during his time as a defensive superstar (Grich's four Gold Gloves are the fewest among them).
Belanger's 1975 tally ranks best ever by any shortstop on any team.
Cincinnati Reds: 2B Pokey Reese, 1999 (29 Defensive Runs)
Scouts and stats agreed on the greatness of Reese at that time in his career, when he won a pair of Gold Glove Awards for his defensive excellence.
An article in the Cincinnati Enquirer that year assessed Reese by each of four defensive tools -- range, positioning, footwork, and arm strength, showing what made him so good. It also included this quote from Reds scout Johnny Almarez:
"With Pokey, it's like a sixth sense. It's almost like he knows where the ball's going before it's hit."
Kansas City Royals: LF Willie Wilson, 1979 (25 Defensive Runs)
Of the top four seasons in Royals history, Wilson has three of them (
Alex Gordon
's 24 Runs in 2012 is the other). He racked up at least 20 Defensive Runs four seasons in a row, largely because his speed allowed him to catch up to a lot of flyballs in spacious Royals Stadium.
Wilson averaged 2.77 putouts per nine innings as a left fielder, the best by anyone for as far back as range factor per nine could be tracked (since 1954).
Milwaukee Brewers: LF Greg Vaughn, 1993 (20 Defensive Runs)
This is a misprint.
Actually no, we're surprised to say it isn't. This is by far the biggest outlier on our list. Since 1969 (the Brewers' first season, when they were still the Seattle Pilots), there have been 222 seasons in which a player accumulated either 20 Total Zone Runs or 20 Defensive Runs Saved. Vaughn's is the only one in Brewers history.
Vaughn somehow racked up 20 Defensive Runs despite being used as an outfielder in fewer than 100 games, with putouts and assist totals that were pedestrian. He didn't have any seasons that came close to approaching this. His next-best was six Defensive Runs for the 1999 Cincinnati Reds.
The best possible means of explanation I can come up with (beyond Greg Vaughn breaking into cyberspace and tinkering with his metrics) is that the Brewers don't have a history of defensive greatness.
Of the nine Gold Glove Awards won by the franchise, seven came by first basemen George Scott or Cecil Cooper. And it's rare that first basemen run up the amazing defensive numbers of some other positions.
Anyways. If you don't buy it, we completely understand. Second-best was a tie between shortstop Robin Yount (1981) and catcher
Jason Kendall
(2008). Each finished with 19 Defensive Runs.
Montreal Expos/Washington Nationals: C Gary Carter, 1983 (27 Defensive Runs)
This is the rare instance of a catcher topping the list. In fact, No. 2 in Expos/Nationals history is a 24-run season by Brian Schneider in 2004.
How does a catcher go about saving 27 runs in a season?
That year, Carter threw out 70 of 156 would-be basestealers. His 45-percent success rate led the majors, as did his six catcher pickoffs. That caught-stealing rate was impressive -- it was 12 percentage points better than the major-league average.
Lastly: the Expos' ERA with Carter behind the plate was 3.52. Without him, it was 3.86.
Oddly, Carter won the Gold Glove every year from 1980 to 1982, but lost out to Tony Pena in 1983.
New York/San Francisco Giants: 2B Hughie Critz, 1933 (32 Defensive Runs)
This is the educational portion of this article. I'll admit to never having heard of Hughie Critz before I began this project (I was guessing the answer here was going to be Willie Mays).
Critz was a second baseman, and a pretty good one, from 1924 to 1935. He was runner-up for the MVP with the Reds in 1926, in the days before the BBWAA voted and it must have been for his defense, because Critz finished the season with an 87 OPS+ and only seven steals.
Critz was traded to the Giants in 1930 and helped the 1933 Giants win the World Series. Not long after the deal, Metropolitan Newspaper Feature Services put together an argument that the Giants had the best infield ever (69 years before the 1999 Mets).
In the article, Critz is described as "a million dollar fielder."
That's good enough for us.
Oakland Athletics: CF Bill North, 1973 (25 Defensive Runs)
North wasn't the star of stars like Reggie Jackson and Catfish Hunter were on those Athletics teams. But he played an important undervalued role, both with his ability to get on base (.376 on-base percentage) and his defense.
There is a great anecdote in Tim Herlich's internet biography of North on the SABR bioproject website:
"Always taking pride in his defense, North attended the pitchers' meetings to find out how they were going to pitch to opposing batters. Before computer models were developed to dictate placement of the outfielders, Bill ran the A's outfield and made those decisions. 'I took running my outfield very importantly. That's part of the reason we had good outfield defense.'"
San Diego Padres: CF Darrin Jackson, 1992 (30 Defensive Runs)
Spots two through four on this list are held by who you would expect -- Tony Gwynn and Ozzie Smith. But the top honor goes to Jackson for his 1992 season, the only year in his career in which he played more than 122 games.
Internet searches produce quotes from the likes of Don Zimmer saying that Jackson was a great defender: "This was a year in which everything came together and he was able to show just how great he could be."
Jackson was significantly better than his peers in throwing out baserunners. He led major-league outfielders with 18 assists and nine double plays (no one else in the NL had more than four).
Seattle Mariners: CF Ken Griffey Jr., 1996, and CF Franklin Gutierrez, 2009 (32 Defensive Runs)
For the most part the advanced defensive metrics are not kind to Griffey Jr., particularly on the downside of his career. But the early days rate pretty well, 1996 more so than any other (his next-best seasons are 1997 with 15 runs and 1995 with 14 runs).
It took a herculean effort by Gutierrez in his first year as an everyday center fielder to catch him, including home run robberies of
Jason Kubel
and
Mark Teixeira
.
Gutierrez's ranking (one that rates well across the board regardless of your advanced stat of choice) was the product of his ability to run down the balls hit to the deepest parts of spacious Safeco's center field.
Texas Rangers: 3B Buddy Bell, 1979 (30 Defensive Runs)
The all-time leaders in Total Zone runs for third base is a great list. Brooks Robinson leads the way, but Bell ranks a very solid second ahead of Clete Boyer, Robin Ventura and
Scott Rolen
Bell won six Gold Gloves in his career, though he didn't win any until he arrived in trade from the
Cleveland Indians
in 1979.
Bell got to balls at a considerably higher rate than his peers (3.48 putouts + assists per 9 innings compared to league average of 3.07) and limited his mistakes.
It only took the Rangers a couple of weeks to realize what they were getting. Hall of Fame teammate Ferguson Jenkins paid Bell a strong compliment:
"The thing I'm happy to see is nobody is comparing Buddy Bell to anybody. When a great defensive player comes along, people are always comparing them with somebody else. With third basemen, it's always Brooks Robinson. But I haven't heard any comparisons with Bell. That's good, because Buddy Bell is Buddy Bell and that's enough."
August, 28, 2012
8/28/12
12:40
AM ET
ESPN analyst Tim Kurkjian, with perfect timing, raised the question as
Adrian Beltre
dug in against
David Price
to lead off the bottom off the second inning: "It's time to start thinking of Beltre in a Hall of Fame terms ..." BOOM! Beltre turned on a 1-1 inside fastball, lining it over the left-field fence for his 25th home run.
In the third inning, Price threw a 1-2 cut fastball on the outside corner. Nothing wrong with the pitch, maybe a little up in the zone from where Price wanted. Beltre lined it into the right-center gap for a two-run double.
In the fifth, Beltre came up with runners on the corners. For the third straight time, Price got ahead in the count. He threw an 0-1 97-mph heater off the inside corner of the plate. Beltre fought it off and dumped a little flair down the left-field line for an RBI single, giving the Rangers a 6-5 lead and knocking Price from the game.
"I didn't feel like I was throwing the ball any different than I was during the stretch where I've been successful," Price said. "It's Texas, they're a good-hitting team, and they're feeling it right now."
In the seventh inning, the Rays just gave in. With two outs and the bases empty,
Kyle Farnsworth
threw four straight balls, the intentional unintentional walk.
But the damage had been done. Baseball's hottest hitter beat baseball's hottest pitcher. Price entered the game with an 8-0 record and 1.45 ERA over his past 12 starts, having thrown 12 consecutive games where he pitched at least seven innings and allowed three earned runs or fewer, the first lefty to do that since
Randy Johnson
in 1999. Since Aug. 16, Beltre is now hitting .447 with six home runs, five doubles and 16 RBIs in 12 games. The Rangers held on for
that 6-5 victory
as the Rays missed a chance to gain a game on the New York Yankees after the Bronx Bombers blew a ninth-inning lead to the Toronto Blue Jays.
Before the game, ESPN's Aaron Boone opined that Beltre, and not major league RBI leader
Josh Hamilton
, has been the Rangers' MVP, citing Beltre's excellent defense at third base as one reason. It's that defense that makes Kurkjian's statement more legitimate than you may think: Does Beltre have a chance at the Hall of Fame?
I agree with Kurkjian that Beltre's not there yet, but in a few more years the career totals will start to mount. Here, let's begin with the top third basemen since 1901, using
Baseball-Reference.com
's WAR leaders. The chart below lists each player's wins above replacement, his career value derived from his offense and defense plus his career adjusted OPS mark.
As you can see, Beltre has derived more of his career value than any of the best third basemen other than Brooks Robinson. You can also see that, other than Robinson, the great glovemen have been ignored in Hall of Fame voting, a reason third base is the most underrepresented position in Cooperstown. It's worth noting that Beltre's career OPS+ matches Graig Nettles and Buddy Bell. Neither fared well in Hall voting. Nettles peaked at 8.7 percent on the ballot and fell off after four years; Bell got 1.7 percent and dropped after one year.
Beltre has a big edge over those two, however, at least in the perception of his offensive contributions. Nettles hit just .248 in his career, as his offensive value came from power and walks; Bell hit .279 but lacked Beltre's power. Beltre has a .278 career average and has reached 20 home runs in 10 seasons.
More importantly, he's far from finished. He was just 19 when he reached the majors so has a chance to finish with some impressive career totals. He's just 33 now and is signed for four more years. If he averages 25 home runs, 80 RBIs and 140 hits per season through 2016, we're looking at 445 home runs, more than 1,500 RBIs and more than 2,700 hits. If he proves exceptionally durable and plays until he's 40, he has a shot at 500 home runs and 3,000 hits.
Beltre's career totals will also be helped by playing his home games in Arlington. As basically a dead-pull power hitter, Safeco Field was about the worst park for Beltre to play in. He still managed to reach 25 home runs in three of his five seasons in Seattle. But he has played the past three seasons in Boston and Texas -- probably the two
best
parks for him. Not surprisingly, he has posted the best numbers of his career besides his monster 2004 season with the Dodgers. (Since joining the Rangers, 38 of his 57 home runs have come at home.)
Of course, even if he remains productive, he's hardly a Hall of Fame lock. While his defensive metrics rate as outstanding, he has won only three Gold Gloves.
Scott Rolen
, his similar contemporary, has won eight Gold Gloves, so if you're thinking of reputation (which will likely influence voters more than defensive WAR), Beltre may lack the needed caché. He has also made just three All-Star appearances and finished in the top-10 of the MVP twice. Other than that .334, 48-homer season with the Dodgers (one of the best ever from a third baseman), he has never really been considered one of the game's elite players.
His reputation has certainly improved the past couple of years and his career numbers could eventually make his case a hot debate. At the very least, we can at least start appreciating the excellence of one of the game's most underrated players of the past decade.
PHOTO OF THE DAY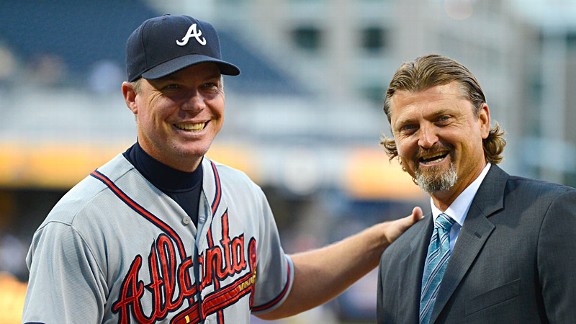 Christopher Hanewinckel/US PresswireSpeaking of all-time greats, Braves 3B Chipper Jones was hanging around with Cooperstown-bound Trevor Hoffman.
October, 5, 2011
10/05/11
3:33
PM ET
ESPN Insider Matt Meyers has a piece on
Adrian Beltre
, arguing that the labels placed on Beltre throughout his career
are unfounded and inaccurate
. I agree with Matt's general assessment that Beltre has been a tremendously underrated and underappreciated player during his career. Matt points out that Beltre is 19th on Baseball-Reference.com's all-time WAR (wins abovement replacement) for third basemen (or 21st, depending on how you do your search).
Considering Beltre is 32 and coming off an excellent season, he should have more good years left and climb up that list, maybe close to the top 10. That would certainly seem to put him in the Hall of Fame discussion ... except: Except there is probably too little perception of Beltre as a Hall of Famer. Much of Beltre's value derives from his excellent defense. B-R rates him ninth all-time in runs saved among third basemen (behind, in case you want to know: Brooks Robinson, Buddy Bell,
Robin Ventura
, Clete Boyer,
Scott Rolen
, Graig Nettles, Mike Schmidt and Gary Gaetti). But Beltre also has 310 home runs and 1,113 RBIs. It's not too much of a stretch to see him topping 400 home runs and 1,500 RBIs ... and the only third basemen to do that are Schmidt and
Chipper Jones
. George Brett is the only other third baseman with 1,500 RBIs.
Still, Beltre will be facing an uphill battle, no matter where his career totals end up. But he's been a terrific player, even if he's flown under the radar much of his career.
August, 17, 2011
8/17/11
7:30
PM ET
If you're too young to remember Chet Lemon, he was a superb ballplayer. He could them run down in center field -- in fact, his 512 putouts with the White Sox in 1977 remains the American League record, not bad for a guy who had converted from third base as a rookie the year before. He hit .300 three times, had some power, drew some walks, got hit by 10 to 20 pitches a season. He did a lot to help his teams win.
[+] Enlarge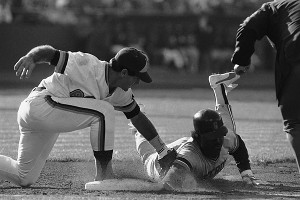 AP Photo/Eric RisbergBeing tagged out was a familiar feeling for former Tigers outfielder Chet Lemon, shown being picked off first base in the 1984 All-Star game.
What Chet Lemon wasn't very good at was stealing bases.
(How did Chet Lemon's name came up today, you ask? I was talking with SweetSpot contributor Christina Kahrl about Kirk Gibson, which led to the 1984 Tigers, which led to Chet Lemon, which led to Christina making a comment about his basestealing abilities.)
Sure enough, Lemon was terrible on the bases; for his career, he had 56 stolen bases and 78 caught stealing. That included an 0-for-7 campaign in 1983 (Pete Runnels once went 0-for-10, the single-season "record"), a 5-for-14 season and a 7-for-18 year. Is his career percentage of 41.8 percent the worst ever?
Actually, not quite. Among players with at least 100 attempts, he's third:
Pat Duncan: 55 for 139, 39.6 percent
Buddy Bell: 55 for 134, 41.0 percent
Duncan was a left fielder with the Reds from 1919 through 1924, a career .307 hitter. But he had one season where he was 12 for 40 on the bases and another where he was 7 for 25.
Here's a photo of Duncan
from 1923.
Buddy Bell you probably know about. Bell went 7 for 22 in his second season and didn't run much after that, but must have been on the wrong end of enough busted hit-and-runs (he was 5 for 24 with the Indians from 1976 through '78 and later had a 2-for-10 season with the Reds). Those Indians teams were actually something else. The '76 squad had 75 SB, 69 CS, helped by Duane Kuiper's 10 for 27. In '77, they were even at 87 and 87. In '78, they were 64 and 63. Kuiper, by the way, was 52 for 123 (42.2 percent). But he made up for it with his power.