SweetSpot:

Cal Ripken Jr.
September, 14, 2012
9/14/12
10:00
AM ET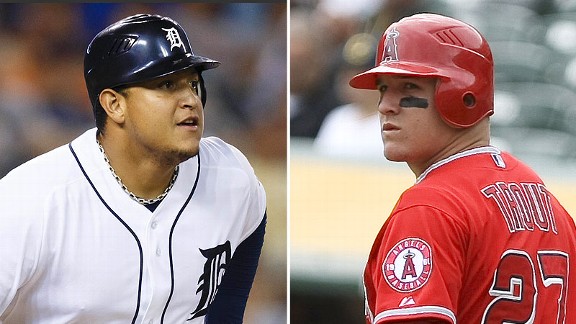 US PresswireMiguel Cabrera, left, is having a great season, but Mike Trout is the slam-dunk AL MVP.
The grievances seem mostly confined to Michigan but usually go something like this: The media is ignoring
Miguel Cabrera
's MVP candidacy because we're in love with
Mike Trout
since he's a rookie; that Trout isn't doing anything so historic that we should just hand him the trophy so easily; that Trout's Angels might not even make the playoffs; that Cabrera is the best hitter in the game; that Cabrera has been shafted in other MVP votes and finally deserves one.
Let's take those arguments one at a time.
1. We just love Mike Trout and are ignoring Miguel Cabrera.
Guilty. Of course we love Mike Trout. He hits, he runs, he fields, he robs opponents of home runs and then hits his own. His name is Trout and he tweets about fishing. The fact that he turned 21 in August isn't the reason he's the leading MVP candidate in the world; the fact that he turned 21 and is doing the things he's doing just adds an extra layer of awe.
But that doesn't mean we have anything against Cabrera. We should all respect the way he has moved back to third base and acquitted himself better than anyone expected. He has missed one game all season. That he's a hitting machine, as feared as any batsman in the league, goes without saying. I don't think Cabrera is getting ignored. It is, however, difficult to claim the spotlight when a kid who spent most of the season at 20 years old is putting up numbers we've never seen from someone that young.
2. Trout isn't doing anything that historic.
Through Thursday's games, Trout is hitting .331/.397/.569. If you look
just
at that triple-slash line then, yes, I suppose you could say there's nothing historic going on here. After all, since 1901 there have been 193 times that a player reached all three of those numbers. Cabrera himself even did it last season.
Of course, Trout has 45 steals (in 49 attempts). Not all 193 of those players ran the bases with Trout's blazing speed. In fact, only 17 of them swiped as many as 25 bases.
And not all of them hit 27 home runs. In fact, of those 17 who stole 25-plus bases, only eight hit as many 20 home runs. All eight happened to be outfielders. Of those eight -- Ken Williams in 1922, Willie Mays in 1957 and 1958, Barry Bonds in 1993, Ellis Burks in 1996, Larry Walker in 1997, Vladimir Guerrero in 2002 and
Ryan Braun
in 2011 -- only one played center field.
So just like that: Mike Trout and Willie Mays. Yes, with a straight face.
Maybe that's too goofy of an approach for you. WAR -- wins above replacement -- is an attempt to analyze a player's batting, fielding and baserunning statistics into one number. Entering Thursday's game, Trout's Baseball-Reference WAR was 10.3. According to the metrics, there have
28 seasons when a player achieved 10.3 WAR or higher
. Six of those seasons were by Babe Ruth, and there have been just six during the divisional era -- Joe Morgan in 1975, Robin Yount in 1982, Cal Ripken in 1991 and Barry Bonds in 2001, 2002 and 2004.
Assuming Trout doesn't go 0 for his next 75, I'm pretty comfortable calling this a historic season.
Oh, Cabrera's WAR: 5.8. Excellent figure. Not historic.
3. How can Trout be the MVP if the Angels don't make the playoffs?
This seems to be Cabrera's best argument -- assuming the Tigers make the playoffs, of course, and the Angels don't. It is true that during the wild-card era few players from non-playoff teams have won the MVP award: Larry Walker in 1997, Barry Bonds in 2001 and 2004,
Alex Rodriguez
in 2003,
Ryan Howard
in 2006,
Albert Pujols
in 2008.
But why this should be held
against
Trout confuses me. Where would the Angels be without him? Nowhere near contending for the playoffs. Plus, there is the likely scenario that the Angels win more games than the Tigers, yet miss the playoffs while the Tigers make it. I fail to see why that makes Cabrera a better MVP candidate than Trout
when Trout's team will have won more games
.
4. Cabrera is the best hitter in the game.
I won't disagree with this assessment, but the problem here is it's hard to argue that he has been a better hitter than Trout in 2012.
Trout: .331/.397/.569, 27 HR, 77 RBI, 115 runs
Cabrera: .328/.393/.590, 36 HR, 118 RBI, 91 runs
So Cabrera has the slightest edge in OPS, .983 to .966. Even though he spent the first few weeks of the season in Triple-A, however, Trout has
created more runs -- 115 to 113, by our numbers
, 121 to 117 by Baseball-Reference figures. But here's another key: Trout has created those while using up 344 outs; Cabrera has used 401 outs.
That's before we even get to the ballparks. Angel Stadium has played a strong pitcher's park this season. Comerica, despite its reputation, has played as a slight hitter's park. So it's hard to give Cabrera the edge on offense when Trout has been the better offensive player. Factor in Trout's obvious huge edges in defense and baserunning, and it's not close.
And, no, I don't want to hear about RBIs. Trout bats leadoff. He doesn't get the opportunities. For what it's worth, in "high leverage" situations, Trout is hitting .328 with four home runs and Cabrera is hitting .351 with four home runs.
5. Cabrera deserves an MVP award.
Hey, I feel for him. If Cabrera fails to win it this year, he'll join Eddie Murray as the only players to finish in the top five of the MVP voting six times yet never win. That's no reason, of course, to vote for a player.
It's Mike Trout's year. He's the best player in the game. This should be Reagan-Mondale. If Trout doesn't win, it would be one of the biggest travesties in MVP voting history.
August, 13, 2012
8/13/12
5:46
PM ET
Before the Olympics began,
Kobe Bryant
suggested this year's Olympic basketball team would defeat the fabled 1992 Dream Team that featured Michael Jordan, Magic Johnson, Charles Barkley and Larry Bird. Bryant later adjusted his thoughts, saying the Dream Team was better but that the 2012 squad could beat them.
Bryant and company cruised throughout the tournament until Sunday's gold-medal game against Spain,
prevailing 107-100
after leading by just one point heading into the fourth quarter.
Anyway, that's a lead-in to this: What would baseball's dream team from 1992 look like? Let's turn back the clock and imagine we're in the summer of 1992. Let's pick a 25-man team -- 15 position players, seven starting pitchers and three relievers. Just like the '92 hoops Dream Team, legend status should come into play a bit. Since we're imagining an Olympic-type scenario, we're going with U.S. players only.
The Starters
1. 2B Ryne Sandberg, Cubs
(.304/.371/.510, 26 HR, 7.6 WAR)
Made his ninth consecutive All-Star appearance in '92.
2. CF Kirby Puckett, Twins
(.329/.374/.490, 19 HR, 6.8 WAR)
Had led the Twins to a World Series title in 1991; finished second in '92 American League MVP vote.
[+] Enlarge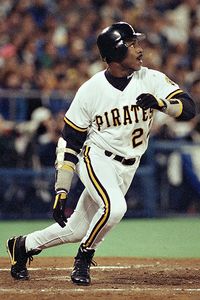 AP Photo/John SwartBarry Bonds led the Pirates to the NLCS in 1992.
3. LF Barry Bonds, Pirates
(.311/.456/.624, 34 HR, 8.9 WAR)
The best player in the game; won his second MVP award in '92.
4. DH Frank Thomas, White Sox
(.323/.439/.536, 24 HR, 6.7 WAR)
In his second full season, but the most feared hitter in the AL. Led the league in OBP and OPS for the second consecutive season.
5. 1B Mark McGwire, A's
(.268/.385/.585, 42 HR, 6.2 WAR)
Had rebounded from a poor 1991 to lead the AL in slugging percentage and the A's to the AL West title.
6. RF Ken Griffey Jr., Mariners
(.308/.361/.535, 27 HR, 5.5 WAR)
At 22 years old, already one of the game's best all-around players. We'll move him to right field with Kirby in center.
7. 3B Terry Pendleton, Braves
(.311/.345/.473, 21 HR, 4.8 WAR)
People remember his 1991 MVP season, but he finished second to Bonds in the '92 vote.
8. C Darren Daulton, Phillies
(.270/.385/.524, 27 HR, 6.7 WAR)
It was a weak year for catchers, but Daulton had a monster season with the fourth-highest WAR among position players.
9. SS Cal Ripken, Orioles
(.251/.323/.366, 14 HR, 3.8 WAR)
Not a good season but a baseball dream team wouldn't have been complete without Ripken.
The Bench
OF Rickey Henderson, A's
(.283/.426/.457, 15 HR, 5.4 WAR)
The best leadoff hitter in the game compiled 5.4 WAR despite playing just 117 games.
OF Andy Van Slyke, Pirates
(.324/.381/.505, 14 HR, 5.9 WAR)
Led the NL in doubles and hits, fourth in the MVP vote, Gold Glove center fielder. His window was small, but a terrific player for a few years.
OF Dave Winfield, Blue Jays
(.290/.377/.491, 26 HR, 3.8 WAR)
Others with a higher WAR, but Winfield gets credit for legend status and helping the Blue Jays win the World Series.
SS Ozzie Smith, Cardinals
(.205/.367/.342, 0 HR, 5.0 WAR)
Tough call here:
Barry Larkin
(.304/.377/.452, 5.5 WAR) or the 37-year-old Ozzie? The Wizard could still pick it and had 43 steals.
3B Gary Sheffield, Padres
(.330/.385/.580, 33 HR, 6.0 WAR)
Challenged for the Triple Crown much of the year before finishing first in batting, third in homers and fifth in RBIs.
C Terry Steinbach, A's
(.279/.345/.411, 3.8 WAR)
Gets the nod over Mickey Tettleton as the backup catcher for his good defense and leadership.
Pitching Staff
Tom Glavine, Braves
(20-8, 2.76 ERA, 3.6 WAR)
The only lefty on our 10-man staff, finished second in the Cy Young vote after winning it the year before.
[+] Enlarge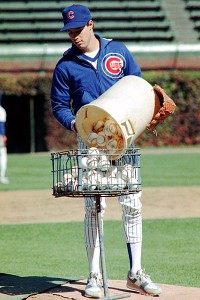 AP Photo/Bill WaughGreg Maddux would win four consecutive Cy Youngs beginning with the 1992 season.
Greg Maddux, Cubs
(20-11, 2.18 ERA, 8.9 WAR)
Won the first of his four consecutive Cy Young Awards.
Roger Clemens, Red Sox
(18-11, 2.41 ERA, 8.4 WAR)
Led the AL in ERA, shutouts, WHIP and SO/BB ratio, but finished just third in Cy Young vote.
Doug Drabek, Pirates
(15-11, 2.77 ERA, 5.1 WAR)
Career went downhill after signing with the Astros in '93, but regarded as one of the toughest competitors in the game at the time.
Jack Morris, Blue Jays
(21-6, 4.04 ERA, 2.5 WAR)
Morris absolutely would have been on a '92 dream team despite the high ERA. He'd just won back-to-back World Series titles and had the 21 wins.
Jack McDowell, White Sox
(20-10, 3.18 ERA, 4.9 WAR)
Kevin Appier
and
Mike Mussina
had better ERAs, but Black Jack had the image at the time. And the league-leading 13 complete games.
Nolan Ryan, Rangers
(5-9, 3.72 ERA, 1.8 WAR)
The numbers don't merit inclusion, but by '92 Ryan was the biggest icon in the game, a 45-year-old flame-throwing legend. Much like Bird, you wouldn't leave him off.
Dennis Eckersley, A's
(7-1, 1.91 ERA, 51 saves, 2.8 WAR)
The last AL reliever to win the Cy Young, Eck also walked away with the MVP trophy. OK, it was a bad vote, but Eck seemed unbeatable back then.
Rob Dibble, Reds
(3-5, 3.07 ERA, 25 saves, 0.9 WAR)
At the time, Dibble had four of the five highest K/9 rates in major league history (minimum 50 innings).
Jeff Montgomery, Royals
(1-6, 2.18 ERA, 39 saves, 3.0 WAR)
From '89 to '93, Montgomery fashioned a 2.22 ERA with 159 saves. What, you expected Mitch Williams?
So, who got Isiah'd? We mentioned Barry Larkin.
Tony Gwynn
was in a bit of a down spell (for him), so he loses out as well. We can't find room for NL home run leader
Fred McGriff
, Will Clark or Paul Molitor. For pitchers, some of the better statistical options would have included the aforementioned Mussina (7.9 WAR) and Appier (7.7 WAR) as well as Frank Viola, Sid Fernandez, Bob Tewksbury and
David Cone
, plus some up-and-coming guys like
John Smoltz
and
Curt Schilling
.
How does this team compare to a 2012 dream team? I'll let you debate who would be on such a 2012 team in the comments section.
January, 5, 2012
1/05/12
8:00
AM ET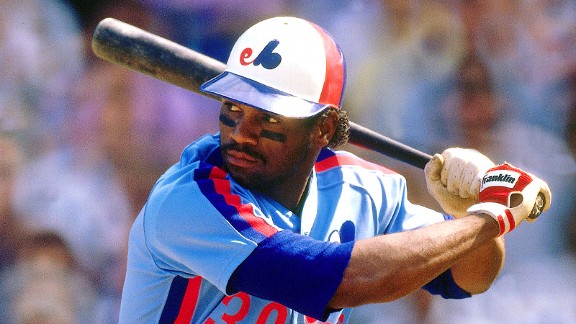 Ronald C. Modra/Sports Imagery/Getty ImagesTim Raines is often cited as the second-greatest leadoff hitter in MLB history.
There are a lot of columns and analysis out there advocating the case for Tim Raines for the Hall of Fame. I probably won't add anything new to the discussion, but let me start here:
Player A is Raines. Player B is Tony Gwynn. That final column is times reached base. Yes, Raines reached base more often in his career than Gwynn, in just slightly more plate appearances. I'm not the first writer to come up with that comparison. Joe Posnanski, among others, is especially fond of this factoid. The point of the statistic isn't to bring down Gwynn, rather to show how potent and devastating an offensive player Raines was. The arc of his game was a little different than Gwynn's but the results are similar: Gwynn got more singles, Raines walked more and had a little more power. He was one of the great base stealers of all time and scored more runs in his career than Gwynn.
That's what Raines did: He scored runs. He's 51st on the all-time list and of the 50 players ahead of him, all eligible candidates are in the Hall of Fame except for Jimmy Ryan and George Van Haltren, two 1890s outfielders; turn-of-the-century shortstop Bill Dahlen; and Rafael Palmeiro.
A common refrain about Raines from his advocates is that he was one of the best players in baseball over a span in the 1980s. This isn't some after-the-fact hocus-pocus going on. It was widely believed at the time. In a 1984 Sports Illustrated piece on Raines, Pete Rose said: "Right now he's the best player in the National League. Mike Schmidt is a tremendous player and so are Dale Murphy and Andre Dawson, but Rock can beat you in more ways than any other player in the league. He can beat you with his glove, his speed and his hitting from either side of the plate." In his annual Baseball Abstracts, Bill James often argued the case of Raines' all-around brilliance. Raines finished fifth, sixth and seventh in MVP votes, despite playing for mediocre Expos teams.
Raines' five-year peak was 1983 to 1987. According to Baseball-Reference's WAR ranking, the top five players during those years were Wade Boggs (39.7), Rickey Henderson (34.1), Cal Ripken (33.3), Schmidt (31.4) and Raines (30.7). Pretty nice company. (The next five were Alan Trammell, Gwynn, Eddie Murray, Murphy and Keith Hernandez.)
To be fair, this alone doesn't make him a Hall of Famer. I checked every five-year period since 1969 (1969 to 1973, 1970 to 1974, etc.) and not all of the names that appear in the top five are Hall of Famers or future Hall of Famers. Heck, Sal Bando rated as the best player in baseball from 1969 to 1973.
Some characterize Raines as having too short of a peak level of dominance. From 1988 to 1995, he averaged .283/.375/.409, with 81 runs and 33 steals per season. Maybe not an MVP candidate anymore, but still a good player, top leadoff hitter and valuable contributor. He's hardly alone in this aspect. He had six seasons with an OPS+ of 130 or higher, the same as Jim Rice, Dawson and Ernie Banks, and more than Kirby Puckett, Roberto Alomar, Johnny Bench, Carlton Fisk, Yogi Berra, Tony Perez or Robin Yount.
Maybe Raines doesn't have a slum-dunk case. But he has a case. Maybe voters have forgotten his great years in Montreal (and they have forgotten; he received only 37 percent of the vote last year). Maybe they remember his final seasons with the Yankees, when he became a part-time player on two World Series champions. Maybe they can't believe he compares favorably with Tony Gwynn.
Believe.
June, 30, 2011
6/30/11
1:30
AM ET
Where have the third basemen gone? It was only recently that third base was home to some of the best hitters of their generations; players like Mike Schmidt, Paul Molitor, George Brett and Wade Boggs. I was asked to fill out an American League and National League All-Star roster this week, and in each league I had to search high and low for the most deserving third baseman. I finally settled on
Alex Rodriguez
and
Aramis Ramirez
but didn't feel good about it. Are these All-Star teams or Least-Objectionable-Choice teams? I don't mean to knock A-Rod or Ramirez, both of whom are having good seasons -- but the void at the position in both leagues is glaring.
Across the diamond, first base forces you to make very difficult choices among some of baseball's true superstars. In the AL alone,
Adrian Gonzalez
,
Miguel Cabrera
,
Paul Konerko
,
Mark Teixeira
and
Adam Lind
all have strong cases.
Prince Fielder
,
Joey Votto
,
Gaby Sanchez
,
Albert Pujols
and
Ryan Howard
are all deserving NL options. Shortstop has dazzling stars like
Asdrubal Cabrera
,
Jose Reyes
and
Starlin Castro
.
Robinson Cano
,
Dustin Pedroia
,
Ben Zobrist
,
Rickie Weeks
and
Danny Espinosa
are all standouts at second base.
Something has happened to third base. Yes, younger stars like
Ryan Zimmerman
and
David Wright
have been injured.
Pablo Sandoval
is still rebounding from a personally disappointing 2010.
Mike Moustakas
and
Lonnie Chisenhall
have only just arrived. How to best sum up the deterioration of the third base position? It's where
Chone Figgins
plays.
Take the American League for example. Here are the four most deserving A.L. All-Star third base candidates:
Alex Rodriguez 72 G, 270 AB, 13 HR, 51 RBI, .304/.382/.515, .897 OPS, 3.9 WAR

Kevin Youkilis 73 G, 257 AB, 11 HR, 55 RBI, .272/.394/.490, .884 OPS, 2.6 WAR

Adrian Beltre 80 G, 313 AB, 14 HR, 56 RBI, .262/.307/.457, .822 OPS, 2.5 WAR

Evan Longoria 52 G, 185 AB, 10 HR, 34 RBI, .249/.341/.481, .822 OPS, 2.3 WAR

J.J. Hardy 49 G, 188 AB, 11 HR, 30 RBI, .303/.367/.548, .915 OPS, 1.8 WAR
Those players are all having good seasons, so this isn't about picking on them. However, the numbers don't even touch the production levels we're seeing from the first-base position. After these candidates, the production drops off dramatically, because following these four there isn't an American League third baseman with a Wins Above Replacement mark greater than 1.6. That's why you could make an argument that Orioles shortstop J.J. Hardy should start at third base for the American League. No, I'm not seriously suggesting this as a solution -- I'm merely taking an A.L. shortstop, one who we've been overlooking all season and pointing out that his offensive numbers could put him at the top of the third-base list.
Hardy is giving Baltimore the type of production you'd expect from a corner infielder, mostly due to a sizzling June during which he's hitting .365 with nine homers and 18 RBIs with a 1.128 OPS. Take a look at J.J. Hardy's offensive numbers, compare them with those on the above list of third basemen, and you'll see that in terms of production per games played, Hardy is challenging the best the AL has to offer at a more traditional power position, despite missing 27 games in April and May with an oblique injury.
I used Hardy as an example because he's putting up numbers in limited action that are comparable to third basemen who have played full seasons so far. Another example, one with a bigger sample size, could be Detroit's
Jhonny Peralta
: 71 G, 258 AB, 12 HR, 46 RBI, .310/.358/.527, .885 OPS, and 2.9 WAR. As a shortstop, Peralta is certainly no Ozzie Smith with a Defensive Runs Saved mark of minus-7, but his offensive production at shortstop is as good or better than the leading third-base candidates.
National League third-base options leave you feeling even less enthusiastic.
Ryan Roberts
is the only one with a WAR above 2.0 but he's hitting only .254.
Placido Polanco
has just four home runs, while dark-horse candidate
Chase Headley
is hitting .303 but has only two homers and has already struck out 60 times. I finally settled on Aramis Ramirez who has 9 homers and 38 RBIs in 74 games while batting .291/.337/.453. That's a good season but hardly one that has you scrambling to fill out an All-Star ballot.
This year's All-Star Game will mark the 10-year anniversary of one of this era's landmark All-Star moments: the 2001 game at Seattle's Safeco Field where Alex Rodriguez, just before the game's first pitch, made
Cal Ripken
Jr. switch positions from third base to shortstop, where Ripken had played his first twelve All-Star games. The tribute was a last hurrah at shortstop for Ripken, who was playing the final season of his Hall of Fame career. It was also a glimpse into A-Rod's future in New York. Was there also something about that moment that conjured up a superstar void at the third-base position that hasn't yet been filled? Ten years later, perhaps ironically, it's A-Rod who may be the most deserving All-Star third-base choice but the list seems shorter than it should be.
PHOTO OF THE DAY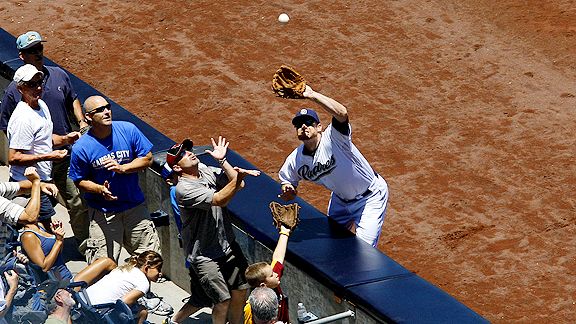 Jake Roth/US PresswireChase Headley's willing to risk a foul ball free-for-all.
Follow Steve Berthiaume on Twitter @SBerthiaumeESPN